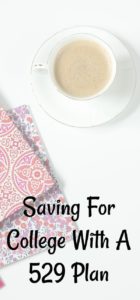 A 529 Plan can be a great way to save money for college. Let's face it, the cost of getting a four-year degree is outrageous.  Tuition, books, fees, and supplies all add up and it happens really fast.  Nobody wants to send their kids off to college knowing they will come out the other end under a mountain of debt.  Scholarships, financial aid, and part-time jobs are great ways to offset the cost of college but good old fashion saving is still the safest bet.
When we started having kids we knew it was time to start saving for their schooling.  At the time we didn't know a lot about 529 Plans so the money went into a savings account.  After seeing how it really wasn't growing unless we added money, it was time to start looking at other options.  Our searching led us to 529 Plans and we want to share what we discovered.
What is a 529 Plan?
The 529 Plan is a college savings plan sponsored by a state or state agency.  The money that is put into these accounts can be used to pay for books, fees, tuition and any other education related expenses.  The money can be used for most accredited 2-year and 4-year colleges and universities.  It can also be used at most Vocational Tech Schools.
Who can open/contribute?
In order to open a 529 Plan there are a few requirements.  You must be a U.S. citizen, you must be 18 years or older, you must have an address, and you must have a Social Security Number or Tax I.D. number.  If you have small children, you can open a 529 Plan account for them and place them as a beneficiary.  There is no age limit for beneficiaries; they just have to have a Social Security Number.
As far as who can contribute to a 529 Plan, that will be up to the account owner.  They can allow grandparents or relatives to contribute money to the account.
Taxes Breaks
There are many benefits to using a 529 Plan over regular savings accounts or mutual funds.  The first big benefit is the tax breaks involved.  Throughout the life of your 529 Plan it is going to gain interest and grow in size.  Unlike other accounts, the 529 Plan will grow with federal income tax deferred.  In many states it will also grow state income tax deferred as well.  This means that you won't pay income taxes on the money you withdraw as long as it is used for a qualified expense.  Depending on the state you live in, you might be able to deduct any contributions from your taxable income.
The annual limit for contributing to a 529 Plan before you're hit with gift taxes is $14,000.  Yes, the government taxes your kind gesture if you give more than that.  However, there are a couple ways around that.  If you are married and filing jointly you are allowed to contribute up to $28,000.  If you have a well off relative that wants to dump a load of cash into your 529 Plan but doesn't want to get hit with gift tax, there is a way around it. They can fill out an IRS form to deposit 5 times the annual limit in a single year but have it spread out over a 5 year period.
Investing
Most 529 Plans are the set and forget type of investment.  However, there are some companies that do offer varying plans from being based on your age to letting you customize your investment strategy.  These programs are generally controlled by a program manager from the company you choose.  Because these plans are professionally managed, they will score you a higher interest rate than any traditional savings account out there.  The accounts offered by investment firms tend to be well balanced for great returns.
Things to remember
Money in a 529 Plan can be withdrawn at any time without taxes or penalties as long as it is for a qualified higher education purposes.  These expenses can include books, fees, tuition, room and board, and as of recently it also includes the cost of computers and supporting equipment.
If you choose to use it for non-qualified purchases you will be subject to income taxes and a 10% Federal Penalty Tax. This could result in you losing quite a bit of money.  We don't recommend doing this unless absolutely necessary.
If you receive a scholarship or attend a military academy, the amount of scholarship or cost of schooling can be withdrawn from the 529 Plan.  This amount would not be subject to the 10% Federal Penalty but would be subject to Federal/State Income Tax.
You can change the beneficiary of the 529 Plan at any time. Please take caution when changing beneficiaries of the 529 Plan so you don't get blindsided by unexpected taxes.  Review the federal and state tax requirements before you make this move.
We hope that the information you read here can help you with your decision to start a 529 Plan.  Just remember the sooner you start saving, the more money you will have when you need it.  It's never too late to work saving for college into your budget.  If you found a 529 Plan that you love and want to share, leave a comment below!
[disclosure]
Grab Your FREE Printable Budget Binder