Cheap stocking stuffer ideas I'm sure you'll love.
Hello, Christmas!!
I don't know about you but I literally have know idea where the last few months went. I blinked and all of a sudden Christmas is just a few weeks away.
With the holidays right around the corner, I'm constantly on the look out for awesome inexpensive stocking stuffer ideas everywhere I go.
I figured why not take all the stress out of your life and just compile an awesome list of cheap Christmas stocking stuffers. =)
So, I did just that!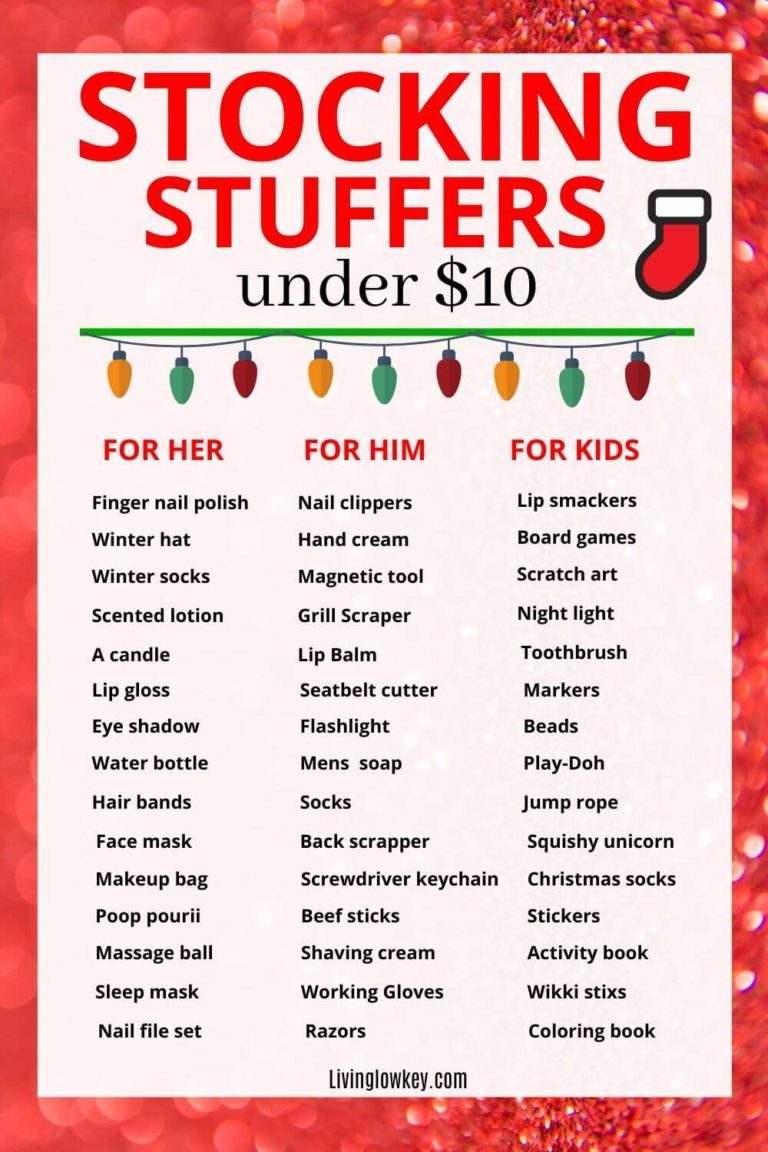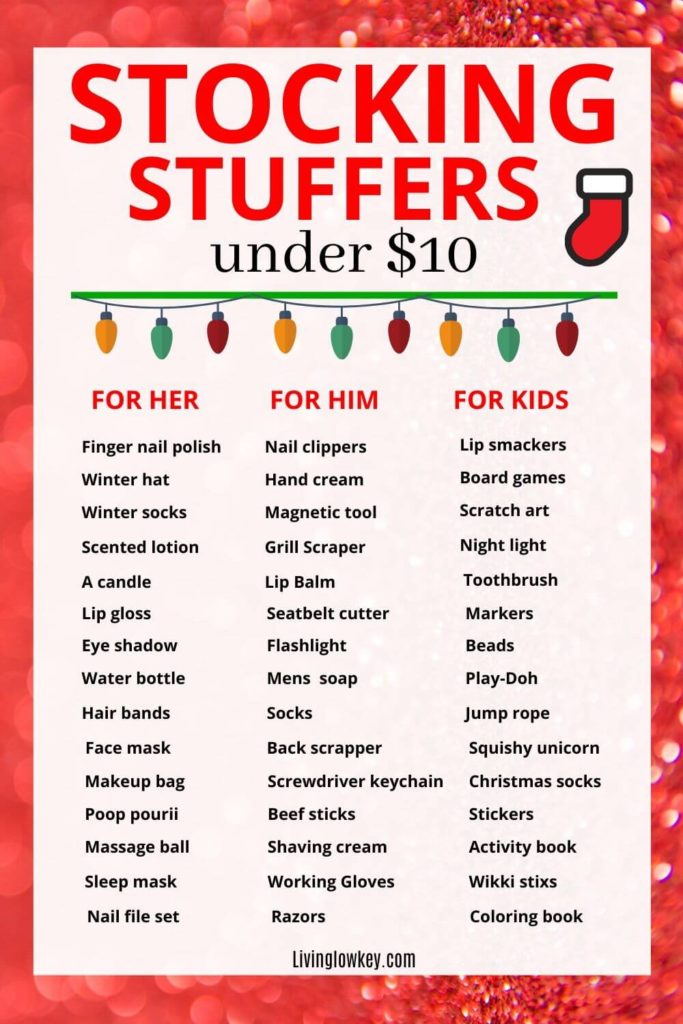 The best cheap stocking stuffer ideas for Christmas
For Her
5. A candle
6. Lip gloss
7. Eye shadow
Related holiday articles:
> Baby's First Christmas Gift Ideas Under $25
> The Best Ways To Save Money On Holiday Gifts This Christmas
> 18 Great Christmas Gift Ideas Your Significant Other Will Love
8. Hairbands
9. Water bottle
10. Face mask
11. Poop pourii
13. Massage ball
14. Sleep mask
15. Nail file set
For Him
16. Nail clippers
17. Hand cream
19. Grill scraper
20. Lip balm
21. Seatbelt cutter
22. Flashlights
23. Mens soap
24. Socks
25. Back scratcher
27. Beef sticks
28. Shaving cream
29. Work gloves
30. Razor
For Kids
31. Lip Smackers
32. Board games
33. Scratch art
34. Night light
35. Tooth brush
36. Markers
37. Beads
38. Play-Doh
39. Jump rope
40. Squishy unicorn
41. Christmas socks
42. Stickers
44. Wikki Stixs
45. Coloring book
I hope you enjoyed these inexpensive stocking stuffer ideas. If nothing caught your attention, I hope I at least sparked your imagination.
Make sure to save this article for later and join us over on Pinterest for more money-saving ideas.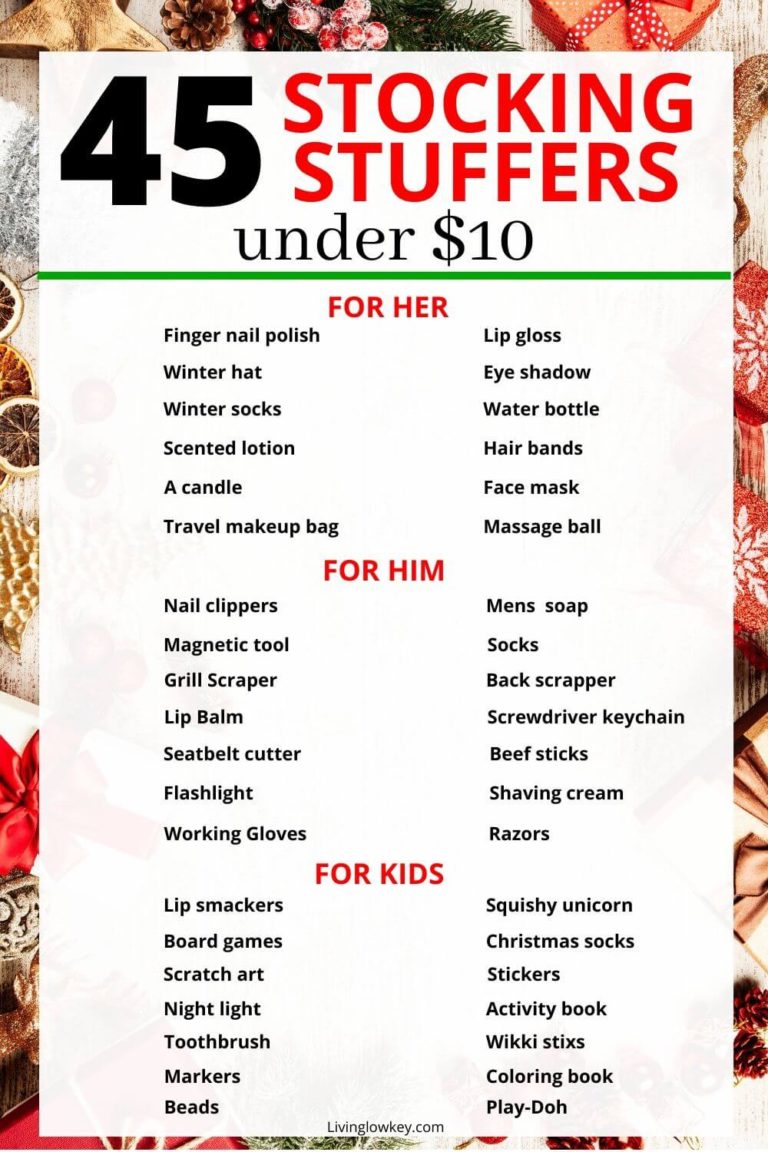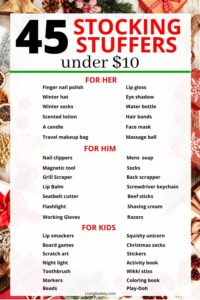 If you can think of any cheap stocking stuffers that I missed, make sure to share it in the comments below. =)
Grab Your FREE Budget Binder
Stop stressing about money and take control of your finances today! Plus it's FREE, what do you have to lose?
Related articles:
> How To Have A Debt Free Christmas every year
> 90-Day Holiday Savings Challenge You Need To Take Advantage Of