Are you struggling with your finances? Do you need help paying off debt?
This is the year to take control of your finances, pay off debt and start saving more money! Our Printable Budget Binder is going to help you do that!
For 2019 we went all out for our budget binder printables! We made a budget binder that covers the WHOLE YEAR! This is the tool you need to get your finances organized in 2019.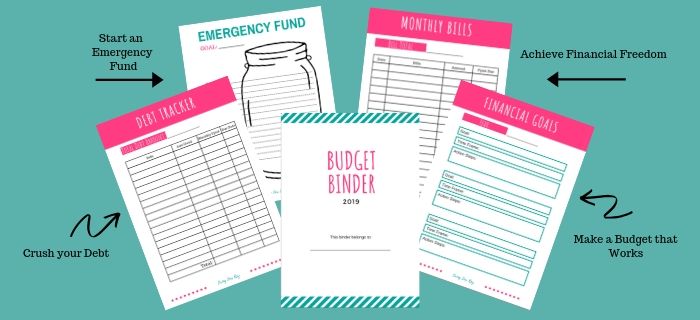 With 90+ pages of printable budgeting tools, you're going to be paying off debt and saving money fast!
If you're anything like me, you have goals in life. Your goals might be paying off debt, saving money for college, or wanting to travel more.
Whatever that goal is, by taking control of your finances you'll be much more likely to achieve it!
When I sat down to create this new budget binder, I tried to think of everything that I would want to be in there. This new budget binder has all the tools and spreadsheets that I actually use to help me control my families finances.
The 2019 Annual Budget Binder is the resource you need to help you reach your financial goals in 2019!!
CLICK HERE IF YOU'RE READY TO GET STARTED TODAY
What's Stopping You From Budgeting?
There are several studies out there that show roughly 2/3 of the households in America don't use a budget. That's 60% of households not controlling their spending and definitely not saving money!
Would it surprise you to know that the number one question we receive is about starting a budget? Maybe none of those stats shocks you because you're sitting there wondering how to get your budget started.
The main reason people don't live on a budget is because they don't even know where to start. They've never been taught how to budget and don't know what to do first! If you're reading this thinking that's you, don't be ashamed.
That's why you're here, you're here to get help.
You made the conscious decision to change your situation and start controlling your finances and I couldn't be more excited.
This Budget Binder was created for you! It was created to make budgeting fun and easy. I use this thing every month to control our families finances and I know you're going to love it.
What You Get In The Budget Binder
This is called an Annual Budget Binder for a reason, it's 90+ pages that help you manage your finances for the entire year! All you have to do is download it, print it, hole punch, and put it in a binder.
Everything is in order and set up for the entire year, it doesn't get much easier than that.
What's Inside The Binder:
Financial Goal Planning Sheet
12 Month Pre-Dated Calendar for 2019
Paycheck Budget Trackers For Each Month
2 Expense Trackers For Each Month
Debt Tracker For Each Month
Savings Tracker For Each Month
Auto Draft Bill Tracker
Yearly Savings Tracker
Emergency Fund Tracker
A Detailed Plan To Help You Save $1,000 In 3 Months
A Detailed Plan To Help You Save $1,400 In A Year Financial Goal Planning Sheet
12 Month Pre-Dated Calendar for 2019
Like I said earlier, this is everything you will need for the entire year!
It's all laid out for you, ready to download and print immediately.
The Budget Binder Really Helps!
I'm not going to sit here and list out a million ways this budget binder will benefit you. It really comes down to two things:
First, you have to be ready to make a change in your finances, but don't be afraid to ask for help. So many times I have talked to people who are struggling with finances but don't want to talk about it. It can be a tough subject to ask for help with.
Second, this Budget Binder is your way to get help without directly asking for it. Use the budget binder and with it comes the freedom to ask us for help any time you feel comfortable.
We're here to help you achieve your goals and live a life you love. So what are you waiting for?? It's time to take control of your finances and start living the life you've been dreaming of!!