Do you ever get the feeling that you're spending too much on your cell phone bill each month?
With the average cell phone bill coming in around $70 per month for a single user, that adds up to around $840 per year just on your cell phone bill! It's even crazier to think you could be spending thousands of dollars per year on a family plan!
You've got better things to do with your money than spend it on an expensive phone plan each month. How will you reach your financial goals if you're throwing money out the window for a phone bill??
What if I told you there's a better option?? One that gives you great coverage, cool phones, and comes with a really affordable price that won't break your budget???
I'm talking about Republic Wireless. They offer great cellphone coverage at a price that you're going to love!!
Note: This post is sponsored by Republic Wireless. We partnered with them to conduct a thorough review of their service and share it with you! Below you will find affiliate links to their service. If you click them and choose to sign up, we will get a small commission at no additional cost to you. For more details, check out our Disclaimer Policy Here.
How Does Republic Wireless Work
Republic Wireless is a great alternative to other overly expensive phone service providers.
They offer low cost, yet flexible, plans that are great for families trying to save money or pay off debt.
The average Republic Wireless customer with a family plan saves approximately $1,000 per year on cell phone payments, and it comes down to their low-cost plans and really unique technology.
Republic Wireless uses a combination of regular cell service, WiFi, and bonded coverage to ensure you're getting great service without the added cost.
Your Republic Wireless phone will automatically switch between Cell Service calling and WiFi calling without skipping a beat when you come in range of a known network.
We are excited to partner with this team, and in this Republic Wireless review, we're going to discuss:
> How we conducted this Republic Wireless Review
> How the coverage compares to other plans
> What Republic Wireless phones are available
> How much a Republic Wireless phone plan cost
If you're looking for ways to cut your monthly spending to stick within your budget, Republic Wireless is going to be your secret weapon!
How We Conducted Our Republic Wireless Review
Before we get into the phone service details, I want to share with you some details about how we conducted this review. We partnered with Republic Wireless to test out their cell phone service for one month.
Our trial run of this phone service made sure we tested all its functionality so that we could give you a really thorough overview.
Our Republic Wireless phones were tested side by side with our normal big brand phone service plans. We've got two different big name phone plans.
One of the things we really wanted to do was test the phone in a variety of areas, some with good service and some we knew had terrible service.
We even took the phones on a road trip from our house in California to the middle of Oregon, all so we could test the coverage in a different state!
It's safe to say, we tested the limits of Republic Wireless and found some things we really liked, and we can't wait to share this with you!!
What Network Does Republic Wireless Use
One of the top things you're probably concerned about when it comes to choosing a new phone plan is what does the coverage look like? Will you be dealing with dropped calls or snail-paced LTE service?
Not with Republic Wireless!!
They are backed by two of the nation's largest cell phone providers, T-Mobile and Sprint!
Utilizing both the T-Mobile and Sprint Cell Service Towers means you're hard-pressed to find a spot you don't get service, and the LTE is lightning fast!
Republic Wireless Coverage Map
When we partnered with Republic Wireless to test their phones, we wanted to make sure we REALLY tested it.
That meant we were going to drive to places we knew there wasn't coverage on our current phones to test it out. Heck, we even drove from our house in California to the middle of Oregon to test it out.
The results were surprising!
Here's a quick shot of what the nationwide Republic Wireless Coverage Map looks like.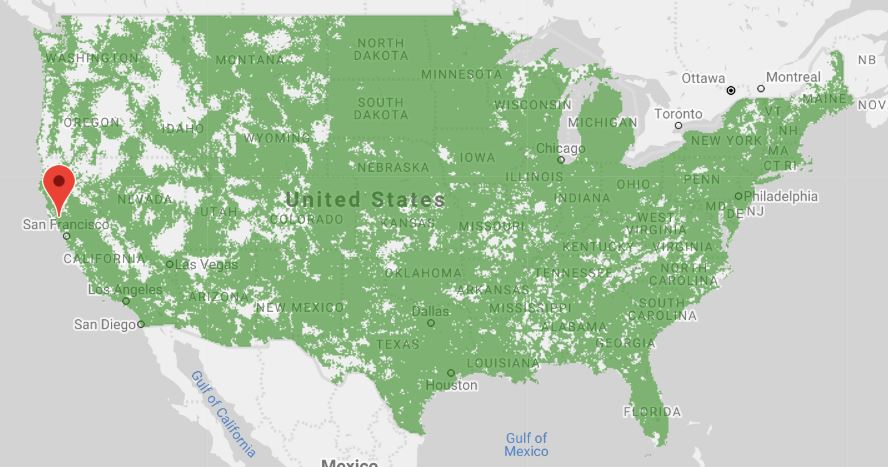 That seems like pretty good coverage, right? I mean, for about half the cost of our other phone plans, we're getting the same coverage.
We found that there were only a couple of spots we took the phone that we didn't get service. They were pretty remote places, so we didn't expect to get service, and that was right on par with our other phones.
One surprising spot was out on the California coast. We knew this was a spot that didn't have good service, so of course, we had to go check it out. Plus it's on the beach, so why not head out there.
We even got pretty good service out in the Sonoma County vineyards!!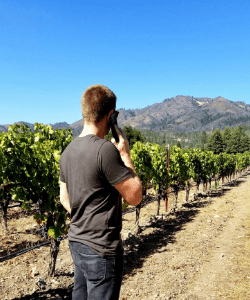 Between the three service providers, my phone had the best service with full bars. Republic Wireless came in second with 2 out of 4 possible bars, and Cassie's phone brought up the rear with no service.
One point for Republic Wireless over the big brands!
Along our road trip to Oregon, we found that Republic Wireless had service the entire way, and the LTE was actually good enough to use the Mobile Hotspot to power two tablets at once.
That performed just as well as our other phones.
Overall, Republic Wireless performed just as well, if not better at times than our two major brand cell phone providers.
Click Here To Check Coverage In Your Area
Republic Wireless Customer Service Is Great
When we were trying to set up our plans, Republic Wireless Customer Service was great.
We got two phones to test out, and the first one we were able to set up without assistance. The process for activating your new phone is super simple and should only take you a couple of minutes.
However, it wouldn't be much of a test run if we didn't give their customer service a test. I have to say; I'm happy with the experience we had.
Republic Wireless Customer Service was really helpful in setting up the second phone. Although they don't have a direct phone line you can call, you can submit a help ticket and request a call. They get back to you pretty quickly. This is one way they can keep costs low.
They were able to walk us through the whole process of setting up our phone and were super patient with me even when I asked a lot of questions.
Normally, I avoid customer service at any cost because they are so unpleasant, but this is one Customer Service department that I wouldn't stress about contacting again.
They actually were rated #1 in the world for fantastic customer service. Here's a little more info about that.
Choose Your Republic Wireless Phone
I'm sure that one question you have before you switch to Republic Wireless is probably about the type of phone you can get.
I get it, having the latest and greatest phone technology is really nice to have. Well, you're in luck!
When you switch to Republic Wireless, you've got a lot of options to get all the latest smartphones. You won't be disappointed with your options of phones available.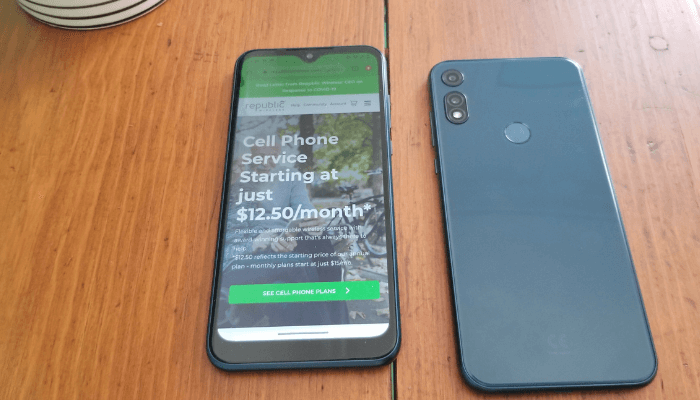 If you don't have the cash on hand for a new phone, they also offer financing options for your brand new phone.
Maybe you're like me, though, and don't want to spend $900 on the latest Samsung S10. That's okay too.
Republic Wireless wants you to be happy with your phone service and happy with the bill; that's why they offer a Bring Your Own Phone (BYOP) plan.
With this plan, you can bring your compatible Android phone with you and just purchase a Republic Wireless SIM card.
This is a great way to keep costs low when you switch from your existing phone service provider.
Republic Wireless Phone Plan Pricing
Here's the topic you've been waiting for, what does Republic Wireless Phone Plan Pricing look like?
I really like how they have their phone plan pricing laid out because it gives you maximum flexibility with your cost. Not to mention they don't charge overages, late fees and really leave you with no surprises on your monthly bill.
That's a big factor in why I like Republic Wireless. Creating a budget is hard enough; you don't need any surprise expenses popping up.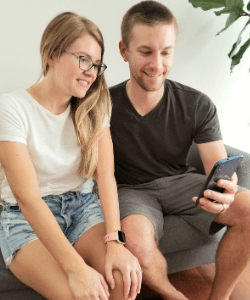 Anyways, the base plan consisting of just Unlimited Talk & Text with no data starts at $15 per month.
From there, you have the ability to add data in 1GB blocks for $5 per month each. That means you could create a plan that's Unlimited Talk & Text with 4GB of Data for just $35 per month!
That's the same plan that Cassie has on her phone for half the price, and it works perfectly for us!
I know you're probably concerned about having unlimited everything but they really aren't necessary unless you're going to be doing a lot of streaming while you're not covered by WiFi.
The nice part about Republic Wireless plan pricing is that you can change it every month if you want. Maybe you know you'll need more data in one month, so you add a couple of GB. Maybe you find that 4GB is too much data and you drop it down to 2GB and shave $10 off your bill.
The flexibility is endless, and you can get even more details here.
One other way you can save even more money is if you prepay for an entire year. When you choose to make an annual payment, you're essentially paying for 12 months of service at the price of 10 months.
Here's an example:
Republic Wireless' most popular plan is the Unlimited Talk & Text with 1GB of data. That plan runs for $20 per month. Over a 12 month period, that would cost you $200 paying monthly.
If you choose to make the annual payment, it will cost you $200. That's a savings of $40 instantly!
My Republic Wireless Review Recommendation
After doing a very thorough test run with Republic Wireless, I'm happy to say that I highly recommend their phone services.
They offer really affordable plans with a lot of flexibility. More importantly, you get excellent phone coverage and lightning fast LTE Data.
I think this would be a great phone service for anyone, especially families, looking to cut their current phone bill in half without sacrificing quality.
If you're ready to get started with Republic Wireless, make sure you click this link to sign up today!
Republic Wireless Q&A
1. Republic Wireless Compatible Phones?
Republic Wireless supports phones running on Android 5.0 or higher. They have a variety of brands ranging from Samsung and Google to Motorola.
Unfortunately, at this time, they do not support iPhones but they are actively testing them to eventually bring them to you as an available option.
Click Here To Check Out The Available Phones
2. Can You Use Republic Wireless Hotspots?
Yes. We took these phones on a road trip to Oregon and used the Hotspot function to provide WiFi to a tablet. The hotspot functionality works great, and it is easy to connect with devices.
3. What's The Best Republic Wireless Phone?
That's really a personal preference. I am a fan of the Samsung phones, as that's what I'm used to. However, we conducted this test run with the Moto E phones, and it worked just fine for what we needed.
4. Can I Travel With Republic Wireless?
Yes! If you've got the travel bug, rest assured you'll have great coverage throughout the United States as you move around.
If you're looking to travel overseas, you won't have Cell Phone coverage over there, but you will be able to make free WiFi calls to anywhere in the US from anywhere in the world. All you need is to be connected to a WiFi network.
5. What If I'm Not Happy With My New Service?
I doubt this will happen, but if you get your new Republic Wireless phone and you're not happy with your service, first submit a trouble ticket with their customer service. They'll work with you to try and fix your coverage issues.
If, after calling Republic Wireless Customer Service, you're still not happy with it, they do offer a 14-Day Money-Back Guarantee! That's how confident they are you'll love their service!