Saving money isn't easy.  We know that from experience, it requires discipline and some sacrifices.
Over the last 6 years we have been able to save well over $100,000 by making a few changes to our lifestyle and getting serious about budgeting.  It has been an exciting journey but if you're anything like us when we started, you have no idea where to start.
That's why we created this page.  We want to share with you some of our favorite money saving and making tools to get you started.
We hope you enjoy and if there is anything you would like to see added, just let us know.
This blog post may contain affiliate links. Learn more.
Money Saving Websites
Ebates:  If you do a lot of online shopping you have to check out Ebates.  When you sign up and shop online with Ebates you will earn cash back from each purchase that you would normally make.  There are so many different stores to shop through (i.e. PetCo, Amazon, Kohl's, Walmart), many of which you already shop online with.  The best part is, if you sign up right now using our Ebates Link, you will receive an extra $10 cash back when you make your first purchase of $25 or more.  How awesome is that??  My review of Ebates: How To Save Money Shopping Online With Ebates.

Ibotta:  If you aren't using Ibotta when you shop you are literally just throwing money away.  Ibotta gives you cash back when you make purchases at your favorite stores like Target, Walmart, Kohls and almost 300 other stores.  The cool thing about Ibotta is you can get cash back when you shop in stores and online.  Sign up now using our link and get a $10 welcome bonus when you redeem your first offers.  You can also read my Review of Ibotta to get more info.  My review of Ibotta: Shop With Ibotta To Get Free Cash Back.
Swagbucks: Another site where you can earn cash back by shopping at normal stores online is Swagbucks.  The only difference here is that you earn Swagbuck points instead of actual dollars.  These Swagbuck points can be redeemed for gift cards to your favorite stores.  Shopping online isn't all that Swagbucks has to offer.  You can conduct surveys and watch advertisements or short clips on Swagbucks to earn more points.  I try to do a couple quick surveys each night before bedtime so I can earn some points.  When you sign up using our link you will get a special $3 bonus when you earn your first 300 Swagbuck points.
TurboTax:  Nobody likes filing taxes every year but everyone enjoys getting a tax return.  TurboTax makes doing your own taxes so easy and helps you get the biggest return you can.  When compared to taking 
them into one of the big name tax offices, you are going to save a lot of money doing them yourself.  Next time you have to file your taxes give TurboTax a try and save yourself time and money.
$5 Meal Plan:  Why waste anymore time creating meal lists each week?  For just $5 per month, you can get all your meals planned out for you.  $5 Meal Plan is a really convenient and easy way to have your meals planned out for you with cost savings in mind.  Their goal is to create you a meal plan where all your meals will cost you around $2 per person.  Take the stress out of meal planning and save money on your grocery bill with $5 Meal Plan.
AirBnB:  One of our favorite ways to find a place to stay when we travel.  AirBnB is so simple to use and can be a great way to save money on your next vacation.  With so many options for places to stay you are sure to find something that will make your trip memorable.  Join AirBnB by clicking here and you'll get $40 towards your first trip.
MyPoints:  If you have some downtime and want to earn some gift cards to your favorite store you need to check out MyPoints.  Much like Swagbucks, you can shop online, complete surveys, watch videos or read emails.  As you complete these tasks you earn points which can later be redeemed for gift cards.  The next time you are bored, log into MyPoints and start earning some gift cards.
Credit Sesame: Checking your credit score has never been easier.  We use Credit Sesame to check our credit scores once per year and the best part is, it's totally FREE.  With a limited amount of information and about 5 minutes you can easily check your credit score.  Just create an account here and you'll know your number within minutes.
Our Money Management Resources
Frugal Finances: Are you looking for a way to start saving money or paying off debt but don't know where to start? Check out the eBook, Frugal Finances: The Keys To Unlocking Financial Freedom. This eBook takes you through the exact steps we took to become debt free and save over $100,000 in just 5 years! Check it out!
Build A Better Budget: We talk about budgeting a lot. If you want to create your own budget and start saving money, we've got you covered. Check out our FREE Budget Like A Pro Course Here. In this 5 lesson ecourse you will learn to control your finances and create a budget. This is the same budget method we used to save $20,000 in a single year! This budget system works!
Get Help With Your Blog

SiteGround:  When you are looking to start a blog, the first thing you will need is web hosting.  Our web host of choice for Living Low Key is SiteGround.  We have had a great experience with SiteGround.  We find that the pricing is reasonable starting at $3.95 per month, they are fast, and the customer service is really top notch!
I highly recommend checking out our How to Start a Blog post where we talk more about how to get your blog up and running.  If you use our SiteGround link, you can get your blog started for as low as $3.95 per month.
ConverKit:  When we started Living Low Key, the one thing we kept hearing was start your email list ASAP.  We took that advice and ran with it which led us to ConvertKit.  We have been using ConvertKit for our email list from the beginning and we love it so far.  It is totally user friendly and we love how easy it is to create subscription forms and put them on our blog.  If you are looking for a great mailing list host, we think you should try out ConvertKit.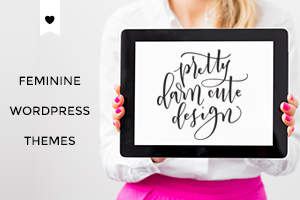 Pretty Darn Cute: If you are looking for a really amazing and professional looking theme for your blog, look no further.  Pretty Darn Cute has what you are looking for!  The themes that they create are really well laid out and make setting up your blog super easy.  We love how compatible the theme was with Wordpress and how quickly we were able to customize our site.
I would have to say the best part of all was the outstanding customer service we received.  We ran into some issues when we first got going and Lindsay was super helpful getting us all fixed up.  If you are still looking for a theme, you have to check out Pretty Darn Cute.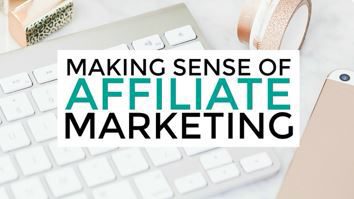 Making Sense of Affiliate Marketing: If you need help with affiliate marketing on your blog, this course is exactly what you need.  Making Sense of Affiliate Marketing covers everything from the basics of affiliate marketing, various affiliate networks, making sure you follow FTC rules, promotion strategies for your affiliate links, how to convert sales, and so much more.
Michelle, the genius behind Making Sense of Cents, makes over $100,000 per month with these strategies so we know they work.  If you're ready to start learning her strategies you can sign up for Making Sense of Affiliate Marketing Here.
Pinterest Strategies by Carly Campbell: If you're struggling to develop a Pinterest pinning strategy, you're going to want to check out the eBook, Pinterest Strategies. Carly, the book's author, walks you through her strategy of manually pinning all her pins to Pinterest. Her methods have proven to be effective as she is getting well over 100,000 blog views per month from Pinterest!  We highly recommend checking out her book, Pinterest Strategies if you're new to the blogging world.
Dare To Conquer: If there is one course that I think can really change the way you run your blog, this course is it! Dare To Conquer is run by Paul Scrivens, or better known as Scrivs in his online community. Paul runs multiple 6-figure websites so this guy knows what he's talking about.
This is by far the most in-depth blogging course I have taken and the best part is that Scrivs is super involved with the members of his community, shoot him and email and a couple hours later you have a response from him. I can't speak highly enough of this course. It literally covers all aspects of blogging. The course is only open at specific times. You can click the link here to see if it's open and get started right away. This course is expensive but if you're saving your pennies to pay for a blogging course, this is the one you want!
Affiliate Marketing For Bloggers: This is another great resource for improving your affiliate marketing. With affiliate marketing being one of the main income sources for most bloggers, it helps to have guidance from the ones that make a fulltime income from it. This course gives you a great perspective on affiliate marketing and can really help you take your sales to the next level. Click Here To Get The Course Today!!

PicMonkey:  When it comes to blogging you're going to need a way to edit pictures.  PicMonkey is our go-to tool for resizing pictures, creating cover photos, and most importantly creating pins for Pinterest. Being able to create attention grabbing pins is super easy with PicMonkey and will make you stand out amongst the crowd.
Tailwind:  This blogging stuff can be really hard work some times.  It's nice to know that there are tools out there like Tailwind that can ease the workload. Tailwind is an automatic pinning software designed for Pinterest.  Using Tailwind you can cut your time spent pinning to Pinterest in half by scheduling your pins to go out automatically. Put your Pinterest pinning strategy on autopilot and watch the traffic start flowing in.

This blog post may contain affiliate links. Learn more.
Grab Your FREE 2019 Printable Budget Binder