I'm super excited to share with you some of the best budget planners on the market! I get it; budgeting can seem hard and feel overwhelming at first but these budget planners are going to make the process a whole lot easier!
You have to start somewhere with budgeting, and the sooner you begin, the sooner you can figure out how your budget works so it feels less overwhelming.
Besides, what better way to start budgeting than using one of the best budgeting planners out there! Not to mention all the options on this list are super cute!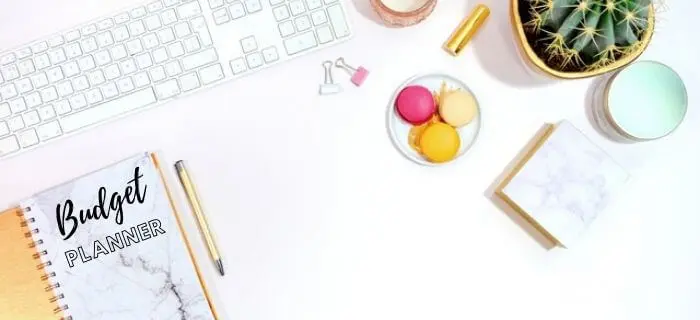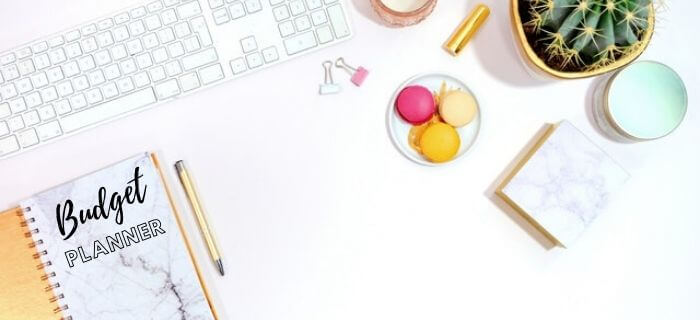 What is a Budget Planner?
A budget planner book is a tool that you can use to store all of your financial information in one spot. It's used to track your monthly bills, expenses, debt, savings, and more!
The most important part of a budget planner is that it helps you track every dollar that comes in and every dollar that goes out. It's what you need to control your finances!
Why do you need a budget planner book?
I could go on and on about how budgeting with a budget planner has changed my life, it was a real game-changer for me, but I want to share how it can change yours too.
Having a budget planner allows you to budget your money properly. It provides you with a guide to taking total control of your money.
Without a budgeting planner, you wouldn't have the resources available to organize your finances accurately and you could be allowing hundreds of dollars to slip through your fingers unknowingly.
Having a budget in place allows you to take total control of your money!
Here's an important note and a common misconception about budgeting. Having a budget doesn't mean you are limiting yourself to what you can or cannot buy. You're simply prioritizing where every one of your hard-earned dollars goes.
What Makes a Budget Planner the Best Budgeting Planner
So what makes a budget planner the best budget planner? There are a few essentials that a really good budget planner needs, such as a spot to keep track of your income and expenses.
If you don't know how much money is coming in and going out, your budget will not work. Make sure your budget book of choice has a spot for both.
A good budget planner will also have a spot for you to record your savings and debt. Other features of a good budget planner are a monthly calendar to mark the due dates of bills and upcoming events.
Other things to look for in a budget planner notebook:
Good looking budget planner
4-5 star rating
Undated – you can start at any time
I've found that owning a finance notebook that looks appealing, makes it all the more fun to carry around and use. Also, if a budget planner has good reviews it means it's helped a lot of people and it probably will help you too.
What Is The Best Budget Planner?
There is no one-size-fits-all when it comes to budget planners. Everyone budgets differently and what one person likes doesn't mean another will. I'd recommend reading reviews and checking out several budget binders before you pick the one that will work for you.
Get Your FREE Budget Binder Today
It's time for you to take control of your finances so you can save more money and pay off your debt!!
Related articles:
9 of the Best Budget Planners and Binders
1.

Best Budgeting Notebook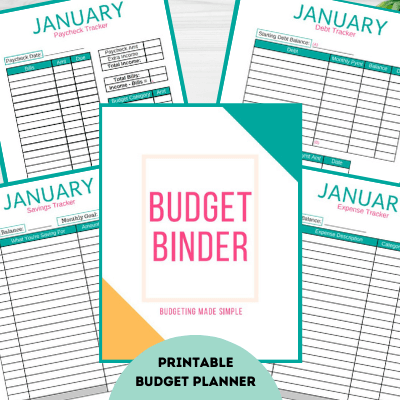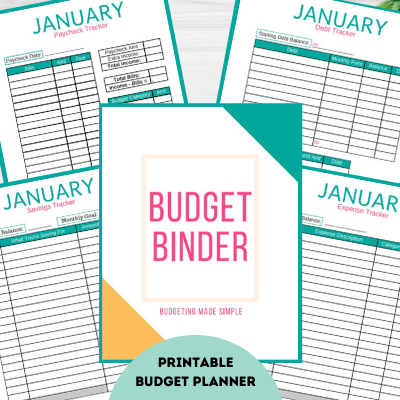 >>> Read Reviews and Check Price!
| Pros | Cons |
| --- | --- |
| 90+ pages | It is a printable |
| Over 14 separate printables | |
| Download instantly | |
| 100% money-back guarantee | |
| Walks you through budgeting | |
Of course, I had to start this list with our very own budgeting planner. Not because it's ours but because I genuinely think it's the best.
I've been using this family budget planner for years. This budget planner has helped hundreds of people take control of their finances.
It's helped me pay off large amounts of debt, from student loans to our camper, car loans, and more. It even helped us build our six-figure retirement fund in our 20's.
This budget planner is what helped us stay completely debt-free, except for our mortgage, we are working on that. =)
What's included in this budgeting planner:
12-month calendar
Paycheck tracker
Monthly expense tracker
Debt tracker
Savings tracker
Emergency fund tracker
Vacation budget planner & more
We even threw in two money-saving challenges for you just in case you want to challenge yourself to save money.
This monthly budget book is an instant printable, meaning you print it out. Click here to get all the details on this Budget Planner.
This Budget Planner works perfectly for the beginning budgeter. It's simple to use and helps you organize your finances in an easy way. When you combine it with the Debt Free Wannabe Workbook you'll have a budget that actually works and fits your lifestyle in no time at all!!
2.

Clever Fox Budget Planner
>>> Check Price & Read Reviews!
Pros

Cons

It has everything you
need in one place
The pages do not
lay flat
No bleed paper
Overwhelming for some
Inner pocket for bills
12 months of organization
Free stickers
User manual available
Budget Planner Features
If you're ready to take control of your finances, this budget planner book is for you!
This budget organizer made the list because it includes everything you could need to manage your finances and meet your financial goals.
This best budget planner includes sheets to manage your:
budget
savings
debt
bill due dates
cash flow
payments and expenses
These sheets cover every category of budgeting that you will need to be successful with your budget.
At the beginning of the budgeting planner, it includes a section to list out your financial goals, as well as a "mind map" to plan how to meet those goals.
I found this to be a great section! After all, if you don't have set goals in place, chances are your budget won't work.
You absolutely need goals to work towards!
Lastly, this budgeting planner includes a section, in the beginning, to list out the skills you are going to need to acquire, and the actions you must take to meet your financial goals.
These skills could include anything from:
Communicating effectively with your spouse about your new budget
Add to your retirement funds regularly
Budget to Zero each paycheck
These skills and actions don't even have to relate to budgeting. It's proven, if you write something down and look at it often, you're more likely to take action and achieve that goal.
3.

Erin Condren Budget Planner
>>> Check Price & Read Reviews!
Pros

Cons

12 months of financial
planning
Small 5.7 x 8.25
Built-in pocket
Not enough space
to write
1 sticker sheet
A stylish book that makes
you want to budget
Fits in your purse
Erin Condren Budget Book Features
Are you ready to reach your financial goals, if so, it all starts with a budget!
One of the reasons this makes the list for one of the best budget planners, besides the fact that it will help you with your finances, is its affordability!
This pretty personal budget book is actually one of the most affordable budget money planners I've come across. Not only that, but this Erin Condren budget planner is so cute and petite!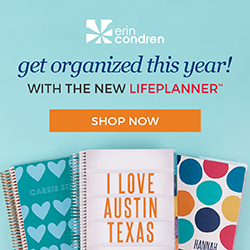 Yes, I know "cute" doesn't help you with your finances, but the appearance of this petite planner budget book will make you excited to pull it out each and every day.
This money organizer includes:
12 months of budgeting
bill tracker
expense tracker
budgeting spreads
debt tracker
106 designer stickers & more
One of the best features of this budgeting book is the expense trackers. Being able to keep track of your daily expenses is extremely crucial if you want to be successful with budgeting.
If you enjoy taking your budget organizer book everywhere you go, like me, the size of this budget book allows you to do just that, as it is very small in size.
Who is this budget planner for:
Anyone who is looking to pay off debt
Someone who is looking to keep track of their daily expenses
A great family budget planner
An excellent budget planner for college students
This would also be a great gift idea
If you're ready to start your budgeting journey or are looking for more than an ordinary budgeting book, I highly recommend giving this one a try. You definitely won't regret purchasing this Erin Condren petite planner budget book!
4.

GoGirl Budget Planner
>>> Check Price & Read Reviews
| Pros | Cons |
| --- | --- |
| Vegan cover | Small size |
| Inner pocket | Not enough room to write |
| Small and lightweight | |
| Built-in bookmark | |
| Bleed resistant paper | |
| Stickers included | |
GoGirl Budget Planner Features
If you're looking for a compact planner, this is the best budget planner for you. The dimensions come in at 5.3in x 7.7in, which is the smallest budgeting planner on the list.
If having a small budgeting planner that can easily fit in your purse is important to you, this GoGirl planner was made for you. Just remember, with its small size comes small wording.
This is a yearly budget planner that you can start at any time because you write in the month and the year.
This GoGirl budget planner includes:
Financial goals and strategy
Debt tracker
Savings tracker
Holiday budget
Budget log
Expense tracker
Month in review
Summary of the year
Each month starts with a spot to write down four monthly financial goals. This is an excellent feature because every month, some of your financial goals will shift.
They also included a spot to record upcoming purchases. This is an extremely important feature because you need to budget for these future events. Having a holiday or birthday pop up unknowingly can completely through off your budget for the month.
If you are looking for a well-thought-out, undated, budgeting planner give this one a go.
5.

The Home Budget Workbook
>>> Check Price & Read Reviews!
| Pros | Cons |
| --- | --- |
| Lays flat | Small boxes |
| Affordable | The cover is a flexible plastic |
| Easy to use | |
| Undated budget planner | |
| A must for keeping track of expenses | |
The Home Budget Planner Features
This user-friendly budget workbook not only has great reviews but is also simple to use.
This budget planner is on the bigger size (10 1/4in x 7in), which is fine if you don't plan on carrying it around in your purse. With its size being slightly larger the wording is easier to read.
One of the drawbacks of this budgeting workbook is that there isn't enough room to write in each space. The boxes are kind of small.
This home budget planner includes:
48 un-dated pages
Daily expense tracker sheets
Planning goals
Tips for managing your money
Creating a balance sheet
Notes & more
This planner is one of the best monthly budget planners if you are looking for something to keep at home or in your car to record every daily expense.
The ability for this planner to lay completely flat when you write in it makes this planner easy to use. It would also be a great family planner and a reasonable personal budget book for a student who is just learning how to track their expenses.
6.

Weekly and Monthly Budgeting Notebook
>>> Check Price and Read Reviews!
| Pros | Cons |
| --- | --- |
| Lightweight | It's a paperback |
| Neatly organized | Same repetitive pages |
| 148 pages | |
| Larger budget notebook | |
| Enough room to write | |
| Inexpensive | |
Weekly & Monthly Budgeting Notebook Features
This weekly and monthly budget book is a quality planner with a very affordable price tag. It's one of the most affordable budget organizers I was able to find online.
This budget planner book is 148 pages with a matte craft cover.
This paperback is the perfect budget planner if you're just beginning to learn how to budget your money.
This budget tracker book includes:
Weekly expense tracker
Monthly budget
This planner is all about rinse and repeat. You write out your monthly budget and then record your expenses, trying to stay within the budget.
Like I said before if you're looking for an inexpensive budget planner, look no further. This is a great finance tracker book.
7.

Your Balanced Budget Organizer
>>> Check Price & Read Reviews!
| Pros | Cons |
| --- | --- |
| User-friendly | Doesn't fit in your purse |
| Covers up to 2 years | |
| Easy to use | |
| 48 pages | |
| Stays flat for ease of use | |
Balanced Budget Organizer Features
Unlike the typical budget planner, this balanced budget organizer covers up to 2 years, all within 48 pages. If you're looking for an easy-to-use, inexpensive planner, that can be stored at home.
This personal budget book is a must-have!
This planner is spiral bounded, meaning it will lay completely flat, unlike similar small budgeting planners I've listed above.
This budget organizer includes:
Income tracker
Expense tracker
Financial goal tracker
Yearly goal tracker
If you're ready for budgeting to become part of your life for the long hall, this is a great place to start. The affordability of this financial planning notebook blows my mind.
This planner really dives headfirst into recording expenses. This would be a good family budget planner or if you have a small business and you are looking to get straight to the point recording expenses.
8.

Clever Fox Budget Book
>>> Read Reviews and Check Price!
| Pros | Cons |
| --- | --- |
| 75 free stickers | The print is small |
| No bleed paper | |
| User manual | |
| Different colors to choose from | |
| Inner pocket | |
Clever Fox Budget Planner Features
I'm not sure why I saved one of the best budgeting books for last, but I did. This Clever Fox Budget Book is different than the Clever Fox Budget Planner mentioned above.
This fantastic Clever Fox planner has quite a bit of room to record your daily, monthly, and yearly expenses.
It also comes in an array of colors and is super compact (5.3″ x 7.7), making it easy to carry. Don't let its small size fool you, though. This budget book gives you all the room you need.
This Clever Fox budget book includes:
Bill tracker
A yearly summary of expenses
Savings tracker
Debt tracker
Expense tracker
Monthly goals
This elegant Fox budget planner is proven to work; if not, they give your money back.
How awesome is that!
9.

Mead Organizer Expense Tracker
>>> Read Reviews and Check Price!
| Pros | Cons |
| --- | --- |
| Stands up to wear and tear | Only a few color options |
| Affordable | Large |
| Pockets to hold cash | |
| Download and print additional pages | |
Mead Home Finance Organizer Features
If you are looking to organize your bills the Mead budget planner is a great place to start. This one of a kind financial organizer book will help you track your expenses and see where your money is truly going.
This Mead financial organizer includes:
Calendar
Worksheets to track expenses
12 pockets to hold your bills
2 clear folders
One of my favorite parts of this particular budget planner book is that once you fill out all of the sheets you go online and can download more. If you are a beginner budgeter and looking to start tracking your expenses this would be a great place to start.
How To Make A Monthly Budget
Choosing a great Budget Planner is only the beginning. Once you've got the right budget binder for you, you'll need to learn how to make your budget!
That's where the Debt Free Wannabe Workbook will come in handy!
This 30+ page workbook contains step-by-step instructions to help you create a budget that works for your lifestyle, save more money, and develop a plan to pay off debt!
It comes with over a dozen printable worksheets that will help you organize your finances, build a budget and start paying off your debt super fast.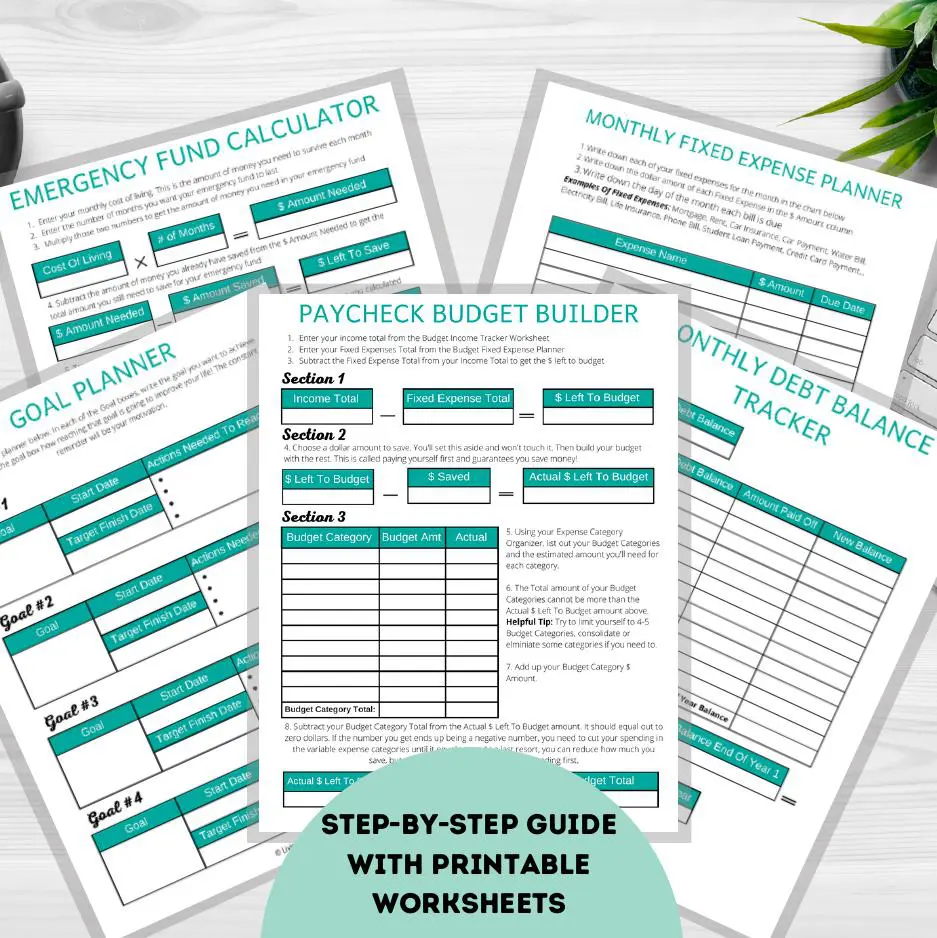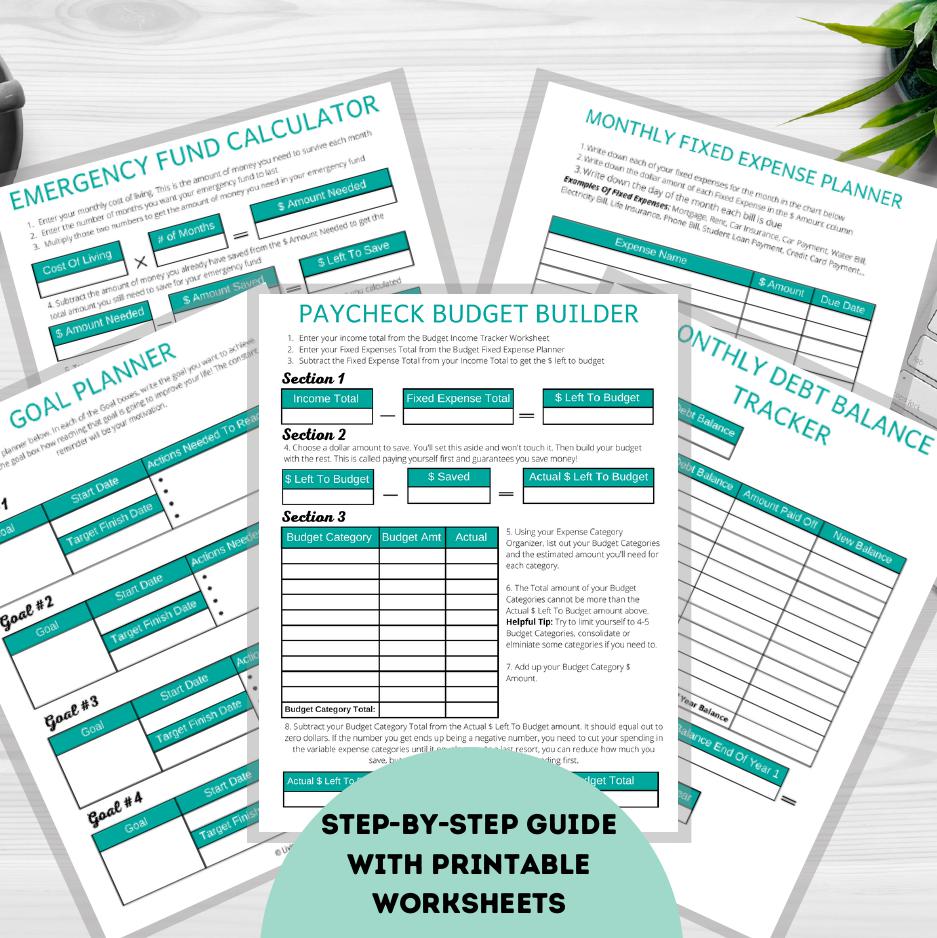 If you're struggling to take control of your finances, you need to try this Debt Free Wannabe Workbook. It's going to be your secret weapon to creating a budget with your new budget planner!
Best Budget Planner Summary Review
There you have it, 9 of the best budgeting planners! If you're looking to start tracking your everyday expenses or just for a new and improved budget planner, these are the best choices out there!
What budget planner book do you use? Let us know in the comments below!
Get Your FREE Budget Binder Today
It's time for you to take control of your finances so you can save more money and pay off your debt!!
If you enjoyed this post, save it for later and join us on Pinterest for more budgeting tips!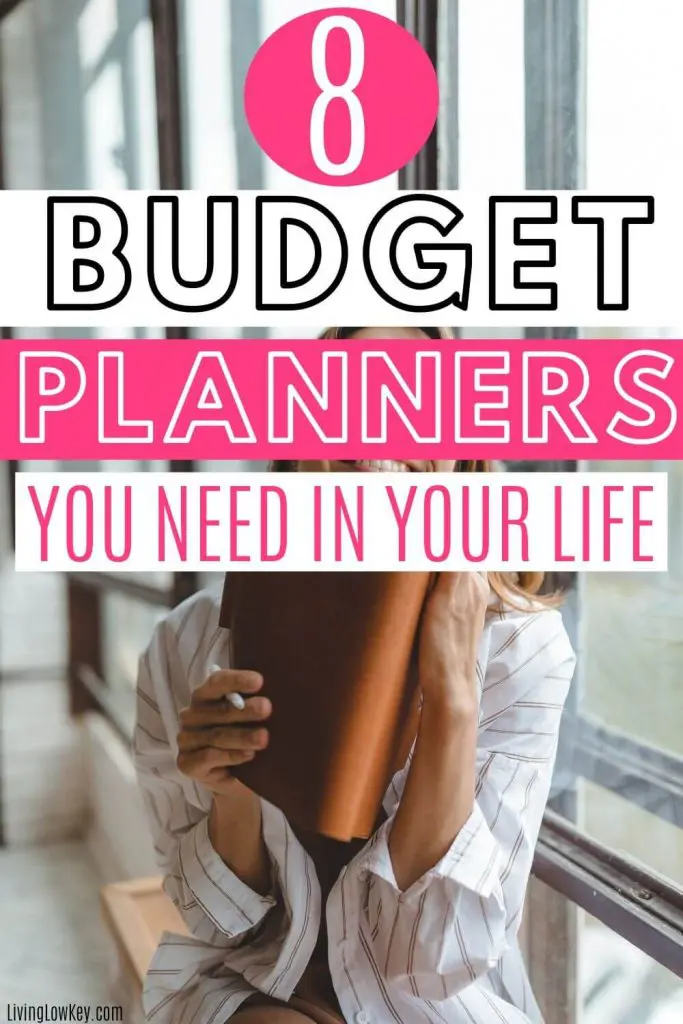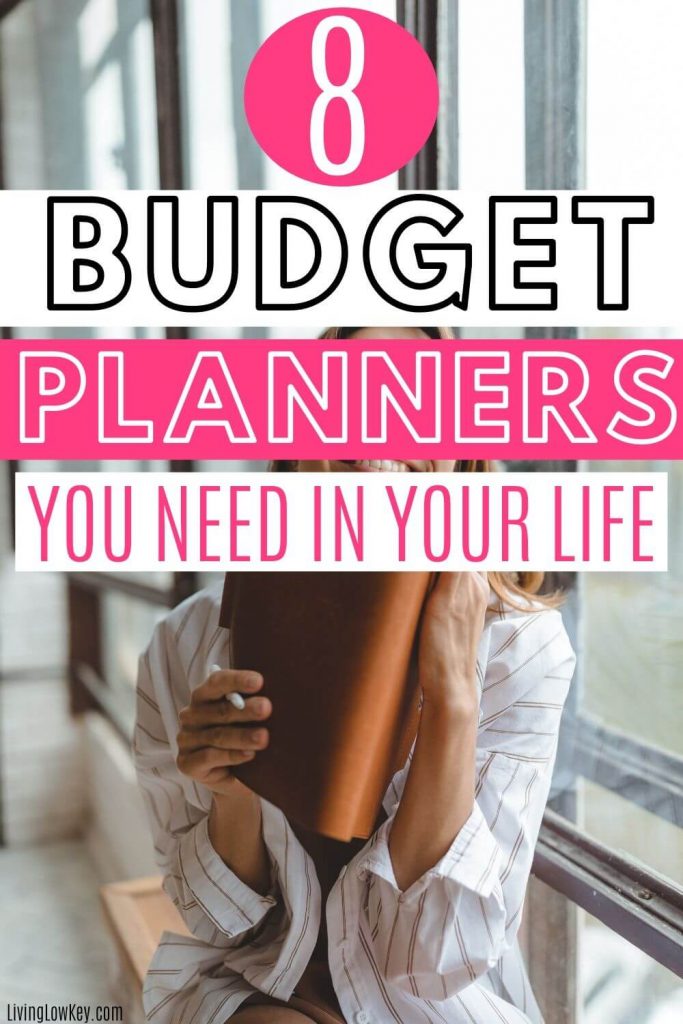 Popular resources:
Related articles: