Wow, this place is beautiful!! Those were my first thoughts when we took off in our 12 passenger plane from Belize City to San Pedro.
Our journey to the Central American country of Belize had started much earlier in the day. The 6 hours of flying from Minneapolis to Belize City flew by and the ride on that small plane to San Pedro was our first real look at the country.
Vast jungles and crystal clear turquoise waters abound, this place had me hooked. If you know Cassie and I even the slightest bit, you know we love the Caribbean. This was our first time in Belize and we were really excited to be joined by our best friends.
I know I promised you that I would tell you how to save money on your Belize vacation and I'll get there, but first I think you should get a quick lesson on Belize! I mean, don't you want to know what you're getting yourself into!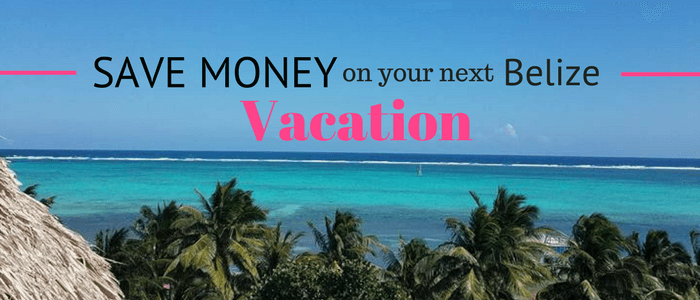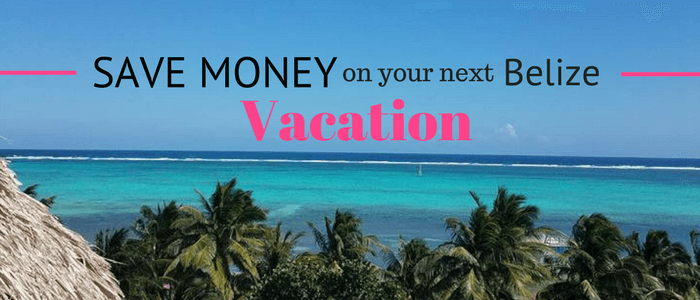 Related Articles:
History Lesson For Your Belize Vacation
Belize is a small country on the Caribbean Sea side of Central America. Just south of Mexico and bordering Guatemala, Belize has a population of roughly 400,000 people.
Get Your FREE Vacation Packing Checklist
Use this checklist and never forget anything again when you go on vacation!
The Belize landscape is made up of dense jungles in the West and beautiful views of the Caribbean Sea in the East. Home to the second largest barrier reef in the world, Belize has awesome snorkeling and scuba diving.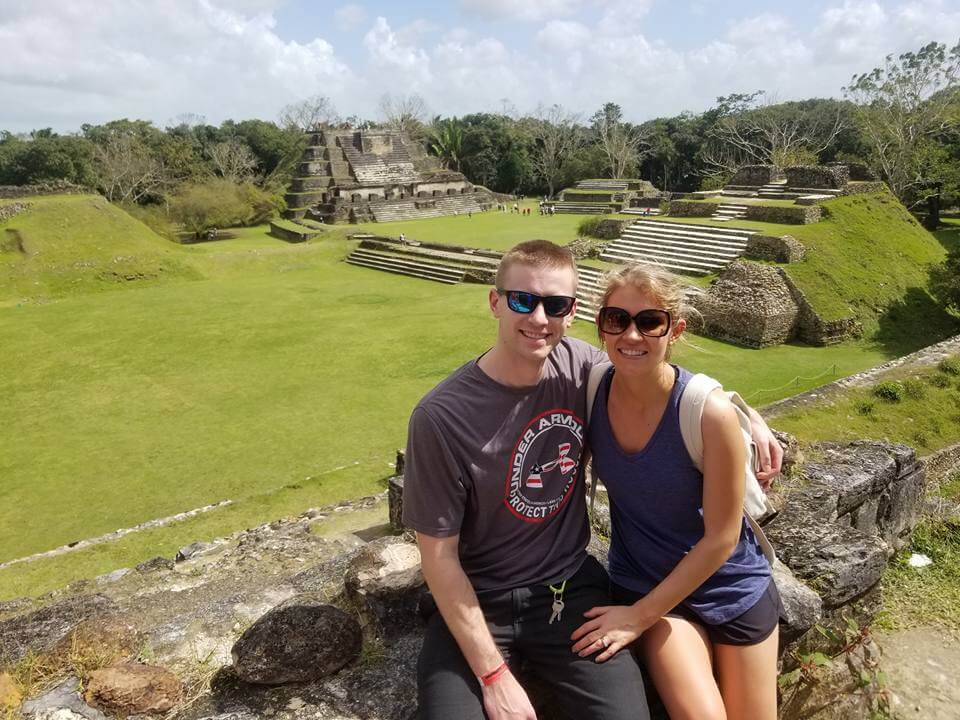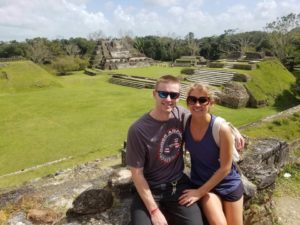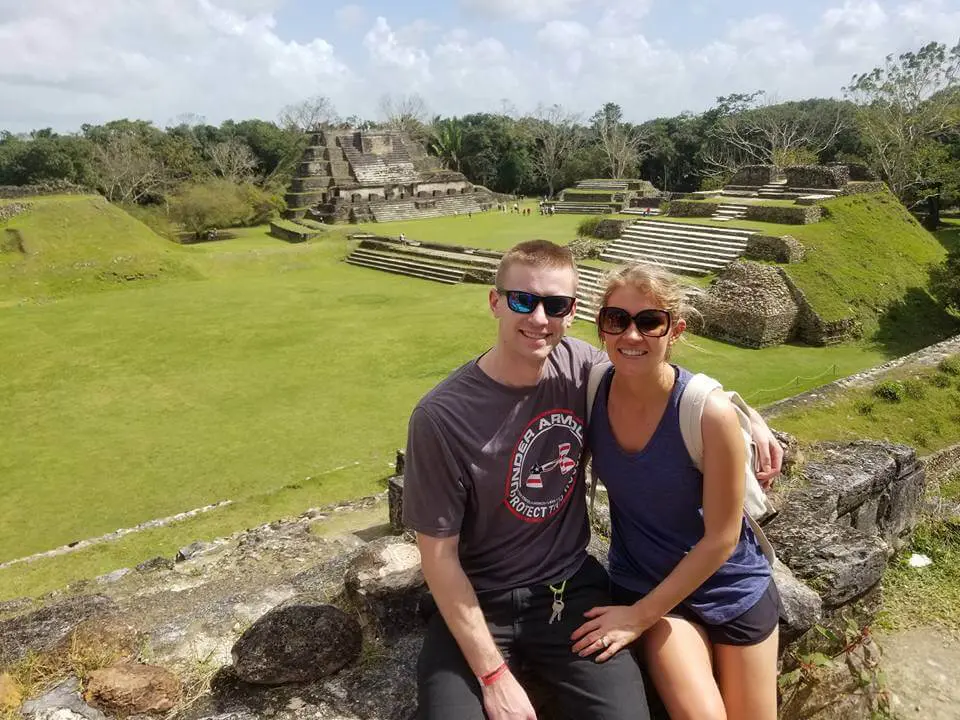 The Mayan culture is a huge part of the way of life in Belize. There are many different Mayan Ruin sites in Belize that are definitely worth a visit.
The Island of San Pedro, where we stayed, is a small and friendly town. The views are beautiful and it's full of great shops and restaurants.
Now that I've sold you on going to visit Belize, let's talk about how you can save money when you do. As we all know, traveling can get expensive but if you use these tips it will help you save money on your vacation!

Save Money On Flights To Belize
Alright, let's start with the most obvious topic first, your airplane tickets to get down there. Unless you feel like driving for a week straight, flying to Belize is your best option.
Your options for flying to Belize are actually pretty good. Depending on when you go, you'll have your choice of the many major airlines. We flew through American Airlines because they had the cheapest flights on CheapOair.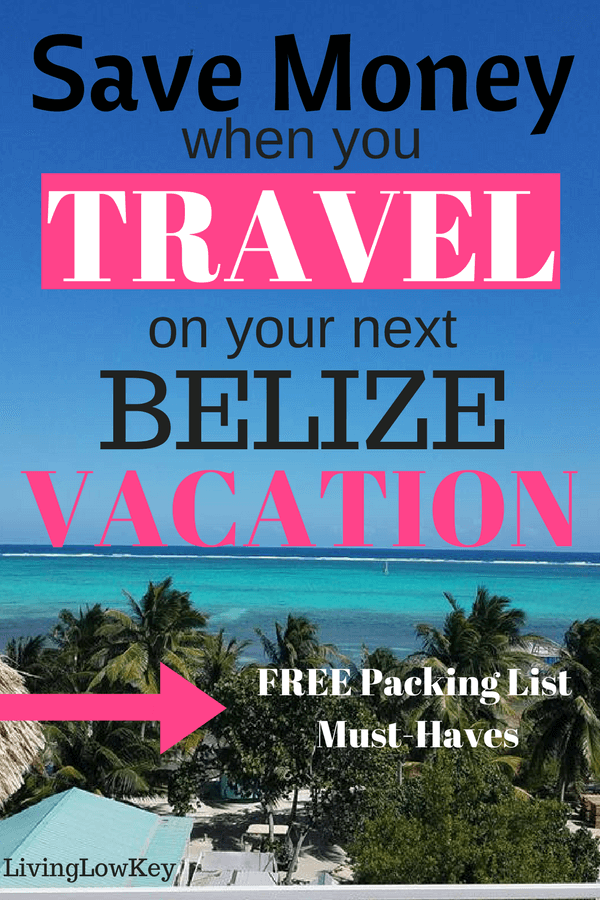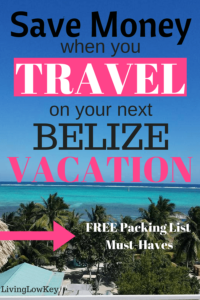 CheapOair is our go-to site for finding cheap airfare. We book all our flights for vacations through CheapOair. Next time you are looking to book a flight, make sure you check out CheapOair. You might be surprised at what you find.
If you're looking right now, you can get up to $50 off your next flight through our link when you use discount code AIR50.
When it comes to booking your flight to Belize. Keep in mind the season, high season runs November to April and everything is more expensive.
If you want to save money on flights, remember to book your trip during the offseason and think about flying on a Tuesday or Wednesday. Planning around the high season and being flexible with your days of flying can save you hundreds of dollars.

Using Airbnb To Find The Perfect Place
You're going to have fun in Belize, there is so much to do! One thing you need to consider is where you're going to sleep at night.
I know sleeping on the beach under the stars with the trade winds blowing through your hair sounds amazing, but it's a bad idea. If the sporadic rain showers at night don't get you, the iguanas might!
Make sure you take some time to find yourself a nice place to stay. On Ambergris Caye there are a lot of really nice places to stay and they can be found in any price range.
When you are looking for places to stay, we highly recommend checking out Airbnb. We were able to find the perfect place to stay using AirBnB and for the right price.
Our home for the week while we were there was located a block from the beach with beautiful views.

Tips to Save Money on Lodging
If you want to save money when planning your trip, use Airbnb to find a place to stay. If you sign up using our link here, you'll get $40 of travel credit towards your first vacation. How awesome is that, instant savings!!
The best thing you can do to save money on a place to stay during your Belize vacation is to invite friends. Splitting a hotel or condo with friends dramatically reduces the cost. Hit up all your friends and see if any of them want to travel with you.
When you're looking for a place to stay on your Belize vacation, I recommend staying right in San Pedro. You'll save money because lodging is cheaper and you won't have to rent a golf cart to get around every day.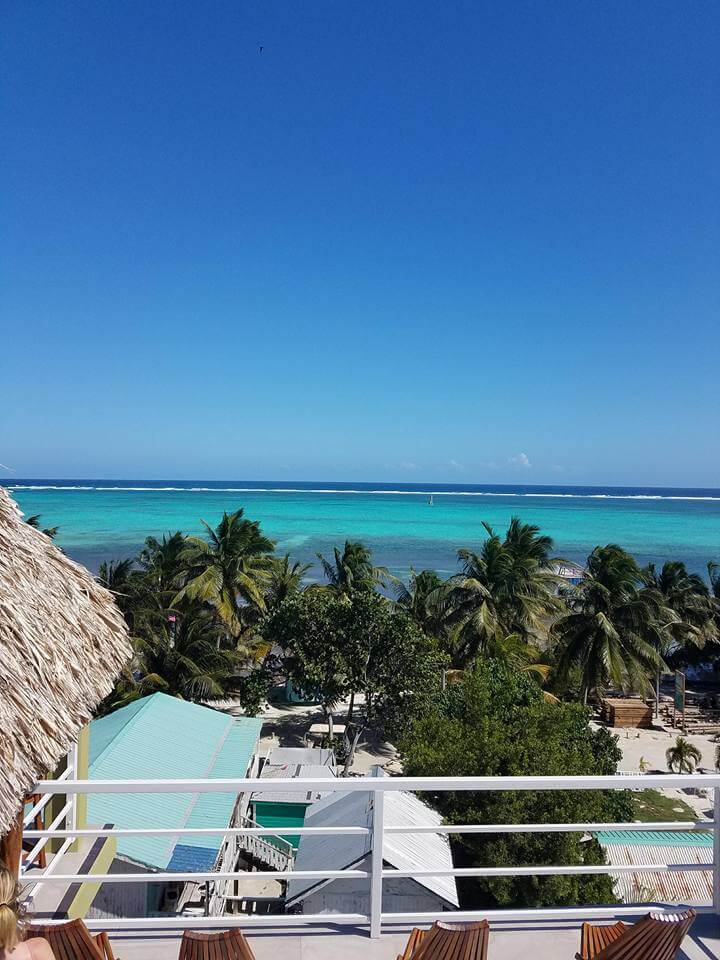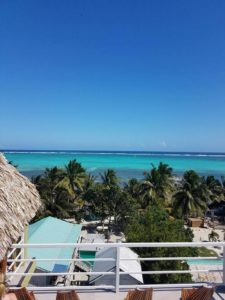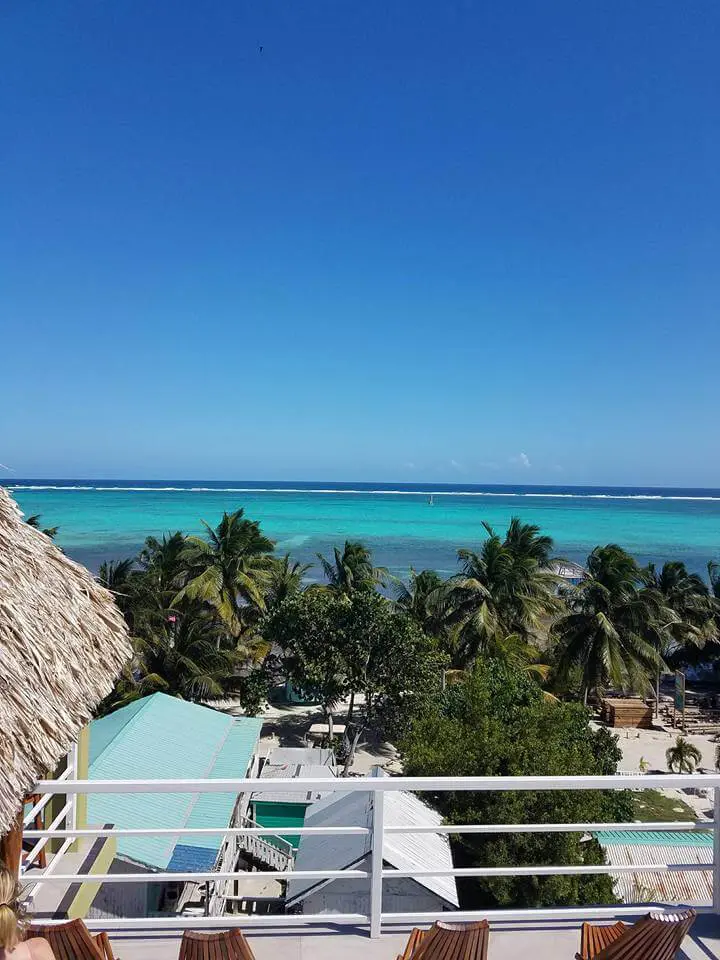 I mean seriously, check out the view from the place we stayed at! It was right in town so we could walk everywhere. Not to mention the place right in front of us had awesome Pina Coladas!

Creating Memories on a Budget
One of our favorite things to do when we travel is to immerse ourselves in the local culture. We love exploring other countries for the beautiful scenery, seeing different cultures and of course we love the water.
Before any vacation we take, we create a mini-budget just for the vacation. For our Belize Vacation, we set a budget and part of that was how much we could spend on excursions.
There are three really big things to do on your Belize vacation: snorkel or dive the barrier reef, visit the Mayan Ruins, and go cave tubing. We didn't do the cave tubing but we checked the other two off the list.
If you're like us and want to have an adventure on vacation here are some tips to save money.
When booking your excursions make sure you price shop. There are several companies offering the same trips for slightly varying prices. Shop around to get the best prices.
Some excursions, like fishing, are a flat rate based on having 4 people in the boat. Whether you have 2 or 4 people, you pay the same. To keep the cost per person down, make sure you have 4 people in the boat.
In Belize, they have two small airlines that fly you from San Pedro to Belize City. They also have a water taxi that makes the same trip. One way to save money is to take the water taxi. It's a lot cheaper than flying.
The difference is the water taxi takes around an hour whereas the flight takes 15 minutes. Sometimes convenience and not getting seasick are worth a few extra dollars. 🙂

Eat Like The Locals
Have you ever gone on vacation and spent way too much money on food? We have and I was determined to make sure that didn't happen on our Belize Vacation.
If you want to save money on food but still eat delicious meals, you have to eat like the locals in Belize. We tried some of the more touristy spots and they were ok. The really awesome meals we had were at the mom and pop shops.
Seriously, the meals we ate at the little stands by the side of the road had the most delicious meals. Not only that, they are super cheap!
Top tips to save money on food during your Belize vacation:
Eat at the smaller family restaurants, the food's amazing and really cheap prices
Buy groceries and cook meals at your condo or rental house
Get ingredients and liquor to make your own tropical drinks 🙂
Grab Your FREE Budget Binder Today!
Start saving more money and pay off your debt with this FREE Budget Binder
Rent a Golf Cart
Alright, if you're looking to explore Ambergris Caye or make your way out to Secret Beach (it's not much of a secret because everyone knows about it) you have to rent a golf cart.
Renting a golf cart is going to be cheaper than taking a taxi everywhere. Not to mention it's fun driving around on the golf carts.
There are quite a few golf cart rental places in San Pedro. Make sure you shop around for the best price and ask for any deals.
The owners of the condo we stayed at were able to hook us up with a golf cart for the day. If you use AirBnB, make sure you speak with the owners for all the hidden gems on the island.
We had a really great time in San Pedro Belize and we would recommend it for a vacation. The people were nice, the country was beautiful and the food was delicious. Follow these tips and it will help you save money and keep costs down when you take your Belize vacation.
How do you save money at your favorite vacation destination?
[disclosure]
Grab Your FREE Budget Binder Today!
Start saving more money and pay off your debt with this FREE Budget Binder