Call me impulsive or spontaneous but this summer we decided to start camping more. It started with a desire to take our kids out for a weekend camping trip but evolved into so much more. We've never done a lot of camping but we love the outdoors and wanted to spend more time there.
What initially started as wanting to go camping turned into me looking at small travel trailers online. It wasn't serious at first, I was just window shopping and dreaming.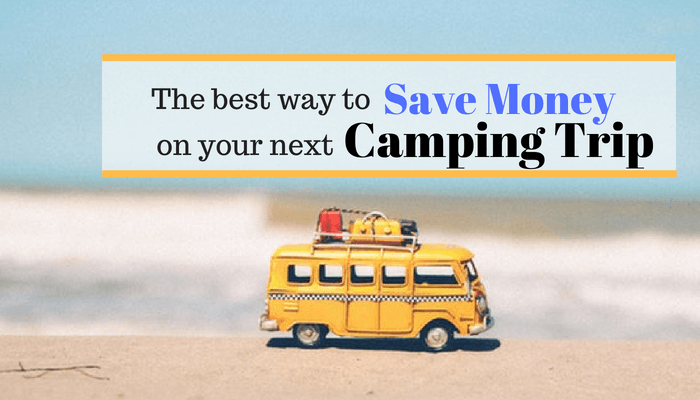 I wanted to go camping, but the idea of sleeping on the ground in a tent wasn't that appealing. I wanted a little comfort to go with this idea.
It wasn't until we decided to go to the Camping and RV show here in Minneapolis that the dream got cemented into our heads. There were so many nice travel trailers and they were all shiny and new. We were hooked on the idea of getting a travel trailer that we could pull to a lake and spend the weekends there with the kids.
Now, if you know us, you know we don't get crazy with our money so we knew we couldn't buy a brand new trailer, nor did I want to. That's how I ended up looking online.
I found quite a few nice trailers online but none of them had what we wanted and the ones that did were out of our price range. Just be patient I kept telling myself.
At this point, I don't think Cassie knew how serious I was about finding the perfect travel trailer. I felt like I was keeping a secret from her, I didn't want to show her until I found the perfect one.
Related Articles:
Finding The Right Travel Trailer Takes Patience
That's when it happened, I was sitting on the couch and I came across a 2014 Keystone Passport 3290BH. It was PERFECT!! This camper had everything I wanted in a travel trailer and it was the exact price I wanted to pay. It seemed too good to be true, the only downside was that it was a 7-hour drive away.
After a quick email exchange and some phone calls to the seller, I left at 4 am on a Sunday to pick up our new travel trailer.
Now, keep in mind that I had never towed anything bigger than a 17ft boat and I was on my way to pick up a 32ft travel trailer. Yea, talk about nerve-wracking.
I won't lie, I was over the moon excited as I hooked up the camper and started driving away with our dream in tow!
After 7.5 hours of white-knuckle driving and a few awkward stops to get gas (not so easy when your vehicle is 57 feet long), I made it home!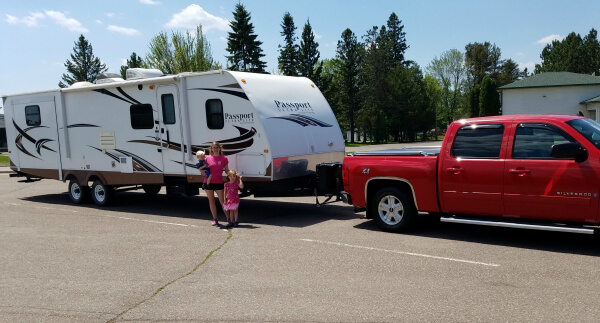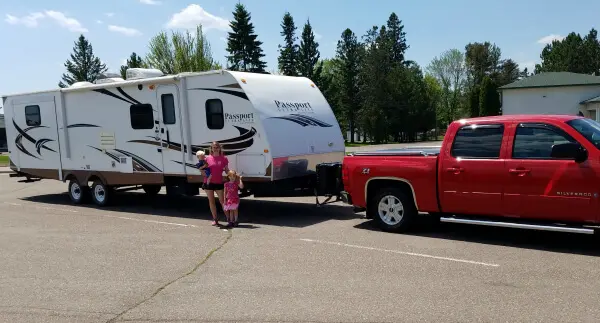 Needless to say, Cassie and the kids love the camper and we've spent as many weekends as possible in it this summer. During that time, we've learned a lot about camping with a travel trailer and one of those things is that it can get expensive if you let it.
That's why we want to share our tips with you to keep YOUR next weekend camping trip in the budget.
Camping Trip On A Budget
1. Borrow Camping Gear For Your Outdoor Adventures
I like to believe that we got really lucky buying our camper on a whim and everyone in the family loving it. You might not want to take that risk.
Try borrowing some camping gear and giving it a test run before you go and invest in something like a travel trailer or your own gear. The last thing you want to do is spend a ton of money on camping gear and then find out you don't really like camping.
Ask your friends or family if they have any camping gear and set up a weekend to give it a try. If you decide like camping, then start looking into getting your own gear.
Maybe you can start with tent camping. Here's a great guide on choosing the right tent for your camping needs!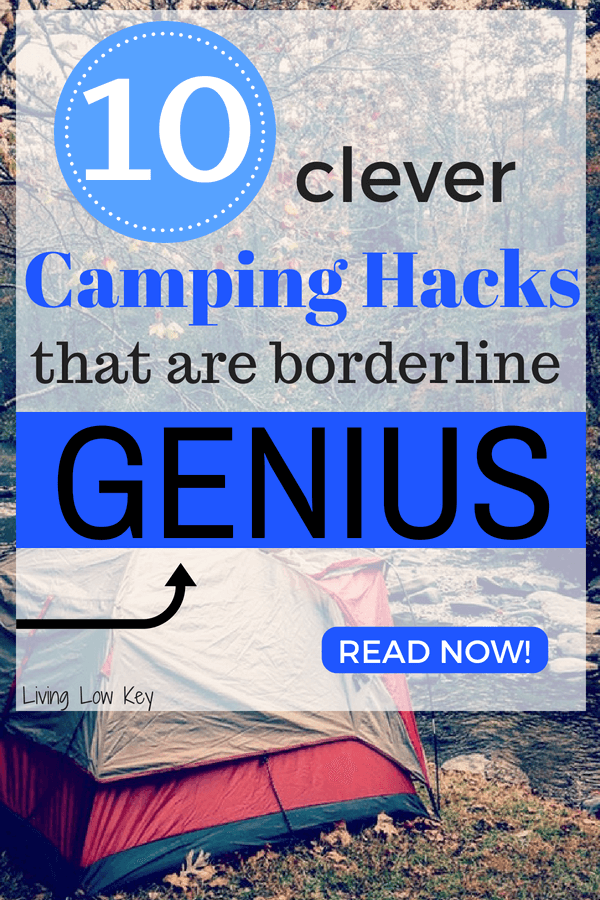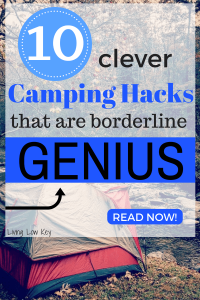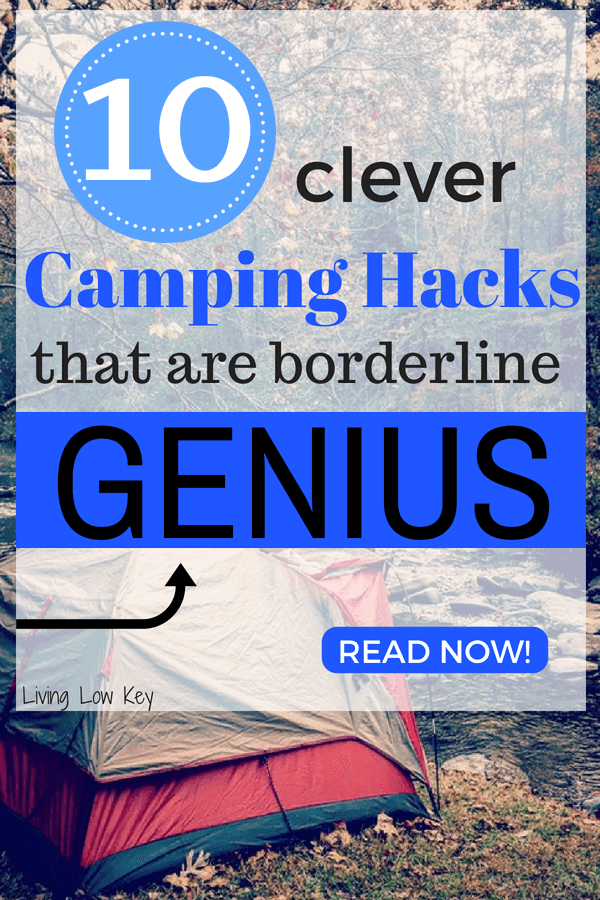 2. Find You Perfect Travel Trailer
This piece of advice is applicable to a travel trailer or a tent, find the right one for your needs. If you're looking for a tent, think about how many people will be in that tent, make sure you have enough room.
If it's a travel trailer you're looking at, think about the basic conveniences you will need first. For us, that meant a place to sleep, a bathroom, a fridge to keep food in, and a place to charge our computer (gotta keep that side hustle going).
When you're looking for your travel trailer, it's easy to get caught up in all the glitz and glam of brand new campers. Set a budget and stick to it when you're looking at campers. Try to find one that's a few years old, not only to save money but if you're lucky like us, the previous owners might have done a bunch of cool upgrades.
The MOST IMPORTANT part of finding a travel trailer is to ensure you have a vehicle to tow it. Our travel trailer weighs nearly 8000 pounds fully loaded. My truck is rated to tow up to 10,000 pounds so we have a nice margin there. It's slow going when were towing and we get 11 miles per gallon, but we can do it safely and that's all that matters.
3. Reserve A Camp Site Far In Advance
The sooner you can book your trip the better. Many campgrounds book up weeks to months in advance so to get a spot reserved early.
I know it might be tempting to go camping over a holiday weekend but you're going to pay a price for that. Most campgrounds raise their prices for holiday weekends and they require a longer minimum stay. Save money and go camping on weekends that aren't holidays.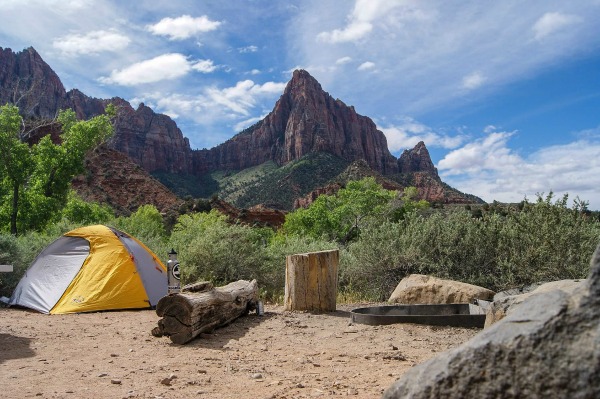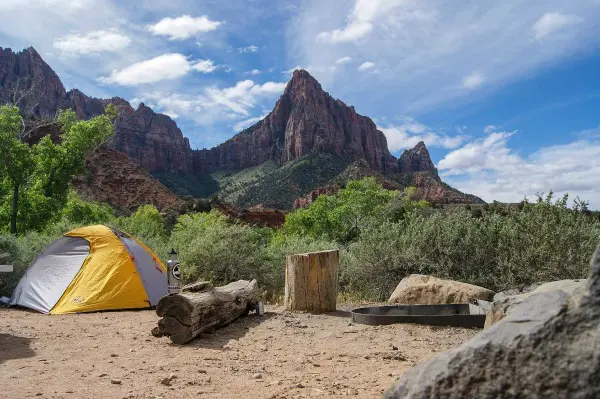 One hack you can try, if you're spontaneous, is to call a campground on the Friday of the weekend you want to go and see if they had any cancellations. You might get lucky and find a campsite at a really nice campground that was supposedly booked up. You have to be able to be ready to go at the drop of a hat to make this one work though.
A lot of times campground will have a peak season, generally during the summer. If you're fine with early spring or late fall camping you can generally score a discount on a campsite outside of peak season.
4. Get A Water Filter
This is a big one for us because we go camping in a travel trailer, we're generally able to have running water. Even some tent sites have a water spigot at the site.
If there is water at your site, it might be tempting to drink that water…DON'T DO IT!! You don't know what the last campers might have hooked up to that spigot. We always carry a bottle of disinfecting spray to clean off the spigot before we hook up the water.
The one thing that you should invest in is a water filter. Constantly buying cases of bottled water for camping trip adds up fast. Save yourself some money and buy a water filter.

We bought the Camco TastePure Water Filter solely based on the good reviews. I'll be honest, I put all my faith in the Amazon community when I bought this and they didn't disappoint. It claims to be good for the whole season, I'll let you know how that claim holds up!
We hook that filter up to the hose outside the camper to make sure the water coming into the camper is clean. We do regular cleaning of the freshwater tank but if you're still concerned you could always get a faucet mounted filter as well. You can get a faucet mounted filter like the one in the picture aboveon Amazon for relatively cheap.

5. Meal Planning Hacks
The next time you go camping, make sure you plan out your meals. When we plan meals for camping we try to cook meals that are easy, cheap and leave leftovers for other meals.
Cooking with rice is cheap and easy. We also do a lot of veggies and hot dogs. One of our favorite meals is to put sausage, onions, potatoes, and peppers with some seasoning into tinfoil and toss on a grate over the fire. This makes a delicious and filling meal with tasty leftovers for the next morning!
One way to save more money is to cook over the campfire. We have a grill on our camper but that requires the use of propane. To cut down on propane costs, try cooking over the fire. A simple grate like this makes cooking over the open fire possible.
If you're going camping with friends, make sure you split up the meal planning between everyone. It's a lot easier and cheaper if you spread out the meal planning amongst several people.
6. Bring Your Own Firewood
The next time you go camping, bring your own firewood. I know what you're thinking, I'm going to spend the weekend in the woods, I'll just burn whatever I find out there.
It might seem like a good idea, but don't do it! Forest Rangers and Smokey the Bear won't be happy. Buying firewood at a campground can get expensive so plan ahead.
To keep the costs down, try bringing your own firewood. Look through Craigslist or any other online sale site and you'll likely find someone that needs wood taken away for free. Get yourself some free firewood and have a nice bonfire on your weekend camping trip.
7. Camp Close To Home
I know there are a lot of people that think to really be camping you have to go far from your house. I'm not buying it. Some of the best camping we have done is within an hour of our house.
There are a lot of benefits to camping close to home. When you're close to your house, you can actually spend more time camping because you don't have to spend hours of your day driving there.
For us, when we're towing the camper, we get about 10-11 miles per gallon of gas. That's terrible gas mileage!! Anytime we camp close to home we save money on gas because we can make it there and back on one tank of gas.
We prefer to do short distance camping trips to help cut the cost of gas.
8. Make Money Workamping
This might come as a surprise to you, but there are people that get paid to live at campgrounds and work there. It's called WORKAMPING and it's a great way to cut the cost of camping.
If you're someone looking to do a long stay at a campground and you don't mind a little work, this might be the option for you. You'll get discounted or even free campsites plus make a little money for your work.
Try searching online for Workamping positions available. I've seen some pretty tempting offers for workamping around Grand Teton National Park and a couple other places in the Rockies.
9. Avoid the Small-Town Prices
I'm all for supporting small business, but I'm also for saving money. When we go camping, we make sure to double check that we have everything before we leave.
It hurts when we have to buy something simple, like sunscreen or bug spray, for $14 at the campground when we can get it for half the price near our house.
Before you go camping, make sure you double check everything so you don't forget important items. To make sure you don't forget anything on your next camping trip, fill out the form below to get a Free Camping Supply Checklist!!
10. Ask for Discounts or Join Camping Programs
The old adage, "It doesn't hurt to ask" holds true for camping. When you call to make a reservation, ask the person you speak with if they are having any specials right now. You might find that they have a deal for renting 3 or more nights or have reduced rates during the off-season.
If you're a member of the military or a first responder, try asking if they have any discounts to recognize the sacrifices you make on a daily basis. I think you'll find a lot of places have a discount like that but they don't advertise them.
There are also a handful of camping programs out there that give you discounts at campsites throughout the country. If you do a lot of camping all over the country, you might want to get an annual national park pass or look into something like Passport America. With a quick Google search, you can find more programs that offer discounts for camping.
Whether you're camping in a tent or a 32ft travel trailer, these tips are sure to help you save money. Now that you know the secrets, it's time to get out there for some new outdoor adventures!!
What Other Tricks Do You Use To Save Money While Camping??
[disclosure]