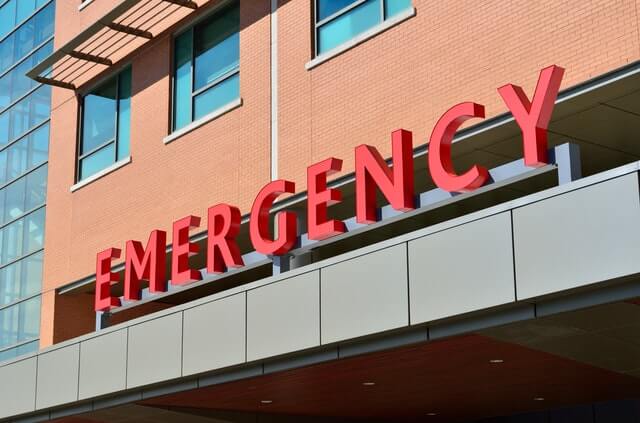 Let's face it, emergencies happen to everyone. I could be your car breaking down, a trip to the doctor, or a furnace that dies in the middle of winter, whatever it is, you're going to want an emergency fund.
How much money is in your emergency fund? Do you even have an emergency fund?
Go ahead, raise your hand and feel proud if you've got an emergency fund. If you don't have one you can raise your hand too, nobody is watching, but don't be discouraged.
Only 39% of Americans have an emergency fund that can cover a $1,000 incident. Even worse, 34% don't have any savings at all!! I don't want you to be part of that 34%.
We are going to help you start your emergency fund with some money-saving ideas. We can't stress enough how important it is to have money set aside for the emergencies in life.
Life throws curveballs at you when you least expect it, make sure you are ready by having some money tucked away.
Emergency Fund Definition
If you aren't sure what an emergency fund is we will explain it to you. If you asked me what my emergency fund definition was, I'd tell you that it's a sum of money that's there to protect you from financial troubles when life throws a curveball at you.
This money could be in a checking or savings account or possibly even hidden in your house. We don't recommend hiding it in your house; it's probably safer in a bank.
The emergency fund is used for things like big doctor bills, if your car breaks down, you just lost your job, or replacing your furnace when it goes out in the middle of winter.
You get the point, it's for stuff you didn't or couldn't plan for.
Emergency Fund Amount: How Much Is Enough??
Determining the correct emergency fund amount for yourself is largely based on how much money you need to just get by each month. We personally shoot for our emergency fund amount to be enough money for 4-6 months of living.
The theory behind that is if David were to lose his job today, we would have enough money in the emergency fund to keep us living comfortably for about 6 months until one of us finds a job again.
Obviously, it takes a while to save up that much money so a good goal to start with is simply creating a $500 to $1000 emergency fund.
Now that we have covered the basics of what an emergency fund is, let's get to the good stuff. You want to know what you can do to start your emergency fund.
Recommendation: If you need a good place to keep your emergency fund, try a CIT Bank Money Market Account.
Start An Emergency Fund: 5 Tricks To Help You Save Money
Well here it is, we're going to list 5 things you can start doing now to save extra money and build your emergency fund.
#1 Fun Money Saving Trick
This one is fun and will add up without seeming like you are doing a lot. At the beginning of the month get a jar and put one dollar in it.
The next day, add two dollars to it, then three dollars the next day, then four dollars the next, and so on until you go 7 days. On the 8th day start the cycle over again for another 7 days.
Continue repeating that cycle until the end of the month. Putting a few dollars in the jar at a time doesn't seem like a lot but if you do this for four weeks out of the month you will have $112 dollars saved.
Continue that until you have your desired amount saved for an emergency fund.
#2 Create An Emergency Fund Spreadsheet
Creating a spreadsheet is a great way to track and grow your Emergency fund. It doesn't have to be anything crazy but it sure helps. Here's our favorite tool to track our emergency fund.
#3 Drink More Water
This might sound crazy but simply drinking water instead of sodas or coffee will save you money.
Think about it!
How much does a soda cost from a vending machine, $1 to $1.50? How about a cup of coffee, even more than that?
Take a second to think about how much you could save each month if you cut out soda or coffee and went to drinking only water? That money you save by not buying extra drinks really adds up and could be a great way to jump start your emergency fund.
Not to mention all the health benefits that come with drinking more water!
#4 Declutter Your Home
Take a second to look around you and think about everything you have? Do you really need all those 'things' in your house?
No, I bet you don't. Do you want it? That might be a different story…
If you have stuff sitting around in your house and you don't have a need for it, sell it! Have a yard sale or use an online selling site.
Selling things around the house is an easy way to get extra money and start building your emergency fund.
Next, I want you to think about everything that you pay for monthly. Is there excess spending happening?
You don't really need the TV package with 400 channels or the monthly magazine subscriptions. You can also look at phone bills and see if a competitor will give you a discount to switch to their service.
Start looking for ways to cut your bills each month and save some extra money.
#5 Use Allotments
Setting up allotments to come out of your paycheck is really easy to do. Ask your Human Resources department for help with this.
If you create an allotment that goes directly to a savings account instead of your checking account, you'll be less likely to spend that money. It will almost be like the money wasn't even there to begin with.
Out of sight, out of mind…until that emergency happens.
Bonus Idea: Brew Your Own Beer or Wine
We used to brew our own beer for fun. It wasn't until we started brewing a lot that we realized it was also a money saver.
The initial cost of getting the equipment is high but you start making your money back with every batch you brew. We found that David could brew a 5 gallon batch of a good IPA for around $65.
With the average price of a 6 pack around $12, you are looking at spending over $100 to buy 5 gallons.
Not to mention when you brew your own beer you have the option to brew whatever you want, even pumpkin ales around Halloween time! David brews a killer Pumpkin Ale!
Get Started Building Your Emergency Fund Today
We hope that you find these tricks for saving money useful. We can't stress enough how important it is to have an emergency fund no matter how small it might start.
Any money you can start saving now will benefit you in the long run especially when life throws you a curveball.
Remember, control your money so that it doesn't control you. If you have any money-saving tricks or games you would like to share feel free to leave them in the comments below. We love sharing our ideas and hope you will share yours with us!
Do You Have An Emergency Fund Started??
[disclosure]
Grab Your FREE Printable Budget Binder