If your high school or college student is graduating this year, you may be looking to plan a graduation party. While some events can be costly, these backyard graduation party ideas are focused on affordable options that will save money while celebrating your graduate's accomplishments.
From food to décor, budget-friendly graduation parties don't have to feel and look cheap, and there are many ways to have an amazing celebration without spending too much. To help you plan, we created this guide on the best affordable graduation party ideas.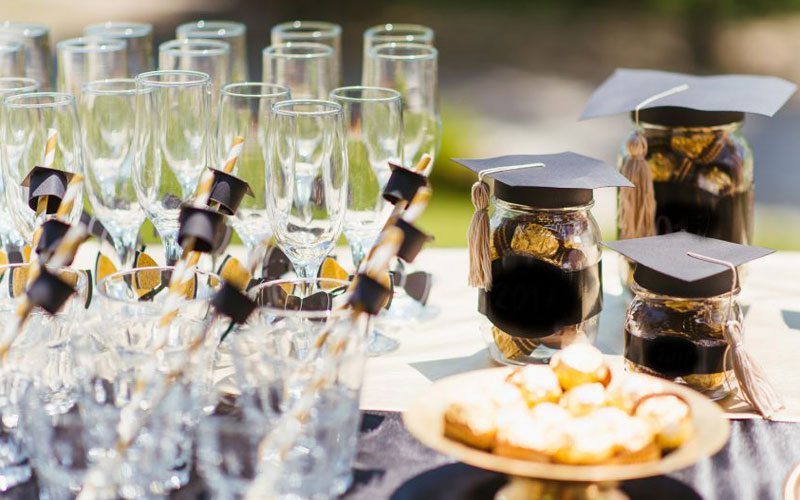 Affordable Graduation Party Ideas
Send Free Evites
To save money on materials, send free invites for your graduation party. Not only will you save yourself the hassle of mailing individual invitations, but you'll receive RSVPs in record time! What's more, asking for RSVP returns by mail can be a risky business, especially if you're relying on exact numbers for catering or seating plans.
Allocate time in your schedule for creating evites and ensure that you have all email addresses correctly listed in an online address book or document before starting. Most e-invitation services like Greenvelope and Evite even allow you to import your contacts directly, making the process a breeze. Whether rose gold is your jam or you're set on a retro '90s theme, you can customize your invitations to fit the bill.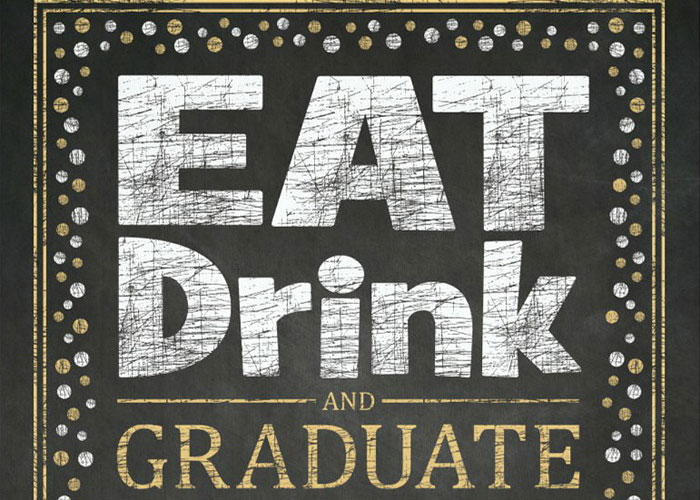 Create A Photo Booth
Create a photo booth for lasting memories with your family and fellow graduates. It may be tempting to rent out a professional booth for the day, but these can run hundreds of dollars and are rarely worth the investment. According to the Top Trends Guide, there are many ways to make a DIY booth, and you can start by ordering a cheap cardboard frame and decorating it with banners, confetti, and balloons.
For a topical touch, use a chalkboard and customize it with meaningful quotes and your graduation date. To create the ultimate DIY photo booth, buy a cheap set of props online for guests to use.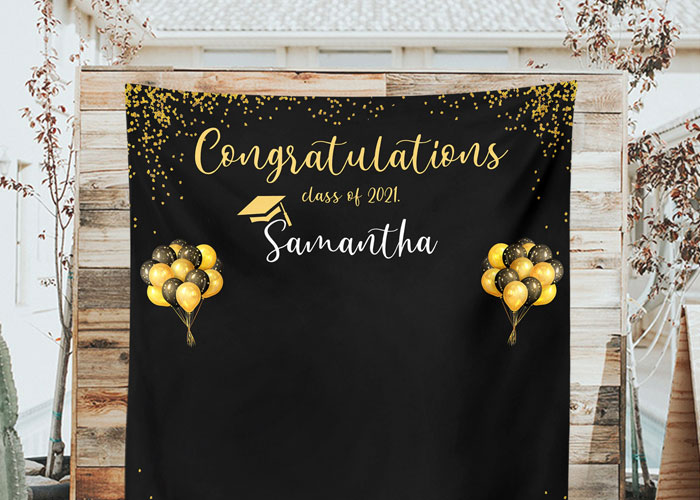 Have A Backyard BBQ
If you decide to have a backyard BBQ, you can save money on rental costs by using your yard's landscaping as decor. There are limitations to this idea if you're hosting an enormous party, but most graduation bashes can be easily managed at home. You will need to consider adequate shading and cover for your party, as your guests won't appreciate getting sunburnt or rained on.
To mitigate any weather-based issues:
Hire a small teepee or tarpaulin cover for the backyard.
If you're worried about space, consider opening inside rooms for guests to mill around in.
Just prepare for a hefty cleanup job at the end of your party!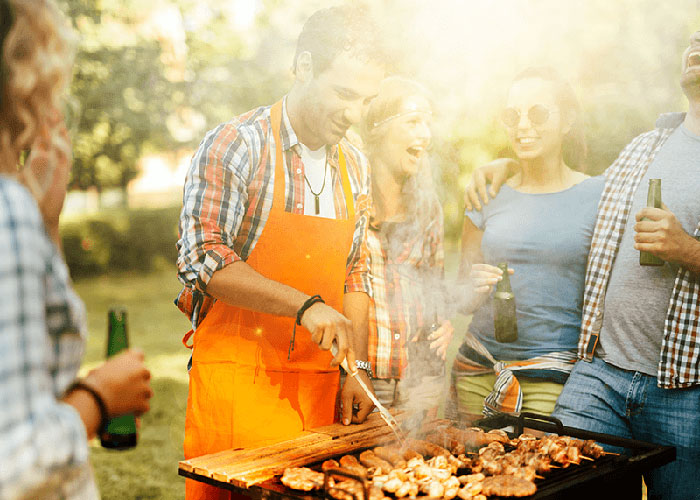 Invest In Affordable Décor
Since your graduation party is a one-day affair, you'll want to use decorative pieces you already own or invest in affordable decorations that are recyclable. Depending on how rowdy your bash gets, something will probably get broken.
Therefore, you don't want to shoulder the cost of a one-use-only crystal candlestick set! Colorful balloons, streamers, and banners brighten a space very cheaply, and you can pad your budget slightly by choosing confetti-filled balloons for a fun twist at the end of the night.
The interior design experts at Design Ideas Guide suggest using fairy lights, hanging vines, big mirrors, neon lights, photo collages, and other elements you might find in an aesthetic bedroom. If you're creative, construct a large balloon arch for your entryway and hang a line of photos of your graduating class in the corridor for guests to view as they arrive. This is easy to achieve using an at-home printer and light Facebook stalking. You can accentuate your décor with LED lights.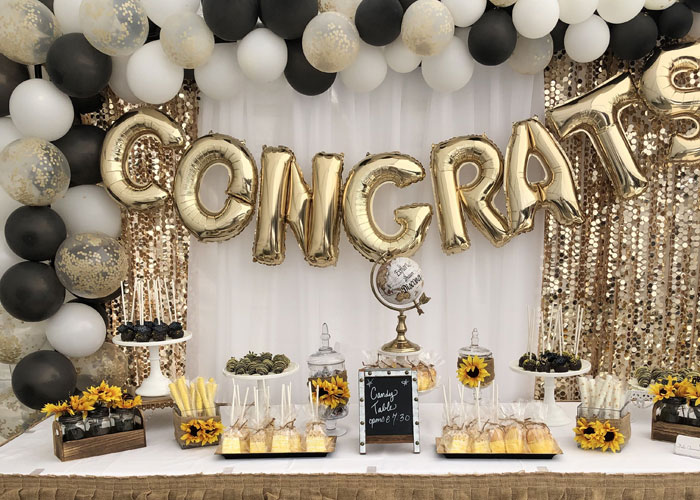 Make Picture Centerpieces
If you want to make the graduate the focal point of each table, make picture centerpieces containing their photograph and graduating year. To do this, print all photos at home and purchase a cheap set of acrylic frames to cover the number of tables you have. To jazz things up, consider adding fake flowers, themed confetti, and a selection of tea candles to the mix.
For an even cheaper solution, use wooden skewers and glue the grad's photograph to the flat end of the stick. You can then place these into decorated polystyrene blocks to keep them upright all night long.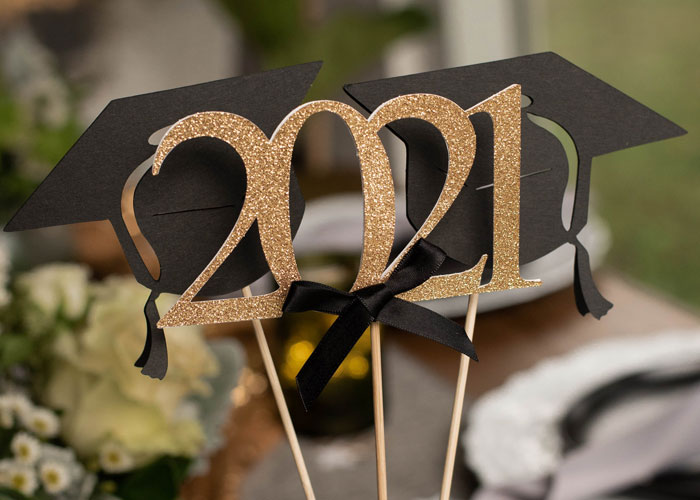 DIY Party Entrance Signs
To stop guests from getting lost, make DIY party entrance signs to keep them on the right track. You can order personalized versions from online sellers for a small fee, but you can keep costs even lower by buying a simple chalkboard and engaging your artistic side.
For an effective entrance sign, write the name of the graduate in bold lettering or cursive and add a simple arrow to guide guests towards the venue.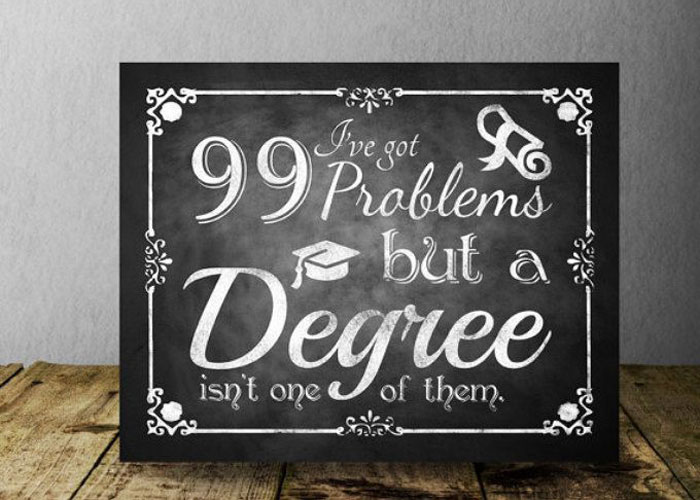 Use Large Balloons
If your party room is looking sparse, use large balloons to add depth and dimension to your space. Depending on your theme, you can purchase several balloons in different colors to place across the room.
If you'd like to keep your decorations concentrated on a specific party table, consider taping large confetti balloons to the wall and framing the main area to signpost it. If you're extremely tight on cash, create a small balloon 'bouquet' and use it as a statement piece of décor.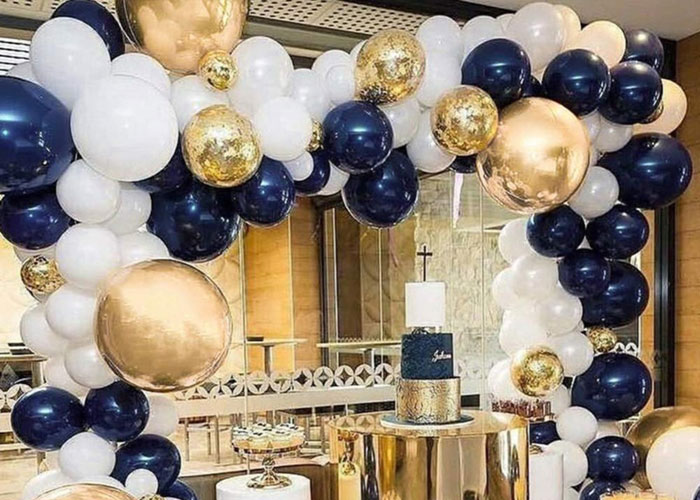 Simple Beverages and Delicious Homemade Punch
To keep beverage costs down, offer beer and delicious homemade punch to your guests. Beer is often sold wholesale or at bargain prices, making it an excellent option for thirsty partygoers.
A graduation party is also an excellent excuse to try out a delicious tropical punch recipe. If your guests are happy with mocktails, taking the alcohol out of your punch will drive the price per cup down significantly!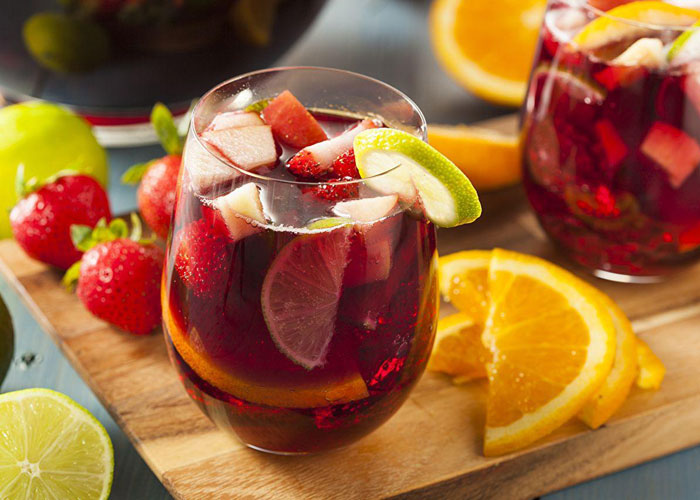 Decorate Your Backyard with Lights
Decorate your backyard with lights to add a touch of elegance to your outdoor party space. Your bash will likely extend into the evening, so encourage guests to venture outside by hanging lights in surrounding trees and around your home's exterior.
Based on these examples from Country Living, not only will this give your backyard a warm and welcoming glow, but strings of star and lightbulb-shaped twinkle lights can be used to signal a grad's bright future. If you don't have the means to hang or power your lights, use small mason jars and battery-powered options instead.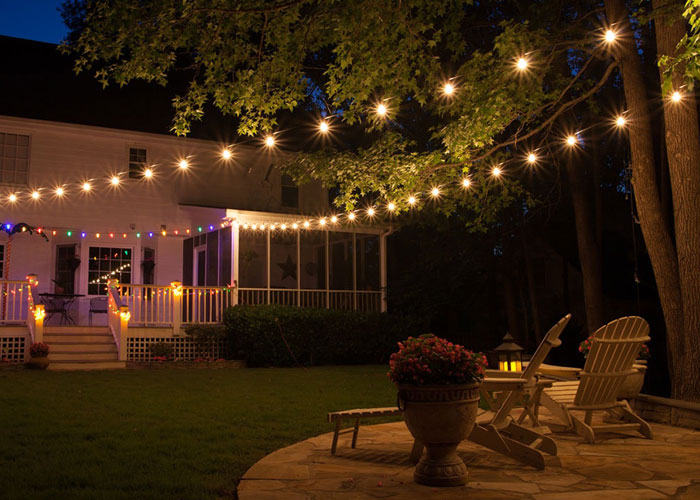 Graduation Themed Snacks
Food and drink can put a major dent in any party budget, so it's a good idea to make graduation-themed snacks from scratch to minimize your bill. Although it's more time-consuming than getting your bash catered, there are plenty of options available if you're willing to get those creative juices flowing.
You can feed people cheaply with hamburgers and pizzas, but you can also use cutters to create tassel hat cookies, build a makeshift "Taco Bout A Future" food station, and purchase cupcakes from the grocery store. Jazz any of your food items up with paper tassel hat toppers from Etsy or Amazon.
Bulk buying is the best way to keep costs down at graduation parties. Self-serve stations are excellent for this, as they're easy to replenish, and most ingredients can be bought at wholesale stores like Costco.
As a host, you may feel obliged to serve attractive food that's heavily themed. However, most guests just want to be fed and will appreciate whatever you layout! If you're looking to dial the budget back even further, consider buying large sheet cakes or baking at home.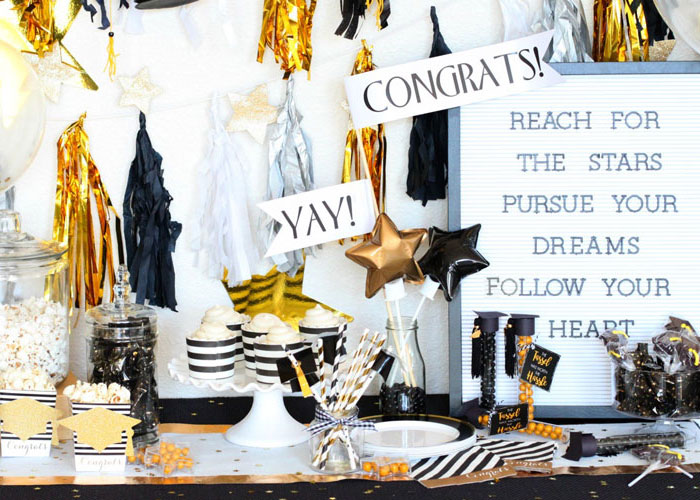 DIY Graduation Party Backdrop
No graduation bash is complete without a DIY graduation party backdrop. When it comes to themed backdrops, you want to take up as much of a wall as possible with your décor. Therefore, shop around for deals on large, lettered balloons, colored ribbon strips, and paper tassel hats to hang amongst the decorations. Anyone with an eye for color and spacing can create an effective backdrop, so don't be afraid to experiment. If in doubt, go big or go home!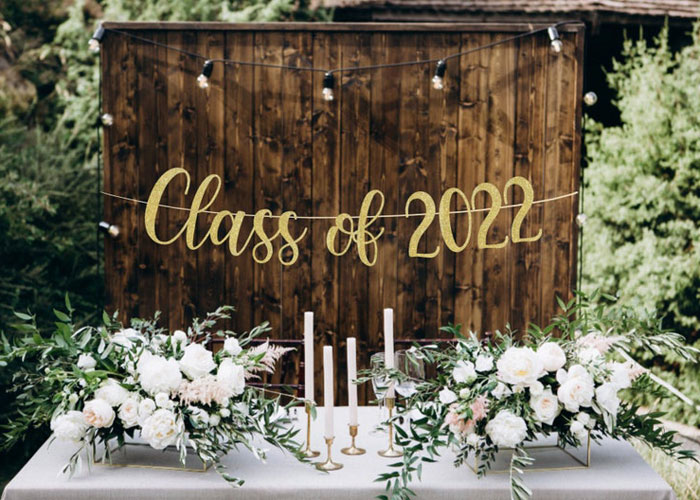 Bake Cookies and Confetti Cake For Dessert
Bake cookies and confetti cake for dessert, to keep your guests feeling sweet!
This idea is an absolute winner, as you can use cheap cake or cookie mixes from Betty Crocker or similar brands for an attractive and cost-effective final product. If you'd like to bake your goodies from scratch, consider keeping portions small to help your ingredients stretch further.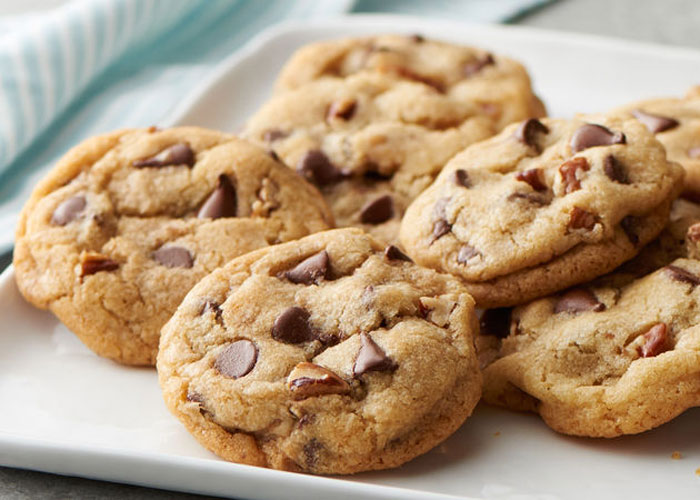 Inexpensive Graduation Party Ideas -Final Thoughts
There you have it! A handful of ways you can turn your students graduation party into a success on a budget. I hope you found some creative ways to decorate for an up and coming graduation party.
Grab Your FREE Budget Binder Today!
Start saving more money and pay off your debt with this FREE Budget Binder
Related articles: