The best money saving tips – As a money saving mom of 2 little ones, I know how expensive clothes shopping can be. Especially if you live in a state similar to Minnesota where the seasons change all too often.
Before you know it summer is here, which doesn't last long… and when the kids closet is finally stocked with summer clothes you realize its the first day of fall.
Yes, that's how long our summers last!
Somewhere in the short span of summer, we have to manage a full wardrobe change. Only to do it once again when fall arrives and the cycle repeats as each kid continues to grow at their own individual pace. I know I'm certainly not the only one who deals with this struggle, and I only have 2 kids!
So I made this for YOU.. Eight money saving tips that will save you big on children's clothing.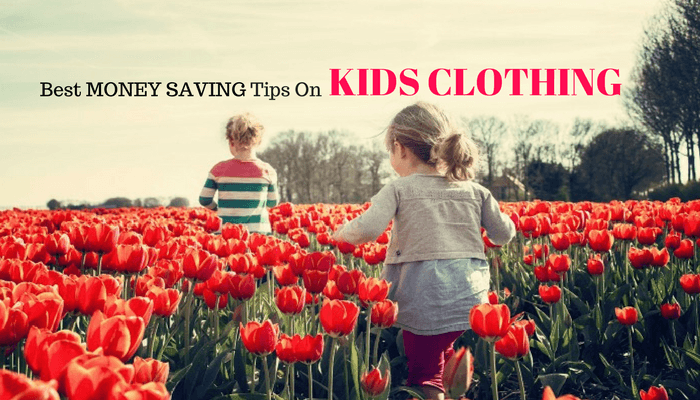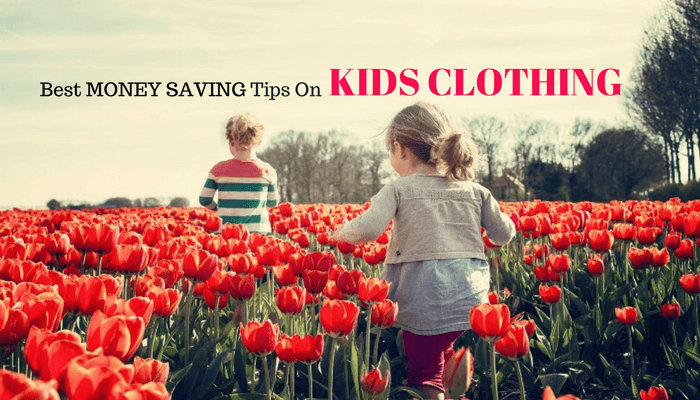 Related money saving articles:
Grab Your FREE Budget Binder Today!
Start saving more money and pay off your debt with this FREE Budget Binder
The Best Money Saving Tips To Save On Children's Clothes
Accept All Hand-Me-Downs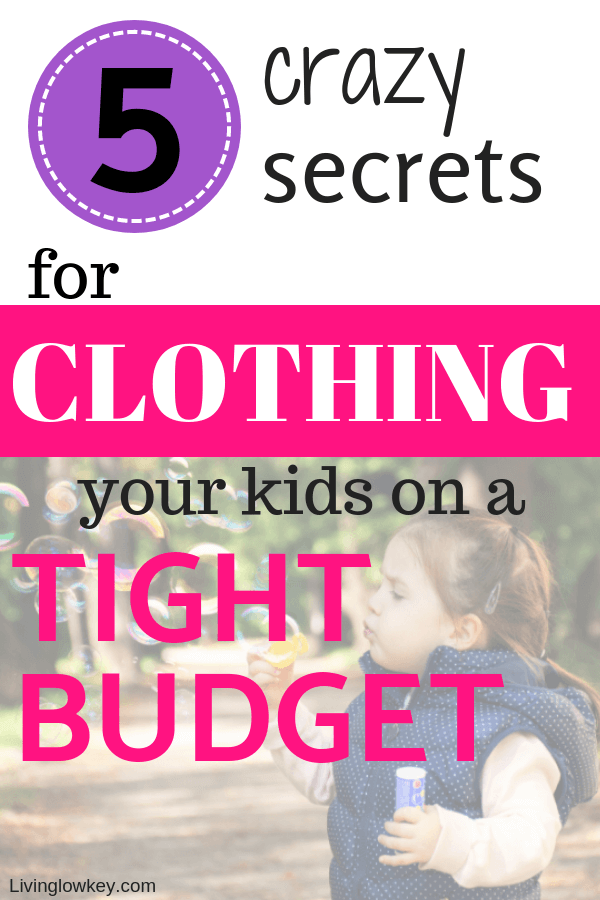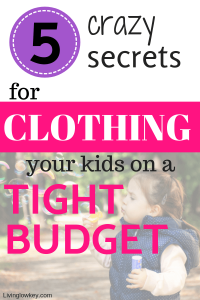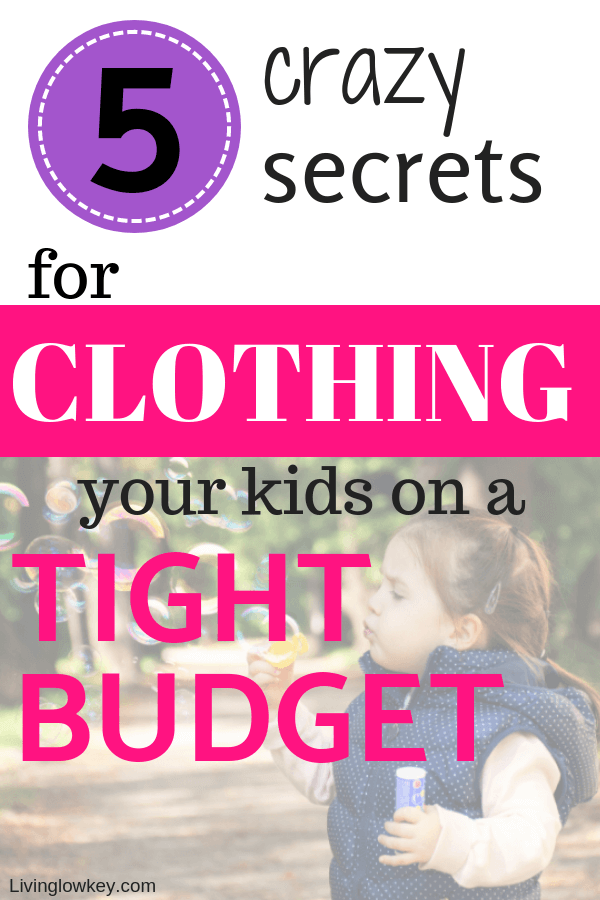 I can't believe how much this has changed my world and it will change yours too! When I had my daughter I couldn't even tell you how many clothes I bought for her. I went on a rampage. As she grew I couldn't believe how many outfits were hanging in the closet that she had never even worn and still had the tag on them.
Of course, I had no idea where the receipts were to return them.
However, this past year, I've accepted every hand-me-down I could get my hands on. It's literally changed my life. Both kids of mine have been completely clothed by friends and family for free out of the kindness of their hearts. How amazing is that!
I'm sure you know family or friends with kids similar in age. Reach out and see what they are doing with their hand-me-downs. More than likely they are just sitting in a box in their closet.. like my kid's old clothes are.
Most importantly, once your kids grow out of their clothes hand them down to someone else as well, they will really appreciate it!
Skip Buying Holiday Clothing
Raise your hand up high if you get cond into buying holiday outfits for your kids? Or if you feel the immense pressure of having to buy those cute outfits?
You know those outfits that your kids will only wear once!
On top of the outfit, you need matching shoes for each child's socks. Oh and don't forget the tights and hair bows for the girls. I'm here to tell you..
Don't do it!!
Last year I really felt the pressure to buy NICE Christmas outfits for my kids.
With all the cute pictures of everyone dressing their kids up in pretty dresses posted all over Facebook. Well, I gave in. Thankfully my daughter already had a dress from her grandma. I did end up buying a $20 dollar sweater for my son. I stood at Target trying to convince myself that he would wear more than once.
Well, he didn't!
Let me just tell you, every time I walk into his closet that sweater stares me down!
However, it's a great reminder that I don't need to spend $20 on a shirt to fit into societies norm.
Heck who wants to be normal anyway! Save your self-hundreds of dollars by finding your kids nice things to wear to holiday events from items that are already in their closets.
Related Money Saving Tips Article – How To Have A Debt Free Christmas
Always Ask For Clothing As Gifts For Your Children Instead Of Toys
This is definitely my favorite money saving tip! Ask for clothes instead of toys for every holiday and special occasion that arises. This might be harder to get away with when your kids get older but while they are young it works great!
I always ask for clothes that are a size or two bigger depending on the age of your child. Meaning I plan for a whole year worth of clothing before my child even starts fitting into that new size.
Staying ahead of the game is KEY!
For example, my daughter just turned 4 and I have almost all of the clothes she will need for every season until shes at least 5 and a half. So unless she hits a huge growth spurt I'm covered.
Then I start with the next size up.
My Favorite Money Saving Secondhand Stores
If you don't have someone who can give you hand-me-downs the next best thing is secondhand stores. Depending on where you live, your area probably has a variety of secondhand stores you can go.
Once Upon A Child
One of my favorite place to get kids clothing! You literally pay $2 for a pair of pants for kids. And the quality is always good. I have picked up a few pieces before and noticed stains but you just hang those pieces up and keep on digging for gold. They have all kinds of shoes, pretty much everything for a baby you could think of needing. Such as:
Clothing

Strollers

Toys

Highchairs

Shoes
You name it they probably have it. Keep your eye out for when they have their specials! Yes, they offer specials on their already very cheap clothing.
Garage Sales
Spring is in the air, which means our favorite season is upon us! Garage sale season. Not only is this a way to make extra money its also a great time to find clothes at ridiculously cheap prices.
So keep your eyes peeled as signs begin to pop up for garage sales this spring.
Salvation Army
This isn't only my favorite place to donate to, it's also an amazing place to support and buy clothes from. Their clothes are very well discounted. They also have certain days of the week where their clothes are discounted.
Their selection changes fast so if you can't find everything you need check back another day. You might even score some name brand clothing or something with the tag still on it.
Letgo
If you haven't used this money saving app you should! Its super easy to use and it's easy to find what you are looking for. I always see kids clothes for sale in my area on it. If you're not buying kids clothes on Letgo, you can always sell your kids old clothing on it to make some extra money.
It's a win-win either way. So make sure you check it out!
Facebook
We all have facebook nowadays! Which makes online garage sale groups all the better. We have moved around a lot in the past ten years. One of the first things I do when we move is to join a new online yard sale group in the area.
All you have to do is use the search bar on facebook and search your town's name and then put yard sale after it. A few groups should appear in your area. Join whatever ones you want and then wait to be added as a member.
So head on over to Facebook. This is my favorite way to find hand-me-downs and other necessities online.
Consignment Sales
When I was first introduced to children's consignment sales two years ago. And let me tell you they are amazing!! These consignment sales are usually held twice a year. Everyone who wants to sell their clothes registers online as a consigner and then they can label their clothes and bring them in.
On the day of the sale, it's usually over the weekend, you can go in and look through piles and piles of clothes. It can get a little crazy. Although the ones I've been to were in a very populated city so that might of played a small part.
For the most part, everything is super cheap and affordable.
To get the pick of the crop most consignment sales are in need of volunteers. Usually, in return for volunteering, you get to shop before the consignment sale opens.
Shop Overstock Stores
If you love to dig through piles of clothes, these type of stores are for you! I myself hate looking through isles and isles of cloths to find myself something but when it comes to kids clothes, it's game on.
An overstock store carries all the overstock from other name brand stores. You can find almost any and every brand in these stores and at really good prices.
My favorite overstock stores:
These stores are constantly getting new merchandise so any day of the week is a good week to shop. There are usually lots of sales going on in January and July because they are trying to get rid of seasonal clothes.
Thredup
If you haven't tried Thredup you need to! Thredup is an online consignment store. When I first heard about it I thought it was too good to be true.
As a parent with little ones going clothes shopping can be a rigorous activity. Let's face it, it's exhausting. So being able to shop online at a store with consignment prices.. I was all over that.
My favorite part, which I have yet to try, they now offer try-before-you-buy. This means you can have 10-20 items shipped to your house and you can try them on before deciding if you want to buy them or not.
How awesome is that!
Related – The Dollar Tree Store Should Be Your One Stop For Everyday Essentials
Shop Sales At Your Favorite Stores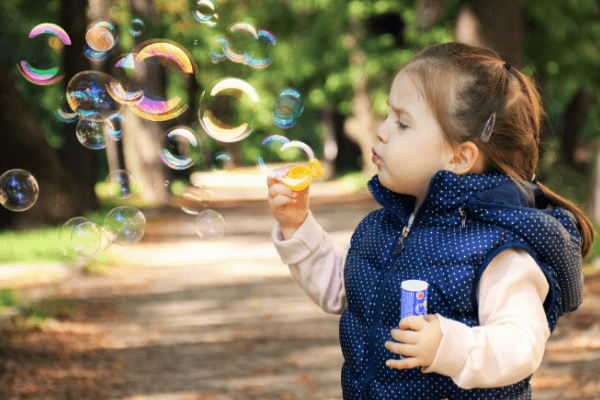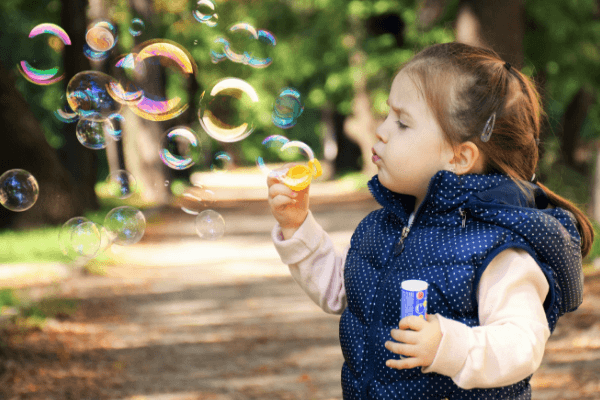 As a last resort, you can always shop the clearance isles at your favorite stores!
Hello Clearance Isle – The best Money Saving Tips
There are a lot of ways you can still shop at your favorite stores and save money!! My favorite stores to shop at for kids clothing – which I don't shop at often are Target, Kohl's, and Old Navy.
Target is a no-brainer, who doesn't love Target. Kohl's and Old Navy put on a lot of good sales throughout the year and they have really cute kids clothes. Depending on the time of the year they each have a rather large clearance section, especially when the seasons are changing.
How I Save Big At My Favorite Store
As I mentioned Target is my favorite store! So do you want to know how I save money shopping there?
I never shop without a list – Danger! Don't head to the store without a list… Like ever
Cartwheel – If you don't use cartwheel you need to start. This App saves me a lot of money. Once I finish making my grocery list I open my Cartwheel app and see what sales they have. If I find any sales on the items that are already on my shopping list I click on them. When you are done adding items you want the app gives you a barcode. Then when you check out at the store they scan your phone.
Ibotta– Do you use Ibotta? I use it every time I shop at Target – and many of my other favorite stores. It's a quick way to get free cash back when you shop at your favorite stores. Click here to sign up using our link and you'll get a Free $10 welcome bonus.
Target Coupons – Don't forget to check Target's coupons online before you head to the store.
Manufacturer Coupons – Don't forget to check online for manufacturer coupons for items on your list.
REDcard – Did you know you get 5% off every purchase when you apply for a REDcard? Ask about getting a REDcard Debit next time your in. Don't let them talk you into opening a REDcard Credit Card. With a REDcard Debit card, they pull the purchase from your checkings account and you get that 5% off every purchase, every time you shop!
Up and Up – Target has their own brand and it has the same quality as other name brand products. Their brand is just a lot cheaper!
Look at how many ways you can save money at Target! I'm sure there are even more ways I haven't thought of.
Other Money Saving Tips when shopping at your favorite store:
Only Buy What You Need – Let me tell you when I walk into Target I feel like everything sparkles. One thing catches my eye and then something else does and before you know it my cart is full of who knows what. Make sure to stick to only buying what you need.
Choose Neutral Colors – Neutral colors match with everything! Therefore you won't need a ton of clothes because everything should match. Don't end up with a closet full of clothes that don't match. Then more than likely they won't even be worn.
Buy Separate Pieces – Some people don't like doing this but I find it saves a lot of money. When you buy an entire outfit they charge you an arm and a leg. Even when the item hits the clearance rack it's still expensive.
Buy Ahead Of Season – Buy clothes ahead of the season because that's when all of the sales take place. For example, January is a good time to buy Holiday dresses and other Holiday clothing for the following year. In February all winter jackets and outdoors gear goes on sale. Then July is a great time of year to buy swimwear for the following summer.
Other articles that will save you money:
What are your best money saving tips when trying to save on kids clothing?
Grab Your FREE Budget Binder Today!
Start saving more money and pay off your debt with this FREE Budget Binder