Let me tell you a secret, I am in love with all these farmhouse entryway bench ideas I keep seeing on Pinterest!
When we bought our first house earlier this year, the biggest selling point for me was the massive entryway. It's got a ton of room, plenty of natural light and it makes the perfect place for the kids to take off their boots and snow gear. The only problem was that it didn't have anywhere for them to sit.
Like I said, I love all the entryway benches I have been seeing on Pinterest. I started hinting to David that I wanted our next DIY Project to be a seating area. It didn't take much convincing, he drew up a plan in about 15 minutes and was ready to head to Home Depot.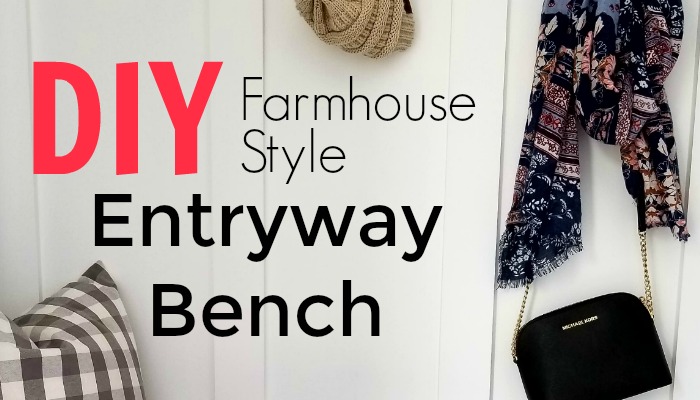 The idea was to create an entryway bench with storage space underneath and hooks to hang jackets. Keeping the cost down was a big deal for us. I think all in, we spent $50 on this project. Now that it's all done I absolutely love it, it's my favorite part of the entryway!
Related Projects:
Build A Better Budget Today
Start Saving More Money and Paying Off Debt Today!!
Preparing For Our New Entryway Bench
David is pretty handy and has done a lot of great DIY projects in our house, but he threw the plans for this one together in 15 minutes. I was a little skeptical.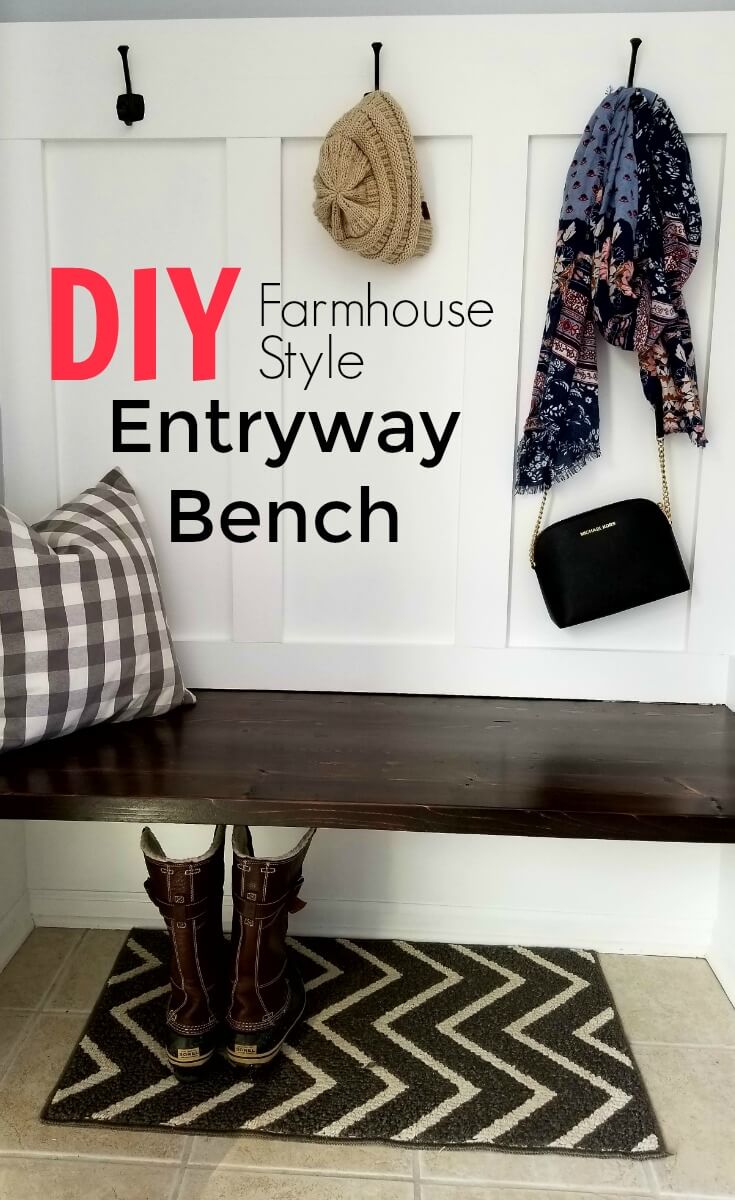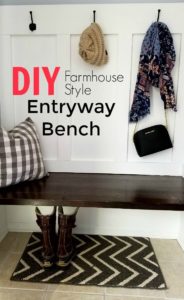 The area we built this bench it was a little nook in the entryway that wasn't being used for anything. It's a little over 4 feet wide and there is a vent duct in the wall about a foot and a half off the ground. That vent duct would make a pretty cool feature that you'll see later on.
Here is a list of everything we needed for the project:
(4) – 2×6's studs
(5) – 1×6 square edge pine boards
(1) – 1×2 board
1 1/4″ Brad Nails
Coat Hooks
Sand Paper
Wood Glue
Primer
White Paint
Paint Brush
Palm Sander
Ready, Set, Build
The first thing that we had to do is build the frame to old up the bench. We wanted it to have an open space underneath so we came up with the idea to have the frame mount to the wall instead of using legs.
When we got started we took the vent grate off the wall and realized that there were 4 layers of drywall. You read that right, 4 total layers of drywall just one over the other. Who needs that much drywall, it still blows my mind. In order for us to mount the frame to the wall, we had to use 4″ inch screws just to get through all the drywall and into a stud.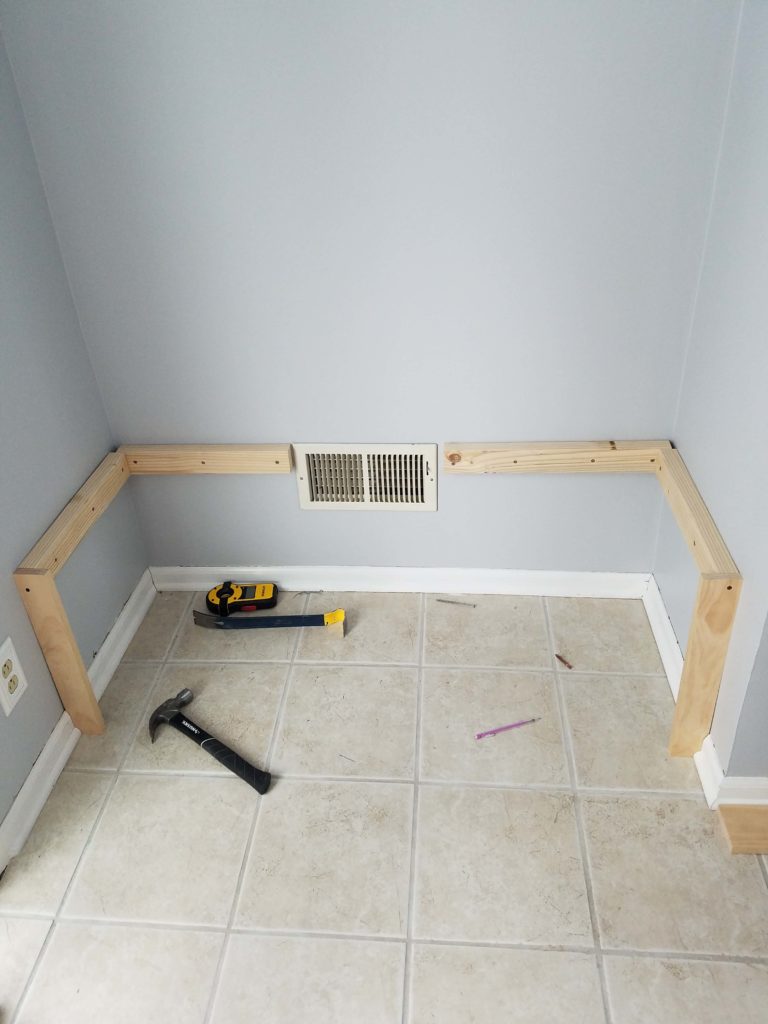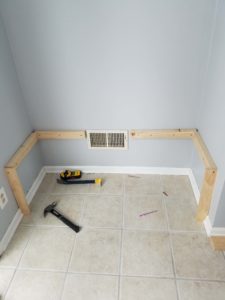 With the frame up we decided to add some legs to the front just to make it look a little more like a built in. We painted it all white and were finished with the base.
It's Not A Seating Area Without A Bench
Building the bench seat was the longest and most challenging part of this project. You can probably imagine with a 71-year-old house, nothing is square. As we were cutting wood for the bench, each end had to be cut at a 1-2 degree angle so it would sit flush with the wall. This made for a really challenging bench.
We originally wanted to get a big, thick slab of wood to use but they were way too expensive. Remember, we're frugal as f**k so we wanted to do this as cheap as possible. We came up with the idea to rip 2×6's down to 5 inches wide with the table saw and glue them together.
Gluing and then sanding the boards took about a day and a half to complete.  Once that was done we stained it using our favorite stain, Varathane Kona.  We seriously love this stain and how well it goes with anything white.  We have used it on both our Farmhouse Tables we have made.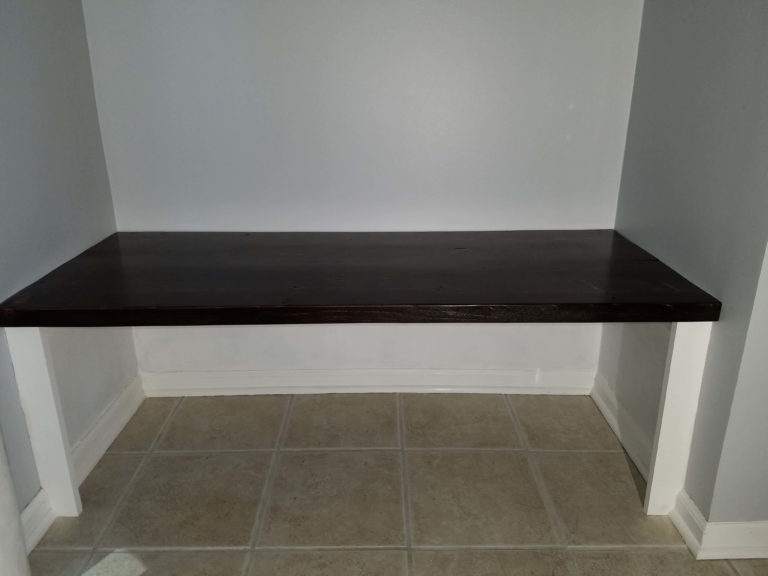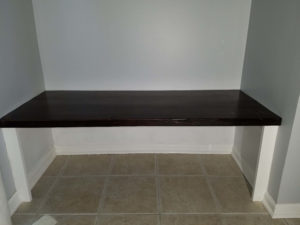 After a couple coats of stain and 3 layers of polyurethane, the bench top was ready to be attached to the frame.  Using 1 1/4″ pocket screws and our Kreg Jig we attached the bench to the frame.   I can't tell you how many times that Kreg Jig has come in handy.  If you don't have one and you are doing any projects involving connecting wood, you should get one.
At this point, I'm getting really excited because it's starting to take shape and it looks awesome!!
A Place For The Kid's Coats
The back of the entryway bench area was probably the easiest part of the whole project.  We cut the 1×4″ boards to size and nailed them to the wall with our Cordless Ridgid Brad Nailer.
This little nail gun is powerful and super convenient for the projects we do. My favorite thing is it comes with a lifetime warranty like all other Ridgid Power Tools so it takes the stress out of worrying about it ever breaking.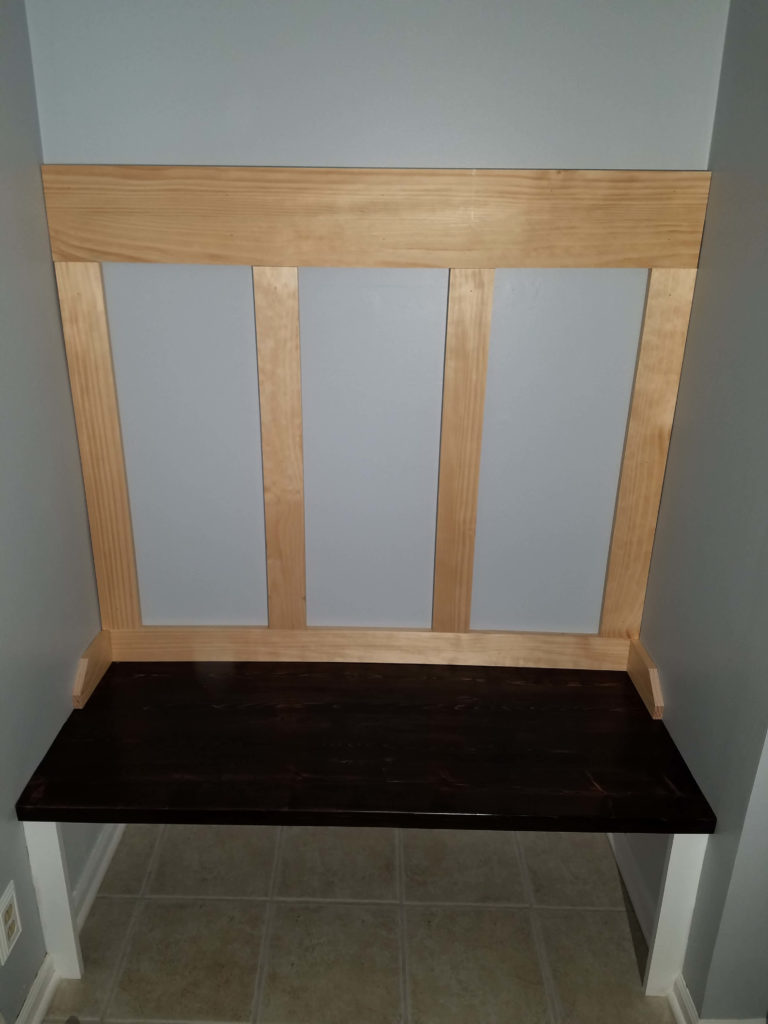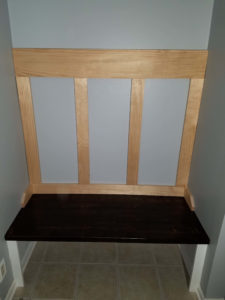 Once we had them nailed on, all we had to do was prime and paint the boards and wall.
It took a thick coat of primer and three coats of white paint to get the look we wanted. The last thing we had to do was hang coat hooks.
We picked up three little coat hooks from Home Depot and we absolutely love them. Now the kids have a place to hang their coats!
I want to share a little secret with you. Don't get me wrong, David is super handy around the house and can do just about anything, but when it comes to hanging pictures or anything on a wall that needs to be level, it never comes out straight.
When it came time to hang the coat hooks I was really nervous. We got so far into the project we couldn't mess it up now.
Of all the times to hang something straight, this was the time to do it. I left the room and came back to David just staring at the wall with a sheer look of disappointment on his face. I was afraid to look, but he had hung them all perfect and was just messing with me.
Our Entryway Bench Turned Out Amazing!!
It's finally complete!! I love the way our entryway bench turned out and it was such an easy project…well for me anyways 🙂 The best part is that Savannah has her own hook and she loves hanging her jacket on it. No more asking her to hang her jacket up all the time!
Remember that vent duct I mentioned earlier?? Well, we built the bench seat right over it and now it acts as a boot warmer. Every time the heat kicks on it warms up my boots before I have to go out in the arctic tundra we live in. It's the coolest part of the whole project!
I am so glad we chose to do this project. Just think, David wanted to put a wet bar in that space. Look at how awesome it turned out.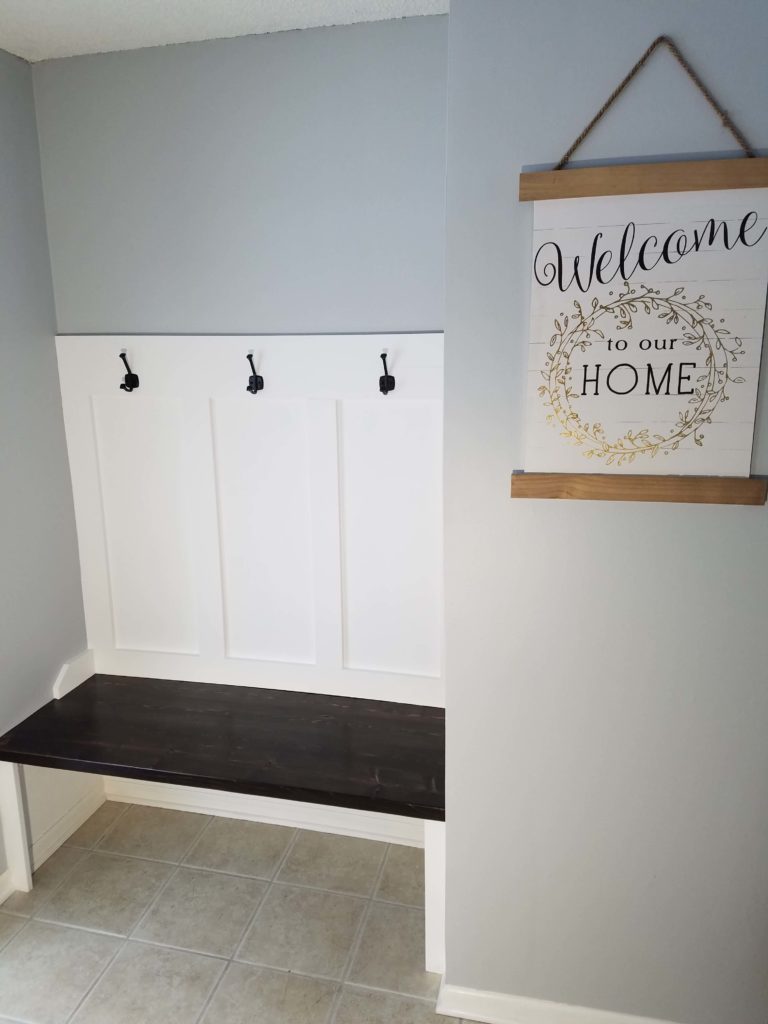 Other Money Saving Articles:
Whats your favorite DIY project you've completed?
This blog post may contain affiliate links. Learn more.
10 Secrets To Saving Money At The Dollar Tree