This is a sponsored post written by me on behalf of Cricut. All opinions are 100% mine.
Unless you've been living under a rock for the last five years, you've probably heard of Cricut.
Crafters and DIY project lovers everywhere highly covet these precision cutting machines. Just head over to Pinterest, and you'll see tons of Cricut crafts that people are making.
Now, as you know, we're not a crafting blog here at Living Low Key, so you're probably wondering why we're talking about Cricut…
How the heck are we going to relate this crafting machine to personal finance???
Two words for you, Side Hustle!!
That's right, although Cricut is normally thought of as a crafters dream tool, this can also be an amazing way to make extra money!
We partnered with Cricut to test out their cutting machine, and prove to you that there's more to these machines than simply making crafts. You can make some serious money with these things and we're all about finding ways to make more money!!
In this Cricut review, we're going to discuss what Cricut is, how it works, how we made money with the Cricut, what we liked, and what we didn't like about Cricut.
Let's get to it!!
Note: Within this post, you will find affiliate links, that will result in us receiving a small commission if you click and choose to purchase and Cricut Products. It doesn't cost you any extra to purchase through our links. It's just a way for us to keep the lights on here at Living Low Key.
What Is Cricut
If you're new to the whole Cricut craze, you're probably wondering what the heck it is. Well, Cricut is a high precision cutting machine. They make customizing everything from coffee cups to t-shirts to wall art super simple!
Want to put your name on your backpack? Cricut can do that.
Want to make custom coffee mugs to sell in your local area?? Yea, you can do that. We did it!
Want to make your kids some cool t-shirts?? Yup, that's not a problem. We did this too!
The possibilities for crafting and creating things are endless.
But there's a hidden benefit to this, besides the fact that it's so easy to operate and anyone can use it, there's a lot of money to be made in customizing stuff!
That's right; with a Cricut cutting machine, you have the ability to create customized projects that you can sell.
It's a great way to make a little extra cash each month.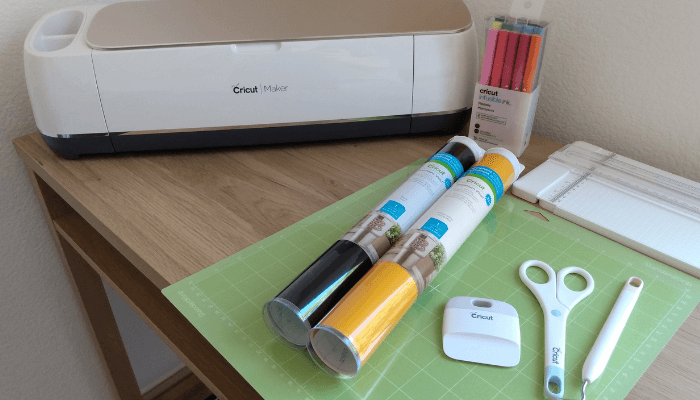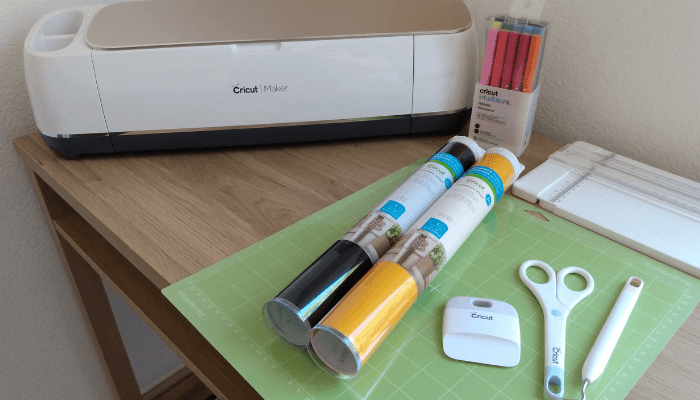 How Does A Cricut Machine Work
There are several different Cricut Machines to choose from. We have a Cricut Maker, and it makes creating projects and customizing things super simple.
It all starts with logging into the Cricut Design Access Space. This is a software program where you will create your design. This program will "talk" to your Cricut cutting machine and tell it what to cut.
In the Design Access Space, you'll have the option to upload images, create text, or use pre-made templates.
You can use the Design Access Space on your computer or through the phone app. The phone app makes it really convenient to create designs.
Once your design is created, simply turn your Cricut Machine on, make sure it has the correct cutting tool for the material you're cutting, load your material into the machine, and then follow the prompts on the screen.
A minute or two later, and your design is finished! Cricut makes creating really cool designs super simple so that anyone can use it!
What's The Best Cricut Machine For Me
When it comes to choosing the right Cricut machine for you, this is a personal decision you'll have to make. One that's based on your budget and what you need this machine to do for you!
There are a couple of different Cricut machines to choose from, and each of them has increasing capabilities.
To find the best Cricut machine for you, think about what you want to use it for. If you're just going to be cutting sticky vinyl to customize coffee cups and beer glasses, you'll be fine with the lowest priced Cricut.
However, if you want to cut everything from vinyl up to basswood, you'll want to go with the top shelf Cricut Maker.
Let's break down each of the machines so you can decide which one's going to be perfect for helping you make some extra money each month.
Cricut Joy
When it comes to price, the Cricut Joy is the least expensive of their machine, but that doesn't mean it lacks the capability.
This little powerhouse can cut over 50 different materials. It's got two different tools available and is best for long continuous cuts. It can cut material up to 20ft long!!
It has Blueooth capabilities to make creating your projects easy.
This is an excellent place to start your journey into the Cricut world.
Cricut Explore Air 2
The mid-level Cricut cutting machine has a lot of capabilities. With the ability to cut more than 100 materials and at dimensions of 2 feet by 12 inches, you're sure to create some really awesome projects. It also has the ability to use four different Cricut tools.
This machine is also Bluetooth compatible but can be connected with a USB cord if that's your style.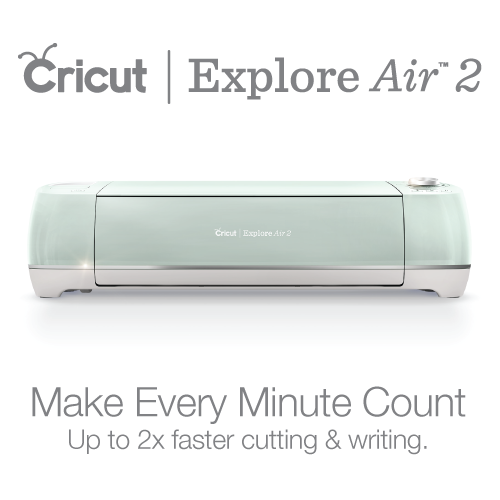 Cricut Maker
If you're looking for the ultimate precision cutting machine, look no further. The Cricut Maker has the ability to utilizes 11 different Cricut tools and can cut over 300 different materials from paper to basswood.
The Bluetooth capability makes transferring your creations in Design Access Space simple to bring to life. This machine cuts extremely quickly and accurately.
The Cricut Maker gives you the widest range of customization for Cricut projects to sell.
What Cricut Tools Do I Need
If you want to make money with your Cricut, you're going to need a few different Cricut tools.
Obviously, you need one of the cutting machines, but you'll need supplies for your designs. You'll have to figure out what material you're going to be cutting in your project.
If you plan on making t-shirts, you'll want to get an EasyPress Machine for precise heating, but you can also get away with an iron.
Smaller Cricut tools you'll need will be a weeding tool, Cricut Basic Trimmer, scissors, adhesive cutting mats, and a scraper. You can get these tools in a basic starter kit, and you'll be ready to go!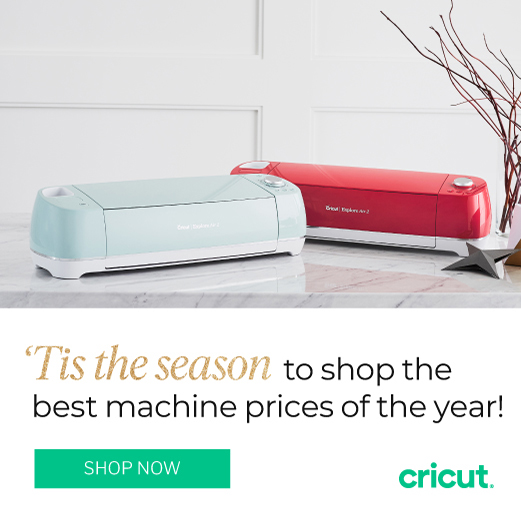 How Can I Make Money With Cricut
This is what you came for. You want to know how to make money with your Cricut.
I'm going to tell you exactly how to make money with your Cricut.
I know that these machines might seem like a lot of money, but I want you to think of them as an investment in being able to reach your financial goals faster!
With a bit of work, some creativity and a little bit of being frugal, you'll be able to easily make your money back and more!!
You don't believe me?? Come on, would I lie to you about this?
Here's the secret to making money with your new Cricut…
Keep your design costs low!!
Just like any other business, you want to make sure you keep your costs low so that your profit margin is high!!
One of the best ways to do that is to get supplies from the Dollar Tree!!
You won't be able to get Cricut materials at the Dollar Tree, but you can get hand towels, coffee mugs, wine glasses, picture frames, and so much more!
All of those items can be customized with your Cricut, and all of them are super cheap at the Dollar Tree!
We picked up 12 coffee mugs for $12 to test out our equipment.
I mentioned earlier how easy these machines are to use. Within 30 minutes of opening our Cricut Maker, we had our first coffee mug design cut, and it was on the coffee mug. With the first one made and a design settled on, we quickly made two more.
Check them out: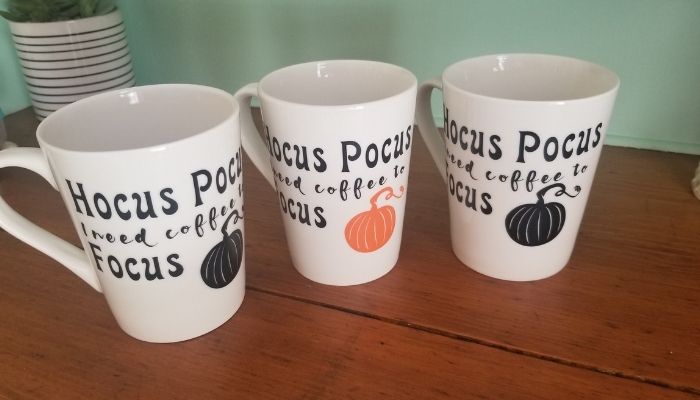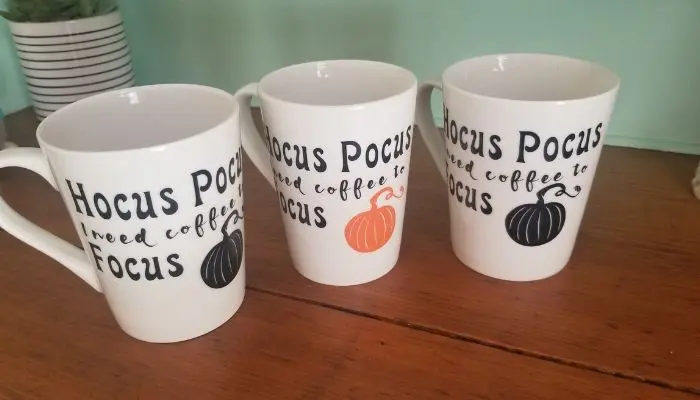 We were able to sell those mugs for $10 each on Facebook Marketplace. You could try Esty or any other selling platform, though.
I know what you're thinking; how much did you actually make after purchasing supplies for that mug?
Here's what our cost to make that turned out to be:
Coffee Mug – $1
Vinyl for the design – $0.24
Total Cost – $1.24
We were able to sell the mug for $10. That means we made a profit of $8.76.
When you multiply that by the three mugs we sold, that's a profit of $26.28!!
It doesn't seem like a lot, but once you get the hang of making the mugs, you can make one in about 8-10 minutes. These took hardly any effort to sell online.
Imagine if you spent an hour and a half making 10 mugs each weekend. That's 40 mugs per month.
Multiply your 40 mugs by an estimated profit of $8.75, and you end up with an extra $350 per month?
What could you do with an extra $350 per month??
In just two months, you could potentially make back the money you spent to buy the Cricut cutting machine. After that, you're going to only be seeing green!
4 Of The Best Cricut Projects To Sell
This wouldn't be much of a guide on making money with your Cricut if I didn't give you some tips on which Cricut projects to sell.
I want to spark that creativity within you to go out there and make some money with your new Cricut.
Here are some of the best Cricut crafts to sell if you want to make some money. The possibilities are endless, though, so use your creativity and don't limit yourself to this list.
Our Best Selling Cricut Projects:
Custom Coffee Mugs – We've had great luck with selling coffee mugs locally. They're easy to customize with some permanent vinyl, and you can get coffee cups for cheap at the Dollar Tree.
Custom Kids T-Shirts – What I love about making custom t-shirts is that they're really easy to make and they're easy to ship. We've made our kids a couple of different t-shirts, and they love them. To make t-shirts with Cricut, you'll also need the EasyPress Machine. It will help adhere to the iron-on materials.
Wall Decor – There's nothing I love more than fall decor, and the Cricut makes creating cute fall decor super simple. Whether it's on canvas or you're creating designs for picture frames, it's pretty easy, and people will love them! These are easier sold in local areas rather than ship them.
Stickers – Custom stickers are really easy to make with the Cricut and take hardly any effort. Once you have a design created, you can make them in just a couple of minutes. These are easy to ship anywhere!
These are just a few ideas of Cricut projects to sell. Really you can try to sell anything that you want. Let your creativity shine with your new Cricut.
What I Like About Cricut Machines
At this point, we've talked a lot about what Cricut machines are and what they can do. Let's talk a little bit about why I love them.
These machines are super simple to use. I had zero experience with them prior to getting one, and I could customize coffee mugs in under 30 minutes.
Their software, Design Space Access, is really easy to use and makes bringing perfect designs to life super simple!
I also love the versatility of this machine. It can customize anything you want from cups to stickers, to t-shirts. No matter your creativity level, you'll be able to find something you can make with this.
When it comes to starting a side hustle of customizing and selling things, I really believe that a Cricut will give you an advantage. These machines are super-efficient, really accurate, and can make you a lot of extra money.
I know it might seem like a big investment, but if you're looking for a side-hustle and you like being creative, this is the machine for you.
You'll easily be able to make your money back in just a couple of months if you work at it!
What I Didn't Like About Cricut
Honestly, there's nothing I don't like about our Cricut machine at this point.
I did have a tiny issue with one font not being able to be cut at a size small enough to put on a coffee mug, and I wish the scissors were a little more fine point to make smaller cuts, but other than that, this machine has exceeded my expectations.
My Final Opinion on Cricut Side Hustle's
Overall, I highly recommend Cricut machines.
If you're looking for a way to make extra money, making Cricut projects to sell is an excellent way to go!
There's just something fun about getting creative with these things, and there's a ton of potential for income-generating crafts with these machines.
I made this shirt for David, and he gets asked all the time where he bought it!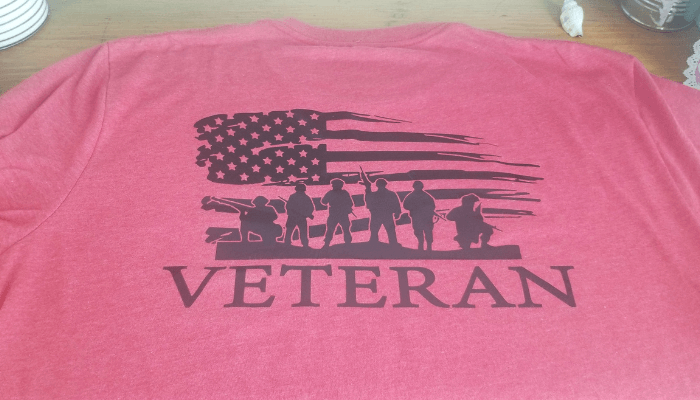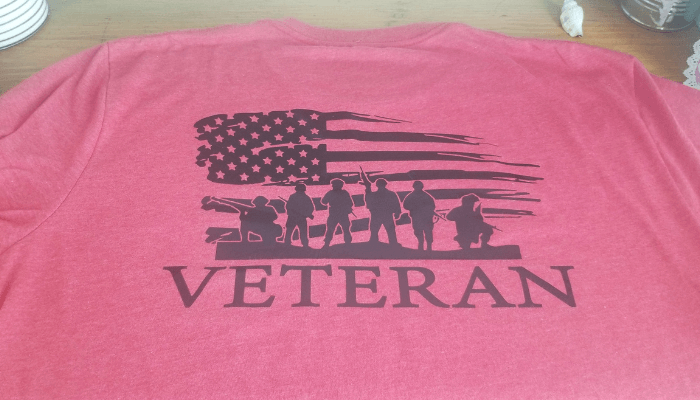 With a little bit of work, you can easily make back your money with these machines and then go on to make some decent side hustle cash!