How Do I Start A Blog 101?
If you want to know how to start a blog, you're in the right place!! Starting a blog takes a lot of work but I'm going to show you exactly, step-by-step, how to get it going.
You don't need to know coding, CSS, HTML, or any programming to get started. We certainly didn't know any of that when we started.
Blogging for us started as a hobby, sort of a way to share our story of chasing down the ever elusive thing called Financial Freedom.
It gives us a way to share our tips and tricks for saving and making money with thousands of people every month.
Our blog started as a hobby but it evolved into so much more!
You might not believe me but blogging can actually turn into a money-making business.
That's right, you can make money blogging!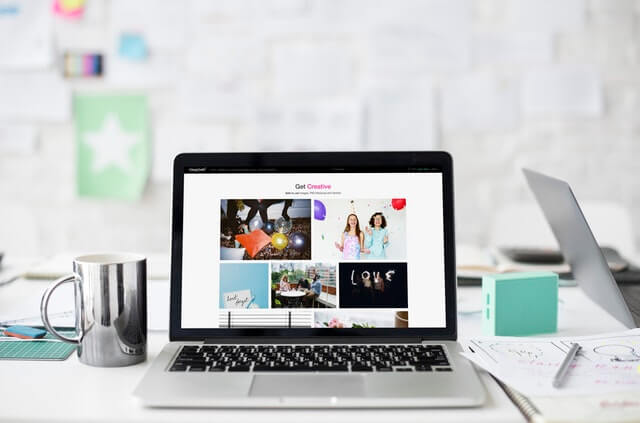 Our blog helps pay the majority of our bills each month! Wouldn't you like to have an extra income to help pay your bills??
The best part about starting a blog is it's fairly inexpensive.
For just a few dollars a month, and effort, you can get your blog up and running.
How To Start Your Blog Today
If you are looking to start a blog, SiteGround is the place to begin! SiteGround is one of the best, if not the best, web hosting site.
We use SiteGround for our web hosting and it has been a great experience!
There are so many things to love about SiteGround. Some of the reasons you should use SiteGround include:
WordPress is FREE and can be installed with 1-click
24/7 tech support that is super quick to fix issues
A 30-day money back guarantee
Prices as low as $3.95 per month
Monetizing your blog will be super simple
You get a much more professional look to your site
Why SiteGround
Now you are probably asking yourself, why would I pay for WEB HOSTING when there are sites that offer it for free?
SiteGround is going to offer better privacy protection that you will NEED. If your blog takes off you don't want others to be able to access your home address and other personal information about you online.
Privacy protection is a must!
SiteGround also makes monetizing your blog will be SO MUCH easier.
Many advertisers look at blogs set up on free hosting sites as too risky due to the less professional look.
If you are wanting to make money with your blog you will find it very hard to get ads and affiliate links for your site.
If your goal is to make money, invest the few dollars a month because really whats an extra $4 a month if it can help you fulfill a missing void in your life.
Or best of all, make you hundreds to thousands of dollars a month on your blog!
SiteGround also offers free WordPress when you choose them for hosting. Using WordPress for your blog will make your life, and setting up your blog, so much easier.
WordPress is powering over 74 million sites, so I'm not the only one that thinks it's great!
Before we go any further into the tutorial now is the time to decide. Do you want to Start A Blog or does it seem overwhelming? If it seems overwhelming, hang in there.
Keep reading to see just how easy it really is to start a blog.
If you are ready to start your blog and want to follow along with the Tutorial then use our SiteGround link and click the "Get Started" button to choose your plan.

Related Articles:
Start A Blog in 4 Easy Steps
Step 1: Register A Domain Name
When you get to the SiteGround site and are choosing your plan there are several options.
You'll see StartUp, GrowBig, and GoGeek plans available to choose from.
I recommend choosing the StartUp package. This is the cheapest plan and has everything you will need for your new blog.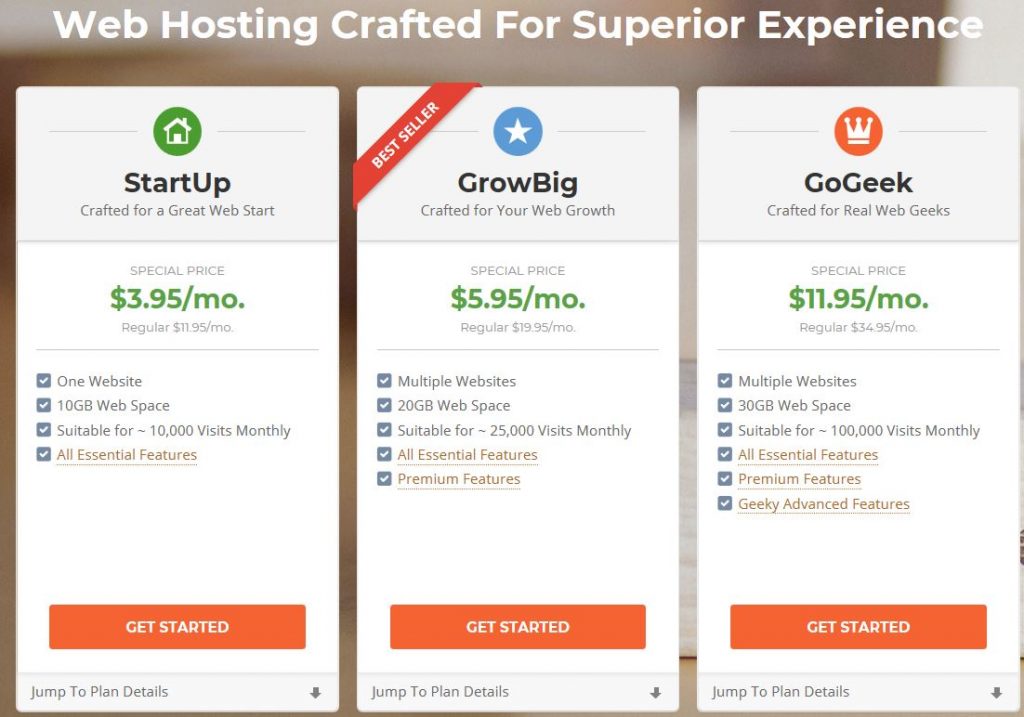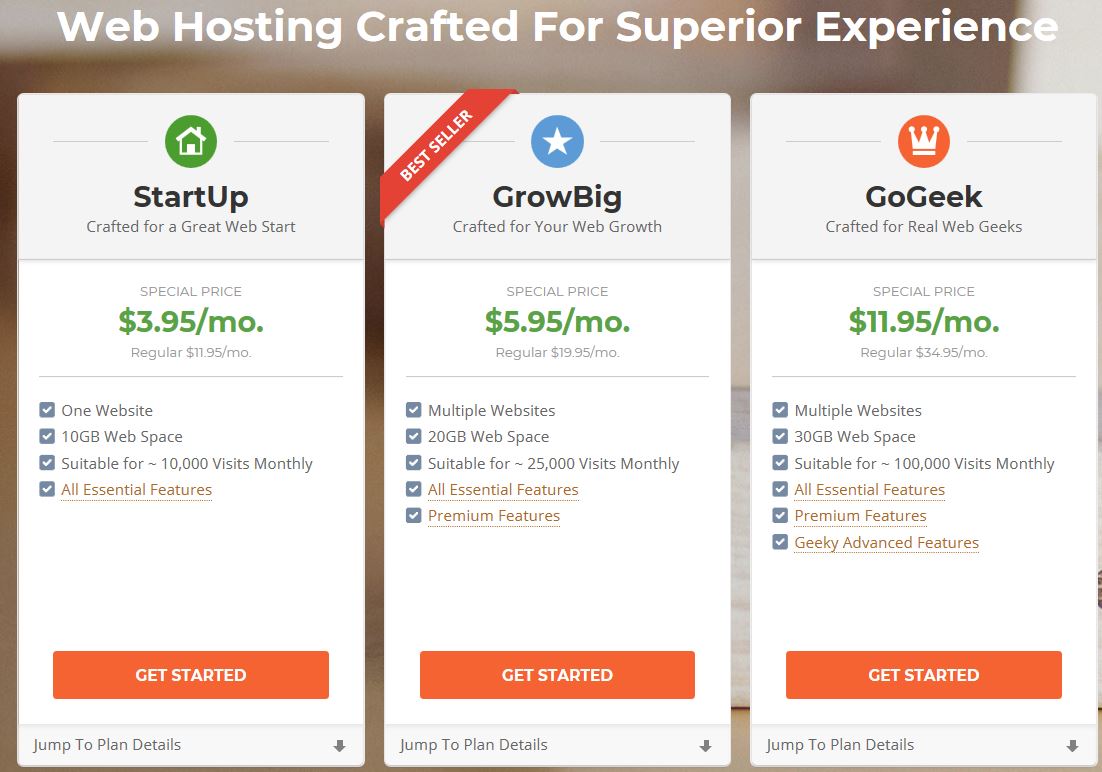 Don't spring for the more expensive plans yet, you can always change them later. For now, choose the StartUp one and you will be good to go.
Once you select your plan, you have to register your domain name.
The domain name is your web address. For example, our domain name is LivingLowKey.com.
When starting a blog, take some time and really think through your domain name before you register it. Once you register your domain name, you can't change it.
We probably spent two weeks going back and forth on different names until we decided on Living Low Key. It just stuck with us and we kept coming back to it.
So make sure to take your time! Remember your domain name is one thing you can never change.
Things to Keep In Mind When Choosing A Domain Name:
SEO matters, keep it search engine friendly
Does the domain name pertain to your niche
Keep it short and concise
Make it catchy
Find a domain that you love and then give it a day to think it over.
Do research on the domains you like to make sure they aren't taken yet.
You can do a domain search HERE! Just type in the domain you want and it will tell you if it's taken.
Keep in mind that you will want your domain name to be something that will relate to the niche your blog belongs to.
Step 2: Choose Your Hosting Plan
Once you register your domain name you will have to choose your hosting package and pay.
There are several different account plans to choose from. You can pick a 12, 24 or 36-month plan. There is an option for a 1-month trial, but honestly, it will take you a month just to get your site set up.
When you Sign Up and I recommend doing the 12-month plan to see if you like blogging. This also guarantees your domain belongs to you for a year.
You can always renew at the end of the year if you wish to continue, which I hope you do!!
There are several extra options you can add to your plan. We have both the SG Site Scanner because we believe strongly in protecting our site for our users and we also have the privacy protection.
Like I mentioned above Privacy Protection will prevent your personal information from being spread around the internet.
We had to learn this the hard way, take our word for it and get the protection up front.
You will have to pay the whole amount up front, so be ready for that. Here is what it should look like when you are choosing your hosting package. Make sure you select the correct plan.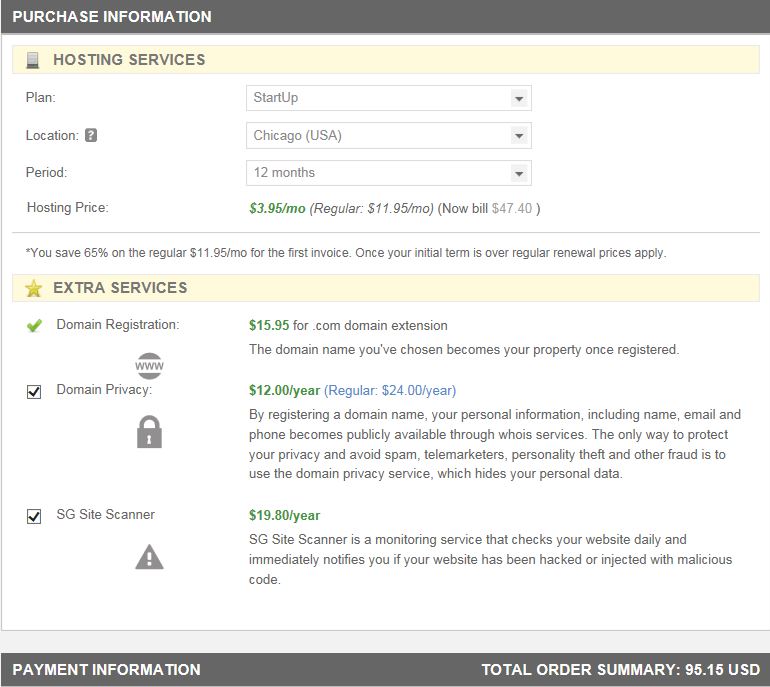 Step 3: Installing WordPress
This is the step where things start getting exciting!! When you sign up with SiteGround, they make this step very easy and best of all, it's FREE!
The first thing you will need to do is create a username and password. Write these down somewhere so you don't lose them.
Next, SiteGround is going to direct you on how to install WordPress. I'll let you in on a secret, it's really easy.
Once WordPress is installed you will want to pick a theme for your webpage. The theme is essentially a package of coding that creates what your website will look like to visitors. There are a few free themes on WordPress.
If you don't like any of the free themes on WordPress you can choose a paid version. Search the internet for blog themes you love!
We opted to go with the Pretty Chic theme from Pretty Darn Cute. Lindsey makes some really creative themes and her customer support is great! We've had a really awesome experience using her theme.
If you want an amazing looking theme that is simple to use, you have to check out Pretty Darn Cute!
Choosing a pre-made theme is the easiest and quickest way to get your site up and running.
However, if your budget isn't there a pre-made free theme would work just fine and is provided for you once you are signed up.
Step 4: Building your Website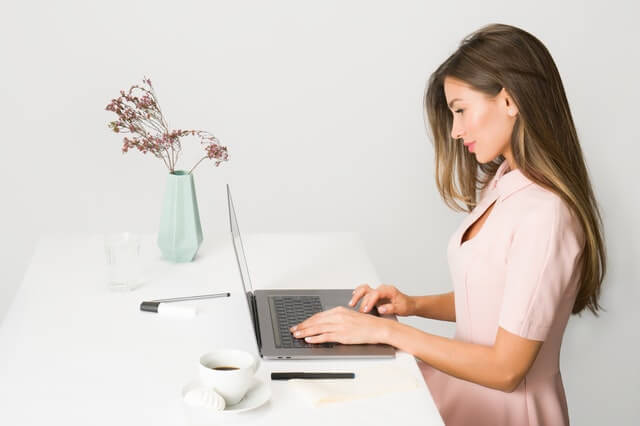 You did it!!
You signed up for hosting, installed WordPress and now you are ready to start designing your site and sharing content.
But where do you start?? That was the first thing we asked ourselves when we started, how do we use this thing we just created.
It may seem overwhelming, but we are here to help!
I'll walk you through how to use some of the functions on your WordPress blog.

The first thing you will see when you log in to your site is your Dashboard.
The Dashboard is where you will do all your behind the scenes work on your website. You'll want to get very familiar with the dashboard and what you can do with it.
Let's get into some of the tools you will find on the dashboard.
Creating Pages: Before you start writing content you need to have places to put it on your site. Let's start by creating pages.
If you look at our site, Living Low Key, you will see a row of buttons at the top of the homepage. Each one of those buttons are "pages."

When you're in your WordPress dashboard you'll see options on the left-hand side. One of those options is Pages.
Click that and create a new page.
You'll need to create a page title and decide how you want to put posts on the page. Make the title something catchy and Search Engine friendly. We use a Plugin called Content Views to arrange our posts on each page but I will get to plugins later.
When you're creating pages on your site, try to create groups. For us, our areas of focus are SAVE MONEY, BUDGETING, and FRUGAL LIVING.
The groups that you create for each page will tie into creating the posts later in more ways than you might think.
Creating Posts: This is what you're here for, it's time to start writing great content and getting it out there for the world to see!!
On the left-hand side of your dashboard, you will see a "Posts" option. Hover your mouse over that and click "add new" to add a new post.
Once you create a new post you need to give it a title and then start writing!!
Things to keep in mind when writing posts:
– Keep the focus on helping your readers
– Make it engaging
– Make it easy reading
– Use correct grammar and spelling
– Use Search Engine friendly titles and keywords
– Write at least 1500 words, the more the better
– Use pictures in your posts
Once you have the content of your post created, make sure you hit that PUBLISH button so your readers can see it.
When you're creating posts you should be writing them for one of the pages you created above. You should also create categories. This option can be found under the posts button on the left side of your dashboard.
Create category titles that match your page titles.
Here is how this will help you.
Say you have Finance, Simple Living and Start Here pages on your blog and you write a post that falls under Finance. How do you get it to go under your Finance page?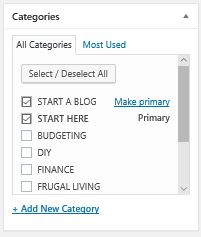 If you create categories that match your pages, all you have to do is look at the right side of your screen. There is a box called categories.
If you made categories that match your page titles, just check the box and it magically appears on that page. Simple as that!!
Adding Pictures: If you want to add pictures to your blog posts (which is highly recommended) here is how you do it.
First place your cursor where you want the picture to go in the post
Click the Add Media button at the top left corner
Click Upload Files button
Upload an image from your computer
Fill in the Alt Text box
Choose the size of the picture
Click insert into post
Plugins: Plugins are essentially little tools you can use to customize your site. Unless you know how to code, plugins will be your best friend. They're little packages of coding that can be used to add new functions to your site or change the look of it.
Neither one of us is able to write coding yet so we use a handful of different plugins on Living Low Key.
When you see things on our site like Pinterest and Facebook share buttons, those are part of a plugin. When you see our email subscribe boxes or popups, those are part of a Plugin.
If you want something done with your site but don't know how to do it, I guarantee there is a plugin that can make it happen.
One of my favorite plugins that we use is the Content Views plugin. This one allows us to organize how the posts show up on each page of our website. It has a lot of functionality and I would recommend trying it out.
Search Engine Optimization: This is a really important step and you should invest time in learning about Search Engine Optimization (SEO). You need to be good at SEO in order for your blog to be found by search engines like Google and Bing.
Keywords and titles will play a big role in how easily people can search for your blog or how high it ranks on a Google search. Doing proper keyword research should be the first thing you do before you even start writing.
After you finish writing your post all the way at the bottom of the page is a box that has SEO information called the Yoast Plugin.
Here you will want to update the Focus Key Words, Meta Data, Slug, and SEO Title. It gives you an idea of how your post is set up for SEO but keep in mind it doesn't guarantee it will rank.
Again, there is a lot to learn about SEO so take the time and learn about it.
If you want to learn more about SEO and driving traffic to your blog we highly recommend checking out Dare To Conquer.
Start an Email List: When we were learning how to start a blog we kept hearing about email lists and you will too!
Your email list is where you will connect with your followers. So we highly recommend you should work on your email list from the very beginning!
We're using Convertkit for our email list and it has been easy to use so far. The customer service has been very responsive to the questions we have and we don't have any complaints about it.
We have been growing our email list every week since we started this journey. I would highly recommend checking out ConvertKit when you want to start growing your email list.
ConvertKit has many different functions that will help you build your email list. The most important thing it does is set up subscription boxes on your webpage. Those are how you get email followers.
You can also set up sequences or give away freebies.
A sequence is a series of posts that can be triggered to go out every couple of days after someone subscribes to your blog.
They are really pretty neat and help personalize the experience each person gets when they join your mailing list.
How To Blog Final Thoughts
There are so many different things you can do to customize your blog. Spend some time experimenting with different things until you find what works for you.
If you ever get stuck on anything just do a quick search on the internet and you will find the solution.
At this point, you should have some good groundwork for you to start a blog. One thing that we did when we launched Living Low Key was build up quite a bit of content first, I think we had 15+ posts.
I won't even say it was excellent content at the beginning.. honestly, it was awful! BUT if we wouldn't have started we wouldn't be where we are now!
We spent the first 3 months of our blogging journey writing content and building our site before we even launched.
The last thing that I will say is don't give up.
There are going to be ups and downs. You will have to put a lot of time and effort into it but if you stick with it you'll realize just how rewarding it can be.
Heck, maybe it will even be the start of a new career. One where you can work from home!
Now that you have your blog up and running, it's time to learn about monetizing it!
Click here to go to Part 2 of our How Do I Start a Blog Series: Monetizing Your Blog
If you LOVED this article, save it for later!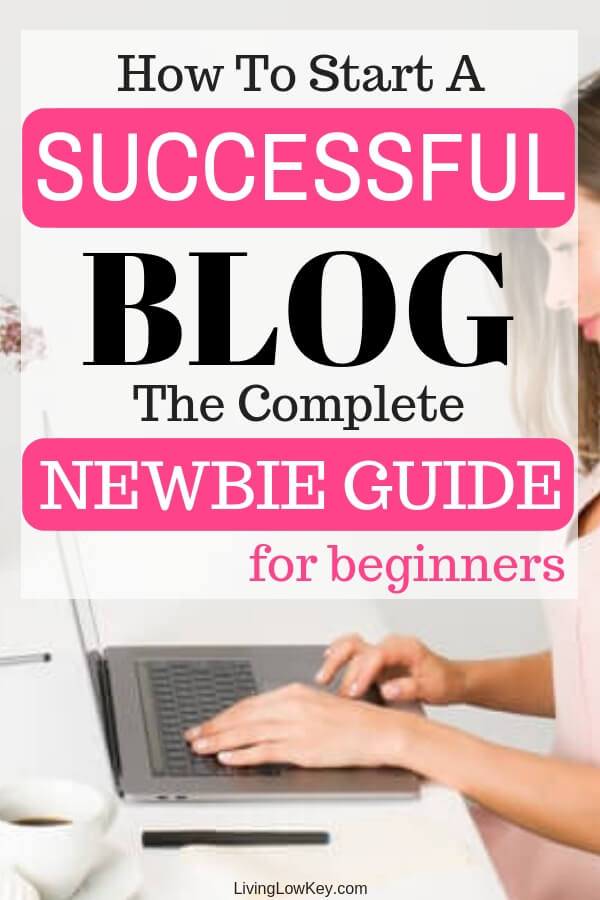 Leave your questions in the comments below and we will do our best to help you!

This blog post may contain affiliate links. Learn more.
Grab Your FREE 2019 Printable Budget Binder