Gifts for the woman who wants nothing!
It's that special time of year that we all love so much. It's gift-giving time!
This is the time to show that special woman in your life how much you love them.
However, so many of us struggle to find the right gift. Especially if you are trying to find the perfect gift for the woman who wants nothing.
Here are the best Christmas gift ideas for her! Here you will find gift ideas for women in their 20s, 30s, and 40s. However, be sure and peek through every age category, despite the age of who you are buying for to find the perfect Christmas gift idea.
There are a wide variety of gifts to choose from. There are beauty gifts, books, clothes, and much more.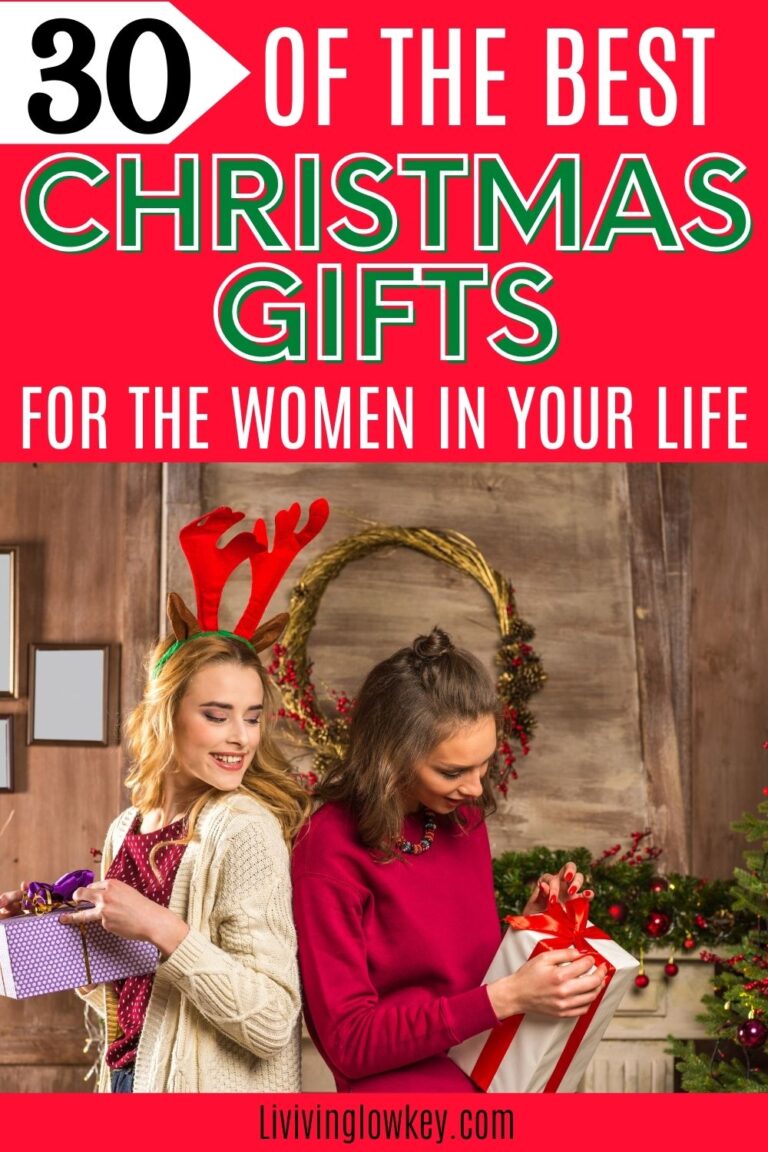 30 Christmas Gift Ideas For Her
Make sure you look through each and every Christmas gift idea below. There is the perfect gift idea for your sister, mom, aunt, grandma, and friend.
Christmas Gifts For Woman In Their 20s
If you are looking for gifts for women in their 20s you are in the right spot. These are great gift ideas for anyone in their 20s and beyond.
You can't go wrong with lip gloss as a gift! Every girl loves having soft lips.
What better Christmas gift than a book! This is actually one of my all-time favorites too.
Who doesn't love listening to their favorite tunes in the shower?
Not only is this a great bracelet but the reminder ingraved inside will for sure put a smile on her face.
Every girl loves a good fask mask!
Such a neat way to store jewelry.
This gift idea allows one to decorate there home on the cheap. These neat lights are a great gift idea.
Because what 20 something doesn't want an Amazon gift card.
This gift idea is a no brainer. Who doesn't want to wrap up in a warm robe at the end of the day.
Leggings are an essential in every girls closet. If you want to give a gift that will be loved, give the gift of these fleece leggings.
Christmas Gifts For Women In Their 30s
Here are 10 inexpensive gift ideas for any woman in their 30s.
Because who doesn't drink coffee or tea!
If your special someone loves plants these macrame plant hangers make a great gift idea.
Just because its cold out doesn't mean your special someone doesn't need a new pair of shades.
These rings are adorable and such a fun gift idea. Personalize names of loved ones and give as a gift.
Candles are essential in every house, and they make the perfect Christmas gift.
Winter is the season of dry hands. Give the gift of hand cream this winter.
Who doesn't love a good bath bom. Many 30 year olds don't pamper themselves enough. They are to busy taking care of everyone else. Give the gift of a relaxing bath bomb.
New warm winter socks are always a great Christmas gift idea.
Shawls are great gifts. Not only are they cute but they keep us women warm in the winter.
Another winter essential! You can never have to many winter blankets.
Christmas Gifts For Women In Their 40's
Here are 10 budget friendly gifts for women in their 40s.
So many swear by these anti aging rollers.
Keep your loved ones toes warm this winter with a new pair of slippers.
Such a timeless gift idea. A new watch can be inexpensive and everytime they check the time they will think of you!
Salt lamps have a verity of health benefits. Not only that but they are pretty to look at.
These shower bombs are the perfect gift idea.
Who doesn't love to garden. Give the gift that keeps on giving.
These mittens are adorable. Not only that but you can't ever have to many mittens in the winter months.
These hats are one of a kind, and they are adorable!
Have your loved one stay extra warm this winter in this warm pullover sweatshirt!
Personlize a necklace with her initial!
Best Christmas Gifts For Her – Summary
I hope you were able to find a great gift for the special woman in your life.
Are you looking for more gift ideas? If so, check out the gift guides below.
Also, join on us Pinterest for more money-saving tips and tricks!