Christmas is my favorite time of year! I love the sights, the sounds, and, most of all, getting to surprise the special people in our lives with thoughtful gifts. But this holiday season can come with an overwhelming gift list if we're not careful.
That's why I'm introducing you to the 5 gift rule for Christmas – a minimalist approach that will still capture all the joy and festivity of giving without draining your wallet or stressing you out trying to keep up with every name on your list.
Get ready to simplify your Christmas shopping while ensuring everyone gets something special!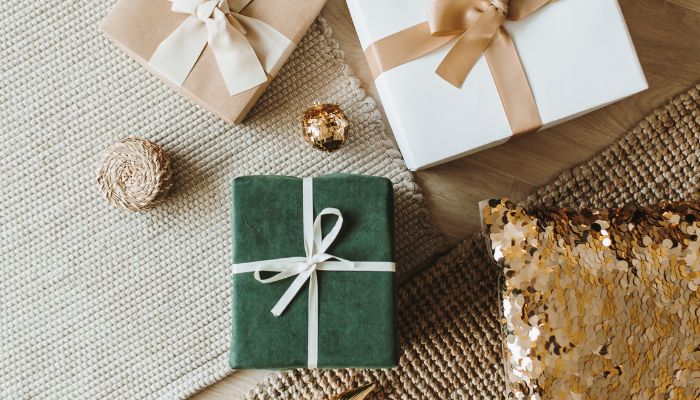 Keep reading to learn more about how this easy-to-implement system can take away some of your seasonal stress and help make shopping for gifts much easier.
Related articles:
What Is A 5 Gift Rule Christmas?
Have you recently asked, "how many gifts should a child get for Christmas?" Well, you aren't alone! According to the National Retail Federation, the average consumer spends at least $998 on Christmas gifts. It's no wonder that many of us are looking for ways to simplify our gift-giving.
The 5 Gift Rule is a minimalist approach to Christmas shopping designed by parents who want to give meaningful presents without going broke in the process.
Simply put: each person (regardless of age) gets only five gifts.
The five gifts include:
something they want
something they need
something to wear
something to read
and one surprise gift or an activity that can be done as a family
By setting this limit, you can spread your budget further and focus on quality instead of quantity. With the five-gift rule, everyone will get the same amount of presents with a 5 Gift Rule Christmas, and they'll be thoughtful and special.
The 5 Christmas gift rule helps you think outside the box. Think homemade treats, tickets to a show or sporting event, experience days – anything that fits into one of the five categories can be a gift.
I always say an experience is 100 times more memorable than a toy!
A Deep Dive Into The 5 Gift Rule For Christmas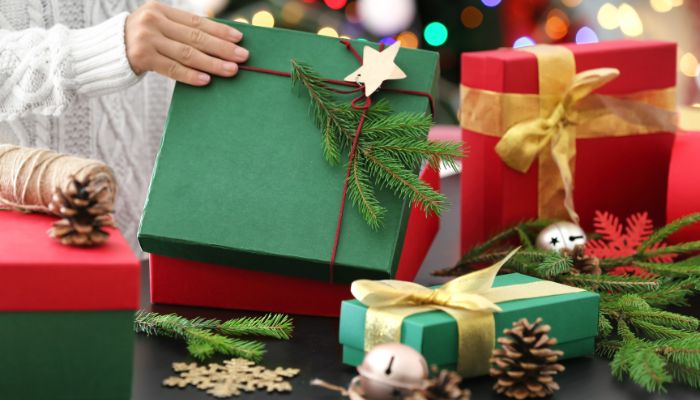 Now that you have a brief understanding of what the 5 gift Christmas rule is, let's dive deep into what kind of gifts to give when doing the 5 present rule. In my house, the 5 gift rule mainly pertains to my children, as kids are so easy to overspend on. I recommend using this method on anyone you overspend on.
It might not just be kids. It could be your grandkids or your spouse.
Something they want
This is probably the easiest gift to purchase! Most children have a laundry list of toys and games they want every year. Try and buy something that they have been waiting for an extended period of time. Not something they recently saw in the Target Christmas magazine sent to your home.
For example, my daughter has wanted this lego set with horses since last Christmas. So, that will be at the top of my list for her this year.
Something they need
Does your child need anything? Think practically and buy something your child will use over the coming year. Maybe a new comforter for their bed, school supplies, or even new shoes.
Something to wear
Clothing! Younger kids don't always enjoy getting clothes, but there are ways to make it fun. This is a great time to stock up on much-needed items like pajamas and socks.
Buy clothing items with something on them that they will love. Your kids may be into a certain Disney character or Mine Craft. This makes it a win-win Christmas gift.
Something to read
Stimulate your kids' minds by giving books as presents. It doesn't have to be a traditional book either – comic books, magazines, and activity books are all great options.
Something to do / an activity your family can do together
Finally, the last item on the list should be fun and memorable for your entire family! Maybe tickets to a sporting event, a water park, or Disney on Ice.
This activity can be as little or as big as you want it. Find inexpensive ways to make it more fun, such as inviting a grandparent or doing a sleepover on the living room floor. If money is tight, buy a movie, popcorn, and candy included, and put on a movie theater night in your own home.
Why Should You Adopt The Five Presents Tradition For Christmas?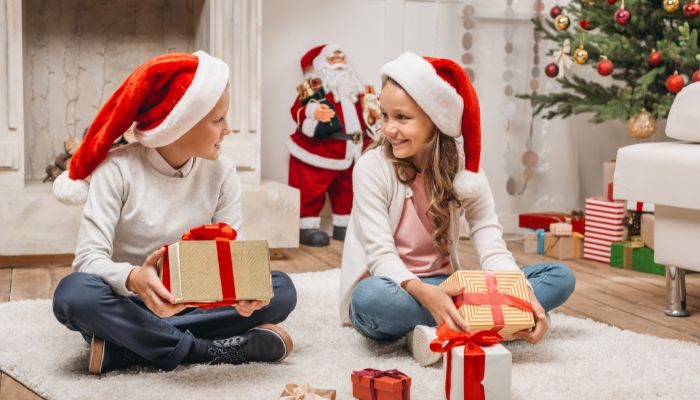 There are many reasons you should adopt the "something they want, need, wear, read, and go" gift rule.
Five gifts are a great rule of thumb to live by when Christmas rolls around. While it might be tempting to go full out and purchase countless gifts for your children to spread holiday cheer, this is actually not the best idea.
Buying too many presents for kids will only make them lose appreciation for their possessions and become overwhelmed with too much stuff.
On the plus side, if you stick with 5 gifts per kid, you can focus on getting something that they will truly cherish. Doing this also gives them fewer distractions from what should be the main event: spending time together with family as a unit and making memories that will last a lifetime.
If I still need to convince you, here are the top reasons you should try the 5 gift rule.
1. For starters, it's more affordable
You can spread your budget further and get meaningful presents for everyone in the family. Nobody wants to go into debt during the holidays. So, this year don't by sticking to the 5 gift rule. And remember, these don't have to be big extravagant gifts.
2. It makes shopping easier
By limiting the number of gifts per person, you'll not only spend less money, but you'll save yourself from spending the month of December running around like a crazy person, buying A L L the gifts. Limiting the number of gifts makes shopping so much easier.
3. Overwhelmed by presents
Well, not anymore! Not only do you have to buy all of these gifts, you then have to find a place to put them in your home once they are opened.
Some of us live in smaller homes, such as myself, and more stuff does not equal more fun. I can promise you that. If mass amounts of gifts make you unhappy, let's fix that.
4. Stress
Do the holidays have you stressed out? I'm with you, sister! The five gifts rule helps ease the gift-giving stress that accompanies the holidays.
How Can I Make The 5 Gift Rule Work For Me?
Don't worry about how to make the 5 Gift Rule work for your family. Here are a few tips and tricks to help get you started:
Start with a budget: Figure out exactly how much you can afford to spend on gifts, and then divide it up by how many children you have. This will help keep your spending in check.
Do your research: Once you have an idea of what kind of gifts each person would like, do a bit of research to find the best deals and compare prices. Also, start buying earlier in the year. November 1st is a great time to start shopping for holiday gifts.
Keep it simple: You don't have to go over the top – sometimes, the simplest gifts are the most meaningful.
Involve your kids: Discuss what they would like, and get them involved in making homemade presents or picking out experience days.
Get creative: Think outside the box for something unique and meaningful. Consider a donation in someone's name or an item with sentimental value.
By following these tips, you can ensure everyone gets something special without going into debt this holiday season!
How Does This 5 Gift Rule Apply To Stockings?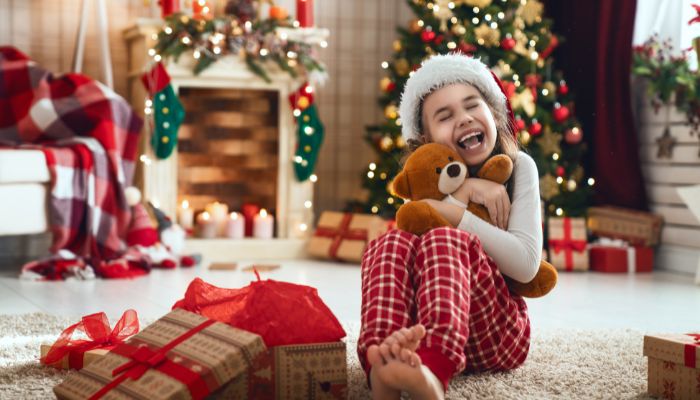 When it comes to stockings, you can keep the 5 gift rule in mind or not. It's really up to you! If you choose to give an additional gift, that's okay.
And if you don't, that's okay too. It's really up to your own personal preference. As your children get older, try and make sure that you do something similar to what you did the year before.
For example, my nine-year-old would definitely be upset if Santa brought her a gift last year but didn't this year.
Grab Your 5 Gift Rule Christmas Printable
Are you ready to give the 5 Christmas gifts rule a try? If so, grab our free 5 gift rule printable below! Our 5 gifts for Christmas printable will help keep you aligned with this 5 gift rule.

Final Thoughts On The 5 Christmas Gifts Rule
The 5 Gift Rule is a great way to simplify Christmas shopping and spread joy without breaking the bank. So, this year, why not give it a try and see how much more meaningful and enjoyable Christmas morning can be?
Not to mention, you'll be saving money and stressing less. Everyone wins! So what are you waiting for? Go out there and try the 5 gift rule for yourself!
Also, join us on Pinterest for more money-saving tips and tricks!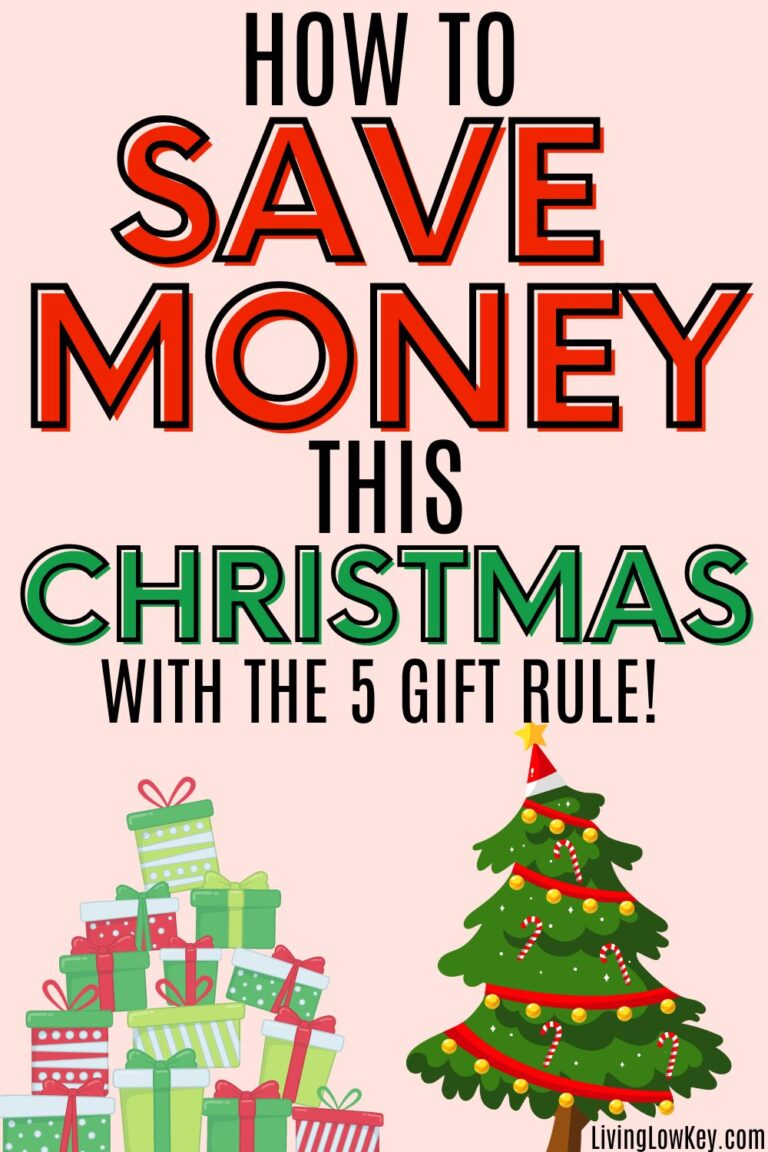 Related articles: