When was the last time you tracked how much money you spent on food each month? I bet you'll be surprised at what you find.
Personally, the grocery store is the number one place I spend the most money at. It became my mission to figure out how to spend the least amount of money while grocery shopping.
Enjoy these grocery store hacks that will help you save money on food each month!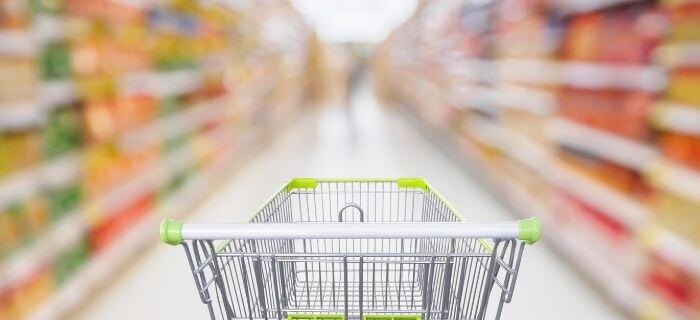 Why You Should Save Money On Groceries
According to the U.S. Department of Agriculture, the average family of 4 will spend anywhere from $560 per month if they are thrifty or up to $1,200 per month if they get liberal with their food.
Can you imagine spending upwards of $1,000 per month on food? Maybe you are, and if that's the case, you are in the right place. I mean, I know we need food to live, but seriously that's like another mortgage payment.
Where do you fall, on the low end of the spectrum, or are you eating lobster and going out to eat daily?
We set a "grocery budget" every month, and we aim to keep it below $500 for our family of 4. That breaks down to roughly $1.40 per meal per person.
Wherever you fall in that band, there is always room to improve. We strive to cut down our grocery bill every month so that we can save money for other things.
If you find yourself paying way too much for groceries each month, you are not alone. I created this list of my absolute favorite grocery store hacks because I want you to save money on food and spend it on the fun things in life, like extra family time.
Do you currently budget your money? If not, I highly recommend you start! Come take part in our FREE Organize Your Finances Challenge, and in 5 days, you'll be budgeting like a Pro!


Related articles:
How To Save Money On Groceries: Best Grocery Store Hacks
1| Make A Grocery List
Creating a grocery list is going to be a crucial step in you saving money on food each month. There is nothing worse for your budget than when you walk into a grocery store without a list.
Without the guidance of a grocery list, you might remember everything you needed but, I bet you come out with a bunch of stuff you don't need.
When you create a list, you can see what you need and avoid the things you don't. Next time you go grocery shopping, make a list and stick to it. I think you'll be surprised at how big of a difference it will make.
Related Resource: 8 Genius Hacks For Meal Planning On A Budget That'll Save You Money
2| Don't Go Shopping If Your Hungry
I'm guilty of doing this from time to time, and my budget suffers every time I do. It turns out that when you go to the grocery store hungry, everything looks delicious.
You end up buying things you don't need because your brain tells you it looks good.
Make sure you eat a snack before you go grocery shopping. Your stomach and your budget will thank you after.
If you absolutely have to go shopping while you're hungry, make sure you have a grocery list and stick to it!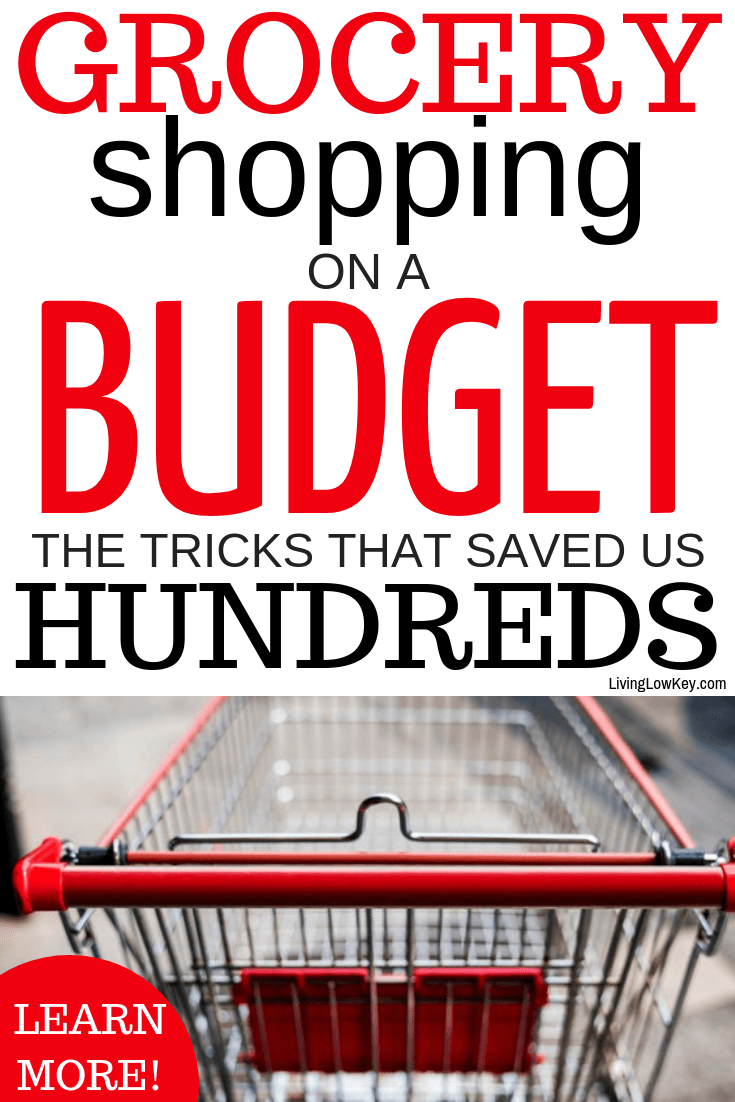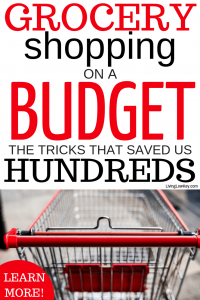 Related Resource: How To Budget Your Money With The Cash Envelope System
3| Shop At Discount Grocery Stores
Have you ever shopped at Aldi, the Dollar Tree, or any other discount grocery store for grocery items? If not, I think you might be surprised at what you find. If you are wondering how to save money on groceries, this is the key!!
Shopping for discounted items at some of the cheapest grocery stores around will save you a lot of money.
When I say cheap groceries it does not mean they are expired. When a grocery store has too much overstock, they send their access to stores to discounted grocery stores. They then sell the food at a discounted price.
Which equals one happy customer!!
If you love the produce section as much as I do, make sure you figure out the delivery schedule for your local discount grocery store. This way you will get first pick at all the fresh produce.
For example, I know on Tuesday's produce gets delivered to my local Aldi. So what day do you think I'm going to do my grocery shopping, Tuesday morning!
If you haven't been to the Dollar Tree lately, I think you'll be pleasantly surprised that they actually have a large selection of food. They even carry quite a few name brand items at a better price!
However.. remember it is the Dollar Tree, and there are a few food items I wouldn't bother buying, such as meat or really anything from the cold section.
Related Article: The Dollar Tree Store Should Be Your One Stop For Everyday Essentials
4| Be The Next Coupon Lady
Do you get the Sunday newspaper? We get the local area paper each week, and it's full of coupons for groceries! If you think coupons are a thing of the past or only for your grandparents, you are dead wrong!
If you're not using coupons for your groceries, you miss out on a great opportunity to save money.
I know saving a few cents on a pack of cheese doesn't sound like a lot, but it adds up over time. Make sure you are checking your local newspapers and online.
There are so many other ways to score free coupons these days besides your local newspaper as well.
For example, if you grocery shop at Target, which most of us do. Make sure you are always using the Target Cartwheel app to save money!
If you want to learn more about saving money by using the Target Cartwheel app, click here! This FREE app usually saves me anywhere from $5-$7 per grocery trip.
You can also apply for their Target Red Card! The Target Red Card saves you 5% on every purchase. Just make sure you sign up for the Target debit card so the money comes right out of your checking account. The Target credit card isn't worth it in my book.
Related Resource: How To Save Money Mastering The Cartwheel App At Target
5| Find Offers On Ibotta To Get Cash Back
If you aren't using Ibotta, you need to star right now. This awesome app is totally FREE and is my personal favorite way to get cash back when I buy groceries. All you have to do is find offers in the app before you shop then go buy your groceries.
Once you are done shopping, take a picture of your receipt with the Ibotta App, and they will deposit cash back into your account. We average about $40-$50 per month in our account.
It's as simple as that! I seriously love this app. You can see below how much we've earned just by using the Ibotta app when we grocery shop.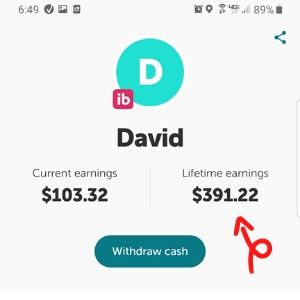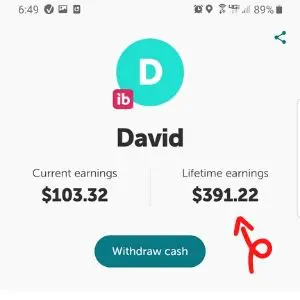 So far the only downside I have seen to it is that it doesn't have offers for everything at the store, just select items.
If you are looking for a simple way to save money on groceries without cutting coupons, Ibotta is the app for you.
If you sign up using our link today, you'll get a free $10 welcome bonus.
6| Compare Prices: Generic vs Brand Name
Next time you're at the grocery store, make sure you compare prices of similar products. Specifically, you should be looking at name brand and generic products. Most of the time, you will notice a slight markup in prices on the name brand products.
We buy mostly generic products because they taste the same, they are just an off-brand, which makes them less expensive.
One thing to keep in mind is the price per unit. When you are looking at prices of meat or veggies, look at the price per pound or ounce.
Anything that comes in a bulk package, you will want to compare price per unit to make sure you are really getting a good deal.
This is especially important for stores like Costco or Sam's Club, where everything is bought in bulk.
7| Keep Your Eyes Open For Deals and Clearance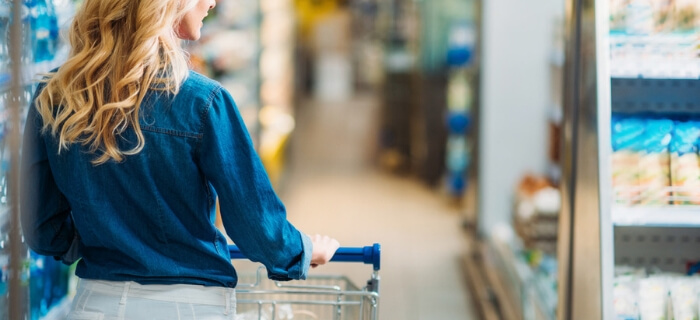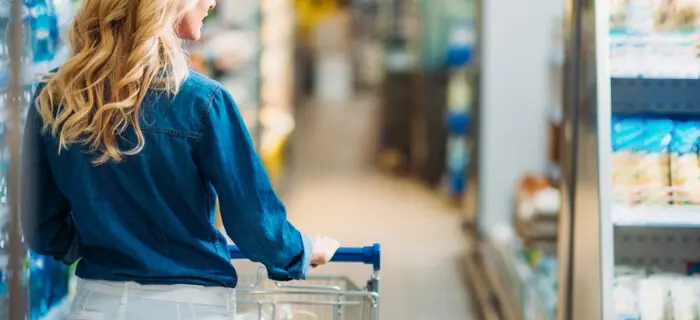 If you closely watch your local stores, you'll see that they do weekly deals on some of the food. Make sure as you are walking through the grocery store, you are looking for any signs or pamphlets with deals listed.
I know the Cub Foods by my house does Buy One Get One on certain meats every now and then. Keep your eyes peeled.
You should also be looking for clearance deals while you shop. Most grocery stores have a clearance section for food nearing its expiration date that they just want to get rid of it quickly.
8| Don't Shop The Middle Shelf
Just in case you didn't know, grocery stores hire people to determine the ideal spot to put food on the shelves. One of those ideal spots is on the middle shelf. The theory is that the middle shelf is where your eyes will immediately drift too because it's, well, at eye level.
Knowing, that stores mark up the prices for products on the middle shelf. Next time you're out buying groceries, make sure you look up and down and avoid falling into the middle shelf trap.
9| Prepared Food Is Easy But It's Hard On Your Grocery Budget
Trust me when I say I am a fan of quick and easy meals, but just because they are easy doesn't mean they are budget-friendly. All those pre-made meals you see in the freezer section will be more expensive than if you were to make a meal yourself.
Next time, try to buy the ingredients and make the meal yourself.
You'll have a tasty meal and probably have leftovers for the following day. The leftovers can be your quick and easy meal!
Related article: 85 Frugal Meals You Can Make Even On A Small Budget
10| Buy Blocks Of Cheese Vs Pre-Shredded Cheese
How often do you buy those bags of pre-shredded cheese at the grocery store? Yea, we all do it, but did you know it's more cost-effective to buy a block of cheese and shred it yourself. That's right, grating your own cheese can save you money.
The cost of a bag of pre-shredded cheese at a store near us is $2.20. A block of the same cheddar cheese is $2.79. Now I know what you're thinking, the block of cheese is more expensive. Well, you have to read the fine print…or the labels.
In a bag of cheese, there are 8 servings, and each serving is 1/4 cup for a total of 2 cups of cheese. When you grate your own, there are still eight servings, but the serving size is about 1/2 cup.
That's double the servings found in a bag! So what did we learn? Grate your own cheese to save money.
11| Leave the Kids, Or Spouse, At Home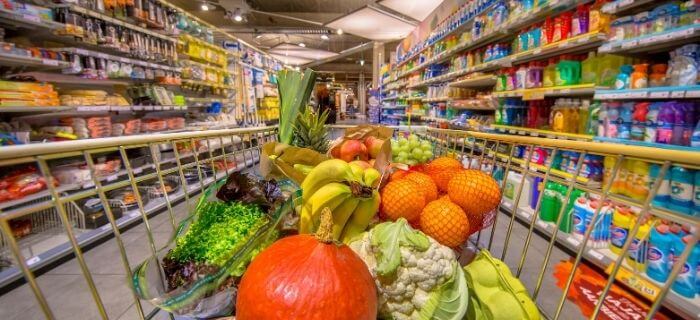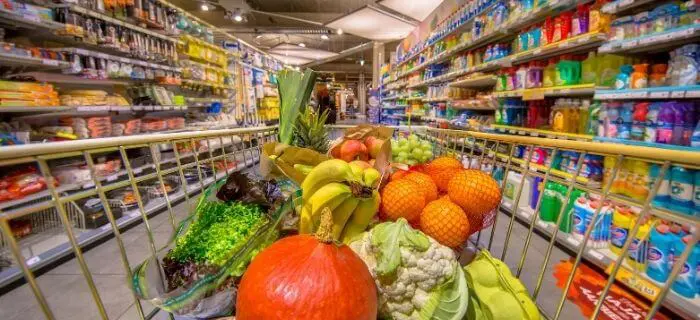 I love my kids more than anything, but whenever I take them to the store, I have to be prepared for the fact that I probably spend an extra $20 that I wouldn't have spent if I had left them at home.
Our 3-year-old wants just about everything in the store!
To avoid having to constantly say no and avoid buying excess things I don't need, I try to do my grocery shopping alone.
When you shop alone, you'll be less tempted to buy excess items.
12| Do Meal Prep For The Week
Before you even go grocery shopping, you should be planning out all of your meals for the week. We plan our meals out for two weeks.
When you know your meals, you can create a grocery list so much easier.
If you struggle to come up with meals as I do, you can always check out the $5 Meal Plan. This is a great meal planning service that will give you a weekly meal plan and a shopping list with the ingredients you need.
They take all the work out of planning your meals!
Right now, they have a 14-day FREE trial so make sure to give it a try.
13| Shop With Cash: The Best Grocery Store Hack That Saves Me The Most
This is my favorite way to limit how much I spend at the grocery store and everyday life.
We are big fans of the Cash Envelope Budget System. The basic idea is you pay cash for everything, and when the cash is gone, you don't spend any more money until the next budget cycle.
Pretty simple right? Yea, it really is.
We used this budget system to help us save $20,000 in one year!
Paying with cash hurts more than paying with your card. If haven't gave cash budgeting give it a try.
Sign Up For Our FREE Budget Workshop Here And Take Back Control Of Your Finances!!
14| Sign Up For Store Rewards Cards
Signing up for the free loyalty or rewards programs at your local grocery store can save you big money throughout the year.
At our local Cub Foods, we are part of the rewards program. When we spend money at the store, they give us a discount on gas at participating gas stations. It might not be saving money on groceries, but it's nice to build it up and save a dollar per gallon on gas when we fill up the truck.
Check with your local grocery store and see what rewards or loyalty programs they have. Some stores will have discounted prices on items for members of the rewards program. The programs are free and don't hurt to sign up.
15| Pay Attention At Checkout
I don't want you to think that you shouldn't trust the cashier at checkout… because I am sure they are good at their job.
BUT I always watch what they ring up. We are all human, and we all make mistakes.
I just don't want a mistake to cost me money, so I keep an eye on what they are ringing up.
I also make sure to check the receipt for any discrepancies as I am scanning it in with my Ibotta App. Being diligent about this has saved me money on multiple occasions.
16| Don't Toss Old Fruit
Next time you have some old bananas, strawberries, or other fruit, don't throw them out. You can use them for other things and save money by not buying more.
Whenever we have old fruit, we use them for things like smoothies or banana bread. We use old bananas to make delicious banana pancakes all the time!
Get the FREE recipe below.
Get Our Favorite Banana Pancake Recipe
Subscribe to get our latest content by email.
There are other ways to save money at the grocery store these are just some of the ones that we have found useful over the years. Give them a shot and let us know what you think!
What are your favorite ways to save money on groceries?
Make sure to pin this article for later, and if you want more money saving tips and tricks make sure to come follow us on Pinterest!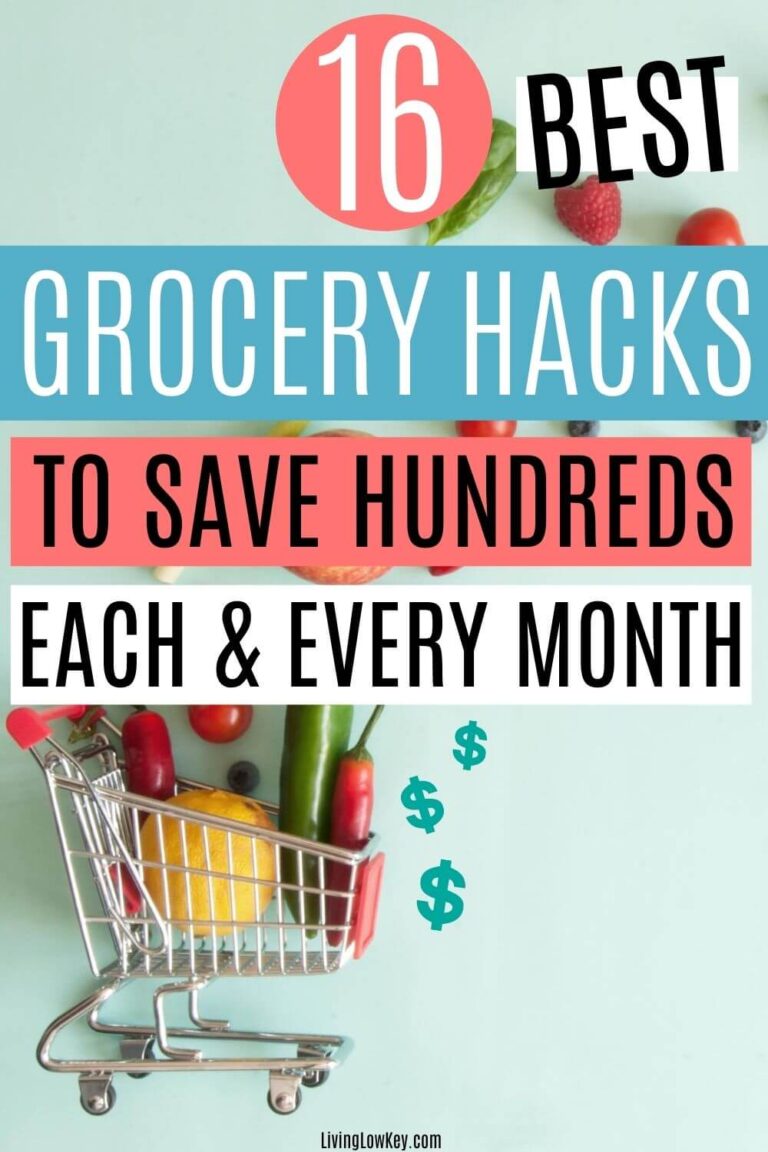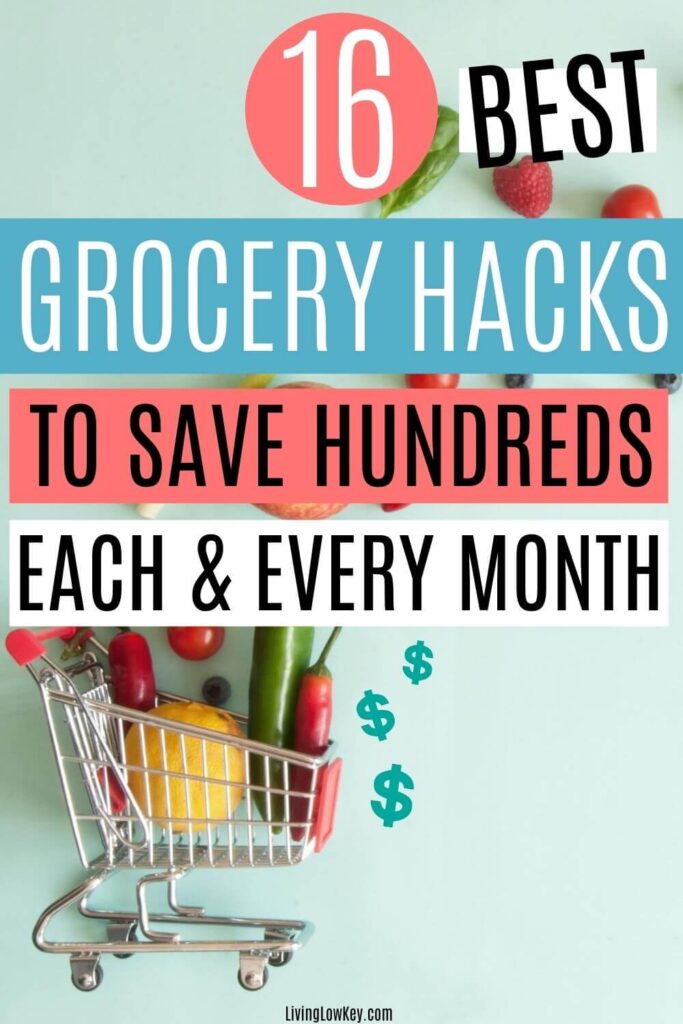 [disclosure]