The best cash envelope wallets for budgeting your money!
Are you looking to commit to budgeting with cash?
Or maybe you've already committed, and you're just looking for an adorable cash envelope wallet to fit this lifestyle.
Whatever it may be, budgeting with cash has been one of the most valuable assets on our debt-free journey. When I first started cash budgeting, I was in my early 20's and literally carrying my money around in plastic bags.
Thankfully, that doesn't have to be you because budgeting wallets are officially "a thing."
Join me below for some of the best, most affordable, envelope wallets on the market.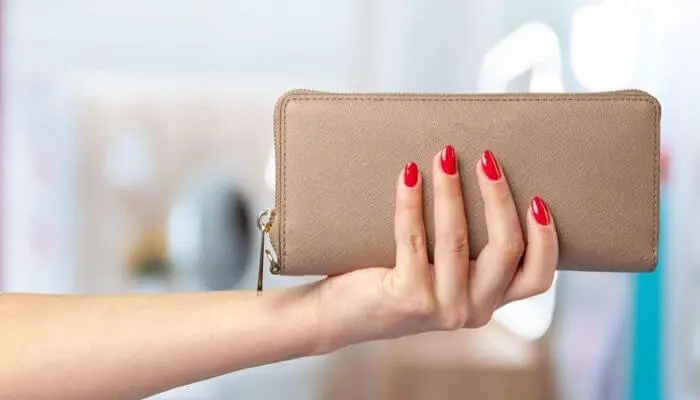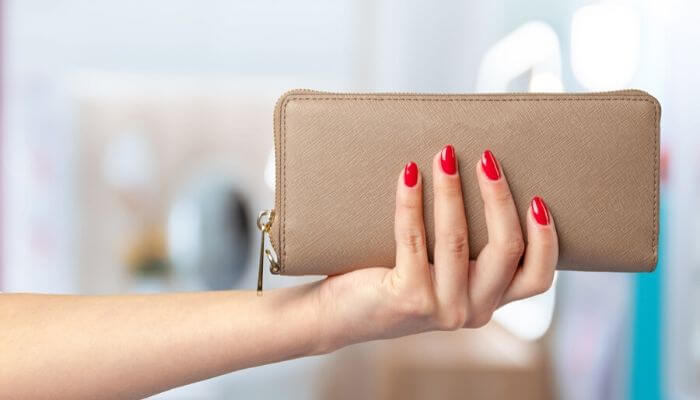 What Is The Cash Envelope Wallet System
Do you budget using cash? A cash envelope wallet is a wallet that helps you organize your cash according to your budget. A functional envelope wallet separates your cash by categories.
Here are a few example categories:
food
gas
entertainment
clothes
household items
The purpose of a cash wallet is to fill each of your categories in your wallet with cash, according to your budget. Once your cash is gone in a category, you are done spending for that pay period or month, depending on how you have your budget set up.
You can have as little or as many "categories" in your wallet as you would like.
Here are a few of the budget categories I use most often; food, household supplies, and entertainment. I personally don't use cash to pay for gas. I struggle with staying on budget with food and household spending every month, so those are two categories I always need to have cash envelopes for in my wallet.
A great envelope wallet helps this method of budgeting flow seamlessly and is worth every penny.
Get Your FREE Budget Binder Today
It's time for you to take control of your finances so you can save more money and pay off your debt!!
How Will A Cash Envelope System Wallet Help Me Budget My Money
There are quite a few benefits to using a cash envelope wallet system. Having a budget in place, only using cash, and tracking your expenses in your envelope wallet is going to save you a lot of money and help you do the things you've only dreamed of.
But besides that, here are a few benefits of using an envelope system wallet on the daily.
Benefits Of A Cash Envelope Wallet
–You Can Easily Track Expenses
An envelope system allows you to track your expenses effortlessly. Each category within your wallet includes a space to track every purchase you make.
Yes, you will visibly be able to see where every dollar you spend goes.
Tracking your expenses and your cash is an essential part of cash budgeting. Your wallet allows you to do all of this.
–Prevent You From Overspending
When you're cash budgeting, and you run out of money, what happens? You stop spending. If you don't have the cash in your wallet, do you make random trips to Target? No, because you don't have cash in your wallet!
This is why cash budgeting is so effective in preventing you from overspending because once your money is gone, you won't have anything left to spend.
When you spend with a card, more than likely, you don't track it. Money flows right out of your bank account, most of the time without even realizing it. Before you know it, you've spent your entire paycheck.
Having a wallet that keeps you organized will prevent you from overspending.
When Should I Spend Money On A Cash Wallet System
There is no right or wrong time to spend the money on an envelope system wallet. I was budgeting with those little white envelopes you use for mailing things for over a year before upgrading.
I had quite a few envelopes tear apart and probably lost some money because of that along the way. If you have the money I would definitely think about upgrading sooner than later, I wish I would have.
Related articles:
10 Of The Best Budgeting Wallets
1. Cash Envelope Notebook Wallet
>>Read reviews and check prices here!
| Pro's | Con's |
| --- | --- |
| Everything you need to be successful at budgeting | Only comes in one color |
| Comes with a wrist strap | |
| Big enough to hold a phone | |
| Space for cards and checkbook | |
Whether you are a pro cash budgeter or just getting started, this is the perfect cash wallet for you. This cash wallet is RFID blocking and includes everything you could need to be successful at cash budgeting.
This wallet comes with a variety of features that will help you become a successful cash budgeter.
I personally love how the money envelopes slip right into this wallet so easily. The wallet itself has a zipper for extra protection for your cash.
If at any point, your money envelopes become ruined, you can purchase more or make your own.
This budgeting wallet includes:
12 budgeting envelopes
12 budgeting sheets
14 sticker labels
Ruler
Yearly calendar
Monthly budget
Monthly calendar
This budget wallet also comes with a 100% 90-day money-back guarantee. Meaning if you don't like it, you can send it back to get your money back.
2. Budget Planner Organizer Wallet
>>Read reviews and check prices here!
| Pro's | Con's |
| --- | --- |
| RFID Blocking Technology | Only comes in one color |
| Comes with a wrist strap | |
| 12 debit card slots | |
| Zipper change pocket | |
This all-in-one budget wallet organizer had my attention at first sight. It has a 4.5 rating, and honestly, this wallet is gorgeous.
One of my favorite parts about this wallet is the cash envelopes. Each individual cash envelope is made out of plastic, and three-hole punched to fit in the wallet nicely. If you've ever used paper envelopes like most of us have, they fall apart so easily.
These plastic envelopes will allow you to use them over and over, without having to purchase more. SO, although the price is slightly higher than other wallets, it's worth it!
This budget wallet organizer includes:
Yearly calendar
12 budgeting sheets
12 plastic envelopes
Envelope labels
To-do list
Grocery cost tracker
If you enjoy supporting small businesses, this wallet is made by a family-run business. They also offer a 100% money-back guarantee on their products.
If you are ready to meet your goals with a well-made product, this is the budget wallet organizer for you!
3. Dave Ramsey Wallet
>>Read reviews and check prices here!
| Pro's | Con's |
| --- | --- |
| Black stylish color | Only comes in one color |
| Can hold a pen | Doesn't zip shut |
| The trusted name behind the wallet (Dave Ramsey) | |
| Good quality wallet | |
This 4-star cash wallet comes with the trusted Dave Ramsey name. It comes in one color, black, and is made of imitation leather.
This Dave Ramsey envelope wallet includes:
A place for your checkbook
Memo pad
Debit cardholder
Cash envelopes
Guide to using cash envelopes
A space to keep track of expenses
Inside you will find a guide to using the envelope system along with several cash envelopes. There are a lot of raving reviews on this particular cash wallet, however, I did notice a few drawbacks, such as limited space to hold any debit cards.
In theory, you'll be paying in cash, so you'll need fewer debit cards in your wallet. However, I enjoy having multiple slots for carrying my health insurance card, dental, library card, etc.
This wallet does include everything you need to get started and is highly recommended for beginners. If you're a Dave Ramsey fan, you'll understand why this Dave Ramsey cash wallet is highly recommended.
Recommended:
4. Bella Taylor Cash System Wallet
>>Read reviews and check prices here!
| Pro's | Con's |
| --- | --- |
| Comes in different colors | Big in size |
| Durable | |
| Cash has a separate zipper pocket | |
| Coin pocket | |
The Bella Taylor cash wallet system is another popular brand and is known for its cash envelope wallet.
Most people enjoy this wallet because it has individual built-in spaces to keep your cash for each category that you are budgeting for. This means no messing around with cash envelopes.
If you're looking to start cash budgeting but aren't looking to deal with any type of envelopes, this wallet would be a great choice.
The Bella Taylor cash wallet system includes:
Eight envelope slots for cash
Printable tabs
Checkbook pocket
Pen loop
Six debit card slots
Two window ID slots
This would be the perfect wallet for someone who already has a budget binder and keeps track of their expenses and savings elsewhere. You should probably grab our free budget binder here just in case!
This envelope wallet doesn't include any of the extras that some of the wallets mentioned above do.
5. Three Way Cut Envelope Wallet
>>Read reviews and check prices here!
| Pro's | Con's |
| --- | --- |
| Leather wallet organizer | Only comes in one color |
| Pen loop | |
| Affordable | |
| Perfect for men and women | |
Are you looking for an affordable wallet that will do the job, then look no further. This envelope wallet will do just that.
When looking for a budgeting wallet, finding something that keeps my cash envelopes from falling out of my wallet is necessary. This wallet has an internal binder that holds in all 12 budgeting envelopes so that they don't fall out. I feel this is a must!
Other great features include multiple debit cardholders and individual budgeting sheets for each month. Keeping track of your daily expenses is a must when you use a cash system.
Being able to write down every expense after making a purchase is an essential task if you want to stay on budget.
This budgeting wallet includes:
12 budgeting sheets
12 budgeting envelopes
Binder note
Yearly Budget sheet
12 slots for debit cards
Built-in coin pocket
If you are looking for a sleek black design for an affordable price, this is your wallet. Make sure to check out all the details below for yourself.
6. Kate Spade Cash Envelope Wallet
>>Read reviews and check prices here!
| Pro's | Con's |
| --- | --- |
| Wrist strap | Price |
| Leather | No Zipper closure |
| Multiple colors | |
We all like nice things, right! The best part about budgeting is that it allows us to be able to afford the things we want. If owning a more expensive wallet, such as this Kate Spade wallet, is on your dream list. It can be done on a budget.
And most importantly, it can be turned into your own version of a cash envelope wallet.
As a matter of fact, any wallet, such as the one you have right now, can be turned into a budgeting wallet. I'm just using this Kate Spade wallet as an example because it's my dream wallet.
If you want to make your current wallet work for you, all you need to do is grab some of the little clips, cut some labels out of paper, and grab a notebook from home. I love using these mini notepads. They are easy to store in your car, purse, and just about everywhere.
Label each of your categories, then clip your cash with the label, and put it in your wallet. You could also purchase or make your own cash envelopes to place in your wallet.
Recommended:
7. Hommie Cash Envelope System Wallet
>>Read reviews and check prices here!
| Pro's | Con's |
| --- | --- |
| Affordable | It's a carrying pouch |
| Water-resistant | Not as durable as a wallet |
| Multiple colors | |
Do you already have a wallet you love at home and aren't looking to make the change over to a budgeting wallet? If so, this is a great alternative.
I love cash budgeting because it's extremely flexible and there are so many different ways to do it. All that matters is that you start. Tracking your expenses will absolutely change your financial future.
This cash system wallet includes:
12 water-resistant envelopes
15 expense tracker sheets
One carrying pouch
24 stickers for envelopes
If you're struggling with your finances and looking for an inexpensive place to start, this would be it. These budgeting envelopes and pouch will help keep you organized and start saving you money.
How To Make Your Own Envelope Wallet
Not ready to invest in your own cash envelope wallet just yet? If so, that's fine. Like I mentioned above, I budgeted using plain old white envelopes for years before I actually bought myself an envelope wallet.
If you aren't ready to make a move to a cash wallet, you can start by making your own, or we have some cute cash envelope templates here!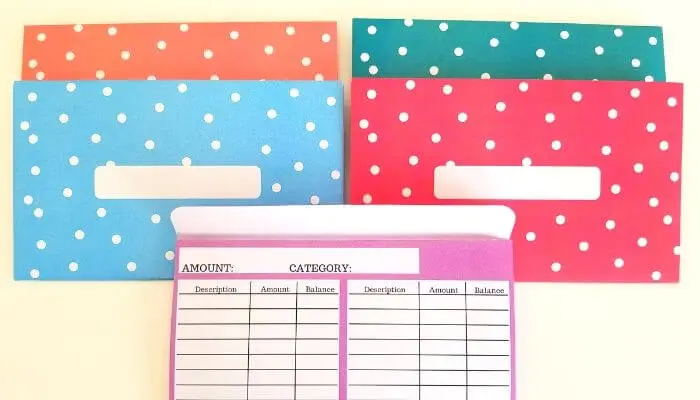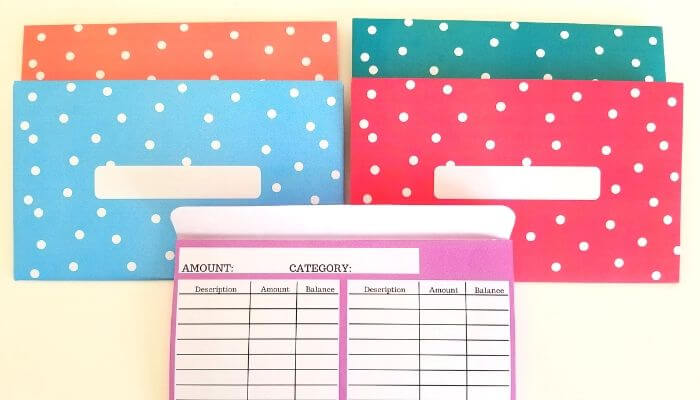 Envelope System Wallet – Summary
There you have it 7 of the best cash envelope wallets that will help you save money and pay off debt. Hopefully, this will help you make the right decision on what cash wallet is right for you.
Have you tried a cash wallet system before? Let us know in the comments below.
Get Your FREE Budget Binder Today
It's time for you to take control of your finances so you can save more money and pay off your debt!!
If you enjoyed this article, make sure to save it for later and join us over on Pinterest for more money-saving tips and tricks!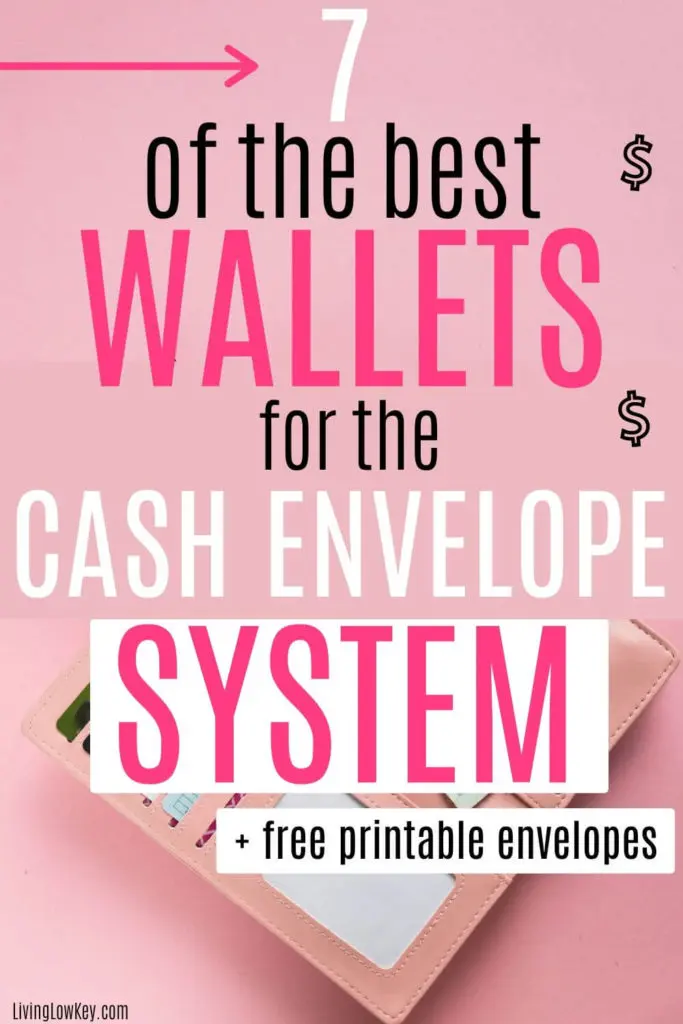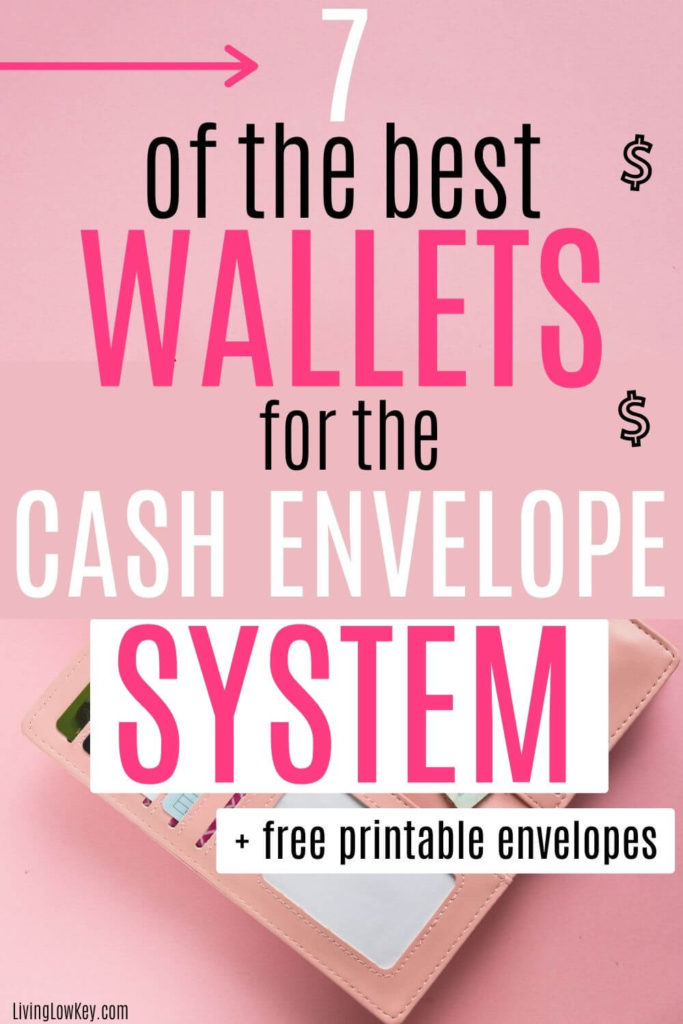 Related articles: