Are you looking to add a new addition to your growing family in the next year? And NO I'm not talking about a fluffy little puppy, although they are cute! I'm talking about a baby!
Growing your family is such a joyous time in your life but it can also be expensive too. It might seem near impossible to budget for a baby but it doesn't have to be that way…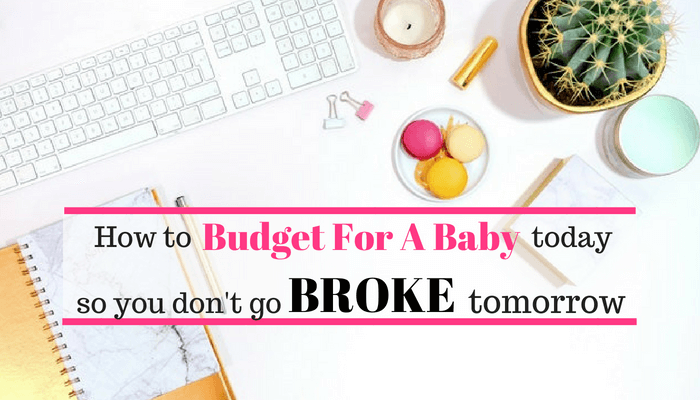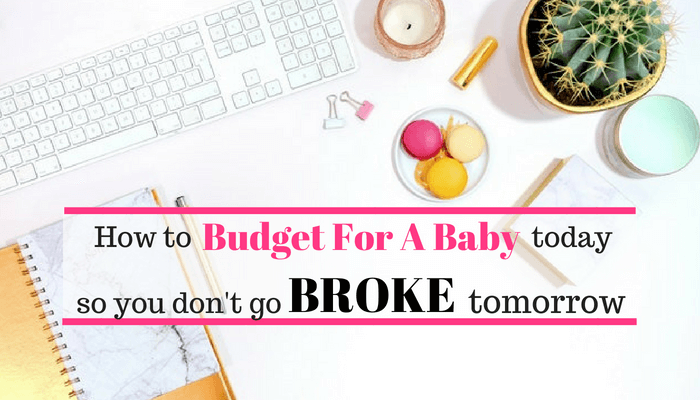 How To Start Budgeting For A Baby Without Going Broke
The cost of having a baby is expensive. A survey was taken in 2015 by the USDA stated that the cost of raising a young child cost approximately $12,680 a year. So roughly $1000 a month!
That's a lot of money if you're already struggling to get by!!
With our first child, I would say that this statistic was quite true, in the beginning. I went above and beyond buying more than the necessities. I didn't make a budget and I overspent, which is easy to do when you're on the "new baby high."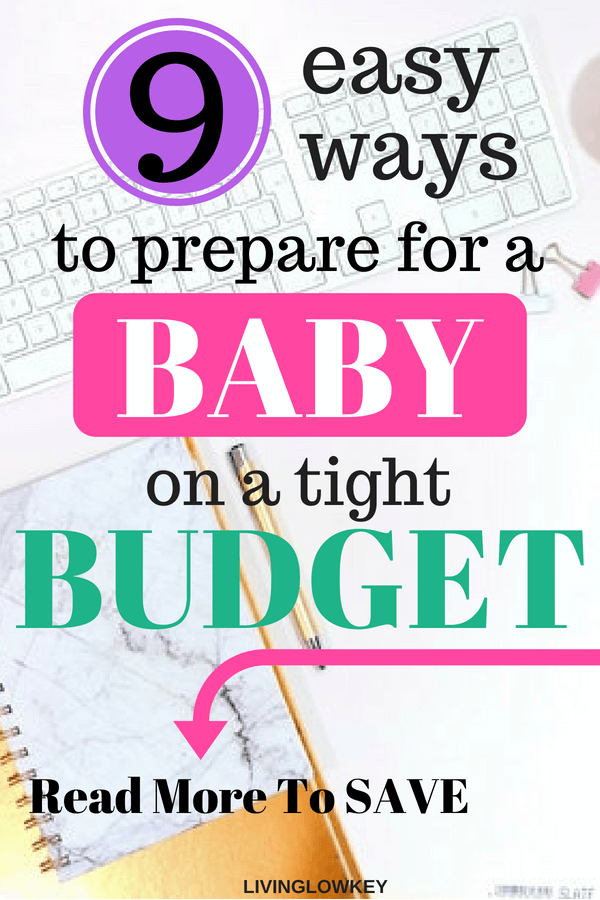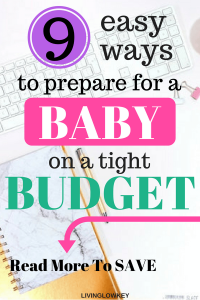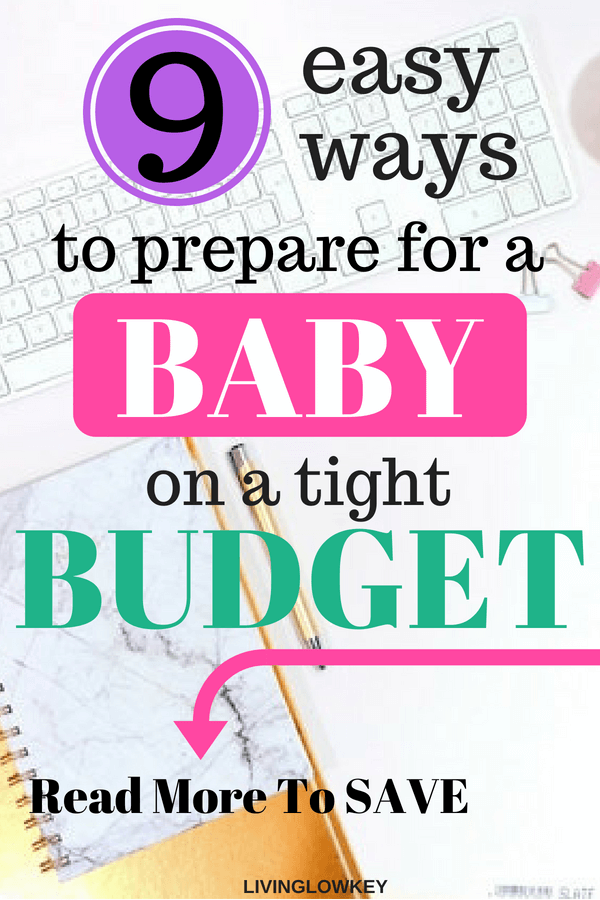 I ended up with lots of extra supplies and clothes my daughter never even wore once. With our second child, it's safe to say I learned from my mistakes and found a way to budget a new baby into our lives.
I want to help you do the same, so you can enjoy this pregnancy and your soon to be bundle of joy.
GRAB YOUR FREE PRINTABLE BUDGET BINDER
Add Up The Cost Of Having A Baby
Like I mentioned before, having a baby can be expensive so make sure to do a little research. Here are some expenses you will want to think about.
Daycare is a huge cost and it continues to rise depending on where you live. In most cities, daycare facilities can charge up to $300+ per week for the care of a newborn. Yes, daycare can cost over $1,000 a month for just one child. Yea, I know, we both went into the wrong profession!
Factor in how much essential baby supplies will cost each month. Diapers, wipes, bottles, formula, onesies, and breastfeeding supplies all add up really quickly. The sooner you start buying these items the better. I was able to stock up on enough diapers and wipes before my first baby came so that I didn't have to buy a single diaper or wipe the first year of her life.
Figure out how much the initial baby round-up will cost. Think of things like the crib, car seat, stroller, and other nursery items.
Other miscellaneous items you might need: nursing pillow, baby ointment, baby soap, diaper pail and more.
Once you have a guestimate of these new babies expenses you'll be able to start preparing yourself financially for the new baby.
Related Articles:
How To Prepare For A New Baby On A Budget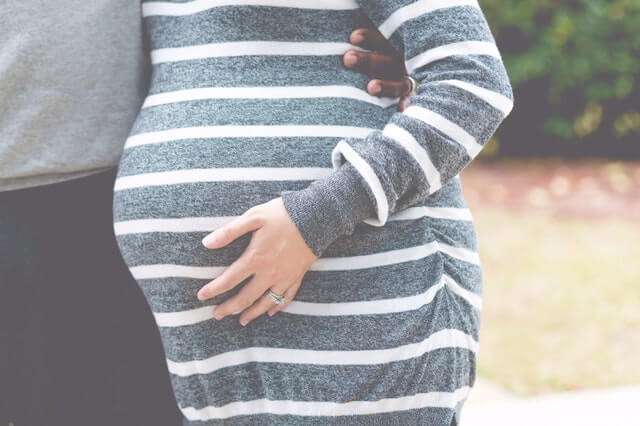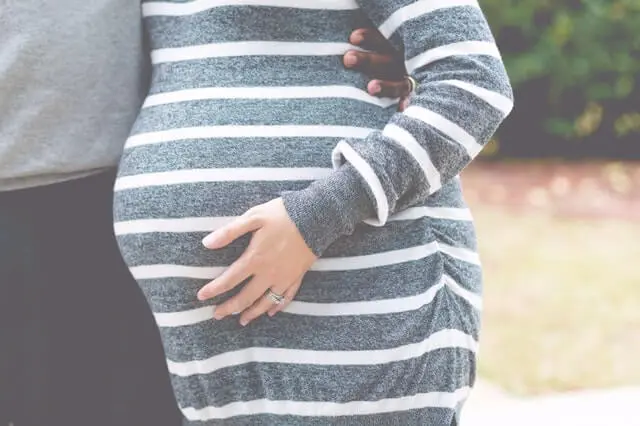 1| Create A Baby Registry At Your Favorite Stores
When you have a baby everyone wants to give you things, which is great because babies are expensive and you're living on a budget.
Create a baby registry so you can tell your family and friends exactly what you NEED! This will help you out financially.
Do you know all the ins and outs of a baby registry?? During my first pregnancy, I didn't. I knew it was an account I could set up with a store of my choice and then family and friends could see what baby items I needed.
What I didn't know were all the perks, discounts and freebies that come with opening a baby registry.
The most popular baby registries around:
Amazon is probably one of the most used baby registries out there! After all, who doesn't shop at Amazon? If you don't, and you are a soon to be new mom or dad, Amazon is going to become your new best friend.
Just based on the simplicity of being able to order a box of diapers and have them on your porch in two days. I can't tell you what a lifesaver this is!
Amazon is a Universal registry who offers a 10% discount on baby items as well as free shipping on orders over $25 dollars. Other perks include mobile registry, easy 90-day returns, and more!
These are just a few of the amazing perks from Amazons registry.
If you are a PRIME member you get 15% off and two-day shipping. You also are eligible for offers such as a welcome box, maternity savings, discounts from tiny prints, and so much more!
Yes, please SIGN ME UP FOR PRIME!
2| Open A Baby Registry With Buy Buy Baby
Did I mention its a good idea to open more than one baby registry? A lot of people will be buying baby gifts for you and they'll love looking for new baby items in person. You know what I mean.. the joy you get when holding up that newborn baby outfit. What better way to do it then by hitting up the infamous Buy Buy Baby.
Opening a baby registry at Buy Buy Baby has a lot of perks:
Free samples when you register
Free returns that never expire
Complimentary announcement cards to mail out to friends and family
Extra coupons
Referral program, refer a friend and get $25 off of your next $100 purchase.
Head over to Buy Buy Baby today and start your registry!
3| Baby Clothes – Only The Essentials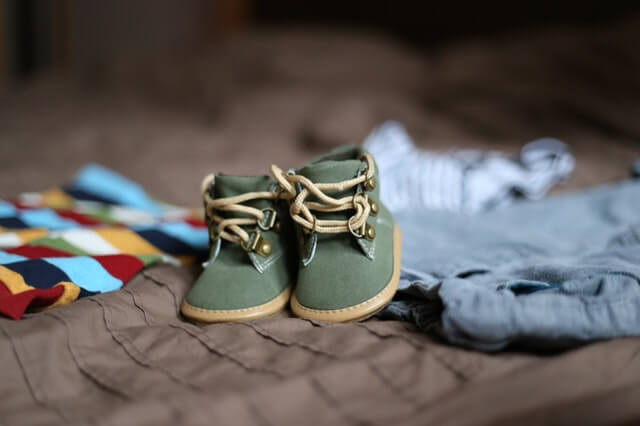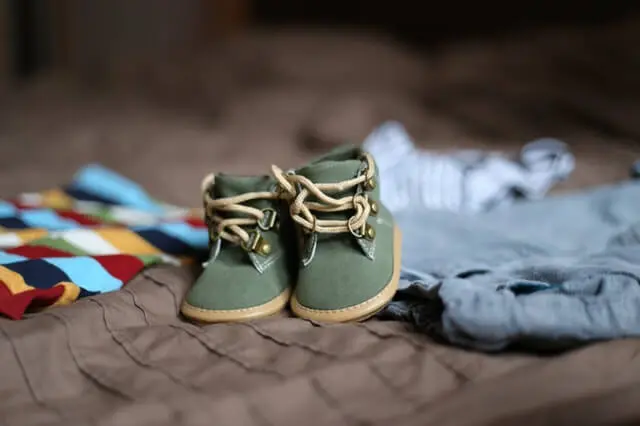 Baby clothes are expensive and there is a reason for it. One look at that adorable $30 baby romper and in your cart it goes. If this is your second, third, or fifth child you know what I'm talking about and hopefully, you don't fall for buying a $30 outfit that your baby might only wear once.
If you are budgeting for a baby then let me tell you there are so many ways to get around paying $30 for a baby romper. After all, we are trying to save money right!
Prepare for a baby with my favorite money-saving clothing secrets :
Always accept hand-me-downs! You guys, my daughter is 4 and she still lives in hand-me-downs. She loves receiving them from friends, even though they aren't brand new they are new to her. Always accept kids clothing and give your hand-me-downs to other families. Kids grow way too fast not to.
Skip buying holiday outfits/pjs etc. Now I'm not saying don't dress your kids cute for the holidays because you can! Buy an outfit that you know your child will continue to wear for months. Last year I forked out $25 and bought my son a Christmas sweater.. guess how many times he wore it, once!
Always ask for clothing as gifts! Everyone loves to buy baby clothes so when that baby comes and the years that follow ask for clothes as gifts.
Shop at secondhand stores, garage sales, and consignment stores.
Always check the clearance rack.
Shop out of season. If summer is coming to an end then more than likely all of their summer clothes will go on sale to make room for fall and winter clothes. That's the time to buy summer clothes for next year.
Related article: The Best Money Saving Tips That Will Save You Big On Kids Clothing
4| Nursing vs Formula How To Save When Having A Baby
Nursing vs formula… a debate that I feel has been going on for centuries! Thankfully, that's not what we are here for, thank god! I've done, loved, hated and struggled with both. I'm pro do whatever you choose is best for you, your baby and most importantly your sanity.
Don't for one second let society drown you in mom guilt when you are trying to enjoy your new baby.
What I can do is point out the costs and expenses in both so hopefully, you can save some money on whatever you choose to do!
One major benefit to nursing when you are trying to budget for a baby is that its FREE! Yes, nursing will save you the most money. It will come with several small expenses such as the best boob pads in town and nipple cream your tits will thank me!
If you're going to give pumping a try make sure to check with your insurance company. I was extremely lucky my insurance company gave me a free pump (I literally got to pick out which one I wanted) which was the Medela freestyle!
You guys, if you're buying a breast pump, freestyle is the way to go! Imagine sitting alone on the couch with your screaming baby across the room but you're pumping so you can't actually go pick your baby up. The freestyle allows you to move around the room freely.
It's a lifesaver!!
My insurance company also provided me with new parts for my pump every few months, free of cost. I would never have known about this if I wouldn't have asked! SO call and ask!! It could save you hundreds of dollars. Breast pumps are not cheap.
Formula feeding comes with a lot of expenses besides the cost of formula. However, if it's best for you and baby there are quite a few ways to save:
Use coupons, there are a lot out there.
Buying formula in bulk saves you a few bucks which adds up over time. Most stores have sales such as buy 2 boxes save $5 etc.
Buy generic forms of formula. All brands of formula have to meet FDA guidelines. I used Target's brand of formula Up and Up and it worked great on my little guy's belly. Contact your pediatrician if you have any concerns before switching formula or if you just have questions.
Comparison shop at different stores. Make sure you check out Sam's Club, Costco, or local Bj's.
When you sign up for Similac or Enfamil's mailing list online they send you $5 off coupons once a month for formula.
5| Bring Home Baby – Needs vs Wants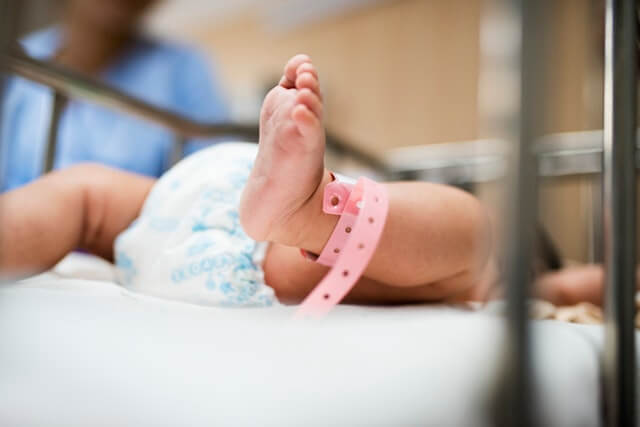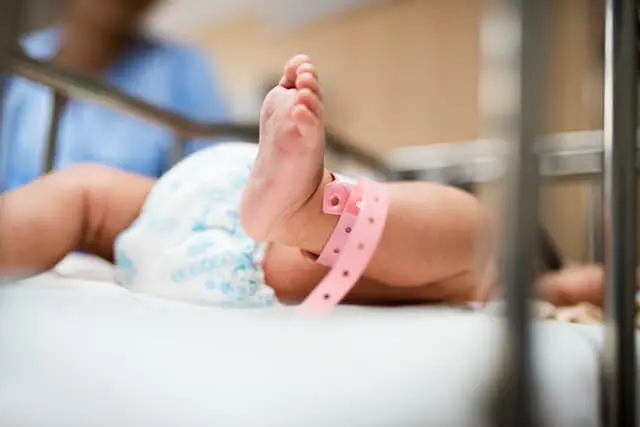 Bringing home baby is such an exciting time! It's so easy to get carried away with want you WANT for your new baby and his or her nursery, especially if this is your first rodeo.
When you're on a budget or just trying to save a little money you need to realize that you can't buy everything.
Start by making a list of everything you want for your baby or feel like you want. Then start narrowing it down. It's pretty amazing the few essentials you actually need the first year of your babies life.
Things You DON'T Really Need For NEW Baby
A fancy crib bedding set– When my daughter was born I went all out and paid over $200 for a fancy bedding set for her crib. It wasn't needed at all. I only used the sheet. She never even touched the comforter, it hid in the back of the closet. This is one expense you don't need if you're trying to save money. Buy a few cute fitted sheets, that's all your baby will need the first two years of their life.
A changing table– A changing table isn't needed. I didn't use one with my son. In the middle of the night, you're not going to wander over to the changing table to change your little one. More than likely you'll just lay them on your bed. I bought these little changing pads, and they worked awesomely!
Every bottle on the market- Unless you are set on formula feeding your baby right off the bat, don't even bother with bottles. Believe it or not a lot of newborns are extremely picky about what bottle they used. So please don't spend money buying a handful of different bottles.
Burping cloths- Burp cloths are small and don't even cover your whole shoulder after its first time through the washer and dryer. Don't waste your money. I was gifted a few packs of these flannel blankets. I used them for burping and swaddling during naptime and bedtime.
Things You NEED When Preparing For A Baby
These are the only essentials I needed besides diapers, wipes, and clothes. ( Your needs may be different)
Rock and Play Sleeper– You guys, the Rock and Play is going to save you hours of sleep. I know many of us who have spent $100's of dollars on

bassinets for your baby to sleep in bedside the first few months and they just didn't work. A lot of newborns just don't like laying flat on their back. If you have friends with little ones they are going to tell you to get the Rock and Play and so am I. Your little guy will sleep in here for months and you can carry it from room to room. Best investment ever!!
Swaddle blankets– Like I mentioned above, these swaddle blankets are multipurpose. You can use them for everything! My kids are 1 and 4 and they still sleep with them every night. They might be a little too attached!
Breast Pump– If you plan to breastfeed or pump, this baby is essential. I even used mine before the baby came, hoping it would put me into labor when I was 10 days past the due date.
Breast Pads– These disposable breast pads are great. They're a necessity and they don't itch like some of the cheaper brands. Some things are worth the investment.
Nipple Cream– If you are a first-time mom, you'll need this from day one!
6|Take Advantages Of Freebies For First Time Moms
If you are a new mom you'll be surprised how many freebies there are out there that you can score. So take to Google and look up new mom freebies and start your search. When I was pregnant, I had freebies in my mailbox all the time. I didn't even understand how the world new I was pregnant.
Heres a few of my favorites:
7| Diapers Diapers and More Diapers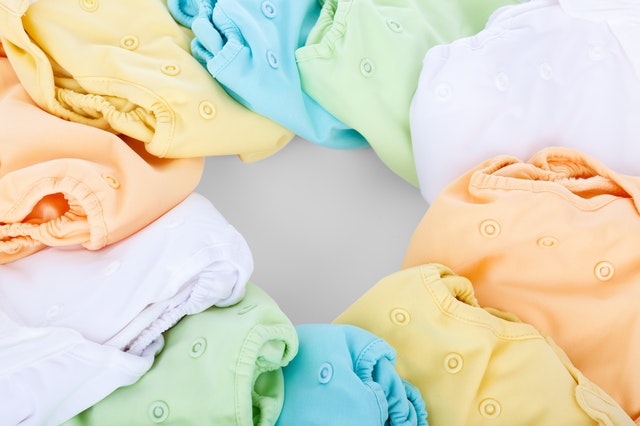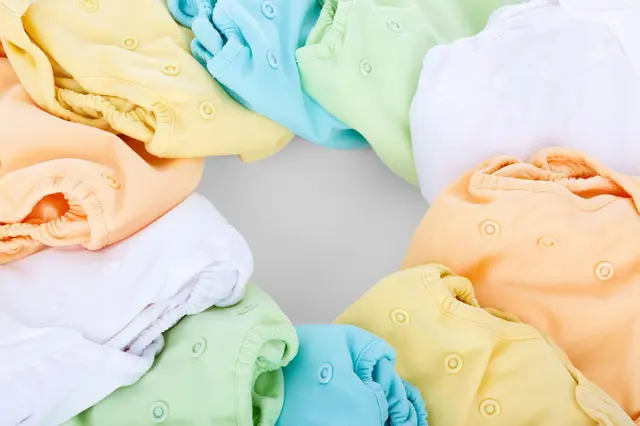 Diapers are a huge expense so when you find a way to save money on them, you tell the world!!
Diaper prices vary depending on the store, however, for the most part, the prices are usually the same unless you catch some awesome deals.
Like I mentioned earlier, I'm a huge fan of Amazon Family, not only do they deliver right to my door but I can't get over their 20% discount off diapers. If I'm not ordering off Amazon I stick to generic brands. Luvs diapers work just as great as Pampers on my one-year-old.
Disposable vs Cloth Diapers
We all know the pros and cons of using disposable diapers but have you given any thought to using cloth diapers and wipes? I have a few friends who used cloth diapers to save money and I've only heard great reviews.
Advantages Of Using Cloth Diapers:
You won't have to continuously buy diapers
Less harmful chemicals
More comfortable and have been known to reduce diaper rash
Multiple uses
Did I mention they are super CUTE!!
If you are looking to save money, give cloth diapers a try.
8|Make Your Own Baby Food
Have you tried making your own baby food? Well, let me tell you it's fun!! Not only will you actually know exactly what you're feeding your little ones, but it'll save you a lot of money.
You can puree just about anything!
I know there are some expensive baby blenders out there that come with cute little gadgets. However, what I found worked the best was the Magic Bullet. You can score it for less than $40. Puree your babies food, throw it in ice cube trays and freeze it. Once its frozen throw them in a freezer bag and your good to go.
The best part about it is once your child grows out of eating puree baby food, you still have your bullet blender to use for your smoothies! You won't be stuck with some expensive baby blender that you won't touch again.
There's no need for the expensive baby foods, baby blenders, or small containers. You'll be amazed at how easy and affordable it is to make your own baby food.
Don't forget to check out the MAGIC BULLET HERE the small investment is worth it!
9|Take Advantage Of Cash Back Opportunities and Apps To Save Extra Money
Do you love free money! Dumb question, I know you do, who doesn't? Well, then I NEED to make sure you're taking advantage of every cash back opportunity out there!
If you're looking to budget for a baby, then extra money definitely won't hurt you. Take advantage of these cash back opportunities to save you some extra cash today!
Ibotta– You are going to love this extremely simple app that puts money back in your wallet. All you have to do is scroll through the app before you shop, find the cash back offers for the things you're going to buy, go shopping, and then scan your receipt when you get home. The Ibotta app will review your offers and add the cash to your account.
It's that simple!!
Some of my favorite places to use my Ibotta app to save money include Target, Khols, Cub Foods, Walmart and many more. This app is free and easy to use!
SIGN UP WITH OUR LINK AND GET A $10 WELCOME BONUS!!
Come check out how I save big at Target combining the Ibotta and the Target Cartwheel app. Also, come check out how I save even more money using some of my other favorite apps! You won't want to miss these!
Ebates– What if I told you that you could earn free cash back by shopping online? Well, you can with Ebates and you'd be crazy to pass this up! Ebates partners with over 2,000 stores such as Target, Kohl's, American Eagle, Macy's, Amazon and more.
Once you sign up with Ebates (it's free) and do your shopping online through their website they give you cash back. Here's how it works, if you shop through Ebates at Amazon… Amazon pays Ebates a small commission and then Ebates pays you a commission for using them. It doesn't cost you any extra money to shop through Ebates so why not give it a try. It's super cool and it's an easy way to save.
Best of all they'll send your check right to your mailbox!
SIGN UP WITH EBATES TODAY! Use our link and they'll send you $10 after you spend your first $25.
[disclosure]
Grab Your FREE Budget Binder Today!
Start saving more money and pay off your debt with this FREE Budget Binder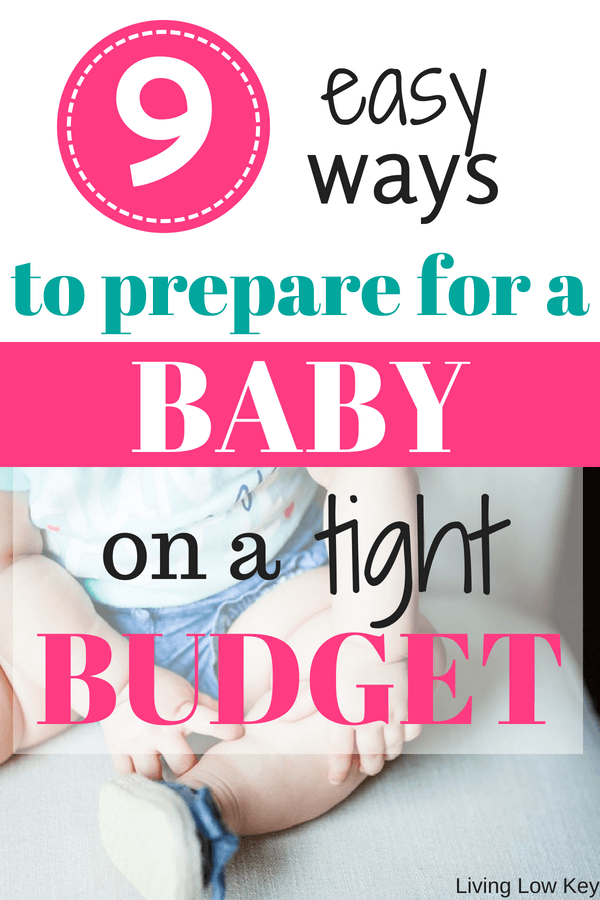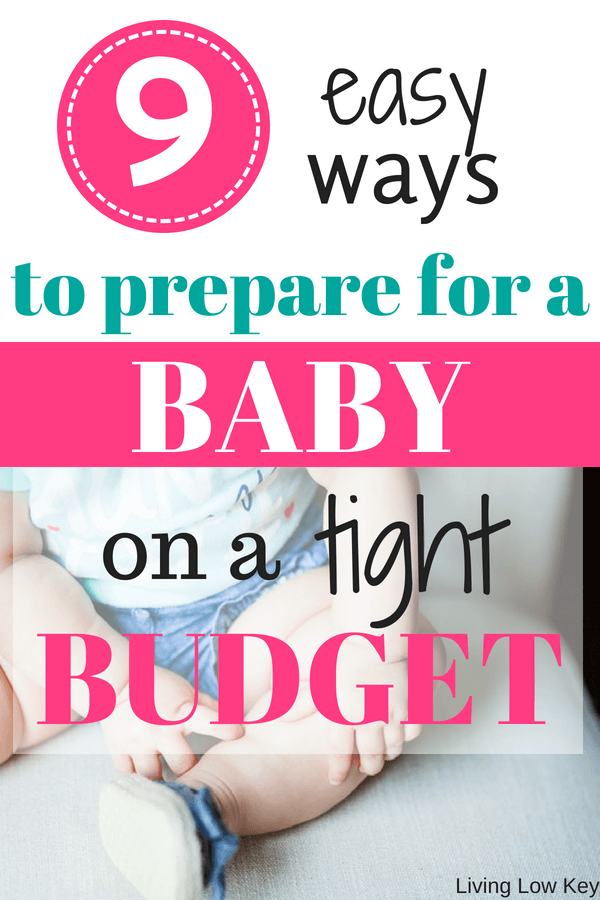 Budgeting for a baby doesn't have to be hard. What are your favorite tips of the trade to help our new moms out there?