When it comes to building your blog into a business, blog promotion is your key to success. After you read this, you will be ready to get your amazing blog content out there for the world to see!!
First, I want to recap what we have covered up to this point in the How To Start A Blog Series. We started with How To Actually Start A Blog. That post covered setting up your hosting and domain name using SiteGround. It went on to discuss how to install WordPress and setting up your theme. If you recall, we use the Pretty Chic Theme by Pretty Darn Cute.
If you haven't read the post or need a refresher, I highly recommend you check it out.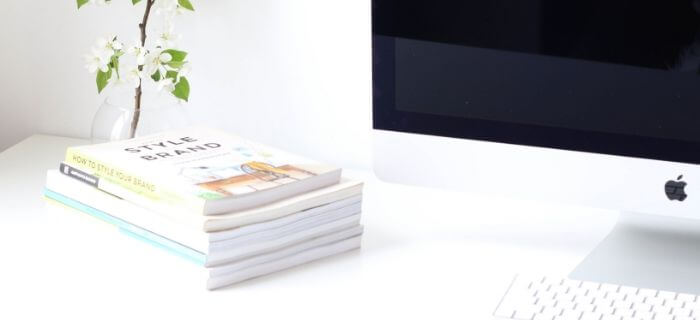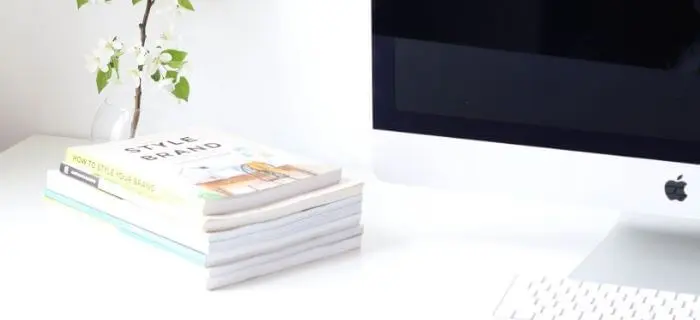 The second installment of this series is all about How To Start A Money Making Blog. We covered different ways you can make money including affiliate links, advertising, sponsorships and freelance writing. No matter what you want to do, there is a way for everyone to make money.
Your Path To Success Starts With Blog Promotion
Finally, we have arrived at the fun part! You have spent countless hours setting up your blog to look perfect and you've written a ton of great content.
It's time to get it out there for the world to see!! But how? How do you promote your blog so all of your new fans, they don't know they're fans yet but they will soon, hear what you have to say??
You have to know how to promote this beautiful blog you've spent so much time on. Many bloggers will tell you that you should spend 20% of your time on the content of your blog and then the other 80% of your time promoting it. It sounds crazy but it's true. We spend about 2-3 hours per night after the kids go to bed working on the blog.
A month after we started Living Low Key we were averaging 12 views per day. After a year of promoting and building our following, we see tens of thousands of people on the site every month!! It's a great feeling when you see the fruits of your labor working. You'll know that feeling soon!!
convertkit form=5073117]
Pinterest
Although Pinterest has a relatively small number of monthly users, 150 million, when compared to other platforms, it is growing at a lightning-fast pace.
Pinterest has been our main source of traffic since we started Living Low Key and I think the same goes for many bloggers out there. You can use Pinterest as a great way to promote your blog. One of the things that you absolutely must do when you start out, is open a business account on Pinterest.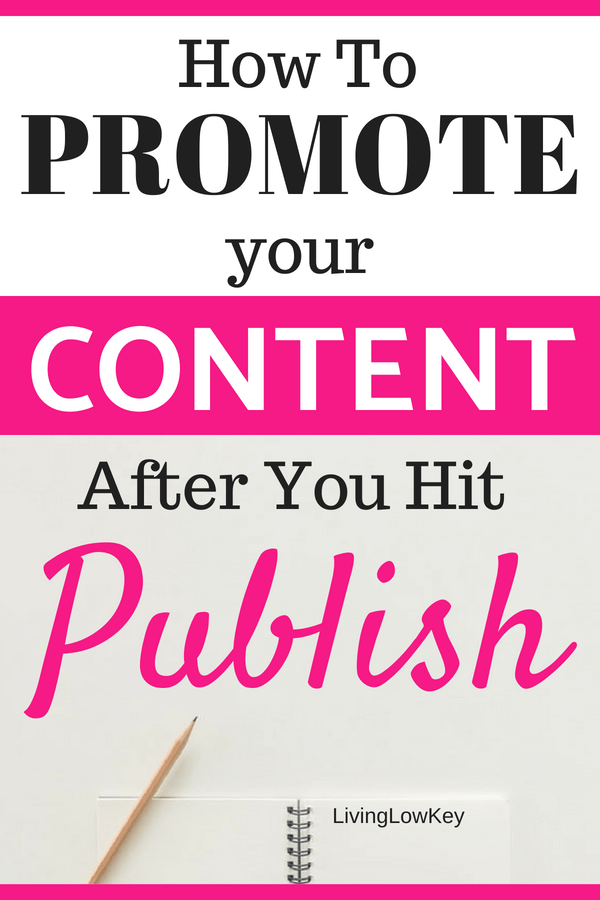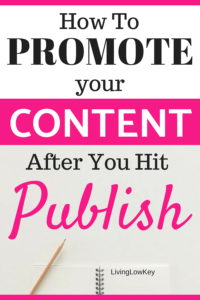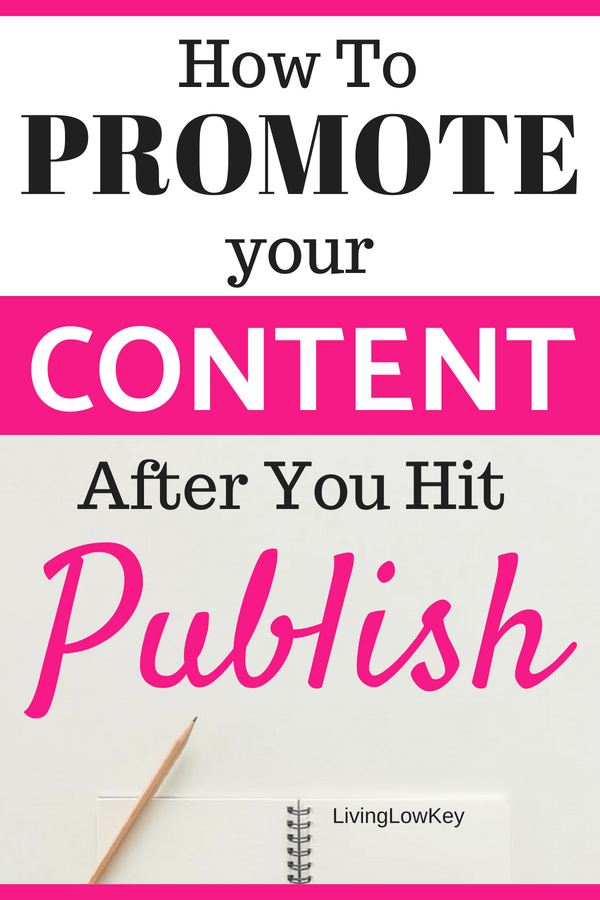 Opening a business account is free and it will unlock new features, like analytics, that your personal account won't grant you. You can either open a new account or convert your personal account to a business account. It might help to convert your personal account if you already have a large following.
Check out our article on How We Grew Our Pinterest Monthly Views To Over 1,000,000!!
Make Your Pinterest Attractive
In order to successfully promote your blog on Pinterest you need to make it attractive to visitors. There are several things you can do to help with this:
Create a profile name

Add a profile picture

Write a Keyword-rich profile description

Create 10-12 boards to start

Give each board a catchy name that relates to your niche

Create a board that has only pins from your blog, a "Best Of" board

Choose the main picture for each board that doesn't contain words
Creating Pins
Pinterest is a very visual social media platform. For that very reason, the most important thing you can do to drive traffic from Pinterest is create AMAZING looking pins!!
Before we get into the details of creating pins you will need a platform to build them on. We use Canva for all of our pins. Canva allows you to edit images using specific templates for Pinterest. We have found it very easy to use and works really well for us.
As you're creating your pins there are a few things you will want to keep in mind:
Note the aspect ratio of your pins, they should be 2:3. They should be tall and skinny.

Use high-quality images on your pins. There are plenty of free stock photos on the internet to choose from. Check out Allthefreestock.com for starters.

Create Visually appealing pins with catchy titles

Titles will capture a readers eye, but to really draw them into the post you have to write a great description
Enabling Rich Pins
To really stand out on Pinterest you have to enable rich pins. Rich Pins will provide even more detail about your blog post. With Rich Pins, your pin will show the headline, author, and a description of the story. This is a great way to grab the readers attention.
Help with Pinning
Once you have your Pinterest account set up, you will need to create boards and fill them with Pins. There are a couple ways you can fill your Pinterest with pins. The first pinning strategy to mention is manuall pinning. This is a more time consuming method but can be extremely effective.
To learn an awesome manual pinning method, check out the eBook Pinterest Strategies. Carly, the author of the book, only does manual pinning and she gets great results. Not to mention so many others have tried it and seen great results, us included.
Another pinning method is to use a scheduler like Tailwind. Tailwind is a website that will help you with scheduling all your pins that need to be published on Pinterest. Tailwind is something that saves us a ton of time with our pinning strategy.
Pinterest has been the top source of traffic to our blog. If you aren't using Pinterest to promote your blog, you are missing a major source of traffic. I highly recommend you take some time to learn how to market on Pinterest effectively.
Search Engine Optimization
When it comes to people being able to find your blog, search engines like Google and Bing will be your best friend. Every time you create a post, you need to be thinking about optimizing it for search engines.
I'm sure you've heard of SEO or keyword research. If you're looking to get engaged traffic to your site and make some real money, you need to perfect your SEO skills. Creating a stream of organic traffic is the best way to get stable growth on your blog.
SEO is all about ranking on Google. You want to find keywords that will address your readers needs and be something that can move you to the top search spot on Google's first page.
Here are some SEO tips for writing posts:
Do keyword research

Find keywords that get at least 1000 views per month

Find long-tail keywords (3-4 words long)

Make sure your keyword relates to your post and the readers intent

Use your keywords in the Post Title

Use your keywords in the post URL

Use the keyword in the first 200 words of your post

Use your keyword in headings within the post
If you do proper keyword research and follow some of those tips above, you'll have a better chance of ranking higher in Google searches.
Facebook
Facebook is a downright monster when it comes to monthly users. With 1.86 billion, yes that's right, BILLION monthly users, it's time to start promoting your blog on Facebook. Right behind Pinterest, our Facebook Page comes in second for driving traffic to Living Low Key.
When we started our Page on Facebook we reached out to all of our friends and family and asked them to follow us. We aren't normally huge Facebook users but we ended up with about 100 people following our page from the start.
In the last month, we have really started focusing more on our Facebook page. We have more than doubled our following and continue to get new followers each day.
Aside from just posting on our page, we found a lot of blogging groups on Facebook that you can join to promote your newest posts.
Join Facebook Groups
Here is a list of the blog promotion groups that we have found to be helpful.
Each of these has played a role in driving traffic to our blog, getting comments on our blog posts, or growing our following on Facebook. There are so many groups out there, don't limit yourself to this list. Search for groups that are specific to your niche and join them. Just remember to follow the rules and be a good member of the group.
The key to creating a Facebook page and driving traffic to your blog is being consistent with your posts. Make sure that you are posting daily or at least every other day. You need to post things that are engaging and will get your followers talking about your page. We try to mix financial questions in with our posts to keep everyone interacting.
Facebook is a great way to promote your blog. Set up a Facebook page and get promoting!!
Instagram
Instagram is another social networking platform that is driven by images. Much like Pinterest, to master Instagram you will need to have some really good pictures. With over 800 million monthly users, why wouldn't you want to tap into this potential traffic source?
The only downside to Instagram is that it can be more difficult to drive followers to your page. You're only allowed one link to a website in your bio and nowhere else. That's why Instagram doesn't make up a large portion of our blog traffic.
Build Your Following On Instagram
Just like any other marketing platform, building your number of followers is the top priority. There are several ways to build your number of followers. The first way and probably the best way, to build a following is to have awesome content. In order to do this, you're going to have to make really engaging posts that draw your potential followers into wanting to know more.
Creating a killer Instagram post is the best way to build your following. In just a moment we will talk about how to create a great Instagram Post for your account.
The second way you can build your following is to just follow a bunch of other people. This isn't the most effective way to gain a following but it is a way to do it so I wanted to mention it.
Creating Awesome Posts
There are three parts to a successful Instagram post. In order to have your post really go viral, you have to nail all three parts.
Pictures: The first and most important part of your post is the picture. As people scroll through Instagram, you have just a few seconds to grab their attention. That is why having a high-quality picture is a must if you want people to stop scrolling and learn more about your post.
Description: The second part of a great post is the description. Once your awesome picture stops viewers from scrolling, you need a good description attached to the picture to keep them looking. Your description should be engaging and draw in your viewers to the rest of your account. Try to put a call to action in there to get them commenting or sharing.
Hashtags: The last part of your post is going to be Hashtags. That's right, we no longer live in a time where # means number or pound. The # (Hashtag) symbol is widely known as a way to tag your pictures on various social media network to a group. These hashtags are how everyone on Instagram finds your post. That's why it is so important to use them and use them correctly.
When you use hashtags, make sure you are using ones that relate to your post. You could also use ones that are very common so that it gets in front of more people. The more times your hashtag has been used previously, the more likely it will reach a wider audience.
Top Hashtags Used: Here is a list of the top 10 Hashtags used on Instagram right now:
#Love

#Instagood

#Photooftheday

#Fashion

#Beautiful

#Happy

#Cute

#TBT

#Like4like

#Followme
Twitter
Twitter has over 330 Million users and is a great place to promote your blog. To promote your blog effectively on Twitter you will want to make sure that you Tweet your posts multiple times a day. This will ensure that you get maximum exposure for your post.
Similar to Instagram, make sure you are using the best hashtags that relate to your post so more people see it. Using common hashtags will broaden the reach of your tweets.
Other things you can do to promote your blog is to keep tweets short but engaging. Ask a question or give a call to action that intrigues your followers. Using statistics to make a point helps create validity to your tweet.
An important and yet often overlooked way to promote your blog is to simply ask your followers to retweet your tweets. By simply asking them for their help you can spread tweets containing links to your blog to new viewers.
Other Ways To Promote Your Blog
With so many different ways to promote your blog, it's hard to list them all. To spark some ideas I wanted to list a few other ways you can get your blog in front of more people.
Use LinkedIn

Join blogging forums

Hang fliers around town

Go to blogging conventions

Talk about your blog…to everyone!

Reach out to influencers in your niche via social media

Connect with other bloggers to do guest posts

Ask your family and friends to tell people about your blog
Whatever ways you can think of to drive traffic to your blog you should try. While you are spreading the word about your blog through social media or in person just remember to do so kindly. Create relationships with people by engaging in comments on social media or answering any questions they might have.
Be sure to show everyone the passion that you have for your blog and that you want to help others. If you can do that you will see the traffic steadily grow on your blog.
[disclosure]
Grab Your FREE Printable Budget Binder