Everybody dreams of making money online, but not everybody knows how to actually do it.
That's where the Six Figure blogger Course comes into play.
Six Figure Blogger is a course that teaches you how to turn your blog from a time-sucking money dumpster into a thriving online business that's actually putting money in your bank account!
I took this course after two years of blogging, and it opened my eyes to how profitable a blog can really be!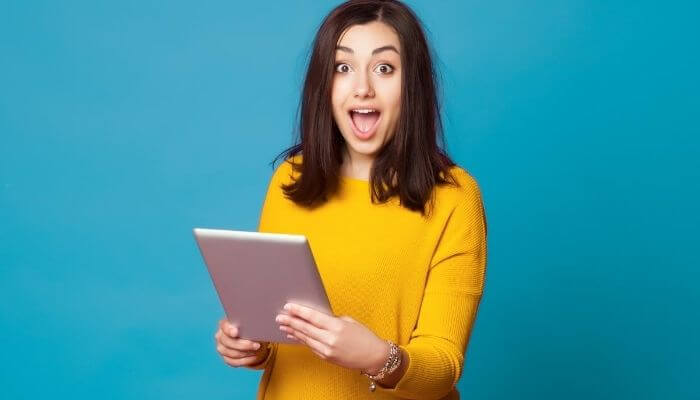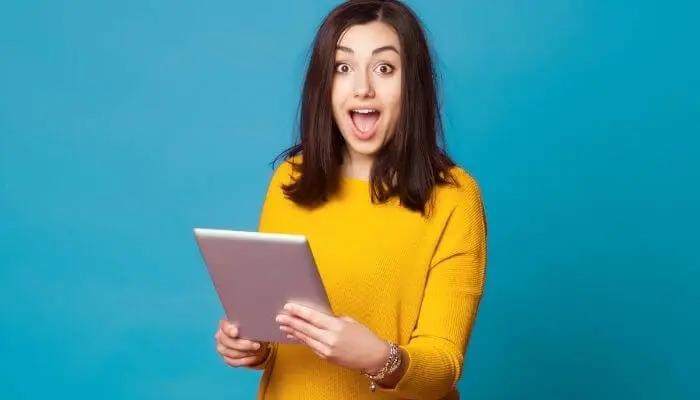 You're about to get my honest review of the Six Figure Blogger course. My hope is that once you're done reading this whole post, you'll be able to:
Learn what Six Figure Blogger is all about
Who created this course
What you'll gain from taking Six Figure Blogger
See some actual results we got from it
Decide if it's right for you
Let's get into the details!
What Is Six-Figure Blogger
There are a lot of blogging courses out there, and I've taken a lot of them.. Just about everybody, except us I guess, has a course for something related to blogging
Some of them leave you disappointed, but not Six Figure Blogger. This is one course that I highly recommend. We've seen immediate results from the lessons we learned through this course.
We'll get to the results later on in this post. For now, let's talk about what this course is all about!
Six Figure Blogger is a course that was created by Alex and Lauren from Create and Go.
This course walks you through the various stages of taking your blog from the hobby that it is right now to a full-blown, money-making business.
Lauren and Alex are going to walk you through their step-by-step process of creating a strong blogging business mindset, deep-diving into affiliate marketing, creating products, and selling those products!
It's jam-packed with tons of information, and we saw success from it almost immediately.
Related articles:
Who Created Six Figure Blogger
Alright, at this point, you're probably thinking this is just another blogging course that you won't gain much from.
Like I said earlier, EVERYONE has a blogging course now, so what makes this one different. Why should you trust what Alex and Lauren have in their course is any better than the 12 million other blogging courses??
Before I answer that, let's me tell you a little about these two.
Alex and Lauren met back in 2014. They both were working normal jobs, Alex as a personal trainer and Lauren as a CPA.
Both, making decent money but not happy with their lives. They spent more time earning money than they did enjoy what they had earned. It was draining their souls.
That's when they got a crazy idea and decided to start their first blog. Guess what happened… That's right, it completely failed. (their words, not mine)
But that didn't stop them!
They went on to learn from their mistakes and build multiple six-figure blogs within just a couple of years after their first failure!!
That's right, they own not one six-figure blog, but TWO!!
In June 2020, they made over $200,000 from their Create and Go blog! That's more than most people make in a single year at a 9-5 job, and they did it in one month with their blog!
That's why you should trust this course. Alex and Lauren found a recipe for success even after the initial failure.
Not only did they create one successful blog, but they also replicated that with a second blog which shows that their process works.
The best part is that they share everything with you in the Six-Figure Blogger Course.
There's nothing you're left guessing about because they walk you through absolutely everything. If you have questions that aren't answered in the course, just head over to their private Facebook Group and ask!
Are you still not sure if this is the right course for you? Still wondering if it actually works?
Let's take a look at some of my actual results…
How to Make More Money With The Six Figure Blogger Course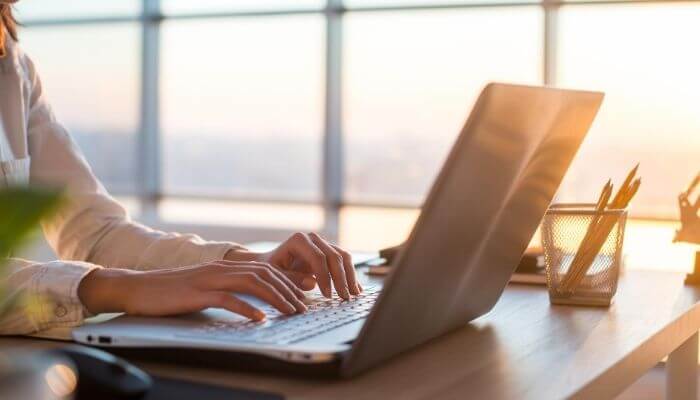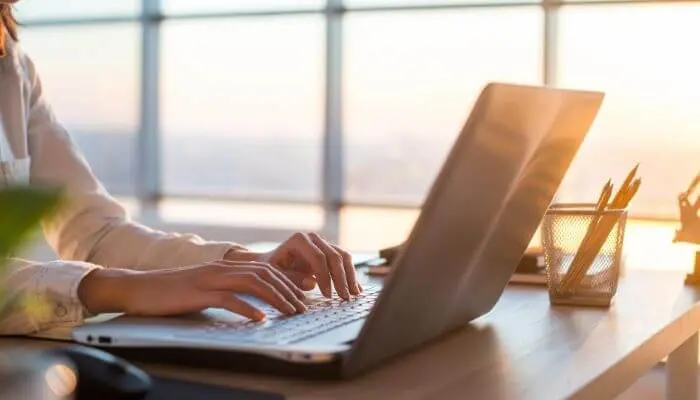 Here's my favorite part of this whole review post and why I think you should get this course. It's because you'll get results, they guarantee it!
Let's take a look at the results we saw after taking this course.
Subscriber Engagement
I'll be honest with you, we already have pretty good traffic to our blog, and we get a lot of subscribers to our email list.
The one thing that I really liked about this course is that it helps you create a really engaging sales funnel for new subscribers.
I found their lessons on sales funnels to be really helpful! Here's some data to back up that claim.
Below you'll see a snapshot of stats from a welcome sequence each subscriber would get when they joined our email list. This was a sequence I had created prior to taking the course.
Don't get me wrong, the stats aren't terrible, but there was room for improvement.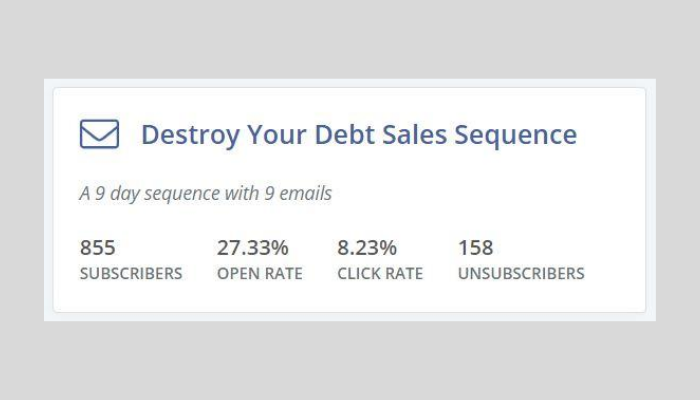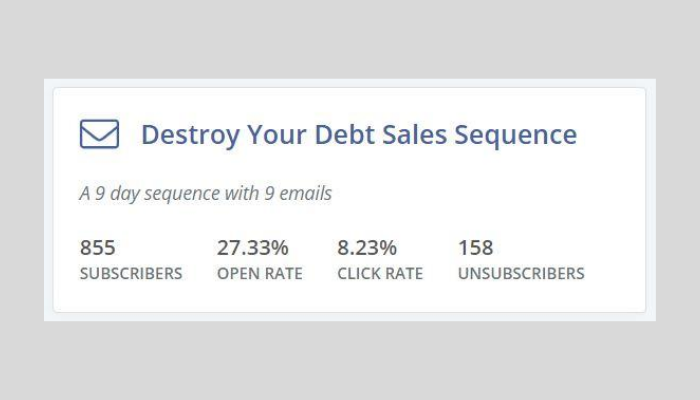 As you can see above, I was getting below industry average open rates on this sequence but a decent click rate. The sample size was 855 subscribers, so it was a decent amount
Let's take a look at what I got after taking the course: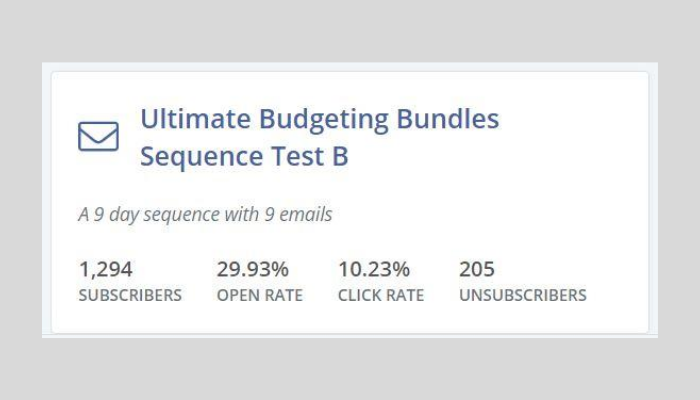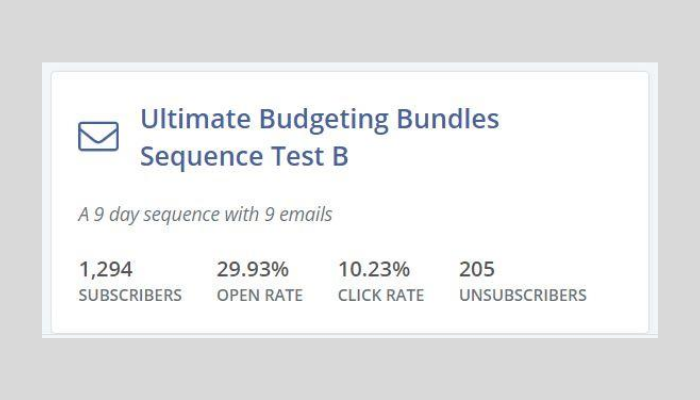 That's a 2.5% increase in open rates and a 2% increase in click-through rates on a larger sample size!
That might not seem like much, but 2.5% of almost 1300 subscribers means an additional 33 people opened our emails. The metric that's hard to display is the engagement from our audience now.
We're swamped with emails from subscribers, and yes, we do our best to answer all of them! Our previous sequence never got response emails from our subscribers. Now we get multiple a day!
But that's not where it stops, let's talk about the real reason you're here. You want to make money from your blog. Here's what we saw happen after implementing our new sales sequence based on what we learned in the course.
Note: We already had products created prior to taking the course. This course helped us refine the products, improve landing pages, and actually start selling them. If you don't have products, they have a section in the course that helps you create your own products.
Prior to taking Six Figure Blogger, we rarely got a product sale. After we launched our new trust funnel at the beginning of June, we started to see product sales WAY more frequently.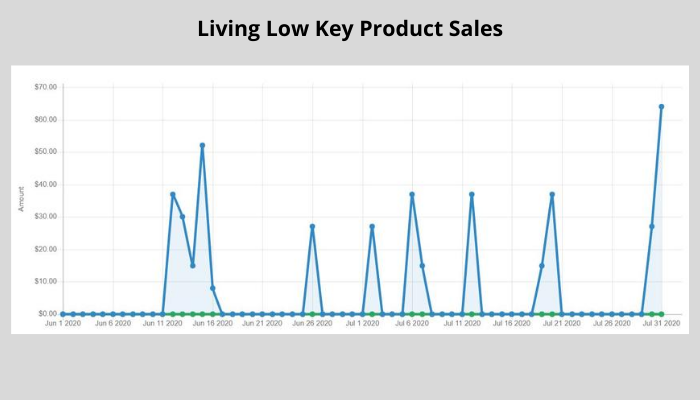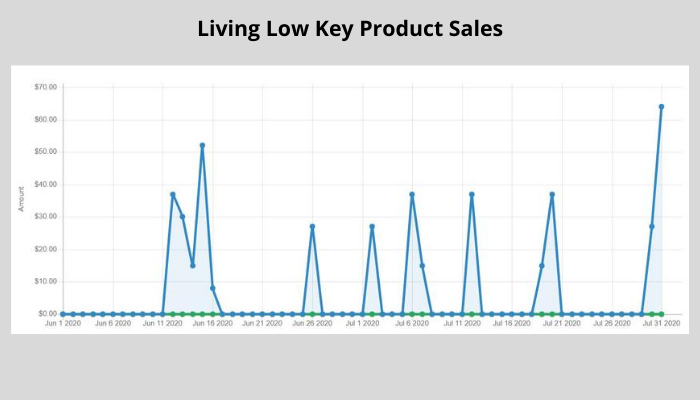 Look at those sales! We launched our new sales funnel at the beginning of June and have seen steady sales on our products since then!
Here's what that translates to in profits for the two months: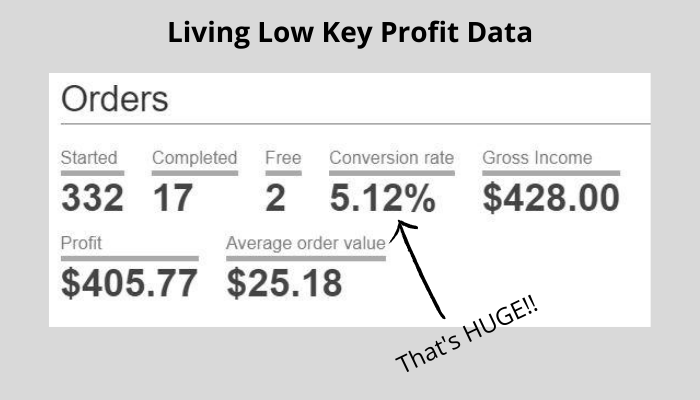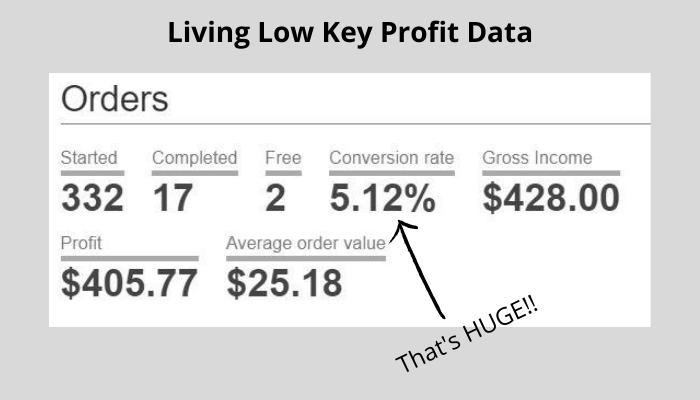 That's right $405 in just two months that's completely passive, most of those sales happened late at night while I was sleeping!
What I thought was the most important aspect is the conversion rate. 5.12% conversion rate is excellent!
This trend has continued to this date, and I truly believe it's because of what I learned in this course.
What Do You Learn In Six Figure Blogger
This is probably your biggest burning question of all this, what will you learn from this course?
There's a lot in there, you might think it's overwhelming, but Alex and Lauren to a great job of laying it all out for you.
Here's an overview of what you can expect to learn when you take the Six Figure Blogger:
How To Create A "Blogging As A Business" Mindset
Alex and Lauren teach you how to shift your mindset from blogging as a hobby to running it as a full-blown business.
You'll get the details on their thought process as they were building their blog to a six-figure business!
How To Make Money From Your Blog
In these sections, you learn different ways to make money from your blog. You can either sell other people's products (affiliate marketing) or create your own to sell.
They teach you how to effectively sell affiliate products so you can start making money faster.
Once you have that down, they walk you through creating and selling your own products. That's where the real money is at!
Learn How To Sell Your Own Products
At this point in the course, you have your own products made, but how do you sell them?
Don't worry, there are several sections in this course that teach you how to create a highly converting sales page and how to drive traffic to that page.
Refer back to my over 5% conversion rate from product sales. That's a direct result of this course.
That's a pretty broad overview, but if you want to see all the details, you can check it out here.
Who Is The Six Figure Blogger Course For?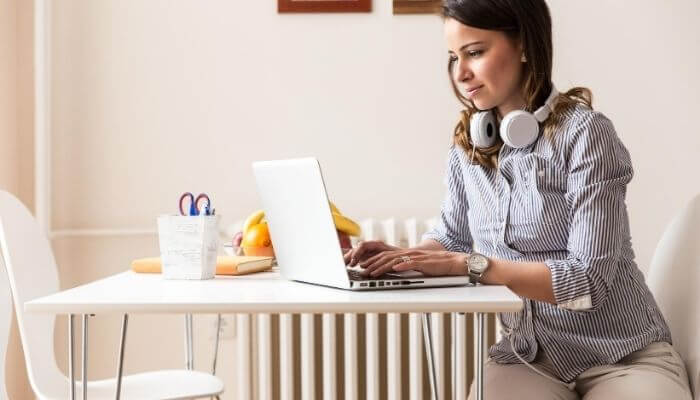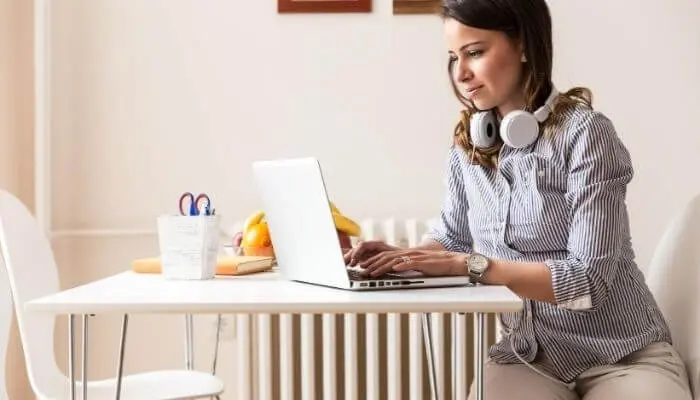 At this point, you might think this course is just what you need. It sounds like it's almost too good to be true.
I know, I know, but you gotta pump the breaks for a second. Let's make sure this course is actually the perfect one for you. Here's how we can figure that out.
Flat out, this course is not for beginners. That's right if you're blog is a brand spanking new and doesn't have any traffic, this isn't the right course for you.
Create & Go has courses for beginners, but Six Figure Blogger is designed for bloggers that have an established blog that drives traffic, and you're ready to take it to the next level.
You should not spend your money on this course if you are brand new to blogging. Many of the topics will be over your head, and honestly, you won't be ready for what they are going to teach you.
If that's you, then you should look into some of their beginner blogging courses.
What Was My Favorite Part Of This Course
I'll be honest with you, I read through the sales page for this course and the one thing that I bought the Six Figure Blogger for was the sales funnel section.
I knew I needed help with creating a winning sales funnel, and this course did not disappoint.
My sales funnel gets people engaged; it builds their trust and leads them to my sales page. This was what I purchase Six Figure Blogger for, and I think it was my favorite section to go through.
But that wasn't all I got from this course, and I was shocked about everything they taught me!
Getting people to the sales page is only half the battle. You need to have a great sales page where people can purchase your products. This course helped me build that great landing page that gets conversions.
Not only that, though, but they also taught me the importance of post-purchase email sequences and helped me create one!
The course has so much information, Alex and Lauren really lay it all out there for you to run with.
That leads me to the final section of this review post…
Do I Recommend Six Figure Blogger
The short answer is ABSOLUTELY!!
If you are ready to take your blog to the next level and start generating some serious income, this course can help you do that!
There's TONS of information and actionable steps you can take in this course. I highly recommend this course, and if you choose to purchase it, I'm sure you'll be happy with the results.
Other Blogging Resources We Recommend
Facebook Ads for Bloggers: If you want to learn how to drive highly converting traffic to your blog using Facebook Ads, this is the absolute best course for that.
Bobby and Mike show you exactly how they are able to drive really inexpensive traffic to their blogs to grow email lists, sell products, and generally make more money!
Sign Up To Get Facebook Ads For Bloggers Here
Stupid Simple SEO: You've probably heard that you need to drive organic traffic to your website, but it seems like an impossible task. How could you possibly learn what Google wants to see from your blog?
That's where Search Engine Optimization comes into play! Mike Pearson is a master of SEO and driving organic traffic to his blogs. That's why he created this course. He wants to teach you how to drive organic traffic to your site. We've grown our organic traffic from nothing to over 8,000 pageviews per month since taking this course.
Sign Up For Stupid Simple SEO Here
Pinterest Strategies by Carly Campbell: If you're struggling to develop a Pinterest pinning strategy, you're going to want to check out the eBook, Pinterest Strategies. We highly recommend checking out her book, Pinterest Strategies, if you're new to the blogging world.
Make sure to save this post for later, and follow us on Pinterest for more blogging tips!