Some of the best no candy Easter basket ideas!
Every year, I struggle to figure out what to put in my kid's Easter basket, that isn't candy! So I took it upon myself to compile a list of the best Easter basket filler ideas, just for you!
I'm sure you will find a handful of your favorite non-candy Easter basket ideas on this list. =)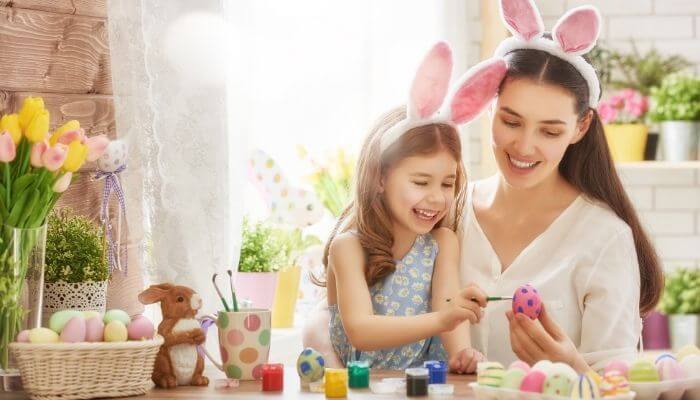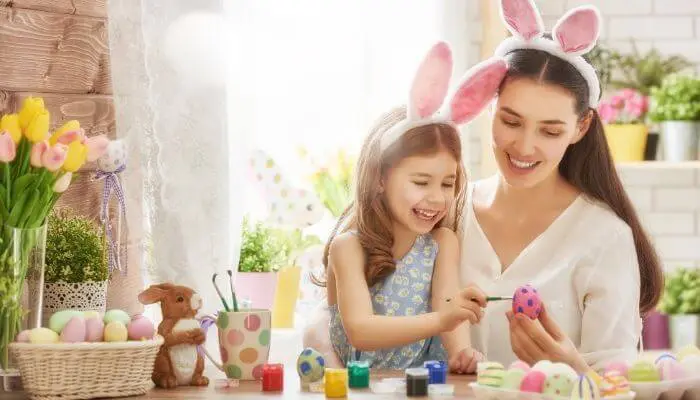 What to put in Easter baskets?
It's almost that time of year when we all start thinking about Easter! It's such a fun time of year, the early days of spring, you can feel summer in the air.
However, one thing I usually leave until the last minute is Easter basket shopping for my kids. Not because I'm a procrastinator, but because I never know what to fill their baskets with that isn't candy!
What can you put in Easter basket besides candy?
If my struggle is yours, check out some of these best basket filler ideas for every age!
Take the stress out of Easter this year by shopping ahead of time, before the Easter rush.
Related articles:
Babies First Easter Basket Ideas
A baby's first Easter only comes once. Get creative this year and fill your baby's basket with essentials that your baby can use on a daily basis.
1. Pacifiers– Such a small, easy item to slip in their basket
2. Bibs–
3. Wooden egg shakers– Babies of all ages love these shakers.
4. Sippy cup– You can't have enough sippy cups.
5. Bunny lovey– These soft loveys are the best!
6. Slip-on sandals– Summer is right around the corner.
7. Easter outfit– Every baby needs their first Easter outfit.
8. Raddle toy– An easy small Easter basket filler that will fit in any Easter basket.
9. Teething toy– My favorite non-candy Easter basket filler. What baby doesn't need more teething toys?
12. Stacking cups
13. Play blocks
14. Baby sunglasses
15. Rabbit headband
Easter Basket Stuffers For Toddlers
Here are some of the best Easter basket stuffers for toddlers! If you are struggling to fill your tots Easter basket or you want to get your shopping done ahead of time grab some of these Easter basket stuffers.
16. Sand toys
17. Chalk
18. Hair accessories–
19. Coloring books
20. Socks
21. Mini Markers
22. Bubble Bath
23. Play-doh
24. Flashlight
25. Sticker book
26. Bubbles
27. Silly putty
28. Hot wheels
30. Mini puzzles
31. Kinetic sand
Easter Basket Fillers For Tweens
Struggling with what to put in your tween's Easter basket? Here are a handful of the best Easter basket fillers for tweens, I could find.
32. Jumping rope
34. Yo-Yo
35. Bath bombs
36. Water bottle
37. Squishy
38. Lip Gloss
39. Glow sticks
40. Rubix cube
41. Nail polish
42. Wiki sticks
43. Watercolors
44. Glitter pens
45. Slime
46. Small lego set
47. Hatchimals
48. Polly pocket
49. Movie tickets
50. Stuff bunny
There you have it! 50 non-candy Easter basket filler ideas. If you are struggling for ideas, I hope this Easter basket shopping list helped!
What kind of no candy Easter basket stuffers do you put in your child's Easter basket?
Get Your FREE Budget Binder Today!
Start saving more money and pay off your debt with this FREE Budget Binder
If you enjoyed this article, save it for later! Then come follow us on Pinterest for more money-saving ideas.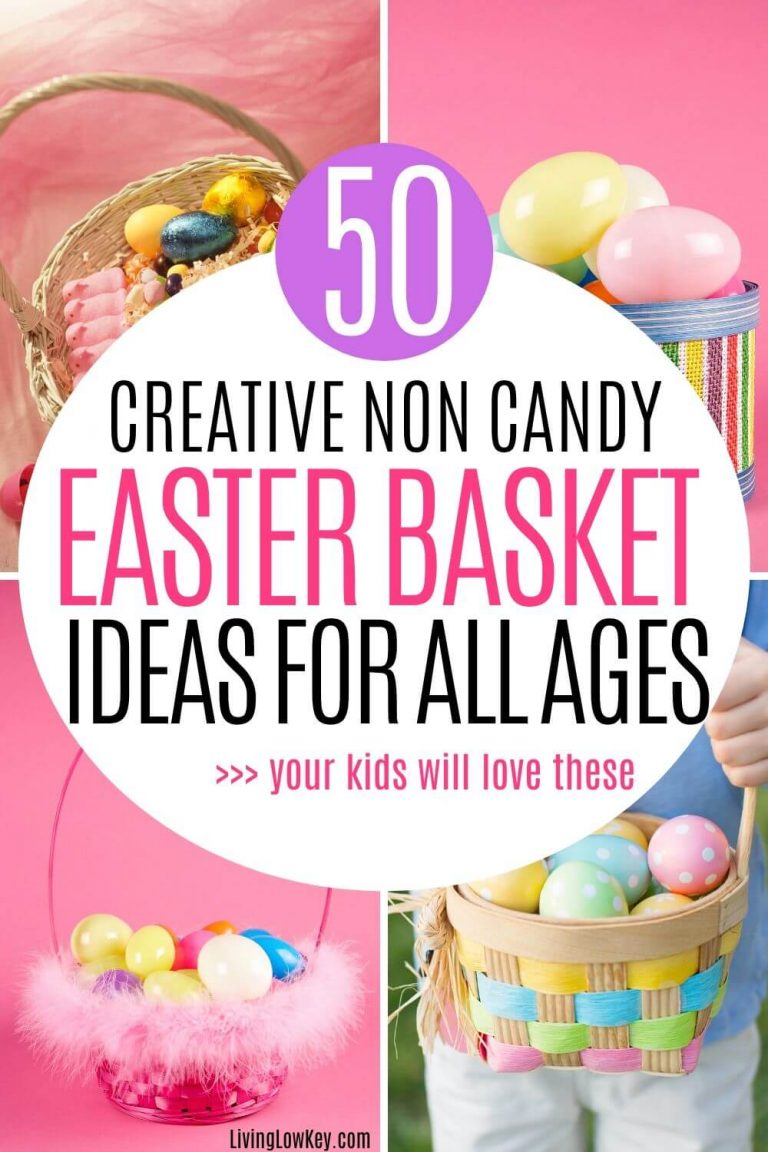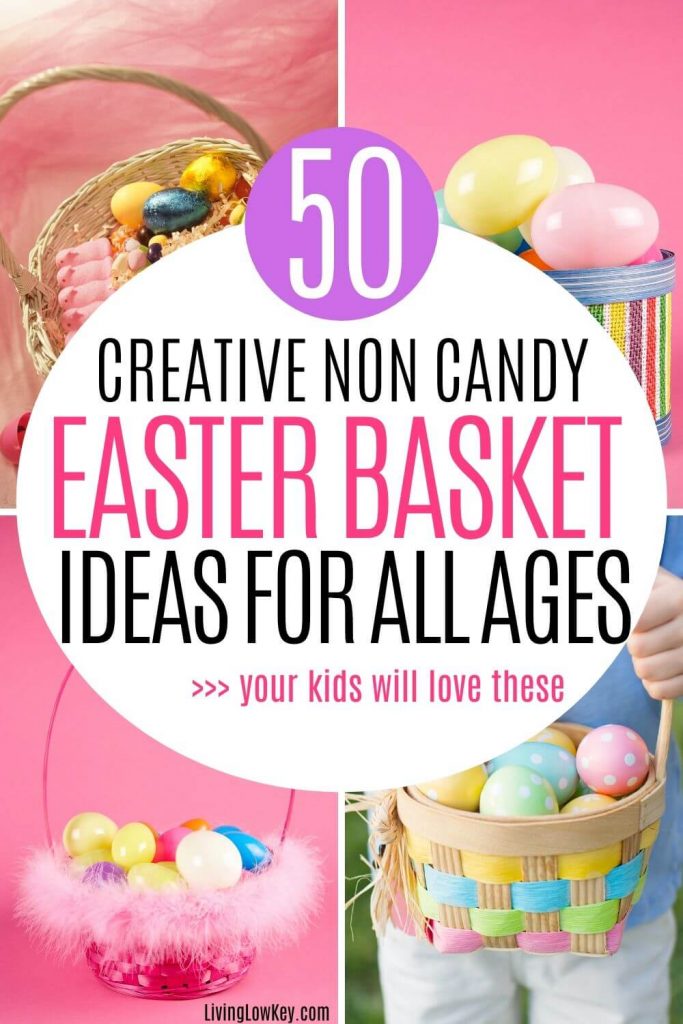 Related articles: