Your kids may be watching you make extra money, and wonder how they can get in on the action too.
It's always a good idea to encourage the entrepreneurial spirit, but what are the ways you can see kids make money?
Lots of the usual options have an age restriction, but in this article, we will look at how to make money as a kid easily.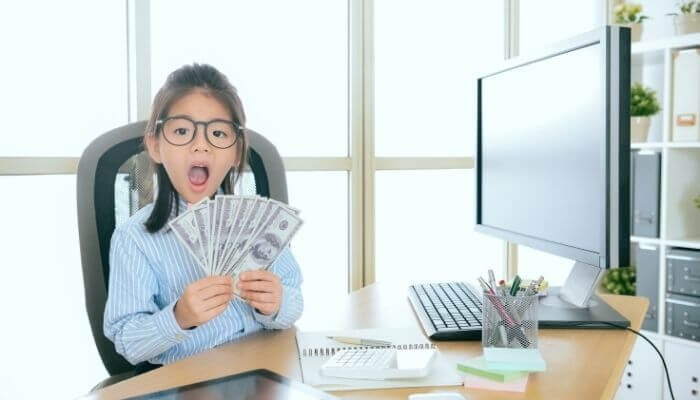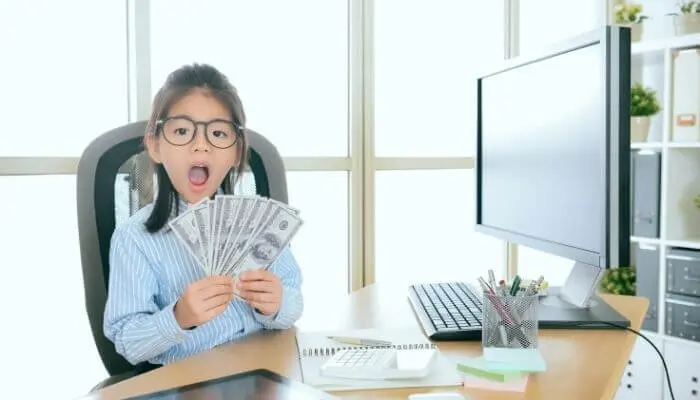 I wish that I had started earning extra cash when I was younger, but there are so many different options available now than there were before (hello, internet!).
With the internet out there and being able to read about so many different ideas, there's never been a better time than now to earn money.
You can do these ideas as an adult or do them alongside your kids. Money making is a great family bonding experience!
If you have children, get them to read through this now to find out how kids make money.
Related articles:
Make Money as a Kid
Firstly, we will take a look at how kids make money – the things that you can do even before you are a teenager.
If you want to know how to make money as a kid fast, have a read through the ideas below. And don't forget to teach your kids about these simple money habits so they don't spend their money as fast as they make it.
17 Money-Making Ideas For Kids
1. Walking Dogs
Do your neighbors have a dog? People who have dogs need to walk them a couple of times a day, which is hard to do when you have a busy life.
This is where you can come in! Ask your neighbors if you would be able to walk their dogs for them.
This is an easy start-up job as you shouldn't need any money to get started, as you can ask the owners if you can use their treats and poop bags.
The great thing about dog walking is that you can charge per dog for a certain length of time. That means that the longer you do it and the more dogs you walk at once, the more you can make!
Depending on your age, you can sign up for Rover.com to find clients if you don't meet the age requirement for Rover. This would be an easy way to make money as a kid, with your parents or an older sibling.
2. Selling Candy or Baked Goods
There's always a market for this, and you could either sell in your local neighborhood or get a website set up and sell in your local area.
You could sell cupcakes, cookies, or anything that you enjoy baking.
Buy candy in bulk from places such as Costco, where it is cheaper than other stores. You can then make more of a profit on each sale.
Kids, make sure to check that you are allowed to sell candy at your school before doing so, as that is usually one place where it is off-limits.
Something really important when it comes to selling food is food hygiene. You wouldn't want someone to eat your stuff and then get sick, would you?
Be sure to wash your hands properly with soap and water before you make anything, and ask your parents about food hygiene.
If you are looking for an easy way to make money as a kid, this is it!
3. Youtube
Did you know that the highest earner on Youtube last year was an 8-year-old?
He earns $22 million from his Youtube account, which is insane! It's worth noting that this isn't the norm for Youtube earnings, but a great source of motivation.
What's interesting to mention, though, is that he didn't do anything unique or crazy. He literally opens toys online, and that's it. There are lots of toy review accounts out there.
The key is to be consistent and make popular content.
One of the main ways to make money on Youtube is with ads, but you can also make money there through affiliate links, sponsorship deals, and merchandise.
The amount that you're able to earn on Youtube varies, but the more page views you get, the better.
You will ideally want to choose a niche that you want to be in so that your videos carry the same theme. This may be something that you figure out as you go, though, so you can go with the flow.
Have a look at the top-performing Youtube accounts in the niche that you want to do, and see which are their most popular videos – then create something similar.
If you have a love for electronics or filming, this way to make money as a kid could be perfect for you.
4. Lemonade Stand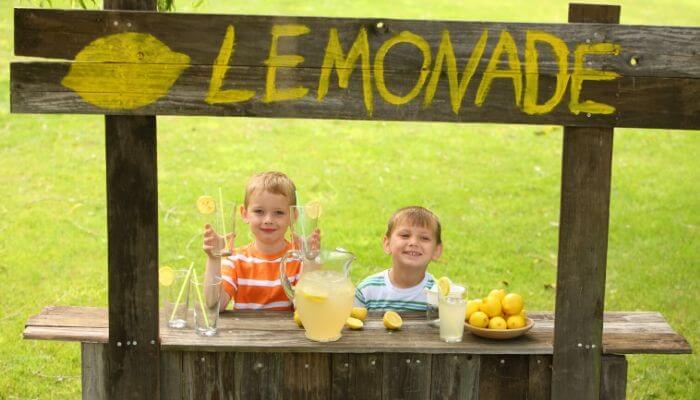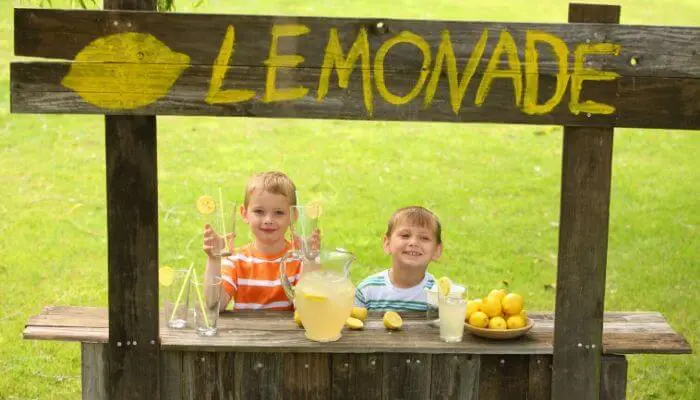 The good old' lemonade stand. An old one, but a good one! This is an excellent way for kids to make money because it works.
On a hot summer's day, get your lemonade stand, set it up in your front yard, and sell it to your neighbors.
A good place to do this other than your front yard could be near a park or sporting event where there will be a lot of thirsty people.
Have a look at how much other people are selling their lemonade, and base your pricing on that.
To get some more money for this, you could upsell – what else would people like alongside their lemonade? Some simple ideas are charging more for ice or a straw.
You could sell food alongside the lemonade, too – choose something that won't melt in the sun, though! This is one of the easiest ways to make money as a kid.
5. Car Wash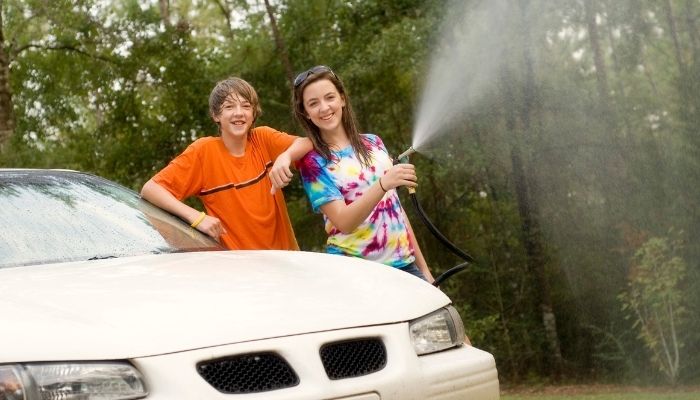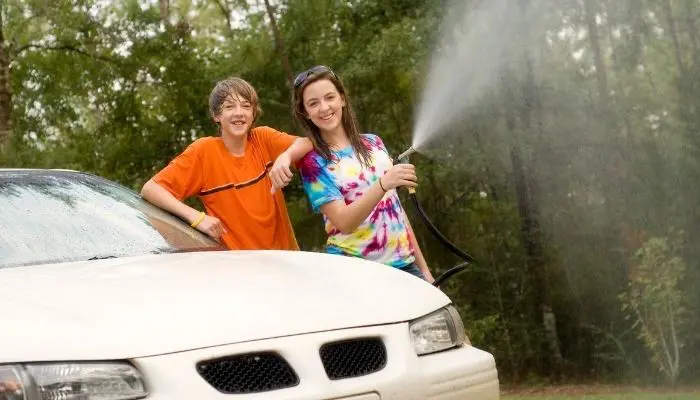 Do you enjoy washing your parent's car? If so, and if you can do a good job – this is a great way to make money as a kid.
Start by washing your parent's car and using it as an example when asking your neighbors if they would be interested in getting theirs done.
You could get more money by offering to do the inside of the car as well – vacuuming, polishing, etc.
If you want to reach more people, take some photos of the cars that you have cleaned already, and post them on local Facebook groups or flyers. When people don't know you, they like to see proof upfront.
If you are looking for a way for a kid to earn money quickly, this is it.
6. Odd Jobs
Ask around and see if there are any odd jobs that people need to complete. They could be one-off things that need to be done.
You could ask your parents or perhaps elderly neighbors if they have anything that they would like help with.
They may want some errands run, or you could help with some cleaning in their home.
If your neighbors are going away, they would love it if you offered to keep an eye on the house and water their plants.
You could even do pet sitting for their animals while they're away if they are happy with you doing this. Be sure to price in a way that's fair for you – as you may need to pop in a couple of times a day or do something a bit more complicated.
This is a good one if you are looking into how to make money fast as a kid.
7. Newspaper Delivery
Are there newspaper delivery services in your local area? This could be a good earner for you if you are prepared to wake up early!
The average wage for newspaper delivery is almost $12 per hour, but it will vary from place to place, so be sure to check this before you sign up.
This is a low barrier to entry, as you can go around on your bicycle, delivering them before everyone else is awake.
8. Can Recycling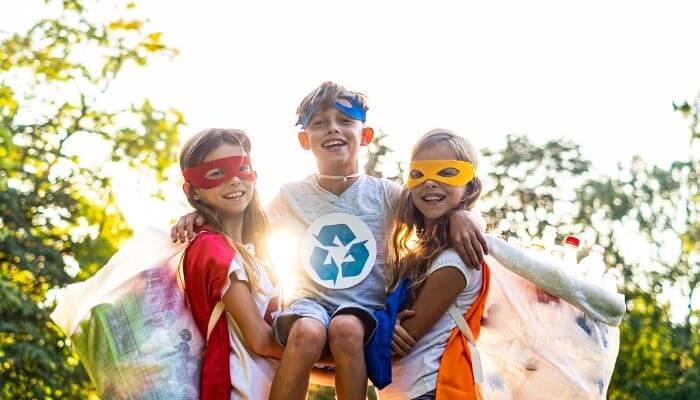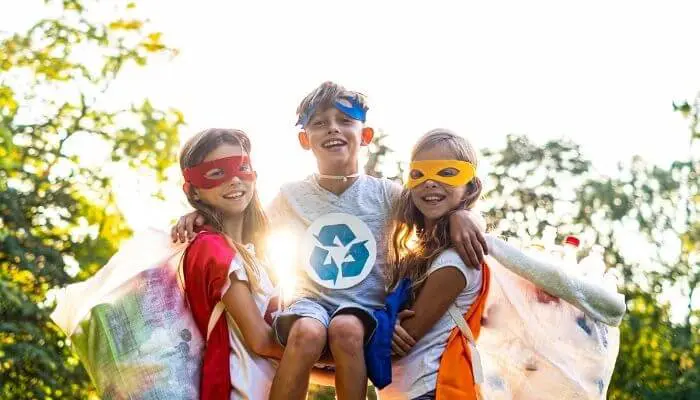 Making money from the garbage…? Yes, it can be done! You can get cash for recycling cans – it won't be much per can, but it all adds up.
You could start with the cans that you have at home and then go looking around the neighborhood and asking neighbors.
Have a look at areas where people would toss them aside – such as at sporting events. Here in California, you get 5-10 cents per bottle you recycle, depending on its size.
That kind of money adds up fast and is an easy money-making idea for kids.
9. Sell Your Crafts
Etsy is a great online platform on which you can sell your crafts. You have to be 13 years old to start an Etsy shop, and if you are under 18, you will need a parent's permission.
There are other places where you could sell your crafts as well – local fairs, farmer's markets, school sales, your family, etc.
Have a look on Etsy at the kind of things that people are selling and see if there are any that you would enjoy.
Ideas for you to try out could be:
Candles or wax melts
Jewelry
Art
Stationary
When you're looking for ideas on how to make money as a kid fast at home, Etsy is one of the best choices.
Make Money as a Teenager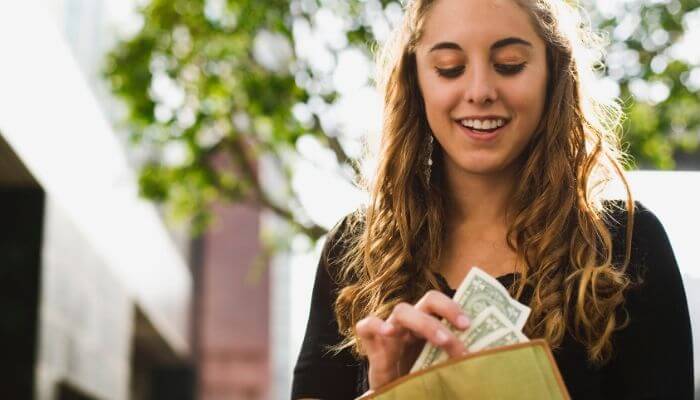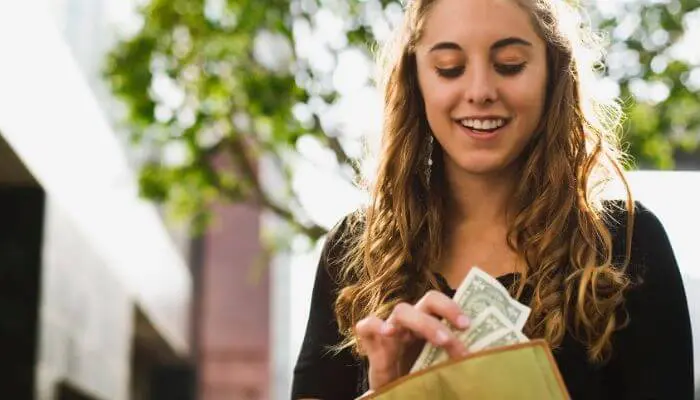 There are a lot more options available to you if you're a teen, which we will go through now. A lot of jobs require you to be a certain age before applying. Make sure to double-check the age requirements before applying.
10. Take Surveys Online
Yes, you can take surveys online and earn up to $100 a month in your free time. These survey sites are so easy to use.
These are my all-time favorite survey sites to use. Most importantly, they are legit. I've tried them and made money myself.
< Swagbucks <–You get a free $10 bonus just for using our link
There are a handful of other well-known survey sites as well. Always make sure to check the age requirements before joining.
Related article: How To Make Instant Money Online Absolutely Free
11. Flipping Items on eBay
How can kids make money doing this? Well, you may need to use your parent's account if you are under 18, and be sure to ask permission before doing so.
Flipping items is where you get an item at a low price and then sell it on for more.
There are a lot of people having great success with this at the moment, and if you want inspiration, head on over to Rob and Melissa's site Flea Market Flipper where they share how they do it.
Another great reason to follow them is that they show you how to package up and ship large, expensive items. This is an area that isn't widely discussed, and they know all of the best ways to do it.
Also, make sure to check out their free Workshop Webinar Here!
The items that you flip could be things such as:
< Books
< Toys
< Games
< Strollers
< Gym Equipment
Start with looking around your home to see if there is anything that you don't want or need anymore (check with your parents), and see how much the going rate is online.
You could be surprised at how much money you could have lying around the house!
Once you've started selling those items, you should have a little pot of money that you can use to go hunting for more things to flip.
Places to look for items to flip include garage sales or flea markets.
Come check out how we flipped our kitchen table.
12. Start a Blog or Website
Interested in starting up a blog or your own website? This is a great way to make a little extra money.
You can start a blog or website on just about anything these days. The more traffic you get to your site, the more money you can make.
If you are interested in starting a blog, make sure to check out our free start-up guide.
Last November, we made over $22,000 on our blog!
Related article: How To Start A Blog: Beginners Guide
13. Lawn Care
If you want to know how to make money fast as a kid, mowing lawns is great, especially if you like being outdoors.
Start in your local neighborhood and ask if anyone would like their lawn done. Most adults are busy, and will gladly pay a kid to do this task for them.
This is one of the most common jobs for kids in the summer, which means there is a high demand for it.
It doesn't have just to be mowing the lawn either – add in raking leaves, doing some landscaping, etc, for an additional fee. Or throw it in for free if you are trying to impress them!
Not just for the summer months – you could do snow shoveling in the winter as well.
14. Tutoring
If you are a good student, you can offer to tutor younger students who may be struggling.
Tutoring is usually well paid as the parents want their kids to do well, so they are happy to fork out for this.
You could charge anywhere from $20 per hour upwards. This will be especially popular near exam time.
15. Social Media Assistant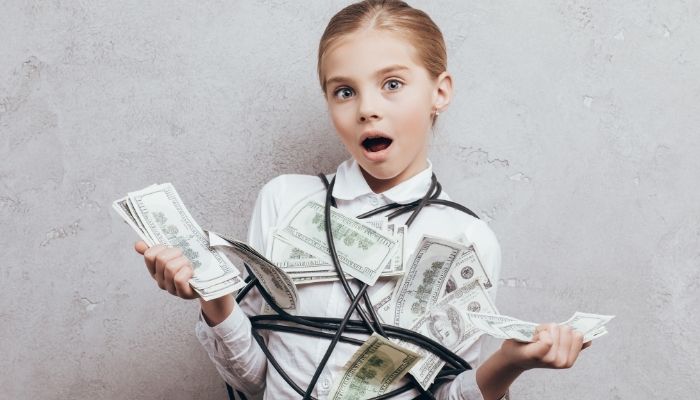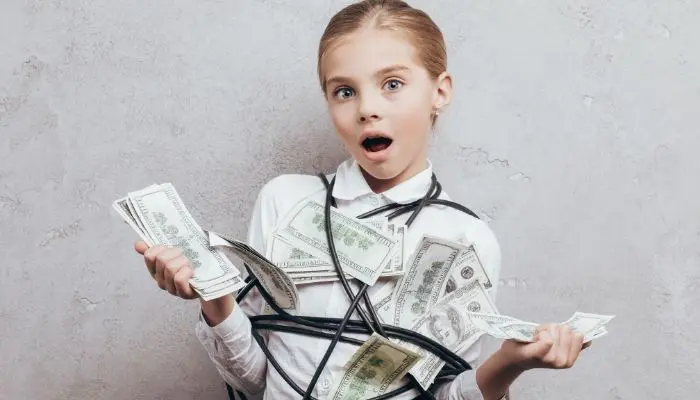 One for the older kids again, as you will need to meet the minimum age requirements for the social platforms.
Are you always on your phone and can usually be found scrolling through Instagram? This is the perfect way for you to make money, as you can get paid for doing something that you already do!
Being a viral assistant means that you will be managing a business's social media account. The most common ones are Instagram, Facebook, and Twitter.
The tasks that you do will depend on what your client wants, but at a very basic level, it will be posting on social and interacting with their customers.
If you want more information on breaking out and becoming a viral assistant, make sure and check out this article. Also, here is a free webinar to help you get started.
16. Refereeing
There are so many sports games that are going on all year, and they need a referee.
There is often a shortage of refs, as the people who usually do it tend to play themselves.
This is where you can come in and offer your services. It won't be all fun and games, though, as you will get people arguing with you! As long as you stand firm and let them know that you won't tolerate it, you will be fine.
17. Face Painting
This is a fun way to make money as a kid! If you have an artistic flair, check out this as a money-making idea.
You can offer this at kids' birthday parties or local carnivals. It's always popular, and you should be able to get a steady stream of work.
Take photos of previous work that you have done, and with their parent's permission, you can create a leaflet with examples of the different faces you do.
18. Babysitting
This is one of the easiest ways to make money quickly as a kid. Babysitting is usually one of the first jobs most kids take on.
When you hit that special age of 13, reach out to neighbors. Most of your money will actually be made right in your neighborhood. If you have any younger cousins, reach out to your aunts and uncles too.
If you have younger siblings, the good news is that you already have experience under your belt.
If you don't live in a neighborhood setting, a great place to look for babysitting jobs would be Sittercity or by word of mouth.
Making Money as a Kid – Final Thoughts
We hope that you have found some great ideas for kids to earn money in this article. There are so many benefits to starting your income journey when you are young.
If you've been wondering, "how do I earn money as a kid?" – we hope that we've given you food for thought.
You may not realize it now, but this will set you up well for the future.
Make sure that before you start, you think about what you want to use the money you're earning for. Is it all to spend? The smart thing to do is to save some of your money but enjoy the rest!
Grab our free budget binder below so you can start keeping track of all this newfound money you are going to make!
Grab Your FREE Budget Binder Today!
Start saving more money and pay off your debt with this FREE Budget Binder
These are only a few ways kids make money. Have you tried any of these job ideas before? Which do you think you'd be good at?
If you enjoyed this article, make sure to save it later and join us over on Pinterest for more money-saving tips and tricks!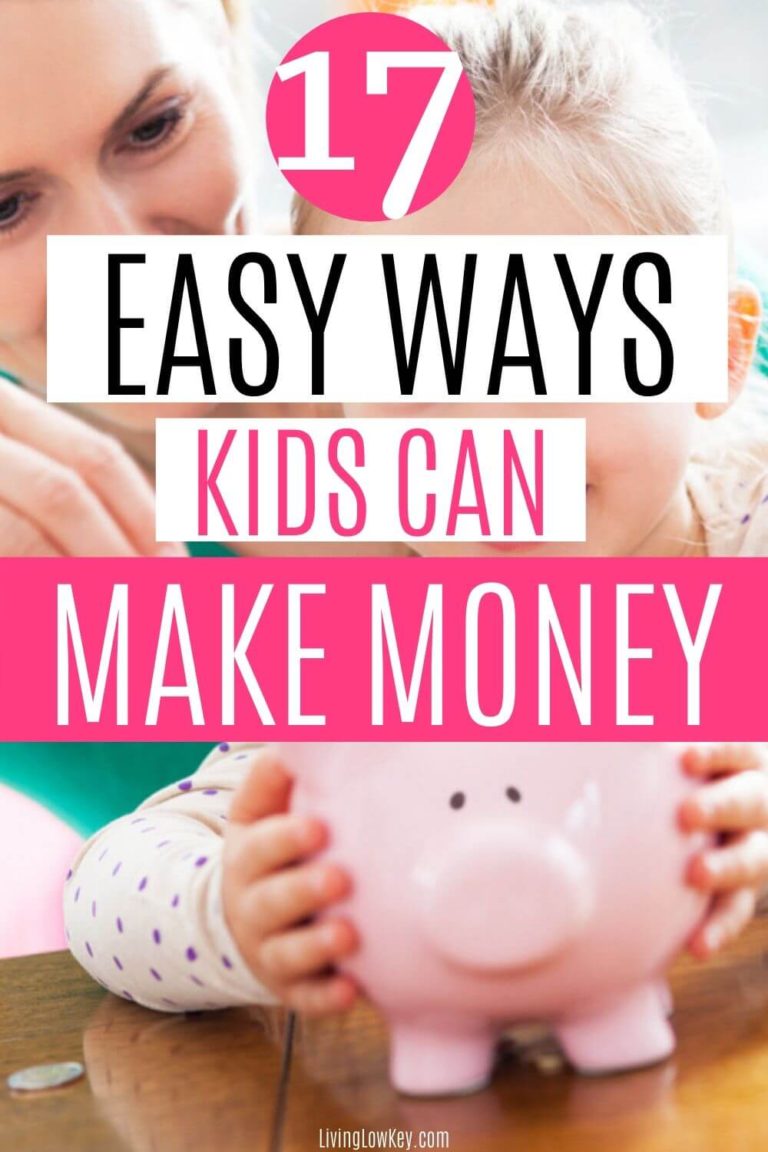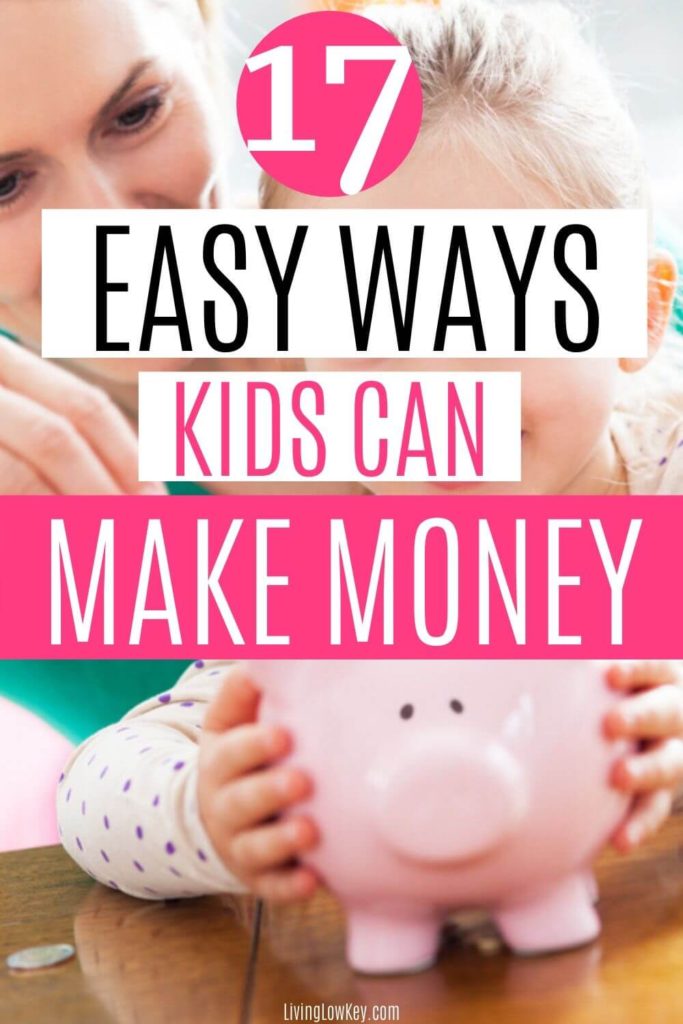 Related articles: