The best online jobs for college students!
We've all been there, struggling through college with barely a dollar to get by.
Most of you will continue to dig yourselves deeper and deeper into debt as the school year goes on because let's face it college is expensive!
But this isn't going to be your story!
YOU found this amazing article that will walk you through some of the best online jobs for college students, most of which you don't need any experience to get started.
Even better, these jobs can be done as a work-at-home student, from your dorm or apartment.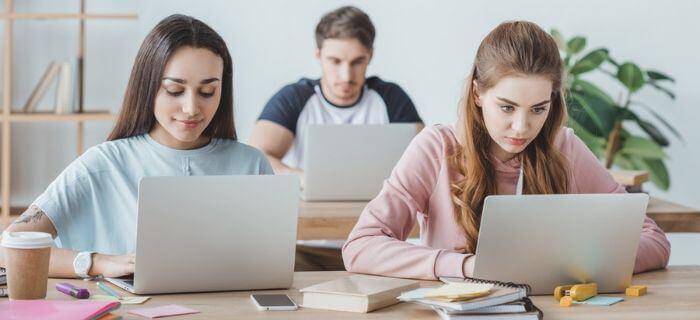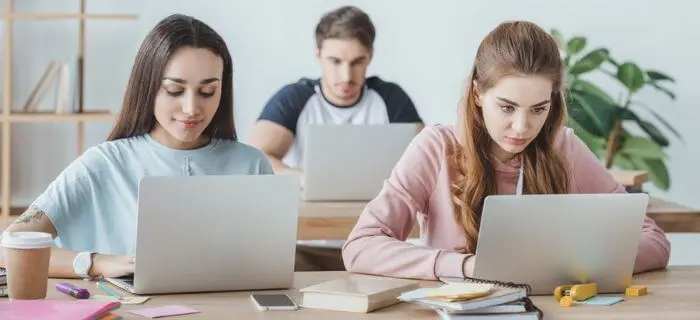 How Can College Students Make Money Online?
Survival in college is all about working those odd jobs just to get by. I did many small odd jobs during the first two years of college, just to make sure I had enough money for food and rent.
I sure wish I would have known then what I know now because the truth is, there are so many online jobs students can take advantage of. Heck, there are so many easy jobs for college students. You just need to know where to look for these easy remote jobs for college students.
How to make money without a job in college:
Online Jobs For College Students With No Experience
If you thought making money from your dorm room wasn't possible, I'm here to prove you wrong! There are thousands of part-time jobs for college students right at your fingertips. You just need to know where to look.
Here are 14 of the best jobs for students in college looking to make money easily. To make the most money, I recommend doing multiple jobs at a time.
1. Start A Blog
You've probably heard of professional bloggers making hundreds of thousands of dollars every month, but did you know they started just like you and me?
They weren't instantly successful with blogging, and they had to start from the bottom and work their way up!
Blogging can be a very lucrative side hustle, and it can be done anywhere you have the internet! In one month alone, we made $22,000 on our blog. This could easily become one of those easy college jobs that gets you through college.
Don't let that number fool you, though. It took a lot of work, so we were able to make that kind of money. However, you can easily become a blogger making $500+ in the first 6 months to a year. In college, when you are used to living off of beans and rice, $500 can get you a long way.
How to start a blog?
When it comes to starting a blog, the cost is relatively low compared to starting any other business. You could get started with a small $3 a month investment for web hosting, and that's it!
You won't find these low start-up costs with any other business.
For a detailed guide on how to start a blog, check out our beginners guide here.
How much money can you make?
Blogging is a long play when it comes to making money. You have to understand that you won't make money as soon as you launch your blog (although the lucky few do).
Keeping that in mind, the amount of money you make from blogging can be a wide range.
If you stick to blogging and work to continue improving over time, you could be making four, five, or even six figures per month!! It all comes down to how much you want it and the work you put into it! This could easily be one of the highest-paying jobs for college students.
As I mentioned above, you probably won't make a ton of money as soon as your website goes live. However, I know a handful of bloggers whose sites took off the first year. Earning them $1000+ a month.
If you are looking to work from home or start your own blog, make sure to join our blogging series! This will walk you through the process of getting your blog up and running.
Related article: How We Made $22,000 With Our Blog In One Month!
Grab Your FREE Budget Binder Today!
Start saving more money and pay off your debt with this FREE Budget Binder
2.

Sign Up With Rakuten

(formally known as Ebates)
Are you looking to make money when you shop online? If so, you're going to love Rakuten! This might just be my favorite online job for college students. Heck, it's my favorite way to make money too. =)
I like to describe Rakuten as a shopping mall. Only it's online. Rakuten partners with some of the most well-known stores, such as Amazon, Target, Macy's, Walmart, Kohl's, and many more.
When you shop online at these stores through the Rakuten website, Rakuten turns around and gives you a percentage of the amount you spent right back!
How does Rakuten work?
< Search Rakuten for the store you want to shop at
< There will be a little icon with a percentage next to it- this tells you what percent cash back you get just by doing your shopping through Rakuten
< Do your shopping as usual
< Earn money just by shopping through Rakuten
If you are a college student, you should not pass up this easy way to make money! I wish I had known about this program when I was in school.
How much money can you make?
The amount of money you can make with Rakuten depends on how much you shop and what you buy. You can expect anywhere from 2% – 30% cash back from your purchases.
How I would use Rakuten as a college student to make the most money-
I would do my shopping with Amazon and take advantage of "Prime Student." When you sign up for Amazon as a Prime Student, you will become a Prime member for six months for FREE. This means free 2-day shipping and other great discounts. =)
Once you sign up for Prime Student, every time you shop on Amazon, make sure you are going through your Rakuten account. You'll start getting money back on your purchases.
Now, this might not be a huge moneymaker, but it will fill up your gas tank.
To get you started right, use our link below, and you'll get a free $10 sign-up bonus for Rakuten just for getting started.
3. Get Paid To Shop
There is a reason Ibotta is on this list! Ibotta is the bomb!!
Did I mention they give you a $10 sign-up bonus just for signing up!
Ibotta is an awesome phone app that can make you a lot of money. I've literally made hundreds of dollars just by taking pictures of my receipts after my shopping trips.
Did I mention the app is free!!!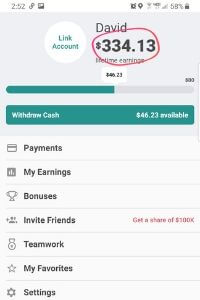 How to use Ibotta?
< Scan through the app looking for items that you need to buy. Select the items you are about to buy
Tip: I usually write my grocery or shopping list first and then open the app and find items that are already on my list. Or look for items I know I need.
< Head to the store and purchase these items
< Once you get home, open your Ibotta app and hit redeem at the bottom of the app
< Take a picture of your receipt
< Cash will be sent to your Ibotta account in the next day or two
< Then transfer your money out of your account using PayPal
Ibotta partners with over 285 different stores, such as Target, Amazon, Walmart, Walgreens, Safeway, and many more. They have also paid out over $500,000,000 in cash rewards.
How I would use this app as a college student–
I would take advantage of being a Prime Student, and do my shopping online with Amazon using Rakuten. Next, I would take my receipt and scan it into Ibotta!
Did you see what I did there? Not only will you get Prime free for six months as a student, but you'll get money back when you use Rakuten and even more cash back once you scan your receipt with Ibotta.
How much money can you make?
Along with any online job for college students making money with this app takes time. Sometimes you'll make $.10 for scanning your receipt. Other times, you'll make a few dollars.
I've earned over $300 with the app so far!
If you're looking to earn even more with Ibotta, refer a friend! You get cash rewards (usually $3) for every friend that joins! The more friends you get to join, the more money you'll make.
So what are you waiting for? If you are looking to make some extra cash, sign up for Ibotta, and start earning!
Related article: Check out our personal Ibotta review here!
4. Invest Your Spare Change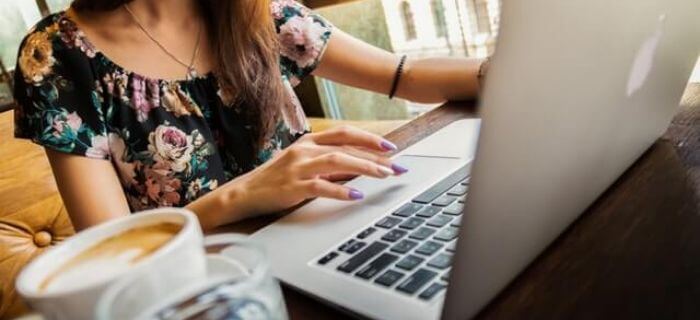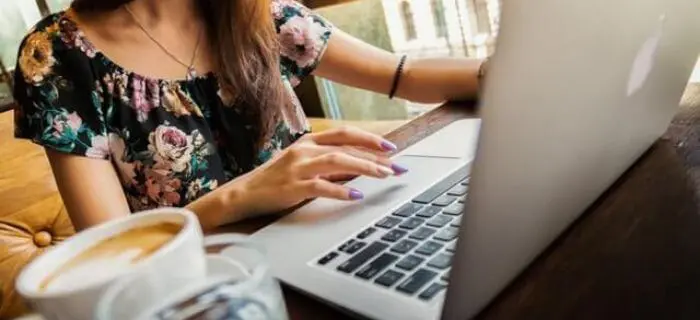 As a college student, you might be thinking, how is investing my spare change going to make me money? In our 20's we were able to save $100,000, and it was all thanks to saving our pennies. Almost half of that 100k was money we made because we started investing.
If you're looking to make money investing your spare change, then Acorns will be your new best friend!
With Acorns, you can make money without even realizing you're doing it. How, you might ask?
By investing your spare change!
How to use Acorns?
< Connect your debit or check card to the Acorn app
< Make your everyday purchases
< Acorn automatically rounds up your transactions and puts it in your savings
< Once your savings grows to $5, you can invest in one of the portfolios of your choice 
Acorns could be the reason you pay off your student loans or retire early.
How much money can you make?
You're probably wondering how are you going to make money with Acorns? The answer is investing!
Once your investments start to grow, you will see the magic of compounding interest.
Compounding interest is free money, which is what you want. You literally will be making money while you sleep.
Now I can't tell you exactly how much you will make with Acorns, but it will add up over time. Above, I mentioned that we saved $100k in our 20's. Almost $40k was interest- meaning free money we made in our sleep.
Start making money with Acorns today! As always, it's free to sign up and use it.
5. Get Paid To Watch Movies
If you're looking for an online job for students at home and you love watching movies, you have to give Swagbucks a try!
Swagbucks is all about putting cash back in your pocket.
How does Swagbucks work?
< Sign up for Swagbucks (it's free)
< Watch videos
< Get paid via Paypal or gift cards
Yes, it's that simple! All you need is a computer or a phone. If you are looking for a more step-by-step review, check out our Swagbucks Review here.
How much can you make?
To this day, Swagbucks has paid its members over $300,000,000. Don't you want to be a part of making that kind of cash?
The amount of money you'll make with Swagbucks depends on the amount of time spent on their site. If you are active with Swagbucks, there is no reason you shouldn't be able to make an extra $200+ a month.
6.

Take Online Survey
s
Are you ready to share your opinions and be a unique influencer? Or participate in online surveys, diaries, and test products for free? Then taking online surveys is your jam!
If I had to recommend one online job for college students, this would be it. Taking surveys takes minimal time and effort.
Which survey sites are the best?
Below are a few of the most legit survey sites I've come across, most of which I have personally tried. Not only do I highly recommend them, but they also have high payouts too!
< MyPoints– Join for free and get a $10 welcome bonus!
< Swagbucks– Free to join and get a $10 welcome bonus!
< Survey Junkie– Free to join!
< Vindale Research– Free to join, high-paying surveys!
< Inbox Dollars– Free to join and get a $5 welcome bonus!
How much can you make?
Pay depends on how many hours you spend on each individual survey site. Some survey sites only pay a few cents per survey, whereas some pay a few dollars per survey. Although this might seem like a small amount, it adds up fast!
Related article: The Best Survey Sites That Pay Actual Cash
7. Research Study
Are you ready to test free products for companies? If so, you must give Pinecone Research a try. Not only are they another top-paying survey site, but they also let you test free products.
Every company wants to test their products before they put them on the market, and this is exactly how they do it. They find ordinary people and send them free products.
Being an influencer of future products that have yet to hit the market is exciting!
How do I get started?
< Sign up for Pinecone Research
< Wait for product testing invites in your email
< Test the product and answer a follow-up survey
< Get paid and repeat
How much can you make?
Your pay can fluctuate depending on how many hours you are able to dedicate to research. The more time you put in, the more money you will make.
8. Flea Market Flip
Have you ever been to a flea market or watched Flea Market Flip on HGTV? If not, that's about to change. There is a lot of money to be made flipping items in your free time.
If you're a college student who isn't looking for a set schedule but needs cash, head to your local flea market.
How do I start?
< Head to a local flea market
< Hunt for something worth value
< Decide where you want to sell it (eBay, Craigslist, FB marketplace)
It's all about trial and error here. The goal is to score something at a flea market for $20-$30 and sell it for hundreds online.
How much can you make?
Our friends over at Flea Market Flipper made over $12,000 in one week, by simply finding items at the flea market and selling them on eBay. If you want to learn more about "flipping" check out their Pro Flipper Course.
Related article: 30 Best Items To Flip For A Profit In Your Free Time
Online Jobs For College Students To Earn Money
Do you have some formal education but have yet to graduate with a 4-year degree? If so, these are great jobs you can do online without a degree.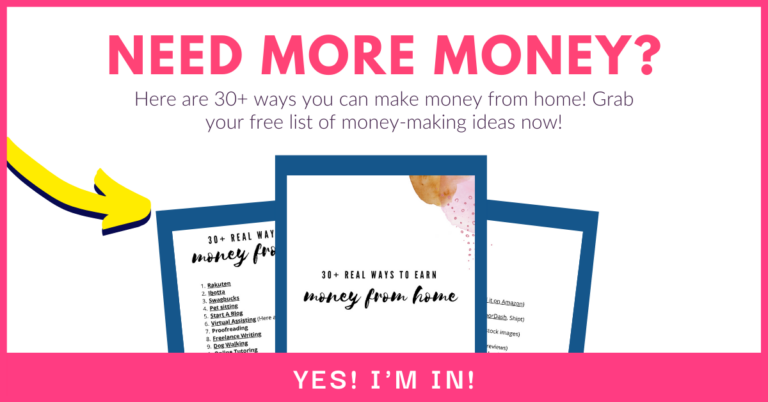 9. Virtual Assistant Jobs With No Experience
Are you addicted to finding great recipes on Pinterest or posting the best Instagram pics? Maybe you've built up a huge following on Twitter?
Why not turn your love of social media into something that can make you money? Believe it or not, there are businesses out there that will pay you to manage their social media accounts.
They might not have the time or the desire to be active on Social Media, so they are willing to pay for your help! This is literally one of the best-paying jobs for college students. You just need to know where to get started, and that we can help you with!
How to become a Viral Assistant?
To get started as a social media manager, you first need to build up an audience of your own and hone in your skills. You can pick a specific social media platform to specialize in or choose several.
Whatever route you choose to go, you'll want to develop a strategy for building a following and growing your audience if you can create a strategy that is repeatable, even better.
Once you have a method for growing your audience head over to VA Networking, Zirtual, or People Per Hour to land an assistant gig. Or heck, start your own virtual assistant gig yourself.
How much money can you make?
Depending on your skill level and experience, the range of pay for a Social Media Manager starts at around $16.50/hour or around $34,000 per year. That would be on the low end for someone just starting out.
Glassdoor has the average pay for a Social Media Manager around $26.44/hour or roughly $55,000/year. That's pretty good money for something you can do from the comfort of your home!
Both of those figures are based on working a 40-hour week.
What are you waiting for, put your skills to work, and start your own Virtual Assistant business today!
Related article: 13 Virtual Assistant Jobs for Beginners That Won't Disappoint
10. Freelance Writer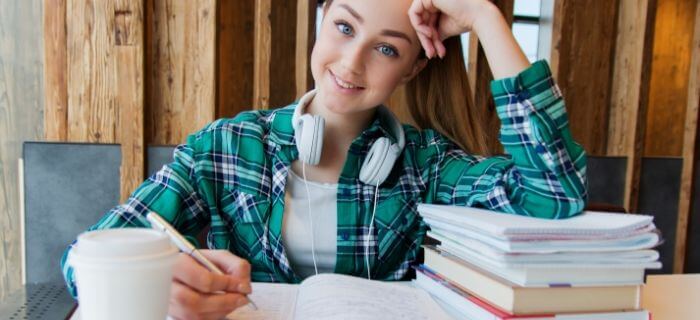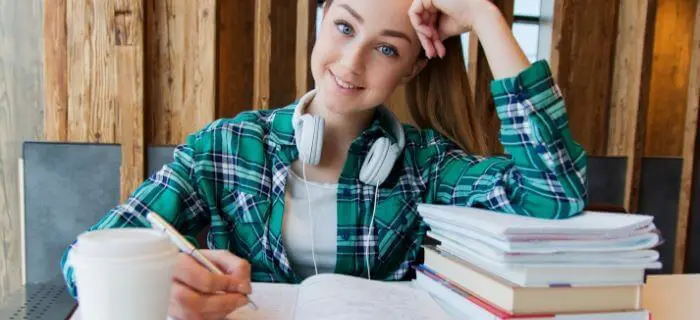 If you love writing and want to share your passion with others, try picking up a freelance writing gig.
As a freelance writer, you get to write content for websites and get paid! This is an excellent way to expand your love for writing, network with other writers, and, most importantly, make some money from home!
Freelance writing jobs for college students is a great way to make a little extra money doing something you love!
How to become a freelance writer?
If you're looking to start a side hustle as a freelance writer, you first have to get good at writing.
You'll need to create a virtual portfolio where potential clients can view some of your previous work. Once you have the portfolio created, it's time to start reaching out to clients.
You can try to connect with bloggers through one of the many blogging groups on Facebook, reach out directly to blogs, or send a cold pitch to a newspaper. Also, check out Craigslist and Pro Blogger job boards.
Related article: How To Start Freelancing With No Experience
Grab Your FREE Budget Binder Today!
Start saving more money and pay off your debt with this FREE Budget Binder
How much money does a freelance writer make?
When it comes to making money as a Freelance Writer, you have a couple of options for setting your rates. First, you can charge by the hour, like most other jobs.
As a beginner freelance writer, a good rate would be to charge anywhere between $20-$40/hr. If your skills are on the higher end of the spectrum, you could charge over $100 per hour!!
The other method you could use to charge clients would be on a per-word basis. Basically, you charge them a couple of cents per word.
As a beginner, you could look to charge up to 25 cents per word. An expert could be looking at up to $1 per word!
What it really comes down to when you're looking for a rate to charge is how good your writing is and how well you market yourself!
Give freelance writing a try today. If you enjoy it, consider starting your own freelance writing business!
11.

Bookkeeper
Do you have a knack for keeping track of finances, or are you an accountant by trade? You could turn those skills into a side hustle and make money from home as a virtual bookkeeper!
This work-from-home job requires a very specific set of skills. Having a deep understanding of finances and the business world will be key to your success.
How to become a virtual bookkeeper?
The basic steps to becoming a virtual bookkeeper include:
< Gain experience or certifications
< File for a business license
< Ensure your company is protected
< Create a business website
< Decide how much you will charge
< Advertise and market your company
< Obtain clients
How much money can you make?
The pay rate for a virtual bookkeeper can range from $18-$50 per hour. That's pretty good money if it's something you can do in your spare time!
Related article: How To Make $100 Dollars A Day
12.

Online Tutor
Do you have a passion for teaching others? If so, online tutoring would be a great fit for you. Online programs like Tutor.com or Chegg offer a realm of different subjects you can teach students. All you need is a computer.
How do you become an online tutor?
No previous tutoring experience is needed; however, it is helpful. You need to be a college sophomore to apply and be excepted.
< Take a subject exam
< Do a mock session
Once you've completed the mock session, a background check will be done, and you'll start tutoring.
How much does an online tutor make?
Your hourly rate is dependent based on the subjects you teach and the hours you work. According to Glassdoor, they pay an average of $11-$12 an hour.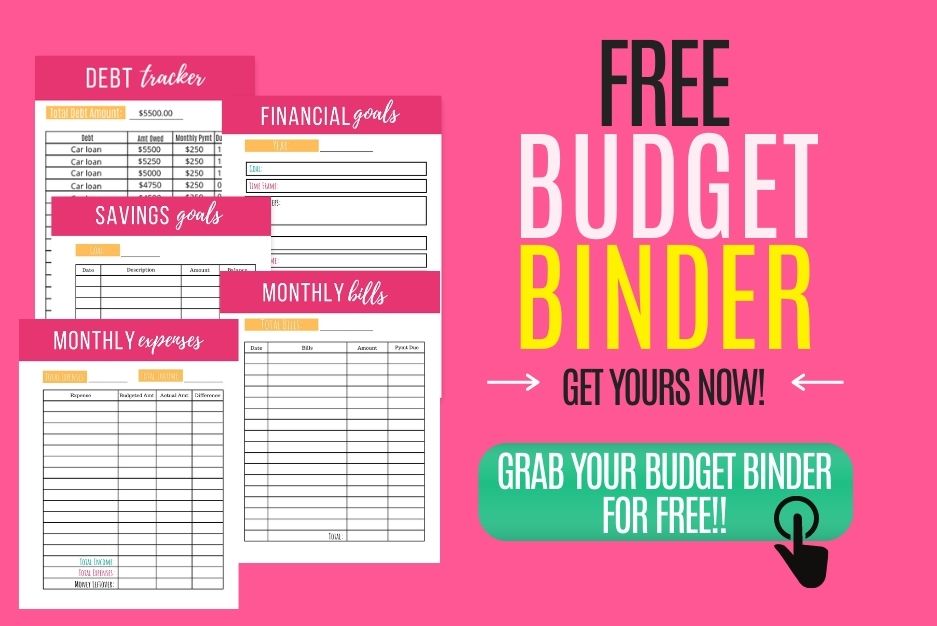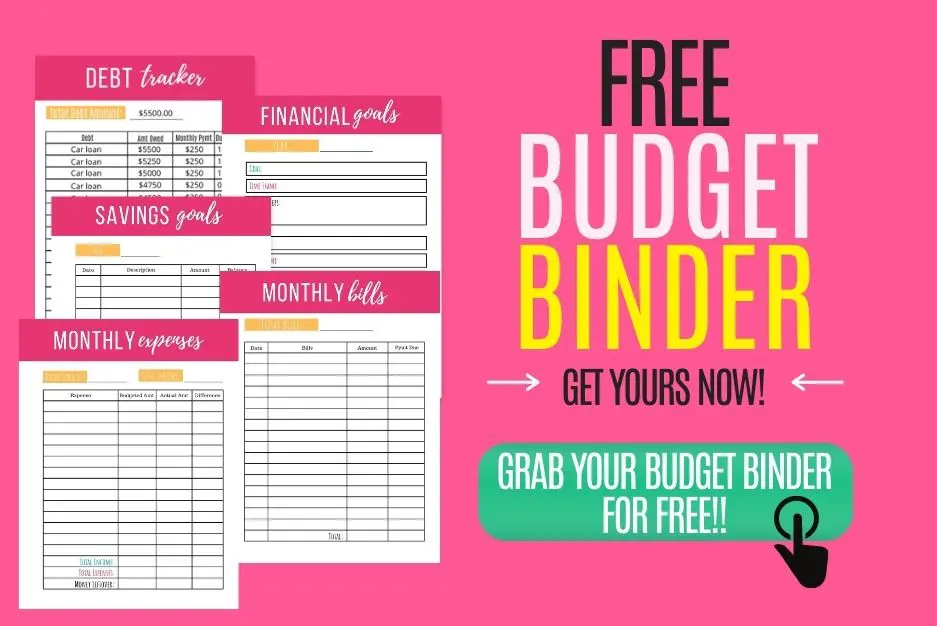 13.

Data Entry Worker
Scoring a job as a data entry worker doesn't require much experience, if any, at all. If tracking and maintaining data for a company sounds like your gig, jump on Indeed.com, and look for job openings in your area.
Most data entry jobs are usually entry-level, so take advantage of that.
How to become a data entry worker?
< Jump on a job searching site such as Indeed.com, Craigslist, or Flexjobs.
< Type in Data Entry and your location
< Look for jobs you qualify for
< Apply
Always make sure your resume is up to date before you attach it.
How much money can you make?
Typically this job pays anywhere from $12-$20 an hour. Your wages will differ depending on your location. If you live in a city, you'll probably get paid more than if you are living in a rural area.
14.

Search Engine Evaluator
This is one of my favorite online jobs for college students. Why, might you ask? Not only is the pay good for a college student, but you can literally work from your phone.
Yes, this enables you to work in between classes or from the comfort of your couch.
What is a search engine evaluator, and how do I become one?
As a search engine evaluator, you analyze videos, maps, web searches, and so much more. Then you provide feedback on what you found. Does this sound like something you might be interested in?
< Head over to Appen to get started
< Once you apply, you will have to pass an exam
You should also look into Lionbridge for more search engine evaluator opportunities.
How much will you make?
According to Glassdoor, you'll make anywhere from $11-$15 working at Appen as a college student. Pay shifts as you gain experience. If you don't have a degree, you must be in the process of getting one in order to be acceptable for this position.
There you have it- 14 online jobs for college students looking to work from home or their dorm while attending school!
Best Jobs For Students In College – Summary
Are you ready to give one of these flexible ways for college students to make money online a try? These good-paying no experience jobs will have you making money in no time. Gone are the days of barely scraping by in college. Be sure to try these jobs that are good for college students.
Do you have a favorite online job for college students?
If so, let us know in the comments below!
If you enjoyed this article, make sure to save it for later and join us on Pinterest for more money-making tips!