Summer is finally here!! School is over, which means it's time to find FUN SUMMER ACTIVITIES for kids that won't break the bank.
I'll be honest; we got a snowstorm in late April that left us with a foot and a half of snow on the ground. I wasn't sure summer was ever going to get here.
Well, summer's here, and kids are out of school, so it's time to get creative. These kids aren't going to entertain themselves.
I know how hard it can be to try to come up with new ways to keep kids busy. It seems like nothing ever works more than once or twice, so you always have to come up with something new. That gets exhausting!
Well, that's where I want to help you. Stop wasting time trying to come up with new things to do. I've put together this list of our favorite summer activities for kids. The best part about this list is there is something for everyone, and these ideas won't break the bank.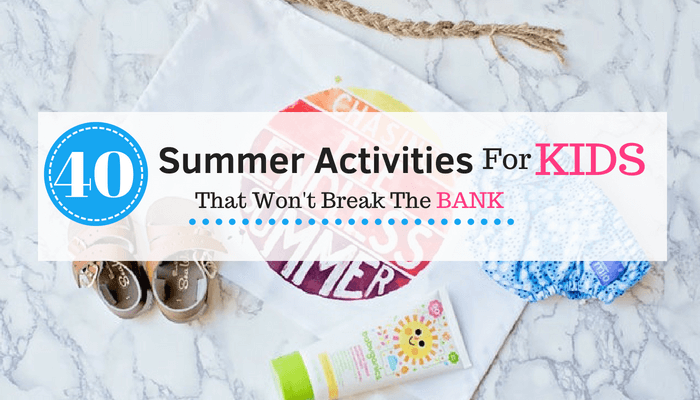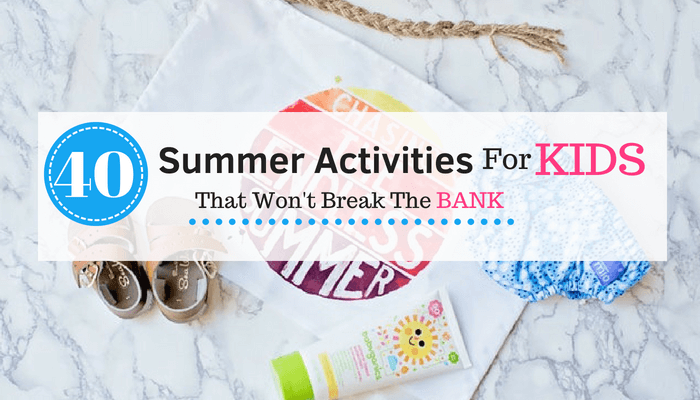 40 Inexpensive Summer Activities For Kids
1. Cool off with a sprinkler: That being said, one of the kid's favorite things to do is run through the sprinkler. When you get something like the Sunny Patch Blossom Sprinkler that sprays water everywhere, the kids will have a blast!
2. Find a pick your own farm: We love to go to farms where you can pick your own fruit. Whether it's apples, strawberries, raspberries, or any other type of fruit this is a good way to keep kids entertained. Normally the farms you go to will also have other fun summer activities for kids so you can make a whole day adventure out of it.
3. Have a picnic: If you're struggling to come up with fun summer activities to do on any given day, go have a picnic. Picnics are super easy to plan out, and best of all, they are FREE!! If you have the food in your house, pack it into a cooler and head out to the yard or a park for a nice picnic.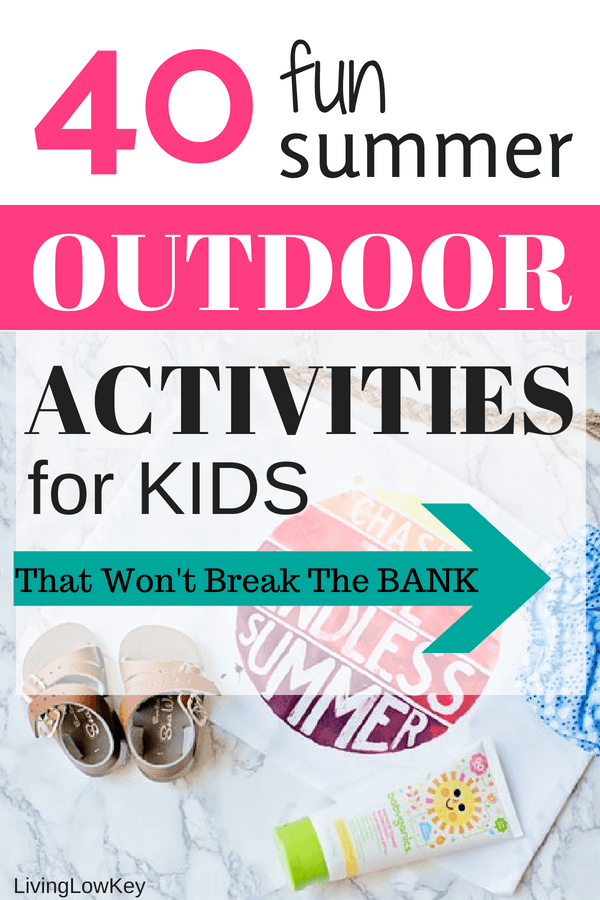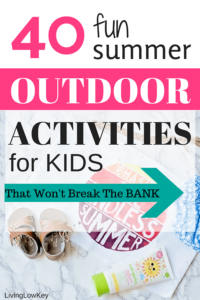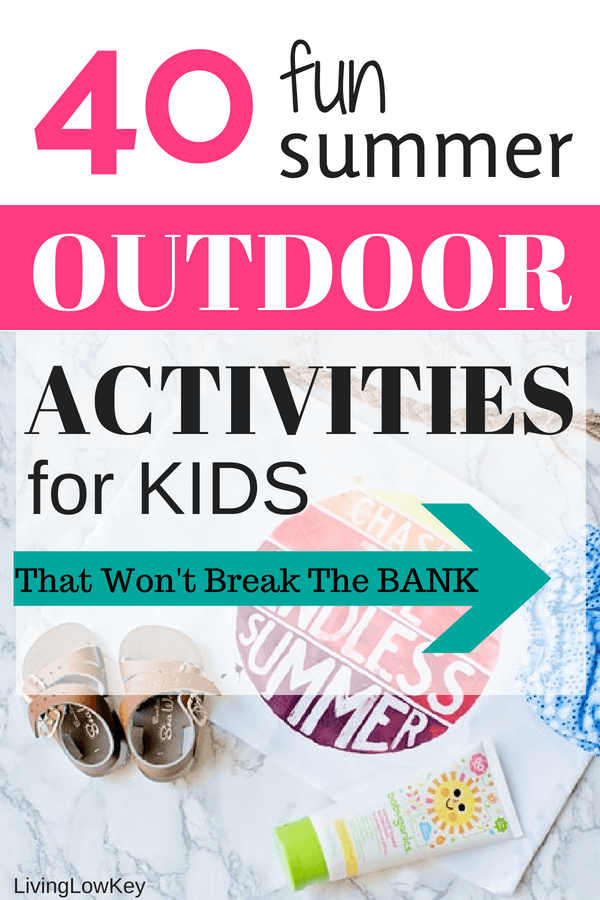 4. Go camping: Camping is a great way to get out and enjoy the outdoors as a family. Find yourself a nice campground and enjoy a relaxing couple of days in the woods. You can pick up a nice small tent on Amazon for fairly cheap. We used to have a 4 Person Coleman Tent that worked great. I say "used to" because we recently upgraded to a travel trailer. It's more like glamping for us now.
Pictures are coming to Facebook soon. So go check it out!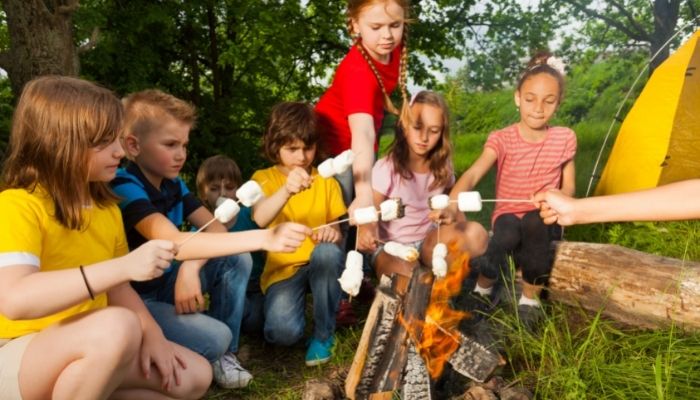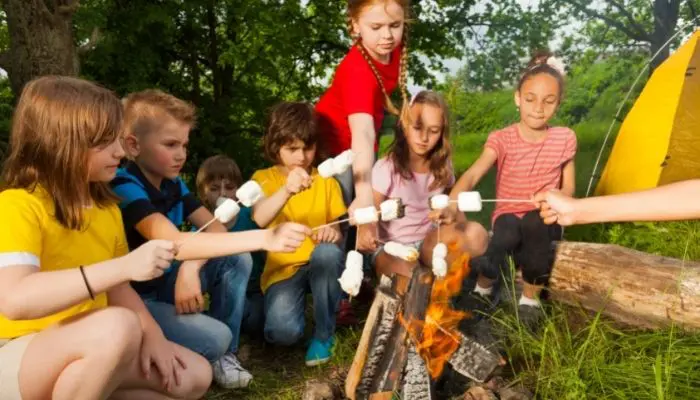 5. Go hiking: You'll get the best of just about everything when you go hiking. What I love most about hiking is that the kids are getting to experience the outdoors, they get fresh air, they're getting exercise, and best of all, they'll be exhausted by the end of the hike. Who loves an early bedtime night as much as I do??
6. Find a carnival: We've found many little carnivals that happen in our area during summer. These carnivals are great because they are generally cheap, they have mini-donuts, and there is usually a bunch of farm animals. We go to the carnivals and fairs just so the kids, and maybe myself, can see all the farm animals. We… I mean, the kids love it!
Related blog posts:
7. Go to the beach: If you're like us, you love the water and sandy beaches. Unfortunately, here in Minnesota, we only have beaches at lakes, but if you're lucky enough to live by an ocean, take advantage of those beaches. Let the kids play in the sand while you soak up the sun. Don't forget to invest in the BEST MESH TOTE BAG for all of your sandy water toys and towels! I HONESTLY don't know what we would do without ours!!
8. Wash your car: Yea, there are some ulterior motives behind this one because who doesn't want a clean car? If your kids are old enough, you can take them outside and have them wash your car. With our 4-year old it usually turns into a water fight. I didn't say this one had to be all business. When you have the hose, start a water fight!!
9. Go for bike rides: We love to go for bike rides in the mornings. We do it early before it gets too hot. We both have bikes, and we got the InStep Quick N EZ bike trailer to put the kids in. We LOVE the bike trailer, and the kids have a blast riding back there. Don't forget your helmets!!
10. Spend time at the park: If you ask our daughter what her favorite summer activity is, it is going to the park. We live directly across from a park with a playground. That's her favorite thing to do, and it's super convenient for us. This summer, find yourself a nice park, take the kids there and let them run around, and burn off some energy for a couple of hours. Did I mention I love early bed nights for the kids??
11. Family movie night: Movie nights are easy, and you can do it right at home. Grab your favorite movie, a bowl of popcorn, and gather the family for a fun-filled movie night. You can take turns picking movies so that everyone gets a chance to watch something they like.
12. Bonfires: This one might not be possible everywhere; make sure you check with your city before you go lighting fires in your yard. You can always buy a portable fire pit and have small bonfires in your driveway. We live "out there" so we can have a big bonfire right in our backyard. Grab the marshmallows and make some smores over a bonfire with the kids this weekend.
They will have a blast!
13. Play with chalk: It's time to get creative. Bust out the chalk and let the kids go to town on the sidewalk or driveway. It's a great way to let them be creative and make works of art. Heck, you might even find yourself drawing with them!
14. Slip and slide: On those hot summer days, who wouldn't enjoy a slip and slide. I had one when I was a kid and loved it! These things are fun for kids and adults. Get a couple of people together and grab the Team Magnus slip and slide to have yourself a little competition. With side-by-side lanes, things could get fun.
15. Plant flowers: Our daughter loves planting flowers, and our son loves digging in the dirt. We go to the Dollar Tree and get their flower seeds for super cheap and plant them in little cups. Once they're ready to go in the ground, we go plant them. This is an inexpensive activity that will keep the kids busy and they'll look forward to watering their flowers every day.
16. Plant trees: This one goes right along with the planting of flowers but requires a little more of a commitment. When you plant a tree, you have to remember it's going to get big, so think carefully about where you want it planted. We planted two trees in our backyard because we got them for free at a parade. It helps the environment, and the kids love watching them get bigger and bigger.
17. Volunteer: If you're looking for something fun to do that will help others, there are plenty of volunteer opportunities out there. Whether it's picking up trash at a park, helping a neighbor with something around the house, or working with Habitat For Humanity, volunteering is a great summer activity. I recently volunteered at Feed My Starving Children. We packaged food for people in country's where starvation was prevalent. It was a really cool feeling to know we were helping people with basic necessities.
18. Fly a kite: This is definitely an underrated kids activity. We picked up a cheap kite for the kids, and anytime there is a strong wind, we go to the park and fly our kite. It's cheap entertainment and heck; I even have a blast flying that thing!
19. Farmers markets: Having lived in multiple states and varying size cities, I can tell you we have seen some awesome farmer's markets. Whether you live in a big city or a small town, see if there is a farmers market you can check out. Some of the best produce we have ever eaten was found at a farmer's market. A lot of times, you'll find some pretty cool stuff like crafts and artwork there too. When we travel, we like to see if there are any farmers markets while we're there just to try some of the local food.
20. Play tag: Yea, this is a kid's game, but you're going to have fun with it. Our daughter loves playing tag, and we both get some exercise running around in the yard. Find a nice wide-open space and get the kids going in a fun game of tag.
21. Search for treasure in the sandbox: When we lived in Washington D.C. we had a sandbox in the backyard. I used to throw pennies in there for our daughter to search for. She loved digging in the sand and finding shiny pennies. Next time your kids are in the sandbox, bury some pennies in there and let them search for them.
This will even buy you some time to get something done for yourself.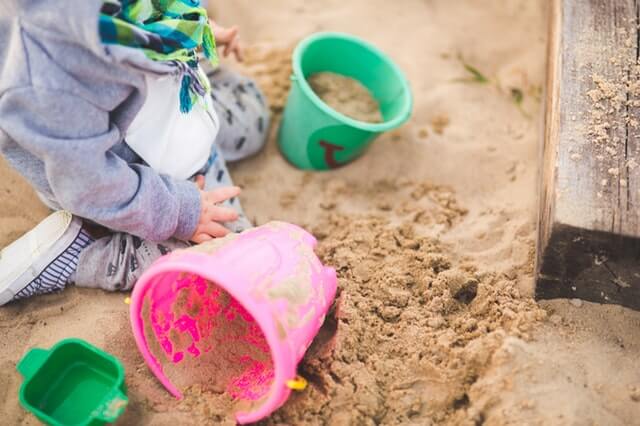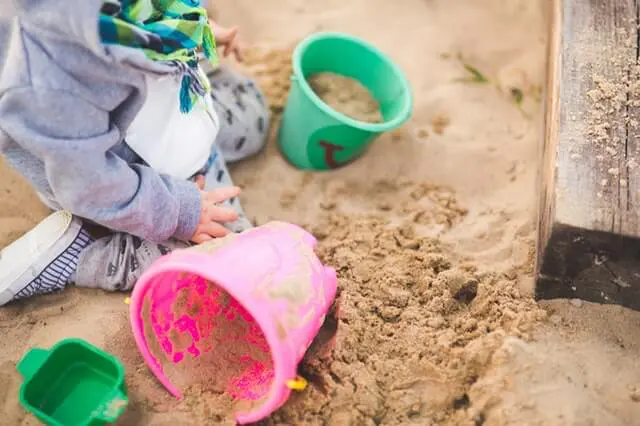 22. Make paper airplanes: Depending on how old your kids are, you might do more paper airplane making than anyone, but you're going to have fun either way. For older kids, have them make the paper airplanes and then have a competition to see whose flies the farthest. For the younger kids, you make the paper airplanes and let them throw them.
23. Summer is for garage sales: There are two ways you can go with this one; either you can find garage sales to explore, or you can have your own garage sale. One will make you money, and one will cost you a little bit of money. Sometimes you can find a really good deal at a garage sale.
24. Start a lemonade stand: I remember doing this when I was a kid. I'm pretty sure we all did it. If your kids are bored and want some extra money, help them start a lemonade stand. You can even teach them life lessons about starting a business by "loaning" them money for supplies to get it started and have them pay you back with their earnings. Kids will love the idea of making money, and people will be happy to stop and get some ice-cold lemonade on a hot summer day.
25. Read books: This used to be one of my favorite activities when I was younger. I would grab my favorite Harry Potter book (don't judge me, it's a great series), kick my feet up, and read for a while. Now, if you're kids are younger, grab a book and find a nice shade tree to do some storytime.
This is one of my favorite summer activities for kids because you get to enjoy the outdoors and stimulate their minds with a great book.
26. Kids DIY projects at Home Depot: Check out your local Home Depot to see what kids projects they have coming up. We've done this several times, and our favorite was building a bird feeder. The kids will get tiny tools and a kit that has everything they need to complete the project. The best part about it, it's totally FREE. You know I love free stuff. Give this one a try.
27. Water balloon fights: We love having water balloon fights. Get yourself a pack of water balloons, a bucket, and a garden hose. Fill them up and let the battle begin!! We get two buckets full of water balloons and start on opposite sides of the yard. The kids love throwing water balloons at their parents.
28. Water table: Water tables are great for younger kids. Tucker loves splashing in the water table with all of his toys. They are great because the younger kids can stand there and play in the water all day while you kick back and relax. Head over to Amazon and get yourself a cheap water table for the kids this summer.
29. Buy a swing: Last summer, we bought a swing, and that has been hours of entertainment for the kids. We ended up getting a big saucer swing so both kids could play on it. and we can actually lay in it too. We hung ours from a giant oak tree in our backyard. It's a big hit!!
30. Visit the library: We love our local library. We go there to pick out books and end up leaving with about a dozen every time. Library memberships are free, and reading is great for kids to encourage them to find a book they love. Our library also has a section of books for sale where you can get really good books for 50 cents. You can't go wrong getting books at that price.
Make sure to take apart in your libraries "story time" and other fun activities they have.
31. Make a cardboard box fort: What kid doesn't like making a fort out of cardboard boxes? The answer is none, and every kid loves making forts. If you have a box lying around, give it to the kids and watch them have fun for hours.
32. Visit a nature preserve: We have a nature preserve not far from our house, and it's by far one of our favorite summer activities for kids. There is a wildlife area, splash area, and rocks for the kids to climb on. Whenever we go there, we all have a blast, and the kids end up exhausted by the end of it. Find a nature preserve in your area and check it out.
33. Make a birdhouse: This one requires you to be a little crafty, but it can be a ton of fun. Head over to Pinterest to find some easy-to-follow blueprints for a birdhouse and help the kids build one. They will have a good time building it and an even better time watching birds build their nest in it!
34. Make smoothies: Kids love things that taste sweet, and if you do this one right, you can make them healthy. When we make smoothies, we throw strawberries, bananas, raspberries, a little bit of yogurt, and ice into the blender and mix it up. They taste great on a hot summer day and aren't nearly as bad for you as ice cream.
35. Watch fireworks: If you live in a state where fireworks are legal, you can always put on your own firework show for the kids. That will cost you money, though. Chances are, there is going to be some type of fireworks show in your area around the 4th of July. Find yourself a nice place to watch the show and don't forget to bring a blanket to sit on and some snacks.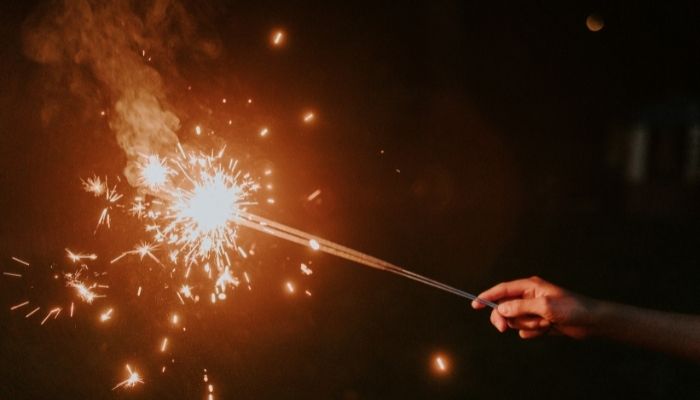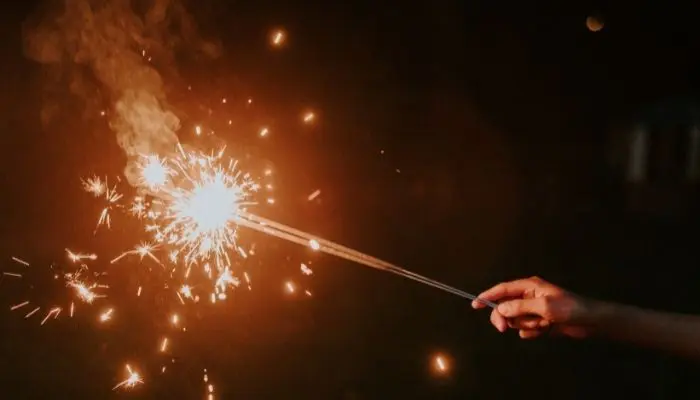 36. Have a craft day: What little doesn't like doing crafts. There are so many different craft ideas on Pinterest that will keep your kids entertained all day long. Go check out Kidz Craft Corner for some of our favorite summer crafts.
37. Join a Junior Ranger program at a national park: I just recently learned about this one as we started planning our travels with the travel trailer. If you like to travel and have little kids, try visiting some national parks and have them join the Junior Ranger program run by the National Park Service. They will learn about the parks and if they pass the "test" they will get a Junior Ranger badge to wear. If you're looking for summer activities for kids while you travel, you have to try this one out.
39. Do a scavenger hunt: We have a huge backyard, and we love doing scavenger hunts in it. It doesn't take a lot of effort on your part. Come up with a list of items that they might find in your yard and send them out to search for them. We look for sticks, pinecones, maple leaves, and dandelions. It doesn't have to be complicated, but it's a great way for them to get outside and explore.
40. Blow bubbles: Our kids seriously love bubbles. I don't know what it is, but they want me to blow bubbles for them nonstop from sunrise to sunset. We have the old-fashioned bubbles that you have to blow, but after a while, I started getting light-headed. If you want to get fancy, you can get yourself a cheap bubble machine and let your lungs relax while the machine does all the work for you.
41. Bake treats: Sometimes, you just have to break down and bake some cookies or brownies. Let the kids do the work with supervision, and I am sure they will have a ton of fun. Plus, who doesn't love freshly baked treats?
There you have 40+ cheap, inexpensive ways to have fun this summer with your kids. Hopefully, you found this useful and will take advantage of these fun summer activities.
What are your favorite fun summer activities for kids? Let us know in the comments below.
Come follow us on Pinterest and save this article for later below!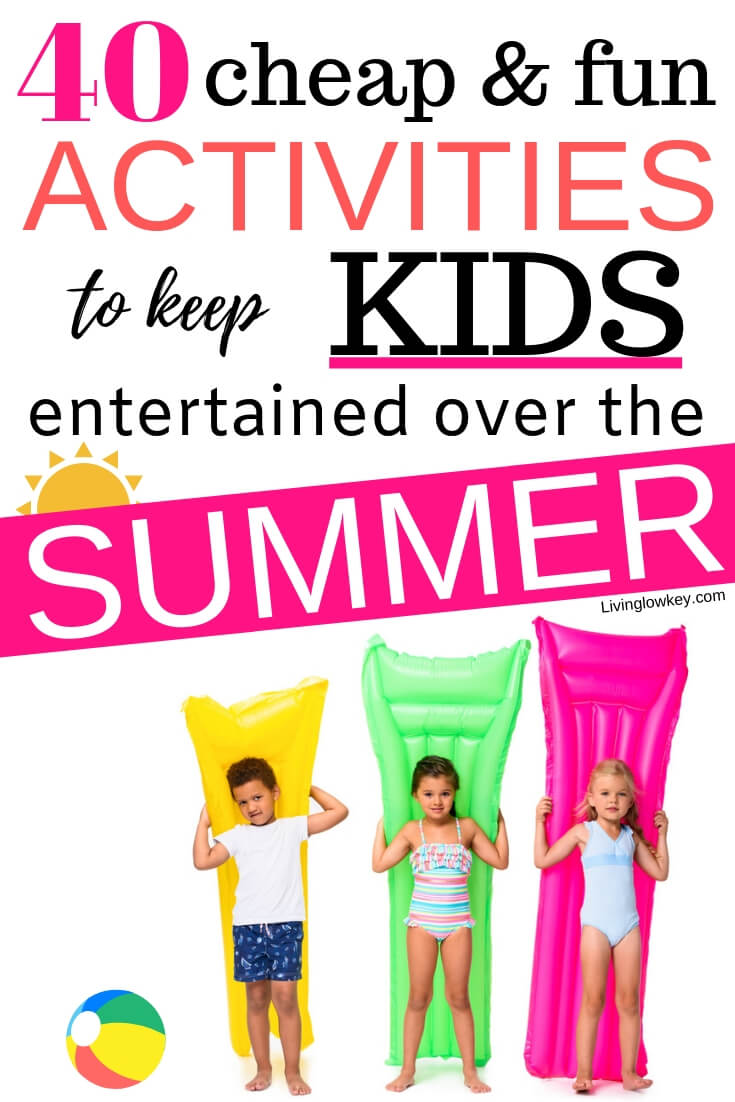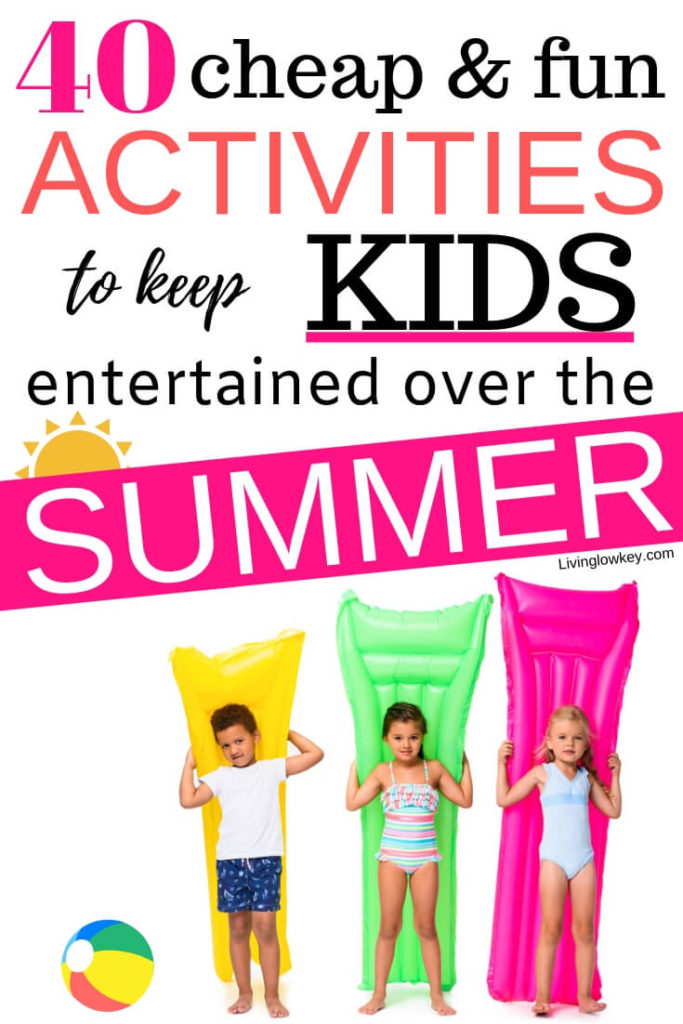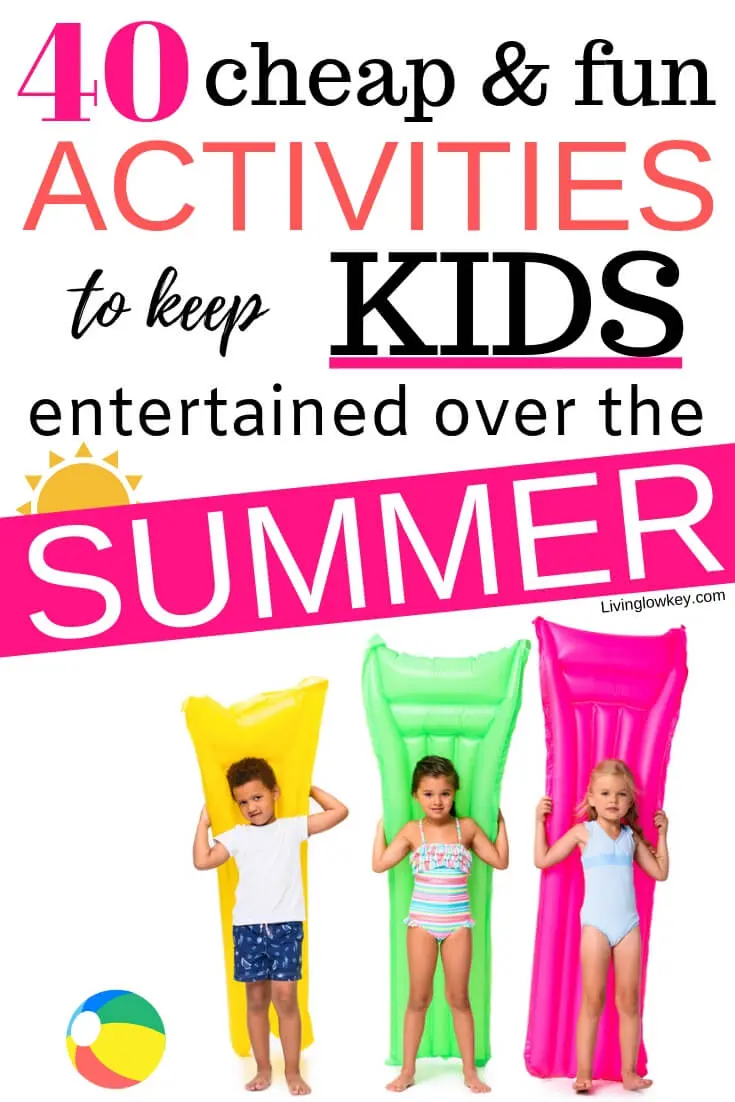 Related articles:
[disclosure]
Grab Your FREE Budget Binder Today!
Start saving more money and pay off your debt with this FREE Budget Binder