Are you looking for creative ways to make money? Have you wanted to be part of the Etsy phenomenon but didn't know where to start? If so, then I have an exciting opportunity for you!
Gold City Ventures offers an extensive course on creating and selling printables on Etsy– and it is the perfect way for anyone to create a very lucrative passive income!
I was so blown away by Gold City Ventures course that I had to share it with you so I decided to write my own personal review of their e-printables course.
In this review, I'll walk through everything you need to know about taking the Gold City Ventures Etsy Printables Course – from what it entails to how much time and money it takes to get started.
So if this sounds like something that could help jumpstart your side hustle or transform your existing business dreams into reality – buckle up cause we're about to take off!
What is Gold City Ventures Etsy Printables Course?
Gold City Ventures is a digital education platform that provides online courses to entrepreneurs and business owners looking to start, grow and innovate their businesses.
They offer an extensive Etsy Printables Course designed to help you become a successful seller on the popular e-commerce site. The course was created by experts Julie and Cody and teaches students the basics of creating and selling printables on Etsy and, most importantly, how to make money doing it!
Their E-Printables course blew up almost overnight with how successful their students became in such a short timeframe. If you're willing to put in the work, this course can be a goldmine for anyone looking to get started in the world of printable sales. After all, they have thousands of positive reviews for a reason.
Who Created The Gold City Ventures Etsy Printables course?
Julie Berninger and Cody Berman are the Co-Founders behind Gold City Ventures E-printables course. On top of being Co-Founders, Julie owns a successful Etsy shop and runs a fantastic lifestyle blog called Millennial Boss. Cody is a digital nomad who also hosts The Financial Independence Show.
Together they started this printables side hustle course after both becoming successful with their own Etsy shops. They figured if they could successfully sell printables on Etsy, anyone could and now they will share their tips and tricks for success with you!
You can check out Julie's income from her Etsy shop in 2021 below!
With the success they saw and the desire to help other people just like you do the same thing, their Etsy printables course was born. And let me tell you what a success this course has been, for a good reason. Their students are successfully making sales, some making thousands a month!
What is an E Printable/ Etsy printable?
An Etsy printable is a digital product that can be instantly downloaded, printed, and used. These products usually come in the form of PDF files and can include things like:
artwork
wall art
planner pages
recipe cards
posters
stickers
greeting cards
calendars and more
Etsy printables are becoming increasingly popular due to their ease of use – you can create a product and sell it worldwide in just minutes.
Etsy printables offer several advantages over physical products: they're affordable, have no shipping costs, you hold no physical inventory and require very little storage space. They also offer customers instant gratification – once a customer purchases an item, they can download it immediately.
As the seller, you only have to create the product once, and then you can sell it many times over and over. This is the definition of a passive income.
Who doesn't like making money while they sleep!
Why Should You Sell Printables On Etsy?
Etsy has become increasingly popular over the last few years and is the top place to sell digital printables. Creating an Etsy shop is free, and with over 40 million active shoppers, it's one of the best places to make a passive income – especially with printables.
The cost of living is rising everywhere making budgets tighter and tighter. Everyday, more and more people just like you are looking for ways to make more money without having to pic up a second job. That's where selling printables on Etsy comes into play.
Even if you're not creative and don't have graphic design skills, creating and selling printables on Etsy can be an easy way to earn extra money. And if you're looking to take this from side-hustle to full-time income, you can easily scale up your business with some extra effort and thorough planning.
By taking the time to market and create high-quality products, you can build a thriving Etsy printables business that generates a steady monthly income with minimal upfront costs.
What is Covered in the Gold City Ventures E-Printables Course?
Gold City Ventures' Etsy Printables Course covers everything from understanding what printables are and how they're used, to showing you how to create your own designs, setting up a successful Etsy shop, and launching your first products.
This course is exceptionally in-depth, even if you've never made an Etsy printable or digital product. Like I said earlier, you don't need a background in graphic design to be successful with this. Thousands of people are taking this course and making good money on Etsy now.
Gold City Ventures e-printables side hustle course is broken down into 14 different modules. Starting from the very beginning, "what should you sell?"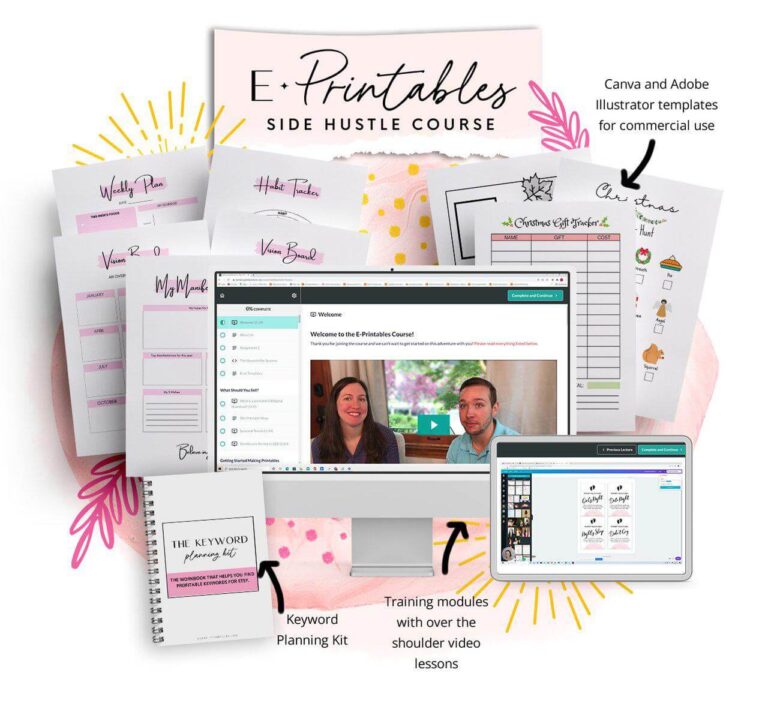 Here is a brief overview of what you will find in the course. The course goes much more into depth than what I have written out below.
Module 1 – Introductory to the course! This section covers what you will learn in the up-and-coming modules and all about Gold City Venture.
Module 2 – In the second Module, Cody and Julie go into detail about what a printable or digital download is. They also gives you loads of printable ideas and go into depth on seasonal printables and how they can help boost your business.
Module 3 – Are you ready to start making printables? Module 3 provides tons of resources and tutorials. It shows you how to find graphics, fonts, and more. It also talks about what colors are appealing to the eye so that your shop and products stand out.
Module 4 – This module is all about how to make printables with Canva. Canva is a free online program that allows you to create beautiful designs, even if you have no design experience. You'll learn how to create a template, add graphics, and ensure all your printables look professional.
Module 5 – This module teaches you all about Adobe Illustrator. Adobe is a paid software, but you can use it to create top-of-the-line printables.
Module 6 – Here, you will learn how to customize and edit your printables to make them look professional.
Module 7 – You will explore creating editable printables with Corjl. This module can be skipped if you aren't interested in making editable printables. However, editable printables are all the craze these days, so I recommend returning to this module at a later date.
Module 8 – This is all about creating the finished product. You'll learn how to do cool things like resize your printable if needed.
Module 9 – This module goes into depth on making listing images. Listing images are essential in selling your printables as they are the first thing the buyer will see when they look at your product. You need to have standout images to catch the customers eye.
Module 10 – This is all about opening and setting up your shop. It will also teach you how to list your product and goes into detail on how to properly price your items. This is an important section that will help you set your shop up the right way from the start.
Module 11 – Here, you'll learn all about keyword research. One of the best practices to succeed on Etsy is doing in-depth keyword research. If you know how to appropriately keyword an Etsy listing, there is a higher chance your potential customers will find it.
Module 12 – A big part of being successful on Etsy is your marketing and advertising. To increase your sales/income, you'll need to set up a marketing strategy and this module teaches you exactly how to do it the right way.
Module 13 – This module explores finding your niche, understanding trends, tracking competitors, and more. Finding the right niche for you and your audience is essential to a successful Etsy shop.
Module 14 – This module wraps up the course with the Etsy app. It goes into depth about the Etsy app and how you can use it to monitor orders and communicate with your customers.
Assignments
In each module, you'll be assigned a homework assignment to complete. This assignment gives you actionable steps to focus on and will help you implement what you've learned in each module.
I found these assignments to be really helpful for strengthening my understanding of the concepts taught in each module.
Free templates
Free templates are a huge time saver in the e-printables world. And lucky for you, Gold City Ventures also provides free templates to help kickstart your printables business.
You get access to over 30+ done-for-you product templates, including greeting cards, worksheets, planners, wall art, and more, so you can create unique printables without spending hours designing from scratch.
Plus, they also give away five additional templates per month! How awesome is that!
Here are a few of the templates included:
Wellness Planner
Greeting Cards/ Envelopes
Calendar Templates
Home Seller Checklist
Adult Birthday Party Game Bundle
Valentine's Day Bundle
Certificate Bundle 10-pack
Ebook Template
Party Planner
Habit Tracker
Below is a quick preview of their "Weekly Checklist" template included. In order to make this unique for your audience, you'd just change the design's color and font to make it your own before listing it on your Etsy page.
Lifetime access
The nice part about signing up for the course is that once you purchase the E-Printables course, it's yours for life! Meaning you will have access to it forever. That way, if you ever want to go back and refresh your knowledge you'll be free to do that anytime!
The other nice part is that if upgrades are done to the content, which does happen, you will get the updates for FREE.
Extra's That Come With This Etsy Printables Course
The E-Printables Side Hustle course has many great bonuses to help you succeed. Starting with their bonus modules! Once you have your shop set up and making money, these bonus modules will help you take your shop to the next level!
VIP Facebook group
Every student receives access to the exclusive member-only VIP Facebook group, where they can find tools, video tutorials, and other helpful resources.
In addition to the member's area, you have access to a private community where you can ask questions, get advice from the pros, and connect with other students.
This VIP Facebook group is free for the first 30 days; after that, it costs $29 to be a member. You can choose to either get the most out of those 30 days you can. Or continue with the Facebook group until you no longer need its guidance.
You can cancel your membership at any time.
Facebook weekly live sessions
Do you have questions about digital products, starting an Etsy shop, making printables, graphic design, or any other questions about Etsy and making or selling printables?
Great!
Julie and Cody do weekly live broadcast where they answer questions you might have! If you are looking for expert advice, attending these lives is a must! They also provide helpful tips and strategies for growing your shop.
If you attend these weekly lives, they also do prize drawings! If your name is chosen, you get a prize. They give away some pretty awesome stuff.
Some stuff they've given away in the past include courses, books; you name it.
100 sales club
Are you looking for a way around paying the Facebook VIP group? Go all in and hit 100 sales in your shop! You heard me hit 100 sales!
Gold City Ventures course has a 100-sales club. Once you have 100 sales, you get access to their VIP Facebook group for free. You no longer have to pay for the membership to be part of the group.
If that isn't a great incentive to reach 100 sales in your Etsy shop, I don't know what is.
Guest experts
Wait, but that's not all! You also get access to guest experts that provide you with information, advice, and strategies on how to make money selling printables on Etsy.
You will have the opportunity to connect with other highly successful printable sellers to learn tips for success and ask questions about their own experiences.
In my opinion, these guest expert lives are great! They go above and beyond what you learn in the Gold City Ventures e-printables course.
Is the Facebook membership worth it?
You're probably wondering, is the membership worth it after the initial 30 days?
Absolutely!
If you want to get your Etsy shop off the ground quickly, their Facebook group is worth it.
The ability to have all of your questions answered by other successful Etsy shop members who are currently doing what you want to do is a huge bonus.
You can always opt-out of the Facebook group at any time. So if you aren't getting your money's worth, a quick email will cancel your membership anytime.
How Long Will It Take To Complete The Gold City Ventures Course?
The course is designed to go at your own pace, so you can work through the modules in whatever order and timeline work best for you.
In terms of how long it will take to complete, that really depends on your experience with printables, Etsy, and graphic design. If you are starting from scratch with no knowledge or experience, expect it to take around a month to complete in your free time.
However, if you have a free weekend to devote your time solely to learning the material and going through the modules, you could go through the entire course on a weekend.
Do I Recommend Gold City Ventures Course?
Yes! I recommend the Gold City Ventures Course for anyone looking to get started with making and selling printables on Etsy. The course is comprehensive but also covers all the basics, such as setting up your shop, creating digital products, marketing strategies, and more.
The Gold City Ventures team has created a step-by-step guide to help you launch and grow your Etsy shop and provide access to a VIP Facebook group with expert advice and guidance. This e-printables course has many bonuses, providing all the motivation you need to reach your goals.
I personally love the course and the creators behind it. There is a reason that this course is one of the M O S T popular e-printable courses out there. Check out their outstanding reviews here!
I was able to get my Etsy shop up and running with the help of their course and have 60 sales in just the first couple months! You can check out my Etsy shop here!
If you aren't ready to jump on board with the E-Printable course, check out their free workshop!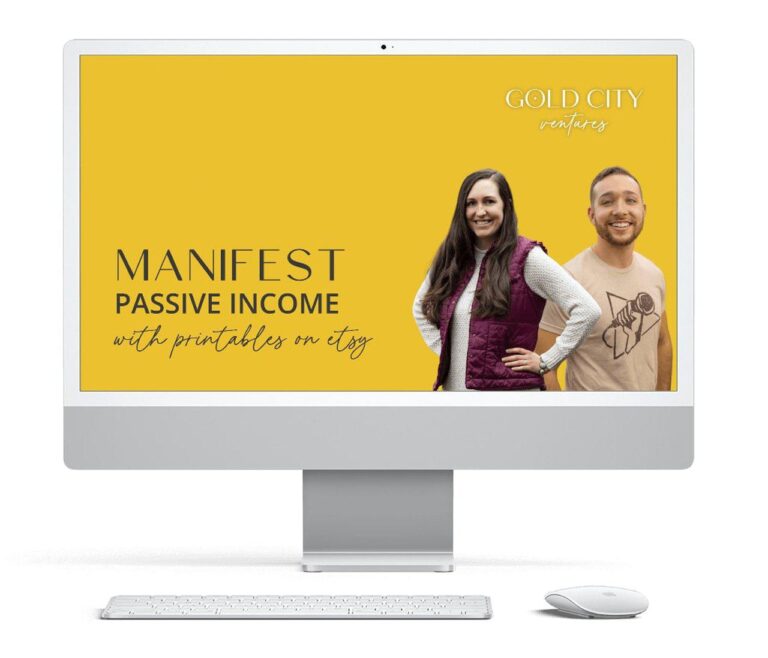 E Printables Course Review- Final Thoughts
The Gold City Ventures E-Printables course is a great way to start your own e printables business. It includes everything you need to know about setting up and running your Etsy business, from choosing a niche to marketing your products.
The information is all delivered in an easy-to-use format that makes learning fun! Get started today. You won't regret it! I know I haven't.
Question & Answer- Gold City Ventures Review
Do you need to be a graphic designer to make printables?
No! You do not need to be a graphic designer to make printables. You can create great printables with basic design and editing skills and creativity.
Many printable types, such as coloring pages or educational activities, are quite simple to make. Even if you don't have ANY design skills, the Gold City Ventures course can help you learn how to create printables that will sell.
Many of us, myself included, didn't have design skills before opening an Etsy shop.
Who is this Etsy printables course perfect for?
This e printables course is perfect for anyone wanting to have a successful Etsy shop, make money from home, or is looking for a creative outlet to make money.
Whether you're a stay-at-home mom looking for something new or a budding entrepreneur, this course has something to offer everyone.
So what are you waiting for? Become part of the Gold City Ventures E-Printables course and start your online journey now!
Who is the E-Printables course NOT for?
This course is not for those who are looking for a get-rich-quick scheme. This course is designed to provide comprehensive and detailed instruction on how to make and sell printables. It will take dedication, hard work, and commitment to build your Etsy shop into a success.
The gold city ventures e-printables course is also not for those who are looking for a free or hands-off experience. The course requires dedication and hard work to be successful.
If you're unwilling to commit the time and energy needed, this course may not be right for you.
However, if you are ready to take your Etsy shop to the next level, then Gold City Ventures e-printables course is definitely worth a look!
Do I need to purchase software to get started?
No! You do not need to purchase software to get started with making printables. All you need is a computer, an internet connection, and Canva. Canva is the free software you will use to create 100% of your printables.
If you have experience with programs like Adobe Photoshop or Illustrator, making printables will come easily. However, if you are entirely new to the game, don't worry – the Gold City Ventures team provides plenty of resources to help you get started.
Is a refund available?
Yes, a refund is available for the Gold City Ventures Etsy Printables Course. If you are not satisfied with your purchase, contact Gold City Ventures for a full refund within seven days of purchase, as long as you stay within module 1.
If you decide the course isn't right for you, gold city ventures will provide a full refund, no questions asked.
Is Gold City Ventures legit?
Yes, Yes, and Yes! Julie and Cody have created this amazing course with everything you need to know to be a successful E-Printables seller.
They have already taught over 1,000 people how to build their Etsy shop and sell printables.
Take advantage of this fantastic opportunity and start creating beautiful printables today with Gold City Ventures E-Printables course! You can check out the many positive reviews of the course to see for yourself here! If you are considering taking the course, what are you waiting for?
Related articles: