Passive income is something that sounds like a dream, almost too good to be true, doesn't it?
Luckily for us, it's not! You can make a passive income from selling printables on Etsy, and that's what we are going to delve into in this article.
Etsy is one of the best places to sell your items, and it's so easy to set up.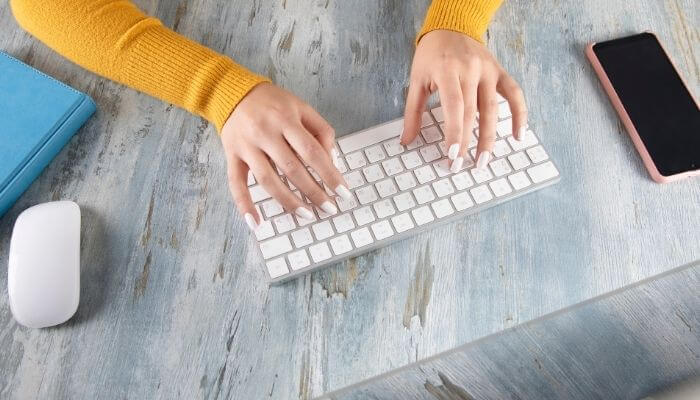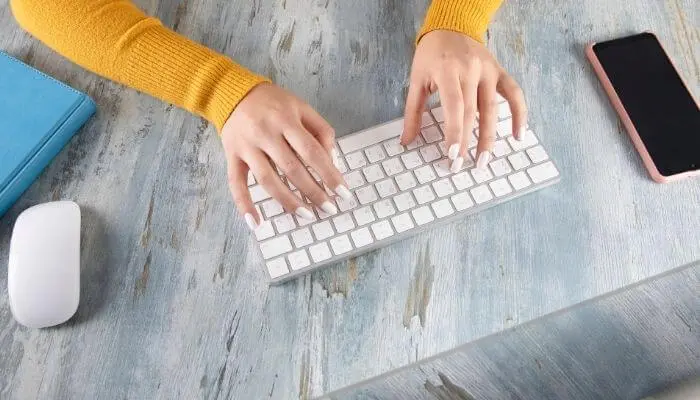 Let's take a look into how you get started selling printables on Etsy:
What Are Etsy Printables?
Before we talk about how you can sell your printables on Etsy, it would be a good idea to cover what printables actually are first!
Printables are digital files, such as pdfs, that consumers purchase, download, and print at home.
You can get jar labels for your spice rack, planner pages, grocery store checklists, printable wall art, clip art illustrations, bachelorette party printable grames, and many more. If you can think of it you can make it into a printable.
Printable prints (also known as printables) are works of art, drawings, graphic design, or photographs that you can download and print yourself from the internet.
Printables are just what they sound like: documents that consumers can print and use. They help with organizing, planning, and other tasks.
Some printables are free, while others are paid or for sale and can be purchased on sites such as Etsy.
There are fantastic options available for both. In any case, you'll usually receive a high-resolution file that you can print at home, at work, or at a local copy shop.
There are also excellent printing companies to be found on the internet. And, in today's world, home printers have progressed to the point that their output is actually very good.
---
Related articles:
---
What Are Etsy Printables Used For?
The uses of Etsy printables really depend on what the printables are. Let's take a look at some top printables and their uses. These printable ideas tend to be top sellers on Etsy.
However, keep in mind that these are just a few ideas. Pick your niche (the type of printables you want to make) and go from there.
Hopefully, the Etsy printables ideas below will get the juices flowing and you'll be able to find your hidden talent.
– Printable Coloring Sheets
Children enjoy coloring, and printable coloring pages are suitable for children of all ages. Movie or character-themed pages may appeal to older children, while animals, princesses, and trucks may appeal to younger children.
– Make a Collection of Flashcards
Parents enjoy watching their children learn, and what better way to do so than with flashcards? It's easy to make alphabet flashcards, sight words, numbers, and shapes to sell on Etsy.
– Chore and Reward Charts
Chore charts are an excellent way to teach children responsibility. Create a printable chart to assist parents in motivating their children to develop habits and accountability through incentives.
– Worksheets for the Summer
Summer worksheets will help kids remember what they have learned and bridge the gap between grades. Worksheets may be used to help with writing, learning shapes, and counting.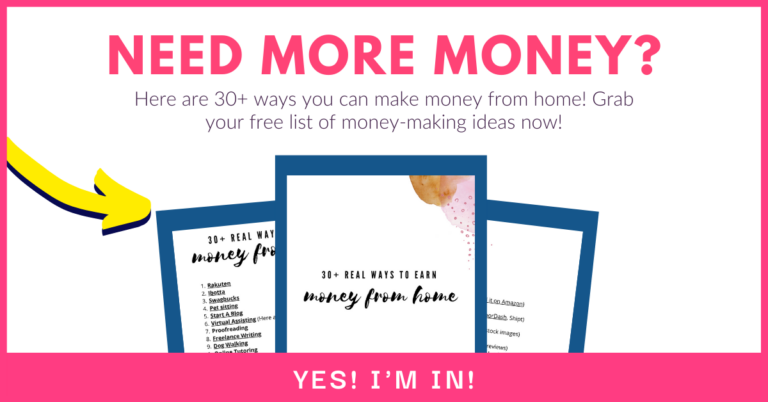 – Activity Books and Mazes
Kids will enjoy completing mazes, connecting the dots, and playing hangman, whether you make a single worksheet or a book to sell on Etsy.
– Goal Planners
Everyone has goals. However, it can be hard to find the accountability to reach those goals. Goal planners sell like hot cakes on Etsy because everyone wants to reach their goals.
How To Make Money Selling Printables On Etsy
On Etsy, you can certainly make money selling printables, and a lot of it. Creating a product that people really want and will use is the key to making money selling printables.
Printables are essentially free to make and sell on Etsy. It only costs twenty cents to upload each product to your site. Once the product is uploaded to your site you can sell as many copies as you want. Essentially, the only expense is the time commitment.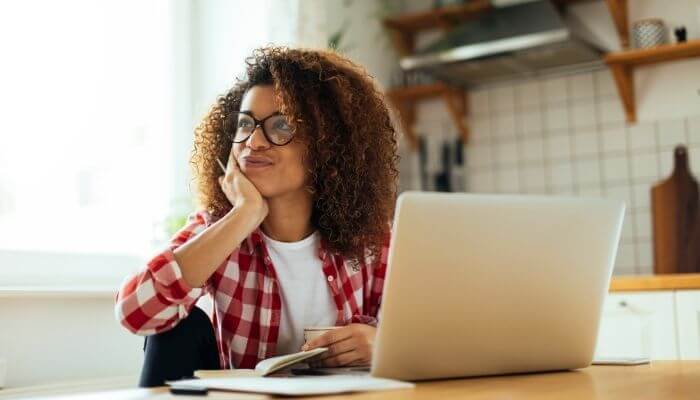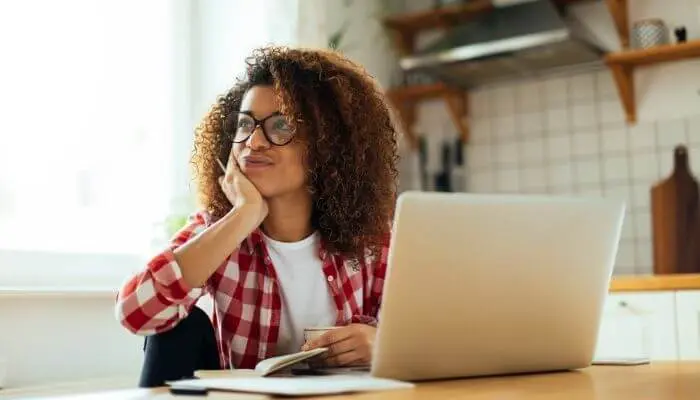 There are a plethora of other ways to make money on Etsy as well. One of them is, selling printables on Etsy.
Earning more money will provide you with more opportunities! Not only will you be able to pay off your debts, but you will also be able to improve your lifestyle.
Etsy has millions of customers, with a large market for printables. I don't think there is a better place to try and sell your printables.
You don't have to think about sourcing the product from a producer, committing to inventory, delivering the product, or thinking about unsold inventory – selling digital goods is simpler than selling physical products.
How To Make Printables To Sell On Etsy
If you haven't made printables before and don't know your way around graphic design programs, don't worry. There are so many inexpensive courses out there that are perfect for beginners.
If you're interested in taking a Fast Track Printables Course, I took this one and highly recommended it.
If you aren't interested in taking a graphic design course, that's perfectly fine. I had no experience in graphic design before opening my Etsy account last year.
Software You Can Use to Make Printables
There are a few different software programs that you can use to start creating your printables.
The platform you choose will depend on whether you have used them before and how much money you have to spend.
There are some free programs such as Canva or Inkscape, low-priced programs such as Picmonkey, and more expensive ones like Adobe Illustrator or Photoshop.
Don't worry if you haven't used them before, as there are many tutorials on Youtube that you can follow.
How To Create A Digital Download For Etsy
There are two common ways you can create a digital download for your Etsy shop.
Create your printable or digital download yourself
Buy or use a pre-made template
If you are new to graphic design and aren't ready to tackle creating digital products on your own you can buy pre-made templates. Yes, you don't even have to start out creating your own printables. We will talk more about this below.
1. How to create printables for Etsy with Canva
So you want to create a printable for your Etsy business! Canva is a fantastic software that allows you to create a wide range of prints and graphics. There is a paid and a free edition of Canva.
We love Canva – the free version is awesome, and you can make some great designs with it.
So how do you get started creating printables?
Hop on over to Canva using this link and sign up for a free account!
Next, click create a design in the right-hand corner! If you know the custom dimensions of the product you are creating you can add them at the bottom of the drop-down menu. If not they have a suggested list.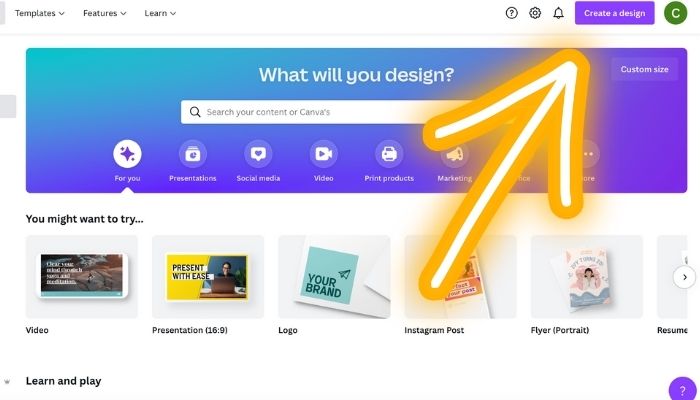 Now it's time to create your product. By now you probably have an idea of what kind of printables shop you plan to have.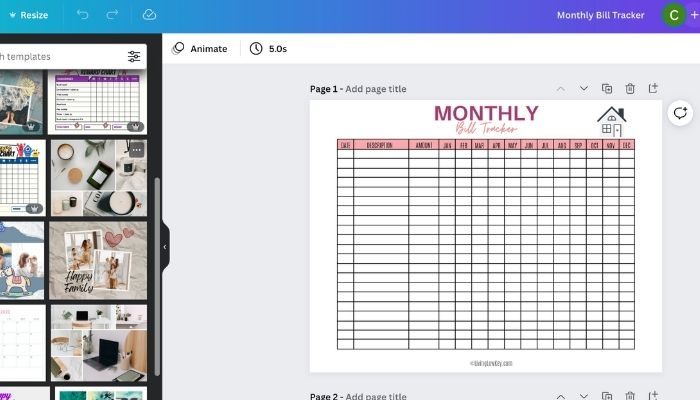 2. How to make printables for Etsy using templates
Using Canva's premade templates is the simplest way to create printables. Designing with templates is simple because it is already set out for you. All you have to do is personalize the interface to your preferences.
To start, sign up for a Canva account. After you created your account, select a template from the top of the screen. Look through the templates to find one that relates to your niche.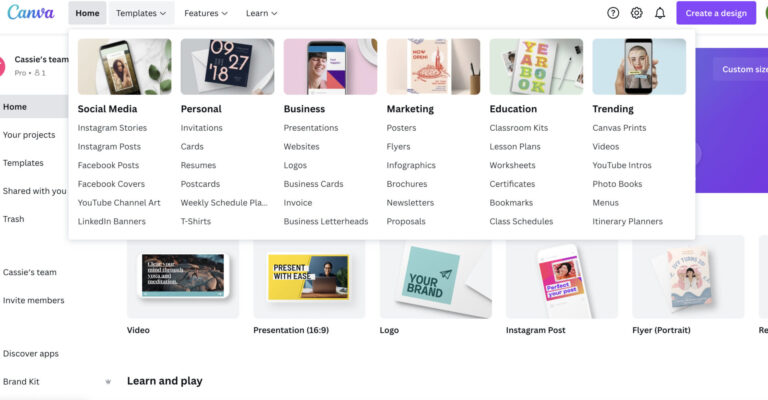 Click on the template, then select "use template" to load it onto your canvas.
On the prototype, you can alter pretty much anything you want. Simply click on an element to change it, and options will appear at the top indicating what you can change. You will see choices to adjust font, scale, and color at the top of the page.
For example below if you were making bookmarks for your customers, these are some of the templates that popped up for bookmarks templates. Click on one alter it, to make it yours.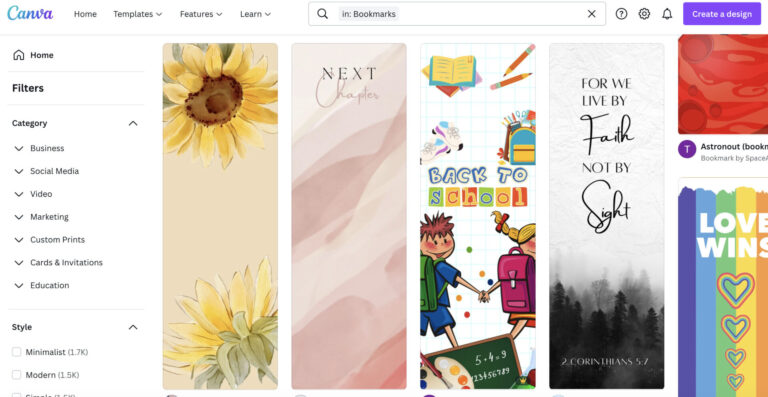 The final move is to download your printable once you are pleased with it.
To download your file, click "share" in the right-hand corner. Download it as a PDF. You can add crop marks and bleed to your final document if you choose the PDF option, ensuring a perfect cut every time.
The more you play around with Canva the better you will get at creating printables.
How To Set Up An Etsy Shop
In order to start selling printables, if you haven't already, you need to create an account on Etsy.
Jump over to Etsy and create an account
Create a name for your Etsy site
Fill in your info such as shop title and about your shop info
Now its time to add your first product
What's most important when starting up your Etsy account is just getting started. You don't need to pin down a name for your site right away, you can change it later on.
Most importantly just start adding products. It doesn't matter if they are perfect at first. Over time, with experience creating will get easier and soon you can Etsy seller to your resume.
What Printables Sell Best On Etsy?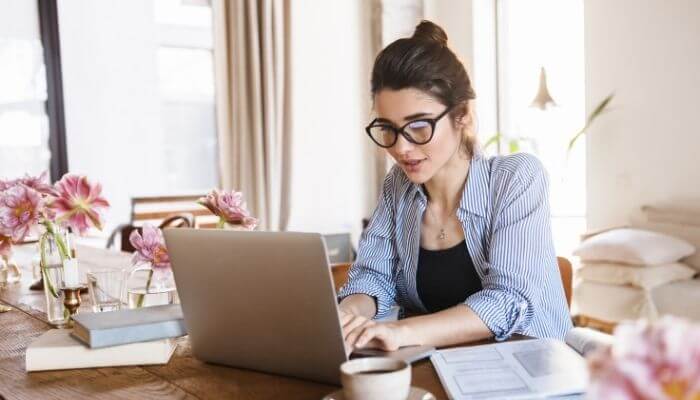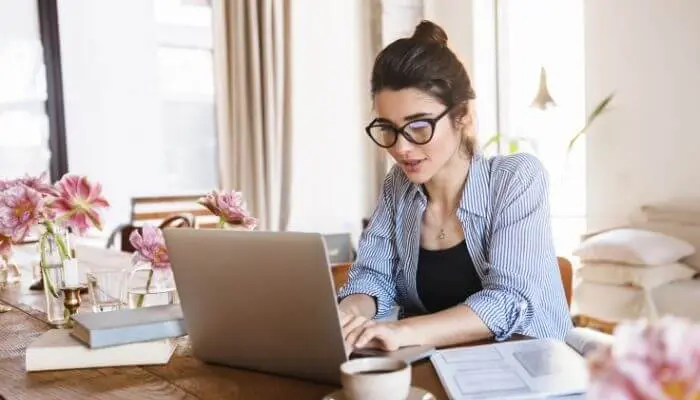 You can sell pretty much anything as a printable on Etsy, but certain types will do particularly well.
Think about the types of printables you would be willing to purchase – we've bought ones before tracking goals such as fitness, health, or saving money.
Other types of printables that always do really well include anything for kids – birthday invitations, thank you cards, games, and so on.
What To Sell On Etsy?
There are so many things that you can sell on Etsy, and this is where you can really let your imagination run wild!
Best printables to sell on Etsy:
Wedding printables
Calendars
Signs and posters
Gift tags
How to Do Product Research
Something that you really need to do if you are serious about making passive income selling printables on Etsy is to do some product research.
This shouldn't take you months to do – you just want to get a basic understanding and then execute.
Start with finding people in a similar niche and look at what is selling best on their sites. Note – this isn't to copy. Once you find what is doing well in shops similar to yours, make similar products.
Also, always keep track of the future seasons. Seasonal printables do so well on Etsy!
If you want to take it one step further you can use tools such as eRank.
How To Sell Printables On Etsy
You can make an easy passive income these days by selling products without having to visit the post office once.
Selling printables online is a perfect way to create a passive income online because there is no inventory and low upfront costs.
The best thing about selling printables on Etsy is that you can sell an infinite amount of copies once you've created the template. For a physical object, you must personally build or design each device, package it, and ship it out.
With printables, you design once, list it in your Etsy store and the workload is the same if you sell one or 1,000 copies.
To start a printable company, you don't need any special training or a specific style; all you need is a willingness to try a new thing and keep going.
That being said follow these steps to sell a product on Etsy:
Click Listing in your shop manager
Then in the right-hand corner click add a listing
Add your photos of the product
Create a title, add a category and tags
Add the price and quantity
Lastly, add your pdf at the bottom
Once all of the stared items are completed you are ready to hit publish on your first product.
How To Price Your Printables
It can be hard to know how much to price your stuff – you don't want to go too low and miss out on money, and you don't want to go too high and put people off.
Your first port of call needs to be to look at what similar printables are currently selling for. Just search on Etsy and have a look through.
Ensure that when you are putting together your prices, you account for the fees that Etsy will charge you.
Most importantly, remember your time is worth money, so don't undersell yourself. For a single printable charge around the $2 mark. For a bundle chart $8+.
Marketing Your Etsy Printables
As tempting as it is just to throw up some printables on Etsy and sit back to let the sales roll in – it just doesn't work like that. You are going to have to do some marketing!
You'll want to think about setting up social media accounts to show off your items, such as Facebook and Instagram, and you could even run ads there as well.
Pinterest is my favorite way to drive traffic to Etsy. Also, check out how I make $2000 a month using Pinterest.
How Much Money Can You Make Selling Printables?
The amount of money that you can make from printables will vary from person to person. It's not just a case of throwing some printables up and waiting for the money to come rolling in!

With that being said, if you create some good printables and learn about how to sell them, there's no reason why you couldn't start making a part-time wage.

The income potential from selling printables is unlimited – the sky's the limit.

The great thing about Etsy is that you can see how many sales other people have had. So if you are wondering if something will sell and are doing a bit of market research, take a look at how many sales the store has had.
Is Selling On Etsy Worth It?
Selling on Etsy is beyond worth it!
Etsy is a fantastic platform with millions of buyers.
You don't need to be an amazing artist or designer to sell on Etsy – if you can put together some basic designs, you'll do just fine.
The best part about selling on Etsy is
– you don't need to worry about shipping as the buyer will take care of that
– you can sell an infinite number of copies of each design
– there are low upfront costs
If you are looking for a way to make some extra money, selling printables on Etsy is a great option!
Question and Answer?
Are printables a good investment?
If you find the right product, you could easily earn a few hundred dollars per month or even a few thousand. My friend Sasha earns thousands of dollars each month selling printables on Etsy.
Creating a product that people really want and will use is the key to making money selling printables.
What is the best kind of printables to create on Etsy?
When creating digital products you should always do research first to see which top-selling printables are selling. Always, keep in mind seasonal trends as well. Here are some of the best-selling printables on Etsy to create.
digital art
digital planners
printable games
greeting cards
baby shower games
How much can you make selling digital downloads on Etsy?
Above I mentioned that the sky is the limit when it comes to making money on Etsy, and it's the truth. In the beginning stages of creating your Etsy shop, you may only make one sale a week.
After you have 50+ digital products in your shop it's possible to $50 – $2000 a month. I have friends who make six figures a year with their Etsy printables business.
Does it cost money to sell on Etsy?
When selling on Etsy, it's important to be aware of the different fees associated with the platform.
Etsy charges a listing fee of $0.20 per item and a transaction fee of 5% of the total sale price.
What is the easiest way to create printables?
Using Canva templates is probably the easiest way to create best-selling printables if you have no graphic design experience.
Final Thoughts On Selling Printables On Etsy
Passive income is something that we should all be aiming for – doing the work once and then not working again – sounds appealing, right?
The last thing that we want you to do is to work really long hours to get the money you want.
If you aren't earning enough money for your lifestyle, it can feel really demoralizing and pretty depressing.
Knowing that you will have to work all hours under the sun to get the money you need to survive is enough to stress anyone out.
This is why passive income is something that we all need to be aiming for – nobody can predict the future, so we should make sure that we have money coming in that we don't need to be physically at a job for.
Etsy is such a popular marketplace, with a lot of people getting a lot of success there. We love the idea of selling printables because it's something that anyone can get started with today.
As with any kind of business, it will help if you put together a proper plan. You will need to do market research, learn about SEO, and more.
Do you sell printables or want to? Let us know in the comments below!
Make sure to save this post for later and come follow us on Pinterest!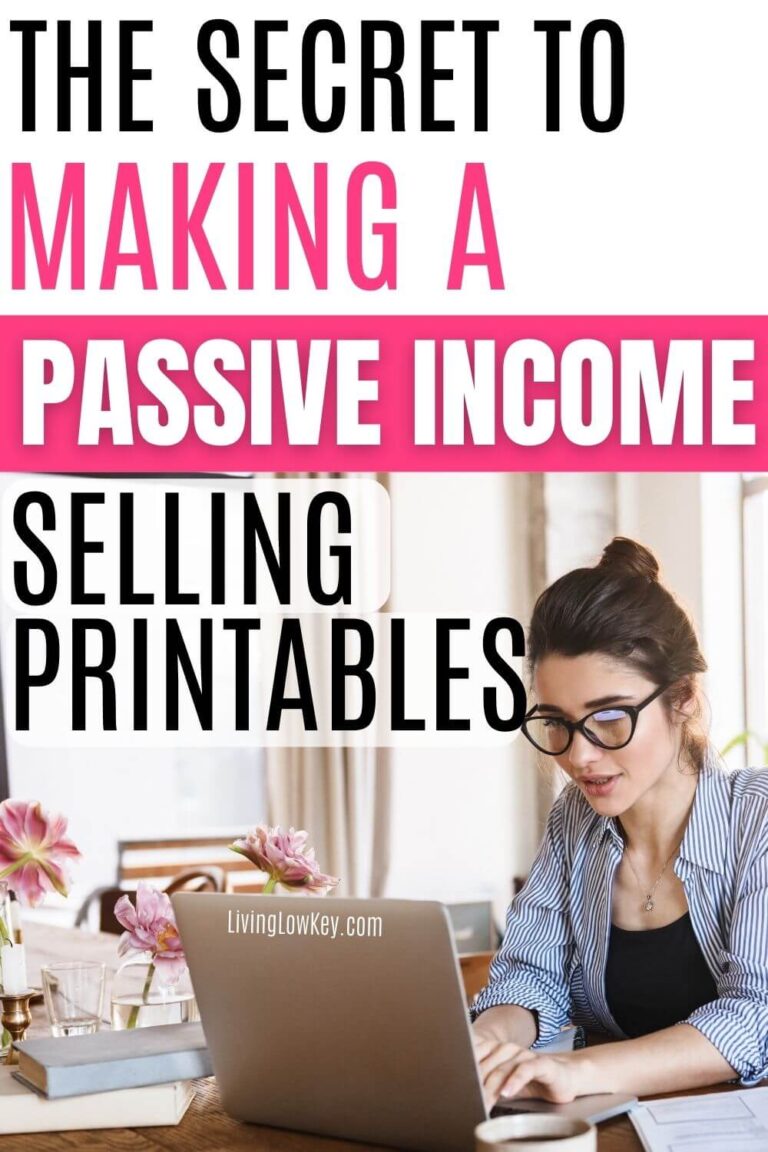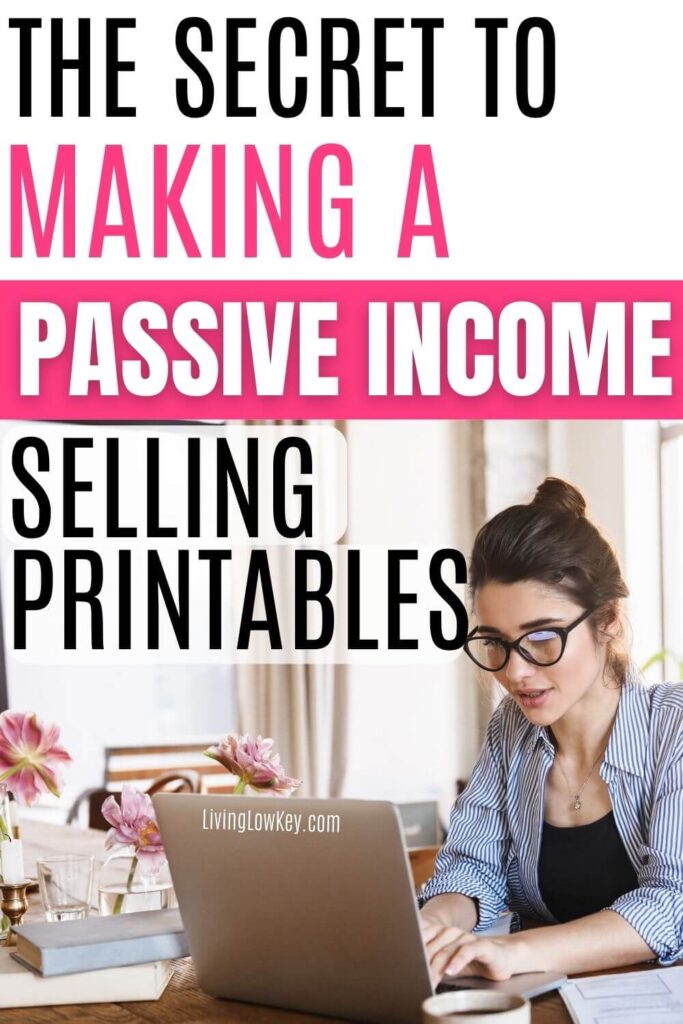 ---
Related article: