How To Sell Printables On Etsy
Passive income on Etsy is something that sounds like a dream, almost too good to be true, doesn't it?
Luckily for you, it's not! You can make a passive income from selling printables on Etsy, which we will dive into in this article.
Etsy is one of the best places to sell homemade printables, and it's easy to set up and start! So if you are looking to make money selling printables on Etsy, make sure you check out the step-by-step guide below!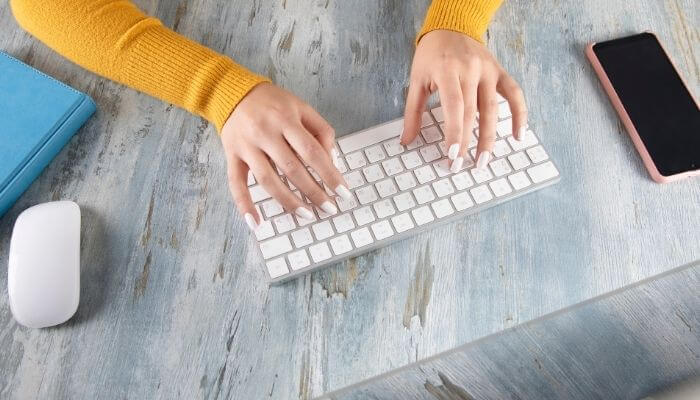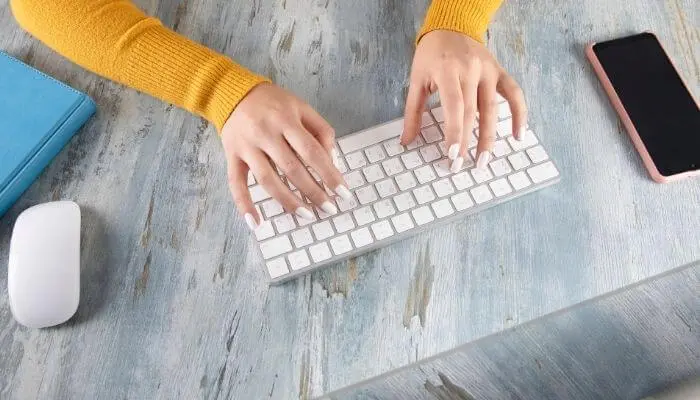 Let's take a look into how you get started selling printables on Etsy:
What Are Etsy Printables?
Before we talk about how you can sell your printables on Etsy, it would be a good idea to cover what Etsy printables actually are!
Etsy printables are digital files, such as pdfs, that consumers purchase, download, and print at home.
These digital products could be made into jar labels for your spice rack, planner pages, grocery store checklists, printable wall art, clip art illustrations, bachelorette party printable games for bachelorette parties, and much much more.
An Etsy printable idea can simply be turned into a printable product and sold on your Etsy shop. Yes, it's that E A S Y!
–Printable prints (also known as digital downloads) are watercolor art, drawings, cards, art prints, or photographs you can buy, download and print yourself from home.
–Printables are just what they sound like: documents that consumers can print and use. They help with organizing, planning, education, budgeting, and other tasks.
Etsy Digitial Printables
When creating printables for Etsy, you have two options. You can either sell digital downloads that are ready to print or sell personalized printables that you can personalize individually for your customer or both!
1. Printables that are ready to print
These are printable products that can be printed right away without any edits or modifications by the buyer. All they have to do is purchase, download, and print the item.
2. Personalized printables
With personalized printables, the customer can personalize them before receiving the digital download. For example, your customer bought your baby shower invite and wants their name and date at the top.
This would be an extra step for you as the seller BUT could make you stand out from other sellers. That being said, there are ways to bypass this process without having to personalize each printable by making them editable. This way, your customer can edit them themselves before they print them out.
---
Related articles:
---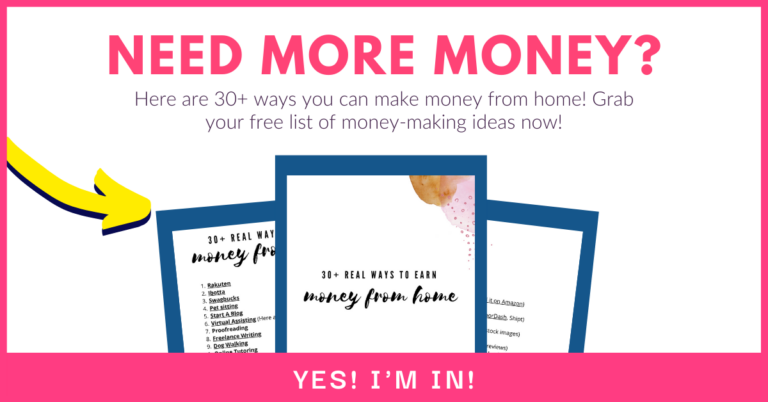 What Are Etsy Printables Used For?
Now that you know what an Etsy printable/digital download is. What are they used for?
The uses of Etsy printables really depend on what the printables are. Let's take a look at some top printables and their uses. These printable ideas tend to be top sellers on Etsy.
However, keep in mind that these are just a FEW ideas. Your best bet is to pick your niche (the type of printables you want to make) and go from there.
Hopefully, the Etsy printable ideas below will get your creative juices flowing, and you'll be able to find your hidden talent.
Tip: Remember, ANYONE can create printables on Etsy and sell them for $$$. You do not need a fancy degree in graphic design.
Here are a few best-selling printable ideas:
– Printable Coloring Sheets
Children enjoy coloring, and printable coloring pages are suitable for children of all ages. Movie or character-themed pages may appeal to older children, while animals, princesses, and trucks may appeal to younger children.
– Make a Collection of Flashcards
Parents enjoy watching their children learn, and what better way to do so than with flashcards? It's easy to make alphabet flashcards, sight words, numbers and shapes to sell on Etsy.
– Chore and Reward Charts
Chore charts are an excellent way to teach children responsibility. Create a printable chart to assist parents in motivating their children to develop habits and accountability through incentives.

– Worksheets for the Summer
Summer worksheets will help kids remember what they have learned and bridge the gap between grades. Worksheets may be used to help with writing, learning shapes, and counting.
– Goal Planners
Everyone has goals. However, it can be hard to find the accountability to reach those goals. Goal planners sell like hotcakes on Etsy because everyone wants to reach their goals.
– Baby Shower Invites
Baby shower invitations are popular on Etsy, as they provide an easy and affordable way to customize and plan the perfect celebration. With just a few clicks of your mouse, you can create beautiful, memorable baby shower invites that will be cherished by your customers for years to come.
– Art Prints
Art prints are popular among customers for their aesthetic appeal, as well as their affordability. Whether you're selling ready-to-print items or personalized printables, there are endless possibilities when creating unique artwork that people will love.
With just a few clicks of the mouse, you can create beautiful pieces of art that your customers will cherish for years to come.
How To Make Money Selling Printables On Etsy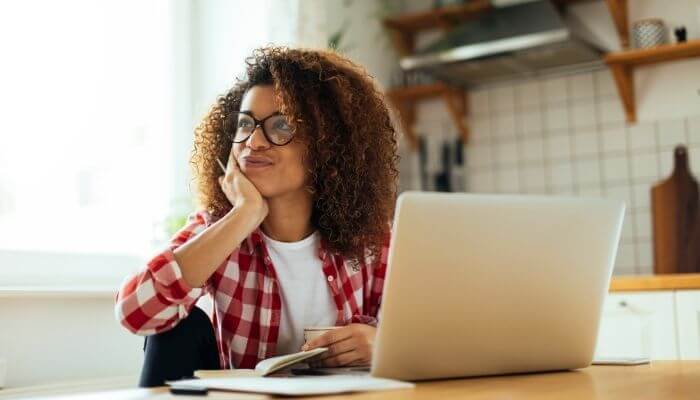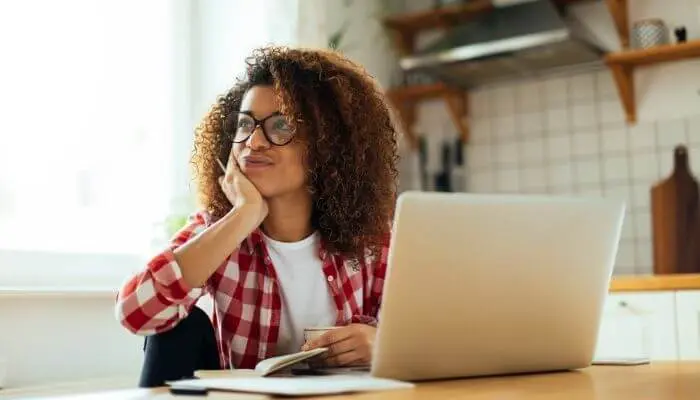 Are you ready to make some extra money selling printables on Etsy? If so, with a few simple steps, you can easily start selling digital downloads on Etsy and make a passive income.
How to get started:
1. Pick Your Niche
The first step is to decide what type of Etsy printables you'll be selling. There are a variety of popular categories, such as planners, coloring sheets, and art prints. Choose one or two niches that interest you and focus your selling efforts on them.
2. Create Quality Content
Once you've chosen your niche, it's time to create quality content. Etsy customers are looking for unique and creative items, so make sure you put your best foot forward when creating and selling printables on Etsy.
3. Create Your Listings
After creating quality content, the next step is to create your listings on Etsy. Make sure you include clear photos, descriptions, and keywords to help customers find your items.
4. Promote Your Items
Finally, you'll want to promote your items on social media platforms such as Instagram and Pinterest to create awareness of your Etsy store.
5. Make Money Passively
This is the fun part! Let the money roll in with your new Etsy printables business.
Now, let's deep dive into each of these steps below, so you can set up your shop, create your first printable, and start making money selling printables.
How To Make Printables To Sell On Etsy
If you haven't made Etsy printables before and don't know your way around graphic design programs, don't worry. Neither have a majority of the creators on Etsy!
However, if you are looking to take a fast track printables course, I took Gold City Ventures Etsy Printables Course and I highly recommend it! You can also check out my personal Gold City Ventures Course Review here.
If you aren't interested in taking a printables course, that's perfectly fine. The only thing setting you apart from all of those high-selling shops is that they started. So let's set up your ETSY SHOP!
P.S. If you haven't make sure to check out this FREE printables Workshop!
Software You Can Use to Make Printables
There are a few different software programs that you can use to create your printables.
The platform you choose will depend on whether you have used them before and how much money you have to spend.
There are some free programs such as Canva or Inkscape, low-priced programs such as Picmonkey, and more expensive ones like Adobe Illustrator or Photoshop.
Don't worry if you haven't used them before, as there are many tutorials on Youtube that you can follow.
I highly recommend starting with the free version of Canva! Canva has everything you need to create awesome printables for FREE!
How To Create A Digital Download For Etsy
There are two common ways you can create a digital download for your Etsy shop.
Create your printable or digital download yourself
Buy or use a pre-made template
If you are new to graphic design and aren't ready to tackle creating digital products independently, you can buy pre-made templates. Yes, you don't even have to start out creating your own printables. We will talk more about this below.
1. How to create printables for Etsy with Canva
So you want to create a printable for your Etsy business! Canva is a fantastic software that allows you to create a wide range of prints and graphics. There is a paid and free versions of Canva.
I love Canva – the free version is awesome, and you can make some great designs with it.
So how do you get started creating printables?
Hop on over to Canva using this link and sign up for a free account!
Next, click create a design in the right-hand corner! If you know the custom dimensions of the product you are creating, you can add them at the bottom of the drop-down menu. If not, they have a suggested list.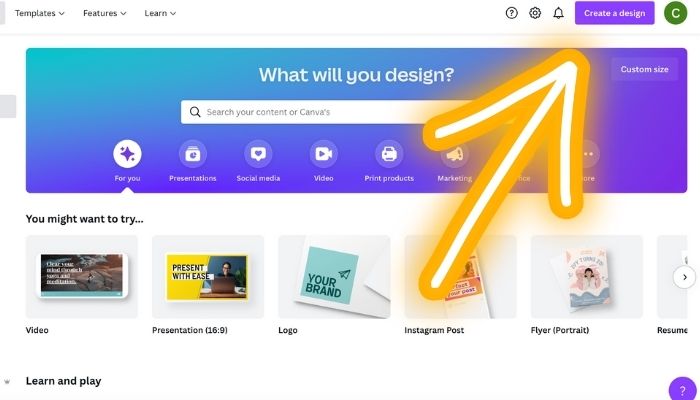 Now it's time to create your product!
By now, you probably know what kind of printables you plan to have in your shop. I blog about budgeting, so a majority of my Etsy store are budget related, such as this bill tracker.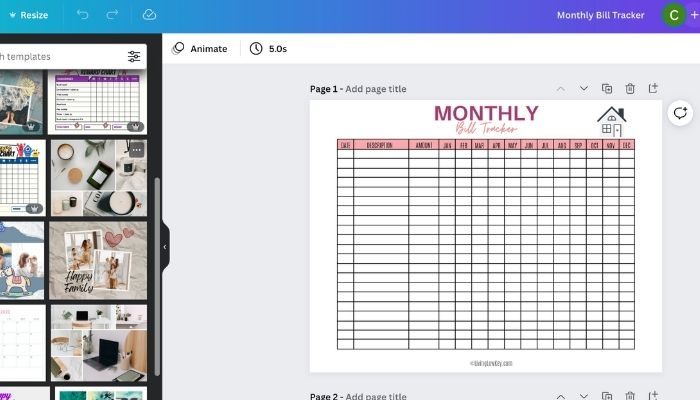 2. How to make printables for Etsy using templates
Using Canva's FREE premade templates is the simplest way to create printables. Designing with templates is simple because the printable is already made for you. All you have to do is personalize the printable to your preferences.
To start, sign up for a Canva account. After you have created your account, select a FREE template from the top of the screen. Look through the templates to find one that relates to your niche.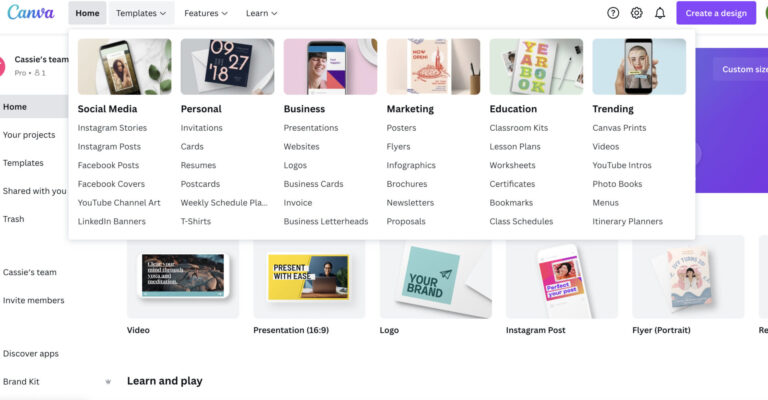 Click on the template, then select "use template" to load it onto your screen.
On the prototype, you can alter pretty much anything you want. Simply click on an element to change it, and options will appear at the top, indicating what you can change. You will see choices to adjust font, scale, and color at the top of the page.
For example, below, if you were making bookmarks for your customers, these are some of the templates that popped up for bookmarks templates. Click on one, alter it, to make it yours.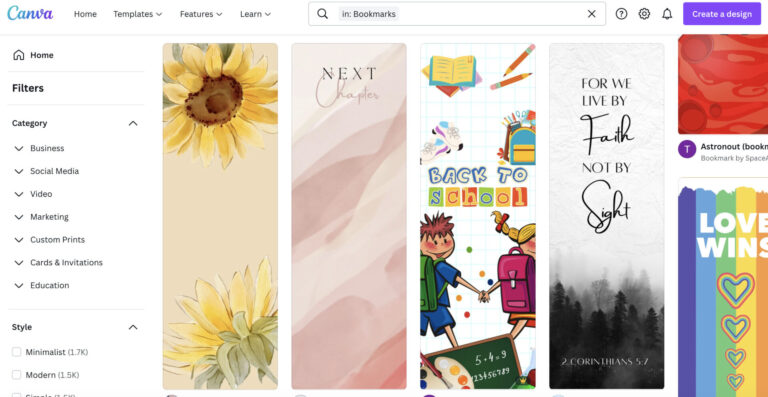 When using other people's templates, you want to make sure you are using free templates, not pro templates, as it is against Canva's policy to sell Pro templates. You also want to make sure you are altering your free template in some way.
You can just grab a free unaltered template and sell it to your audience. You can read more about Canva's policies and terms here.
Lastly, your final move is to download your printable once you are pleased with it.
To download your file, click "share" in the right-hand corner. Download it as a PDF. You can add crop marks and bleed to your final document if you choose the PDF option, ensuring a perfect cut every time.
I promise the more you play around with Canva, the better you will get at creating printables.
How To Set Up An Etsy Shop
To start selling printables, if you haven't already, you need to create an account on Etsy.
Jump over to Etsy and create an account
Create a name for your Etsy site
Fill in your info, such as the shop title and your shop information
Now its time to add the first product that you created
You don't need to pin down the perfect shop name right away. You can change it later on.
Most importantly, just start adding products. It doesn't matter if they are perfect at first. Over time, with experience creating will get easier and easier. Soon you will be able to add "Etsy seller" to your resume.
What Printables Sell Best On Etsy?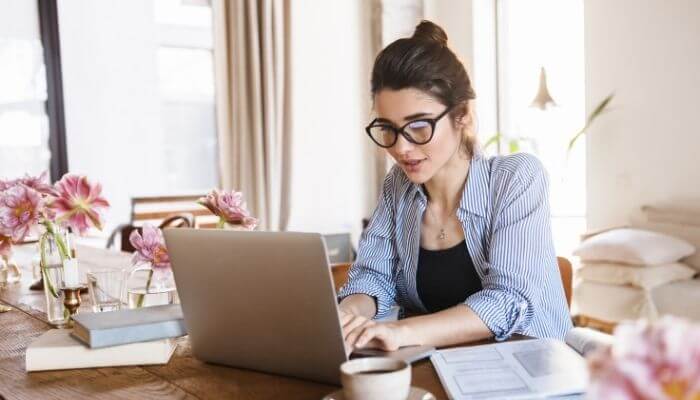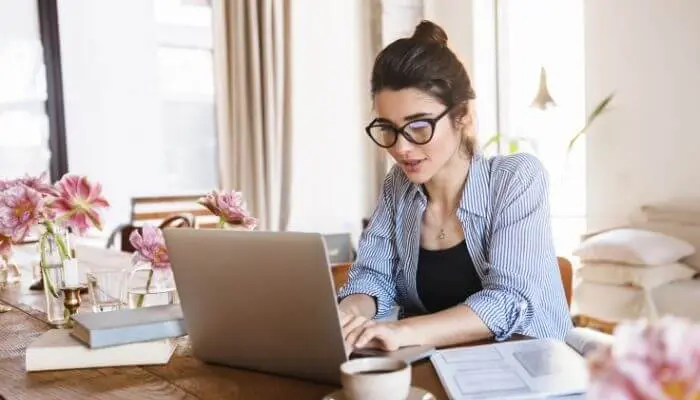 We've already touched base on this topic above, BUT I have more fund printable ideas for you because you can sell pretty much anything as a printable on Etsy and be successful.
Think about the types of printables you would be willing to purchase – such as goal tracking, water consumption trackers, or budget trackers.
Other types of printables that always do really well include anything for kids – birthday invitations, thank you cards, games, and so on.
What To Sell On Etsy?
There are so many things that you can sell on Etsy, and this is where you can really let your imagination run wild! A great place to look is trends in the Etsy Seller Handbook.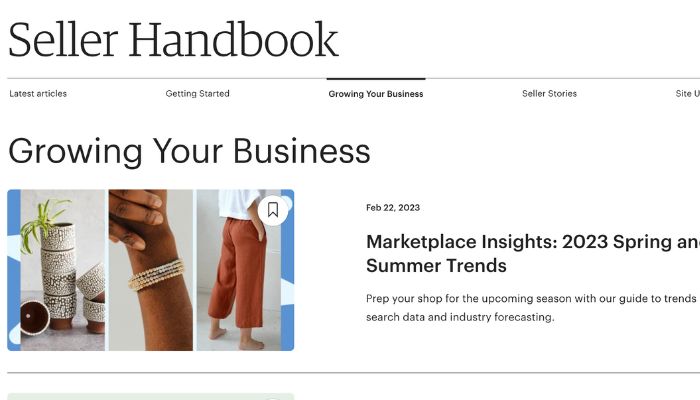 Here are a few more best selling printable ideas to build your Etsy business around.
Best printables to sell on Etsy:
Wedding printables
Calendars
Signs and posters
Your options really are endless! But I think I've given you some good ideas to start with.
Related article: 20 Best Things To Sell On Etsy To Make Money
How to Do Product Research
Something that you really need to do if you are serious about making passive income selling printables on Etsy is to do some product research.
This shouldn't take you months to do – you just want to get a basic understanding of product research and then execute.
To do this, start with finding people in a similar niche and look at what is selling best on their sites. Note – this isn't to copy. Once you find what is doing well in shops similar to yours, make similar products.
Also, always keep track of the future seasons. Seasonal printables do so well on Etsy! Be sure to grab this free seasonal products eBook.
How To Sell Printables On Etsy
What if I told you you could make an easy passive income by selling products without having to visit the post office once? WHAT!!
Selling printables online is a perfect way to create a passive income online because there is no inventory and low upfront costs.
The best thing about selling printables on Etsy is that you can sell an infinite amount of copies of one printable. For a physical object, you must personally build or design each device, package it, and ship it out.
With printables, you design once, list them in your Etsy store, and the workload is the same if you sell one or 1,000 copies.
That being said, let's put your first printable on Etsy!
Follow these steps to add your printable:
Go into your shop manager and click "listings."
Then in the right-hand corner, click add a listing.
Add your product photos; you can do this by creating mockups in Canva. Try and add at least eight different images of your product. You can see an example of my mockups here.
Create a title, add a category, and tags.
Add the price and quantity.
Lastly, add your pdf at the bottom.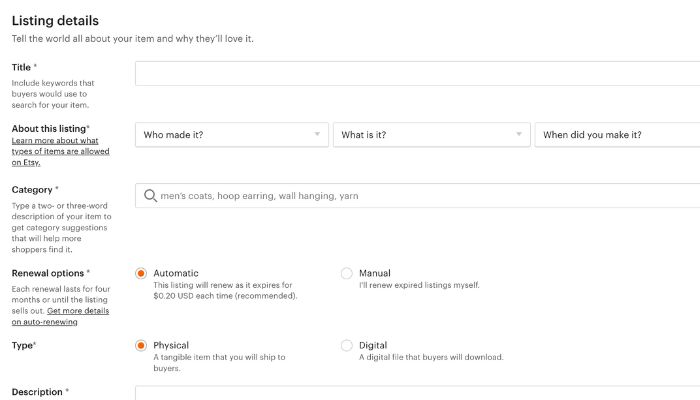 Once all of the stared items are completed, you are ready to hit publish on your first product. If you would like more guidance on listing your products, check out this free printables workshop!
How To Price Your Printables
It can be hard to know how to price your printables – you don't want to go too low and miss out on money, and you don't want to go too high because then people won't purchase your digital printables.
Your first port of call needs to be to look at what similar printables are currently selling for. Just search on Etsy and have a look.
Ensure that when you are putting together your prices, you account for the fees that Etsy will charge you.
Most importantly, remember your time is worth money, so don't undersell yourself. For a single printable, charge around the $2 mark. For a bundle charge, $8+.
Marketing Your Etsy Printables
As tempting as it is just to throw up some printables on Etsy and sit back to let the sales roll in – it just doesn't work like that. You are going to have to do some marketing!
You'll want to think about setting up social media accounts to show off your items, such as Facebook and Instagram.
Pinterest is my favorite way to drive traffic to Etsy and one way I highly recommend you do as well.
P.S. Check out how I make $2000 a month using Pinterest.
How Much Money Can You Make Selling Printables?
The amount of money that you can make from selling printables will vary from person to person. It's not just a case of throwing some printables up and waiting for the money to come rolling in.

With that being said, if you create some good printables and learn about how to sell them, there's no reason why you couldn't start making a part-time wage. I have friends who make six figures selling their printables online.

The income potential from selling printables is unlimited!

One of the great things about Etsy is that you can see how many sales other people have had. So if you are wondering if something will sell, do a bit of market research and take a look at how many sales the store has had.
Is Selling On Etsy Worth It?
Selling on Etsy is beyond worth it!
Etsy is a fantastic platform with millions of buyers.
You don't need to be an amazing artist or designer to sell on Etsy – if you can put together some basic designs, you'll do just fine.
The best part about selling printables on Etsy is:
– you don't need to worry about shipping
– you can sell an infinite number of copies of each design
– there are low upfront costs
If you are looking for a way to make some extra money, selling printables on Etsy is a great option!
Best Etsy Selling Printables Course
Suppose you are ready to unlock the secrets of turning your designs into beautiful printables and make a ton of income!! Use this AMAZING Etsy Printables Course to expedite the process of starting your shop and becoming an entrepreneur!
This course will teach you how to make amazing printables, price your products correctly, promote them effectively, and build systems that maximize success.
Not only will this course give you the skills needed for success on Etsy, but it will also provide access to insider tips from industry veterans who have made six-figure incomes through their printables businesses. Imagine using all this knowledge to start or expand a lucrative Etsy side hustle today!
Final Thoughts On Selling Printables On Etsy
Selling printables on Etsy is a great way to earn additional passive income. Not only can you do this from the comfort of your own home, but you get to be creative and have fun with it too!
If you're ready to take the leap, why not try selling printables today? Start building your business and watch it grow – who knows where it could take you? With hard work, determination, and a bit of luck, you'll be surprised at just how successful you could become.
So don't hesitate – jump into selling printables on Etsy today and start enjoying all the amazing benefits this platform has to offer!
Question & Answer?
Are printables a good investment?
If you find the right product, you could easily earn a few hundred dollars per month or even a few thousand. My friend Sasha earns thousands of dollars each month selling printables on Etsy.
Creating a product that people really want and will use is the key to making money selling printables.
What is the best kind of printables to create on Etsy?
When creating digital products, you should always do research first to see which top-selling printables are selling. Always, keep in mind seasonal trends as well. Here are some of the best-selling printables on Etsy to create.
digital art
printable games
greeting cards
baby shower games
How much can you make selling digital downloads on Etsy?
Above, I mentioned that the sky is the limit when it comes to making money on Etsy, and it's the truth. In the beginning stages of creating your Etsy shop, you may only make one sale a week.
After you have 50+ digital products in your shop, it's possible to make $50 – $2000 a month.
Does it cost money to sell on Etsy?
When selling on Etsy, it's important to be aware of the different fees associated with the platform.
Etsy charges a listing fee of $0.20 per item and a transaction fee of 5% of the total sale price.
What is the easiest way to create printables?
Using Canva templates is the easiest way to create best-selling printables if you have no graphic design experience. Or learn to create your own!
Do you sell printables or want to? Let us know in the comments below!
Make sure to save this post for later, and come follow us on Pinterest!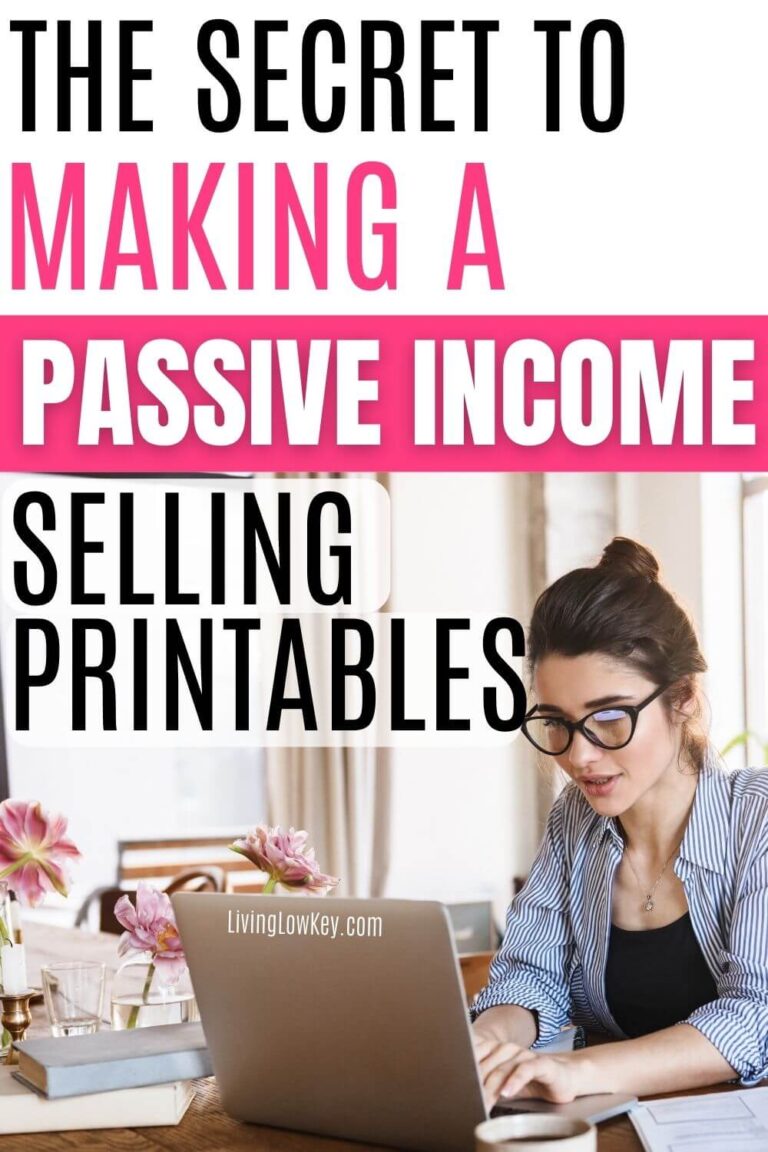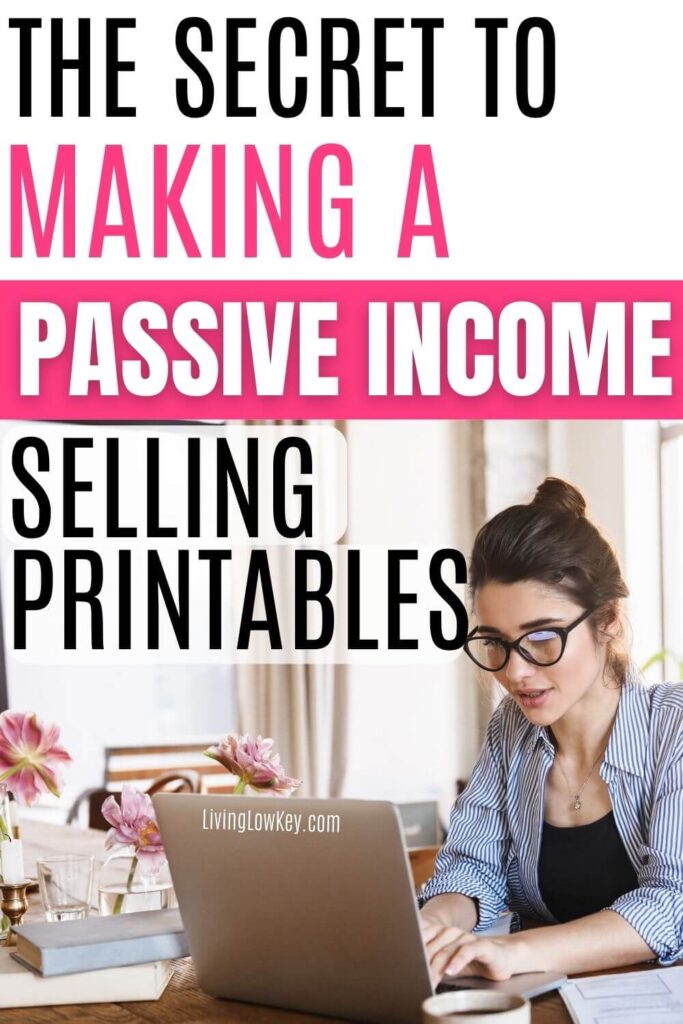 ---
Related article:
Grab Your FREE Budget Binder Today!
Start saving more money and pay off your debt with this FREE Budget Binder