Work. Cleaning house. Running errands. Paying bills. Grocery shopping. Birthday parties. Kids sports. These are just a few responsibilities of the modern-day momma. As the costs of EVERYTHING continues to rise, finding extra money is no longer a luxury. It's a necessity.
Enter the concept of side hustles for moms. Adding another feather to your hat and a task to your to-do list may seem like madness for the uneducated. And that's where we step in – to be your guiding light through the darkness to discover side hustles that work.
Even if you're a busy working mom with zero time for taking on a new role, there are side hustles that work for you. And we've got a massive list of 37 side hustles for mums to get you started with easy ways to make extra money from home.
And best of all, these easy side hustles for moms will help you earn money without you having to give up precious time with your littles.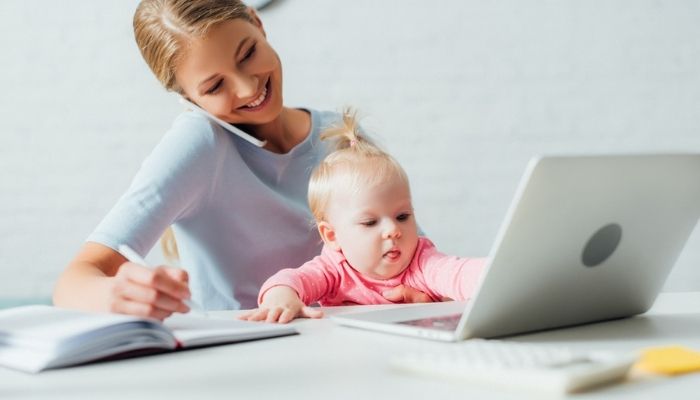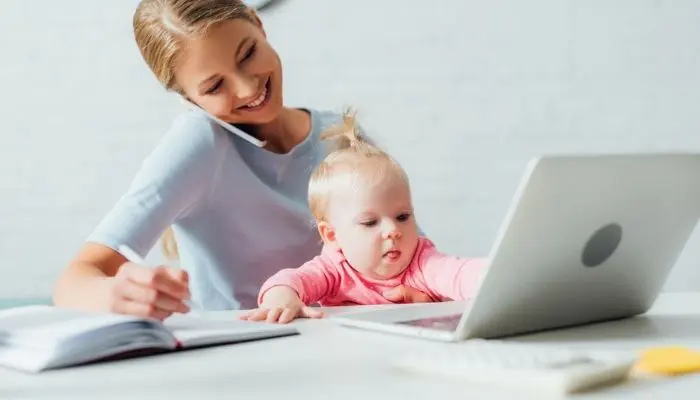 Side Hustle for Moms Vs. Stay at Home Jobs?
Before you pick side gigs for moms as your method of extra income, you need to decide if you're in the right position for a side hustle for moms. Or are you in a position where you need a work-from-home job?
Don't know the difference? You're in the same boat as many people when it comes to the remote work landscape.
When you have a stay-at-home job – a job that you do from your home – you are usually stuck with a set schedule of when you have to work. And you usually work for someone else and receive a paycheck from that company for your services.
Okay. But how is that different from side hustle jobs for stay at home moms?
Well, ya see, when you birth a stay at home mom side hustle idea, you become your own boss. Your successes and failures are solely of your making. The good news? You can set your own schedule and work when you want. The bad? If you don't put effort into your hustle, it won't make you any money.
Why is a Stay at Home Job a Good Choice?
There are plenty of reasons why working from home is a positive experience for moms. The most obvious benefit is that you can bring money into your bank account without having to shell any out.
No gas money. Daycare or babysitter fees. Expensive (and uncomfortable) wardrobes. Or costly lunches out.
Your only coworkers are your kids and pets. And you can get away with working in your pjs most days. If anything, you might only need to be presentable from the waist up. So, business up top, casual and comfy hobo on the bottom. It's all about balance.
Having a stay-at-home job gives you a creative outlet while balancing structured work so you can keep track of what you have to do each day.
Why Side Hustles for Moms Are Better!
Okay, so you get the difference between a work from home job and a side hustle. And why having a stay at home job is so fantabulous for your motherhood mental health. So, why are side hustles for SAHM the best?
One of the most amazing things about side hustles for moms at home is the freedom it gives you. Your bank account can become independent of working long hours.
Not only do side hustles give you independence and flexibility, but they also help you with turning your hobby into a lucrative money-maker and allow you to truly enjoy what you do.
Other side hustle articles:
Grab Your FREE Budget Binder Today!
Start saving more money and pay off your debt with this FREE Budget Binder
How to Find the Best Jobs for Moms at Home?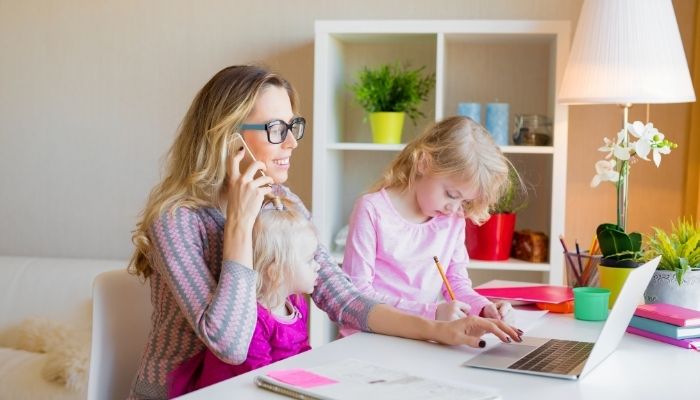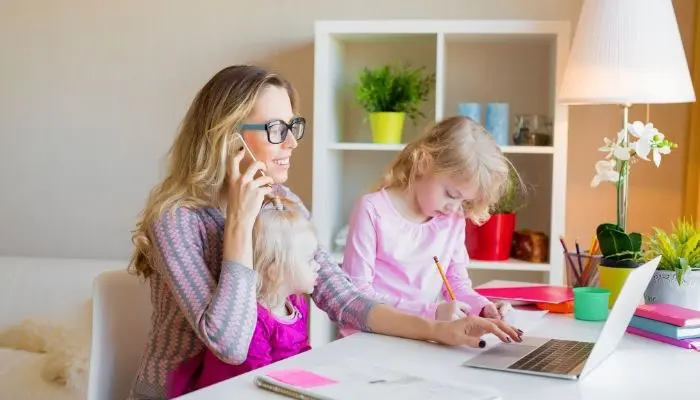 If you're one of the millions out there desperate for extra income ideas for stay at home moms, you're in luck. The World Wide Web is full of tons of side hustles for parents.
Now, where you'll find the best self employed jobs for mums will differ depending on your chosen profession type and what position you seek.
Word of mouth is a fabulous way to find extra income ideas for working moms that you might not know exist. Put out feelers with family, friends, and those in your community that you're looking for self-employed job ideas for mums.
Another great way to find opportunities for extra income for working moms is through online job boards like Flexjobs, Upwork, or Fiverr.
Best Side Hustle Jobs for Working Moms
1. Start a Blog
Do you have big opinions to share and want to get paid to do it? Blogging is one of the best side hustles for working moms.
What's our favorite thing about making money with a blog? It's so easy that anyone can start a blog without any experience.
The proof is in the pudding. When we started our blog, we didn't know a thing about what we were doing. The only thing we had was confidence that we could learn and implement our knowledge to make our blog a success.
Our blog started as a hobby because it sounded like something we would enjoy. But we have been able to turn it into so much more!
The biggest tip for how to earn money from blogging and turn it into a profitable sahm side hustle is to treat your blogging like a business. If you want to be a success story for how to become a successful blogger, start your blogging career by developing a niche – a genre – for your blog and a plan.
You have to know what methods you'll use for how to make money blogging. Some of the best ways to make money off a blog include:
Affiliate marketing – You make money (commissions) when you recommend a service or product to someone who then purchases it.
Sponsored posts – Companies pay you to talk about their brand or product
Services and products – Coaching, printables, crafts, budget binder
Ads
Within two years of our blog being up and running, we were able to achieve an amazing feat – $22,000 in one month!
There is no limit to how to become a blogger. You can create your own schedule, work around time with your kids, and make anywhere from $200 in a day to an extra 1000 a month.
Check out how to get started blogging here!
2. Freelance Writer
Freelance writing is one of our favorite ways of making money as a side hustle. It's something we do occasionally to add a few extra hundred dollars every month to our bank account.
There are tons of freelance writing ideas for stay-at-home moms to make extra money without the hassles of working outside the house.
You can find plenty of businesses that need written content created but don't have a talented writer on staff. These tasks are the perfect opportunity for freelancers to make money from writing as a virtual assistant.
There are many different opportunities for how to earn money as a freelance writer, with a vast range of content and subject needs. It's easy to find work as a freelance writer who writes articles for businesses.
We love working for blogs that need business articles written. Start your journal for how to make money online freelance writing by discovering what topics you enjoy writing, especially if you will be writing on one subject expansively.
Next, decide how to get paid for writing. Popular ways to earn as a freelance writer include charging by the project, by the article, by the word, or with bundle pricing.
An easy way to get started freelancing is by heading over to Freelancer.com to see what jobs are available.
3. Proofreading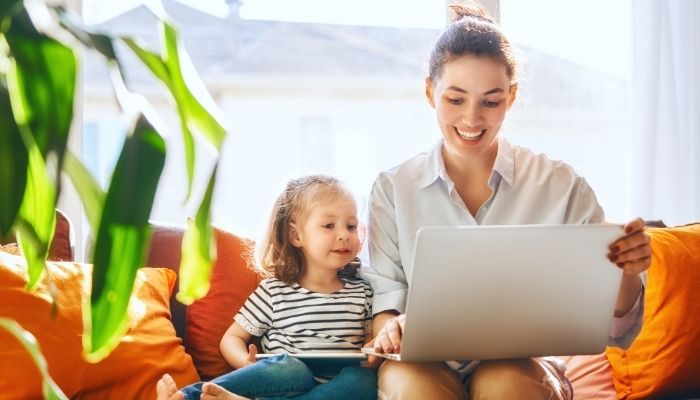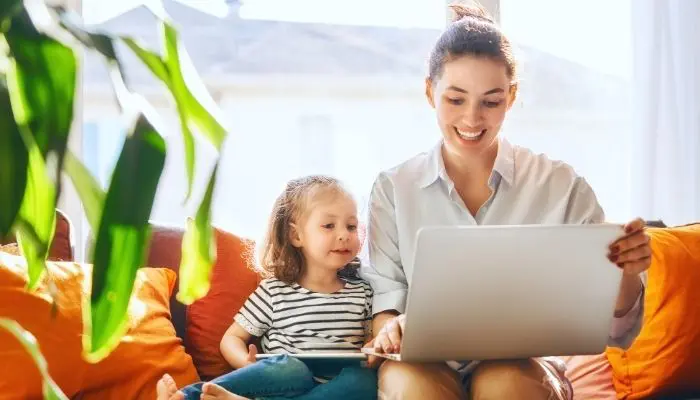 If you have an eye for spotting typos and mistakes like grammatical or spelling errors? You might have the chops to start a career making money as a proofreader.
Proofreading as a side hustle can be a profitable and easy side job for busy moms. And it's a role that nearly anyone can do with the right mindset and attention to detail.
When you work as a proofreader, you check written content for errors and typos. Proofreading tasks make great side jobs for working moms who need a way to make extra money on the side. 
The role of a proofreader is not the same thing as copywriting edits, which is when edits are more intense and require making a lot of content changes.
4. Childcare
Offering in-home childcare services for working parents is one of the best stay-at-home side hustles that lets you earn money from home while getting to spend time with your kids.
There are a few different childcare services that can turn into full-time stay at home side jobs whether you want to occupy a few hours for some quick cash or create a regular, consistent source of weekly income.
You can act as a daycare, keeping one or a few children in your home while the parents are at their jobs. This childcare role will give you less flexibility in your schedule, as your work hours will revolve around the schedule of your clientele.
Or you can keep a kid or several for a few hours while the parents go out on date night or run errands without a child in tow. Having previous experience as a childcare worker can help you find work in this role quicker than non-experience.
You can rely on word of mouth, advertise on social media social groups, or browse jobs at one of these sign-up sites:
Look at what other people charge to determine what rate to set per child.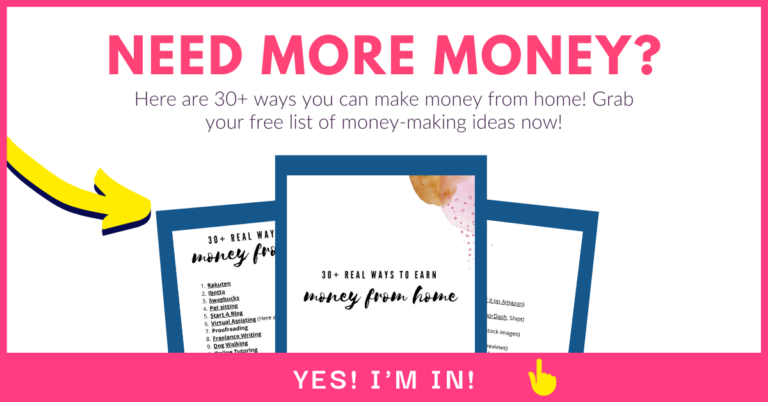 5. Tutor Online
If you have experience as a teacher or other form of educator, you're in the perfect position to make fast cash.
Several sites have made online tutoring easy part-time jobs for moms to make cash on the side of their regular job.
One of the most popular ways for mums to make money is to teach English online to children or adults abroad. If you have the ability to speak another language fluently along with English, online tutoring tasks can be great part-time jobs for working mums.
If this working mom side hustle sounds right for you, check out websites like:
Here are some websites that specialize in this:
Also, if you have teaching experience, check out these flexible side gigs for teachers!
6. Flip Other People's Junk
Flipping other people's junk can be a fun side hustle to make extra cash for stay at home moms while getting you out of the house for a few hours.
What's really great about making money selling other people's junk is that it has low start-up costs. A lot of times, you can find junk to redo and sell through social media, word of mouth, and bargain shopping like Goodwill or yard sales.
If you're interested in learning how to make money flipping junk, we recommend Flea Market Flipper. These guys won't just help you learn how to make money selling junk. You'll also learn what stuff you can flip for a big profit, as they've done.
Check out this free webinar if you want to get started with flipping used items. Flipping for a living is an excellent choice for how to make extra money as a mom.
Also, check out these 30 best items to flip for a profit in your free time.
7. Pinterest Virtual Assistant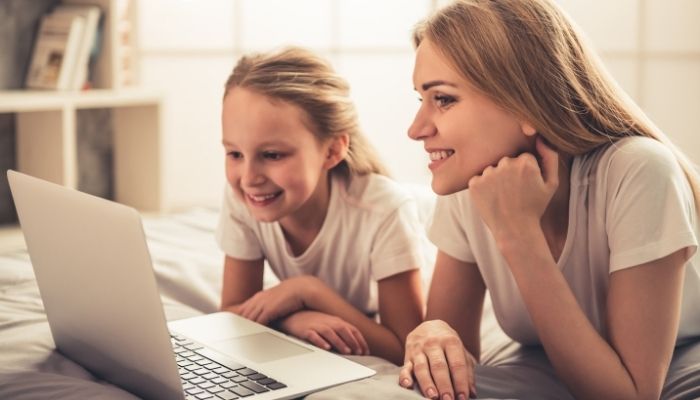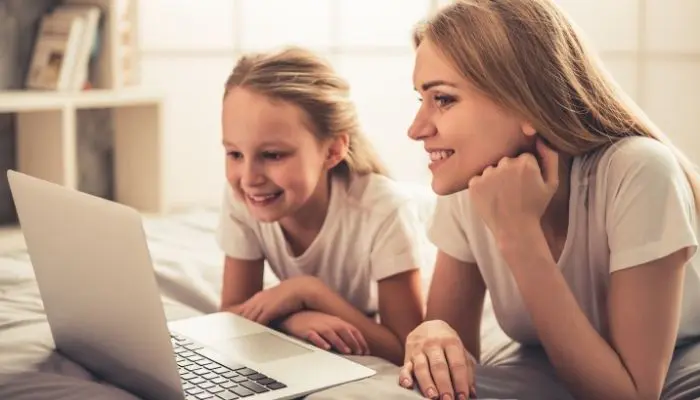 Are you a Pinterest expert with a love for all things pin-related? Why not turn it into a career by becoming a Pinterest virtual assistant?
It didn't take us long into our blogging journey to realize that there is a vast world of money-making opportunities surrounding blogging.
But there is also a lot of work to do if you want to make money with your blog. Once you write and post your pieces, you have to get attention from readers. Sharing your posts on social media is one of the best ways to grow your blog reach.
Being active on Pinterest is a must for successful bloggers. However, it can take a lot of time to implement Pinterest social campaigns. Most bloggers and business owners are more than happy to outsource the management of their Pinterest account to an expert.
Yep, that's where you come in. As a Pinterest virtual assistant, the standard tasks you'll be responsible for include:
You can offer these as stand-alone services or turn these into a bundle that you charge for hourly, packaged, or as a monthly subscription.
Interested in how to become a virtual assistant to earn money online? Sign up for this Pinterest VA course to learn how to start a virtual assistant side hustle business.
Check out how I made over $1,000 a month with Pinterest!
8. Rent Out Your Garage, Driveway, or Unused Space
Having extra storage space pays – in more ways than one. Renting out your extra space can be an excellent high-paying side hustle for moms. Ideal rental locations include the garage, driveway, attic, an extra bedroom or storage shed, or any unused space.
Renting out your space for extra money is a good way to earn passive income – money that you earn from a finished product you only have to make once. Unused space is like throwing money away.
You can make money from your unused space by listing your empty space on sites like Airbnb or your local Facebook Marketplace.
9. Take Online Surveys
Finding easy ways to make extra money as a busy mom is crucial when you want to achieve a debt-free life.
Not only do you want your money-making efforts to be easy and lucrative, but you also want flexibility to work around your children's schedules.
Completing online surveys is a simple method of making money as a side hustle that you can do anytime and anywhere.
Online surveys are easy to do for anyone, with little work or effort. After signing up for survey sites, you join online surveys requiring you to answer market research questions. For your time, you receive compensation – typically in the form of money.
Our favorite survey sites include:
Opinion Outpost
Vindale Research
Pinecone Research
MySurvey
OneOpinion
For more information on some of the best survey sites, check out these nine best online survey sites that pay you cash.
10. Photographer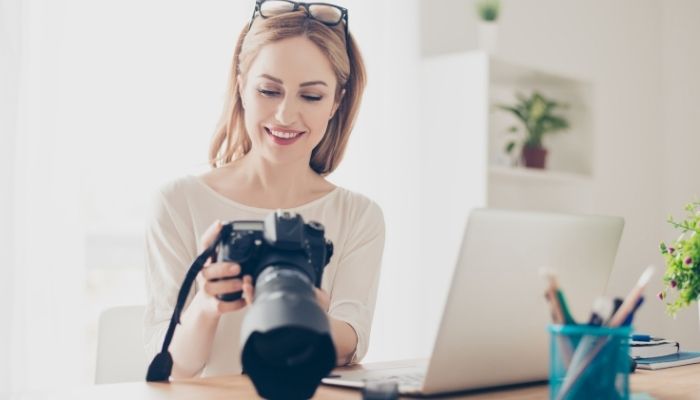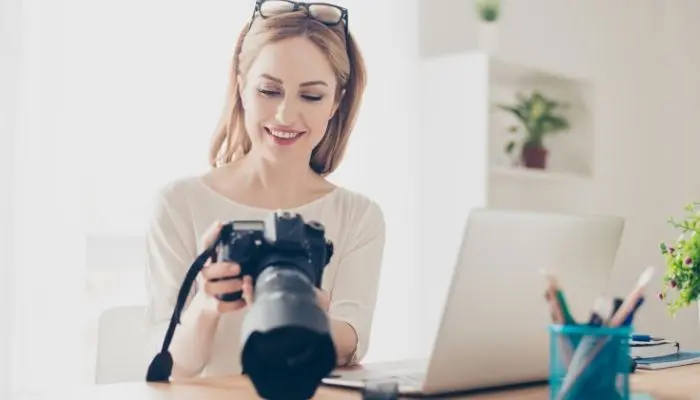 Photography can be a successful and lucrative side hustle for moms. You can charge big fees for your shots if you have the skills.
You can work as a photographer of life shots – families, friends, special events, and even animals. If you like photographing live events, the best money comes from baby, family, and wedding photography.
There is also money to be made in still shots. You can sell these photos online as stock photos on your website or on photo sites. This is a good way to do it as a Mom, as it's more passive.
If you want to sell your photos, check out Shutterstock or Depositphotos. You can also sell stock photos or mockups to bloggers or on sites like Etsy.
11. Sell Printables on Etsy
If you enjoy designing graphics or printables, making money with printables is a great option. Selling printables on Etsy as a side hustle is easy, fun, and budget-friendly for any busy mom.
Selling Etsy printables can become an exciting passive side hustle that takes a little time but can earn a ton of rewards! Wondering how to make money with printables?
Selling printable art on Etsy is as simple as creating your initial digital products once and then selling printables on Etsy or other e-commerce stores by listing them with a detailed product description and picture mockups.
Once you have your Etsy printables listed, you can continue to sell printables over and over again to different customers. Selling printables on Etsy is basically a set-and-forget process.
There are so many different things that you can sell on Etsy. Etsy focuses mainly on handmade or digital items that you have created yourself.
If you need help getting started with Etsy, check out my friend's Etsy printable course or take their FREE printable workshop!
While you are at it, make sure to check out my Etsy page!
Related article: How To Make A Passive Income Selling Printables On Etsy
12. Earn Money Using Cashback Apps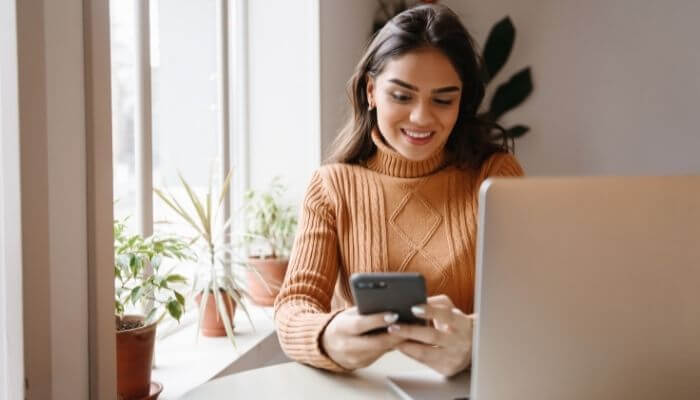 Did you know that you can earn money using cashback apps? This is another great way of making money as a Mom, as it's so passive.
With cashback apps, you simply download the app, choose the item that you want to purchase on the app, buy it, and upload the receipt.
Yes, it's that simple!
My favorite cashback apps include:
Check out our Ibotta review here!
13. Publish a Book
So many of us have a dream deep down of writing our own book. It's a great way to embrace your creative side and kill some free time. Publishing ebooks for money can be a high-paying side hustle.
Making money from books can turn into a long-term source of passive income if you can get enough readers. Truly, it's never been easier to publish a book and start making money by self-publishing on Amazon and other similar services.
But we don't want to encourage you to put out anything – we would love for you to write something that you genuinely love and sell lots of them! Make sure you research your competitors, plan your book out properly, and get someone to proofread it.
14. Start Your Own Business
Starting a business is a great way to earn money on your own terms. And it's a business tip that we love to give to moms seeking a way to earn extra money.
There are so many different businesses that you can start and do from home. Picking a business idea from a hobby that you love is a great way to have fun and enjoy the work you put into your business.
When coming up with a business plan, first decide on whether you want your business to be product or service-based. You can also create a hybrid combination of the two.
A product-based business generally requires more upfront costs for purchasing the products you plan to sell. While a service-based business typically has a lower upfront cost, as you shouldn't need to purchase much (if anything) to get started.
Consider where your strengths lie and do some research to find out what stuff you think people would be willing to purchase from you.
15. Pet Sitting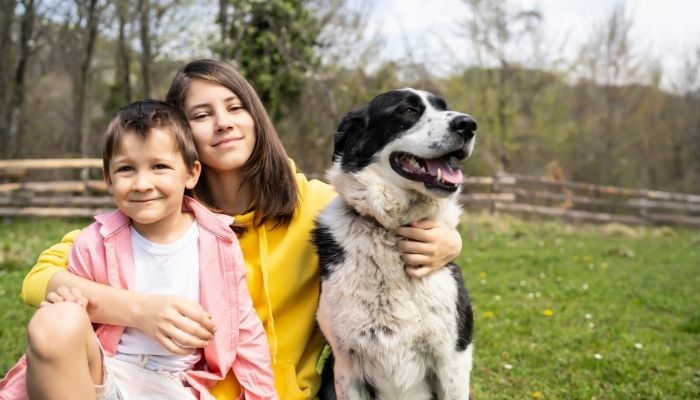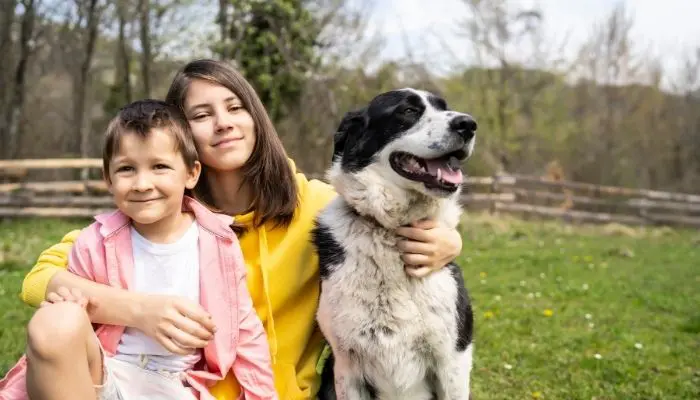 Pet sitting always makes our list of side hustles because it's a side business that can make money for any age. Plus, it's so much fun!
Getting paid to spend time with doggos is something that even kids would love to do, making it a great choice for a first job or an easy way to make money as a stay at home mom.
Pet sitting is where you look after someone's dog or other pet when they are away or busy. You'll be responsible for that pet's overall care, whether that's walking, feeding, or just spending quality time with them so they don't feel lonely.
We love Rover.com and Care.com for sites to find pet-sitting work. You can also look at what other people charge for the same care to help you set your own rates.
16. Data Entry
Data entry is a good side hustle for Moms because it's easy to do, and you can fit it around your schedule.
You don't need the experience to do data entry, which is handy if you are just starting out and need to start something.
Search for data entry jobs on sites such as Indeed, FlexJobs, and Craigslist.
17. Bookkeeper
Do you have a brain for numbers, exceptional skill at organization, and a background in bookkeeping?
It's always a good idea to find a way to transfer your skills into a side hustle.
One such skill to try and monetize is if you are in financial services or accounting – you can use this for bookkeeping.
Bookkeeping is a service you can offer to business owners online or in your local area.
You can do this virtually around the kids and charge anything around $18 – $50 per hour.
18. Become a Virtual Assistant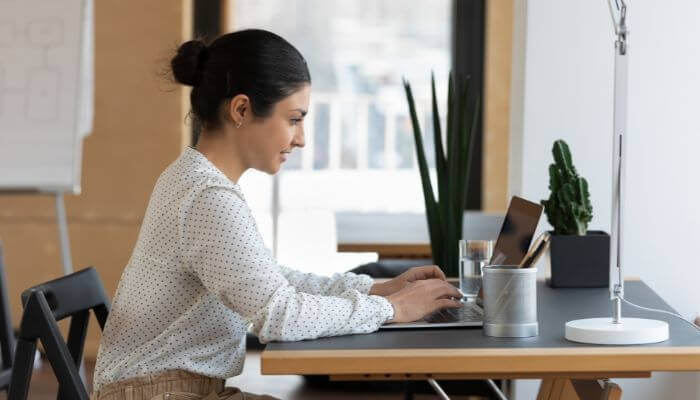 Virtual assisting can be a lucrative side hustle if you want to make a little extra cash.
What's awesome about virtual assisting is that it can be done in your spare time, or you could even make it into a full-time job.
Your job as a virtual assistant will depend on who you are working for.
Common tasks include:
Answering email
Social media management
Organizing meetings
Marketing
Once again, the above tasks can greatly differ from company to company or person to person.
If you are a busy mom, these tasks can easily be done from the comfort of your couch!
If you are new to virtual assisting but know you have what it takes, grab this free virtual assistant workbook.
Related article: 20 Virtual Assistant Jobs for Beginners That Won't Disappoint
19. Test Products / Product Research
Many products on the market today are designed to make our lives easier, but it can be hard to tell which ones are actually worth purchasing.
One great way to earn extra money is by signing up for product testing panels and trying out new products before they hit shelves.
Companies want your honest feedback about their products, and many pay well to get just that.
20. Social Media Manager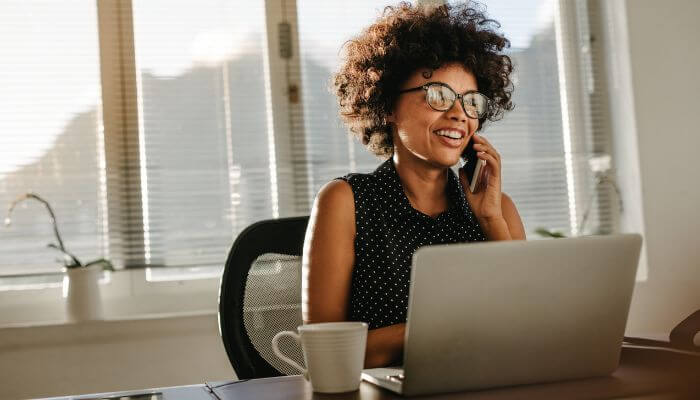 Do you love social media so much that you want to make a career from it? If you want a fun online side hustle, social media management is where it's at!
You don't need a degree to become a social media expert. You just need knowledge of the current social media platforms.
Suppose you don't have experience, in the beginning, work for free in place of some raving reviews. Then, continue to grow your company!
21. Real Estate Agent
Do you have a love for helping others find their forever home? If so, consider getting into real estate.
Many people dream of becoming a real estate agent because it offers a lot of freedom and the potential to earn a high income.
The great thing about real estate is that you don't need to have a degree to get started – you just need to be willing to learn.
To become a real estate agent, you must take a course and pass an exam. Once you are licensed, you can start working for a real estate company.
Remember that the real estate market can be cyclical, so it's important to be prepared for highs and lows. And it can cost you money to get and keep your real estate license and any other state requirements, making it a good choice for moms with money to invest in a new business.
Overall, this can be one of the many great side hustles for moms.
22. Teach on Outschool
Do you have a knack for something, whether it's singing, dancing, or doing the splits? Then why not teach others how to do it?
With Outschool, you make your own hours and can teach multiple kids simultaneously.
Earn money flexibly with Outschool!
Learn more on Outschool here!
23. Transcriptionist
Transcriptionists are responsible for taking audio recordings and converting them into written documents. This can play a very important role in many fields, such as law, medicine, and business.
The work of a transcriptionist requires great attention to detail and excellent grammar and spelling skills.
Transcriptionists may work for a company or an individual. If you think you have the skill set and enjoy working from your home, then hit up Flexjobs and see what they have available.
24. Sell Crafts Online
Do you enjoy making crafts of sorts in your own time? If you're looking for a creative way to make some extra money, consider selling your crafts online.
There are many platforms available where you can sell your creations, such as Etsy, eBay, and Facebook Marketplace. Start by creating an account on one of these platforms and uploading photos of your crafts. Then, set a price and start selling!
Also, many craft bloggers are always in need of buying images of crafts for their blogs. There is a huge demand for this, and you can charge a lot of money.
25. Turn Your Hobby into a Side Hustle
We love making money from what we love to do. You can make money with a hobby as an easy source of extra income.
Turning your hobby into a side hustle can be a great way to make some extra money. There are tons of hobbies that can make money without taking up much of your time or drain your energy.
You can think of several creative hobbies that make money, such as selling your crafts online, teaching classes, selling clothes, or making furniture. When you enjoy a hobby, why not turn it into a money-making business?
26. Flipper
Have you ever heard of flipping items for profit? If not, it simply means buying an item at a low price and then selling it at a higher price.
This can be done with many items, such as furniture, clothes, cars, and even houses.
Flipping is great because you can make your own schedule and take your kids with you.
Here are 30 things you can flip for extra cash today!
27. Graphic Designer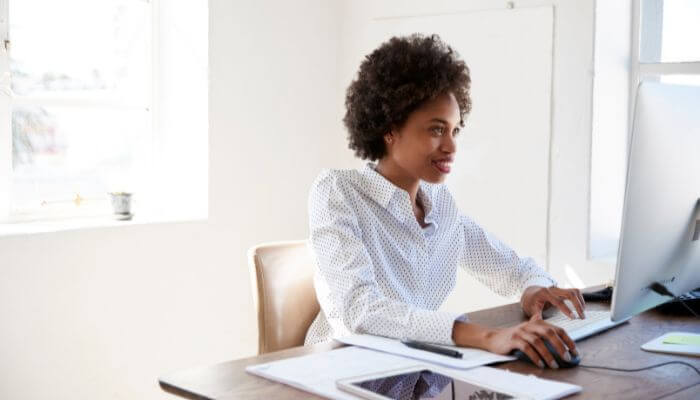 Do you have a knack for creating beautiful designs? If so, becoming a freelance graphic designer might be the perfect side hustle!
There are a number of ways you can make money as a graphic designer. Banners, logos, websites, business cards, and the list goes on and on for services that businesses, brands, and individuals constantly need.
I have personally hired a handful of graphic designers for different aspects of my blog. I never looked to see if they had a degree in graphic design. If their reviews were raving, and their finished product was stellar, that's all I or anybody else cares about.
If you are interested in pursuing this, get knowledgeable with Canva and Adobe. Maybe take an inexpensive class on Udemy. Then start hiring out your services.
28. Get Paid to Workout
If you're looking for a way to make some extra money and stay fit at the same time, then consider getting paid to work out.
There are many different apps, such as Sweatcoin and StepBet, that pay you to get your steps in. All you have to do is sign up, walk, and start getting paid!
Working out for money is a great side hustle idea, especially if you want to get your body and bank account into better shape! Plus, you can all do it together with friends!
Related article: Get Paid To Workout (23 Ways To Make Money Exercising)
29. Housesitter
Are you trustworthy, have some free time on your hands, and don't mind crashing in unfamiliar places? Then you might have the talents for a profitable side hustle called housesitting.
Becoming a housesitter is a great way to get paid to take care of beautiful homes, pets, and plants while the owners are away for several hours, overnight, or for an extended stay.
Many websites allow you to search for housesitting jobs, such as HouseSitter.com and MindMyHouse.com. Or you can jump on your local Neighborhood app or Facebook Marketplace to see if anyone in your area is hiring.
30. Dog Walker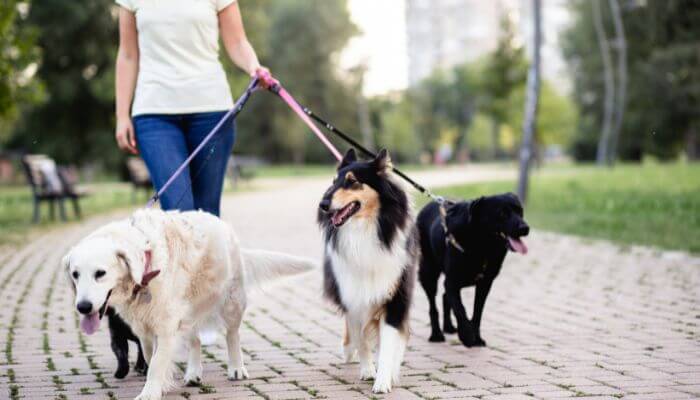 So maybe you aren't ready for the commitment of being a dog sitter, but you still want to play with dogs. Then I recommend trying dog walking.
Dog walking can be a great way to make some extra money, and it's a job that you can do with your dog. All you need is a good leash and some patience. Being a dog walker can also be a great summer job or after-school job for adults and children alike.
Start by finding clients in your neighborhood through word of mouth, or use Rover! Once you have a few clients, start setting your rates and start walking!
31. Delivery Driver
If you're looking for a way to make some extra money, consider becoming a delivery driver. Delivery drivers are in high demand, and there is always work available.
Today is easier than ever to find delivery jobs. Check out the apps DoorDash, Shipt, Uber Eats, Amazon Flex, Grubhub, and more! All you need is a car and a valid driver's license.
Delivery drivers make good money and can be done in your spare time. If you are a busy mom trying to make an extra income try out one of the delivery services. You can take your kids along with your deliveries or do the trips while you're kids are at school or in their extracurricular hobbies.
Related article: 10 Of The Best Food Delivery Apps To Work For
32. House Cleaner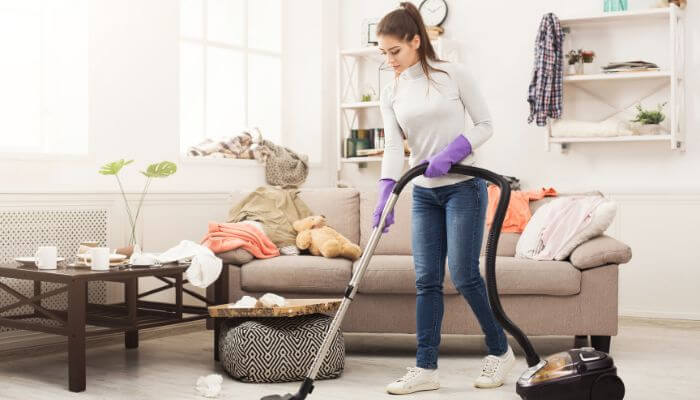 Is house cleaning something that you find relaxing and enjoyable for your mental health? Becoming a house cleaner is a great way to make some extra money from something you're good at doing.
And the best thing about cleaning a house as an extra source of money is that you don't need a lot of money upfront to get started. As long as you have a vacuum cleaner and cleaning products, you're ready to find jobs to do while your kids are busy!
Start by finding clients in your neighborhood or through word of mouth. Once you have a few clients, start setting your rates and get to cleaning! Don't forget to ask your clients for referrals so you can keep adding new sources of income.
33. Personal Shopper
If you're looking for a way to make some extra money, consider becoming a personal shopper with Instacart.
Personal shoppers are in high demand, and there is always work available. Many busy parents don't have the time to make trips to the store, especially when it's for something last minute that you forgot.
Starting a side hustle as a personal shopper allows you to set your own hours and even bring your kids with you if you want.
34. Advertise on Your Car
Do you spend a lot of time with your car on the road? There are companies that want to advertise as much as possible.
There are multiple brands that will pay you to add their advertisements to your vehicle. You may have to place a sticker somewhere on your car or add a sign.
If you are looking for a simple SAHM side hustle, look into having your vehicle wrapped! You can learn more about it here!
Related article: 7 Awesome Ways To Get Paid To Advertise On Your Car This Year
35. Rent Out Your RV
Do you have a camper or RV? Turns out, you can make a lot of money each year renting out your camper or RV when you aren't using it!
And thankfully, they have an app called RVshare that does all the work for you! It's similar to Airbnb but for campers. And the app is free!
Renting out your camper when you aren't using it is one of the best side hustles for stay-at-home moms.
Also, don't forget to check out our RVshare review here!
36. Get Paid To Read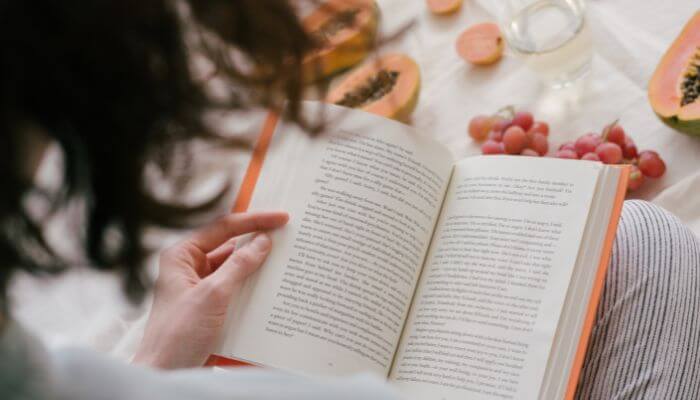 If you love to read, why aren't you getting paid for it?
There are a handful of different ways you can get paid! Also, while you are at it, check out how to score free books!
Related article: 19 Ways You Can Get Paid to Read Books From Home
37. Mystery Shopper
Mystery shoppers are hired to go shopping and then report back on their experience.
Mystery shoppers typically get paid for shopping and sometimes get reimbursed for their purchases. If you enjoy shopping, why not get paid to do it?
Related article: 9 Mystery Shopping Companies That Pay Top Dollar
38. Create a YouTube Channel
Did you know that you can make money off of a YouTube channel? What if I told you you could make decent money doing it?
Creating a YouTube channel is a great way to make some extra money.
Here are the steps to get started:
1. Choose a username and password for your account.
2. Select the type of account you want to create.
3. Enter your personal information.
4. Upload a profile picture.
5. Pick your niche
6. Create a channel name and description.
7. Start creating videos for your channel.
Now head over to YouTube and turn your channel into one of the best side hustles for moms!
39. Become a Music Teacher
Do you enjoy singing, playing piano, or playing any other musical instrument? Then why not think about teaching inside your home? This could be a one-on-one class or even a tot time music experience for younger kids.
Teaching music is a great side hustle for stay-at-home moms because it's flexible and offers the opportunity to work from basically anywhere.
40. Take Pictures Of Your Feet
Did you know you can make money taking pictures of your feet and selling them?
I'm totally serious!
If you are looking for a mom side hustle that doesn't require experience, much time, or thought and you can do from your own home, this could be the perfect for you.
Check out if this side gig for moms is right for you!
Related article: How to Sell Pictures of Your Feet and Make Mad Money
41. Online Courses
Have you ever thought about creating an online course? It's a great way to make extra money and can be done in your spare time.
Plus, it's a side hustle that you can do from anywhere since all you need is a laptop and the internet. If you think you have something to teach the world. Give it a try!
The worst-case scenario is you earn a few extra bucks doing something you love.
42. Take Pictures on Your Phone
Maybe you are looking for a creative side hustle for moms that you can do from your phone. If so, why not take pictures on your phone?
Believe it or not, you don't have to have a professional photography business in order to make money taking pictures.
Related: 15 Best Apps to Sell Photos on and Make Money
Side Hustles for Moms – Final Thoughts
If you're looking for a great side hustle that can help you make some extra money while still being able to take care of your kids, then we've got the perfect list for you. These side hustles are all mom-approved, and they'll allow you to earn a little bit of extra cash without having to sacrifice too much time with your family.
So what are you waiting for? Start exploring these opportunities and see which one is the best fit for you!
There's no reason you can't earn money as a stay-at-home Mom with any of these side gigs for moms.
Do you do a side hustle or know of any great at-home jobs for moms? If so, let us know in the comments below!
If you enjoyed this article, save it for later and follow us on Pinterest for more side hustles for stay-at-home moms.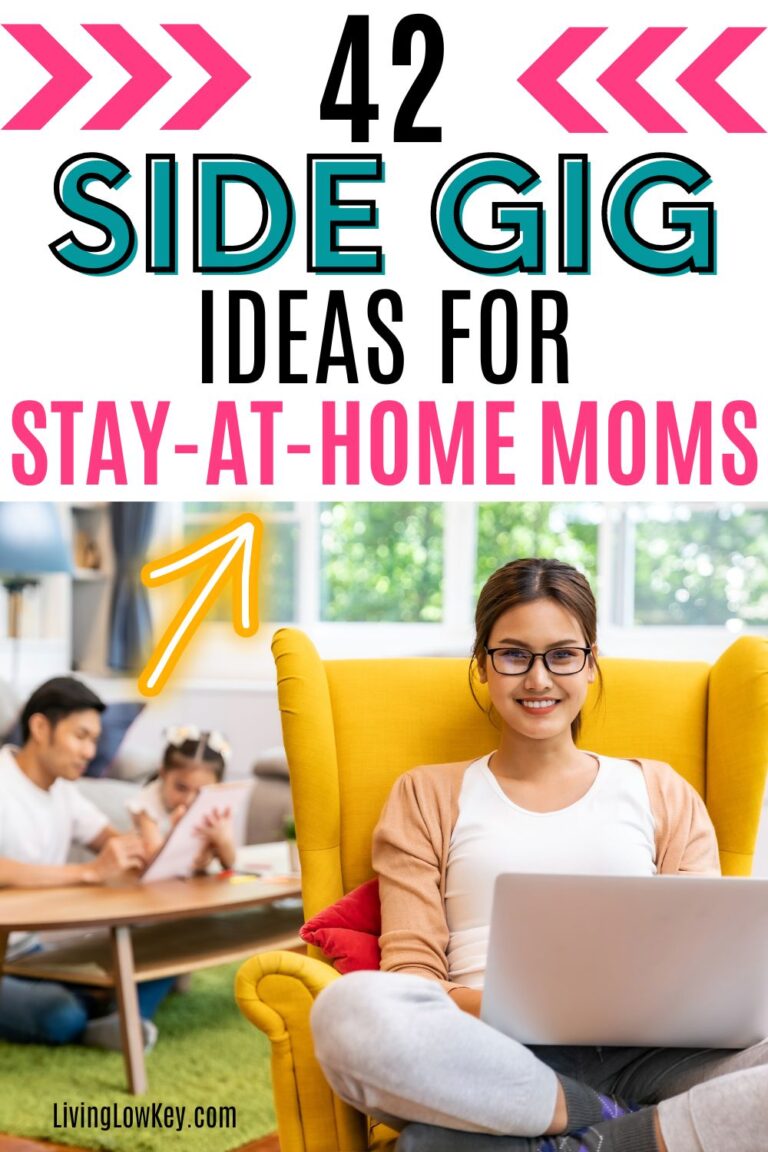 Grab Your FREE Budget Binder Today!
Start saving more money and pay off your debt with this FREE Budget Binder
Related articles: