When you're a mom, it can be hard to find the time to start up a side hustle.
But you want a side hustle for something – it could be as a treat for yourself, saving up for a vacation, or maybe even paying off your debt.
If you have your spending under control and know that you need to earn extra money to reach your goal, it's side hustle time!
That being said, we as Moms don't have a lot of spare time. So how can we earn extra cash?
There are some side hustles that you can do to bring in some extra money around your kids.
In this article today, we will take a look at the best side hustles for Moms: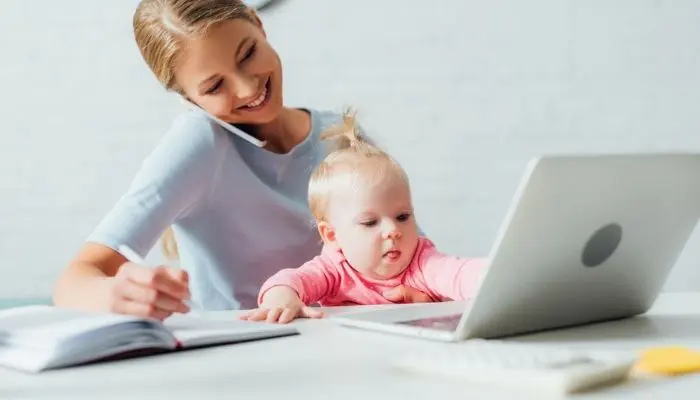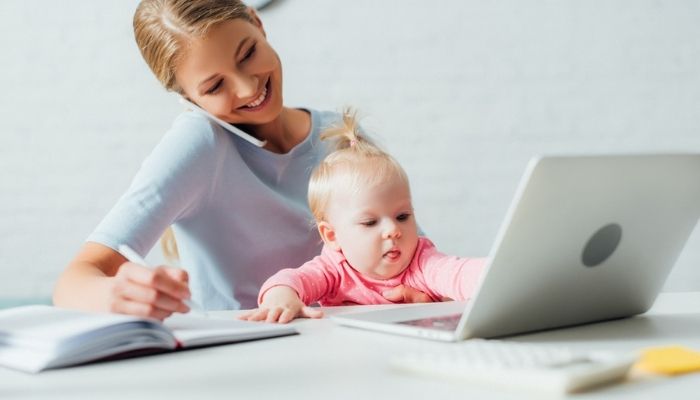 Side Hustle For Moms Vs. Stay At Home Jobs?
When you think about earning extra money, you will need to think about whether you go for a side hustle for women or a job.
A work-from-home job means that you will have a more rigid schedule. You may prefer this if you want something in place for each day. It's also worth noting that you will have a boss to report to.
In contrast, a side hustle means that you can create a flexible schedule and work around your kids. You are your boss, so you can make all of the decisions, including when you work.
Why Would You Want A Stay At Home Job?
There are all kinds of reasons why you'd want to pick one of the stay at home jobs, with the most obvious one being that you want to bring some money in.
Along with that, it's essential to carve out time for yourself so that you aren't just doing Mom duties all day.
A stay-at-home job will give you a creative outlet and structured work to know what you are doing each day.
Why Side Hustles For Moms Are Better!
You're probably wondering whether to go for a stay-at-home job or side hustle for Moms.
We prefer side hustles because there needs to be an immense flexibility element when you are a Mom, especially when your children are very young. Having a side hustle means that you can have a more flexible schedule. You are able to take your kids to school, attend school activities, never miss a baseball game and so much more.
You can choose the work that you do each day because you are the boss!
Other side hustle articles:
Get Your FREE Budget Binder Today
It's time for you to take control of your finances so you can save more money and pay off your debt!!
How To Find The Best Jobs For Moms At Home?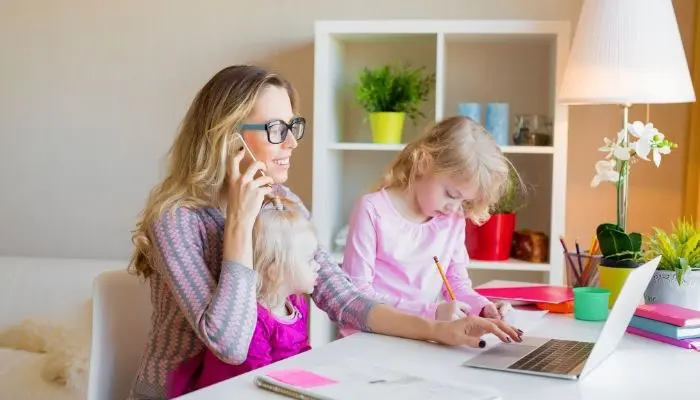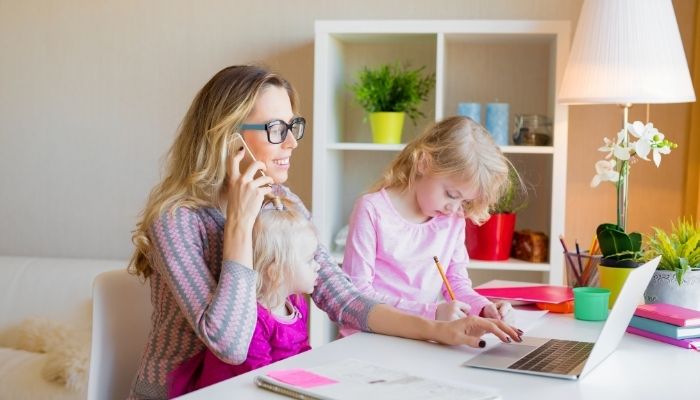 Now that you know that you want to find a side hustle or side job for stay-at-home Moms, where can you find them?
It depends on the type of job you are going for and where you want to look for open job opportunities.
When you are just starting out looking for work, make sure to let people in your circle know that you are looking, as you can find work via word of mouth.
Another place to search for is, of course, the web. Don't just randomly search, though, as you will want to avoid any dodgy-looking ideas/links.
Have a look below and see which side hustles ideas for Moms seem like a good fit for you!
Best Side Hustles For Moms
1. Start a Blog
Blogging is one of our favorite ways to make money that we highly recommend because it's something that we do and love!
The great thing about starting a blog is it's something that anyone can do. The best part is you don't need to have any prior experience. Everything can be learned along the way.
We didn't know anything when we started, but we were confident we would do well and enjoy it. We started this blog as a hobby but have turned it into much more than that.
It's important to remember that a blog is a business – that is, if you want to make money from it. So it would be best if you approached it in the same way that you would or any other business.
The first couple of things to decide are what you want to talk about and how you will make money from it.
The most common ways of making money from a blog include:
Affiliate marketing (where you recommend a product or service and receive a commission)
Sponsored posts (where a company will pay you to talk about them)
Products or services, e.g., budget binder, coaching
Ads
After we had been running this blog for two years, we made $22,000 in one month!
The great thing about blogging is that you can set your schedule, which means that you can fit the work in around your kids.
The sky is really the limit with blogging. Whether you are looking to make a few hundred bucks or a few thousand, it can be down.
Check out how to get started blogging here!
2. Freelance Writing
Freelance writing is another way we recommend making money as a side hustle – and it's another thing that we do from time to time to make an extra few hundred per month.
Many businesses need content created for them and will often employ a freelance writer to do this for them, also known as a virtual assistant.
The types of content you can create will depend on who you write for and the subject matter.
You can find work as a freelance writer writing articles for businesses. We recommend looking for work for blogs as it's what we do and love.
To start with, think of what you enjoy writing about, as if you are writing a lot about one subject, then it will help to be one that you enjoy.
You'll also want to think about how much you want to charge – this can be on the basis of per word, per article, per project, and so on.
If you are ready to quit your 9-5 but don't quite know where to start, check out this free virtual assisting training.
3. Proofreading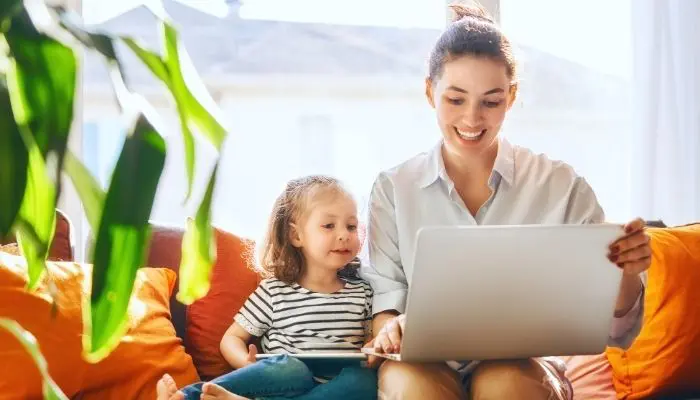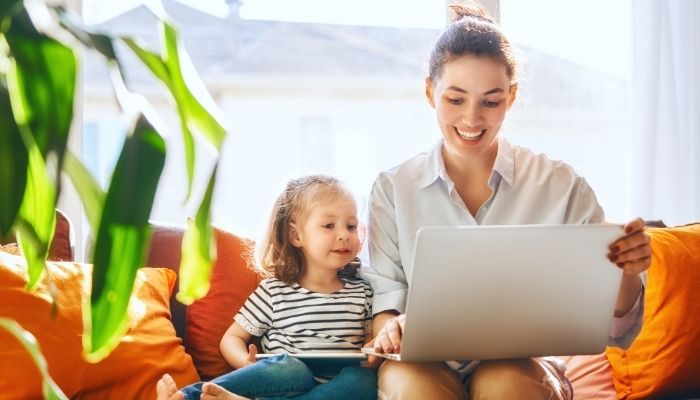 Do you have an eagle eye for spotting mistakes in text? If so, proofreading could be a great side hustle for you.
When a piece of content has been created (e.g., by a freelance writer, as discussed above), it is helpful to get it checked over by a proofreader.
A proofreader will check for any obvious spelling or grammatical errors. Proofreading is not to be confused with copywriting, which is where content will be changed a lot.
Proofreading is another great side hustle idea for moms because you can fit it around your schedule.
4. Childcare
As a Mom, something that will work well as a side hustle around your kids is to provide childcare for other Moms.
You could do babysitting where you will be looking after other people's children. Perhaps when they are going out, or when they are at work, and so on.
If you have experience already or as a childcare worker, that will help you find work quickly.
There are sites that you can sign up to find work, such as:
Look at what other people are charging to figure out what sort of rate you want to set per child.
5. Tutor Online
If you are a teacher by trade, you have many skills that you can use to make money through side hustles.
One side hustle that you could do is tutoring online. This is a side hustle with the potential to make you a lot of money.
One of the most popular ways to do this is to teach English to children who are abroad.
Here are some websites that specialize in this:
6. Flip Other People's Junk
If you are looking for a fun side hustle to do that will get you out of the house and hopefully get the kids involved, flipping other people's junk can be a good one.
Often, when you are trying to think of ways to earn some extra money, it can involve some upfront costs, which you want to avoid.
That's why flipping things can be a great side hustle – the upfront cost is so low, but the returns can be so high.
We recommend checking out Flea Market Flipper – these guys not only teach how to flip things to make a big profit but have made mad money flipping items they find at flea markets themselves.
If you are ready to start flipping but not sure where to start, grab a seat at this free webinar that will teach you how to make a profitable reselling business.
Related: 30 Best Items To Flip For A Profit In Your Free Time
7. Pinterest Virtual Assistant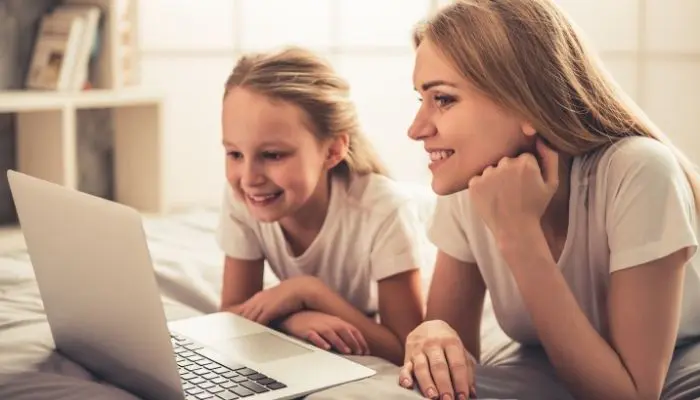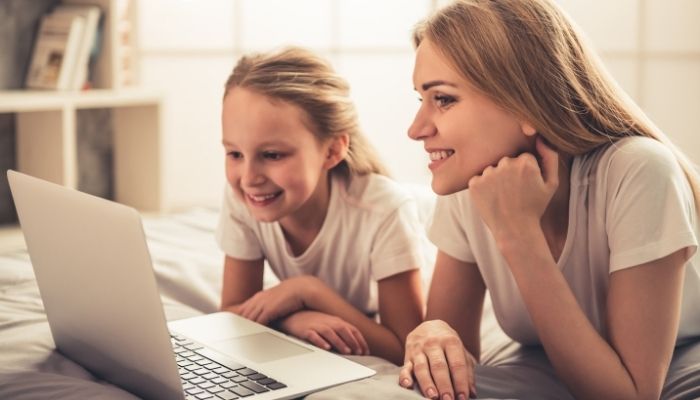 Do you know your way around Pinterest? You could start up as a Pinterest VA (virtual assistant)!
When we started blogging, we realized that there was a whole world of making money around blogging.
When you run a blog, there are so many things that you need to do – one important thing is sharing your articles on social media.
Having a presence on Pinterest is important for bloggers but takes up a lot of time.
Because of this, a lot of bloggers (and other business owners) will look to outsource their Pinterest management – and this is where you can come in.
The types of things that you can offer as a Pinterest Virtual Assistant include things like:
Scheduling pins
Creating new pin graphics
Manual pinning
Checking analytics
You can offer these as packages or stand-alone options, whether that be at an hourly rate or as a package deal.
Sign up for a Pinterest VA course to learn all about setting your side hustle business up!
Check out how I make over $1000 a month with Pinterest!
8. Rent Out Your Garage, Driveway, or Unused Space
An excellent high-paying side hustle for moms is renting out your garage, driveway, or unused space.
The reason that this is a good side hustle is that it's pretty hands-off. There isn't much that you need to do apart from listing the space for rent.
If you are not using the space, then it is money just sitting there!
List your unused space on sites like Airbnb or Facebook Marketplace in your local area.
9. Take Online Surveys
As a Mom, it's imperative to find a way to make extra money that you can easily fit around your children.
Taking online surveys is a good way to make money as a side hustle, as you can do them at any time.
The way that online surveys work is that you will be answering questions for market research purposes, which you will be compensated for.
Our favorite survey sites include:
Related article: 9 Of The Best Online Survey Sites That Pay You Cash For Your Opinions
10. Photographer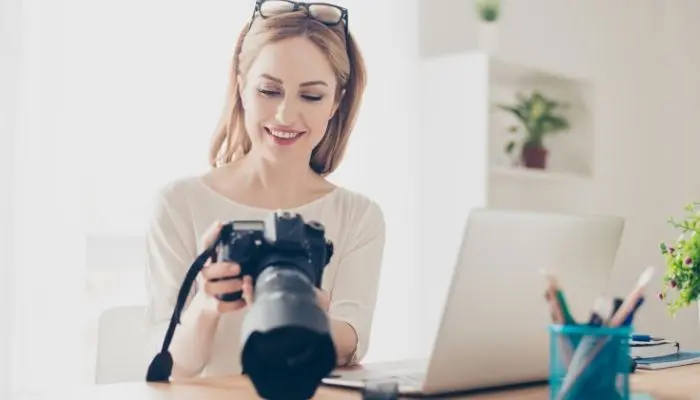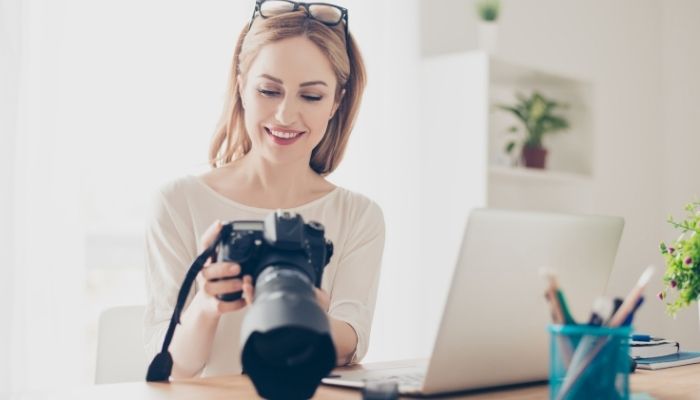 Are you handy with a camera? Photography is a lucrative side hustle for Moms, as you can charge a lot of money for this.
There are many different types of photography that you can offer, with some taking up more of your time than others.
The types of photography that tend to make the most money are generally wedding photography and baby/family photography.
There are other ways that you can make money from photography, such as selling your photos on stock photo sites. This is a good way to do it as a Mom, as it's more passive.
Some sites to look at doing this include Shutterstock or Depositphotos. You can also sell stock photos or mockups to bloggers or on sites like Etsy.
11. Sell Printables on Etsy
If you enjoy designing graphics or printables, you could start to sell them on Etsy as a side hustle.
This is a passive side hustle because you need to create the products and then list them.
There are so many different things that you can sell on Etsy. Etsy focuses mainly on handmade or digital items that you have created yourself.
Related article: How To Make A Passive Income Selling Printables On Etsy
12. Earn Money Using Cashback Apps
Did you know that you can earn money using cashback apps? This is another great way of making money as a Mom, as it's so passive.
On cashback apps, you simply choose the item that you want to purchase on the app, then buy it and upload the receipt.
Our favorite cashback apps include:
Check out our Ibotta review here!
13. Publish A Book
So many of us have a dream deep down of writing our own book. As a Mom, this can be a high-paying side hustle if you do it well.
We don't want to encourage you to put out anything – we would love for you to write something that you genuinely love and sell lots of them!
It's never been easier to publish a book, as you can self-publish using Amazon and other similar services.
Make sure that you do your research on your competitors, plan it out properly, and get someone to proofread it.
14. Start Your Own Business
We love recommending that women start their own business because you're earning money on your own terms.
There are so many different businesses that you can start up depending on what you enjoy and what you think you can make money from.
Think about whether you want to have a product-based business or a service-based business (or a combination of the two).
A product-based business will generally require more upfront cost due to purchasing the products you will sell.
A service-based business will typically have a lower upfront cost as you shouldn't need to purchase much (if anything) to get started.
Think about where your strengths lay and what you think people would be willing to purchase from you.
15. Pet Sitting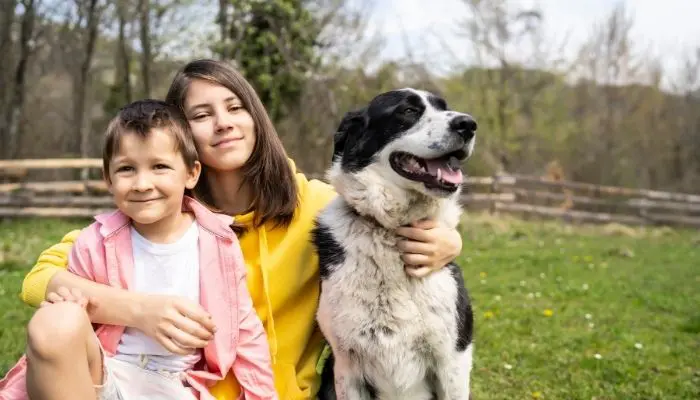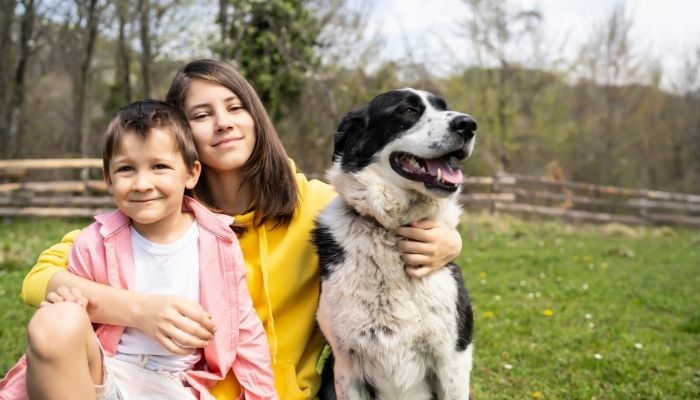 We all want to have a fun side hustle, right? Pet sitting is one of the most fun side hustles out there, and hopefully, your children will enjoy it too.
Pet sitting is where you look after someone's dog or other pet when they are away or busy.
You will have to treat them as if they were your own pet – walk them, feed them, and so on.
We love Rover.com and Care.com for sites to find pet sitting work. You can also look at what other people are charging for the same care.
16. Data Entry
Data entry is a good side hustle for Moms because it's easy to do, and you can fit it around your schedule.
You don't need the experience to do data entry, which is handy if you are just starting out and need to start something.
Search for data entry jobs on sites such as Indeed, FlexJobs, and Craigslist.
17. Bookkeeper
It's always a good idea to use any skills you already have and transfer them into a side hustle.
One such skill to try and monetize is if you are in financial services or accounting – you can use this for bookkeeping.
Bookkeeping is a service that you can offer to business owners either online or in your local area.
You can do this virtually around the kids and charge anything around $18 – $50 per hour.
Side Hustles For Moms – Summary
If you have been thinking about whether or not to choose a side hustle for Moms, we hope that this article has helped give you some to choose from.
There's no reason why you can't earn a lot of money as a stay-at-home Mom with any one of these side hustles.
We think that you can earn however much money you want, regardless of your commitments.
Do you do a side hustle or know of any great at home jobs for moms? If so, let us know in the comments below!
Get Your FREE Budget Binder Today
It's time for you to take control of your finances so you can save more money and pay off your debt!!
If you enjoyed this article make sure to save it for later and follow us on Pinterest for more side hustles for stay-at-home moms.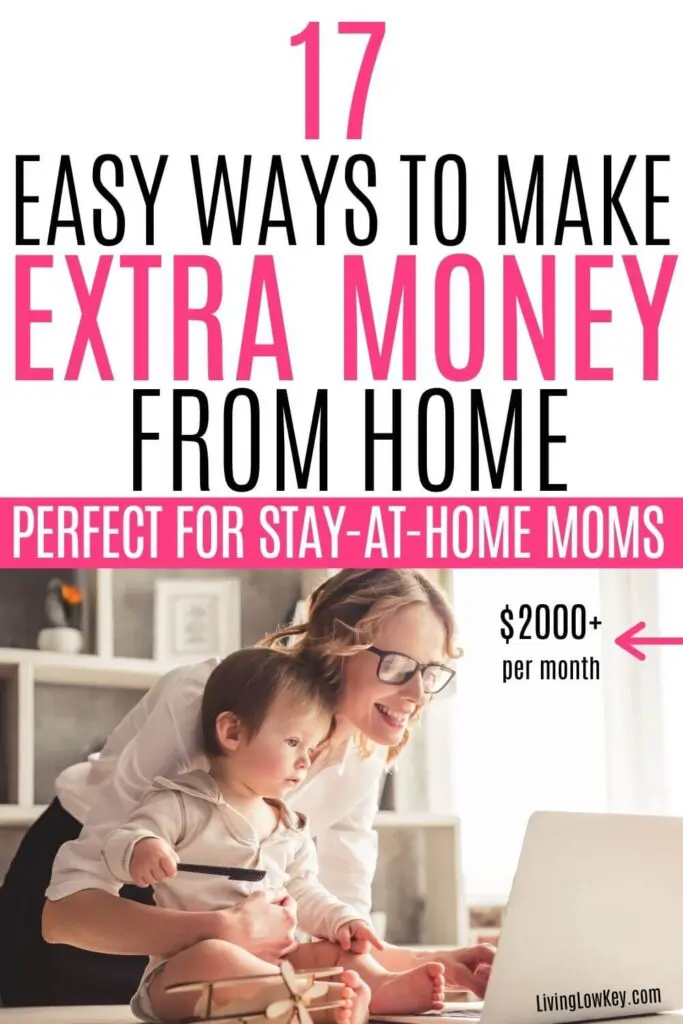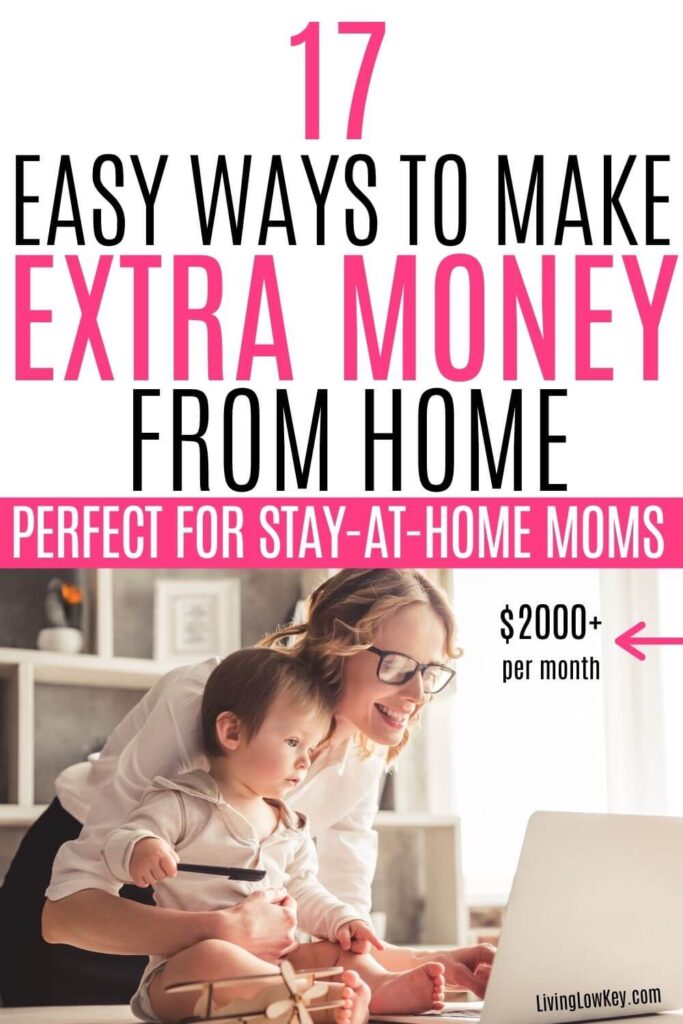 Related articles: