Having a budget in place is the key to financial success!
Have you ever started a budget without using categories? If so, I'm assuming it wasn't easy. If you miss categories while budgeting, it'll throw off your entire budget!
Creating a budget that uses categories allows us to tell our money where to go before we even get our hands on it, which is pivotal to your success.
If you want to create a flawless budget, start using budgeting categories every month.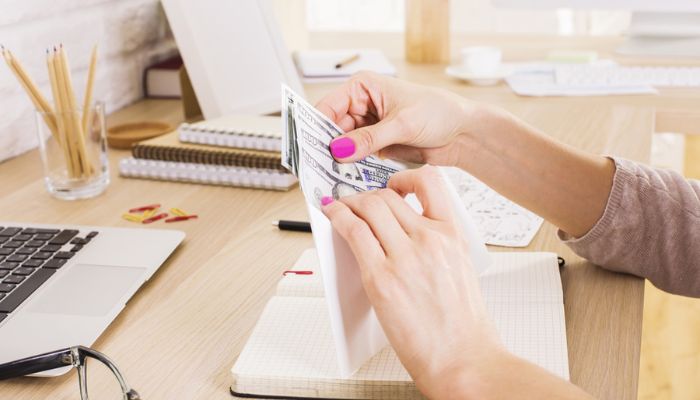 What is a Budget Category?
A budget category is an umbrella term for the various areas of your budget that you need to track to keep a handle on your finances.
Each of these categories has its own purpose and requires different strategies depending on your financial goals.
Each of these categories is specific to your saving and spending goals. Your budget categories will probably look completely different from your friends, or family members' budget categories.
How do Budget Categories Work?
Budgeting by categories is a great way to keep your finances organized. Pick out your categories based on your monthly wants and needs. Then allocate money to each category every paycheck.
You can add new categories every pay period or take some away. Around holidays and birthdays, we add new categories in. Once the holiday passes, take them out of our budget until the next occasion.
Once your cash is gone in each category, you have to stop spending until you are able to replenish that category.
If you're ready to get started with budgeting or need a place to keep track of your budget, make sure to grab our FREE budget binder printables below.
Grab Your FREE Budget Binder Today!
Start saving more money and pay off your debt with this FREE Budget Binder
What Categories Should I Use in a Budget
As I mentioned above, the best part of picking budget categories is that it's completely based on your lifestyle and needs. Everyone has different wants and needs, so everyone's categories are going to be different.
Your interests are probably completely different than mine. Therefore, your categories will be different than mine, and that's perfectly okay.
How specific should you make your budgeting categories?
How specific you make your budgeting categories depends on how detailed and organized you want to be with your finances. You can choose to do broader budgeting categories such as:
By using broad categories, you are able to have more control and understand where your money is going without being too detailed. For example, your bill category would cover all of your bills each month.
However, if you want to be ultra-organized and focused on tracking your expenses down to the penny, then you may want to use specific categories like:
Using these specific categories, you can accurately track your expenses and ensure that each dollar is being spent in the right place.
No matter what type of budgeting category you choose, make sure they help you stay on track with your financial goals.
Related posts:
77 Budget Categories List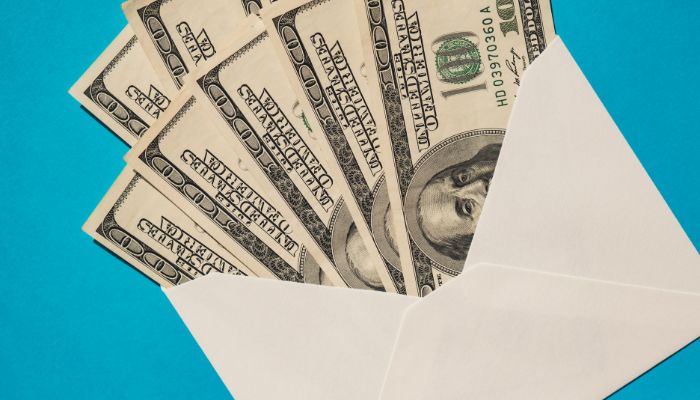 Below, select the budget categories you deem fit for the needs of your household. Then write out your budget using the categories, making sure you account for every expense.
Remember, you can break each of these into broad categories such as utilities, home, and entertainment, or you can break things down and do subcategories as well, such as listing out each utility or bill, etc.
Utilities
1. Electricity
2. Natural gas
3. Garbage
4. Water
5. Sewer
6. Trash
7. Cable
8. Heating
9. Phone
10. Recycling
---
Home
11. Mortgage payments
12. Rent
13. Repairs
14. HOA Fees
15. Alarm system
16. Property taxes
17. Rental insurance
18. Homeowners insurance
19. Home remodel
---
Food Expenses
20. Groceries
21. Restaurants
22. Alcohol
23. Costco/ Sams Club
24. Coffee shops
25. Fast Food
26. Work lunch outings
27. School lunch
---
Household Necessities
28. Cleaning supplies
29. Toiletries
30. Tools
---
Transportation
31. Gas
32. Vehicle maintenance
33. Car payments
34. Oil changes
35. Car insurance
36. Tolls
37. Parking Fees
38. Vehicle registration and tabs
39. Lease on vehicle
40. New tires
---
Personal Care
41. Haircuts
42. New clothing
43. Salon and spa
44. Chiropractor
45. Gym membership
46. Vacations
47. Fun money
Entertainment
48. Movies
49. Babysitter
50. Makeup
51. Salon
---
Kids
52. After-school activities
53. Toys
54. School supplies
55. Allowance
56. Daycare
57. Babysitter
58. Kid's college fund
---
Medical Care
59. Doctor's appointments
60. Eye appointments
61. Urgent care visits
62. Prescriptions
63. Glasses and contacts
64. Vitamins
65. Supplements
66. Hearing aids
67. Dentist appointments
68. Health insurance
70. Dental insurance
---
Savings Account
71. 401K
72. Roth IRA
73. Mutual Funds
74. Index Funds
75. Emergency fund
76. Life insurance
77. Debt repayment
78. Holidays
Budget Categories- Final Thoughts
With the right budget categories in place, you'll be able to make sure your finances are aligned with your goals. Everyone has different financial needs, and these categories can help meet those needs. From setting aside money for travel to making sure you're saving for retirement, having the right budget categories in place will ensure that you're able to maintain financial security and peace of mind.
Even if you're starting out on a budget journey or have had one for a while, it's always important to review your current system and see what new budgeting areas might be beneficial for you.
While some parts of creating a budget can seem tedious, having all the information about your spending and income right at your fingertips makes it easier than ever to get started on managing your money responsibly and helping protect yourself against potential financial pitfalls in the future.
Make sure to save this article and join us on Pinterest!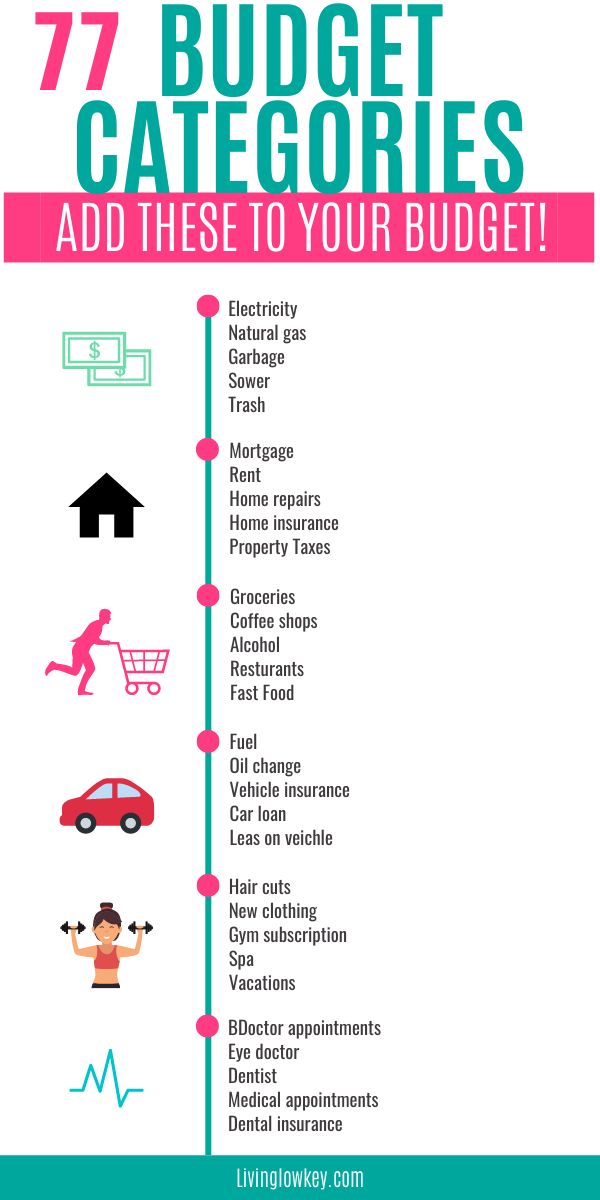 If I missed a budget category that you feel is essential, let me know in the comments below so that I can add it!
Ready to Start Budgeting?
Budgeting can be overwhelming, especially if you're just starting out. The good news is that you don't have to figure it out alone. Our free budget binder is the perfect tool to help you get on track with your finances. Whether you're trying to save money for a down payment on a house or trying to get rid of debt, this budget binder can help you organize your finances and stay on top of your expenses.
With easy-to-use printable templates for tracking expenses and setting financial goals, our budget binder is packed with everything you need to start achieving your financial goals. Don't wait any longer to take control of your finances. Grab our free budget binder below and get started today!
Grab Your FREE Budget Binder Today!
Start saving more money and pay off your debt with this FREE Budget Binder
Related posts: