Having a budget in place is the key to financial success!
Have you ever started a budget without using categories? If so, I'm assuming it wasn't easy. If you miss categories while budgeting, it'll throw off your entire budget!
Creating a budget that uses categories allows us to tell our money where to go before we even get our hands on it, which has been pivotal to our success.
Our budget wouldn't be flawless if we didn't use budgeting categories every month.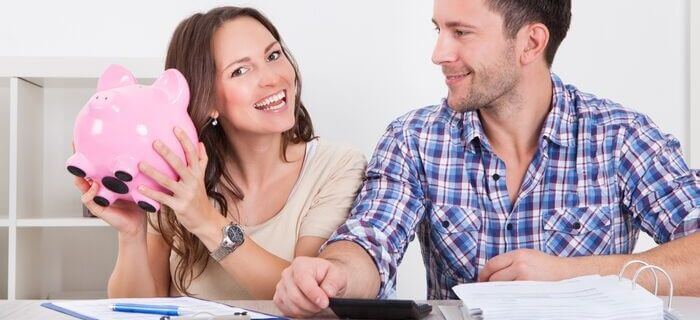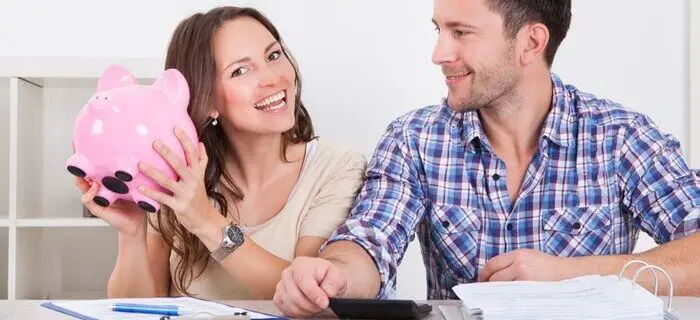 How Do Budget Categories Work
Budgeting by categories is extremely easy. Pick out your categories based on your monthly wants and needs. Then allocate money to each category every paycheck.
You can add new categories every pay period or take some away. Around holidays and birthdays, we add these new categories in, once the holiday passes we take them out of our budget until the next occasion.
We really like using the cash envelope system along with these budget categories. This way, once our cash is gone in each category we know to stop spending.
If you're ready to get started with budgeting or just need a place to keep track of your budget, make sure to grab our FREE budget binder printables below.
Grab Your FREE Budget Binder Today!
Start saving more money and pay off your debt with this FREE Budget Binder
What Categories Should I Use In A Budget
The best part of picking budget categories is that it's completely based on your lifestyle and needs. Everyone has different wants and needs so everyone's categories are going to be different.
We are debt free now so a lot of our focus goes towards investing, vacations and throwing down extra cash on our mortgage.
Your interests are probably completely different than ours and that's perfectly okay.
Here is an example of how you would use categories to budget your money each month.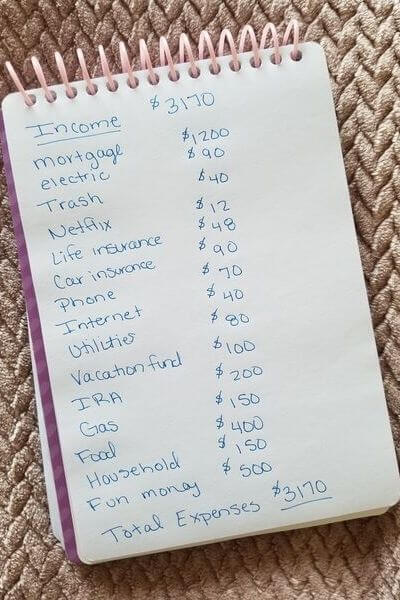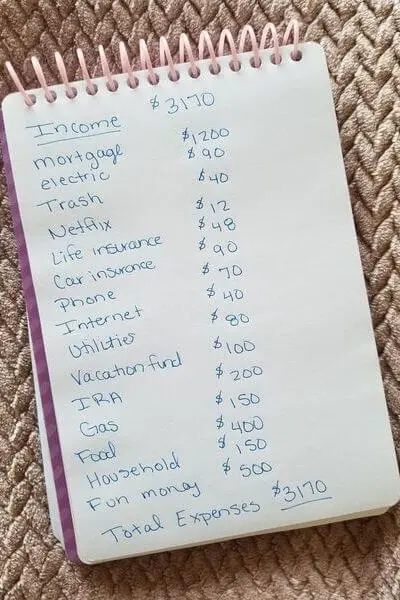 Related posts:
< Zero-Based Budget: The Best Budgeting System To Make Saving Simple
< Cash Envelope System (The Ultimate Guide To Budgeting)
< Cracking The Personal Budget Code: Six Simple Steps To Financial Success
70 Simple Budget Categories
Below, select the budget categories you deem fit for the needs of your household. Then write out your budget using the categories, making sure you account for every expense for the pay period or month depending on which you are budgeting for.
Utilities
< Electricity
< Natural gas
< Garbage
< Water
< Sewer
< Trash
< Cable
< Heating
< Phone
< Recycling
---
Home
< Mortgage
< Rent
< Repairs
< HOA Fees
< Alarm system
< Property taxes
< Rental insurance
< Home owners insurance
< Home remodel
---
Food Expenses
< Groceries
< Resturants
< Alcohol
< Costco/ Sams Club
< Coffee shops
< Fast Food
< Work lunch outings
< School lunch
---
Household Necessities
< Cleaning supplies
< Toiletries
< Tools
---
Transportation
< Gas
< Vehicle maintenance
< Vehicle loan
< Oil changes
< Car insurance
< Tolls
< Parking Fees
< Vehicle registration & tabs
< Lease on vehicle
< New tires
---
Personal Care
< Hair cuts
< New clothing
< Salon and spa
< Chiropractor
< Gym subscription
< Vacations
< Fun money
---
Kids
< After school activities
< Toys
< School supplies
< Allowance
< Daycare
< Babysitter
< Kids college fund
---
Medical Care
< Doctors appointments
< Eye appointments
< Urgent care visits
< Prescriptions
< Glasses and contacts
< Vitamins
< Supplements
< Hearing aids
< Dentist appointments
< Medical insurance
< Dental insurance
---
Retirement
< 401K
< Roth IRA
< Mutual Funds
< Index Funds
There you have it, over 70 budget categories that you can use to help take control of your finances.
Make sure to save this article and join us over on Pinterest!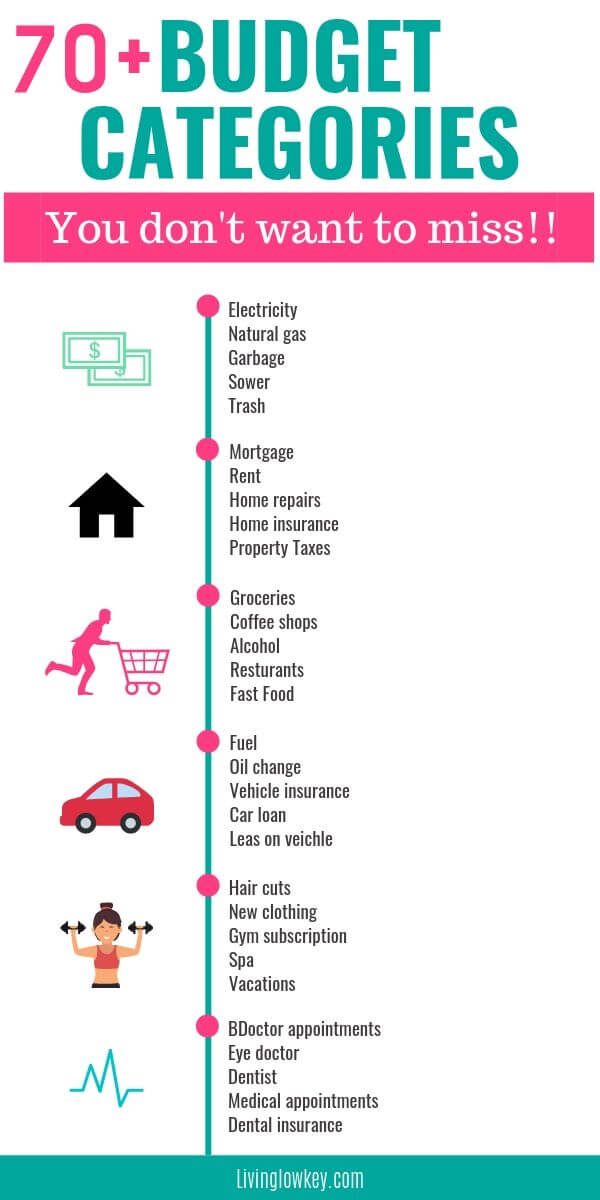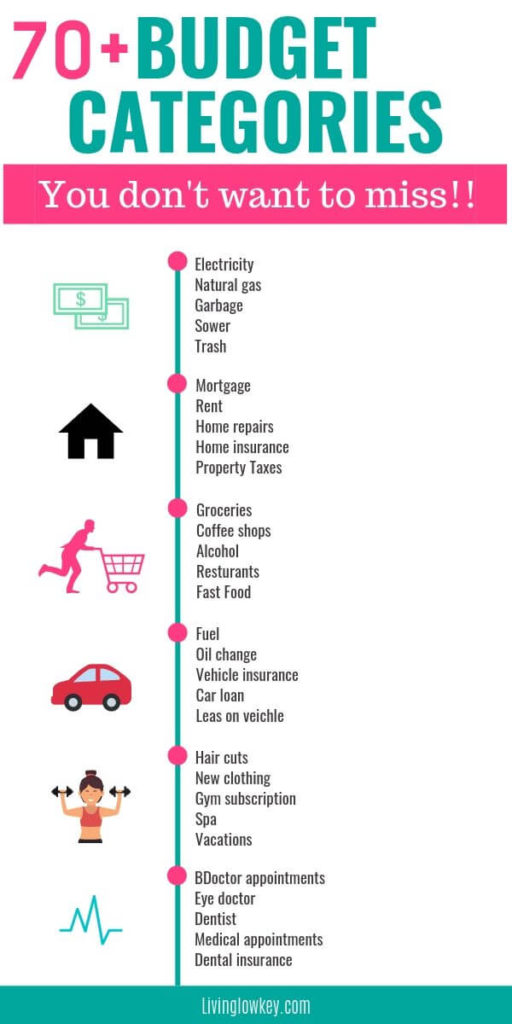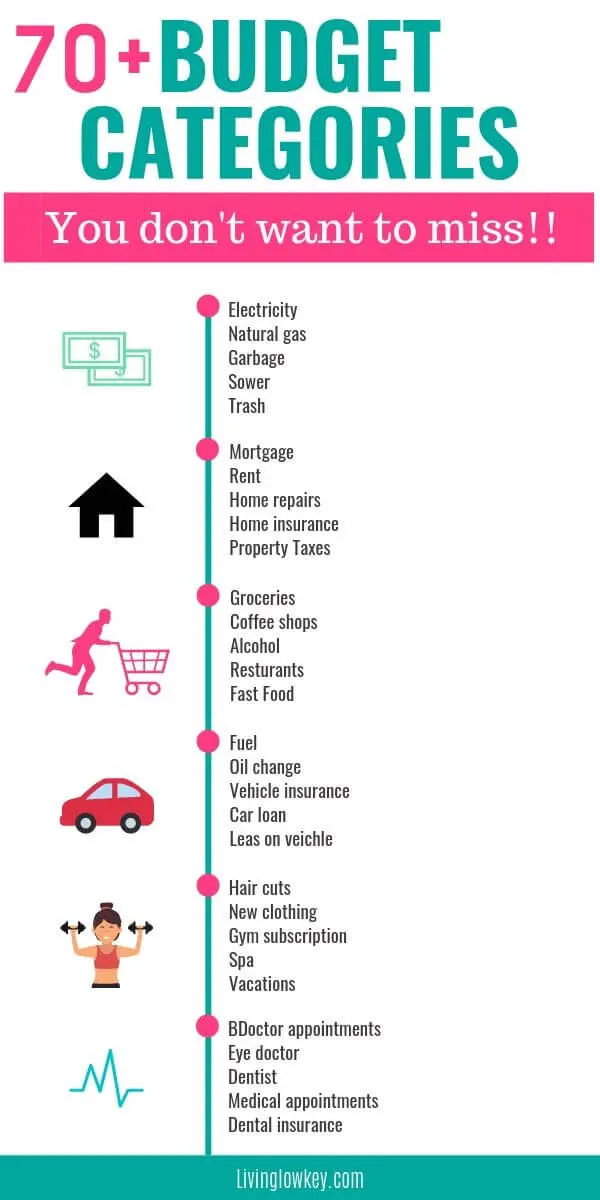 If I missed a budget category that you feel is essential let us know in the comments below, so I can add it!
Related posts:
< Create A Better Budget To Achieve Financial Freedom Today
< Create a Budget and Start Saving Money With This Free Challenge
< How To Budget For A Baby Today So You Don't Go Broke Tomorrow