We all need to eat, but the grocery bill is the expense that can get really out of hand.
When you're broke, finding cheap food can be a huge help.
We all want to feed our family healthy meals that won't break the bank. Luckily, there are lots of ways that you can do this on the cheap.
In this article, we will look at the best cheap foods to buy when you're broke.
You can feed your family well, even when you're on a tight budget. Let's look at how: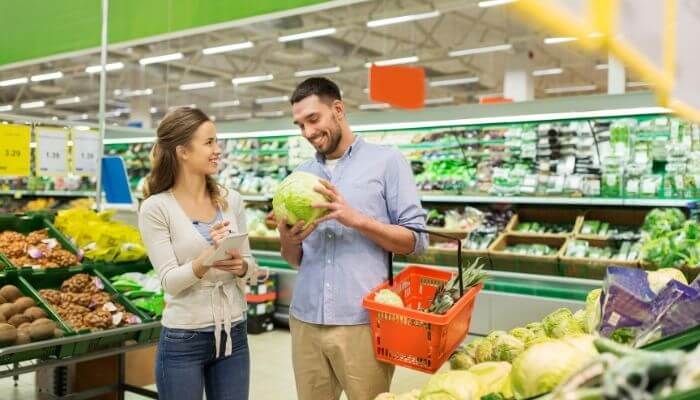 Why You Should Buy Cheap Food At The Grocery Store
There are many good reasons you should buy cheap food at the grocery store – let's look at the top 2:
Will Help You Stay Within Your Food Budget
You may want to go back to how you have been buying your food before, and that's perfectly fine.
If you are going through a bit of a rough patch with money, then you only need to do this to get you back on track.
When you've done a budget, you will know how much you have to spend on your food budget, and you'll want to do your best to stick to this.
If your struggling with keeping a budget it really helps to write things down. Make sure you grab our free budget binder and start keeping track of your expenses.
Related articles:
Will Keep You From Spending More Money Than You Have
It's going to be tough to stick to a tight budget, especially if you aren't used to doing so.
When you're broke, you aren't going to want to go over budget. Buying cheap food at the grocery store will help you stick to your budget.
Grab Your FREE Budget Binder
Stop stressing about money and take control of your finances today! This Free Budget Binder has everything you need to starting saving more money and pay off your debt!
My Favorite App to Score the Cheapest Foods
A great way to save money on your food shopping is to use an app that is specifically for this.
My favorite app is perfect for this! The best app to score the cheapest foods, in my opinion, is Ibotta.
Ibotta is an app that helps you save money by giving you cash back on items you purchase. Best of all its free!!
All you have to do is select the items that you are going to buy on the app, then buy them, and then upload the receipt to Ibotta.
That's it!
The amount that you're able to save will depend on what you buy and where from. It will usually be from a few cents to several dollars.
Using Ibotta has saved us almost $400!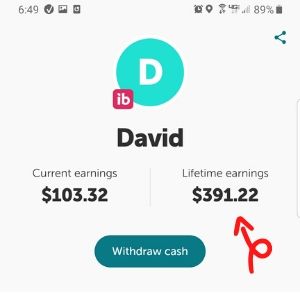 Give Ibotta a try today! (It's free)
Related article: Ibotta App Review 2020 (Is Ibotta Legit Or A Scam)
How To Buy Cheap Foods To Buy When Broke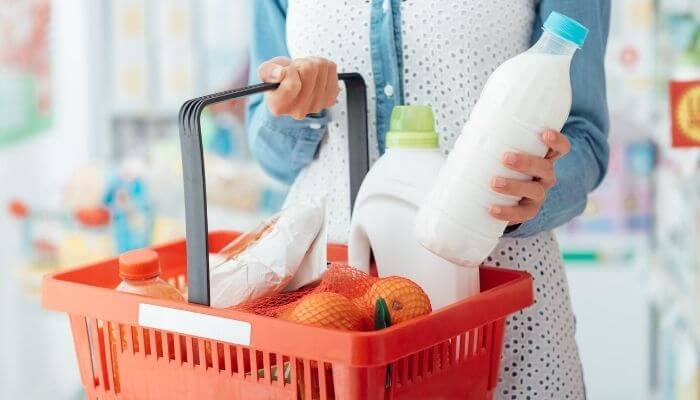 When you want to buy cheap food when you're broke, it can be confusing to know where exactly to start.
If you've never had to do this before, then it may seem overwhelming, but it's easier than you think.
Let's take a look:
Don't Buy Name Brands – Go With Generic
Something that a lot of us are guilty of is heading straight for those name branded items.
It's a marketing tactic whereby we think that the 'better' brands are the ones which are the most expensive.
However, that's not the case, and you may even find that you prefer the generic brands.
A lot of the time, they are made in the same factory, but with different packaging. That's it!
Buying generic brands will help you to save money because you won't be paying for the branding.
Shop Discount Grocery Stores
One of the things that will give you an instant boost in your savings is shopping at a discount grocery store.
Our favorite is Aldi because it's so cheap and really good quality.
Shop Clearance Section if Your Grocery Store Has One
If your grocery store has a clearance section, you can get the food you are going to buy for much cheaper.
They will mark down the price of the products when they are due to expire, or they won't be stocking them anymore.
Compare Prices at Different Grocery Stores
This one will take a bit more work, but it will be worth it for the savings.
The same product in one store may be much cheaper in another. You may have to do some searching online, or go from store to store to check.
Where to Buy Cheap Food Near Me
It's important to look at the places near you where you can buy the cheapest food.
Have a look in your local area for cheap grocery stores such as Walmart, Aldi, or WinCo.
Cheapest Foods To Buy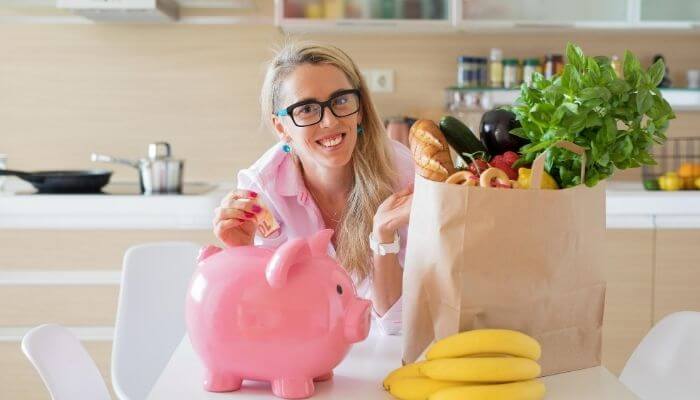 We will now take a look at the cheapest foods that you can buy when broke. Also here are 85 frugal meals you must try when your budget is tight.
Carbohydrates
Carbohydrates are a good thing to add to your grocery shop when broke because they will keep you full and give you energy.
Old Fashioned Oats
Oats are one of the cheapest things that you'll find for your grocery shop.
You can use it to make oatmeal, to use in recipes such as oatmeal cookies, or to pad out your meals to make them stretch a bit further.
Cream of Wheat
This is similar to oatmeal, and you can get it cheap if you buy it in a box.
Bread
Bread is something that you can make yourself or buy really cheaply at the store.
It's versatile and can be used as part of a meal, such as breakfast or a snack.
Cereal
We love cereal in this house, and it's possible to get it cheaper if you ignore all of the big brands.
Rice
Good old rice and beans! Rice needs to be a staple, because it's so cheap and versatile.
Rice is perfect for lunch and evening meals, but you can use it for a lot of different things.
Pasta
Pasta is one of our favorites because it's delicious and so cheap. There are so many different dishes that you can make for the whole family.
Proteins
Proteins are another good thing to make sure you have in your diet, and it's still possible to get cheap versions of them.
Lentils
Lentils are something that you want to have as a staple because they can help meals be padded out.
Beans
When it comes to cheap foods to buy when broke, beans are right up there.
You can buy them bagged or canned, and they have a large variety of uses such as soups, chili, stews, and more.
Ground Turkey
Meat can be one of the most expensive things on your grocery list, and it's always good to look at the deals.
If you see ground turkey discounted then pick it up as it's healthier than red meat.
Chicken
Although meatless meals can be the cheapest option, when you want some meat, the chicken is a good one to go for.
You can select different parts of the meat as well to make it cheaper such as the thighs.
Frozen Meat
For those who could never turn veggie, a cheap food to buy when broke is frozen meat.
Fresh meat is very expensive, and buying it frozen is one of the best ways to reduce this cost.
Eggs
Eggs can be used for so many different things! You can use them for baking, e.g. in cakes or muffins.
You can also use them for meals such as omelets – they are an awesome cheap food to buy when broke.
Tuna
Tuna isn't one of the cheapest things in the world that you can buy, but it can be a cheaper addition to a meal than other meats.
Peanut Butter
You may be surprised to see peanut butter on the list, but if you use it wisely, it can go far.
After all, what kid doesn't love PB&J sandwiches?!
Vegetables
When you are trying to be healthy but still eat cheap food, vegetables have to be high on the list.
Let's look at some cheap vegetables that you should include in your grocery shop:
Broccoli
Broccoli is a versatile vegetable that can be used in pretty much every meal that you have.
That's because you can have it as a side dish for a variety of meals, soups, etc.
Canned Tomatoes
This is such a staple in our house and something that we always recommend to have in your pantry.
It's perfect for adding to pasta dishes, chili, bolognese, and more.
Carrots
Buying carrots in bulk is a great way to go, and it may even be worth looking at local farmer's markets.
You can use carrots as a side or as a main ingredient for things like soups.
Garlic
Sometimes meals can start to taste a bit bland when you are trying to keep the costs down.
Garlic is a good ingredient to have in your pantry to add some much need flavor to a meal.
Canned Pumpkin
We tend to think about pumpkin in the fall, but you can have them all year round.
To make it a cheaper option, look into purchasing them canned.
Kale
Kale is something that many people in the fitness industry talk about, and for a good reason – it's super healthy.
You can pick it up quite cheaply at your local grocery store.
Peppers
Peppers have a lot of health benefits and can be enjoyed both raw or cooked.
It's best to buy them when they are in season. You can either give them to the kids for a snack or pop them into a recipe. We love them in chili!
Squash
It's worth looking for squash in season (the fall) because it will be cheaper then.
Squash can be an ingredient in so many cheap meals such as soup or risotto.
Salad
When you are trying to be healthy on a budget, then the salad is always a go-to.
You can make it easier by making them yourselves by chopping up vegetables and creating your own dressing.
Spinach
When you are creating cheap recipes, you're going to want to find ways to make them healthy.
Adding something like spinach to a cheap meal can give it the health boost that you need.
Potatoes
Potatoes are a fantastic cheap food to buy when broke because they are so versatile.
You can use them to bulk out meals, e.g.s hotpots or stews. They can be side dishes or salads or a meal on their own such as baked potatoes.
Sweet Potatoes
You can use sweet potatoes in the same way as regular potatoes, but they are a healthy alternative with a really nice taste.
Zucchini
Zucchini is a healthy ingredient that you can add to many dishes and get cheaply when they are in season.
Onion
Onions are a vegetable that you can get for cheap and add a strong flavor to your food.
Frozen Veggies
If you haven't bought frozen veggies before then, you may find a bit of resistance here.
You'll be pleased to know that frozen vegetables have around the same amount of nutrition as fresh.
They are great for any time that you need to use veggies in a meal, or you could use them specifically for things like vegetable soups or stews.
Fruit
Fruit is another thing that's likely to be on the top of your list, especially when it comes to feeding a family.
Eating cheaply doesn't mean that you need to eat unhealthy food – you can still eat well even when you're broke.
Cantaloupe
Look out for deals on cantaloupe to keep the costs down. It's nice to eat either on its own or in a fruit salad.
Canned Fruit
When things are really tight, there's nothing wrong with buying canned fruit. Or at any time!
You can get a large variety of canned fruit – our favorite is peaches.
Bananas
We love bananas in our house because they're one of the fruits that don't go moldy straight away! They're also surprisingly filling.
Apples
Apples are another good fruit to get because, like bananas, they don't go moldy quickly.
Grapes
Grapes are one of the cheapest fruits that you can add to your list, and they tend to get eaten pretty quickly too!
Kiwi
Looking for a good snack for your kids? Or yourself? Kiwis are lovely to eat and budget-friendly as well.
Melon
Melon is one of my favorite things to eat as a healthy snack and easy on the wallet.
Watermelon
We love this as well as melon but do advise that you get watermelon when it's in season to keep costs down.
Frozen Berries
Frozen berries are the perfect alternative to fresh berries, which can go off quite quickly.
Oranges
Oranges deliver a punch of much-needed vitamins and also keep well.
They are great as a snack, or you could even use them to make fresh orange juice. Delicious!
Dairy
Dairy products get used up pretty quickly in most households, so it's important to look at ways to get it cheaper.
Milk
Luckily milk isn't that expensive, and it is very versatile. You can, of course, drink milk, but it doesn't tend to be used just for that.
You can use it in cereal (the main way that we use it) and in meals, pancakes, waffles, smoothies, protein shakes, and more!
Yogurt
Yogurt is a healthy item for you to put on your grocery list – and if you get certain ones, then it's perfect for your gut.
Look for the generic brands and check how much you are getting for the size of the pot you buy.
Cheese
We love cheese! It's delicious and can be a vital part of a lot of meals.
There are expensive types of cheese which we would advise to avoid when you are broke. That doesn't mean you can't have it, though!
Try and pick up the cheaper cheeses, such as cheddar. It's perfect as a snack for kids as well as a meal supplement.
Chocolate
You better believe chocolate made it onto the list! Cheap chocolate isn't the best if you're eating it as a snack, but it's excellent for baking.
Do you have kids? There are so many things that you can bake with chocolate added in such as cookies or muffins.
Summary
Hopefully, this list of the cheapest foods at grocery stores will have helped you out.
When you are broke, it's important to look at the cheap foods to buy when broke. You want to eat well still and fill yourself up but do so on a budget.
The cheapest food to eat doesn't need to be tasteless or boring. You can still cook and eat well when you don't have a lot of money.
There are certain hacks that you can do to make it cheaper, and particular food items that are best to choose.
What are your best tips for cheap foods to buy when broke?
If you love these ideas, make sure to save this post for later and come join us over on Pinterest!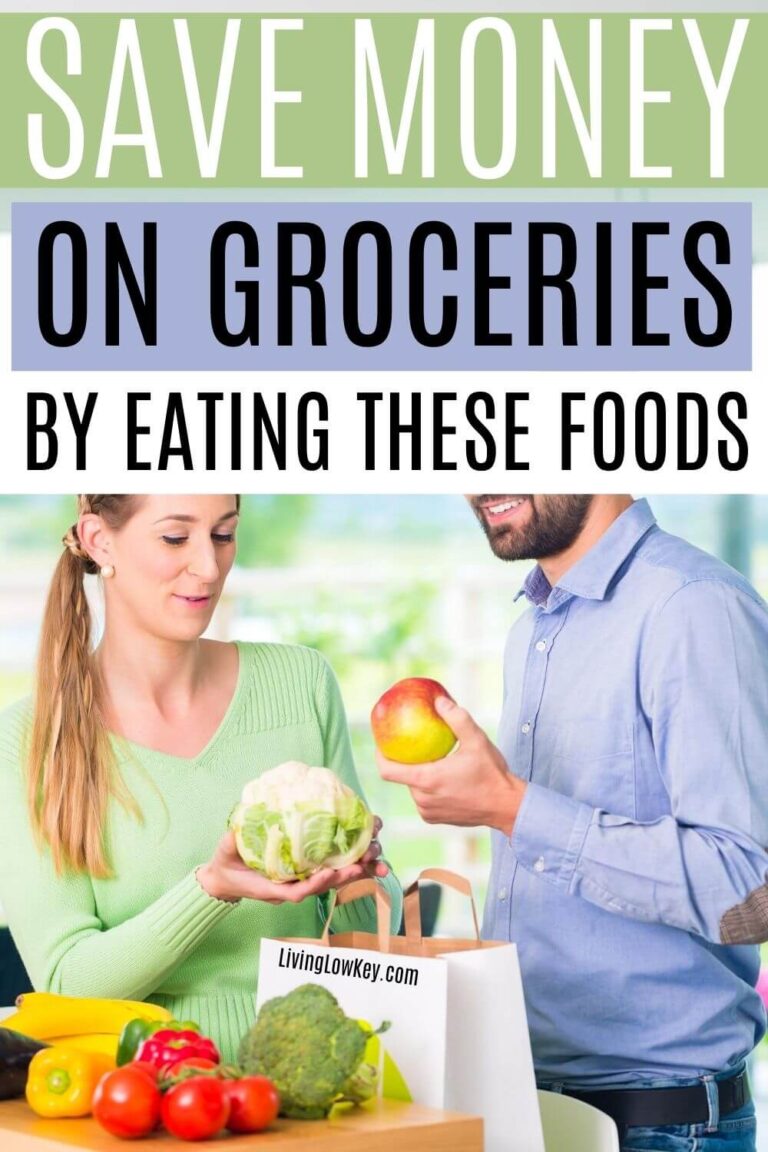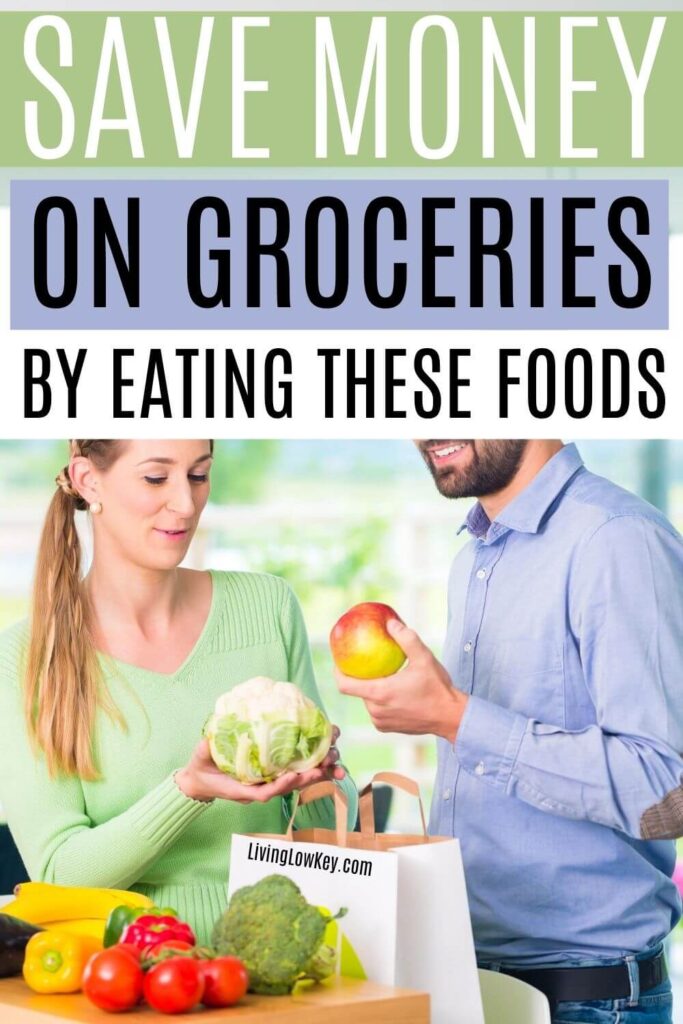 Related articles:
Grab Your FREE Budget Binder
Stop stressing about money and take control of your finances today! This Free Budget Binder has everything you need to starting saving more money and pay off your debt!