Christmas – the most wonderful time of the year, right?
There are so many great things about Christmas, like spending time with family, celebrating traditions, exchanging gifts, and, of course – the food! All these activities make it a special occasion for everyone.
But what happens when spending gets a bit out of hand? It's all too easy to overspend during the holidays, which can cause a lot of stress and anxiety.
That's why it's important to plan and set a Christmas budget before shopping begins. This will help you track your spending and ensure you don't spend more money than you had intended.
This article will look at creating a Christmas budget and having less stress in the holidays!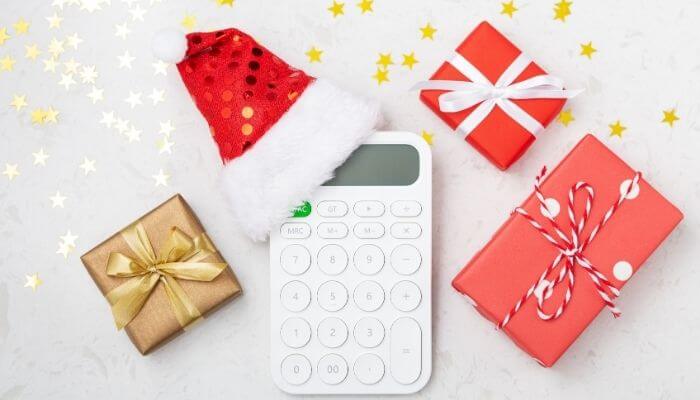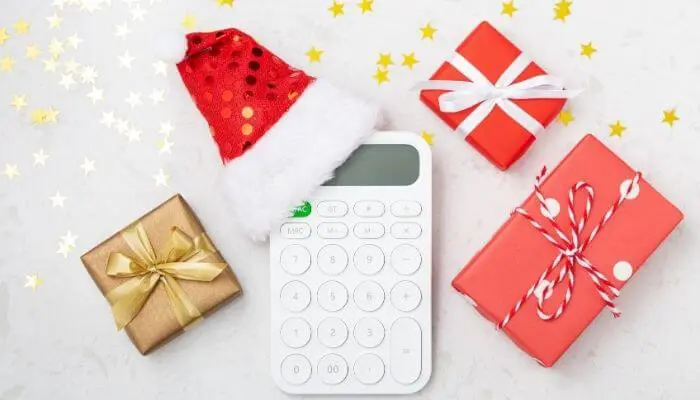 What is a Christmas Budget?
A Christmas budget is a specific budget that you create intending to help you manage your holiday spending.
Ideally, you should be budgeting each month (or paycheck) already, but working toward an additional holiday budget will greatly help in the long run.
There are so many different costs that go into the Christmas season: holiday shopping, hosting, Christmas cards, and gift giving. Therefore, it's wise to have a spending limit.
If you have never created a budget for Christmas before, that's ok. It's not as bad or scary as it sounds.
Budgets get a bad rep, and it's usually because of 2 main things:
You aren't using realistic numbers
Or are you cutting out too much stuff
Budgets aren't meant to be boring or restrictive – they're just a tool to ensure your spending aligns with what matters most to you. Whether you want to pay off debt, save for a big purchase, or, in our case, save money for Christmas gifts.
Having a budget for Christmas will help you stay on track so that when it's time to write up your Christmas list and do your holiday shopping, you are well prepared.
Grab this Christmas Budget Planner to ensure you don't overspend this holiday season.
How to Set Up a Christmas Budget?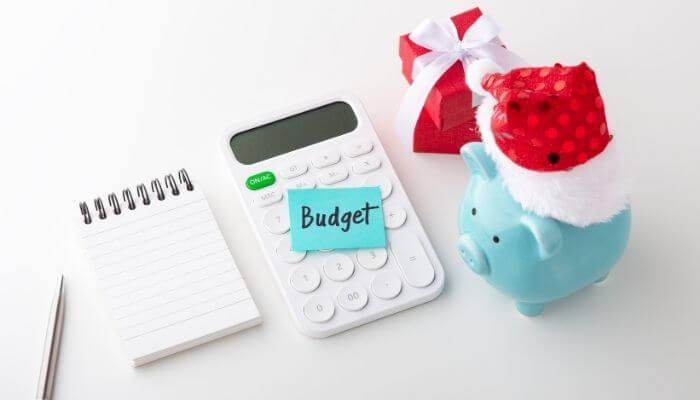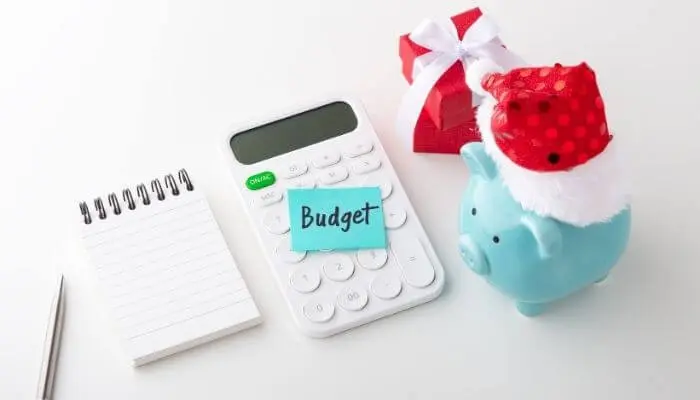 One of the most important steps in sorting out your budget for Christmas is deciding how much money you have for it. Let's take a look at what your budget for Christmas is and what it should be based on what your goals are.
1. Determine your spending limit
The very first thing you must do when setting up a Christmas budget is determine how much money you need by the holiday season. This amount of money will be your holiday spending limit and should include gifts, decorations, entertainment, food, etc.
There are a few ways to figure this out —you can use a budgeting app or calculator to calculate your total spending limit or take an honest assessment of what you plan to spend on each item.
A few questions you should ask yourself:
Are you going to be hosting for the holidays
How many people will you be buying gifts for
Are you going out of town or traveling
These things tend to eat up a large portion of your budget quickly, so factoring them in is important.
Create a list of your expenses
To calculate your spending limit, you need to create a list of ALL of your holiday expenses. We recommend using our Christmas planner, or you can even do this with our Free Budget Planner.
This should include gifts, wrapping paper, decorations, entertainment, food and drinks, gift exchanges, stocking stuffers, travel expenses (if applicable), and any other purchases that arise.
According to the Nation Retail Federation, holiday spending for 2023 is at an all-time high, as the average person spends around $966.
2. Figure out a plan of action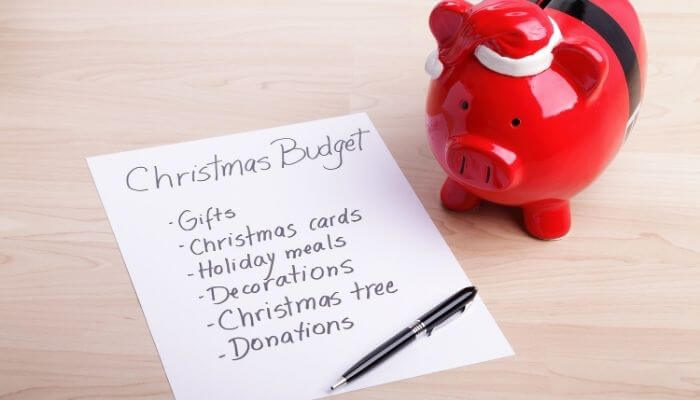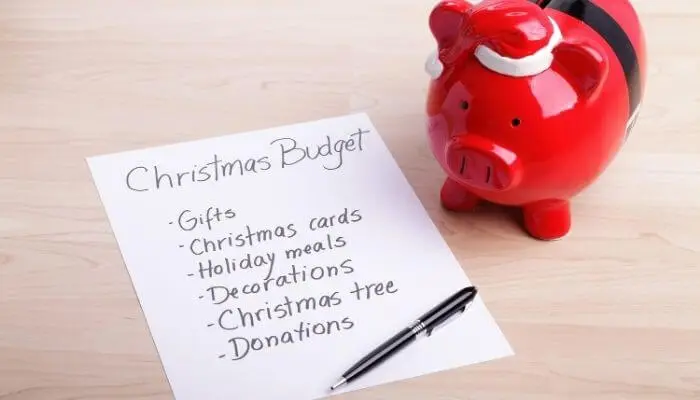 Once you have all of your holiday expenses laid out, it's time to gift a number each time. How much will you need for each budget category you laid out above?
Once you have numbers next to each category, add them up to determine how much you will need for the holidays.
According to the Nation Retail Federation, holiday spending for 2023 is at an all-time high, as the average person is spending around $966. Does your Christmas budget look similar to that?
How much should you save
If you have yet to start saving for the holidays, simply take how much money you determined you will need for the holidays and divide it by how many months, weeks, or pay periods are left before the holidays. This will give you an idea of how much you need to put aside each period in order to hit your goal.
For example, if you need $400 for the holidays and there are four pay periods left before then, you should try to save around $100 per pay period.
As mentioned above you can use a budget calculator or app to do this, which can help you to track your progress and remind you when payments need to be made. This will help make sure that you stay on track with saving for the holidays.
By setting aside money each week, month, or pay period, you'll be able to have the funds ready for Christmas without having to worry about going into debt. Setting up automatic transfers from your bank account into a savings account is also a great way to ensure that you're consistently putting aside the money you need for the holidays.
3. Track your spending as you go
Once you have determined how much money you can spend on Christmas this year, start tracking what you're actually spending each month leading up to the holiday season.
This can be done via our Christmas planner, an app, or our free Budget Planner. Or you can simply keep track on a piece of paper.
This will help you stay within your budget and avoid overspending.
Related articles:
Why Should You Budget for Christmas?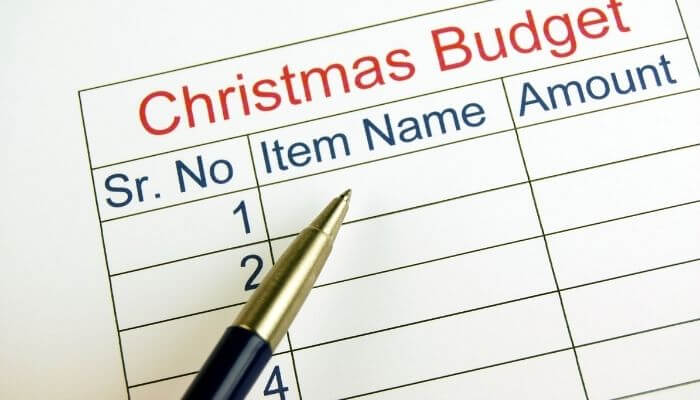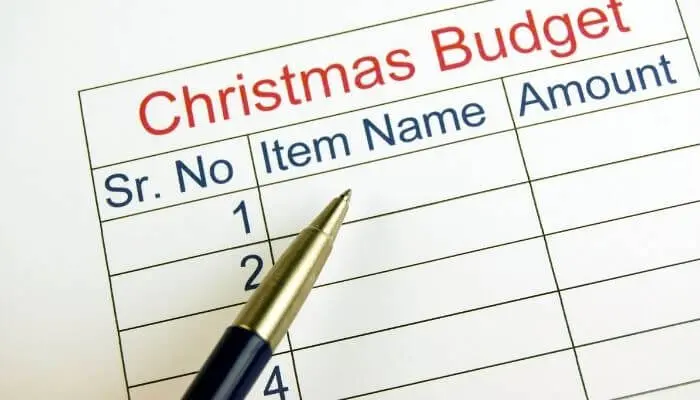 Some people may be able to cash-flow Christmas, but this won't be possible for a lot of us.
The last thing you want to happen is to get to Christmas and realize that you don't have enough money to pay for it.
What then can happen is you are faced with the choice of having to put the things you're purchasing on a credit card, with no vision of how you are going to pay it off in the future.
If you don't want to go into debt this holiday, a Christmas budget is the only way to go to have a debt-free Christmas.
1. Budgeting helps you plan for the holidays
Nobody likes to be flustered and stressed any day – least of all during Christmas time.
One of the best ways to combat stress around Christmas (and anything!) is to make sure that you have a good plan in place.
A good plan will mean that you have everything under control and will be able to pay for the things that you want to buy on your Christmas list.
2. Budgeting keeps you from overspending
Following a specific budget for Christmas will keep you from overspending.
Overspending is a common thing that happens with Christmas spending, usually because we get overexcited or we just aren't tracking what we are buying and spending.
Tracking your spending is a great thing to do in general, regardless, as it will keep you on track with your budget and identify any problem areas.
It will help you keep track of other holiday expenses aside from gifts, such as food, entertainment, etc.
When we think of Christmas budgeting, we tend to just think about the gifts. However, there's so much more to it than that!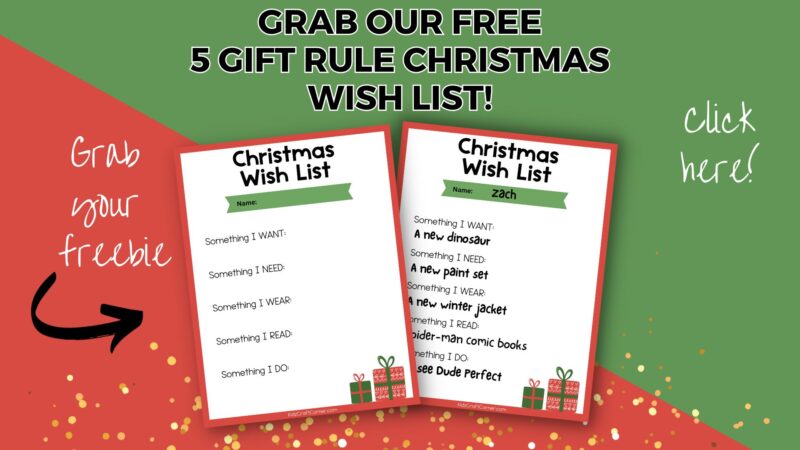 Need More Money for the Holidays?
When the budget is looking a bit tight, it's always a good idea to look at a few ways that you can make more money without breaking the bank. With a few simple tricks, you can increase your income to help you get through the holidays.
Here are ten quick ways to make extra money:

1. Sell old clothes online – You can easily sell your unwanted fashion items on websites like eBay or Depop for some quick cash.

2. Pick up freelance work – There are plenty of websites that offer freelance opportunities and can help you find extra income in a pinch.

3. Tutoring – If you're knowledgeable in a certain subject, why not use it to your advantage and start offering tutoring lessons? You could even advertise on sites like Chegg or TutorMe.

4. Become a virtual assistant – Virtual assistants are becoming increasingly popular and can offer services like data entry, customer service, research, etc.

5. Take online surveys – Companies always look for consumer opinion and will pay you to provide it. Sites like Survey Junkie or InboxDollars can help you get started with taking surveys.

6. Deliver food – Services like Postmates and Uber Eats allow you to pick up orders from local restaurants and deliver them to customers.

7. Rent out your car – Platforms like Turo or Getaround let you rent out your car while it's not in use. This is a great way to make some extra money without having to do much work.

8. Become a pet sitter – If you love animals, pet sitting can be a great way to make some extra cash. Sites like Rover and DogVacay help you find customers who need someone to look after their pets while they're away.

9. Teach online classes – You don't have to be an expert in something to teach it. Platforms like Skillshare and Udemy will let you create a course on any topic and get paid for teaching people online.

10. Flip furniture in your free time – Need fast cash, why not try flipping furniture? You can find pieces of furniture at thrift stores or garage sales and flip them for a profit. With just a little bit of effort, you could turn it into a nice quick side hustle or at least pay for your holiday gifts.
Christmas on a Budget – Final Thoughts
Christmas is a time of joy and celebration, but it can also become a financial burden if we aren't careful. Shopping for gifts, decorating for the season, and having friends and family over can all add up quickly.
Try to stick to your Christmas budget and evaluate what gifts are necessary before you start shopping. Planning ahead can save you from making unnecessary purchases and help you avoid holiday debt.
Happy Holidays!
If you enjoyed this article, save it for later and join us on Pinterest!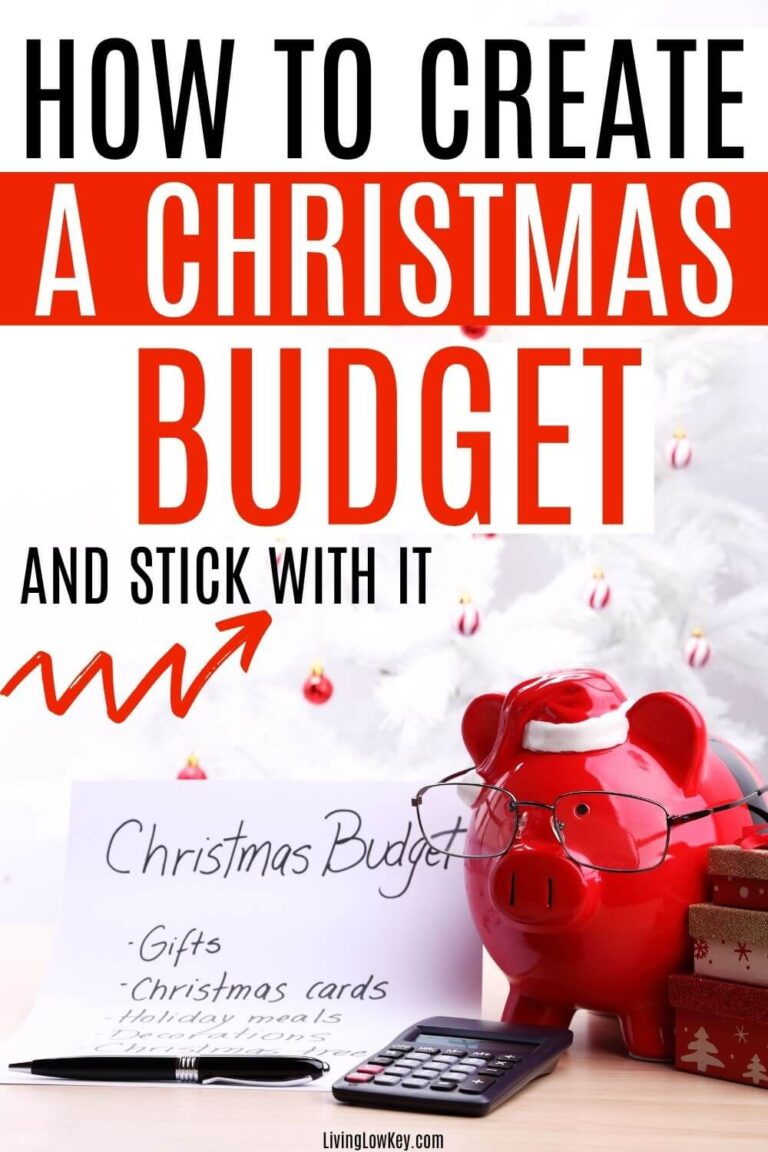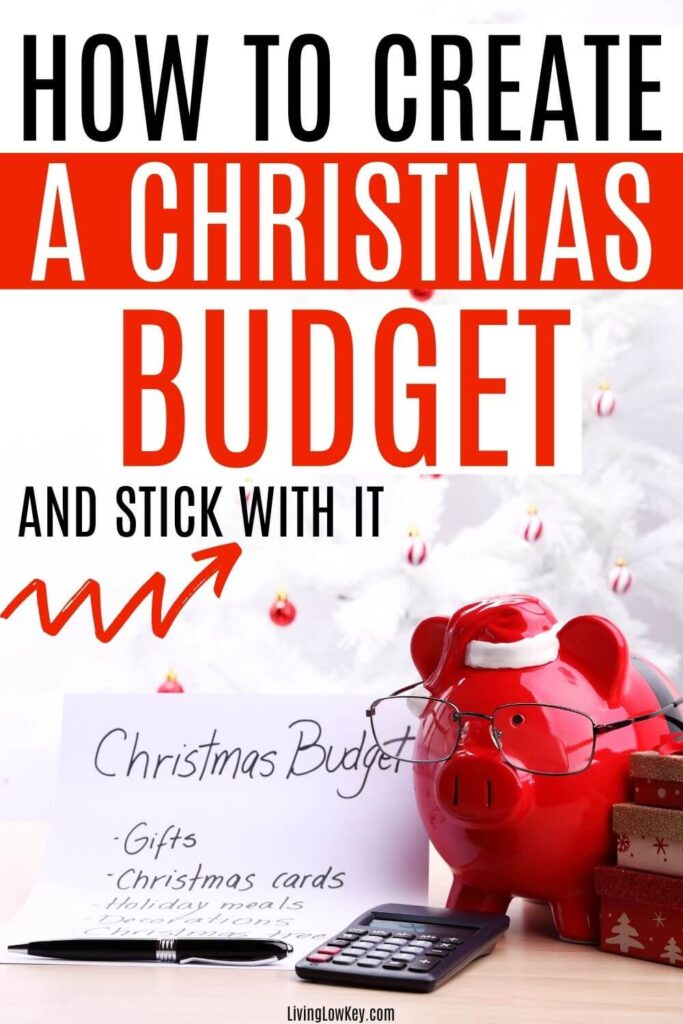 Related articles: