Christmas – the most wonderful time of the year, right?
There are so many great things about Christmas, especially the presents, but what happens when spending gets a bit out of hand?
The average American spends $942 per person on holiday gifts. Yikes!
With that in mind, it's important to put together a Christmas budget.
In this article, we will look at how to create a Christmas budget and have less stress in the holidays!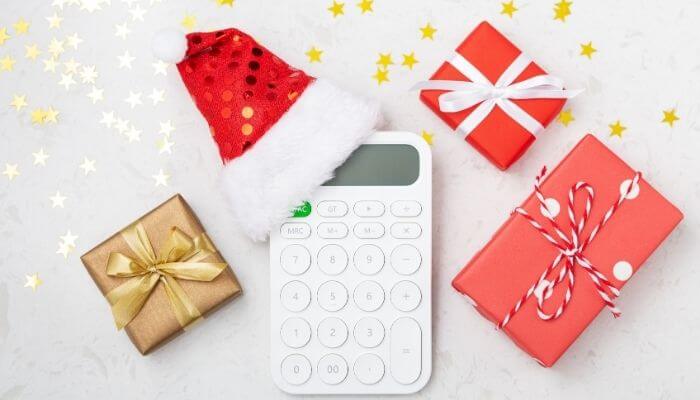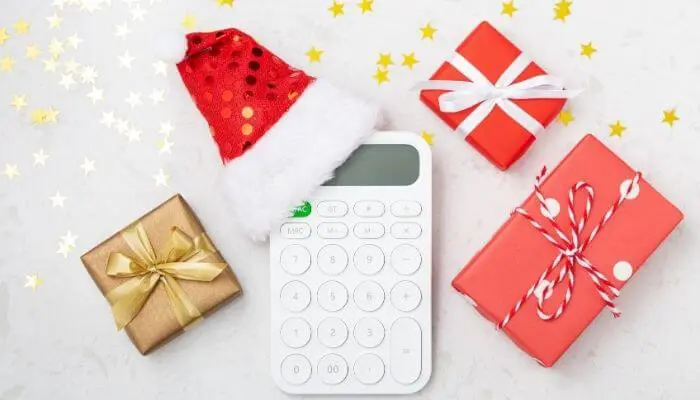 What is a Christmas Budget?
A Christmas budget is a specific budget that you create, intending to help you manage your holiday season costs.
Ideally, you should be budgeting each month (or paycheck) already, but working to an additional holiday budget will help a lot in the long run.
There are so many different costs that go on at Christmas time, and it's wise to try and manage those.
If you have never created a budget before, that's ok. It's not as bad or scary as it sounds.
Budgets get a bad rep, and it's usually because of 2 main things:
Not using realistic numbers
Cutting out too much stuff
Budgets aren't meant to be boring or restrictive – they're just a way of using the money that you have, for the things that you want to buy, and making sure you don't go over.
Spending more than you have in income will lead to getting into debt and a lot of stress!
The budget for Christmas will be seeing how much you have to spend, and want to spend, and making a plan based on that.
Check out this really neat little Christmas Budget Planner to make sure you have everything organized this Holiday season.
Related articles: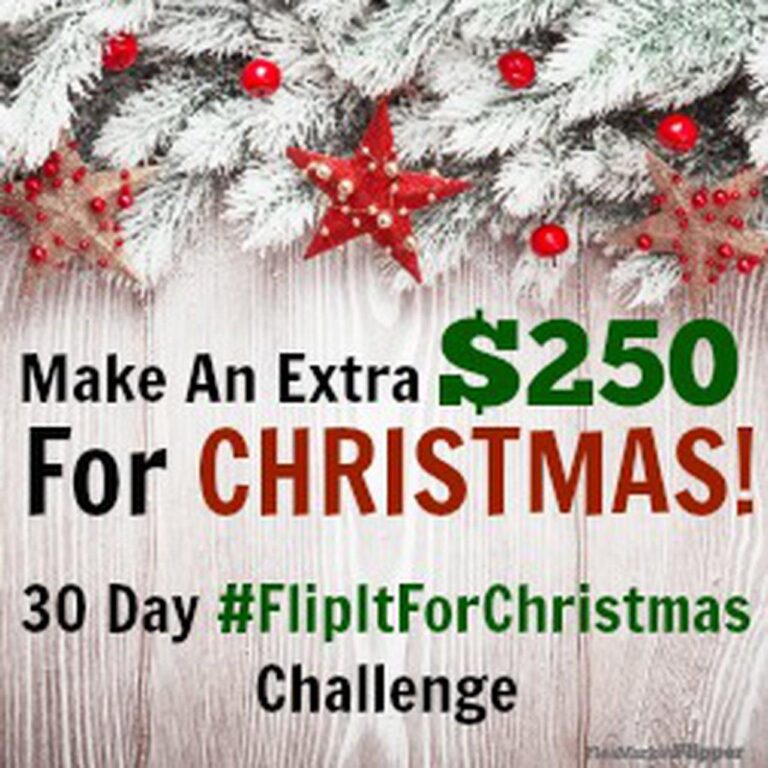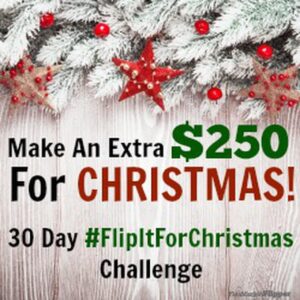 Why You Need to Budget For Christmas Ahead of Time
Some people may be able to cash-flow Christmas, but this won't be possible for a lot of us.
The last thing you want to happen is to get to Christmas and realize that you don't have enough money to pay for it.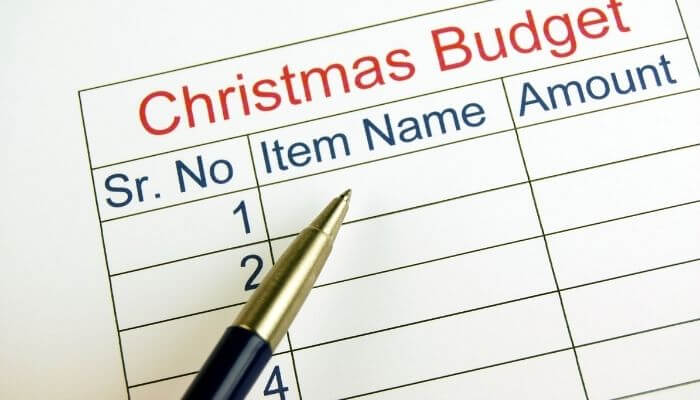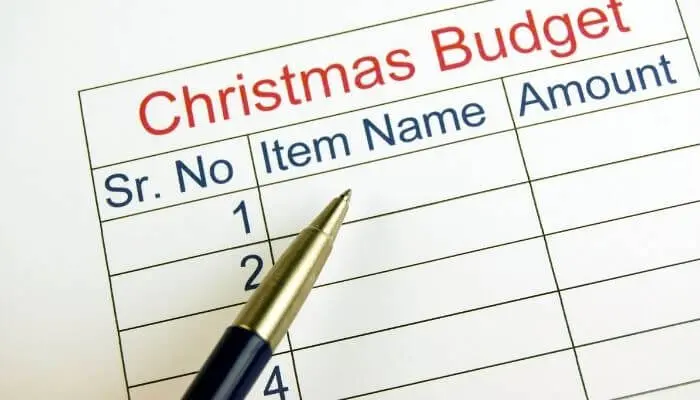 What can then happen is potentially having to put the things you're purchasing on credit.
There are lots of people who get into debt for Christmas, and this is something that we want to avoid.
It Will Help You Plan for the Holidays
Nobody likes to be flustered and stressed any day – least of all during Christmas time.
One of the best ways to combat stress around Christmas (and anything!) is to make sure that you have a good plan in place.
A good plan will mean that you have everything under control and will be able to pay for the things that you want to get.
There will be no need to do a last-minute dash around to get things that you've forgotten, and no more swiping on your credit card!
To Track Your Spending So You Don't Overspend
Following a specific budget for Christmas will help you not to overspend.
Overspending is a common thing that happens with Christmas spending, usually because we get overexcited, or we just aren't tracking what we are buying and spending.
Tracking your spending is a great thing to do in general, regardless, as it will keep you on track with your budget and identify any problem areas.
It will help you keep track of other holiday expenses aside from gifts such as food, entertainment, etc.
When we think of Christmas budgeting, we tend to just think about the gifts. However, there's so much more to it than that!
There are the trips to see family, work nights out, Secret Santa's, the million things that the kids' school asks for, and so on.
Tracking your spending will help you keep track of all of the different things that you will be spending on.
What Is Your Budget For Christmas?
One of the most important steps in sorting out your budget for Christmas is deciding on how much money you have for it.
Let's take a look at what your budget for Christmas is and should be, based on what your goals are.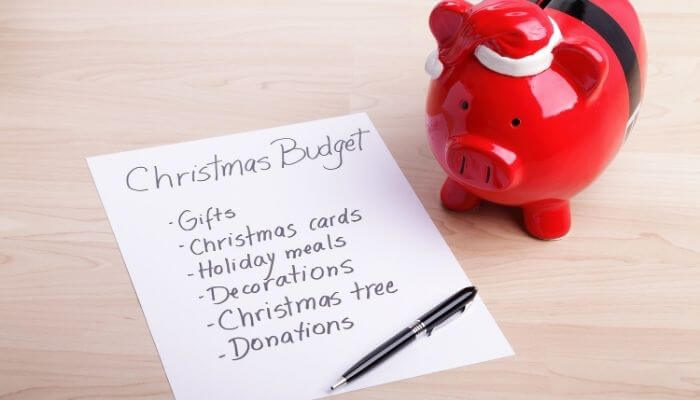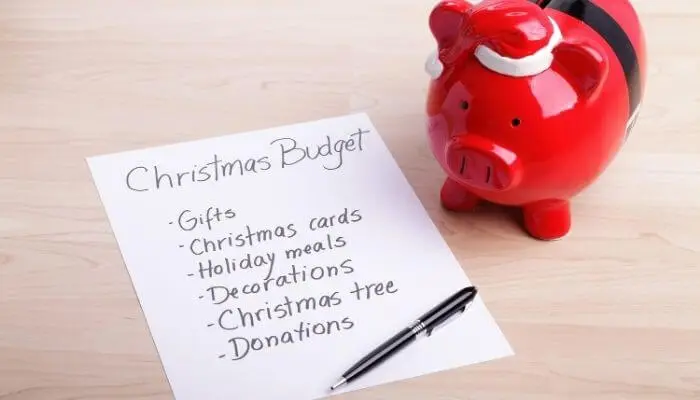 How Much Do You Want to Spend on Christmas?
First, you can start with how much you want to spend on Christmas this year.
Try and think of all of the things you will need to spend at Christmas time – not just the gifts.
Think back to what kind of things you spent last year to help you remember what you need to get.
You may find that you want to spend more this Christmas than usual, or perhaps you want to spend less.
It can help to think about what you have planned and if you have any trips over the holidays, increasing the amount by a lot.
How Much Do You Currently Have Saved?
So you know how much you want to spend, but how much do you currently have saved?
The amount you have now and the amount of time left to save it will help you see if the amount you want to spend is realistic.
That doesn't mean draining all of the savings you have currently, as that may be needed for your other goals.
The whole point of your Xmas budget is to create a separate mini-budget away from your usual budget that is specifically for the holidays.
Start a Christmas Sinking Fund
Maybe you've heard of sinking funds before or currently use one. Now is the time to add a Christmas sinking fund to the mix!
This will help you split the costs throughout the year so that you aren't hit with a huge amount of expenses in one go.
What is a Sinking Fund?
A sinking fund is essentially a savings pot that you use for a specific purpose.
Typically it will be something that happens at some point every year, that you pay a lump sum for.
When you have a sinking fund, you will be saving towards that amount each month, instead of paying it as a lump sum when it comes up.
The idea is that you split the amount you need to save with the number of months that you have to save it. This makes saving much easier.
So in terms of a Christmas sinking fund, you will determine the amount you want to save for Christmas and then divide it by the number of months you have left to save until then.
This is where knowing how much you want to save will come in handy, as this will be the number that you are dividing by the amount of time you have left to save.
Start Saving as Early as Possible
This may sound obvious, but the sooner that you start saving, the better.
This is because you don't have to save as much each month to get you to your goal.
For example, if you want to save $1000 by December 1st but only have a month left to save, that's $1000 in one month to find.
But if you have ten months to save $1000, that's $100 each month to keep instead. Much easier!
Finding different ways to make a little extra money around the holidays can be a great way to help you save more money for gifts.
If you're looking for a really great resource that can help you make extra money buying and selling stuff before the holidays, check this out! They have a great FREE course that teaches you how to make $100 in your first 7 days!
How To Create A Christmas Budget
Now it's time to create your Christmas budget! We are going to look at how exactly you can put it together successfully.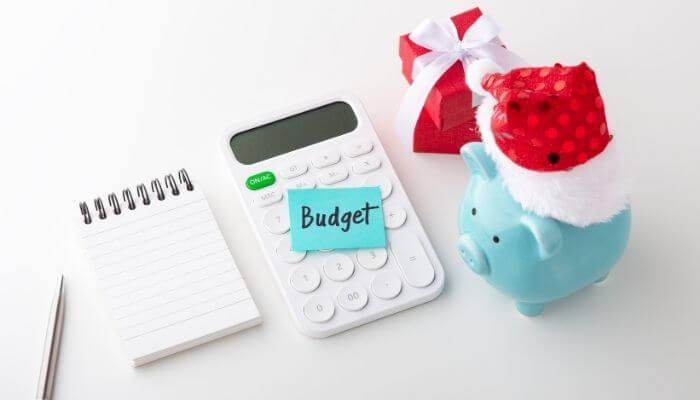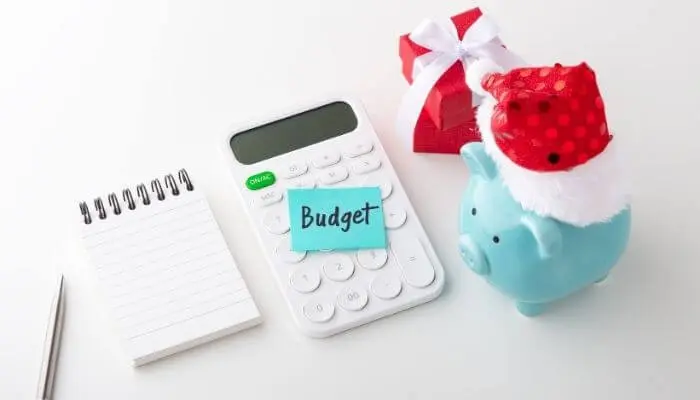 Make A List Of The People You Need To Buy Gifts For
Firstly, you'll want to write out a list of the people that you need to buy gifts for. Use a simple tracker to help you keep your Christmas Gift List organized.
When we just think of a list off the top of our heads, we may find that we forget some important people!
Your partner and children, there's the rest of your family, friends, the school teachers, and so on!
You don't have to have a huge list if you don't want to – this needs to be personal for you.
Include Other Holiday Expenses
There are other holiday expenses that you'll want to include in your Christmas budget, as it's not just all about the presents.
Think about the things that you will be doing over the Christmas holidays to help you think about the additional expenses to add to the list.
One big holiday expense is food. If you are entertaining people over the holiday season, you will want to account for this additional food cost.
Something else to consider is the fact that you may have kids off school and adults off work. This could (and probably will) mean more food at home as well.
Are there any parties that will be going on in the holidays you need to budget for? Think about other people's parties, as you may want to take a gift along.
We like to be entertained throughout the holidays, so make sure entertainment is part of your budget.
Think of things such as work parties, school parties, events, visits to see Father Christmas, etc.
Subtract All Expenses From Your Christmas Budget
As you go along spending the money you have budgeted for Christmas, it's important to subtract as you go.
What you don't want to be doing is not tracking your spending. This could mean that you are going over budget in some areas, which we don't want.
Retake a look at the holiday expenses you listed out above and try to stay within your budget.
Keep Track Of Your Spending During The Holidays
Something that's going to be really important with keeping you on track is writing out all of your spendings as you go.
This is so important is to make sure that you aren't going to spend more than you have allocated within certain categories.
You may find that you need more in one category than you had initially planned, but this means that you will need to cut back somewhere else.
Whenever you purchase something from the Christmas budget, make a note of it and make sure that you're on track.
Bonus: Ideas On How To Make or Save Money During The Holidays
When the budget is looking a bit tight, it's always a good idea to look at how you can make or save money.
The more money you save or make means more to go towards your Christmas budget. Here are some great ways to make or save more MONEY ASAP!
Use cash back apps when shopping
Have you heard of cash back apps before? We love them!
You simply download the app, select the items you will be purchasing, and then upload your receipt. That's it!
Our favorite cash back apps are Ibotta and Rakuten.
Get a side hustle
A side hustle is a way that you make extra money on the side of your usual income. A side hustle can often take over your primary job in terms of income!
There are so many things that you can do on the side, such as:
Make sure to check out the side hustle that made us over $22,000 over the holidays last year.
Take on a part-time job over the holidays
You know how busy things can get during the holiday season – and that means that many companies will be taking on more staff, and have openings for part-time jobs.
Have a look around your local area to see if anyone is hiring, or even ask on local Facebook groups to let people know you are looking.
Some places which do particularly well over Christmas are retail stores and restaurants. Make these your first port of call!
Think of what else does well over Christmas – how about delivery drivers? Lots of people will be ordering more online, and the need for delivery drivers will go up.
If all else fails, here are a few easy ways to make $200 a day!
Related article: How To Make Instant Money Online Absolutely Free
Make DIY gifts
When you're on a tight budget but still want to give gifts, it may be time to look at some DIY gift ideas.
We love homemade gifts such as candles, soap, cookies, and any other homemade food or snacks! You could even make your own drinks. We also love using our Cricut to customize gifts for our family.
The great thing about this is that you can personalize it based on what the gift recipient loves.
Cut your spending
If you cut back on your spending, then you'll have more money to spend on Christmas!
It sounds like a no-brainer when you put it like that, but this is something that needs a bit of time and work.
Go through your spending and see if there are any areas that you need to cut back on.
Perhaps you feel like you are spending too much on groceries and are throwing food away. This is where you can start to meal plan and save your money as well as food waste.
Christmas Budget – Summary
What are your best tips for how to budget for Christmas? If you have no money for Christmas or are doing Christmas on a tight budget, we truly hope that these tips have been helpful.
Let us know in the comments what your best tips are for budgeting for Christmas! What is your Christmas gift budget?
If you enjoyed this article, make sure to save it for later and join us over on Pinterest!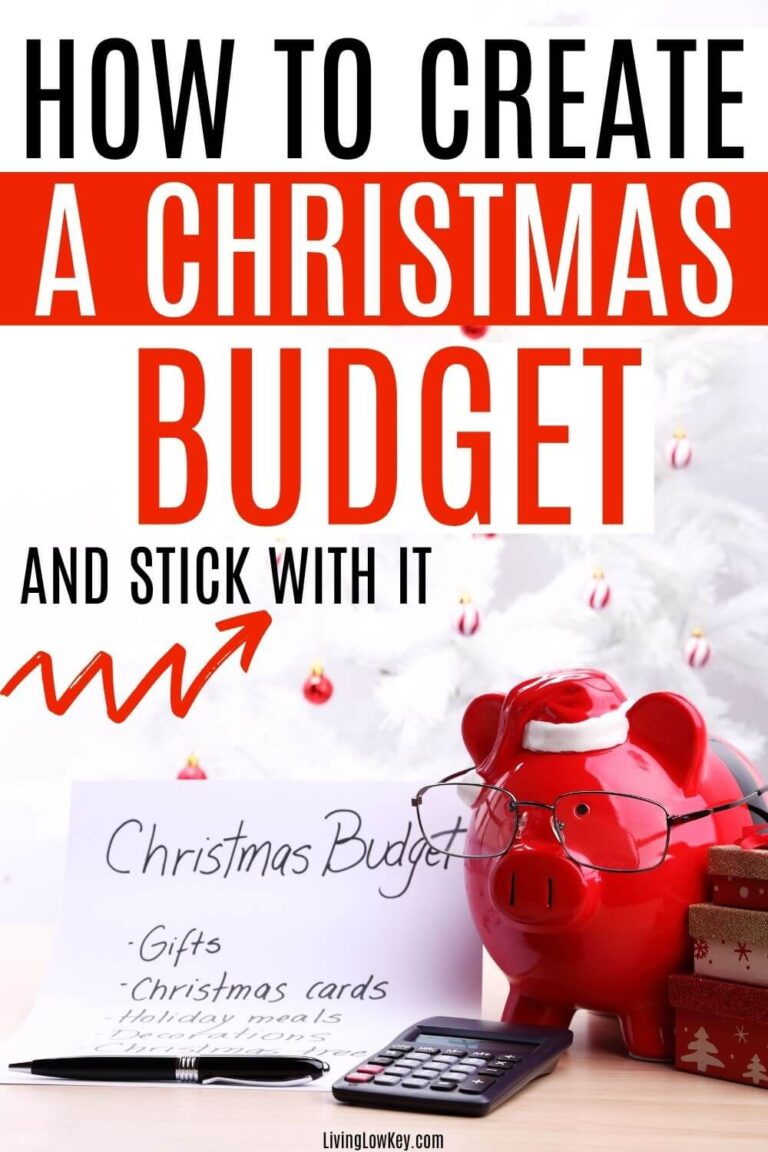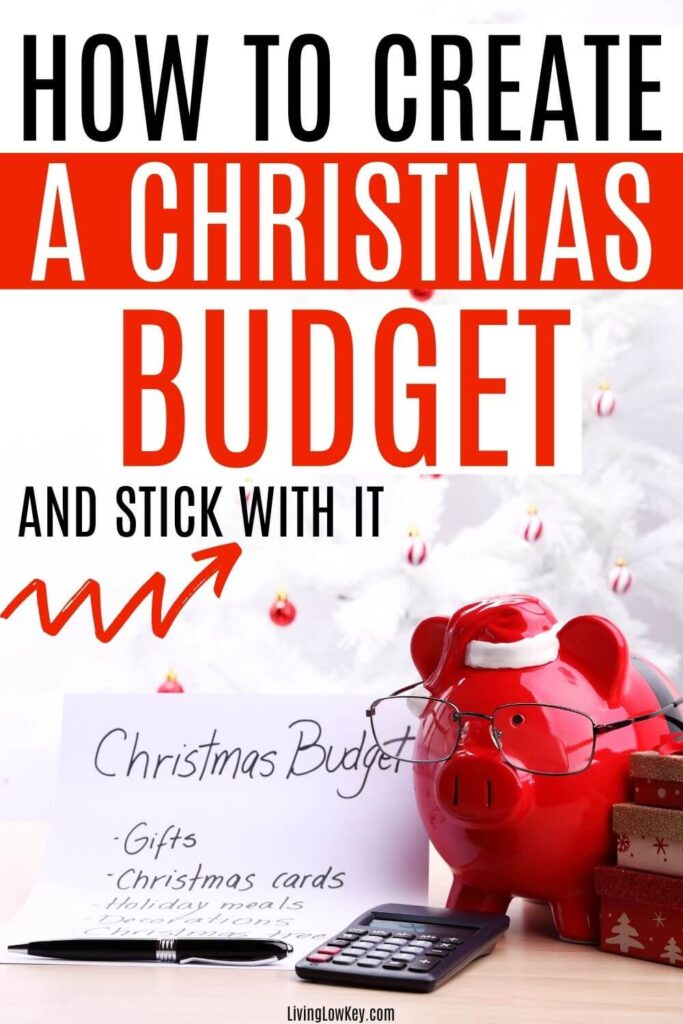 Related articles: