30 things to do for free this weekend!
Do you have a long weekend ahead but no money left in your bank account? Well then, this post is for you.
If you're like us, the majority of our spending happens over the weekend. During the week we lay low. My husband works long hours and I try and find cheap things to do with the kids during the week.
Then the weekend hits and we spend A LOT!! Like a lot a lot!
Does this sound similar?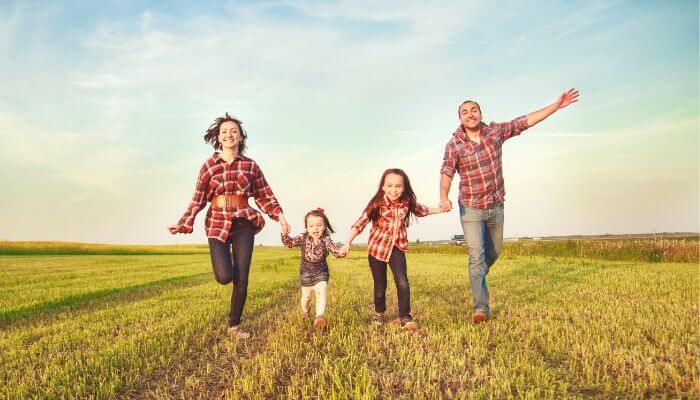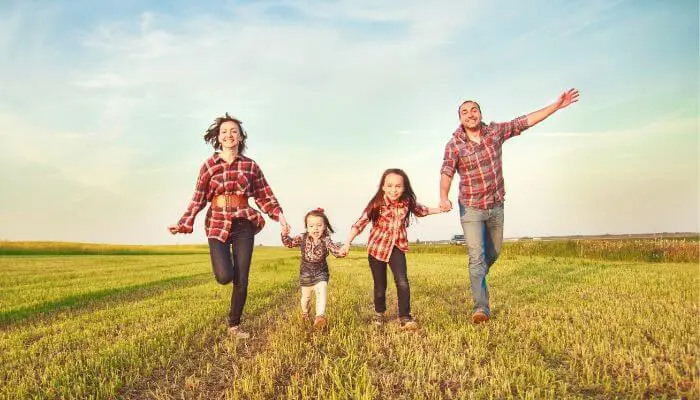 How to have a no-spend weekend
Before you attempt to try a no-spend weekend there are a few things you should do first.
Sit down and make a list of things to do.
Get everyone involved, even the kids. Chances are they'll have some pretty unique ideas up their sleeves. Let them get creative and make some crafts with the supplies you already have!
Also, rummage through your kitchen and plan out meals with items you have hiding away in your pantry. Make sure you have everything you need to make the weekend a success.
Now it's time to get creative and plan out your weekend.
If you've never had a no-spend weekend I challenge you to try it at least once. You'll find that not only will it save you money, but it might actually be fun!
Related articles:
30

free things to do this weekend
1

. GO FOR A WALK
This is one of my favorite past times that can include the whole family.
Whether you take an old familiar path through your neighborhood or explore a different side of town, it's a great way to start out your weekend.
2

. HAVE A PICNIC
Depending on where you live, summer and fall are the perfect time of year for a picnic.
The best thing about picnicking is they are inexpensive and you can have one just about anywhere. You can literally rummage through your kitchen and find all the necessary items to have an enjoyable picnic.
3. WORKOUT
Working out is a great way to pass time and keep in shape yet many of us don't make time for it, well this weekend you will! This will keep you feeling and looking great.
If you are struggling to find a good workout or don't know where to start, I love doing my Jillian Michaels workout DVD's. She has a new app that provides workouts and meal plans for you.
Here is a FREE 7-day trial going on if you want to check it out.
4.

PLAY A BOARD GAME
Sit down and have a family board game night.
You can get others included in this too, such as extended family and friends. You can even make this a monthly ritual. There are plenty of good games out there like Monopoly or Jenga so get the family or your friends together and have some fun!
If you are solo for the night you can hop on Facebook and play board games online for free.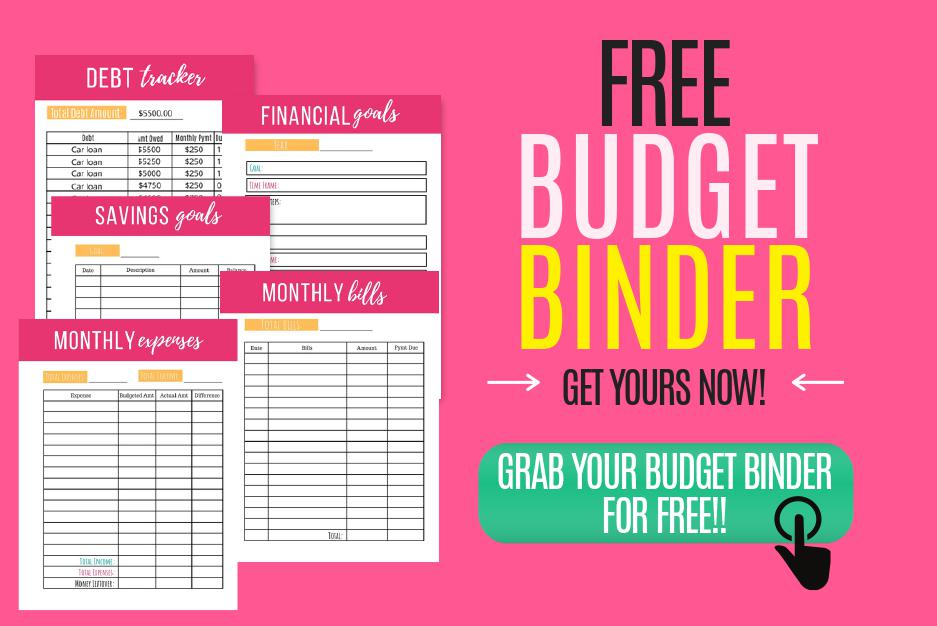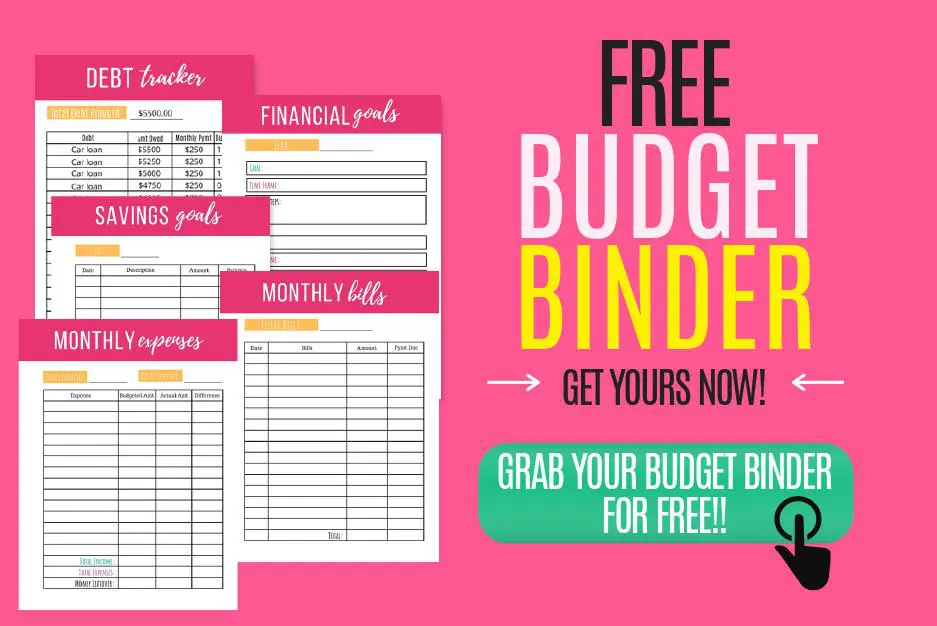 5

. GARDENING
Who doesn't love fresh veggies from the garden? Not only is this a great pass time but it will also provide you with yummy treats and save you money on your grocery bill.
If you're looking for a creative way to keep kids entertained, you can go to the Dollar Tree and pick up a bag of dirt and flower seeds for $2! Have your kids plant some flowers and watch them grow!
Related post: 40 Fun Summer Activities For Kids That Won't Break The Bank
6.

HAVE A BONFIRE
This is our daughter's favorite thing to do on the weekends. She begs for bonfires and knows when the brush pile is high enough it's time for a fire.
Grab some outdoor chairs and have the kids collect some sticks, fun for all.
7. CAMP IN THE BACKYARD
Another fun free activity where you don't have to wander far from your home. Grab your tent and roasting sticks and head to the backyard.
If you have kids this is a great way to create memories that will last a lifetime.
Related article: How To Make Over $2,000 Per Month Renting Your RV On RVshare.com
8

.

MOW YOUR LAWN
We have about an acre of yard to mow, thankfully we have a riding lawnmower. What I'm trying to say is keeping your yard looking nice takes time but it also is a way to de-stress after a hard day.
I love sitting on the mower for an hour having some "me" time. You can sip your favorite drink or listen to your favorite podcast.
9

. GO FOR A BIKE RIDE
Grab your bike and hit the road. Most towns have an assortment of trails that you can choose from.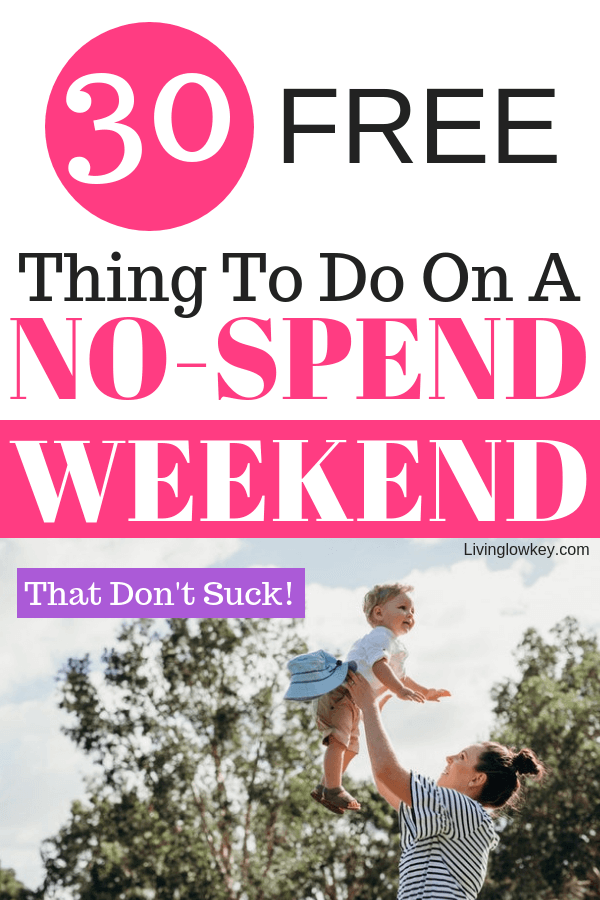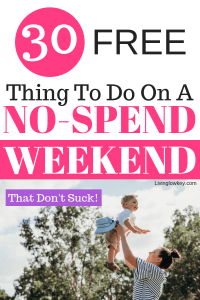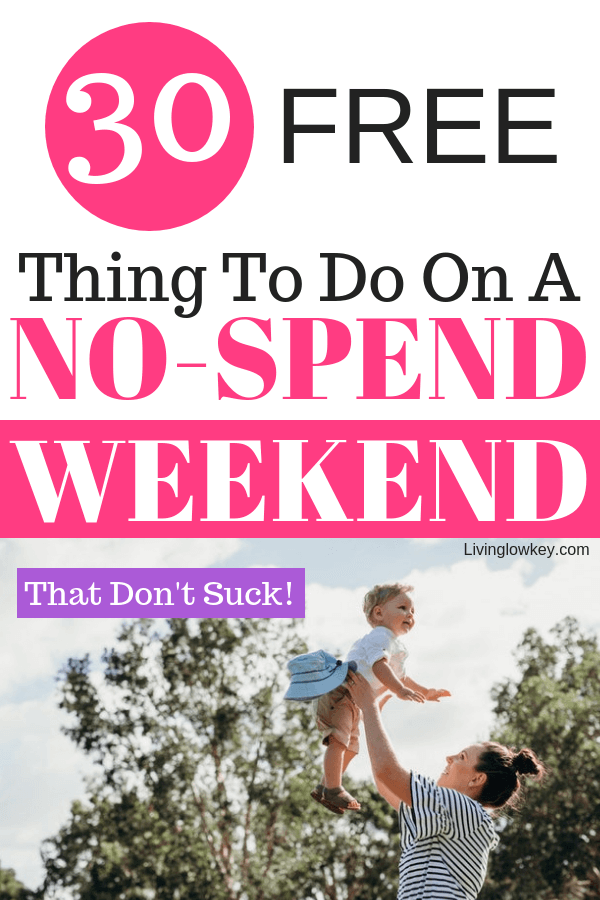 Pack a lunch and go explore somewhere new. If the weather is nice, get the bikes out and hit the trails.
10

. VISIT A LOCAL PLAYGROUND
We are very blessed to be within walking distance of quite a few parks. Our house overlooks an 8-acre park, which is awesome.
Most towns offer a variety of parks for different ages. Check with your city, neighbors, or friends and see which parks they recommend.
We also spend a lot of time at Nature Parks. They are free and have lots of things to do, see and touch.
11

. HAND WASH YOUR CAR
In the summer and fall, we hand wash our vehicles every other weekend. This saves us so much money compared to using the drive-thru car wash down the street.
Besides who doesn't love a little water fight.
12

. YARD WORK
If its summer more than likely you have yard work that needs to be done. If you're like us you just keep pushing it off and pushing it off. Once a month we sweep the spider webs off the outside of the house, pull weeds from the garden and other miscellaneous tasks.
If you have a big yard this can be an all-day activity.
13

. GO TO THE BEACH
We live in the land of 10,000 lakes so finding a beach to spend the day at isn't very hard.
You get to relax and the kids run out all of their energy playing in the water.
Make sure to check ahead of time that the lake you choose doesn't have an entrance fee. A lot of lakes in bigger cities charge you to use them.
14. READ A BOOK
Reading is a great way to wake up in the morning or just a great way to recharge after a long day. Find a cozy spot and pick up that book you've been meaning to read for some time now.
15

. BAKE
More than likely you have the ingredients to bake up something delicious in your pantry. Find a great recipe off of Pinterest and bake away.
Everyone loves warm baked goods fresh from the oven.
16

. GO TO THE LIBRARY
If you go online to your local library's website you will find that they usually hold a variety of different free classes and events.
These classes usually range from book clubs to storytime for kids.
This is one of my favorite things to do for free during the week!
17

. GO TO THE BOOKSTORE
Similar to the library, certain bookstores offer a variety of free classes as well. I love Barnes and Noble, I could spend hours there.
Depending on the location, they offer free storytime once or twice a week. Call your nearest Barnes and Noble to see which day they hold their storytime.

18

. CLIP COUPONS
I do most of my coupon clipping online. I honestly don't know where I would go to find a newspaper if I needed to. There are some pretty great couponing apps out there right now. I love to do my grocery shopping at Super Target. My favorite coupon app right now is Ibotta.
I make my grocery list at home and then go through my Ibotta app to see if they have any of my items on the app. Once I get home I scan my receipt and get free money in my pocket!
Yea, it's really that easy!!
The other day I got $1.20 cash back from a $3.60 box of toddler snacks, that's 30% of my money back!! If you haven't signed up for Ibotta you should.
When you sign up using our link you'll get a $10 welcome bonus.
19

. CLEAN YOUR HOUSE
When was the last time your house had a nice deep cleaning? If it's been a while now is the time!
I don't mind cleaning, the hard part is finding the time to do it.
Related article: How To Declutter Your Home Quickly: Room By Room
20.

MOVIE NIGHT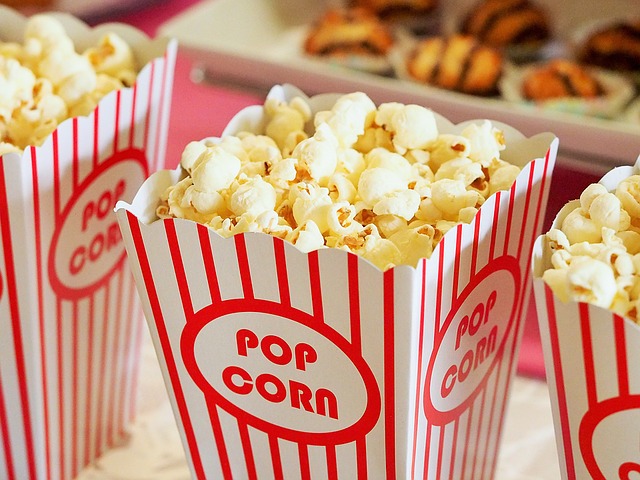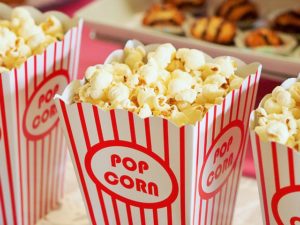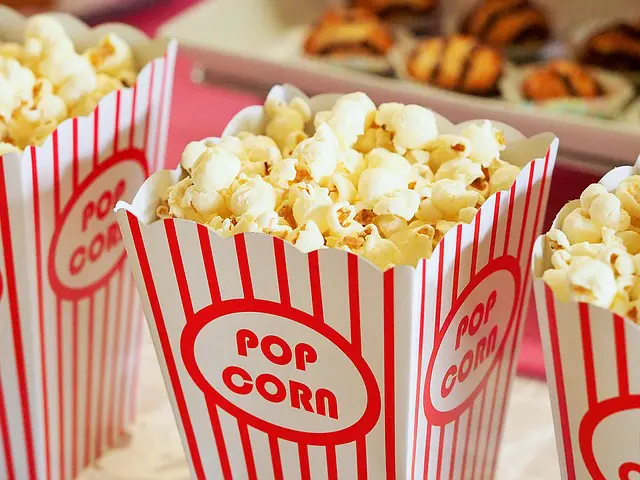 Who doesn't love a good movie night! Every once in a while we will let our daughter stay up late or even camp out on the living room floor and have a movie night with us, popcorn and all. Kids love this sort of thing.
Heck, I love it!
If you don't have a good movie head to over to Pinterest and type free promo codes for Redbox rentals.
Then go grab a free movie from a nearby Redbox!
21

. FESTIVALS
This is one of our favorites and they can be found all year long. We love to go to the free festivals in town and show the kids the farm animals. Visit your cities special events page online and explore the different festivals they have going on.
22

. HOME DEPOT WORKSHOPS
Home Depot offers free workshops on the weekends. They do a lot of DIY tutorials such as how to lay subway tiles in your kitchen.
They also do workshops for kids.
Earlier this year our daughter got to make her own bird feeder. Visit Home Depot's website and search for the free workshops in your area.
23

. CREATE A BUDGET
If you don't have a budget this would be a great time to start!
If you don't know where to start check out our totally FREE Budget Binder Here. It's already helping over 10,000 other people manage their money!
Learn more about our other budgeting tools here!
24

. MEAL PLANNING
When you run out of food the last thing you want to do is sit down and make a huge list of everything you'll need. So meal plan a few days ahead of your planned grocery trip. Then you can add things to your list over the course of a few days.
A no-spend weekend is a perfect time to sit down and plan out your future grocery trip.

Related articles: 8 Genius Hacks For Meal Planning On A Budget That'll Save You Money
25

. CLEAN OUT THE GARAGE
I can't be the only one who feels like their garage is always a mess? Or maybe it's because we just moved into our house and our garage still hasn't been organized properly. Take some time to organize your garage, you won't be mad you did.
26

. DE-CLUTTER THE HOUSE
Go through your closets and get rid of old clothes and things you no longer use.
Use your local Facebook garage sale site to try and sell things as well. Not only will your house look amazing when you're done but you might even make out with some extra cash.
Here are some great tips on de-cluttering your home.
27

. DIY PROJECT
This is by far our favorite thing to do on the weekends! It's time to finish or start a new DIY project you've been putting off. Chances are you have all the supplies you need to finish a project you've been pushing off.
Now is the time to finish it!
We recently built a farmhouse style entryway bench and it turned out amazing! Check it out here.
Related article: DIY Farmhouse Table Project That Will Help You Save Money
28. TAKE PICTURES
Get out your camera and take pictures. Maybe you're like me and you don't make the time to take enough pictures of your kids. Or maybe you take a lot of pictures on your phone but not enough with your actual camera.
If your camera is just sitting collecting dust, pull it out and go have some fun with your family. You could even take that hobby and turn it into a side hustle!
29

. VOLUNTEER
This is a great way to give back to your community. There are a lot of organizations to choose from such as local food shelves or The Salvation Army. This is something you could do on any weekend and it's a good way to help those who are in need.
30

. TAKE ONLINE SURVEYS
If you find yourself with some free time on your no-spend weekend and want to make a little side income take some online surveys. These online sites pay you for your feedback. Here are a few survey sites to get you started.
– MyPoints
– Opinion Outpost
Related articles: Make Free Money Today With These Companies: Just By Using The Internet
Hopefully, the next time you want to have a no-spend weekend this list will give you some ideas. We try to have a no-spend weekend once a month. These weekends end up being a lot of fun and give us a chance to spend time together.
If you LOVED the article? Save it for later and come join us on Pinterest!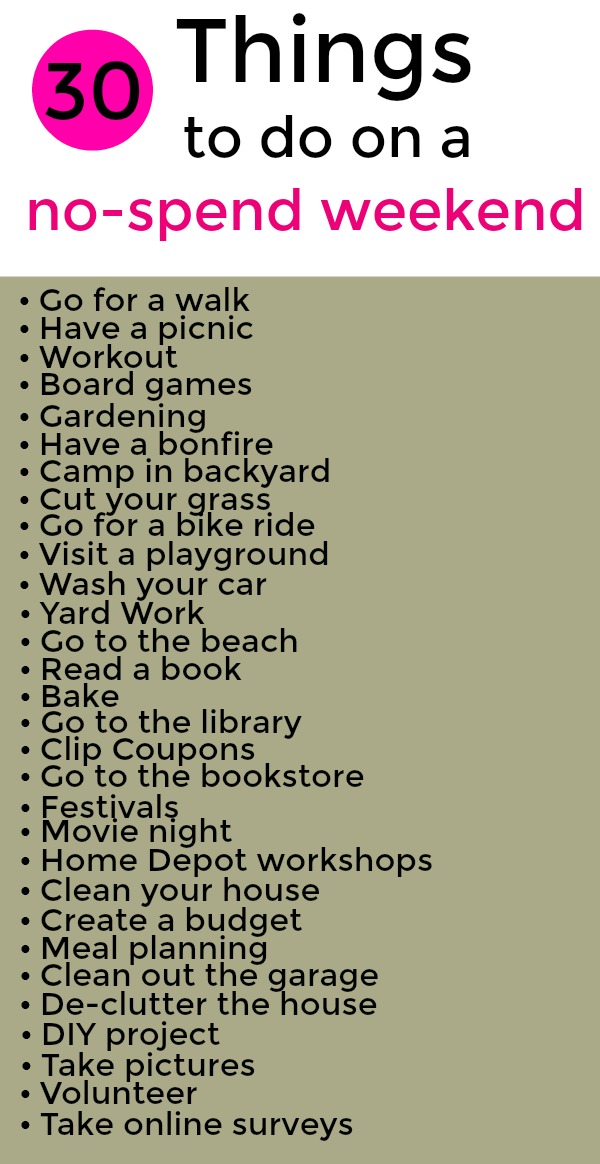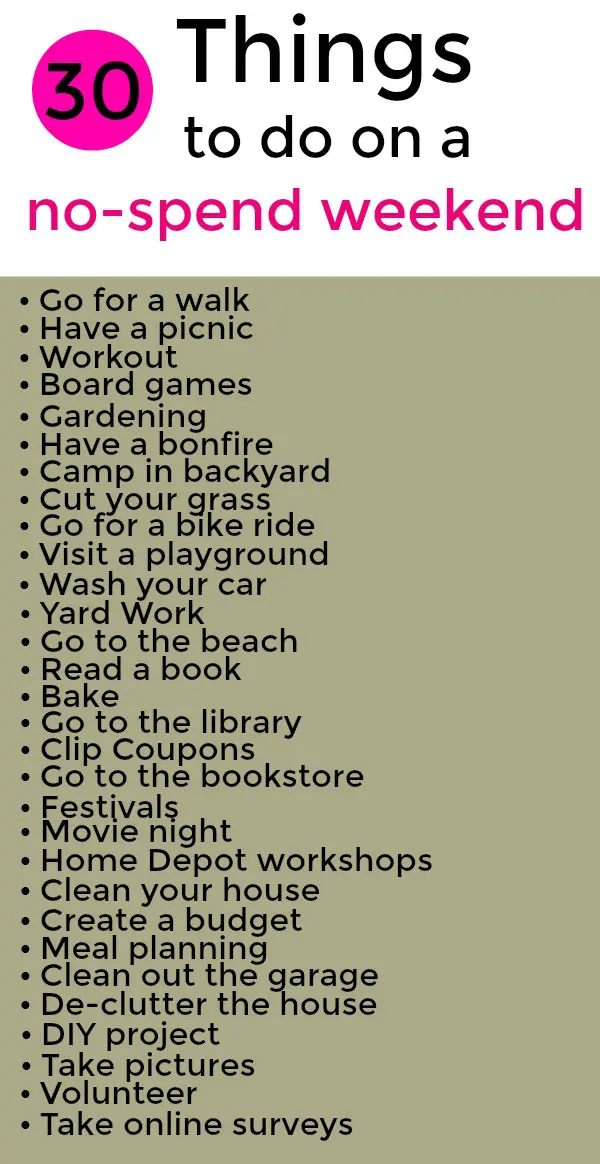 What's your favorite thing to do on a no-spend weekend?
[disclosure]
Grab Your FREE Printable Budget Binder
Related articles:
< At Home Date Night Ideas For The Cheap And Frugal
< 20 Things I Simply Stopped Buying To Save Money
< 10 Epic Tips That Will Empower You To Live Mortgage Free
Our Favorite Resources
Ibotta: This is by far my favorite app to get cash back when I shop in stores or online. Whether I'm buying groceries or going to Target for everyday essentials, Ibotta has great deals that you need to take advantage of! The other day I got $1.20 cash back from a $3.60 box of granola bars. When you signup with our link you'll get a $10 welcome bonus.
Credit Sesame: Have you checked your credit score lately? I recommend checking your credit score at least once per year. My choice for getting a quick and FREE credit score check is Credit Sesame. They require a minimal amount of information to get your credit score and a bunch of other useful finance tools at your disposal.
Affiliate Marketing Help: If you run a blog and need help with your affiliate marketing game, you have to check out Making Sense of Affiliate Marketing. This extensive course shows you everything you need to monetize your blog. Making Sense of Affiliate Marketing has seriously changed the way we look at blogging and has helped us grow our blogging income substantially.
Rakuten: If you do any shopping online you need to check out Ebates. Much like Ibotta, Rakuten will give you cash back when you shop online at your favorite stores. They partner with over 150 stores so you'll be sure to find a store you love. Cashback amounts range from 1% up to 15% or more. When you sign up using our link you'll get a $10 welcome bonus on your first purchase of $25 or more.