We've been blogging for over 2 years at this point and never once have we done an income report. That's all changing this month!
Up until now, we never really felt the need to share our side hustle income and heck who knows we probably won't share it again.
BUT…. November turned out to be a record breaking month and we decided it's time to share with you how life changing running your own blog and working from home can be!
Believe it or not, there are a lot of people that doubt you can actually make money from a blog. I'm here to tell you, they are wrong!
We are living proof that you can!
Before we get into the numbers, let's talk a little bit about how we got here.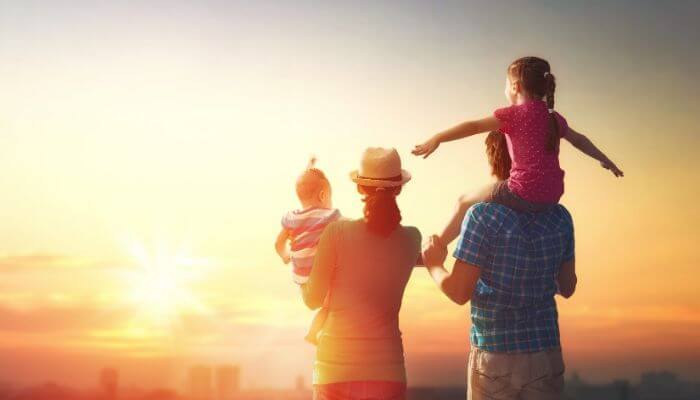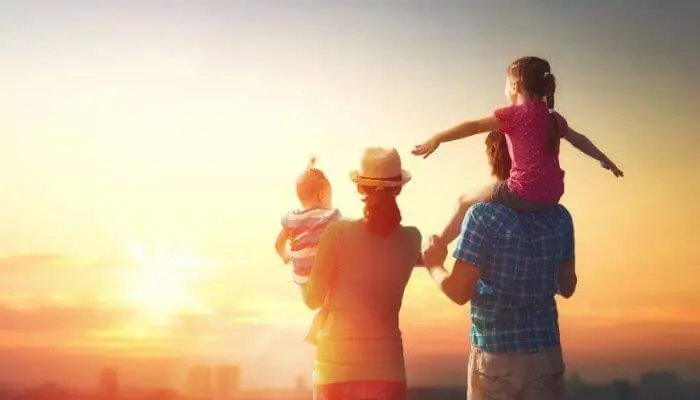 Hey Babe, Let's Start A Blog
Where the heck did that come from?
When Cassie said "Hey Babe, let's start a blog," I thought she was kidding. At the time, Cassie was a stay-at-home mom to our two little kids.
She spent all day with the kids while I was at work and it turns out she needed something more. The day she said that to me was the day she told me she needed a creative outlet and she had a burning desire to build something that could support our family.
She wanted to build a business that could help me leave the corporate world and stay home with her.
She had read some articles about bloggers making crazy money and decided, if she could make a fraction of that, she would be set!
The difficult part of this was that neither one of us knew where to start, let alone how to run a website.
The one thing we did know how to do was manage our money. Heck, we were living debt-free with a nice size retirement account built up, we figured why not share our tips with someone!
Without a clue in the world as to where to start, we decided to call this new hobby Living Low Key. It really fit our frugal lifestyle and went well with our idea of minimalist living.
If you would have asked me where I thought we would be just over 2 years later with our blog, I can promise you I didn't think I'd be writing a post like this.
Starting our blog has changed our lives forever. Not only have we been able to touch the lives of over half a million people, but we're paving a new road for our little family.
Blogging has opened up so many opportunities and has helped us meet so many people that we never would have had a chance to get to know.
Back when we had started this journey, If you had asked whether I thought this blog would have ever allowed me to quit my day job I would have said probably not. Now, I see it as a real possiblity in the next couple years.
This truly has been a life-changing experience and I couldn't be more excited about what Cassie has built Living Low Key into!
Other ways to make money:
< The Best Survey Sites That Actually Pay You Cash For Your Opinions
< 14 Online Jobs for College Students (With Little to No Experience)
< The Best Stay At Home Mom Job That Makes Money While You Sleep
Do You Want To Start A Blog??
I know, I know, you're dying to find out what our income for November ended up being and we'll get there but first let me ask you a question.
Are you thinking about starting your own blog?
Maybe's it's been in the back of your mind but you don't think you'd be good at it. Maybe you're afraid of what others will think. Or you don't know where to start?
When it comes to starting your own blog, you just have to go for it! Don't worry about what others will think, don't worry about the success upfront, and most importantly don't worry about knowing where to start.
We can help you get started. We've created a series of posts on HOW TO START YOUR BLOG. If you're looking to get started, make sure to check out that series.
These posts will walk you through how to get started from the very beginning all the way through monetizing and promoting your blog.
It all starts with choosing your blog name and finding a great web host. We highly recommend that you start out with Siteground for web hosting.
They make it super simple to get started and have customer service that is unmatched by other web hosting platforms at that level.
You can start your blog for as little as $3.95 per month when you use our link here!
If you're still looking for a great resource, you can join our FREE Facebook group called Blogging With A Day Job and join a community of other bloggers. The best part is you get direct access to us and can ask us anything!!
Blogging Has Changed Our Lives
Listen, blogging has changed our lives and I'm sure it will do the same for you.
When we started, we definitely didn't know what we were getting ourselves into. I'm not going to sugar coat this, blogging is a lot of work and late nights but every minute has been worth it.
I'll be the first to tell you that running a successful blog is not for the faint of heart. We've been grinding for over 2 years now to see results like this.
I'm talking about working late into the night 7 days a week and making literally $0 for the first 8 months! I don't think we had a month where our income exceeded our expenses for the first year!
I still remember how excited I was when we made our first dollar!
BUT… it was totally worth it. One of the big reasons people don't start blogs is because they are afraid of what others might think.
We did at one point too.
Honestly only our close friends and family even know we have a blog until now that is 😉
But like anything in life you just have to shrug off those fears and keep going.
Seriously, the blogging income this month made my salaried 9-5 job look like chump change, and it's a great salary!
Don't psych yourself out of doing this. If you're looking for a way to change the course of your future, this is one way to make that happen!
Blogging Resources That Made This Possible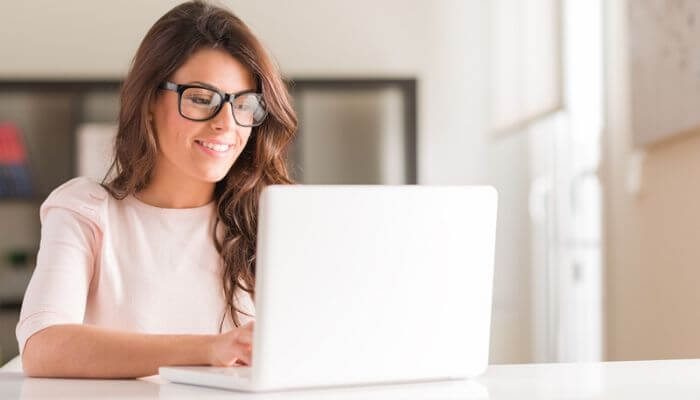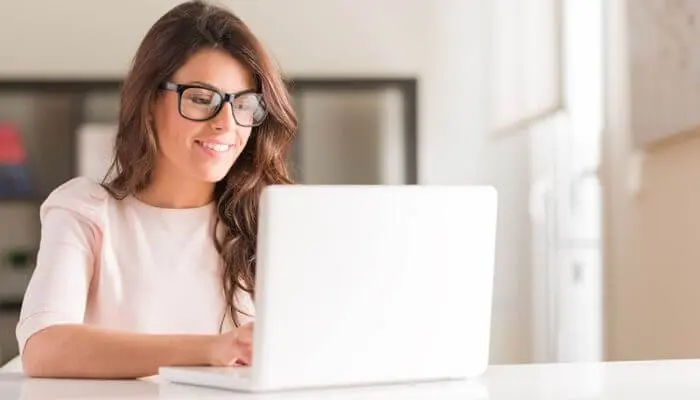 When it comes to making money on a blog, it's pretty hard to forge your own path without the guidance of other bloggers.
We're big fans of investing in your business by purchasing courses that help us learn. What better way to reduce the learning curve then be taught by people that have already been successful with their blogs??
Here are some of the top courses we recommend if you need help growing your blogging business:
> Making Sense Of Affiliate Marketing: The best course out there for Affiliate Marketing! Our biggest source of income this month came from affiliate marketing. Making Sense Of Affiliate Marketing will teach you everything you need to know.
> Pinteresting Strategies: Pinterest is the best social media platform to drive quick, free traffic to your blog. The pinning strategy you will find in this eBook has proven results that will give your blog traffic a boost!
> Facebook Ads For Bloggers: This monster month for us would not have been possible without Facebook Ads! Almost all of our affiliate income came from a sponsorship where we effectively ran Facebook Ads. Facebook Ads For Bloggers is THE.BEST.COURSE on Facebook ads out there. Get it the next time it opens!
> Stupid Simple SEO: If you want to learn more about Search Engine Optimization, look no further. Mike's course on SEO is simply the best out there and will help you rank higher with Google!
November Was Busy
One of the main perks of running a blog versus a normal 9-5 job is the fact that you can do it anywhere you have internet!
November was a busy month for us. We started the month in a mandatory evacuation due to wildfires near our house in Northern California. Now, it wasn't all terrible because we evacuated to Lake Tahoe for a week, but we kept the blog going through that.
We rolled straight from evacuation and a week in Lake Tahoe to flying home for a wedding in Minnesota.
Shortly after our Minnesota visit, we came back and decided to hire our first employee! We've now got an awesome Virtual Assistant helping us with some of the workloads here at Living Low Key.
We're super excited to have her on the team!
Between my day job, Thanksgiving, and taking care of our little sidekicks, the fast pace of November never let up but we didn't let that get in the way of us making this our BEST MONTH EVER!!
Even though November was crazy busy, the blog performed awesomely! Like mind-blowing awesome!
My day job let's us live comfortably, but this month the blog made his salary job seem like chump change.
I've seen income reports with these kinds of numbers from other bloggers before, but I wasn't ever really expecting us to be able to share anything like this with you. But here we are!
Let's FINALLY get into the details.
Ridiculous November Income Report
I'm super excited to get to this part. Our previous best month of blogging ever was just over $3,300. November was definitely a month to remember.
Let's start out by breaking down our traffic for the month.
I think the coolest part of this income report is the fact that November was actually our lowest month for traffic in 9 months and yet, we had our highest income ever!!
Check it out!
November Blog Traffic Report
| | |
| --- | --- |
| Traffic Source | Page Views |
| Pinterest | 35, 142 |
| Facebook | 1,328 |
| Instagram/Twitter | 232 |
| Organic | 7,869 |
| Total | 44,571 |
It's the holiday season so it's only fitting that we give you some pie… Here's a quick Pie Chart to give a different perspective on our traffic sources and how they breakout.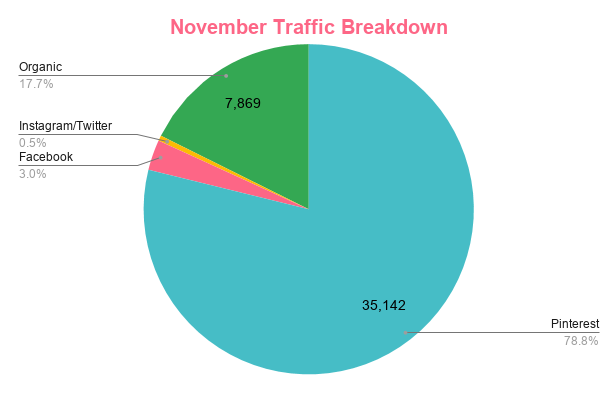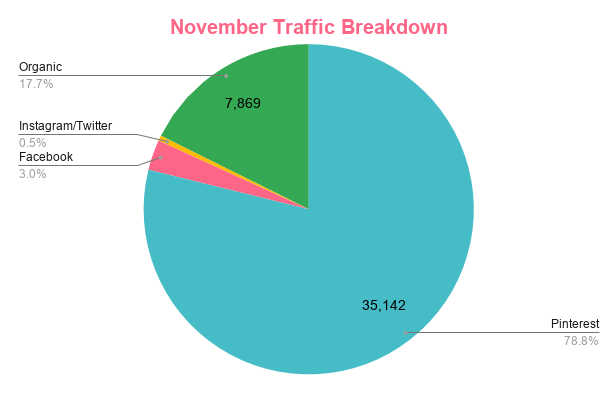 Having only 44,571 page views in the month of November was far below our all-time high page views, but we did see some things that we liked.
Our organic traffic more than doubled from October to November and we directly attribute that to what we learned from Stupid Simple SEO.
Our Facebook traffic also grew this month. It's the first month that we started running Facebook Ads as a source of the traffic to our blog.
Taking the course, Facebook Ads for Bloggers, gave us the confidence to start running ads and we saw some decent results for only a couple weeks of running traffic ads.
We're really looking forward to seeing how these two sources of blog traffic progress going into 2020!
November Blogging Expenses
Every business has it's expenses and Living Low Key is no different. Although, when compared to most brick and motor businesses, our blog has pretty low expenses.
| | |
| --- | --- |
| Blogging Expense | Total |
| Facebook Ads | $85 |
| Convertkit | $99 |
| Sendowl | $24 |
| Software | $26 |
| Quickbooks | $60 |
| Virtual Assistant | $227 |
| Other | $62 |
| Total | $583 |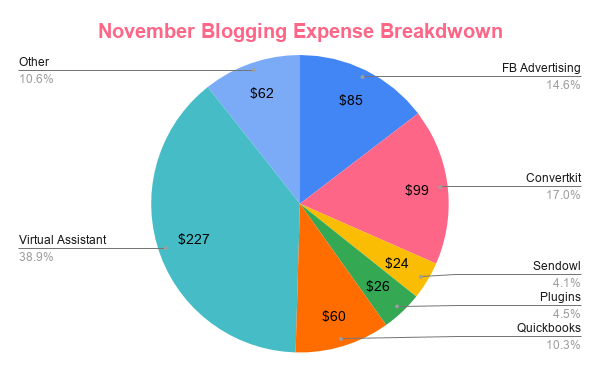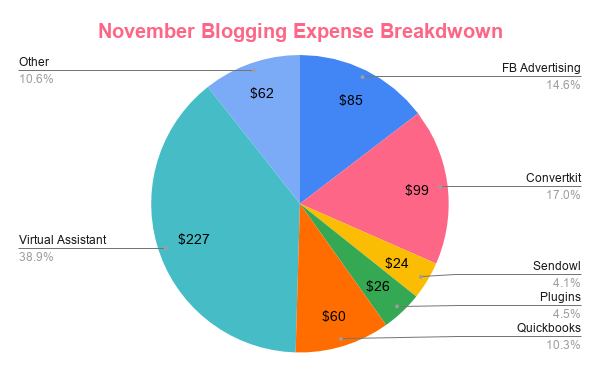 All things considered, $583 to run a business that we can operate from home is pretty good!
As our blogging business continues to grow, we definitely expect our expenses to grow but the margin there is still pretty good!
November Income Report
Now let's break down our blogging income from November. This is what you've been waiting for!!
In the month of November, we made…..
$22,250!!!
That's right, we made over $22,000 working from home a couple of hours per night. Here's the breakdown of our income sources.
| | |
| --- | --- |
| Income Source | Money Earned |
| Product Sales | $28 |
| Virtual Assistant Work | $620 |
| Advertising | $1,472.58 |
| Affiliate Marketing | $20,712.91 |
| Total | $22,833.49 |
Here comes more Pie Chart action for you!!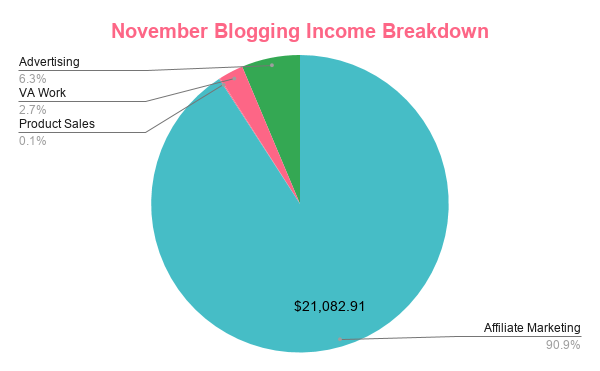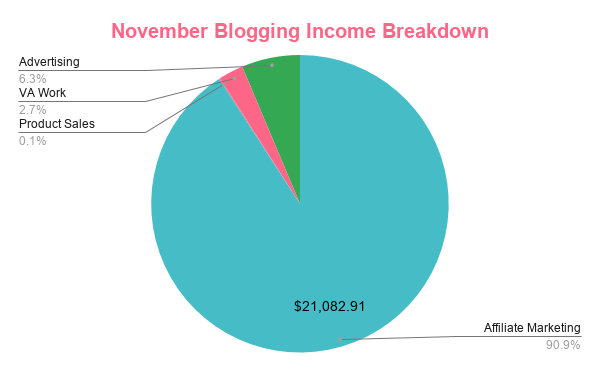 That's right… the vast majority, over TWENTY THOUSAND DOLLARS, of our monthly income came from our affiliate marketing partnership!!!
When you take our Gross Income of $22,833.49 and subtract our minimal expenses, we ended up with a Net Income of $22,250.52!!
If you're anything like me though, you're probably wondering what that comes out to in an hourly rate.
Let me give you a little insight into what work goes into our blog each month and a rough estimate of time spent working on it each month.
Pinterest Pin Creation and Scheduling
Facebook Advertising Creation
Twitter Scheduling
Blog Post Writing/Editing
Emailing our Subscribers
Marketing Partnerships
Facebook Group Moderation
Virtual Assistant Work
General Site Maintenance
Blogger to Blogger Outreach
Backlink Building
I'm sure there are other tasks I'm forgetting too! Blogging does require a lot of work. That's why you have to be organized or you can get lost in all of it.
When it comes to an hourly rate, I would estimate that both of us put in about 3 hours of work per night and we worked 21 days last month.
That comes out to roughly $177 per hour! That's WAY better than my salary job I'm working right now!
We put a lot of time and effort into the blog each month so that we can deliver awesome content to you. Sometimes it can be stressful and challenging but it helps that we really enjoy working on this together.
Anyways, that's an insane amount of money to make from our online business. I'll be the first to admit it, I wasn't sure we'd ever see our blogging income that high.
When we started this, I had no idea how many different ways there are to make money online. As you can see above, we listed 5 different ways to make a nice chunk of money every month.
And there are tons of other ways to make money from home.
That's the amazing part of making money online, there are endless ways to do it!
Listen, I know what you're thinking, how do I get a piece of that action… It's simple, start your own blog!
Yes, it takes time and a bit of work, but what if 2 years from now you had a side hustle that makes you over $20,000 in a single month??
How different would your financial situation be with that kind of money?
I can't guarantee that everyone will see these results, but heck, even an extra $1,000 per month (totally achievable) can make a huge difference in your life.
And you never know, maybe you'll make even more than we did this month! You never know what's possible until you try!
What have you got to lose?
Check out our Start A Blog series here.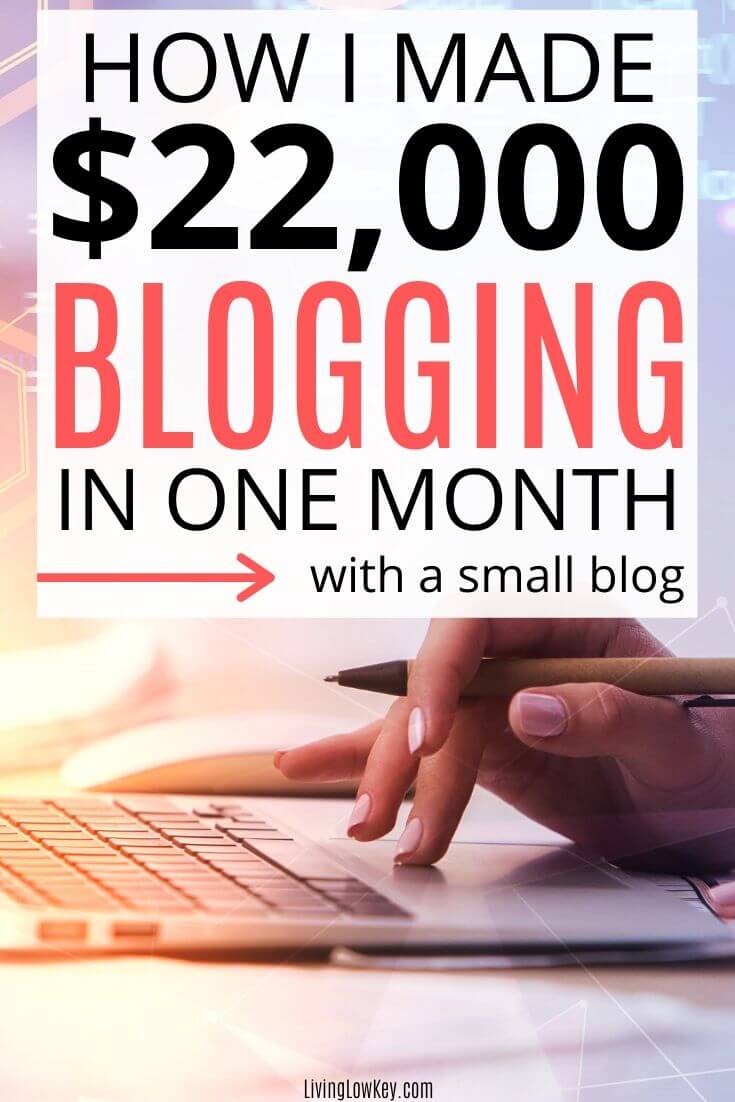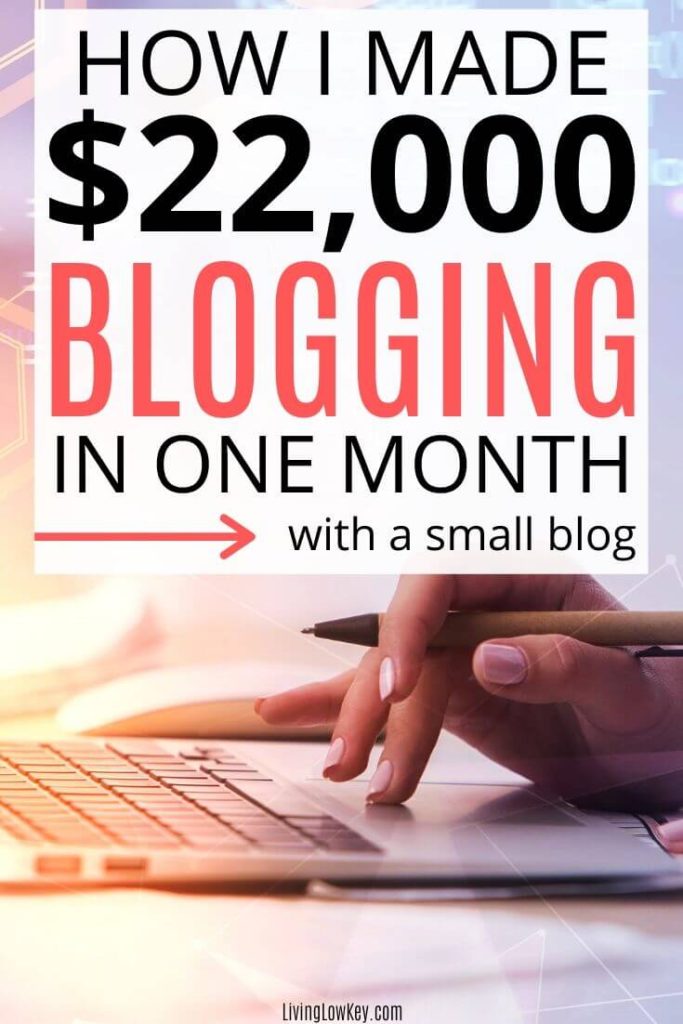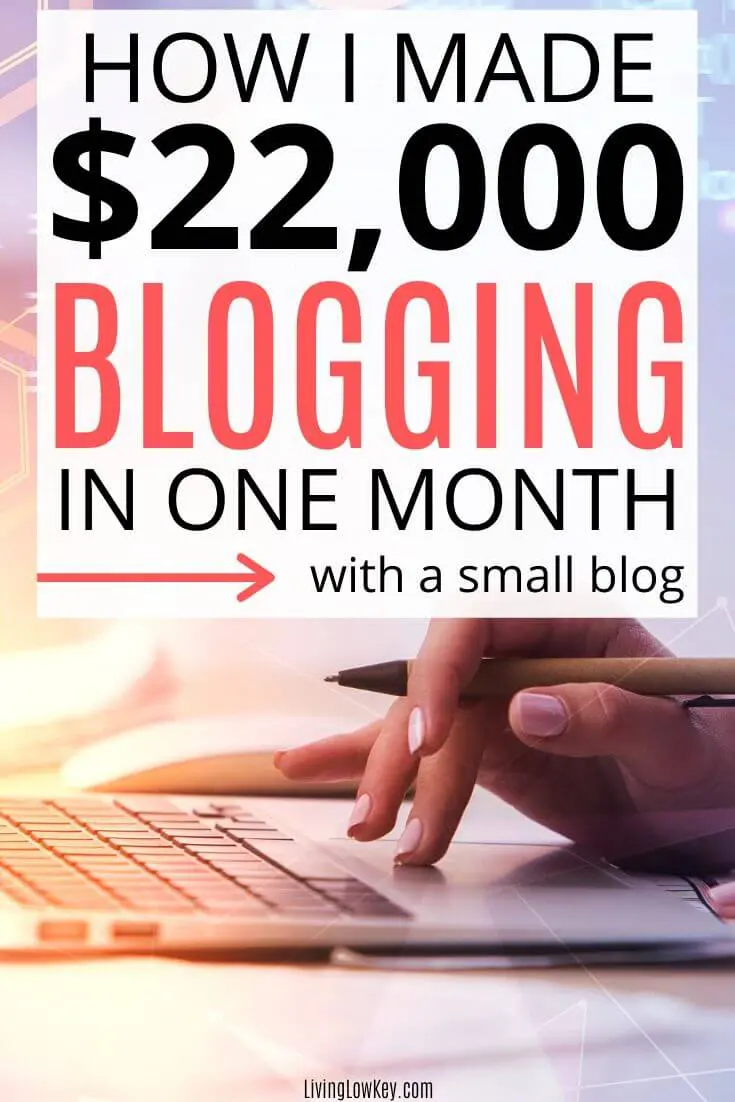 Related articles:
< Make More Money: 40 Surprising Ways To Make Cash Fast
< Rakuten Review: Our Honest Opinion Of This Cash Back Site