I'm going to let you in on a little know secret of a place where you can find some of the best fall decor for super cheap! I'm talking go on a shopping spree for all of your fall decor, and spending less than $20!
Here's the secret spot… The Dollar Tree!
This is my absolute favorite place to get inexpensive craft supplies and home decor. If you haven't checked out their home decor and craft section, it's a must! Here are 50 other reasons you should visit Dollar Tree right now.
Also, make sure to check out how you can transform your home into a fall oasis with these 15 Dollar Tree fall decor ideas!
Now let's turn your Dollar Tree pumpkins into beautiful arts of work! Your dollar pumpkins will be looking like they came from Pottery Barn in no time.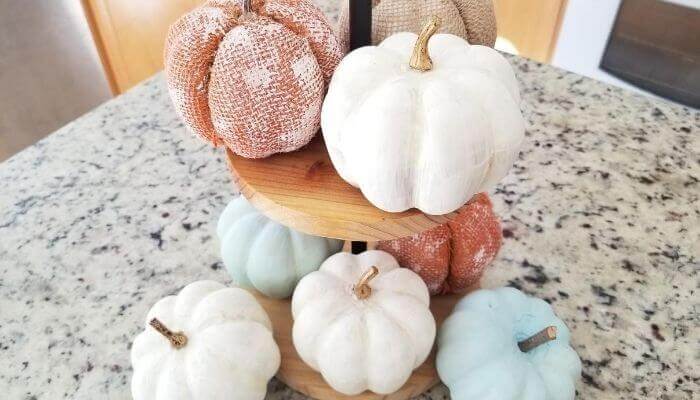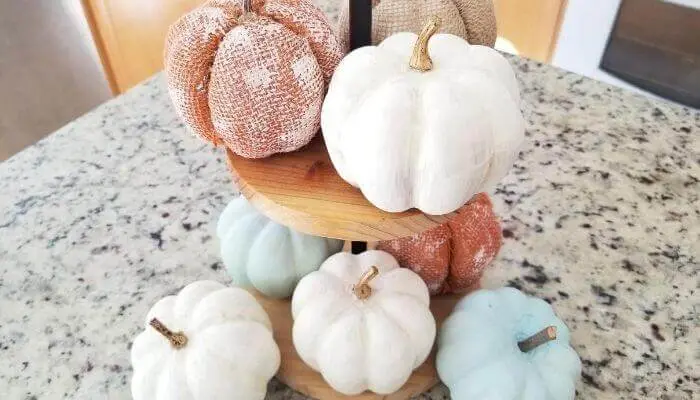 Dollar Tree Foam Pumpkins
Once at the Dollar Tree, grab a handful of their inexpensive $1 Pumpkins. They actually had a lot of Dollar Store foam pumpkins to choose from this year.
However, the orange carvable pumpkins I was after weren't in stock yet. They are the best for painting.
Instead, I grabbed a few foam pumpkins covered in this shiny plastic coating and headed for home. Really any Dollar Tree mini pumpkin will work for this project. You can even go online and order mini pumpkins in bulk depending on how many you want.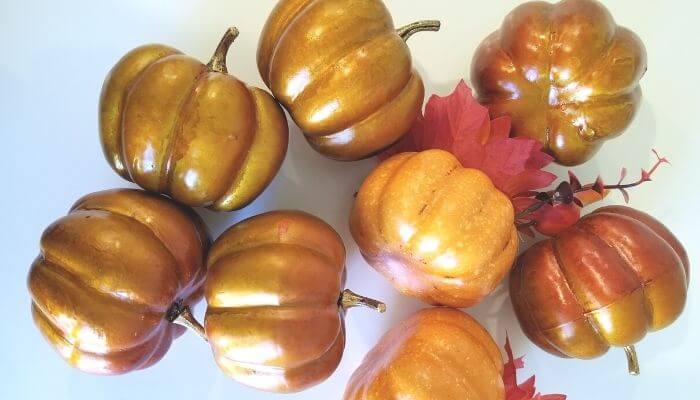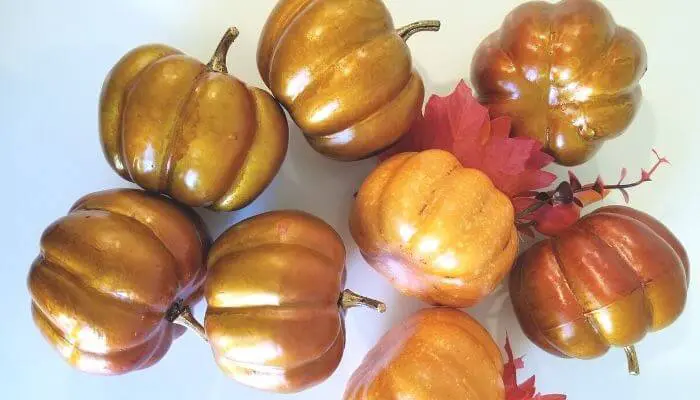 You can get a majority if not all of the supplies you'll need for these dollar tree DIY pumpkins at the Dollar Tree. However, if you can't find something hit up Amazon for quick delivery.
Supplies you need to get started:
Optional supplies:
Follow along below to watch me transform my Dollar Tree foam Pumpkins. There are so many things you can do with these fake mini pumpkins.
Related Dollar Tree articles:
Prepare Your Dollar Tree Pumpkins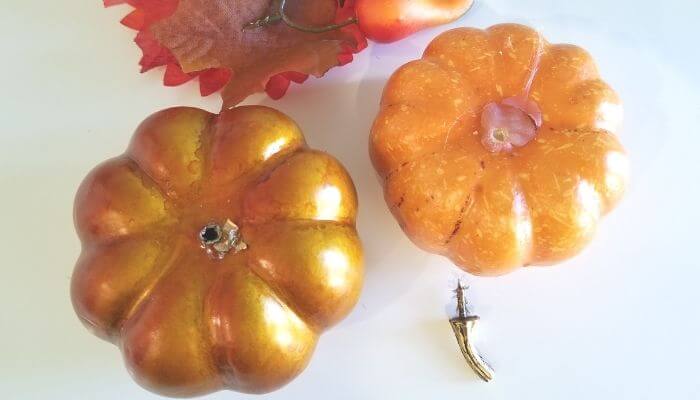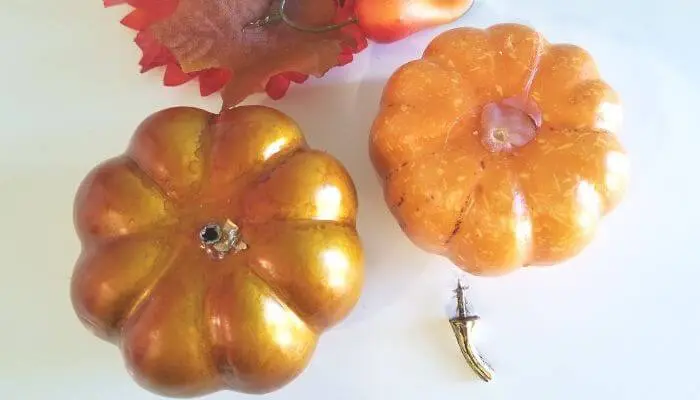 Once you have your Dollar Store pumpkins in hand, remove their stems, flowers, or whatever decor is glued to them.
A few of the pumpkins I grabbed had flowers and such glued to them. I plan to cut off the top of those foam pumpkins and use sticks for their stems because they came stemless.
Do you have kids? Make sure to check out these craft activities to keep your kids busy this Fall while you are crafting. Or have them paint a pumpkin or two of their own to display in their bedroom.
Begin Painting Your Foam Pumpkin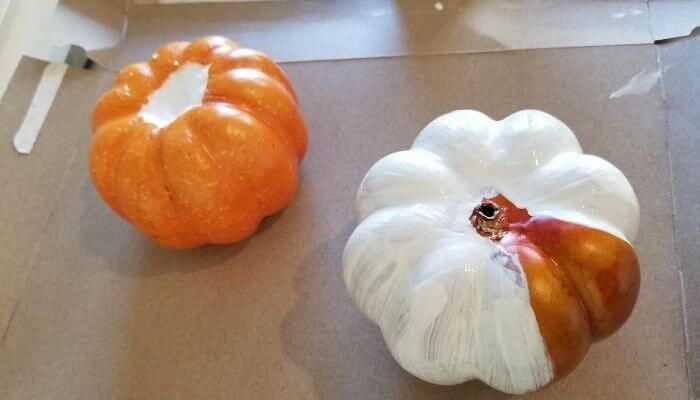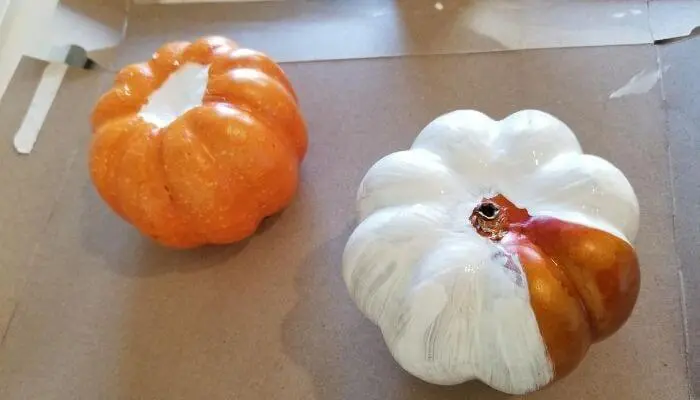 How to paint Dollar Store pumpkins you ask?
Really it's easy! Start by picking your paint color of choice.
I painted the majority of my pumpkins white and a few light blues. You can use whatever color paints you have on hand on these cheap artificial pumpkins.
I had tons of leftover paint sitting around my house, so I used some white chalk paint and blue acrylic paint.
If you don't have paint on hand, Dollar Tree has a craft section with a lot of paint choices. Every Dollar Tree has different supplies on hand. If you don't find something at one Dollar Tree, check another.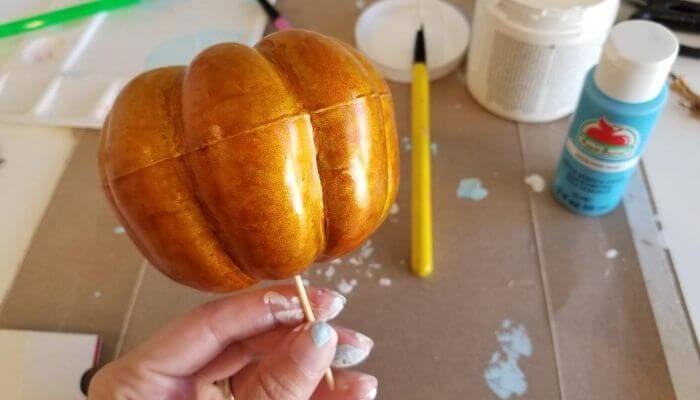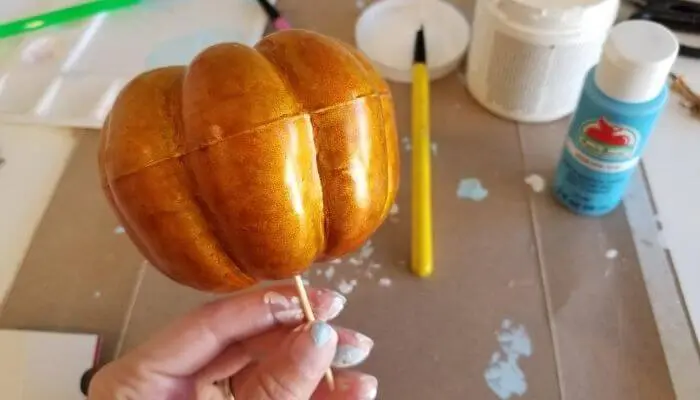 I found that sticking a toothpick into the bottom of the pumpkin while painting worked really well. Trying to hold a pumpkin and paint it at the same time doesn't work too well.
Paint all your pumpkins the color of your choice, and set them on cardboard to dry. If you have any styrofoam take your faux pumpkin on the toothpick and stick it into the styrofoam while painting and leave it to dry.
Tip: Don't set the pumpkin on paper to dry; they will stick.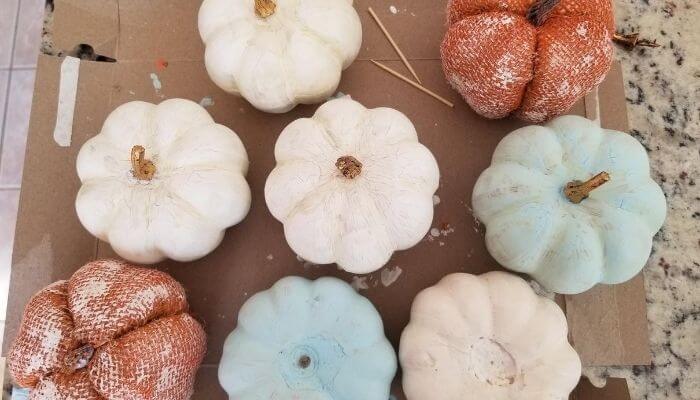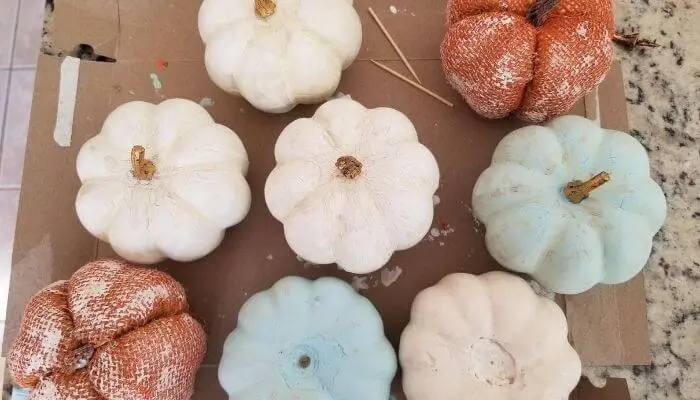 Add The Fake Pumpkin Stems
Once your artificial pumpkin has dried, it's time to get creative. You can use the stems that came with your pumpkin or use a small stick as the stem.
Feel free to add leaves or any other decor you prefer.
My Cheap Pumpkins On Display
Here are all my pretty pumpkins on display in my home. A little early for Fall, but what do I care.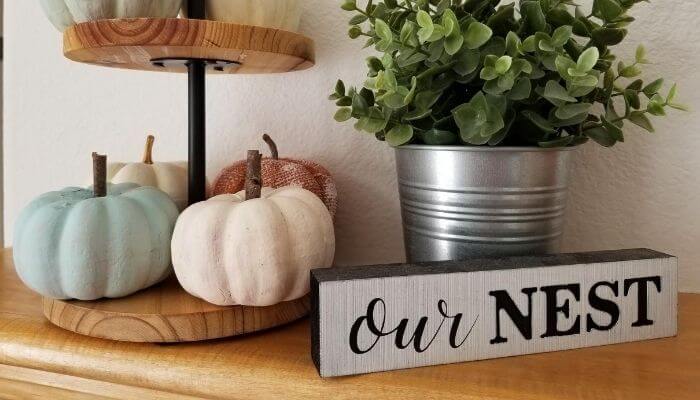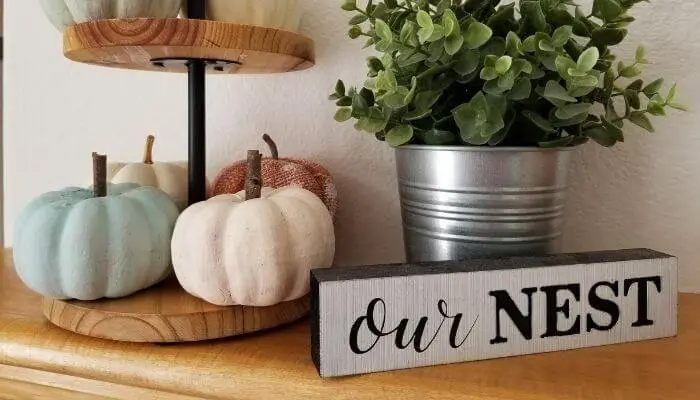 There you have it, my favorite Dollar Tree pumpkin makeover. Give this easy, inexpensive DIY Dollar Tree pumpkin craft a try for yourself.
Update: These faux pumpkins store well and I can't wait to pull them out of storage for the third year.
Craft supplies:
Painting Dollar Tree Pumpkins- Final Thoughts
So, how did your mini plastic pumpkins turn out? Hopefully, you were able to follow the steps above and you ended up with some neat-looking pumpkins. Let me know how they turned out in the comments below.
If you enjoyed this Dollar Tree pumpkin craft, make sure you follow us on Pinterest!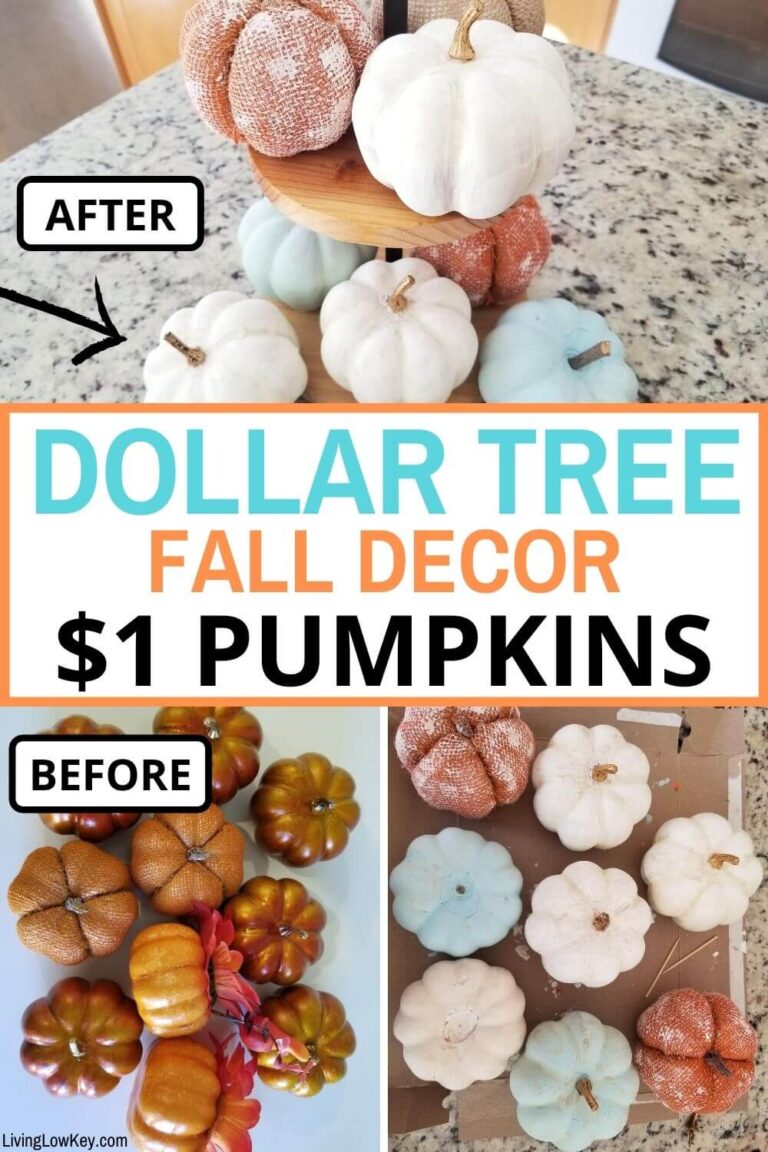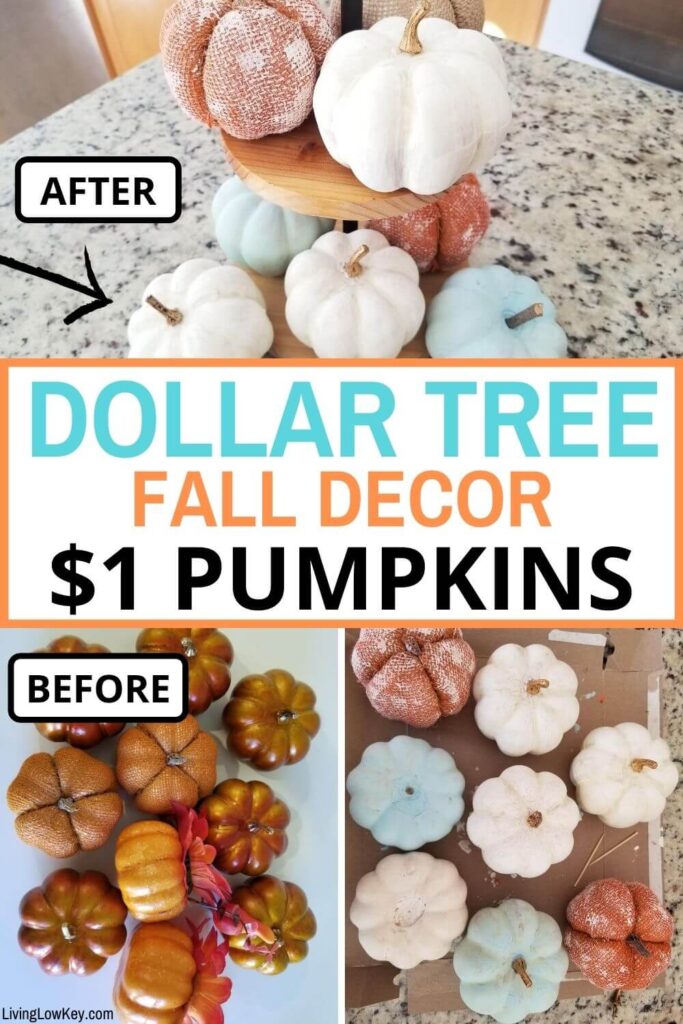 Related articles: