Is Ibotta Legit..
Are you looking to save money shopping? If so, you are going to love the Ibotta app.
We love this app so much that I had to let you know about it so that you can save money too.
In this Ibotta app review, you'll learn what this app is all about, how to use it, is it legit, and most importantly, how will it save you money!
We've used this app for over three years now, and I absolutely love getting cash back on the daily purchases I have to make. Whether it's food, cleaning supplies, or anything else you need, you should be using the Ibotta app when you shop.
I mean, if they're going to give you free money, it's worth trying it out. Wouldn't you say so?
After all, who doesn't like free money??
Here is a free $10 just for signing up with our link. 😉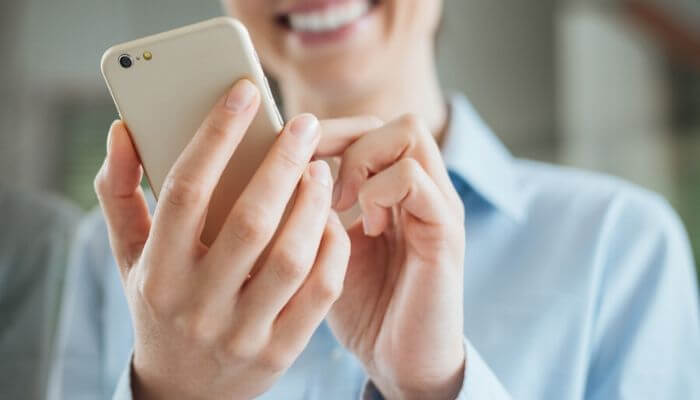 What Is Ibotta And What Can It Do For Me?
Ibotta is an easy-to-use free phone app that saves you money on everyday purchases, both online and in the store. This app can be downloaded on your phone via the Google Play Store for Androids or the App Store for iPhones. 
You can also use Ibotta on your computer, but I find it easier and a little more convenient to use the app on your phone.
As I write this, Ibotta has given over $797,000,000 in cold hard cash back to its users, and the number is growing every day. You're probably wondering how they have that much money to give back?
How Ibotta Makes Money?
Like Rakuten or any other affiliate network, Ibotta gets a commission for partnering with companies and sending us, the customers, to the stores. When you find and redeem your offers on the app, the store gives Ibotta a commission, and in return, Ibotta says thank you by giving you a little cash back.
It's really a genius idea!
You can find cash back offers for a lot of different things you want to buy on this app. They have offers available from over 300 different stores.
Some of the top stores include:
If you shop at a well-known store, more than likely, Ibotta partners with them.
>>>>> Check here to see if a store you shop at partners with Ibotta
Popular money-making articles:
How Does Ibotta Work
The Ibotta app is really simple to use; even my grandma uses it. All you have to do is open the Ibotta app on your phone before you go shopping.
Once you have the app open, search for the store you are going to go shopping at and look for deals.
When you pick your store, you should see a screen similar to the image below, as you search for cash back offers.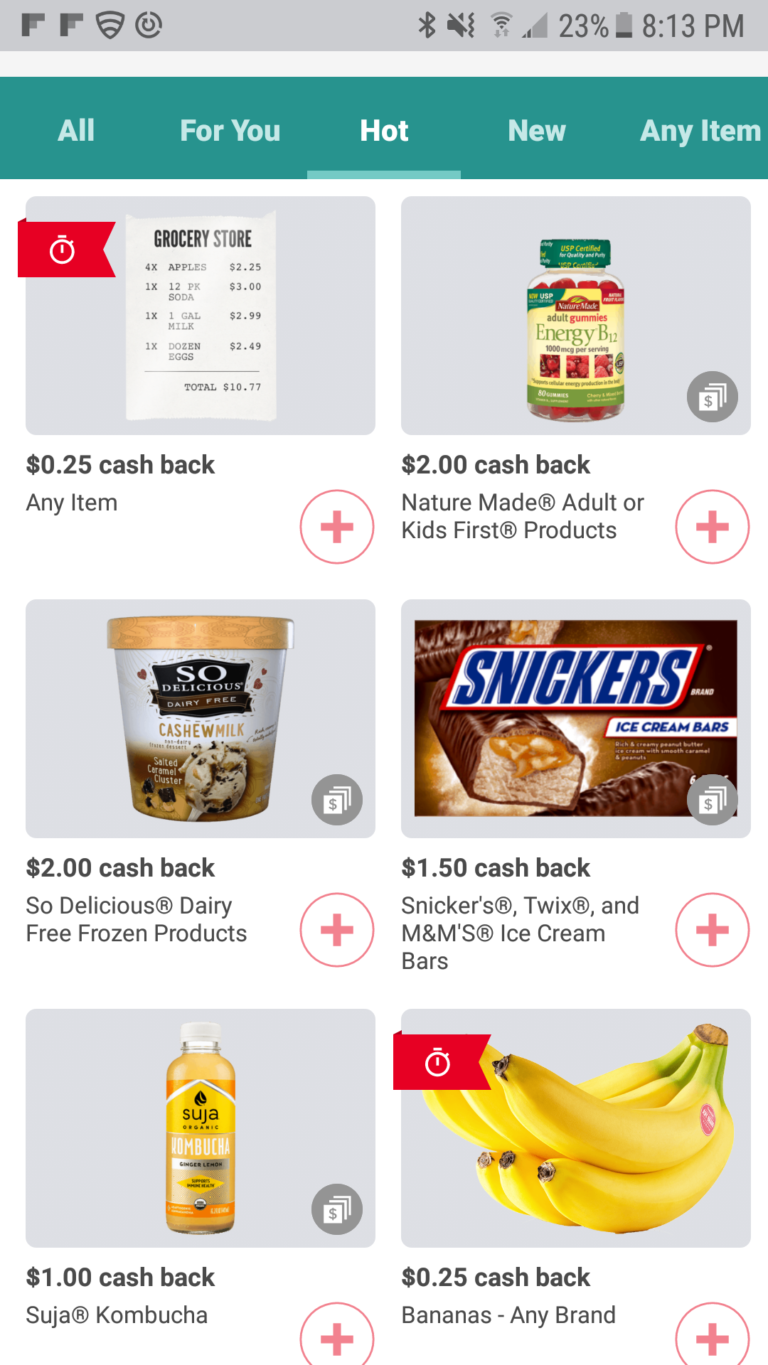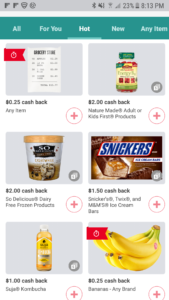 To get the offer, just click the little plus sign under each offer, and it will add each discount to your account. Some offers have expiration dates, so it's important to keep an eye out for the end dates.
Once you look through all of the deals, it's time to go shopping.
Tips while shopping and using Ibotta:
< Make sure to buy the same brand item it shows on the app. For example, sometimes it will let you buy any brand of veggies, and other times, you have to buy a specific brand to get a discount.
< Always make sure to get a receipt when you are done shopping. You will need it to scan your receipt once you get home.
Once you are done shopping, and checked out, redeem your cash.
Grab Your FREE Budget Binder Today!
Start saving more money and pay off your debt with this FREE Budget Binder
How Do You Redeem Ibotta Cash?
To redeem your cash back offers, all you have to do is submit a picture of your receipt.
Click the Redeem button at the bottom of your Ibotta App.
Next, you will select which store you want to redeem offers from.
Hint: It's the store you just shopped at 🙂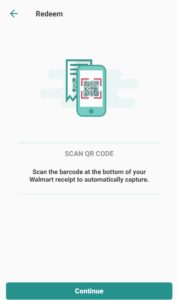 Once you select the store, continue, and take a picture of your receipt.
The Ibotta app will scan your image and deposit money into your Ibotta account based on the cash back offers you selected earlier.
How Much Can You Save With Ibotta?
The offers usually range from a few cents to several dollars cash back. It all depends on the product and store you are shopping at.
On an average grocery trip where I would spend $100, I usually consistently save $5 or more.
I've saved over $380 since I started using the app.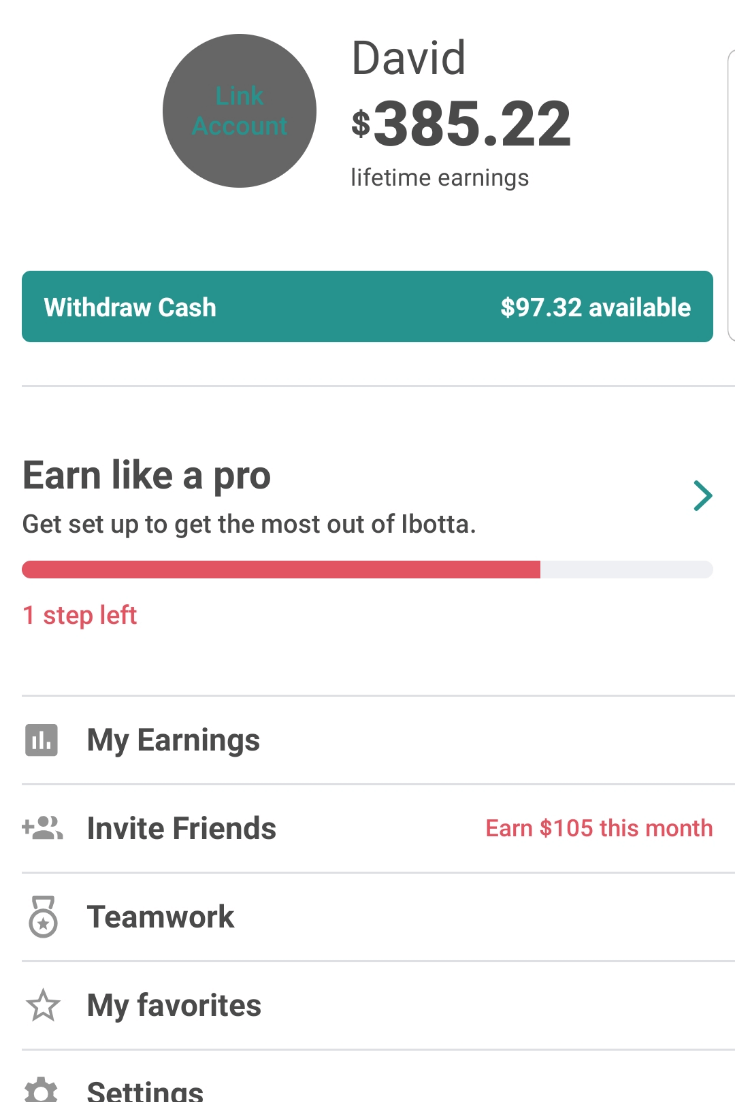 Once you have $20 saved up, $10 of which you will get when you sign up with our link. You have a few options to get your free cash back!
After you hit the $20 threshold, you can receive your cash via PayPal, Venmo, or be given a Gift Card for the cash value you are withdrawing.
>>>> Here is a free $10 welcome bonus for signing up with our link!
Get Cash Back When Shopping Online
Do you do a lot of shopping online? Guess what, you can use your Ibotta App for online shopping too. To shop online using the app, go to the Find Offers tab in the app.
Next, look for the mobile online shopping icon under the list of categories.
Once you get to the online shopping screen, choose the store you want to shop online at, and it will redirect you to their site. I recently shopped at Cabela's online and got 7.5% cash back when I bought an ice fishing pole.
The best part about Ibotta is that they literally work with every single store I shop at – meaning I'm able to save money every time I shop!
How To Make Extra Money With Ibotta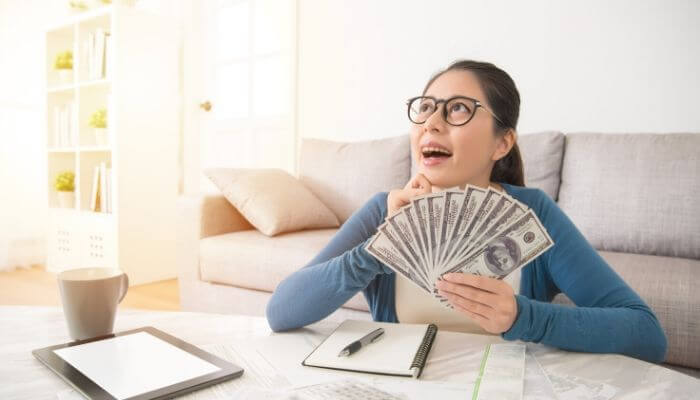 When you create your Ibotta account, you will have to enter an email address.
Don't worry; this is a good thing.
From time to time, Ibotta will send you different little promotion codes that you can use. These promo codes are ways for you to get even more cash back!
How awesome is that!! Keep an eye out for the promos and start earning more cash back.
I also like to double down on apps when I shop at Target, my favorite store. You can use the Target Circle app in-store and then scan your recipe with Ibotta once you get home.
This means twice as many savings.
If you don't use the circle app at Target, you should start.
Related article: How To Save Money Mastering The Target Circle App At Target
Ibotta Cheats
Along with the promo codes, there are other ways you can make extra money using Ibotta.
These are what I like to refer to as Ibotta cheats! Each week, Ibotta will update its bonuses section.
You should make a habit of checking the bonus section to see if you can earn extra free cash.
The bonuses consist of getting $3 for using mobile shopping on the app or getting a $10 bonus when you spend $50 or more on QVC. 
If you want to know how to cheat Ibotta, always check this section often because there is a lot of bonus money to be made.
Ibotta Refer A Friend
Lastly, another way you can make even more money with Ibotta is with their Ibotta referral program!
Yes, you can make money simply by referring friends and family to Ibotta.
Once you create an account, you will see the area where you can send referrals to friends and family via email and social media. The amount of money you make depends on the number of friends you refer.
It can be anywhere from $10 to $100, so tell all your friends.
How to refer a friend:
– Log into your Ibotta account
– Share your referral code via email or text
– Spread the word by mouth
– Share your code on social media using Facebook, Twitter, Instagram, and more
Is Ibotta Worth It?
Overall, I really love using Ibotta, and it has been totally worth it!
The app is really simple to use, there are a ton of great deals, and you have a lot of options to save more money on everyday purchases.
We hope that our legit Ibotta app review gave you all the information you need to get started earning Free Cash Back.
Ibotta- Question and Answer
Does Ibotta offer a sign-up bonus?
Yes, Ibotta gives a $10 sign-up bonus when a brand new user signs up.
Is Ibotta worth it?
Yes, most definitely! We have nothing but good things to say from our experience with Ibotta.
How to cash out Ibotta?
Ibotta cash out is simple. Select withdraw cash on the app. Then choose to have it sent to your Paypal or Venmo account.
Is Ibotta Free?
Yes, Ibotta is absolutely 100% free to use.
How does Ibotta make money?
When you purchase an item through their app, they get a cut of the item you purchased.
Does Ibotta cash expire?
Ibotta cash does not expire. However, if you discontinue using the app for 6+ months, your account can be charged a maintenance fee.
Is Ibotta available in Canada?
Does Ibotta work in Canada? Sadly, at this time, Ibotta is only available to U.S. residents.
Are there similar apps like Ibotta?
Yes, there are a few apps similar to Ibotta. Our other favorite cash back apps like Ibotta are Dosh and Rakuten! There are many rebate apps similar to Ibotta, but these tend to be our go-to apps for cash back.
If you enjoyed this article, make sure to save it for later and join us over on Pinterest for more money-saving related articles.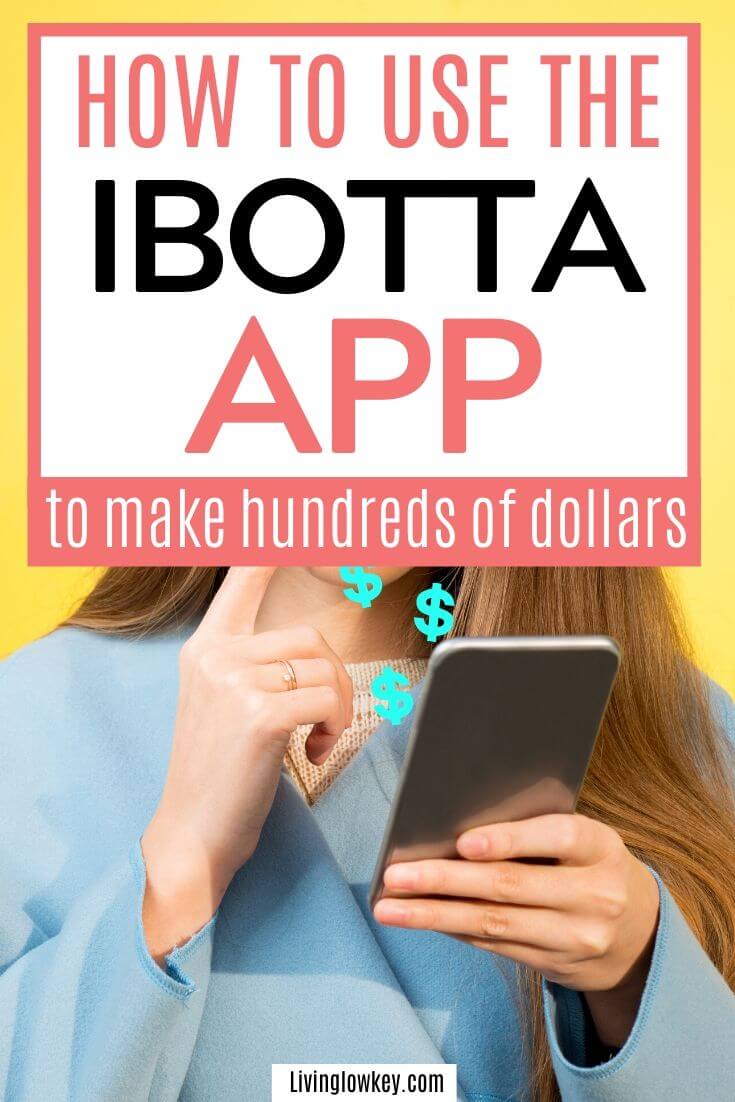 Related money-saving articles:
[disclosure]
Grab Your FREE Printable Budget Binder