The best bathroom organization ideas for $1.25 or less!
Are you looking for an inexpensive way to organize your bathroom?
So was I, so I came up with a solution! A cheap one at that!
Believe me! You don't need a bigger bathroom or MORE space for these best bathroom organization ideas to work.
All you have to do is get creative with the storage space you already have, and make a quick trip to the Dollar Tree!
Let's get the party started with these easy organization ideas for your bathroom, from Dollar Tree!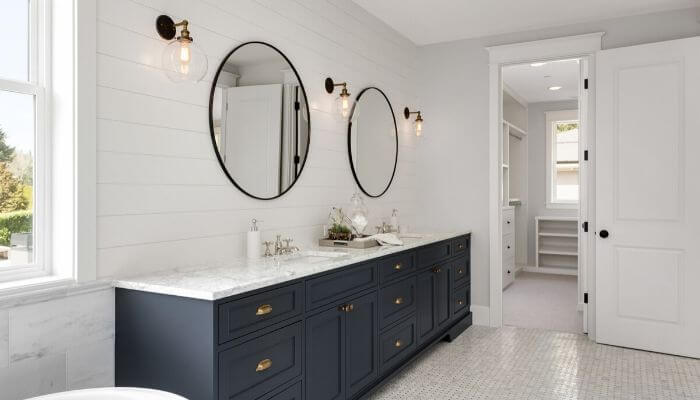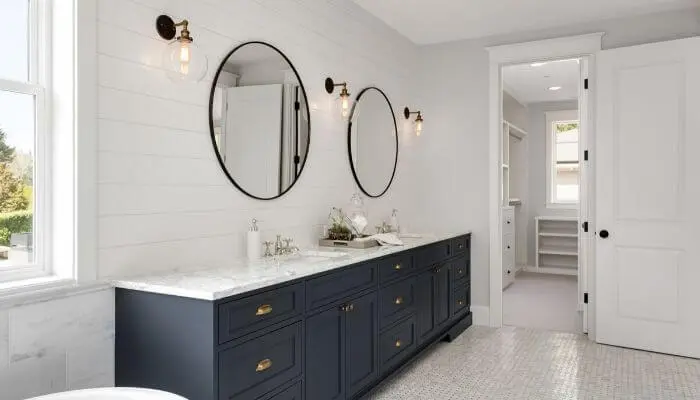 Related articles:
Organization For Your Bathroom- The Best Hacks
Let me show you how I was able to declutter and organize my entire bathroom for $15.
Now let's get organizing, with these inexpensive Dollar Tree storage ideas. You'll regret you didn't try these cheap organization ideas sooner.
1| Bathroom Organization Under Sink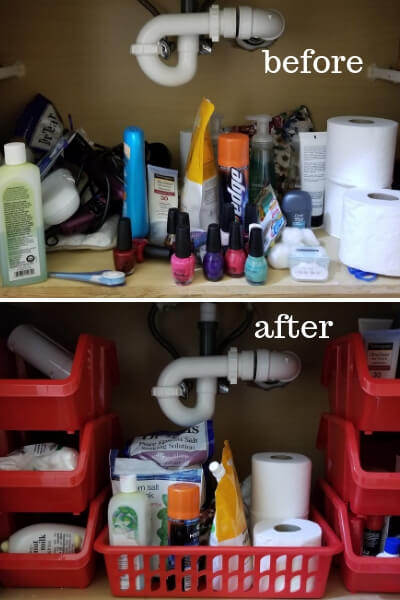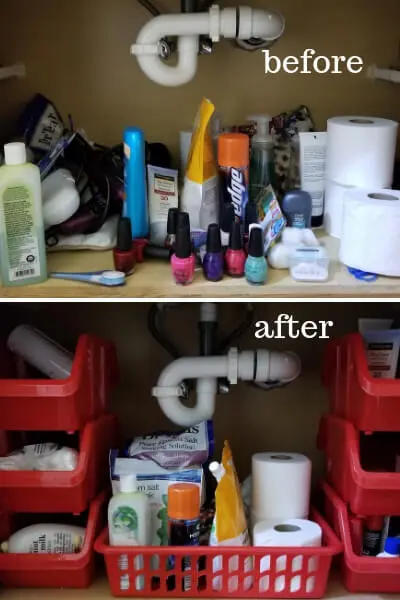 The "BEFORE" picture above was what my bathroom cabinet looked like before I bought a handful of awesome $1 bins from the Dollar Tree. 
This transformation literally took less than 10 minutes!
If you're looking to organize your bathroom cabinets and get rid of some unnecessary clutter under your sink, go pick up some stackable bins and transform your space!
The Dollar Tree has all kinds of different colored bins to choose from.
Better yet, check out these awesome baskets to organize your space. They are on my dream list!
If you want to see other essentials I buy at the Dollar Tree to save me the BIG BUCKS, check it out HERE!
Save Even More At The Dollar Tree
Sign up below to receive 10 tips to save even more money at The Dollar Tree!!
2| Bathroom Sink Organization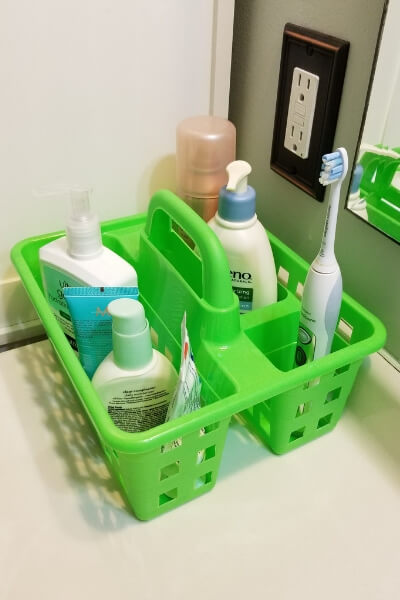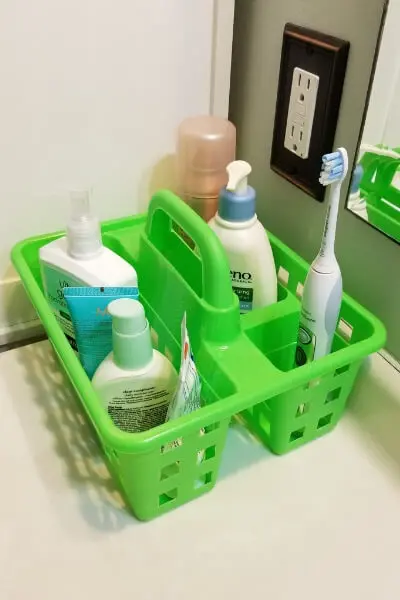 Are you looking to keep clutter from piling up on your bathroom sink? Use a small caddy for all of your must-have essentials.
Keeping all of your necessities in one area will keep your sink looking neat and organized!
If you have young kids, these are great for teaching them how to organize their bathroom essentials.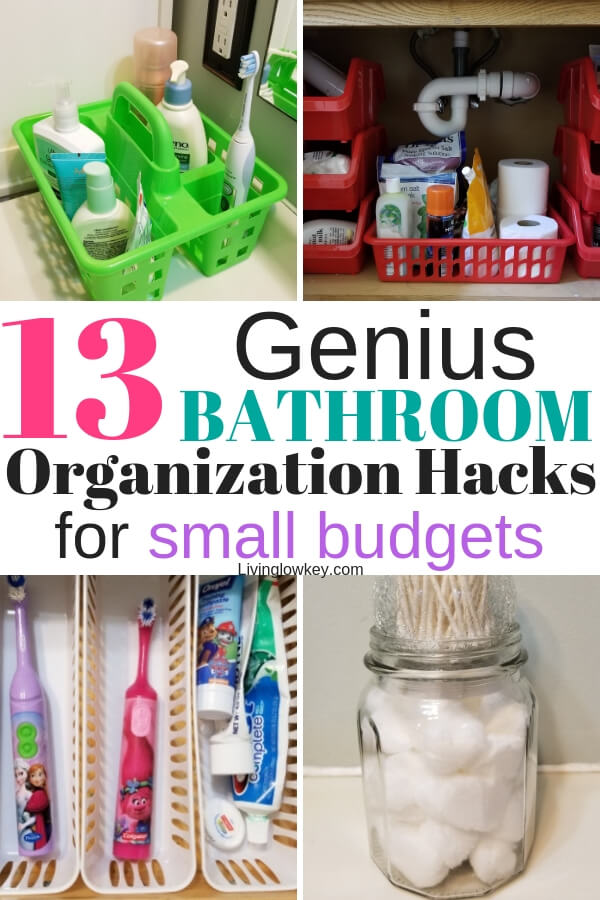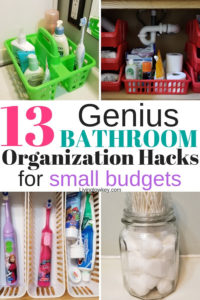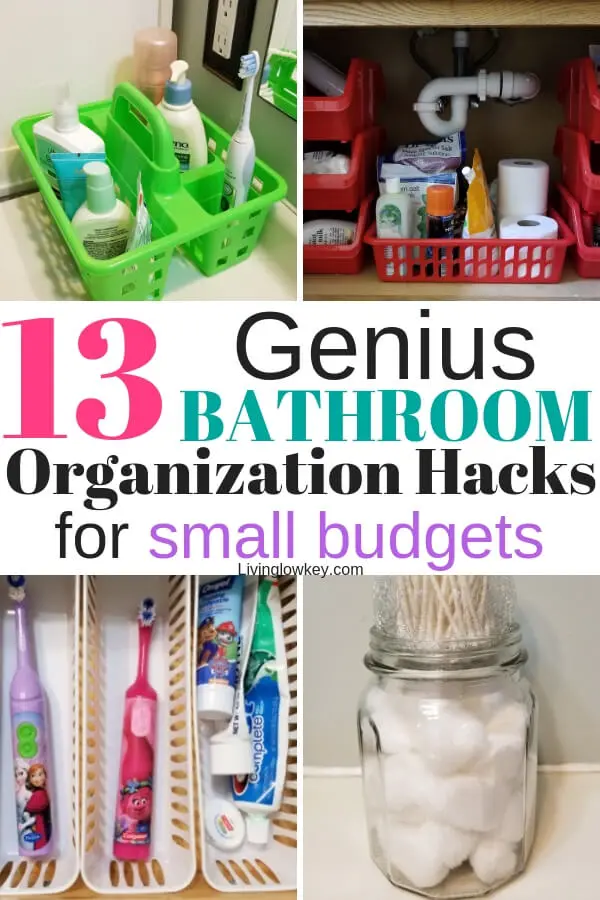 3| Bathroom Organization For Your Drawers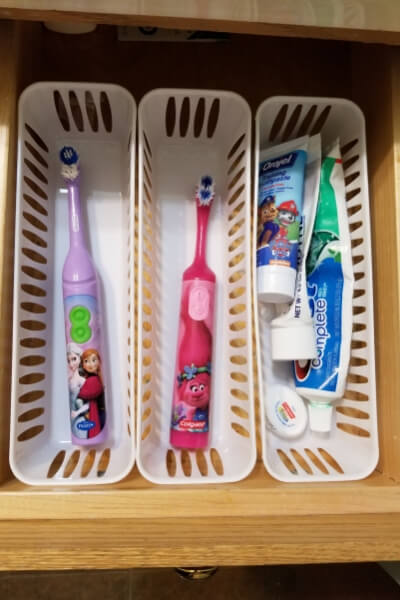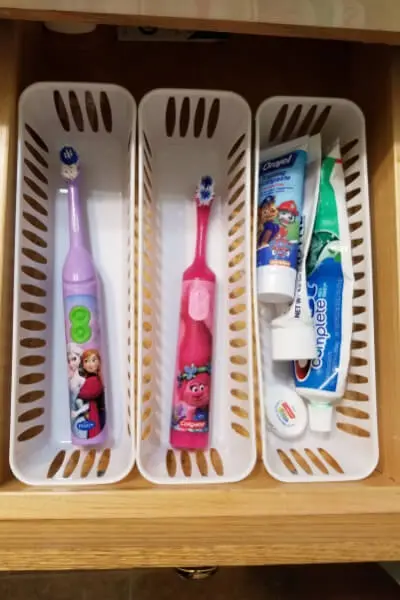 Does anybody's toothbrush drawer resemble the one in the picture above??
Mine definitely didn't! That is until I got my hands on these baskets.
Best of all, you can score 3 of these little baskets for $1 at the Dollar Tree.
These tiny little baskets will help you organize your drawers, so you don't have toothbrushes and tubes of toothpaste EVERYWHERE.
These baskets are a must if you have lots of people sharing one bathroom.
All 4 of us share one bathroom, and we all use different toothpaste. Does anyone else struggle with this problem?
If so, these baskets are a lifesaver!!
Related article: How To Declutter Your Home Quickly: Room By Room
4| Small Bathroom Organization Idea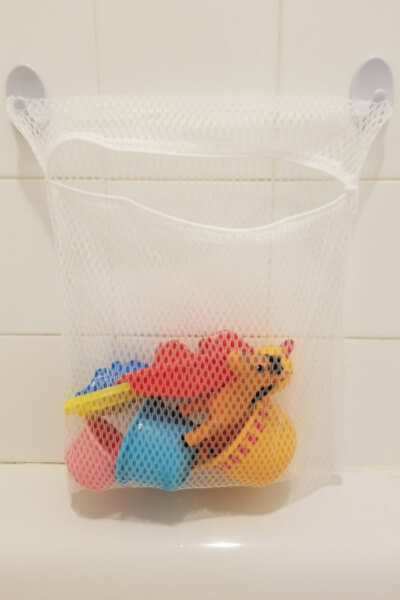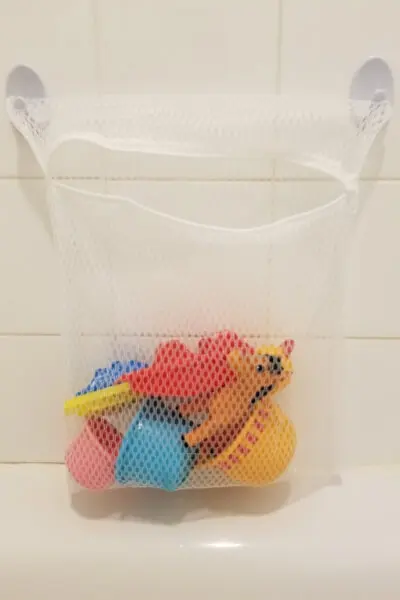 Sick of stepping on toys in your shower?
I was too!
So I created this super simple toy bag for the bathtub. Best of all it only cost me $2.
Head over to the Dollar Tree and grab yourself a mesh washing bag. The kind you throw your undergarments in before putting them in the washer.
Grab some command hooks (also available at the Dollar Store) and stick them to your tub or shower wall. Then fill with toys!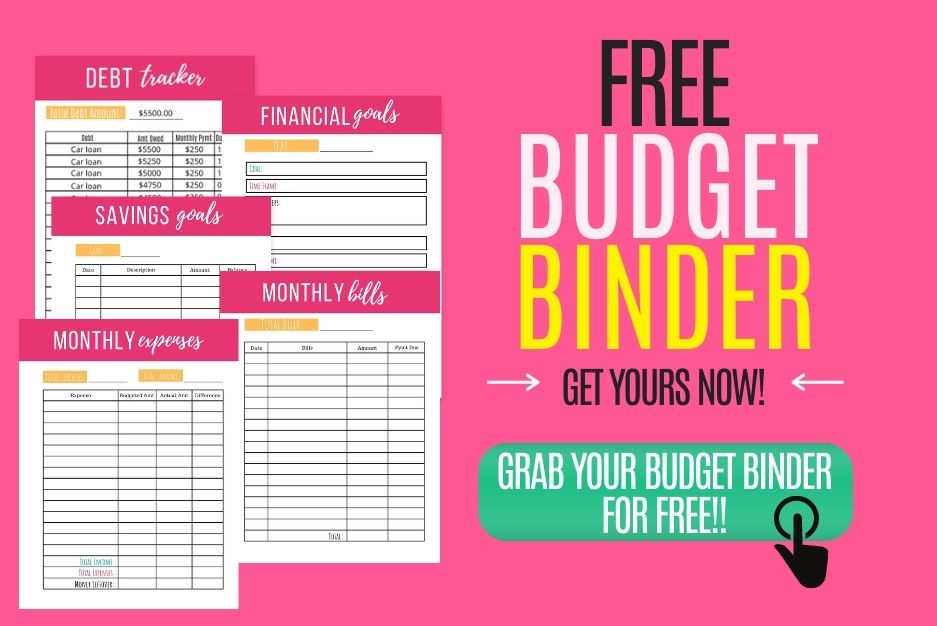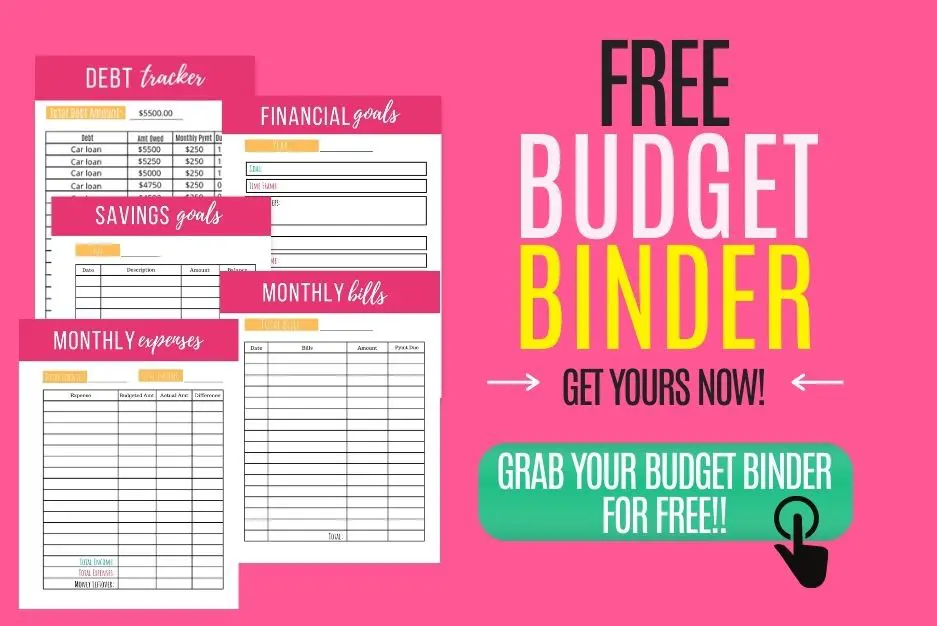 5| DIY Bathroom Organization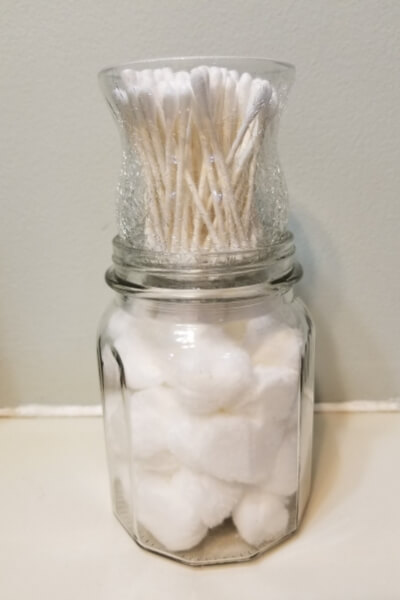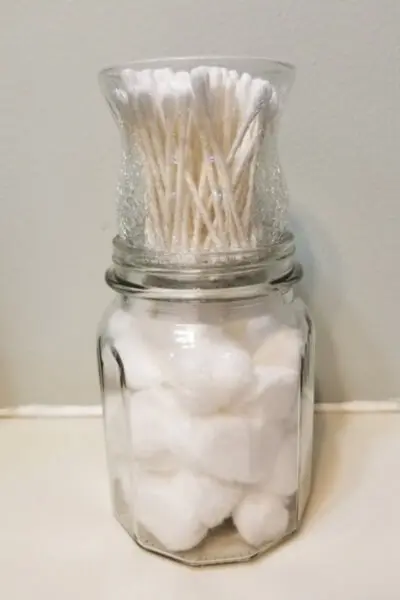 Are you looking for a unique way to organize your bathroom essentials? Head to the Dollar Store and pick up a mason jar and a decorative shot cup.
Stack them on top of each other for awesome storage for your cotton balls and q-tips.
This is a fun way to display items in a master or guest bathroom.
You can also get crafty and paint your jars to match your bathroom!
6| Creative Jewelry Storage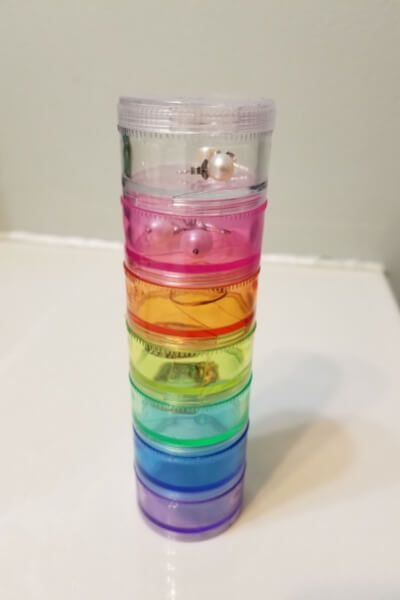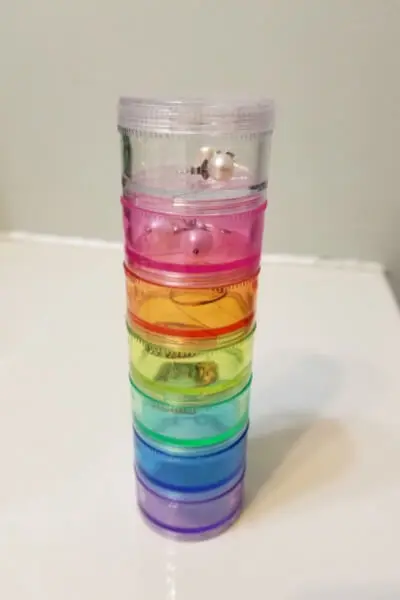 Grab a colorful pill organizer and turn it into a fun way to store extra jewelry and other small items in your bathroom.
This is a great way to store extra jewelry out of sight without losing them. 
If you have kids, they'll love storing their little hair accessories in these.
These pill organizers are also a great way to store earrings, necklaces, and rings when traveling.
7| Bathroom Organization Under Your Sink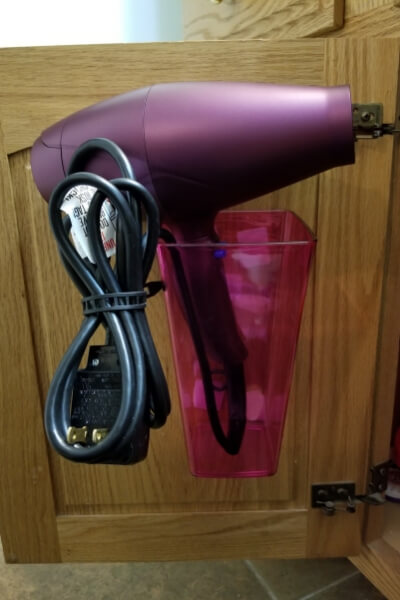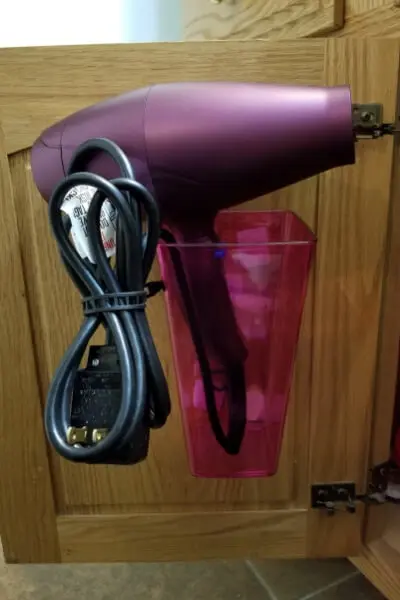 Want an easy way to store your hairdryer? Grab a $1 cup and some double-sided velcro (both can be found at any Dollar Store). 
Put the double-sided velcro on the cup and stick it inside your bathroom cabinet. 
This is such a quick and easy organization hack! It also frees up a lot of space under my sink.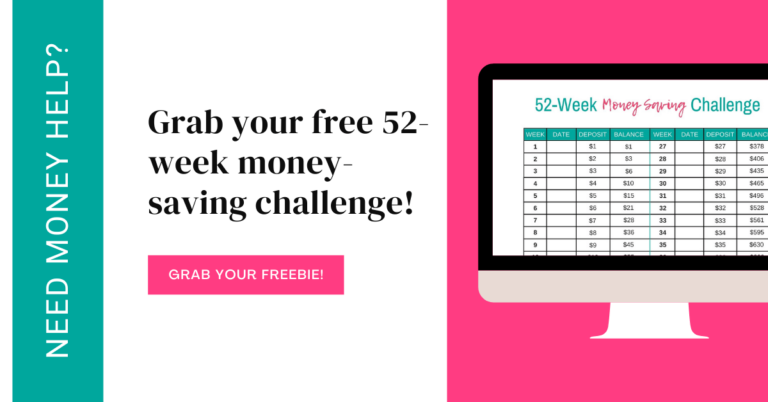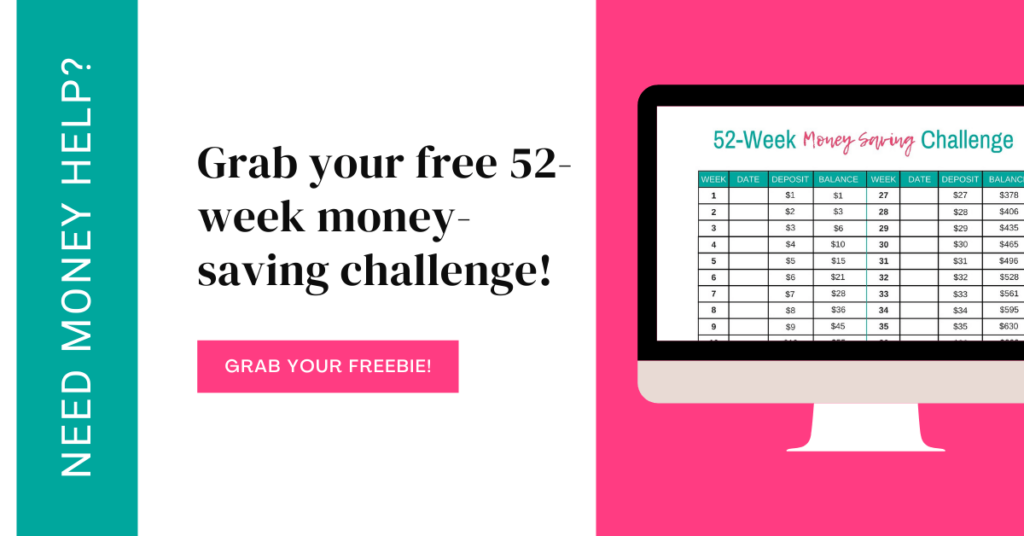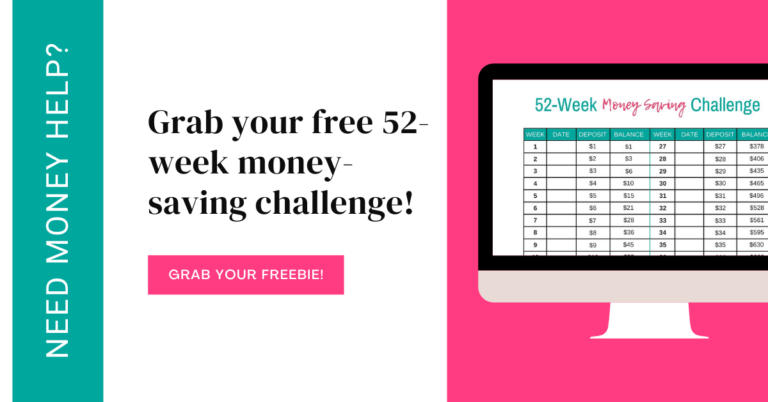 8| Bathroom Cabinet Organization Ideas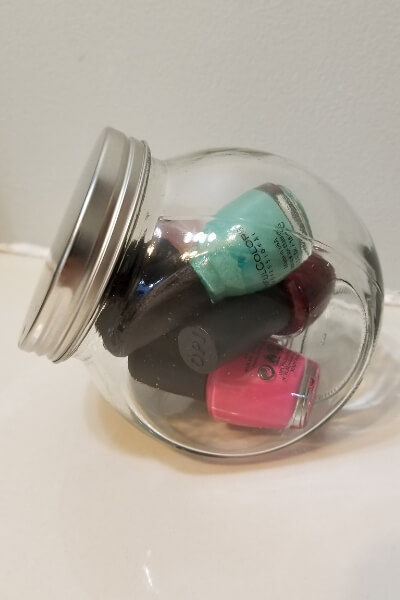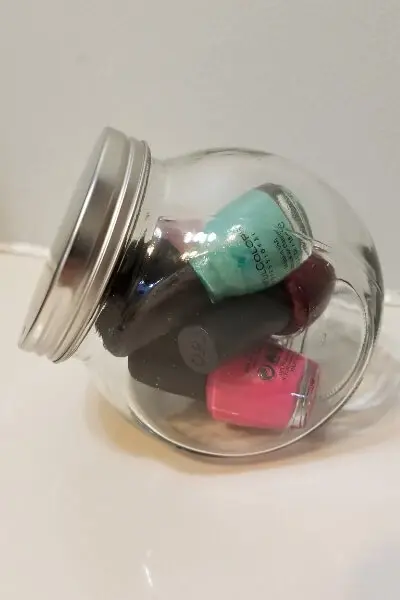 Grab a few of these cute glass containers to create an easy storage solution for your nail polish or other bathroom essentials.
Glass containers add such a nice touch to your bathroom, whether you are looking to display them on your counter or hide them under your cabinet.
9| Storage Containers For Your Accessories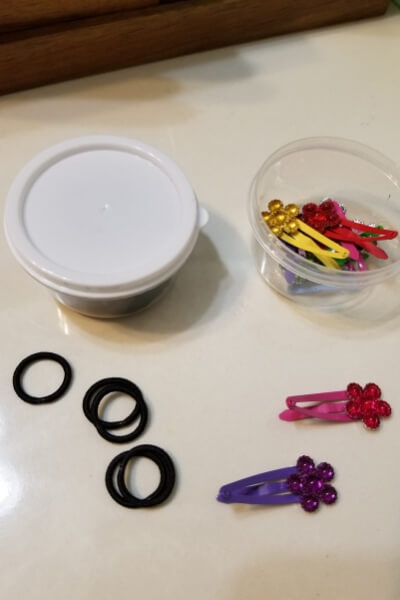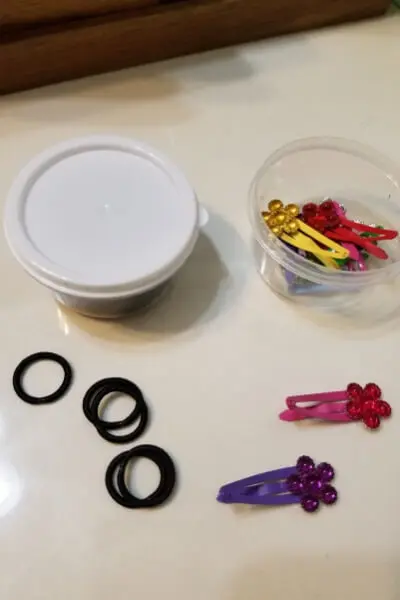 These cute little storage containers come in a pack of 10 at the Dollar Tree.
If you are looking for storage ideas for tiny objects in your bathroom, these are a MUST! 
You can use these for everything from ponytails to barrettes. The sky is the limit! 
These are also easy cups to grab on the go for traveling and such.
10| Hair Accessory Organization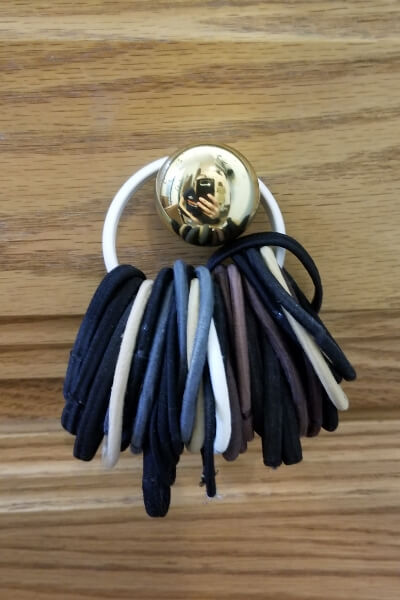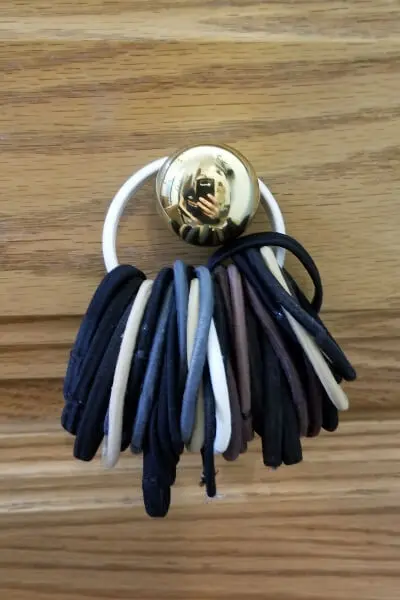 Are your ponytails scattered throughout the bathroom? Then you are going to love this hack!
Buy a pack of shower curtain hooks for $1. Use one and slide all of your ponytails on it.
Here are 16 other ways to use shower curtain hooks!
11| Add More Space With This Storage Rack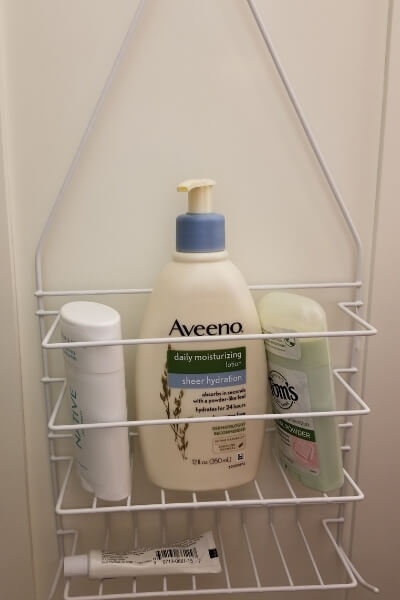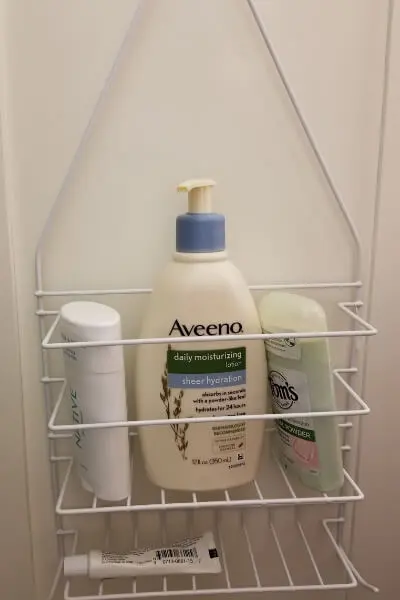 This is a neat way to add more storage to your bathroom. You can't beat this kind of storage for only a dollar!
I had a leftover command strip from hanging the mesh toy bag in the shower so I used it to hang this beauty inside my cabinet. 
I love having my bathroom counters clutter-free. With the help of this rack, I can do just that!
You can also use this to hang on your shower head. If it doesn't fit on your shower head, use and command strip to hang it in your shower!
Here is a great list of things to BUY and what not to buy at the Dollar Tree!
12| Storage Bin Organization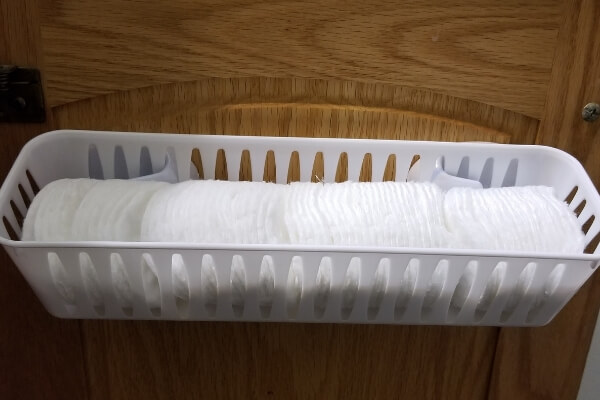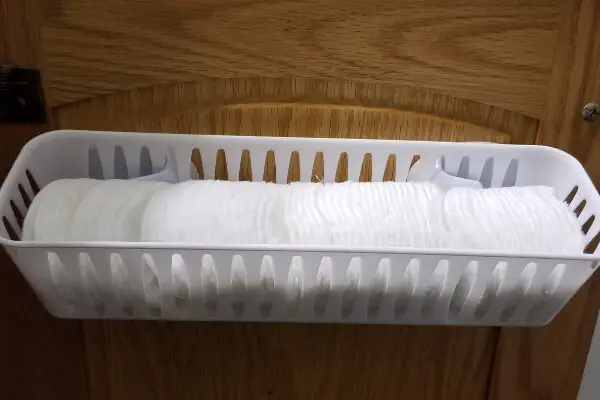 I'm super excited to share this little dollar hack. This is actually how we store our toothbrushes in our camper.
Grab two command hooks and a little storage bin. At Dollar Tree, you can score 3 of these for a dollar. 
Hook the command hooks onto the inside of your bathroom cabinet horizontally, then hook on the basket. 
I currently store cotton face pads in mine, but the possibilities are endless!
13| Bathroom Vanity Organization Ideas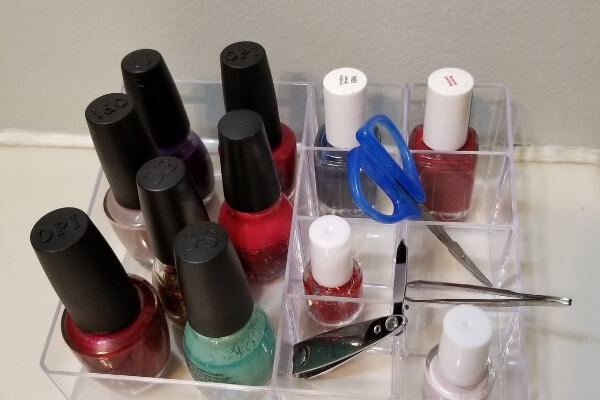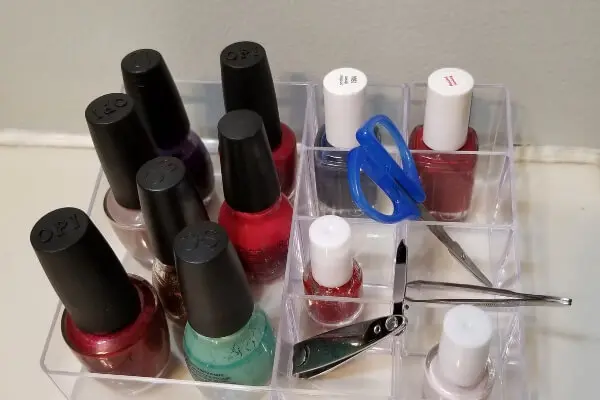 We all love having things organized in our lives.
I grabbed a few of these clear plastic organizers from the Dollar Tree to help organize a few leftover stragglers that were under my sink.
And I love it! Online, these plastic organizers cost a LOT! 
Well, not at the Dollar Tree! They are actually extremely well made. I was very surprised with their quality. 
Final Thoughts- Dollar Tree Organization Ideas
What do you think! Are you ready to organize your bathroom using some of these inexpensive ideas. In my 20's I loved organization, but I just couldn't afford fancy baskets that costed $30 dollar a pop.
These are a few genius ideas I came up with to help manage clutter in one bathroom that four of us share. Combined I was able to organize my bathroom space for less then $15.
What do you think are you going to try out some of these Dollar Tree storage ideas? Let me know in the comments below!
If you enjoyed this post, pin it for later and join us over on Pinterest!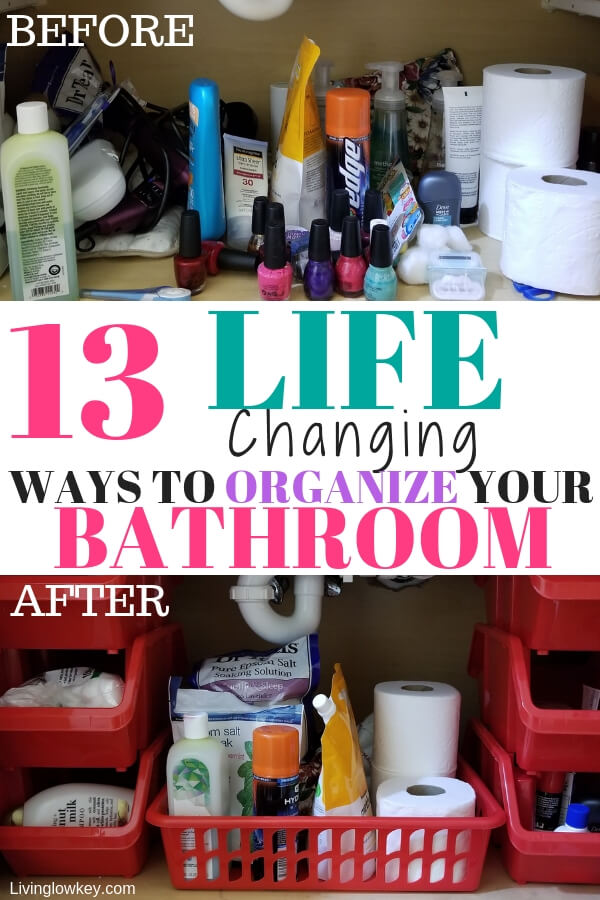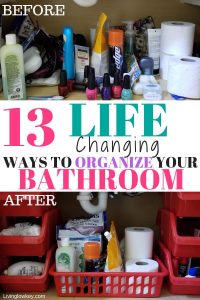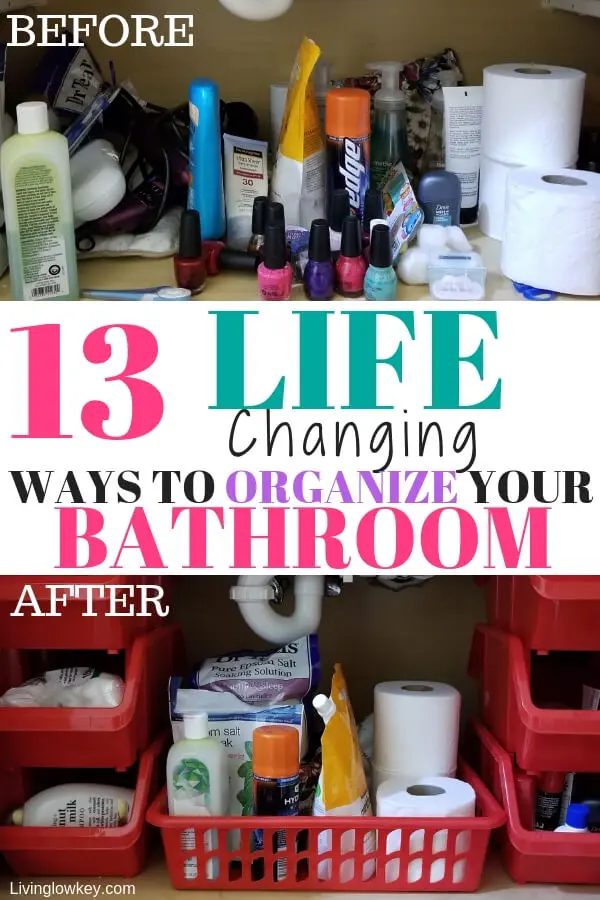 Related articles: