Have you ever been to the Dollar Tree before? If not, and you want to save money, today is your day!
Suppose you haven't been to the Dollar Tree before; some might imagine it as a wasteland of useless junk. Well, I'm here to tell you, you couldn't be more wrong. They have some pretty great deals that you don't want to miss.
Follow along below, and I'll fill you in on the best things to buy at the Dollar Tree and, of course, what to avoid.
One of the hardest parts (really, it's not that hard) of shopping at Dollar Tree is not knowing if you're getting a great deal or not.
It can be hard to know if the product you're buying is really worth your dollar and 25 cents… but that's okay.. that's where I come in!!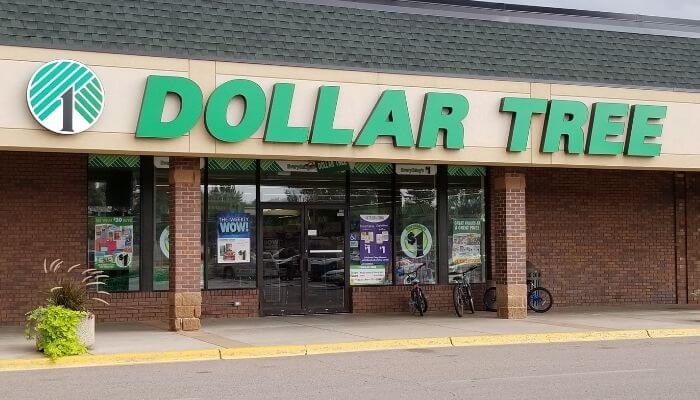 My favorite part about shopping at Dollar Tree, besides their amazing prices, is that they sell many name-brand products.
Yes, Dollar Tree is much more than meets the eye! 
Did you know that there are three different "Dollar" Stores? I don't shop at Dollar Tree because it's my closest "Dollar" store. I shop there because it's the only "Dollar" Store where everything only costs a dollar! (update as of 2022 they raised their prices to $1.25).
Here are the three different types of "Dollar" Stores:
Dollar General

Dollar Store

Dollar Tree
Until recently, Dollar Tree was the only store in which every product is actually a dollar. Now they have raised their prices, but the other Dollar Stores sell many products that are $5+.
So next time you go out, ensure it's the Dollar Tree you're hitting up!
Dollar Tree Online Shopping (Say What)
You read that right. You can shop at Dollar Tree online!
If you don't want to shop at Dollar Tree in person to get their great deals, do your shopping online. It's fast and convenient, and you get the same awesome products as you would in the store without actually having to go to the physical.
I'd even consider that an insider tip because few people know you can shop online for Dollar Trees deals.
Did I mention that when you shop online, you get free in-store shipping?? Now, it's no Amazon Prime, we all got a little spoiled with that, but if you don't want to pay for shipping to your house, you can always send it to your local Dollar Tree. It only takes a minute to walk in and pick it up.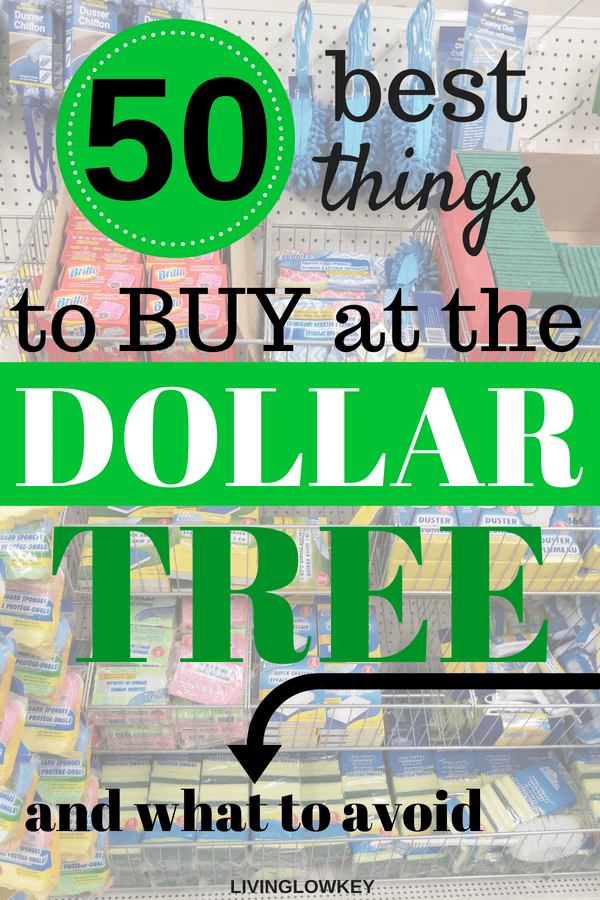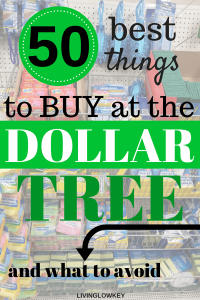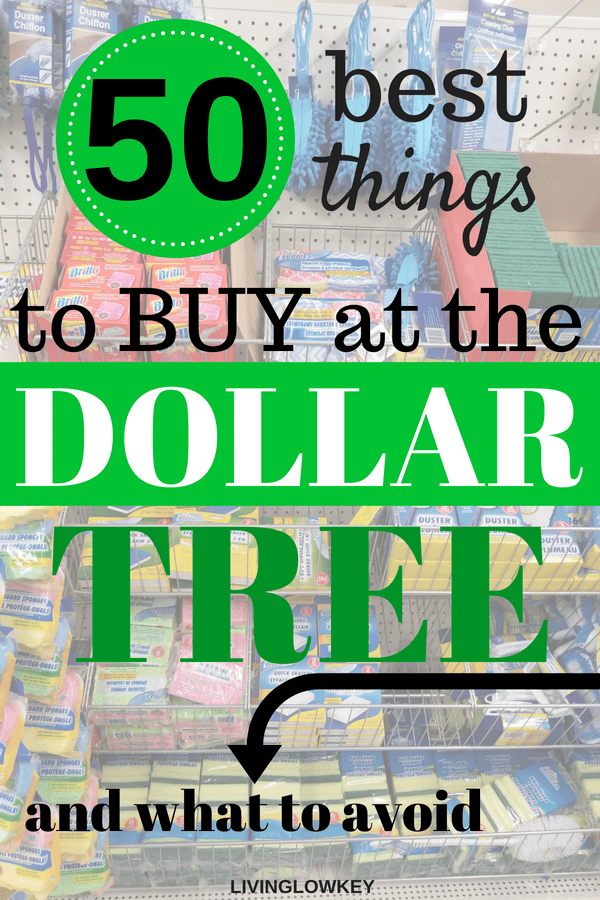 Ways To Save Even More At The Dollar Tree
One way we've found to save even more money when shopping online at Dollar Tree is by shopping through Rakuten! It's a website that partners with thousands of stores to give you cashback on your purchases. It's free to join, and you get free cashback!! 
That's right, Rakuten gives you FREE cash back straight to your account if you shop through their website. I promise you it's not too good to be true. We use it for our online shopping. 
Did I mention when you sign up for Rakuten with our link, they'll give you a $10 cashback welcome bonus after you make your first $25 purchase at any store?
Here's yet another way to save money at Dollar Tree, sign up for their Value Seekers Club. You'll get access to contests, money-saving party ideas, crafts, recipes, product sneak peeks, and so much more. Click here to sign up for the Dollar Tree Value Seekers Club (it's free).
If you're ready to buy something for a dollar and 25 cents, check out this list of the best things to buy at Dollar Tree!
Need a place to put all this money you're saving? Check out a High-Interest Savings Account from our bank of choice, CIT BANK.
The Best Things To Buy At The Dollar Store
1| Party Supplies: This is the number one reason I visit Dollar Tree, and I think it should be the number one reason you visit too! They have an epic party supplies section.
Are you planning on throwing a birthday party, baby shower, or even a wedding? Then this needs to be your place. For kids, they have themed birthday supplies. They also have party supplies in just about every color in the rainbow.
2| Craft Supplies: If you love crafts or have kids that love crafts, the Dollar Tree is a gold mine for supplies! There are various art supplies, craft paper, glitter, and so much more! This is our go-to place when we need supplies for crafts with the kids.
For some really great craft ideas, check out Kidz Craft Corner.
3| Greeting Cards: If you were to walk into Target right now and buy a greeting card, how much would you spend?? Does anywhere between $3-$6 sound familiar? At Dollar Tree, you can score two cards for $1. When they're on sale, you can get four cards for $1. Save yourself some money, don't buy greeting cards anywhere else!
** Best Dollar Tree Find Alert **
4| Dollar Tree Gift Bags: Need I say more? These Dollar Tree gift bags are the same quality as those at Walmart and Target. The only difference is they're only a dollar!
That's why I've got these down as Best Dollar Tree finds that you can't pass up.
5| Bows for Gifts: Bows for gifts can be expensive! A lot of people use them. Me, I skip the bow altogether because I'm cheap, but since I know a lot of people use them, I thought I'd help you out.
Their bow selection is pretty epic, so check it out. I'm assuming around Christmas; they disappear quite fast.
6| Holiday Decor: If you love holiday decor as much as every other woman on this planet, run as fast as you can to the Dollar Tree! Holiday decorations at Dollar Tree are hard to pass up.
Need valentines day cards or St. Patrick's Day gifts for a whole class? Hit up the Dollar Tree! They have a wide variety of signs, centerpieces, and hanging decor.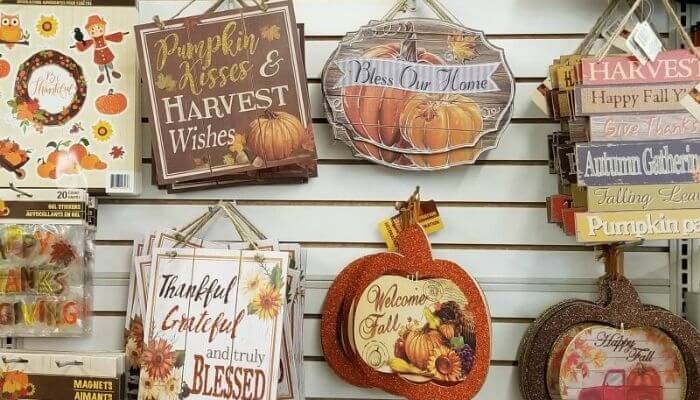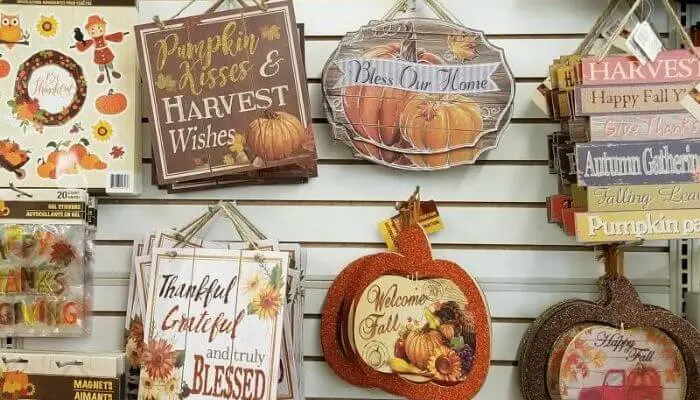 Their holiday décor always sells out fast, so you must be ready and waiting for it to hit the shelves.
I'm going, to be honest with you, for $1.25, their holiday decor is top-notch. If I can't find what I'm looking for in-store, I check online and can usually find it. 
7| Wrapping Paper: They don't have big rolls of wrapping paper as you'll find on Amazon or Walmart; however, if you're looking to wrap a small gift and don't want to buy a whole roll of wrapping paper. You know where to head!
8| Scotch Tape: Scotch tape is a great deal for a dollar twenty-five! It's not the same quality as normal scotch tape, but it does the job. I was able to wrap all of my Christmas gifts last year with it just fine. 
Grab Your FREE Budget Binder Today!
Start saving more money and pay off your debt with this FREE Budget Binder
9| Artificial Flowers: If you come to my house around any holiday, or really any day for that matter, you're going to find artificial flowers in a vase somewhere around my house.
Yep, they're from Dollar Tree, and I've had them for years. Artificial flowers are expensive at craft stores like Michael's or Joann's, however, not at Dollar Tree.
The Dollar Tree's selection is big and changes with the season. You'll love their Christmas selection of flowers. 
10| Coffee Mugs: Looking for a cheap alternative to expensive household items? They have a pretty large selection of coffee cups, plates, cups, and bowls.
This would be a great buy for short-term use, such as getting ready to go off to college or buying your first home. Also, if you like to craft, we love making personalized mugs using our Cricut using Dollar Tree mugs.
11| Tupperware: This is the place to go if you do not want to spend an arm and leg on Tupperware! They have a large selection of different sizes and brands. I think you'll be able to find something that will work for you.
12| Aluminum Pans: Do you use aluminum pans around the holidays? I know we do. I hate going to a holiday party with a big pot and ending up with a big mess to clean later.
I only wish I had known about these awesome pans sooner! They have every size and shape you could possibly want.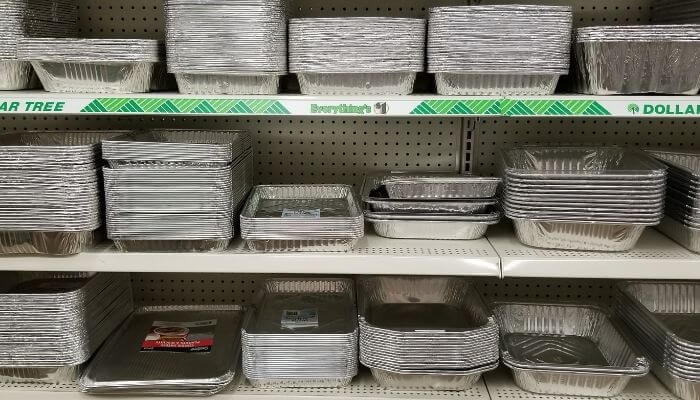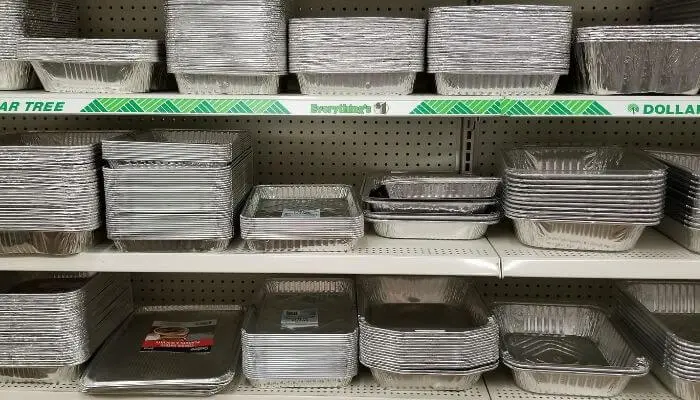 13| Kitchen Utensils: If you need some new kitchen utensils, you're in the right place. The Dollar Tree has a wall of every kitchen essential you could think of using or needing!  
14| Cling Wrap: If you're looking for cling wrap, tin foil, parchment paper, or other similar items, the Dollar Tree has it all. They even had name-brand items such as GLAD.
15| Canned Food: Before buying food at Dollar Tree, I highly recommend you check expiration dates. With that said, they do have a pretty big food section. Some of it is hit or miss, but I can recommend their can food.
16| Popcorn: Enjoying a family movie night wouldn't be the same without popcorn! Grab some M&Ms and popcorn, and enjoy your movie night.
17| Candy: Honestly, I feel like you can't go wrong buying candy from Dollar Tree. After all, it's sugar. My kids love it and don't complain. Around Halloween, they add an extra aisle of Halloween candy.
18| Bread: They actually carry name-brand bread! Give it a try!
19| Glow Sticks: There are certain times in the year when glow sticks are cool, like the 4th of July, camping, or when going to a drive-in movie. Kids just love glow sticks, and Dollar Tree has the best!
Before your next party or outdoor event, make sure to grab some. Your kids will thank you!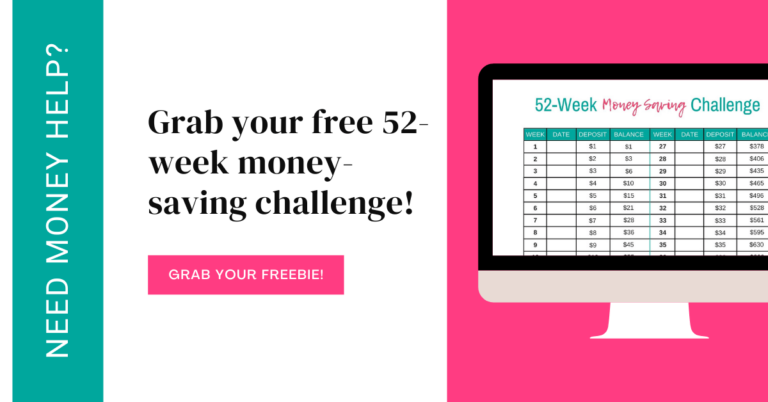 20| Toddler books: Who would have thought that Dollar Tree would have a book selection? Granted, it's not the biggest selection. They actually have quite a few books for several age groups. My favorite books are the educational hardcover books they have for young kids.
21| Stickers: Who doesn't love stickers? I know we do. If you have kids, you have a sticker stash somewhere in your home.
Stickers are a cheap solution to distracting your child while getting something done on your to-do list. We use them to distract the kids while we work on the blog!
22| Toys: Yes, they have a large selection of toys, and yes, they're CHEAP. I mean, they're only a dollar+, so what can you really expect? But here's a secret, that cheap toy will entertain your child just as long as that expensive one from Target. 
And then when it breaks, you don't feel bad about tossing it.
** Best Dollar Tree Find Alert **
23| Coloring Books: They have quite a range of coloring books, such as animals and different cartoon characters. Some of the coloring books are thinner than others, but it still hits the list of Best Dollar Tree Finds.
24| Brushes: A dollar for a brush, you can't go wrong!
25| Hair Accessories: Are bobby pins and ponytails essential in your everyday life? I honestly wouldn't buy mine anywhere else. Ponytails are freaking expensive nowadays, so make sure to grab some at Dollar Tree for $1.25.
26| Kleenex: Winter is right around the corner, and so is your next runny nose. Make sure to stock up on their Kleenex. They even have my favorite name brand Kleenex. Puffs!
27| Pregnancy Test: You might be asking yourself, do the Dollar Tree pregnancy tests even work? Let me tell you from experience they do. Don't run to the drug store and buy a $14 test that does the same exact thing.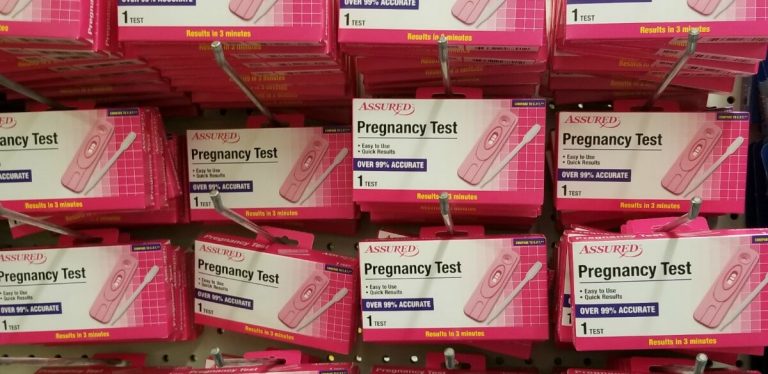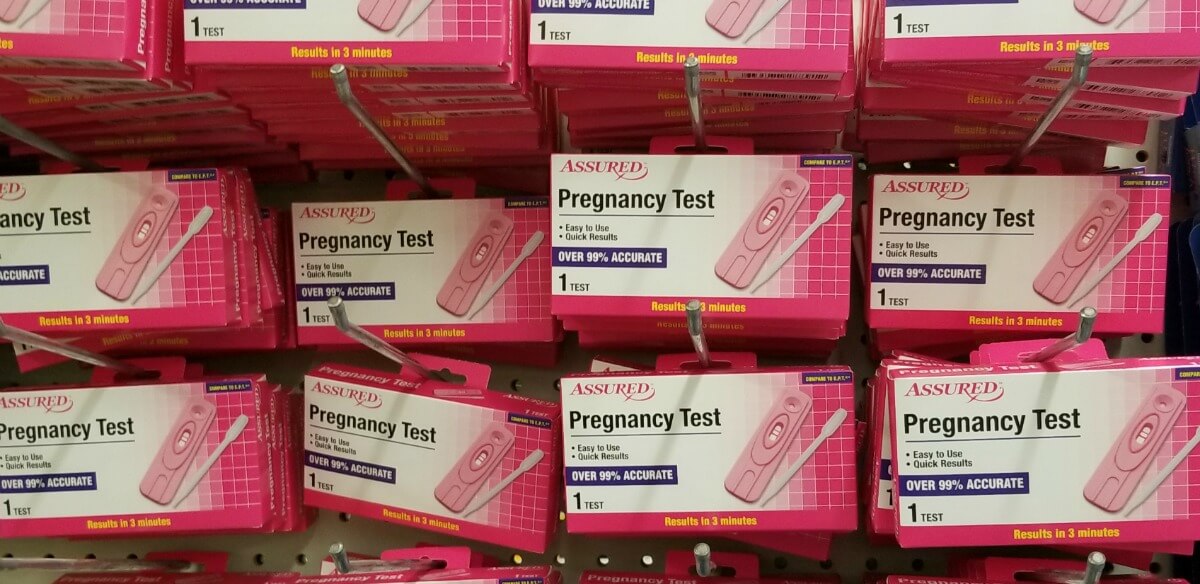 28| Q-Tips: An essential of most people's lives. I would say they work just as well as any name-brand q-tip.
29| Toothpaste: I've never bought an off-brand toothpaste, nor would I recommend it. But that's just my personal preference. However, they do carry Crest and Colgate, two very popular kinds of toothpaste. 
30| Toothbrushes: A toothbrush for a dollar isn't a bad deal, so make sure you grab a few.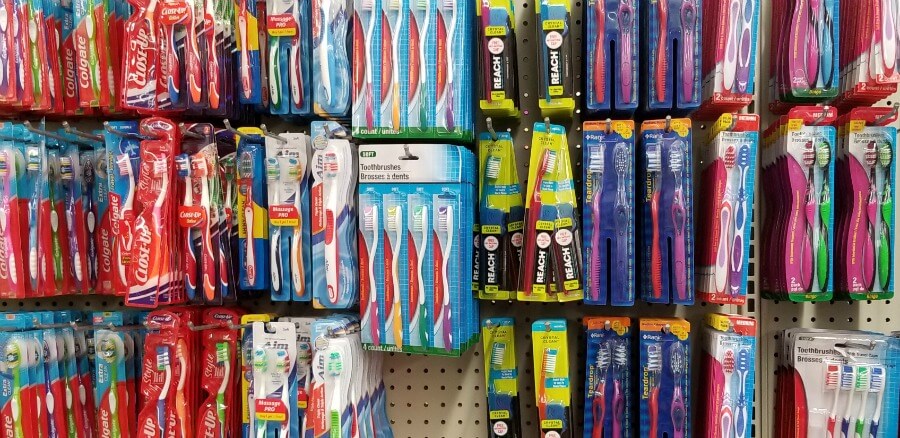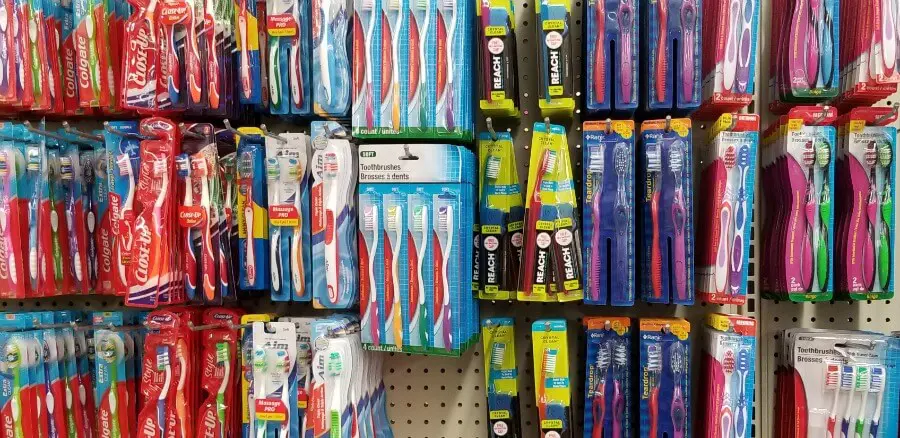 31| Shampoo/ Conditioner: If you don't mind using off-brand products, they have a nice selection of shampoo, conditioner, and body wash.
32| Socks: Go enjoy their selection of black and white socks. They come in a variety of sizes!
33| Peanuts: They have a great selection of peanuts, which can be a quick little snack. 
34| Crayons: I know some people complain about using generic crayons and that they don't work. The Dollar Tree actually carries Crayola and has a great selection of back-to-school supplies.
35| Stationery Items: Anything and everything you would need, the Dollar Tree has it! Items such as pens, pencils, pads of paper, calendars, and planners, you name it, they have it!
36| Notepads: Who doesn't love the cute little notepads you stick on your fridge to write down notes or grocery lists on? They carry a variety of different little handy notepads and notebooks.
37| Poster Board: We've all needed poster board at some point in our life. Whether it was in school or for making a sign, don't waste your money on poster board anywhere else when you can get 2 for $1.25 at Dollar Tree.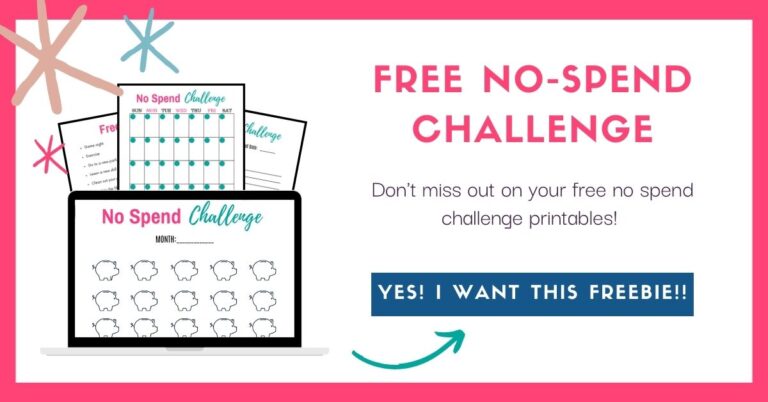 38| Stocking Stuffers: Do you have young kids or grandkids? Head to Dollar Tree for stocking stuffers.
39| Reading Glasses: Their reading glasses are identical to any drugstore's. When you buy them at Dollar Tree, you don't have to worry if you break or lose them because they're only $1.25. They also have a pretty big section of sunglasses.
These are usually located on a carousel by checkout. 
40| Picture Frames: If you're ready to buy something for a dollar that you'll love, head to the picture frames aisle. They have a large selection that comes in a variety of colors and sizes.
41| Vases: Most Dollar Tree stores have vases and other glassware you can decorate your home with. You can use these items to decorate during different seasons. Grab some paint from the paint sections and paint your decor to match the seasons.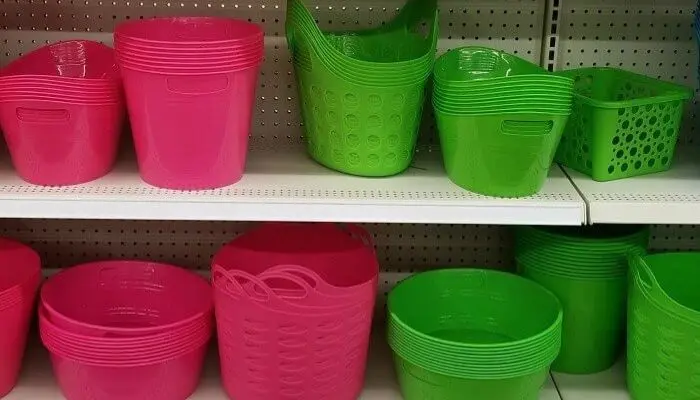 42| Storage Containers: If you need storage ideas for your home, you're going to love their storage containers. They have a variety of shapes and sizes, along with just about every color you could imagine.
These storage bins have come in handy around our home for toys and in our camper to keep things organized. Make sure to check out 150 Dollar Store organizing ideas for some ideas.
43| Baggies: Everyone uses baggies for a wide variety of things. You'll love their wide selection of snacks, sandwiches, and freezer bags.
44| Screen covers for your phone/Ipad: Who wants to spend an arm and a leg for a screen cover for your phone when Dollar Tree has them for a dollar? I've used them, and they've worked perfectly. Check them out, especially if you have younger children with phones.
45| Cleaning Supplies: These items are just as effective as other store name-brand items.. just cheaper.
46| Duster: Love dusting your home but don't want to pay an arm and a leg for dusting supplies; go check out their selection.
47| Mop/Broom: You need one; go get one!
48| Tools: They have a variety of simple tools. Some I would recommend, some I wouldn't. If you're looking for some basic tools just to get by, check out this section of the store.
Some of the tools they carry include measuring tapes, hammers, screwdrivers, etc.
49| Gardening Supplies: Are you a gardener or an aspiring gardener? This is a good place to start. Their selection of gardening supplies in the spring was quite surprising. They had everything from dirt, bags of seeds, digging tools, cushions to kneel on, hanging baskets, gloves, vases, grow cups, and the list goes on. 
50| Mail Section: We all need mailing supplies occasionally. Make sure to check out their supplies before heading to Walmart or the local post office for supplies.
They carry bubble wrap, packaging tape, padded envelopes, waterproof envelopes, and normal white envelopes.
What Not To Buy At The Dollar Tree?
We just covered 50 of the best things to buy at Dollar Tree, and there were some really good items on that list.
I've got to warn you, though, not everything at Dollar Tree is a good deal. There are a few items I would recommend not purchasing there.
Remember, these are just my recommendations. If you find anything to add to this list, make sure to leave a comment below so I can add it.
1| Plastic Silverware: We all use plastic silverware from time to time; however, their plastic silverware are extremely likely to break before your food even makes its way to your mouth.
If you're about to eat a hearty meal, I would stay away from these.
Here's a nice strong alternative that's strong and won't break easily.
2| Batteries: Their batteries last about as long as an ice cube in the hot California sun. I wouldn't spend my money on them.
When it comes to batteries, you want something that's long-lasting. This would be an item I'd fork out the money for and buy somewhere else.
This Value Pack is worth the money.
3| Kitchen Knives: Everyone needs good knives in their kitchen, but I would invest in a good set, as I said above. These knives won't hold up long term and they rust after one cycle in the dishwasher.
These are my favorite kitchen knives!
4| Electronics: I would avoid anything electronic that plugs into the wall. These items are cheaply made. I'd rather dish out the extra few dollars for an extension cord than have to worry about a fire. 
5| Meat: I wouldn't recommend eating anything from the cold section at Dollar Tree. I've seen different types of meat products before, but I would just stay away from them. Buy your meat and other cold products at the grocery store, Walmart, or Aldi.
Final Thoughts
What an adventure it has been exploring the 50 best items to buy from Dollar Tree! From home decor to cleaning supplies, toys and beauty products, you can find just about anything you need at this amazingly affordable store.
And with a bit of searching and comparing prices, you'll be able to score even greater savings on items that are already super cheap. Whether you're on the quest to find the best items or just want a little something special while shopping, Dollar Tree has got your back.
So don't forget the key takeaway: shop smarter, save more and get the very best things to buy from Dollar Tree! Don't wait; start adding some bargains into your life today!
What do you buy at your favorite Dollar Tree to save money?
If you enjoyed this post, make sure to save it for later, and come join me on Pinterest for more money–saving tips!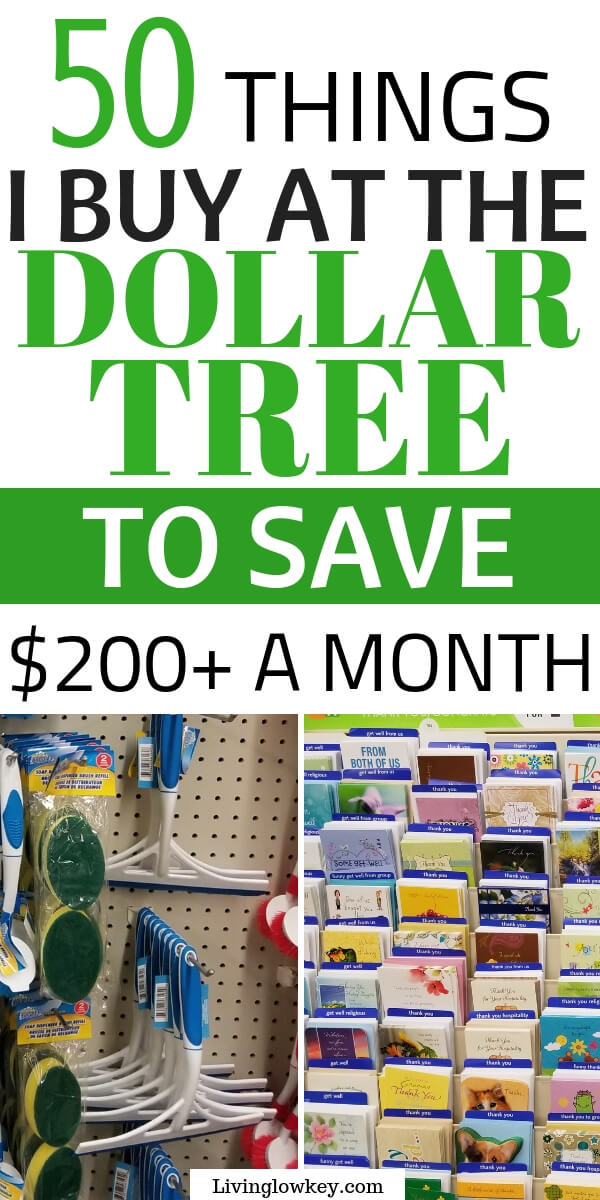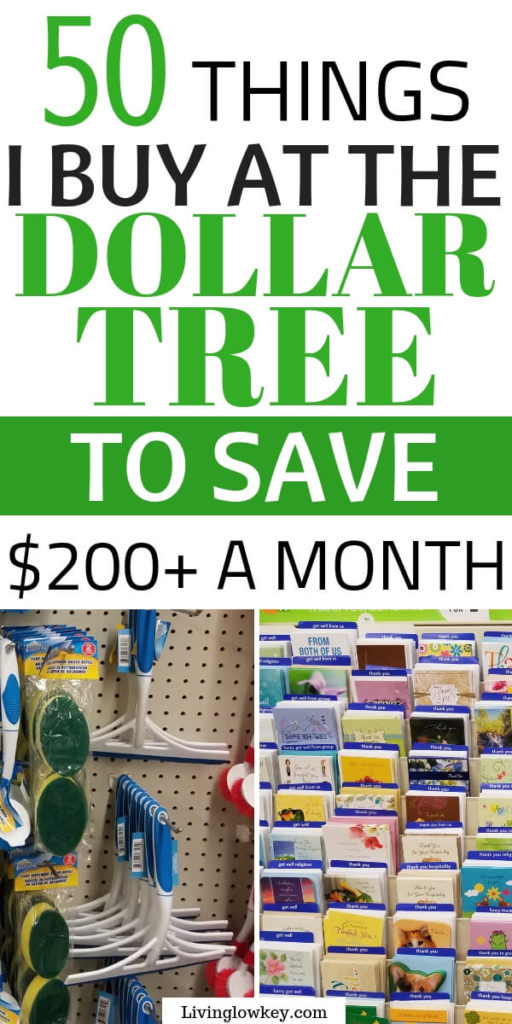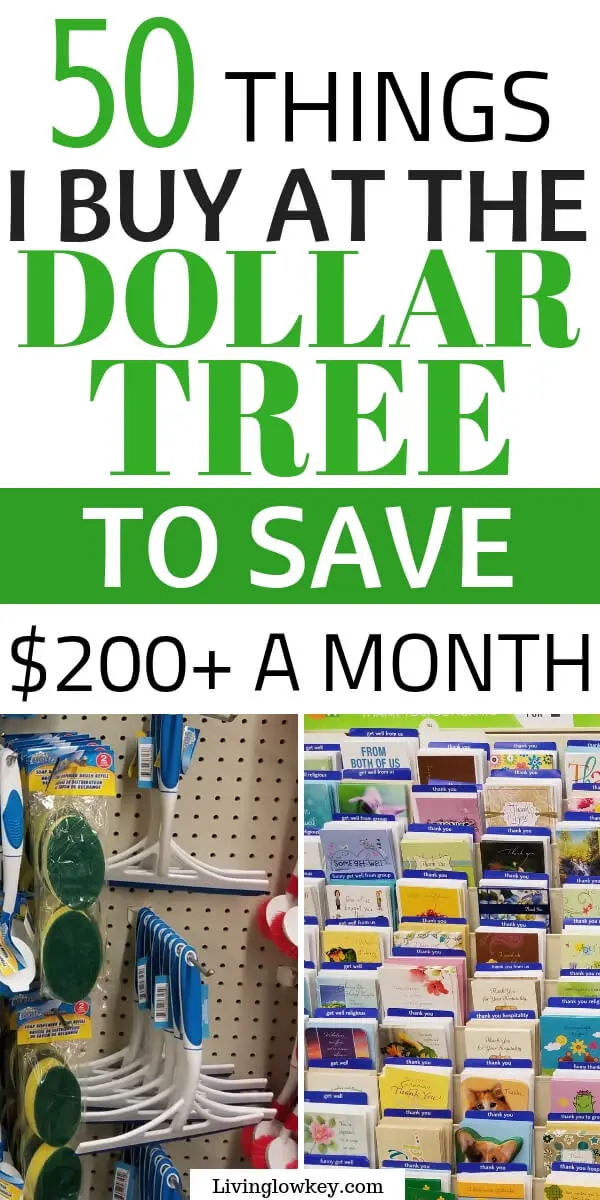 Related resources that will save you money: