Are you ready to transform your table into a DIY farmhouse table for real cheap!?
I am so excited to share with you the exact steps to paint a farmhouse table. Also, I can't wait to show you how our Farmhouse kitchen table turned out!
I think you'll love it just as much as I do.
After this table received almost 200,000 social shares, I decided to lay out step-by-step exactly how I did it, so you can replicate it if you want to!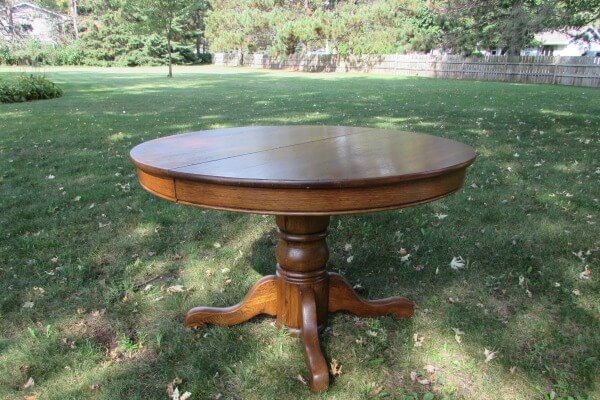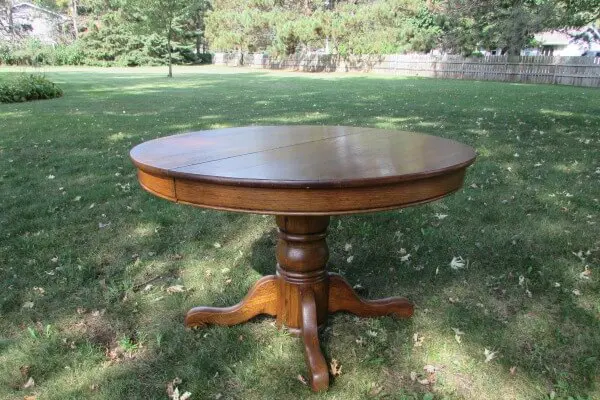 Backstory On Our Chalk Paint Kitchen Table
Everyone dreams of moving into their first home and buying brand NEW furniture, décor, and so did we…
Until we went shopping for new furniture, that is.
We live on a budget and were in our 20's with two small kids; there was no way I was going to spend $1,000 on a new kitchen table.
So we decided to get crafty. Before kids, my husband and l hand-built a farmhouse table; however, our current home was too small for it, so we ended up gifting it to a family member.
So we took a step back and decided to get back to our crafty ways and repurpose an old inexpensive table.
We started searching thrift stores and Facebook Marketplace for the perfect table. It didn't take long for my husband to find this perfect inexpensive antique oak farmhouse table for sale on Craigslist.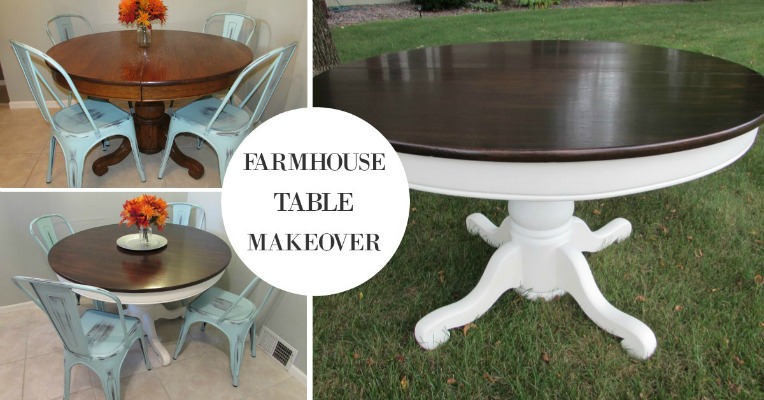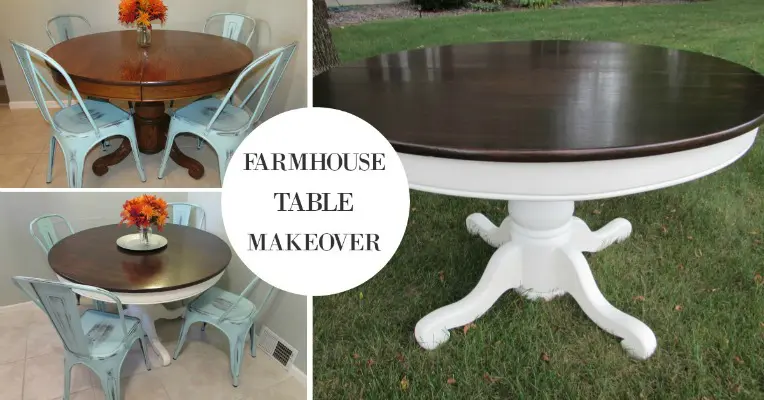 My husband was convinced that this expandable farmhouse table would turn into something we'd love with some paint and a little work, so we brought it home.
This solid oak table was extremely dated, and the base of the table was split down the middle. The table was supposed to slide apart to expand; however, it didn't work properly, and the leaf of the table was in horrible shape.
We were told a gentleman handmade the table years ago. Who knows if it was true. But it makes a fun little story. I knew this table would turn out how I envisioned it in my head with a bit of determination.
We also couldn't beat the $100 price tag!
Turn Your Old Table Into A Farmhouse Kitchen Table
Here are the steps to refurbishing an old oak table similar to the one above.
You can use the same steps for just about any wood table. This DIY farmhouse table makeover will have your kitchen table looking like an expensive Pottery Barn farmhouse table for only a fraction of the price.
Many people make money flipping the furniture they refurbish as well. If that interests you, here is a free resource that teaches you how to make $100 in your first week flipping furniture!!
Supplies For A White Farmhouse Table
Here is everything you need to achieve the dining table farmhouse-style look. You might currently have some of these items, so shop your garage before hitting up Home Depot.
< 3M 80 grit Sand Paper
< 3M 150 grit Sand Paper
< 3M 220 grit Sand Paper
< 3M 400 grit Sand Paper
< Tack Cloth
< Varathane KONA Wood stain
< Varathane Semi-Gloss Polyurethane
< Americana Décor Chalky Finish Everlasting
< Americana Décor Crème Wax
< Power Sander
< 1 Paint Brush
< 3 Foam Brushes
< Plastic Gloves (Optional)
< Cloth
< Painters Tape
The first thing you want to do before starting is to give your table a nice little scrubbing.
We have kids, and we used our table for a few months before I had time to conquer this project, so a good cleaning was a must. I recommend using a heavy-duty cleaner like TSP.
Once your table is clean, it's time to move your table outdoors or to any ventilated space.
It's going to get a little messy and will take several days to finish.
Tip: Be prepared to be without a table for a few days during your dining table makeover.
Related articles:
Sanding Your Farmhouse Kitchen Table
Start by sanding the top or base of the table, whichever you prefer. We started by sanding the base of the table. Flip the table upside down so you don't have to hunch under the table.
I may or may not have crawled under the table and sat for a good 10-15 minutes before it dawned on us to flip it upside down, so we wouldn't kill our backs.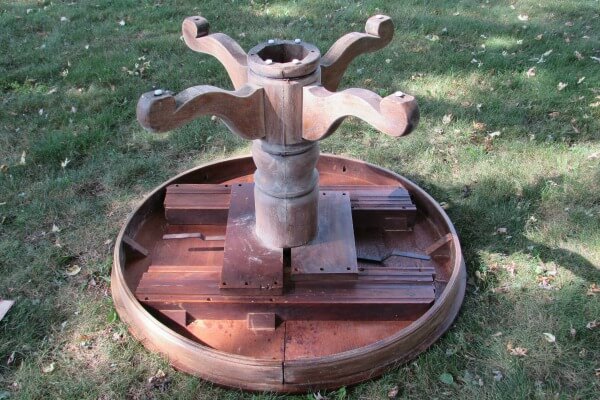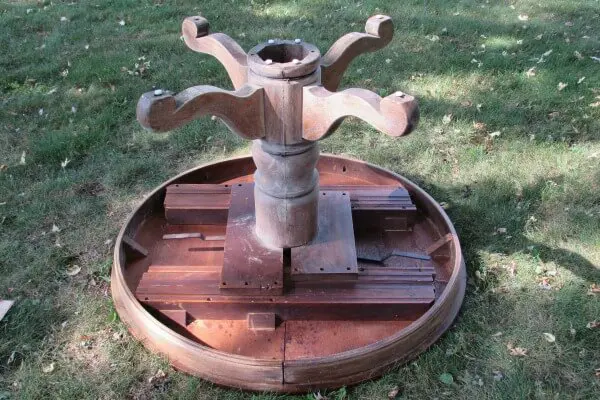 We started with a piece of 80 grit sandpaper and began hand sanding the base of the table.
It's surprising how fast most of the varnish came off under that rough 80 grit paper.
With the base layer of varnish removed, use the 150 grit followed by the 220 and then 400 grit sandpaper to get a nice smooth finish.
You can use any combination of sandpaper, that's just our preferred method, and it worked quite well.
You can play around with whatever combination of sandpaper you want. The lower the grit, the more course and grittier the sandpaper will be. We tried starting out with the 150 but switched to the 80 because it wasn't taking off all the varnish.
Once you've finished sanding, use a cloth to wipe off all the excess dust. Any old piece of cloth will work.
Then use a tack cloth to wipe down the base thoroughly. If you haven't used a tack cloth before, it might just become your new best friend.
Helpful products:
These cloths are awesome, minus the texture of the cloth itself. You'll know what I mean once you use one.
These tack cloths are great for picking up any dust on your project before you start staining. I use them all the time, and they are pretty cheap on Amazon.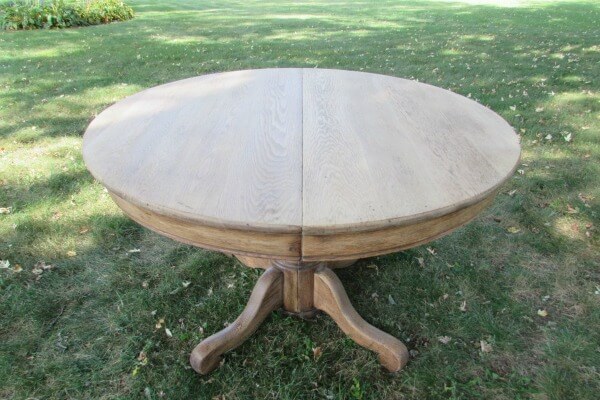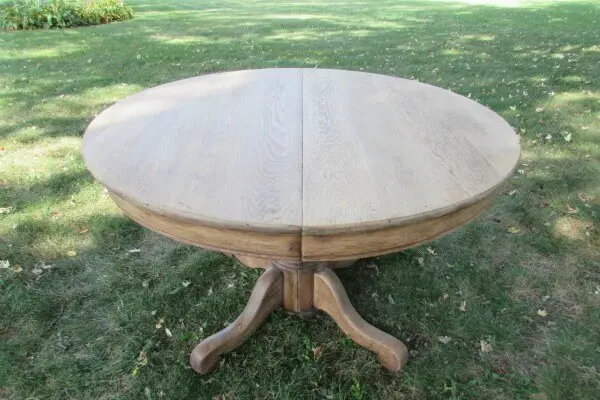 Now it's time to flip over the table and sand the top. This is where the electric sander comes into play. These sanders are relatively cheap and definitely worth the money, especially if you plan to do other projects around your house.
Use the same method with the sandpaper and the electric sander, 80, 150, 220, and 400 grit. It took around two hours to get all the varnish off both the top and base of the table.
Staining Your Rustic Farmhouse Dining Table
Now on to the fun stuff!! Let's see this table transform.
You can use any color of stain on the top of the table. We used Varathane KONA Wood Stain.
I personally love this color stain. We have used this color on multiple projects, so it's always our go-to stain.
Don't forget. I highly recommend wearing gloves.
Either pick up some cheap plastic gloves or use your kitchen gloves for washing dishes, if all else fails. You'll be thankful you did when you're done!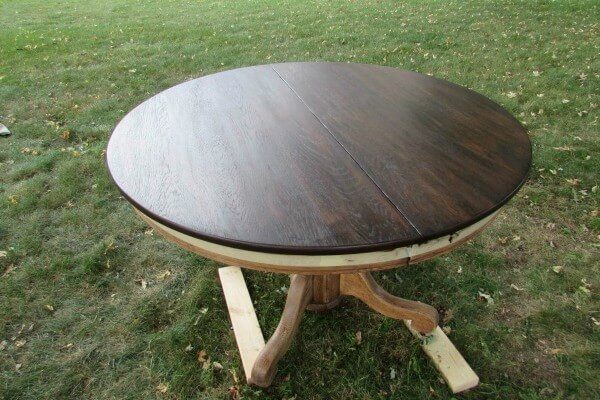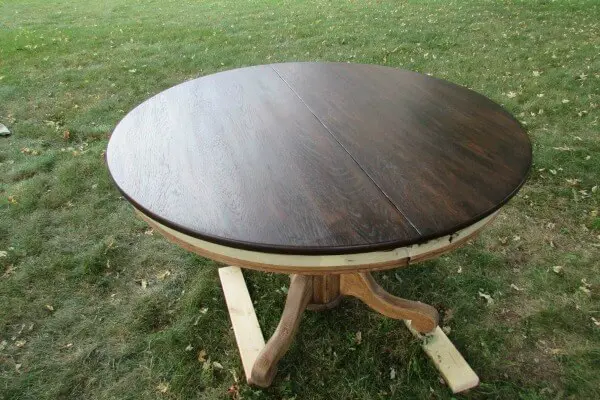 We taped off the table before staining the top so we wouldn't get the stain on the rest of the table.
We used rags to apply the stain. Any small rag will do. You could also use a paintbrush or foam brush to apply the stain.
If you go the rag route, dip your rag into the stain and start spreading it over the table.
Make sure to use a cloth that doesn't have fuzz all over it, such as cotton. (We made the mistake of using a cut-up shirt in the beginning).
Cover the table with stain using long strokes that follow the grain pattern. Let the stain sit for 5-10 minutes, then use a clean cloth to wipe all the excess stain off.
Repeat by adding multiple coats of stain until you achieve your desired color depth!
Temperature and humidity play a role in how fast a stain will or won't dry. Keep the weather in mind if you're staining outside. The stain doesn't dry well if it's hot and humid out or if it's too cold.
Once you get your desired shade, you are done with the top.
All About That Base (Painting Furniture With Chalk Paint

)
I knew I wanted a white base for our table, so I decided to experiment with chalk paint last minute. I went to Home Depot and bought the color Everlasting by Americana Décor. You can also buy it on Amazon.
I never thought I'd have a chalk paint table, but BOY do I love how it turned out.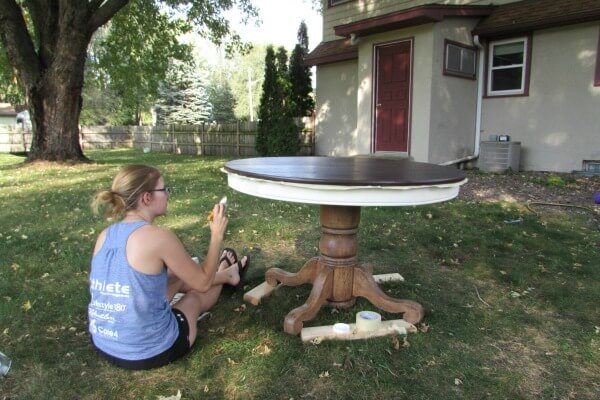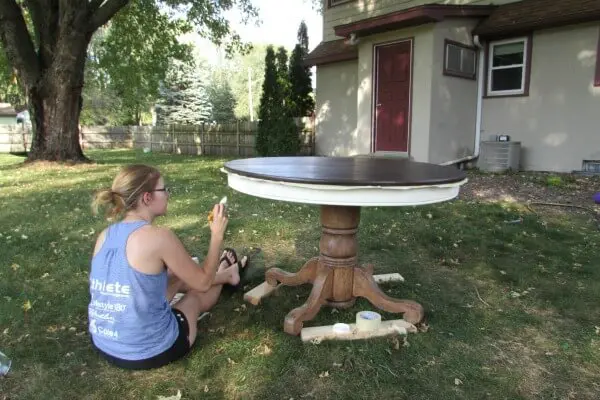 I ended up putting three coats of chalk paint on the base of the table before I got the desired look I was going for.
What I love about chalk paint is that by the time I had finished applying the first coat I could start with the second. Chalk paint only takes 15 minutes to dry. Painting furniture with chalk paint has never been easier.
When I was done painting, I did one coat of Crème Wax just to seal the table. It goes on so easily, and it dries almost immediately.
Chalk paint tip: One benefit of using chalk paint is that you can get away without sanding if you plan to use chalk paint.
That's right, if you are planning to DIY a farmhouse table from an existing table, sanding is not needed if you plan to use chalk paint. I didn't know I was going to use chalk paint on my farmhouse oak table before I started this project, or I wouldn't have sanded down the base.
Finishing Touches On Your DIY Farmhouse Table
Finally, it's time to poly the tabletop. Polyurethane is a protectant, and I highly recommend you use it on your tabletop.
We like to use Varathane brand Polyurethane with a semi-gloss finish. This is our go-to poly because of the smooth finish it leaves and how easy it is to apply with a foam brush.
We did three coats to make sure it had extra protection since it's a kitchen table.
If there are any rough spots between applying the coats, you can lightly sand it using 400 grit sandpaper.
Make sure to follow the wait times on the can in between applying the coats, and enjoy your new inexpensive farmhouse table!
Our Finished

DIY Cheap Farmhouse Table
Here is the finished product, our chalk paint farmhouse table.
Update: It's been over five years since I repurposed our farmhouse kitchen table. It's held up like a dream!
Once you have your refinished farmhouse table, you can pair it with some super cute decor to give it that true farmhouse feel!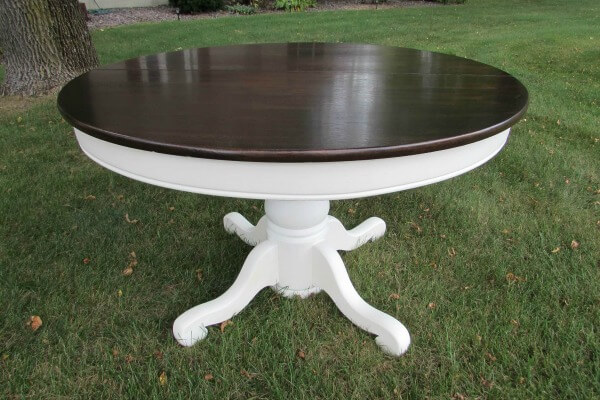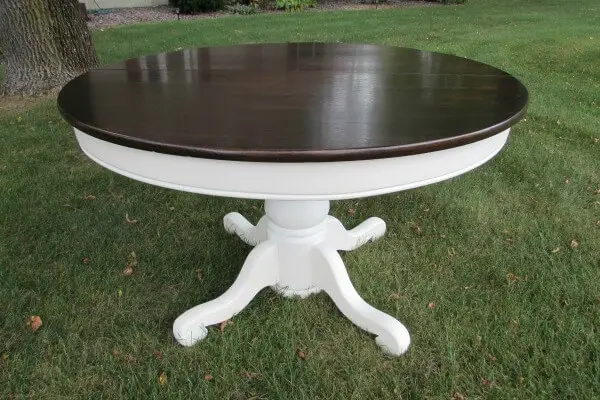 Final Thoughts- Farmhouse Chalk Paint Table
What do think
What do you think are you ready to attempt to repurpose a farmhouse-style table? If you want a Pottery Barn table but are on a budget, this is the way to go.
If you transform an old table into a DIY Farmhouse table, let us know how it goes in the comments below!
Some of our favorite products:
If you enjoyed this article save it for later and come follow us on Pinterest!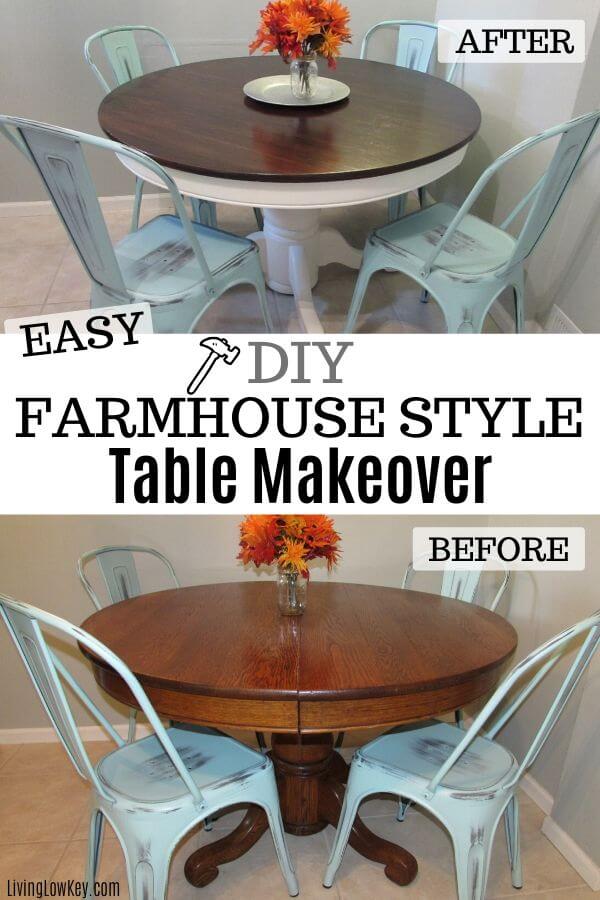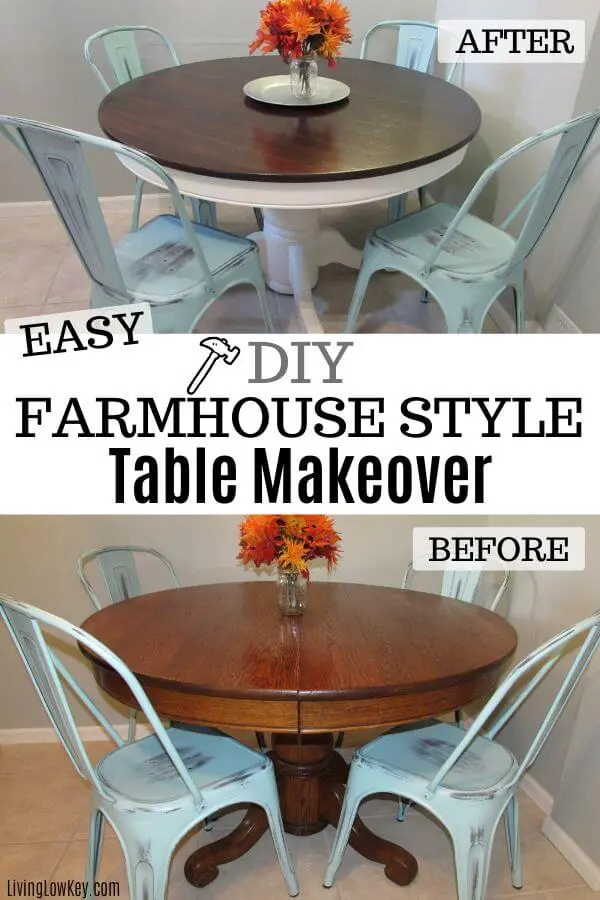 Related articles: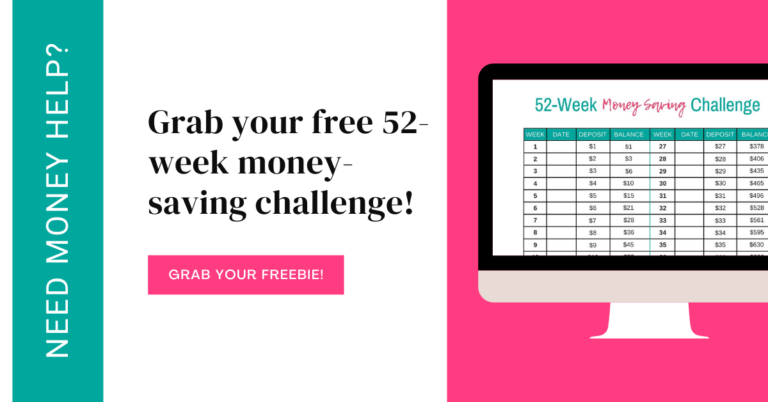 Our Favorite Money Resources:
Rakuten: If you do any shopping online you need to check out Rakuten. Similar to Ibotta, Rakuten will give you cashback when you shop online at your favorite stores. They partner with over 150 stores so you'll be sure to find a store you love. Cashback amounts you can receive range from 1% up to 15% or more. When you sign up using our link you'll get a $10 welcome bonus on your first purchase of $25 or more.

CIT Bank: If you're looking for a great online bank with industry-leading interest rates and great service, you have to check out CIT Bank. We love using their Money market account for our emergency fund.
Ibotta: This is by far my favorite app to get cash back when I shop in stores or online. Whether I'm buying groceries or going to Target for everyday essentials, Ibotta has great deals that you need to take advantage of! When you signup with our link you'll get a $10 welcome bonus.