Katie, a real-estate investor and blogger over at Agape Investing shares her BEST home preventative maintenance tips with us.
When owning a home, it is extremely important to take great care of it so that things keep working properly for a long time.
Preventative home maintenance will not only help keep your home in great shape, but it will also help you save money in the long run. Preventive care is cheaper than home repairs. You can preserve the value of your home with regular preventative home maintenance.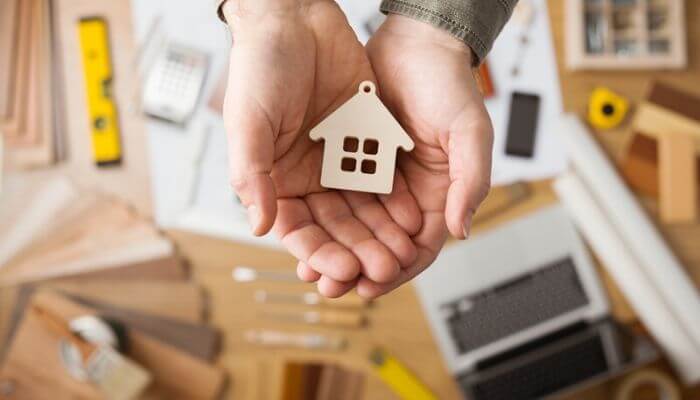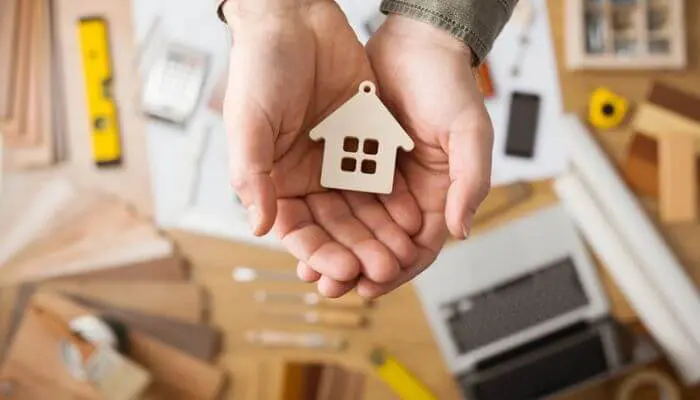 True prevention is not waiting for bad things to happen, it's preventing things from happening in the first place – (Don McPherson, Former NFL Quarterback)
Take Care of Your Home
The concept of taking care of your home is the same thing as taking care of yourself. You exercise, eat well, sleep plenty, and drink lots of water in order to fend off any ailments. If we don't do these things for ourselves, we may need to see the doctor and incur a lot of medical expenses to fix our problems.
In the same way, we need to take care of our homes. This will hinder any major and expensive home repairs! Most of us know how to take care of our own bodies well, but how do we take care of our homes in the same manner?
Here is a preventative home maintenance checklist that can get you started.
1| Prevent Moisture From Getting In
Moisture can be one of the most dangerous elements that attacks a home. When moisture gets in so many things can go wrong: mold, foundation issues, bulging walls, humidity, bug infestations, etc.
It is especially important to close up your home from leaks before the winter. That's when the water will freeze, expand, and create bigger issues. So be sure to winterize your home!
Preventing moisture from seeping into your home is simple. You can even take action this weekend!
Install Gutter Extenders
Gutter extenders are one way to prevent moisture from getting into your home. They do exactly what they sound like they do, extend your gutters. The downspouts on your gutters should be a good 4 feet or more away from your house. Most gutters end directly against the house and require gutter extenders to help push the water away.
What you are preventing is water pushing up against the foundation and eroding it. When water pools up against a house, major issues are bound to happen. And those issues are extremely expensive to fix!
Adjust Sprinklers Away From House
If you have sprinklers in your lawn, make sure that they are pointed away from your house. The idea is the same as the gutter extenders in that you want to keep water from pooling against your foundation.
Adjusting your sprinklers is typically very simple, but you may want to consult an expert if you are unsure.
Check for Roof Leaks
It is advantageous to check your roof every several months for leaks. If you live somewhere where cold, wet weather is normal, you should be checking your roof frequently. Harsh weather beats up on a roof and will eventually break it down.
Check to make sure your roof isn't leaking by going into the attic after heavy rain. Look for signs of water entry. Then have your roof repaired as soon as possible to prevent more water from entering.
Related articles:
< 5 House Hacks To Reduce Your Energy Bill This Winter
< 11 Awesome Ways To Lower Your Cell Phone Bill This Month
< 10 Household Items That Must Go (And What To Replace Them With)
2 | Prevent House Fires
House fires are not only extremely expensive, but they can also be so deflating to a family. Preventing house fires from happening is fairly easy and something you should work on continuously.
Clean Out Dryer Lint
Clothes dryers don't seem very harmful, however, they are the cause of over 200,000 house fires a year! And most of these house fires could have been prevented with the simple task of cleaning out the dryer hose annually.
No matter what kind of dryer you have, it will produce lint and a lot of it. Lint is extremely flammable, in fact, we use is at a fire starter when we go camping!
Removing the lint from your dryer hose is a simple preventative home maintenance item you can add to your weekend checklist. It doesn't take very long and only has to be done once per year. However, do not forget that you should be removing the lint from the lint filter between every load!
Your dryer will thank you.
Test Smoke Alarms Regularly
The easiest way to save yourself in the event of a house fire is to test out your smoke alarms regularly. It is important to make sure they are working properly so they can detect the first sign of smoke.
Smoke alarms should be in every bedroom as well as in your kitchen, and living spaces. In this case, more is better. If you don't already have smoke alarms in your home you can pick some up at Walmart or have them overnighted with Amazon.
Be sure to change the batteries regularly as well. They might be working one day and run out of juice the next.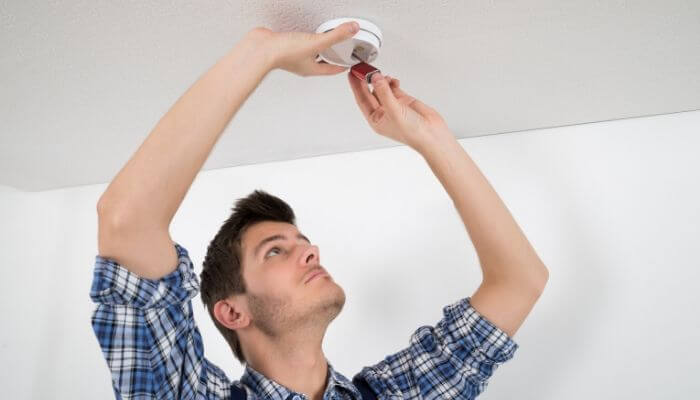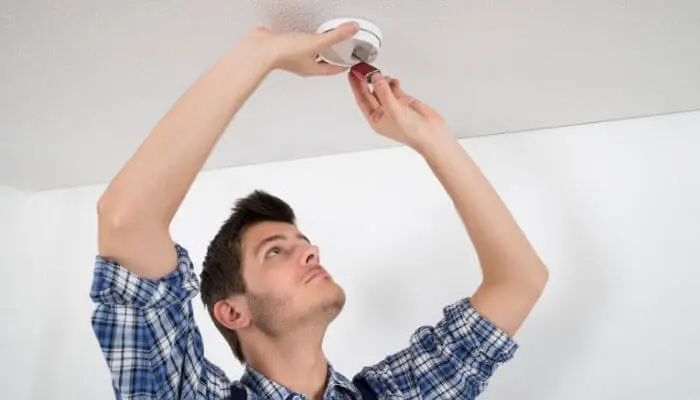 3 | Prevent Plumbing Issues
I personally think that plumbing issues are the most annoying of them all. Probably because they tend to be the most common to run into. Preventing any major plumbing problems can be easy, but a little more frequent than some of these other preventive home maintenance items.
Keep Drains Clean
Most plumbers recommend you never put large amounts of food down your drains. Garbage disposals are only there as a last-ditch effort to clean out your plumbing, and can only handle so much food.
Before rinsing off your dishes in the sink make sure to scrape off as much food as you can into the trash. Also, avoid putting things like eggshells and coffee grounds down your drain because those things tend to stick to the walls of the piping rather than flushing down.
It is impossible to prevent all food from going down the drains so there are a few things you can do to help keep your plumbing clean.
Pouring boiling water down your drains will help loosen and break away any build-up.
If your drain is clogged, pour a cup of baking soda down the drain first and flush it with a few cups of boiling water.
The easy task of dumping some boiling water down your drains should help to prevent clogs or bigger issues from arising. We try to do this once a month to keep our plumbing running smoothly at all times.
If all else fails give a drain snake a try. We had to use one of these in the kitchen and our tub and they worked like a charm.
Helpful tools:
4 | Preventative Lawn Maintenance
Even our lawn and landscaping need some preventative care. This will help with the curb appeal of your home and prevent any major problems from popping up.
Trim Large Branches From Trees
Trees are so beautiful and add so much to the curb appeal of a home. However, they can also be a danger to you and your house if not tended to.
Branches can easily fall off during a big storm and potentially land on your home. It is advantageous to cut off any large branches that hang over your house. This maintenance item will help prevent you from serious misfortune.
It is also important to trim shrubs and other plants back from your house. Most experts will advise you to keep plants off of the house in order to prevent them from defecting it in any way.
Cover Entrances Under House/Deck
Inspect the exterior of your home for any entrances that lead under your house or deck. Make sure to cover those up so no animals make a home there.
It is simple to add a bit of chicken wire or fencing to these entrances. You want to prevent any animals from getting in there. They can dig bigger holes under your house and create more severe issues to the integrity of your foundation.
Not to mention they can become pests and possibly bite people they fear. So take the time to patch up those holes to prevent any bigger disasters from happening!
5 | Prevent Appliances from Failing
Keeping your appliances in great shape is fairly simple. It is cheaper to do the upkeep than it is to have your appliances repaired or replaced.
Clean out Dryer Lint
Not only will cleaning out your dryer lint help prevent home fires, but it also helps the appliance function properly. When lint collects in the dryer vent, it blocks off the airflow. This creates low efficiency as well as a build-up of humidity in the vent which can produce mildew.
Replace Furnace Filters
During the fall and winter months when you have your furnace running, be sure to replace the air filters regularly. Filters are used to keep the dust and dirt out of the appliance. When the air filter is dirty (or missing) it will keep the furnace from running properly.
The furnace will become less efficient and will take more energy to run. Causing your electric bill to jump. And eventually leading to larger problems and possibly breaking down.
It is a good idea to have your furnace serviced and cleaned regularly as well. An HVAC specialist will let you know if there is an issue that can be fixed now, rather than needing to replace the entire thing later.
Clear Dishes Before They Go in the Washer
Dishwashers have a small drain at the bottom of them and they collect all of the food and junk from your dishes. When that filter is full of food it will not drain properly. It could leave your dishwasher with standing water, or it can simply begin to smell awful. Cleaning it out is easy, but most of the time it's gross.
---
If you implement these home maintenance tasks into your schedule, your home will thank you for it. You can also save money in the long run by doing these preventative home care tasks regularly.
What other preventative home maintenance do you do that saves you money in the long run?
If you enjoyed this post make sure to pin it for later and join us on Pinterest.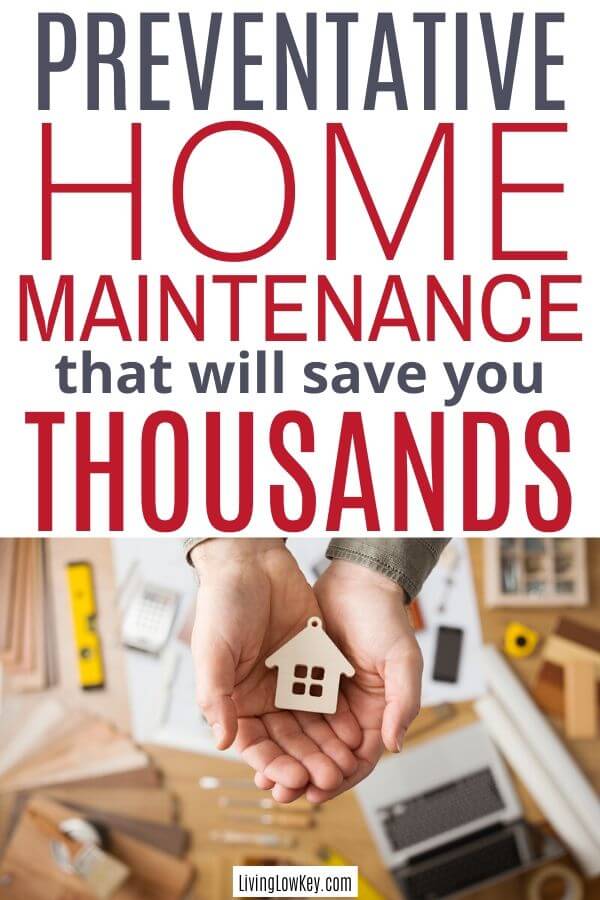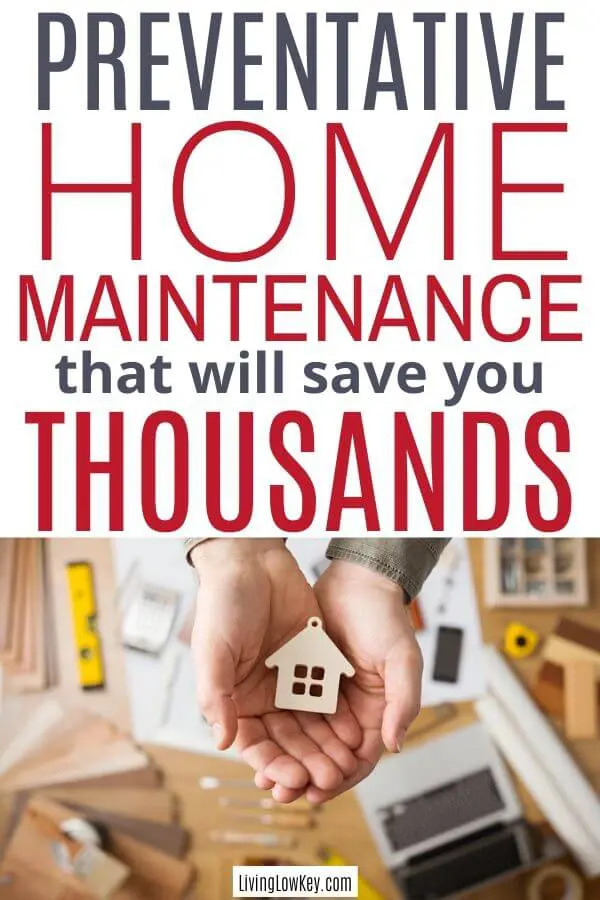 Related articles:
< Cut Your Electric Bill In Half (With These 20 Genius Hacks)
< How To Save 100k (5 Money Moves I Recommend You Start Today)