How to save 100k- we did it!
Let's be real, saving money is hard work!
Saving six figures isn't easy, but we did it and so can you! These 5 money–saving tips will help improve your finances beyond your wildest dreams.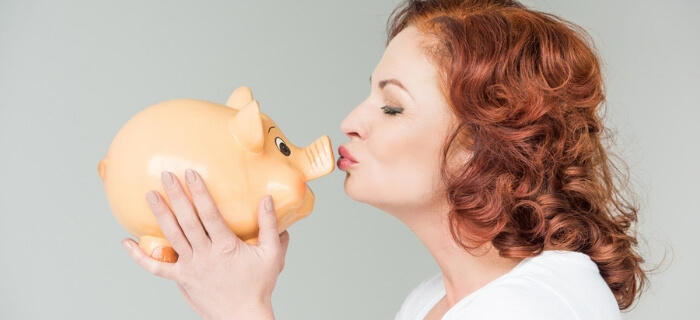 Create a Money Saving Mentality
If you want to save 100 thousand dollars having a money-saving mindset is critical. If you aren't dead set on saving money there is a high chance that you won't be able to save $100,000.
Once you start the process of saving and you see your accounts physically growing, use that as motivation to start saving more.
When we decided it was time to buy our first house we knew we needed to save $20,000 in one year. Not only did we have to change our way of spending but our way of thinking as well.
We had to come up with ways to make saving fun! Or we never would have met our goal. We made a tracker so we could see how our account grew. The more we saw it grow the more excited we got and we found new ways to save even more money.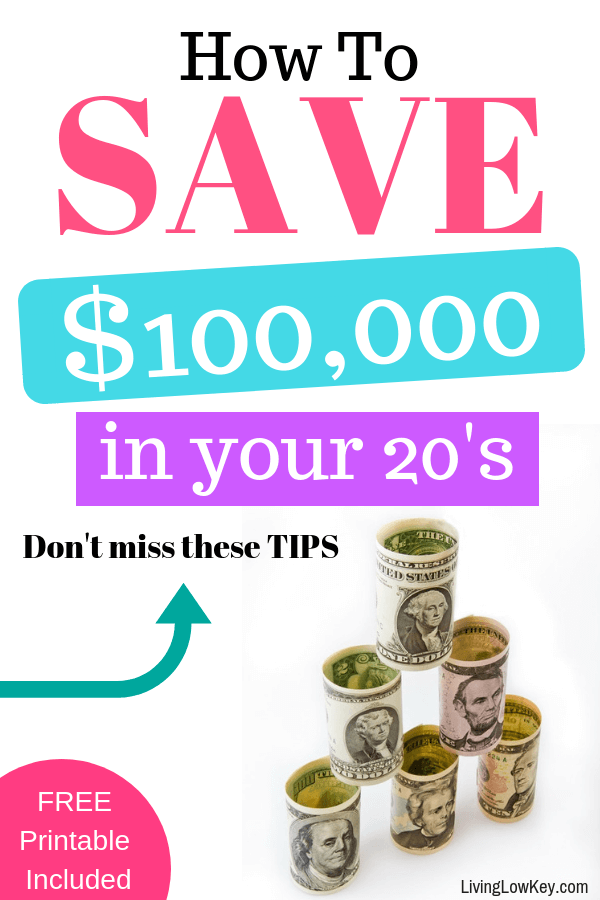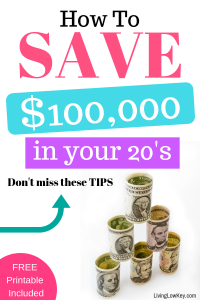 Believe we saving money is contagious!
However, it's not going to grow overnight and that might be a little discouraging. You have to be prepared for the reality, that it's going to take time.
Consumerism is at an all-time high and we are programmed to buy, buy, buy.
We know, we used to be that way too!
It's time to end this continuous cycle of working for a paycheck and then giving it all back to the economy.
Want to know how we broke this never-ending cycle? We don't spend what we don't have. Heck, we don't spend what we do have. We make a conscious effort to spend far less then what we make.
If you want to save 100,000 dollars you are going to have to learn to live on less.
Related articles I recommend:
< How To Save Money As A Single Income Household
< Free Printable Budget Binder: Make Saving Money Easy
< Create Better Money Habits By Kicking These Bad Ones
< No Spend Challenge: The Only Money Challenge You'll Ever Need To Take
How Much Should I Save Per Month (Goals)
This is a really important step no matter how much money you want to save. When we began our quest to save a ridicous amonth of money we set our sights on a number, that number was $100,000.
At the time it seemed crazy and we weren't even sure if it was possible for us to save that much but you know what, we were determined.
So what is your goal?
Do you want to save $100,000? Are you looking to save a lump sum of money, do you want to pay cash for a car, or are you looking for a down payment on a house?
Whatever it is, write that goal down and put it somewhere you will see it every day. Setting a goal is what's going to lead you to success.
I remember exactly where I was sitting when I made the goal to save six figures in five years. At the time we lived in Washington State, I was going to college, and we were newlyweds living off David's enlisted military salary.
When I made this goal I'm pretty sure David laughed in my face, but hey look who's laughing now…
This goal, your why, is what's going to lead you to success.
How long will it take to save $100,000?
This depends completely on how much you plan to save each month. The more you put away each month the quicker you will be able to save.
Keep reading to see how you can save a lot of money in just a few short years.
Create A Budget That Works For You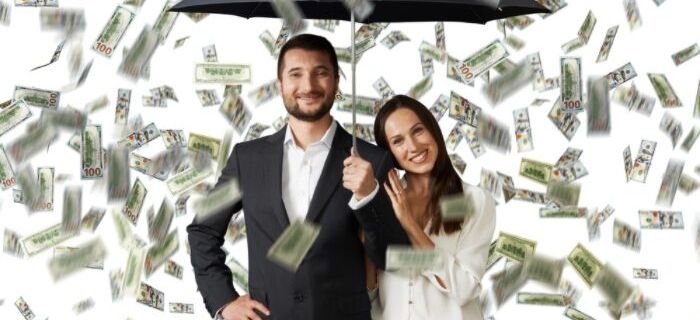 I'm sure by now you are probably thinking, "how the hell am I suppose to save one hundred thousand dollars on my medocare salary."
We thought the same thing. Did I mention that we started our 5-year journey to save $100,000 at just 22 years old? We had no idea what we were doing nor did we make very much money at the time.
Budgeting is probably the most crucial step in your money-saving journey. Budgeting allows you to see exactly where your money is going.
Before budgeting, we would let our money come and go as it pleased yet at the end of the day we never had anything to show for it.
When we started our trek to six figures, we decided to budget really tight.
I don't think we ate out a single time in 2016, not once, because we didn't have room for it in the budget. I know what you are thinking this might now be realistic but.. Looking back let me tell you it was worth it.
Budgeting became a game between my husband and I to see who could find more ways to save money each week.
We basically made saving $100,000 into a game. If you don't make saving a large amount of money fun, it's going to be miserable.
The budgeting method we used to save 100,000 dollars!
We use the cash envelope method and pay for just about everything in cash! This has been something we've been doing for years. We continue to budget this way even after we saved our first $100,000.
Yes, this means we don't spend a dollar we don't have. And we keep track of every last penny in our budget binder.
If you want to check out the budget binder we used to save $100,000 you can check it out here.
If you don't know what a cash envelope system is, make sure you check out our Beginners guide to the cash envelope system. It's a pretty detailed guide that can help you get started using this system.
I also highly recommend checking out Dave Ramsey's Total Money Makeover. This book changed our mentality and kick-started our journey to financial freedom. It has a ton of really great financial information, including the envelope system, and it will motivate anyone to save money.
As you begin your budget and looking for ways to cut expenses, get creative. I compiled a list of creative ways to save money in hopes that it makes this step a little easier for you.
Pay Off Your Debts
I'll keep this one short and sweet.
If you have debt, pay it off as fast as you can. It makes it really hard to save money if you have a mountain of debt to pay off.
With your budget in place, you should be able to clearly see how much debt you have and start focusing on paying it off. Pay off the smallest debts first and then use that money to pay off the next debt.
Continue this trend until all your debt is gone.
Save, Save, Save And Then Save More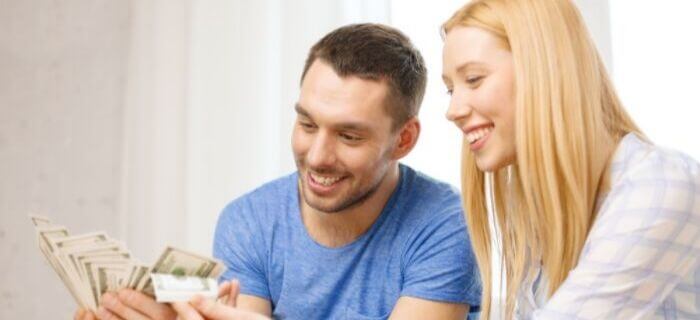 Now the fun part, start saving!! I recommend paying off your debt before you start saving. However, my student loans were not completely paid off before we started saving our first $100,000.
Do what's right for your household!
Pay your bills each pay period and then put money into your savings account before you do any of your shopping for the week.
By doing this you won't be tempted to use it to buy something you didn't need. If you can set up to have your money from your paycheck direct deposited to your savings account, that's even better.
If you are lucky enough to have a job that pays a yearly bonus or even gives out spot bonuses, save that money. Do not have a plan to spend it before you even get it.
If you've cut everything you can possible cut from your spending and you still can't save enough every month. Its time to get a side hustle!
Our Favorite Ways To Save And Make Extra Cash
Cut out cable, for good. This is one of the easiest ways to save money each month. There are many other great options that still allow you to watch your shows. Our favorite is Hulu. We pay $8 dollars a month to watch our favorite T.V. shows. Click Here to start your 30 day free trial.
Start living below your means. Every financially independent person will tell you this is the key to staying out of debt and saving money.
If you are looking for a cheap phone service, check out Republic Wireless. I have only heard great things about their 4G service. They have Unlimited Talk & Text plans starting at $15 a month. Another great thing is you don't have to sign a contract!
Always shop with a website like Ebates when you're shopping online. They give you cashback when you shop your favorite stores such as Target, Kohls, Amazon, Walmart, Nike and many more. When you sign up with our link you get a free $10 gift card with your first purchase of $25 or more! So sign up today to start making money when you shop online.
Join Swagbucks! Swagbucks is awesome and if you haven't tried it out you have to! It's free to sign up. You can take surveys, watch videos and shop online to earn Swagbucks. Cash in your Swagbucks for gift cards to some of your favorite stores. Who doesn't love gift cards!! So next time you are watching TV, jump on Swagbucks and earn yourself some gift cards.
Check out our post 40 Ways to Make Extra Money this includes easy ways for you to start making money this week.
Bonus Tip: Investing
With all that money you're going to be saving, it's time to make your money work for you. Investing has been a big part of our strategy to hit the $100,000 goal we set and it should be part of yours too.
In fact, in the month of January, we made more money off of our retirement accounts interest than David made all month at his 9-5 job!
Whether you choose to use a money market account, mutual funds, or IRA's, I recommend finding somewhere to put your money that will get a bigger return rate than your standard savings account. Leaving your money in a savings account is essentially wasting valuable time and dollars that you could be investing.
Compounding interest is your friend and the sooner you start the better.
Mutual Funds
We chose to invest most of our money in mutual funds. This is a great option for anyone wanting to save money over a long period of time. You have to be willing to let your money sit for at the very minimum 5 years.
We have our money divided into 3 different funds and recommend the same:
Two high-risk funds. These funds are mostly focused on the United States. We figure since we are young, we can be a little more aggressive with our accounts. Once we get closer to retirement we will dial them back to be a little more conservative.
A foreign-based fund. You always want to make sure that you diversify your portfolio.
This strategy has worked for us but does come with its share of ups and downs. We have seen the accounts swing from really far in the red to even higher into the green. It's kind of an emotional roller coaster but we held out and are rolling in the returns now.
Whatever method you choose for investing I suggest doing your research beforehand. There are so many good books to choose from out there, pick a couple and educate yourself before you start investing. Most banks also have personal advisors, I recommend sitting down with one and picking their brain first.
I wanted to share our story with you hoping that it will inspire you to build your savings. Whether it's for a rainy day, retirement or anywhere in between, it's never too late to get serious about saving money.
If you have your own unique story make sure to share it with us! Any goal reached, no matter the size is a victory in our book.
If you enjoyed our post make sure you save it for later! Or check us on Pinterest!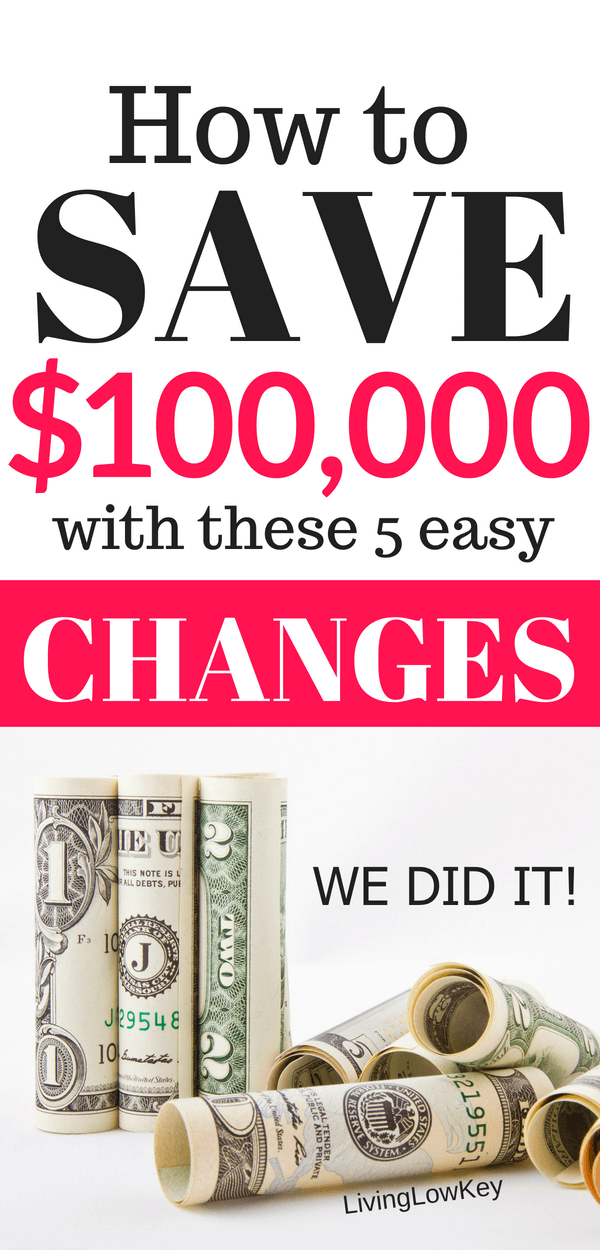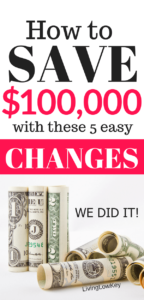 Here are some other articles I recommend that may help you save money, so you can save 100k too!
Products we recommend:
This blog post may contain affiliate links. Learn more.
Grab Your FREE Printable Budget Binder
Our Favorite Resources
Ibotta: This is by far my favorite app to get cashback when I shop in stores or online. Whether I'm buying groceries or going to Target for everyday essentials, Ibotta has great deals that you need to take advantage of! The other day I got $1.20 cashback from a $3.60 box of granola bars. When you signup with our link you'll get a $10 welcome bonus.
Credit Sesame: Have you checked your credit score lately? I recommend checking your credit score at least once per year. My choice for getting a quick and FREE credit score check is Credit Sesame. They require a minimal amount of information to get your credit score and they have a bunch of other useful finance tools at your disposal.
Ebates: If you do any shopping online you need to check out Ebates. Much like Ibotta, Ebates will give you cashback when you shop online at your favorite stores. They partner with over 150 stores so you'll be sure to find a store you love. Cashback amounts range from 1% up to 15% or more. When you sign up using our link you'll get a $10 welcome bonus on your first purchase of $25 or more.