Best places to buy glasses without insurance!
Are you looking to buy glasses without insurance? Whether you're trying to save money or just don't have access to health insurance, finding the best places to purchase frames and lenses can be challenging.
But don't worry—we did the research for you! In this blog post, we share some of the best spots that offer high-quality eyeglasses without requiring insurance. From independent local stores to online retailers and everything in between, there are plenty of great options available.
Read on for our comprehensive guide!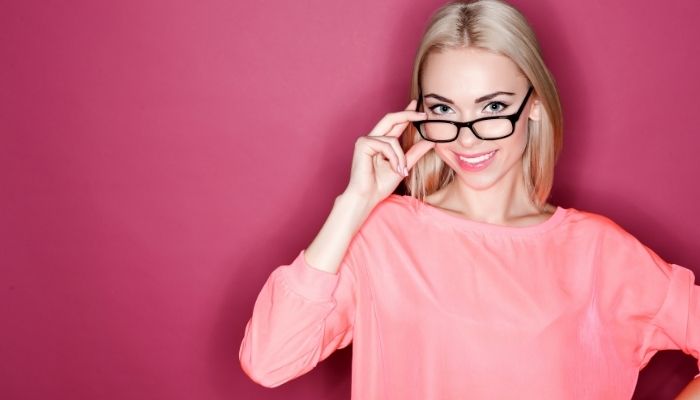 Best Places To Buy Glasses Without Insurance In 2023
So, where are the best places to buy glasses if you don't have vision insurance? We will look at the best sites and stores to get prescription eyeglasses.
Here are the top places to buy glasses without insurance or update old eyewear without breaking the bank.
1. Costco Optical Center
Costco Optical Center is an eye care facility within Costco. This is an excellent source of affordable eyewear for adults, teens, and children.
Glasses range from designer frames to generic ones. Costco Optical provides many services, including eye examinations, fitting and adjustments of glasses, and the sale of prescription contact lenses.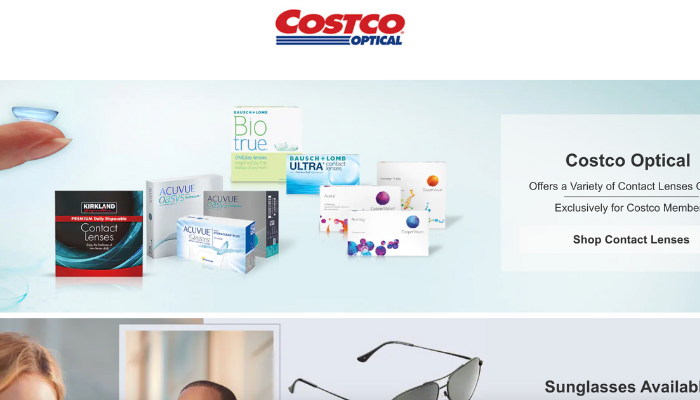 Price plan:
You need to be a Costco member if you're looking for a great deal on lenses or eye care products. The annual membership fee is $60 for a personal membership and $120 for the Gold Star Executive Membership.
Pros:
It also accepts insurance plans
There are more than 500 Costco Opticals nationwide
Eye appointment is free of membership – there's no need to buy any plan
An affordable place to shop for glasses without insurance
Cons:
You must buy a membership to purchase any glasses or contacts.
Costco's website has no warranty information on its products.
Costco optical center is a great option if you are looking for cheap eye exams and glasses without insurance.
Related articles:
Grab Your FREE Budget Binder Today!
Start saving more money and pay off your debt with this FREE Budget Binder
2. Walmart Vision Center
Walmart Vision Center Is located inside most Walmarts around the world. And is one of the best places to get glasses without insurance if you want to buy designer frames at a low cost.
Walmart sells high-quality glasses and frames that look much more expensive than they are.
Walmart Vision Center also has an extensive selection of designer eyewear; you can find many different styles, shapes, and colors which you normally wouldn't find in other stores. You don't need any membership or insurance to purchase eyewear at a Walmart Vision Center.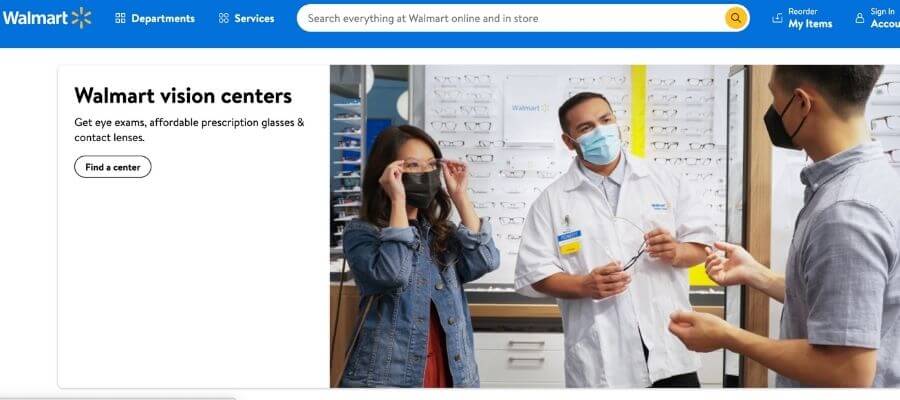 Price plan:
You'll need to visit one of the many Walmart vision centers to buy a pair of glasses. Once you set up an exam, you'll be able to shop their large selection of glasses without insurance.
Walmart offers its customers a variety of eyeglasses at different prices.
Prices may vary for eye exams and glasses by location. Call your local Walmart vision center to get an exact price.
Pros:
It has multiple locations nationwide
They allow you to purchase contacts online
Affordable prices
Great selection of glasses
Cons:
Not always the best service
Head here to find your local Walmart Vision Center!
3. Sam's Club Optical Center
Sam's Club Optical offers a wide selection of prescription and non-prescription eyeglasses, sunglasses, and contact lenses.
Whether you need an eye exam or already have a prescription, they have everything you need to see your best.
Their online selection features hundreds of pairs of glasses from more than 50 brands, so you're sure to find the perfect pair.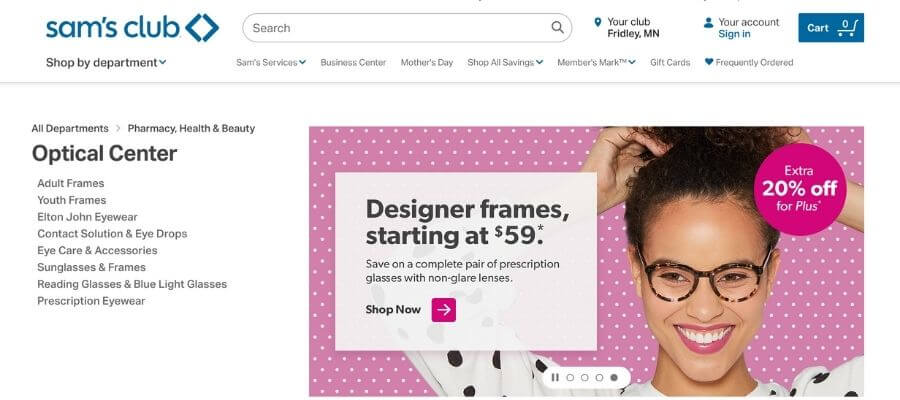 Price plan:
Are you looking for a new pair of glasses or prescription sunglasses? Sam's Club Optical Center has you covered, with frames starting at $59. Be sure to call your local Sam's Club for prices, as prices change frequently.
If you are looking for the cheapest place to get glasses without insurance, Sam's is a top contender!
Pros:
The shipping takes just 5 to 7 working days
Sam's Club Plus members can avail advantage of 20% off frames
They sell quality collections both online and in-store
Cons:
High-index lenses are a little bit costly
Customers must buy their membership to make their eyewear purchase from Sam's Club
4. Target Optical Center
If you're looking for "the best place to buy glasses without insurance near me," look no further than Target Optical. With over 500 stores nationwide, it's easy to find a location near you. And because each store has an optical department, you can be sure to receive professional care and advice.
Not only is Target a great place to buy glasses without insurance. Their selection of eyeglasses, sunglasses, and contact lenses is vast. They have something for everyone.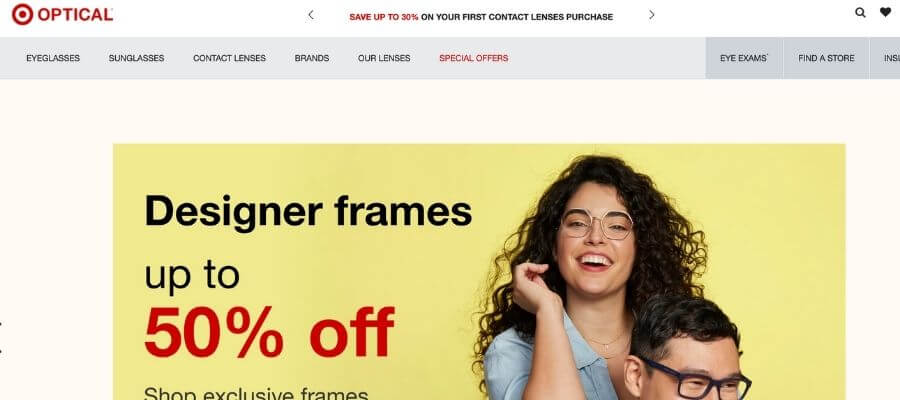 Whether you're looking for a sleek pair of designer frames or a more affordable option, Target has you covered. Target has a wide selection of frames and lenses from leading brands like Ray-Ban, Lacoste, Oakley, Calvin Klein, and more.
Price plan:
Target offers affordable pricing to all. However, their pricing depends on the lenses and frames that you choose. Thankfully they are always having sales, such as 50% off frames. I'd recommend waiting until a sale before purchasing.
Pros:
More insurance plans are accepted than any other optical center
Affordable prices for people without vision insurance
Shop online or in person and get the same great deals
Wide variety of eyeglasses, sunglasses, and contact lenses to choose from
Cons:
The care quality is not the same in every center, and it varies from location to location
You can find more information about Target Optical here!
Where To Find Low-Cost Glasses Online?
5. Eyeglasses.com
Have you ever bought discount glasses online? Eyeglasses.com is basically a giant online store that sells affordable eyewear. It's also one of the leading manufacturers of glasses and sunglasses for adults and children.
They offer high-quality frames, lenses, and sunglasses. And for every pair of frames you purchase, they donate a pair to those in need. Not only do they have a huge selection, but they also offer free shipping.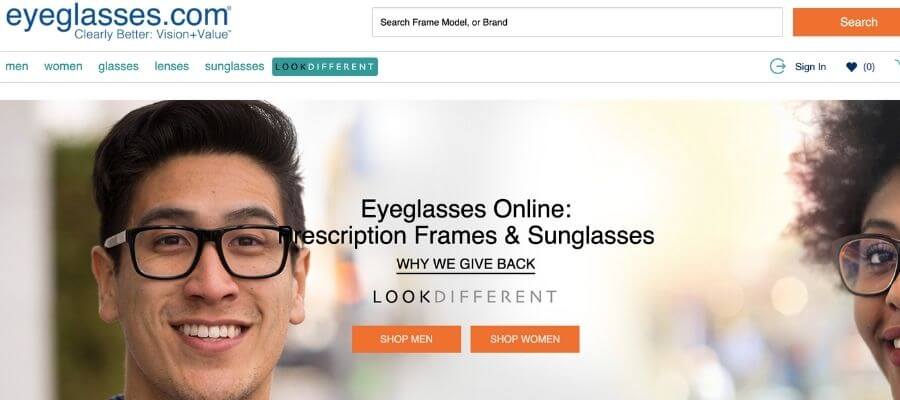 How to buy eyewear with Eyeglasses.com
To buy glasses from eyeglasses.com, you first need an eye exam and a prescription. Next, you must figure out what type of lenses you need, single-vision, transition lenses, progressive and bifocal lenses. Or maybe you just need sunglasses?
Then it's time to choose a frame! Go through their large selection of frames to find your favorite. You can pick up to three pairs and then return the ones you don't like.
After choosing your frame, you add your lens prescription. Lastly, it's time to check out!
Price plan:
Eyeglasses prices are about 50% lower than average retail. With free standard shipping, it's easy to see why many people buy their glasses online!
Pros:
Shipping takes 3–5 days to process orders and is free of cost
They offer a 30-day return policy
They allow their customer to try up to three pairs of glasses and return what they don't like
Cons:
The product exchange option only works for those who pay a $15 processing fee
Eyeglasses.com is one of the cheapest places to get glasses and definitely worth checking out.
6. Warby Parker
Warby Parker is a well-known brand that has taken over the eyewear world. They have an amazing 71 locations in 28 states in the United States, making it convenient for people to try on glasses and order without waiting for shipping. But they also tailor to their online community looking to order inexpensive glasses from the comfort of their home.
Warby Parker took on the mission to create affordable eyewear for all and is now one of the best eyeglasses retailers in the United States. They also let you try out five pairs of your favorite glasses at home for five days.
They also have neat little incentives, like when you buy two pairs of prescription eyewear. You get 15% off.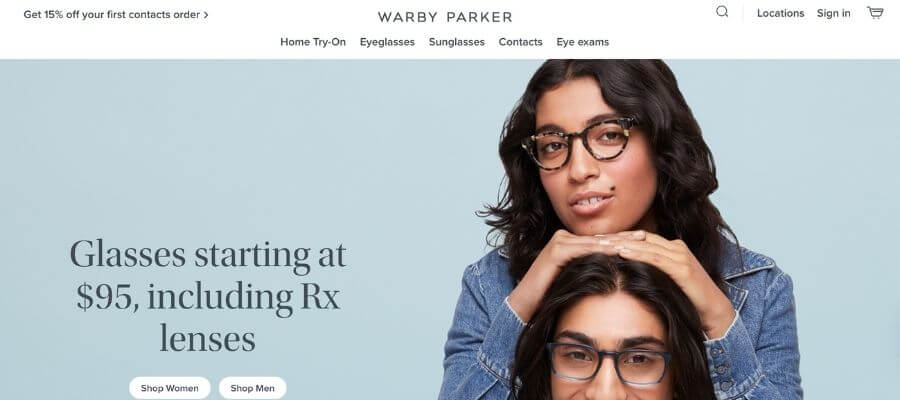 Price plan:
They offer various styles, shapes, and sizes. As well as sunglasses and contact lenses. Need an eye prescription renewed? They do it for $5!
All prescription glasses start at $95, then the price increases when adding special features to your glasses, such as UV protection.
Visit your nearest Warby Parker to check prices, as they vary by location. Better yet, hope online and check out their online selection of inventory for their best deals on eyeglasses.
Pros:
They offer free shipping and lower price glasses or frames
Their home try option allows them to try five frames free of cost to their customers at home
The locally manufacturing business model helps them cost-effectively maintain their product quality
Cons:
People with strong prescriptions might find it difficult to meet their needs in index lenses
The tool needs to download the Warby Parker app that does not support every mobile for a free trial -it requires an iPhone X and above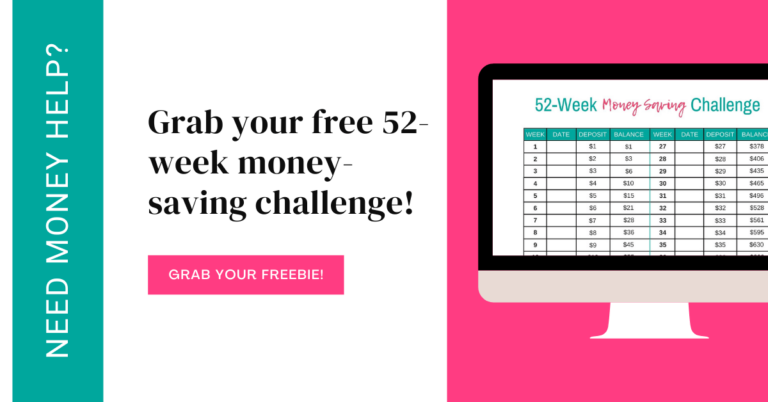 7. EyeBuyDirect
EyeBuyDirect is an online retailer of eyeglasses and eyewear. They offer prescription and nonprescription eyeglasses, blue light glasses, and sunglasses.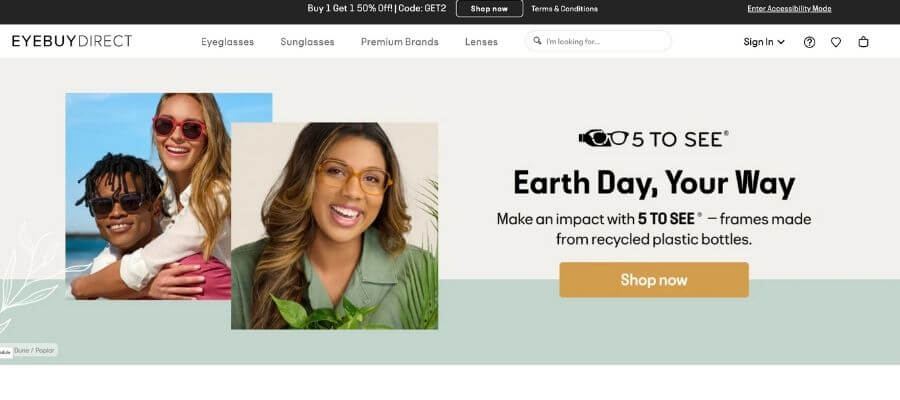 Price plan:
Though EyeBuyDirect's frames are often more affordable than others, lenses can also add to the cost. Thankfully, they always have up to 50% off sales, so never pay full price.
EyeBuyDirect offers high-quality lenses that include an anti-scratch and anti-glare coating, ultraviolet protection, and dust and smudge protection. These lenses come at an additional $80.
Pros:
They offer a 14-day money-back guarantee
You can pay by using your FSA or HAS cards
Their Buy 1 Give 1 program donates glasses to needy customers
Cons:
EyeBuyDirect has no association with insurance companies, so you can't use any insurance policy or voucher
If you want the cheapest way to buy eyeglasses, I would highly suggest EyeBuyDirect.
8. EyeConic
Eyeconic is an online eyeglass shop that offers many different brands.
With Eyeconic, you can search for eyeglasses from nearly 50 different brands. Eyeconic also has a try-on feature to see how you'll look with frames on in real life. How cool is that?
Simply find the frame you like, and take a short video of yourself. They'll place the frames of your choice on your face, and you'll be able to see if you like them. It really doesn't get much easier than that.
For purchasing contact lenses, you can choose from the 20 available brands. If VSP insures you, you can get your free consultation with a doctor within their network.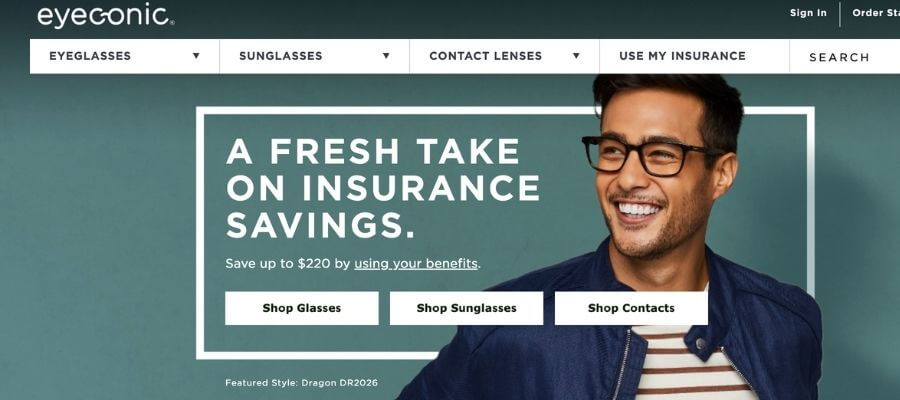 Price plan:
Prices start at just $95 for basic frames. If you're looking for something extra special, they have options to fit every budget.
They then offer different packages on their lenses, Silver, Gold, and Platinum. The silver lens package comes included in the price of each frame, or you can upgrade to the Gold package for an additional $80.
Pros:
They offer top brands' names on frames with quality collections
It has collaborated with the best vision insurance company VSP
It offers a virtual frame check feature to assist you best
Cons:
Shipping tends to take more time than normal
They do not offer a return policy on every product
If you are looking for a great place to get glasses without insurance, Eyeconic is it!
Grab Your FREE Budget Binder Today!
Start saving more money and pay off your debt with this FREE Budget Binder
9. GlassesUSA.com
GlassesUSA is a known online retailer of prescription eyewear and has 4.5 stars on Trustpilot. They have over 7000 frames and are a one-stop-shop that you can use to find glasses online without having to deal with the inconvenience of going to an actual store.
Their large variety of glasses frames is categorized by gender, designer, color, shape, and trend. They also carry sports, prescription glasses, and kid's glasses.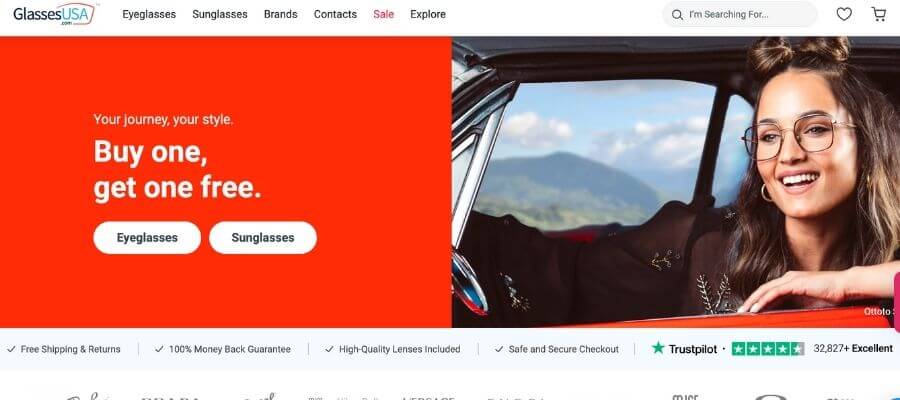 Price plan:
GlassesUSA has some of the lowest prices yet! You can find frames starting at $44.
They offer free shipping and returns if you are unhappy with your purchase. Standard shipping takes about 7 to 10 days if you live in the United States.
You can purchase expedited shipping, which costs $12, and get your glasses in 3 to 5 days. Shipping outside of the U.S. is also available at around $25.
Pros:
You will get glasses and contact lenses with a 365-day warranty
They offer coupons and loyalty programs to their customers
Glasses have a brand name, and best-selling brands are there
Cons:
You need an eye prescription to order
For more information on how to get inexpensive eyeglasses, check out GlassesUSA here!
10. Discount Glasses
When it comes to finding the perfect pair of glasses, DiscountGlasses has got you covered. With a wide variety of lens types and enhancements available and a discount of up to 70%, you're sure to find the perfect pair for you.
And if you're not completely satisfied with your purchase, DiscountGlasses offers a no-hassle return policy.
There's something to suit everyone with a huge range of frames, sunglasses, reading glasses, and accessories.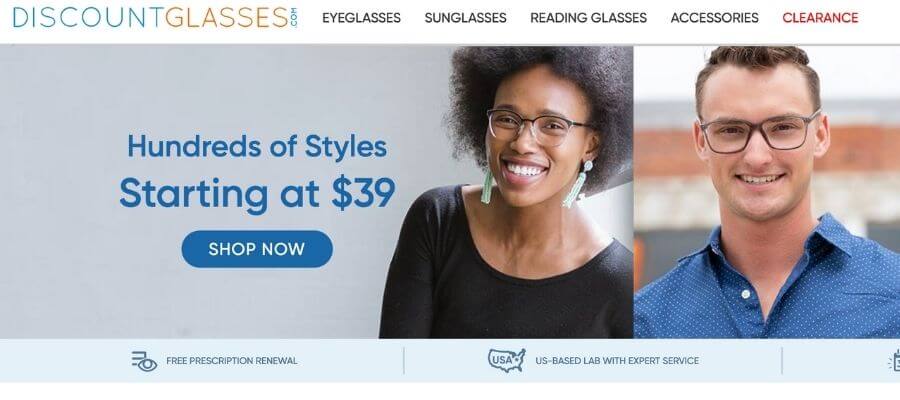 Price plan:
DiscountGlasses is the place to go for great deals on frames. They have hundreds of styles starting at $39. They also offer monthly mystery sales with savings as high as 70%.
Pros:
Stylish frames are available at a lower price
Easy to access support and product search functionality
Plenty of information related to products and prices is available on the website
Cons:
Have slow shipping standards
High-quality lenses are costly for a normal user
Get ready to shop the cheapest place to get glasses without insurance, DisountGlasses
Grab Your FREE Budget Binder Today!
Start saving more money and pay off your debt with this FREE Budget Binder
11. FramesDirect
FramesDirect is the perfect place to shop for glasses online. With over 100,000 designer frames and contacts to choose from, you're sure to find the perfect style for you.
From Burberry to Oakley, they have a frame for every taste and personality. Their prescription sunglasses are top-of-the-line and keep your eyes safe from the sun's harmful UV rays.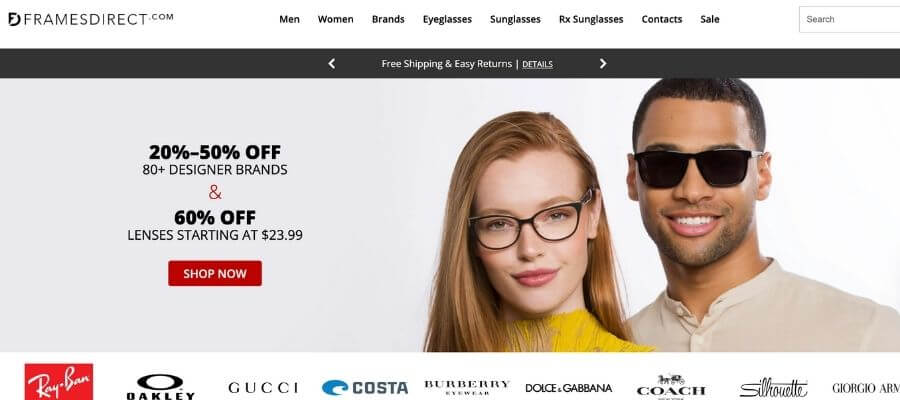 Price plan:
With a health savings account (HSA) and flexible spending account (FSA) debit card, you can save up to 40% on designer glasses. Burberry will still be expensive, but at least it's the cheapest place to get glasses without insurance than buying from their website at a cost upward of $200.
Pros:
They offer high-end frames, glasses, and contacts
Free shipping with a 30-day money-back guarantee
International shipping facility available
Cons:
Virtually try on a feature not offered by FramesDirect
Lens cost is slightly higher than other companies
12. Lenscrafters
Lenscrafters is the best place to buy glasses without insurance to shop. With over 1,000 stores across the United States, Lenscrafters is one of the largest eyewear retailers.
Shopping at the online store is just as convenient and easy as shopping in-store. Plus, payment is easy and flexible, with most major credit and debit cards accepted and HSA and FSA debit cards.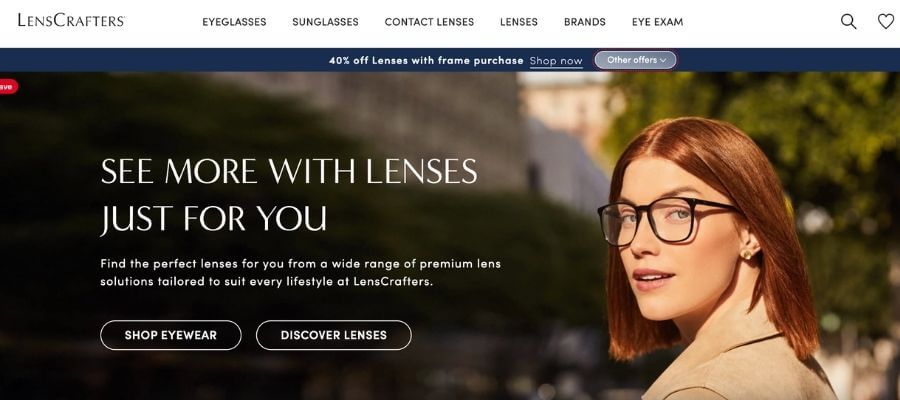 Price plan:
LensCrafters is a one-stop-shop for all your eye care needs. You can find glasses and sunglasses, with prices starting at just $58! If you want prescription lenses, they have an additional fee of only 130 dollars.
Pros:
LensCrafters accepts most major vision plans, HSA, and FSA cards
Free shipping and discount opportunities
Adjustment option available on purchase products
Cons:
Their prices are higher when compared with other retailers
13. GlassesShop.com
GlassesShop is the online destination for stylish prescription eyeglasses and prescription sunglasses at budget-friendly prices.
With a huge range of frames to choose from, GlassesShop has something for everyone, including different tints and polarizations.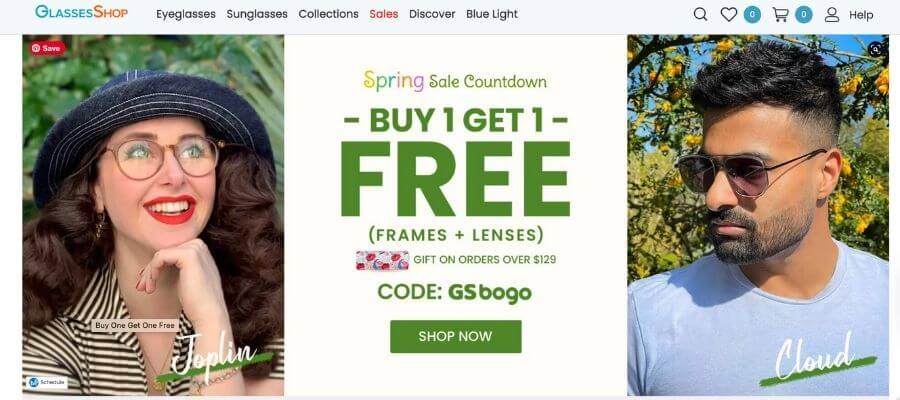 Price plan:
They have a vast selection of glasses for men, women, and children, and some prices are as low as $6! Sign up for their email list today, and you'll receive 50% off frames and free shipping on your first order. Plus, be the first to know about our latest sales and exclusive offers.
Pros:
They offer free shipping on all orders over $79.
For new customers, 50% off on the first purchase.
They have a referral program for customers.
Cons:
Some of the products have no return policy.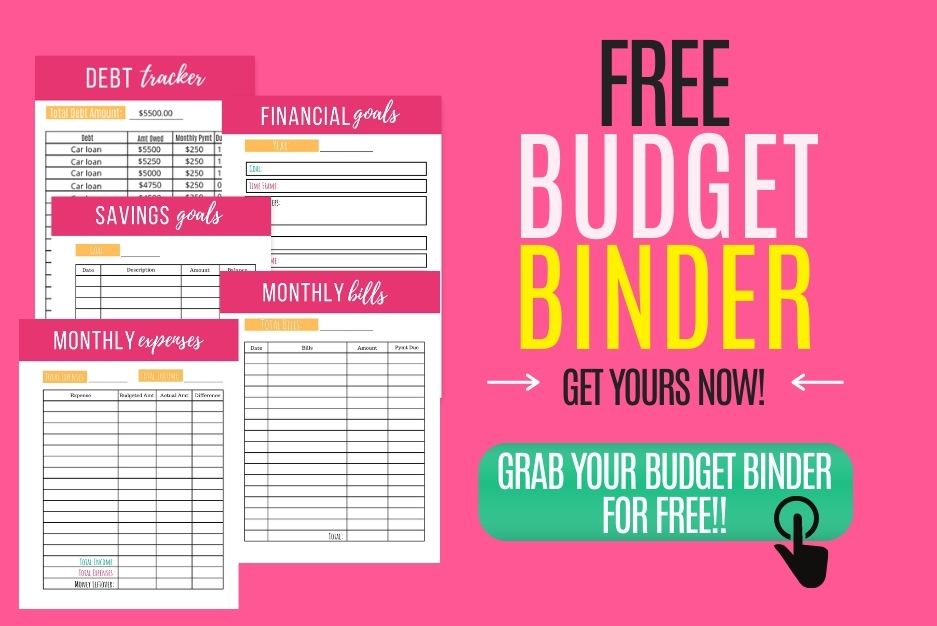 14. 39DollarGlasses
39DollarGlasses is the cheapest place to get glasses and sunglasses online! They offer a wide selection of high-quality eyewear for women, men, and children, all at affordable prices. Their glasses start at just $39.
Through their charitable relationship with ChildSight, they've donated thousands of pairs of eyeglasses to children in need.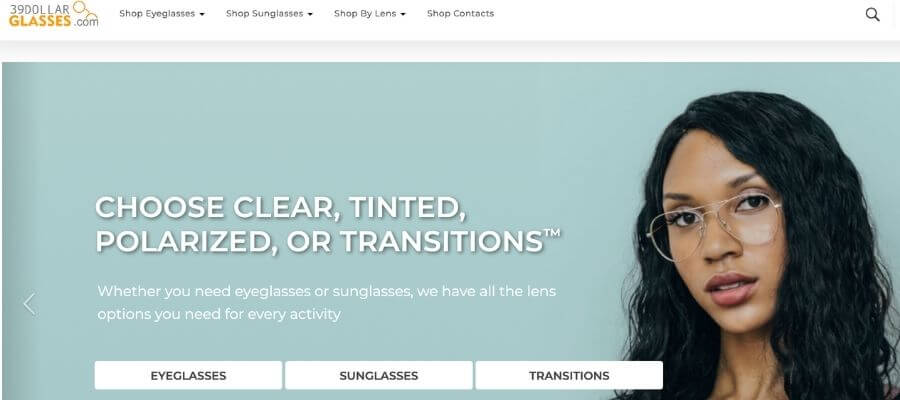 Price plan:
The glasses section of this site is affordable. A pair starts at just $39, and you can get single prescription lenses for that price too!
Most frames cost less than 50 bucks; several go up to about 100 dollars (but there are some deals on in-demand styles).
Pros:
The frames include metal, plastic, and flex frame, inexpensive options
Brand names are available
Cons:
You must need to provide your prescription to purchase a lens
15. Pair Eyewear
Pair Eyewear is the online eyeglass retailer that's changing how you shop for frames. They offer an unbeatable selection of frames for kids and adults, including styles from some of the biggest names in eyewear.
When checking out, you can also choose to pay with a health savings account (HSA) or flexible savings account (FSA) debit card. With Pair Eyewear, you'll get a great pair of glasses at a fraction of the cost!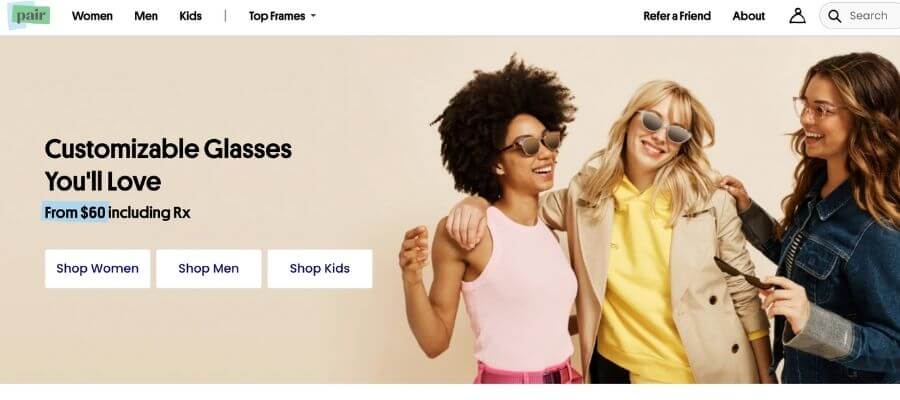 Price plan:
Pair Eyewear offers a variety of frames for kids and adults, starting at $60. Top-level options cost up to about 30 bucks each, with special collaborations like the NHL or Marvel selections costing less than most other brands' top-tier products– sometimes even as low as $25! You'll probably end up paying close to $100 on average.
Pros:
It offers a customized option for your frame or glasses
They offer 30 days free on any returns.
Cons:
For a one-year warranty, it costs extra
Can I Purchase Prescription Glasses Without Insurance?
Though it is not impossible to obtain prescription lenses without insurance, you will find that your options are severely limited.
If you can't get vision coverage from an insurance carrier, you may pay more for your prescription glasses than necessary.
Fortunately, there are several places where you can buy prescription glasses without insurance at an affordable price. From independent retailers to online stores offering discounts and promotions, plenty of options are available to help you save money on your eyewear.
Retailers that sell glasses without insurance: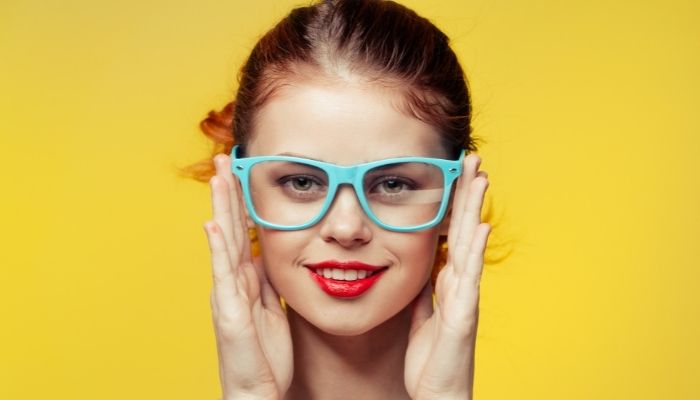 Independent Retailers: Independent retailers often offer competitive prices for eyeglasses and can sometimes beat the prices of major retailers. These stores may also offer more customization options, such as frame and lens combinations that can be tailored to a customer's specific needs.
Online Retailers: Online retailers are becoming increasingly popular for their convenience, low overhead costs, and competitive prices. Many online eyewear stores also offer free shipping for orders over a certain amount of money.
Discount Retailers: Discount stores such as Walmart, Target, and Costco are great options for those looking for inexpensive glasses. These places often offer low prices with clearances, coupons, sales, and other promotional deals.
Optometrists: Optometrists usually carry their own brand of glasses and can provide an eye exam if necessary. Though the prices may be higher than other retailers, optometrists typically offer discounts for customers who purchase multiple pairs of glasses or place a large order.
Should I Buy Prescription Eyeglasses In-store Or Online?
If you're in the market for a new pair of eyeglasses, you've probably considered buying them online and in-store. Both have their pros and cons.
Online stores offer low-cost glasses and adorable designs. Buying them online is more convenient. You have many more frames to choose from than in your local optician's office.
Even some apps allow you to check out frames by virtually uploading your picture and choosing frames. You need to do proper research about online sellers and check their customer's feedback. Also, make sure you read their return or refund policy before buying.
Q & A – Cheapest Place To Get Glasses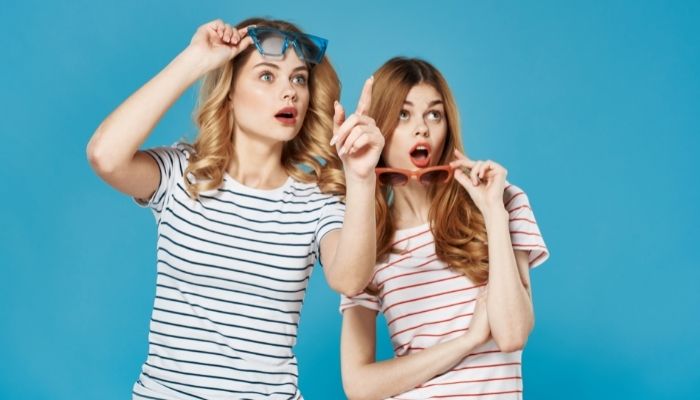 How much do glasses cost without insurance?
The average price of eyeglasses in the U.S. can vary significantly based on your prescription, frames, lenses, region, and the eyewear brand you purchase.
The average cost for glasses without insurance is $242, according to statistics from VSP. Assuming you're getting frames and both lenses, the total price is around $351 when you don't have insurance.
Can I return prescription glasses I buy online?
Online sellers come with a dizzying array of fulfillment and satisfaction guarantees. Some retailers offer free replacements and refunds, while others require you to pay a fee to be eligible.
Be sure to carefully review a store's replacement and refund policies before making your purchase.
Can I use my HSA for my low-cost glasses?
Yes, you can use your HSA for your low-cost glasses. Many people use their HSAs to pay for their glasses each year.
The great thing about using your HSA to pay for your glasses is that you can get a significant discount on the cost of your glasses. In most cases, you can save anywhere from 30% to 50% on the cost of your glasses when you use your HSA to pay for them.
Can I donate prescription glasses?
Yes, prescription glasses are accepted for donations, but please make sure that the glasses are in wearable condition.
If your prescription glasses are not in good shape, you can opt to make a monetary contribution.
Best Place For Glasses Without Insurance- Final Thoughts
If you don't have vision insurance or your plan doesn't cover the glasses you need, there are still plenty of affordable places to buy glasses. You can find great deals on glasses without breaking the bank by looking at affordable vision retailers, such as Walmart or Target.
Don't let not having eye insurance stop you from getting the perfect pair of glasses for your needs. Check out these best places to get glasses without insurance – find the perfect pair for you!
Also, join us on Pinterest for more money-saving tips and tricks!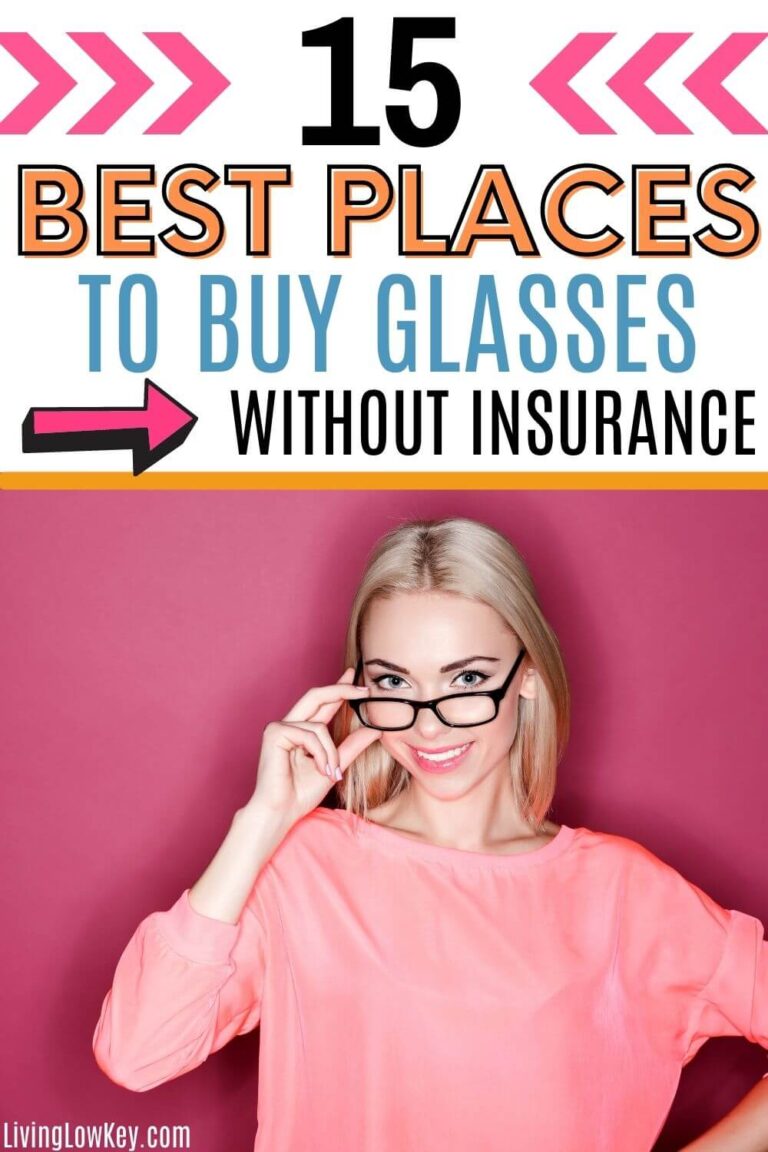 Related articles: