The best fall front porch ideas you have to try today!
There is nothing like decorating for the seasons! And it just so happens that we all welcome fall with open arms. We all love decorating the inside of our homes for fall, but what about the outside?
Your front porch is the first thing you see before entering your home, so why not decorate it for the season?
With that being said, I wanted to show you some of my favorite front porch decorations I could find on Pinterest.
Here are 14 must–try fall porch decor ideas!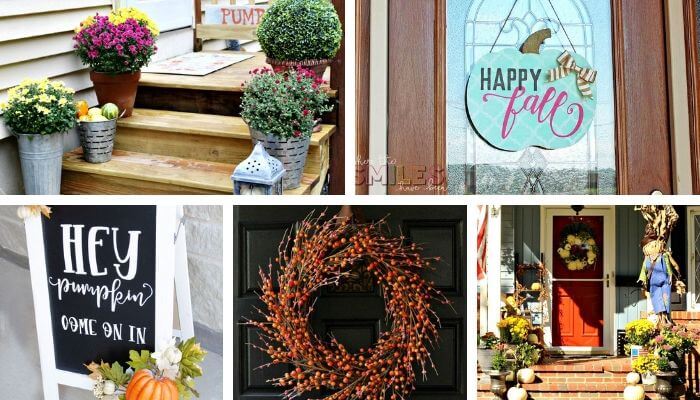 1. Front Porch Sign
Is there a better way to decorate your front door this fall than with a fall sign the shape of a pumpkin. Most craft stores carry similar signs, and then you can use paint our other decor you already have at home to personalize your front porch sign.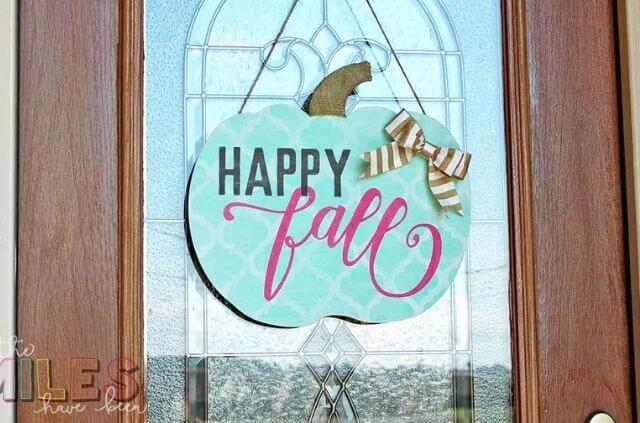 Source: Where The Smiles Have Been
2. Colorful Mums In Galvanized Buckets
The perfect front porch decor! Mums placed in these beautiful galvanized buckets will last all autumn. They are the perfect plant for just that reason, not to mention their bright, radiant colors that will surely make your porch pop.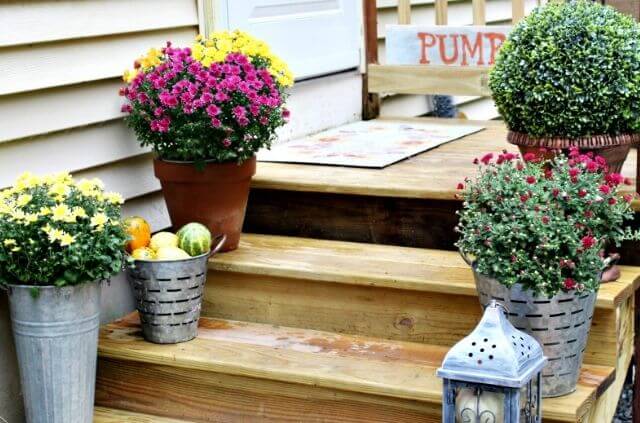 Source: Our Crafty Mom
3. Lanterns With Gourd Inside
Have you ever thought of adding gourds and small decorative pumpkins to a candle lantern? If you already have a lantern in your home, remove the candle, add gourds, and give this front porch decor idea a try to spice up your porch.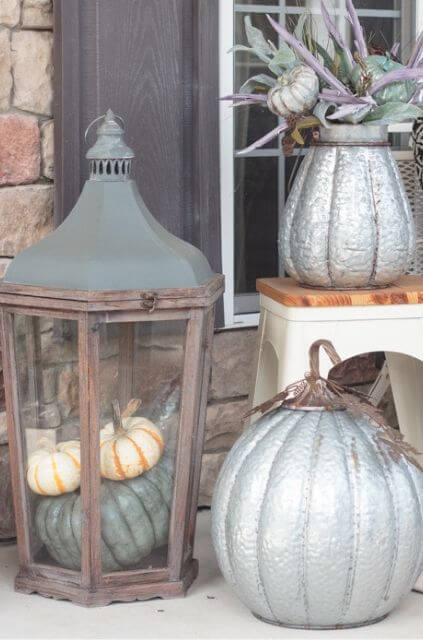 Source: Atta Girl Says
Related articles:
4. Pumpkin Topiary
This is probably one of the neatest pumpkin topiary ideas I've seen. The best part is you can make it from scratch, directions in the link below. Pumpkin topiary is a great way to add that fall feeling to any space, especially your porch.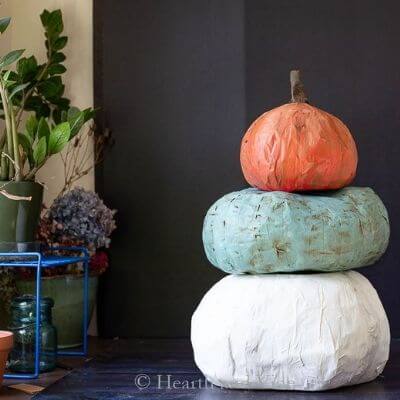 Source: Hearth & Vine
5. Fall Front Porch Sign
If you are reading this post, more than likely, you want a fall porch sign similar to the one below. Am I right? This is one fall essential you don't want to go without this year.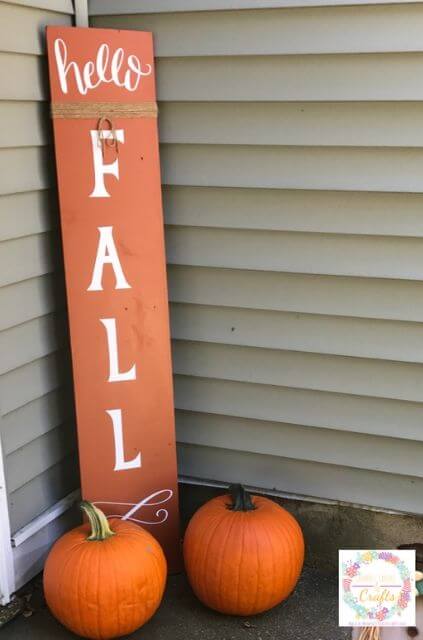 Source: Cookies Coffee and Crafts
Related Fall Decor:
6. DIY Front Porch Wreath
Your door will not be complete this fall without one of these front porch wreaths. I use to buy a new wreath every fall, and it was expensive. Then I found out all of the supplies I could possibly need for a wreath, similar to this one, are at the Dollar Tree.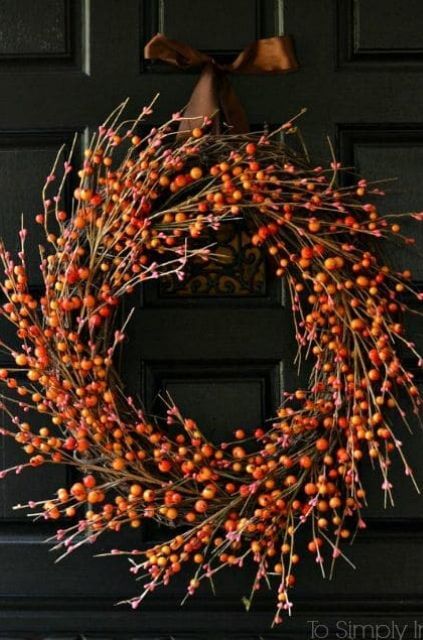 Source: To Simply Inspire
7. This Front Porch Has It All
Mums, pumpkins, wreaths, corn stalks, and scarecrows! What more could you need? This beautiful front porch decor is on point. It doesn't take much to turn your front porch into a fall oasis.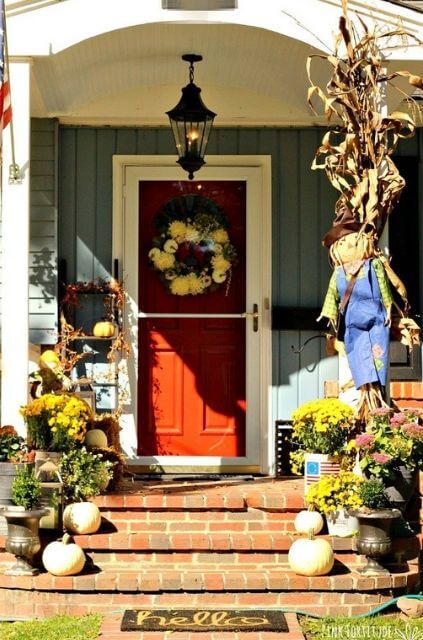 Source: Pink Fortitude
8. Wooden Pumpkin
Do you have a pallet laying around or other small boards? If so, cut them to shape, add a little paint, a bow on top, and you'll have a masterpiece. Unlike a real pumpkin, this one you can store away and bring it back to life every year.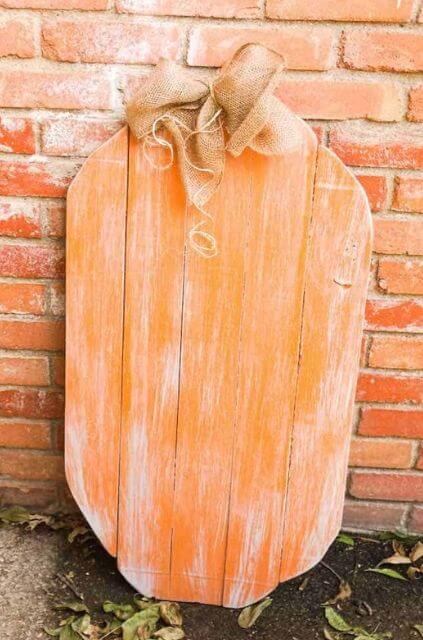 Source: Dad Life Lesson
Fall Decor for your home:
9. DIY Monogram Fall Bucket
This is such a unique touch to add to your front porch this fall. You can find these buckets pretty much anywhere. Then add a special touch, such as adding a monogram to the front of your bucket with your last name.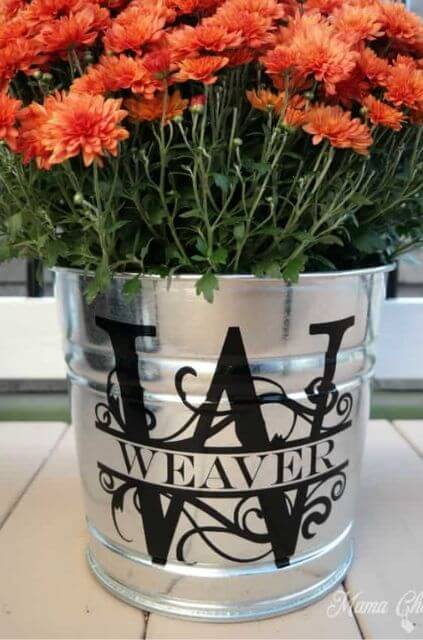 Source: Mama Cheaps
10. Fall Flower Bucket With Sign
I love this display! You might even have these items lying around your home. If you don't, you can find similar items to these at the Dollar Tree. I'm all about sticking to a budget, and with this arrangement, you can.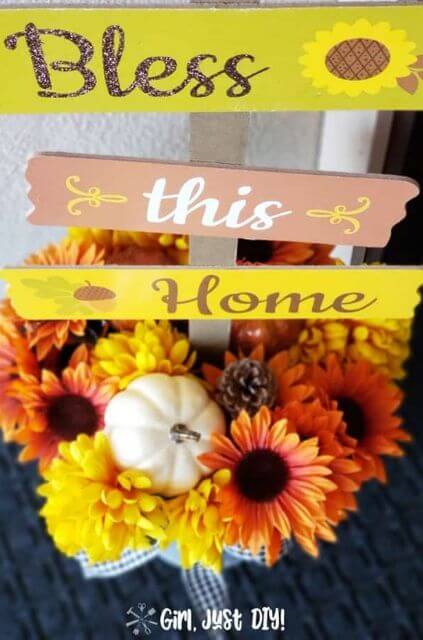 Source: Girl Just DIY
11. Fall Pumpkin Sign and Tutorial
This sign will make any space feel warm and inviting. Not to mention those cute little pumpkin arrangements. Such a simple way to make your porch scream fall.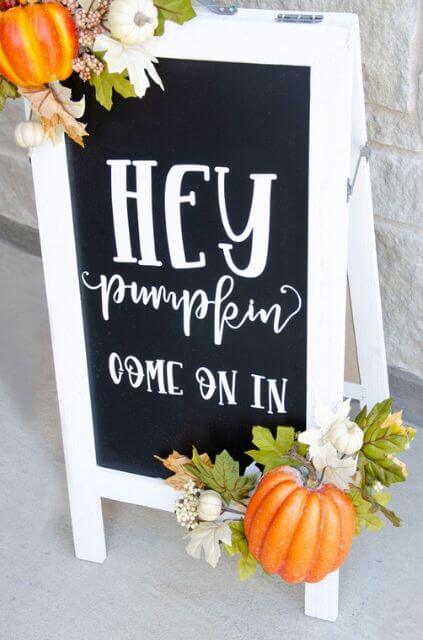 Source: Love The Day
12. Mason Jar Floating Candle
Do you want to light up your front porch this fall? These mason jars make the cutest holders for floating candles. Make a few and set them out on your steps to light up your walk-way.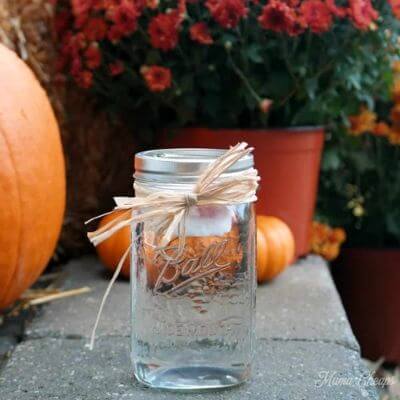 Source: Mama Cheaps
13. Wooden Ghosts
Most of us have extra wood scraps in our garage, so why not create something fun with those pieces this fall. Grab some paint and give this fun project a try. This project is so simple. Even younger kids can help out.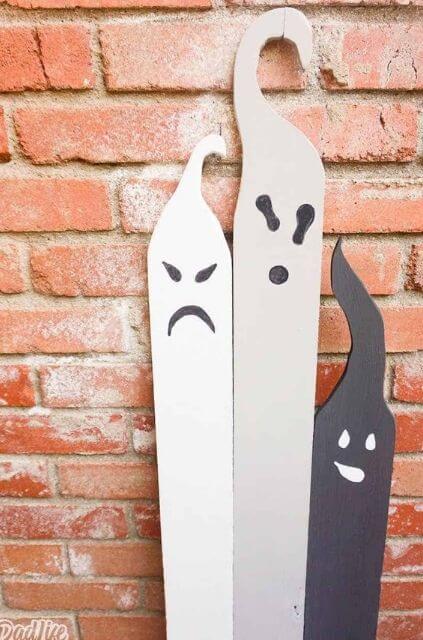 Source: Dad Life Lesson
14. Scarecrow And Corn Stocks
You can't complete the fall look without a scarecrow and corn stocks. If you don't want to buy a scarecrow, you can always hand-make one with old clothes laying around the house.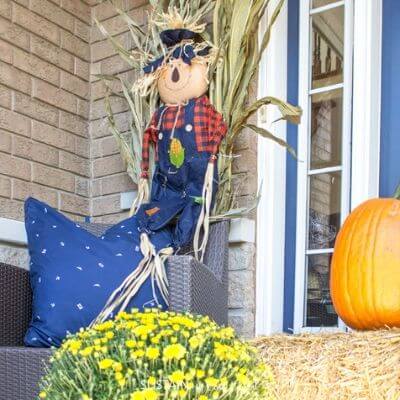 Source: Sustain My Craft Habit
I hope you enjoyed those 14 must–try front porch decor ideas that will keep your porch looking great his fall. If you decorate your front porch for fall let us know in the comments below what you do to dress up your porch!
Make sure to save this post for later, and join us over on Pinterest!!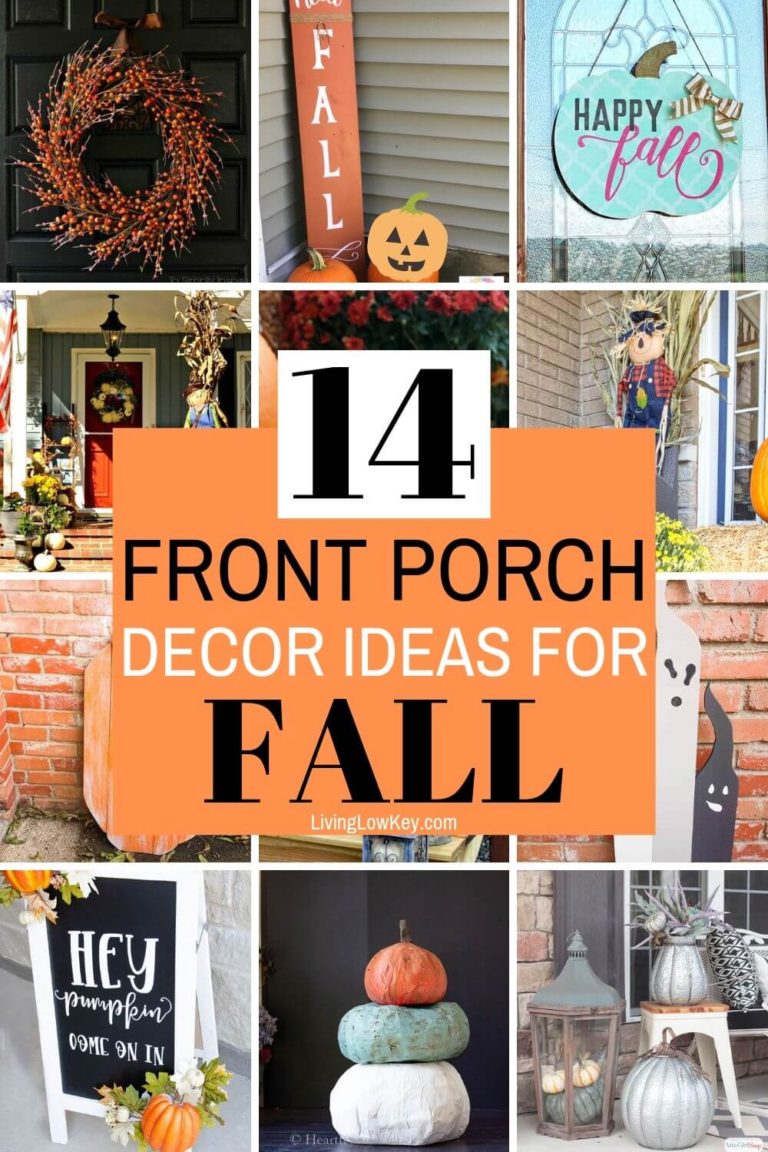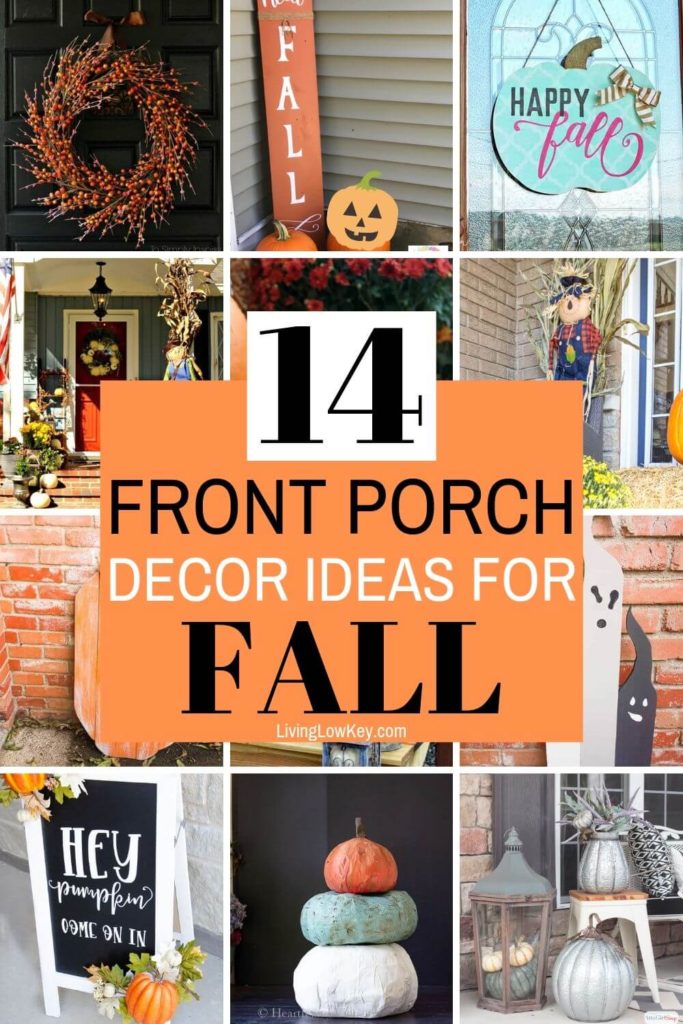 Related articles: