How to earn free Starbucks coffee
Ah, Starbucks…the thing that we know we need to cut out of our budget, but it's just too good!
You're in luck – we've rounded up the best ways how to get free Starbucks gift cards.
By the end of this article, you'll know how to get your coffee fix, for free.
According to a report from Acorn, 41% of millennials said that they spent more on their morning coffee than they did on contributions to their retirement plan.
Yikes!
It goes without saying – we are a nation that loves a bit of coffee. And Starbucks is usually the brand of choice!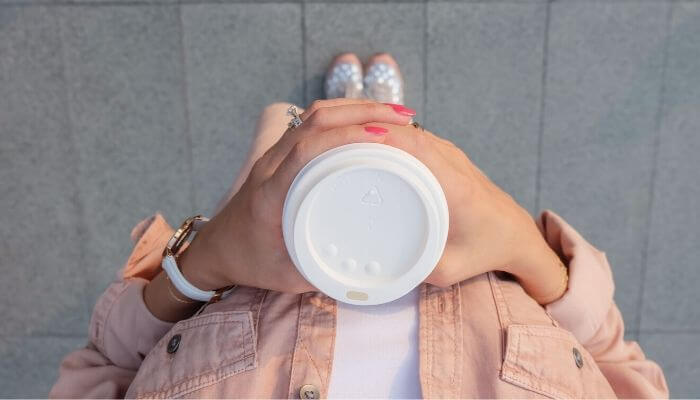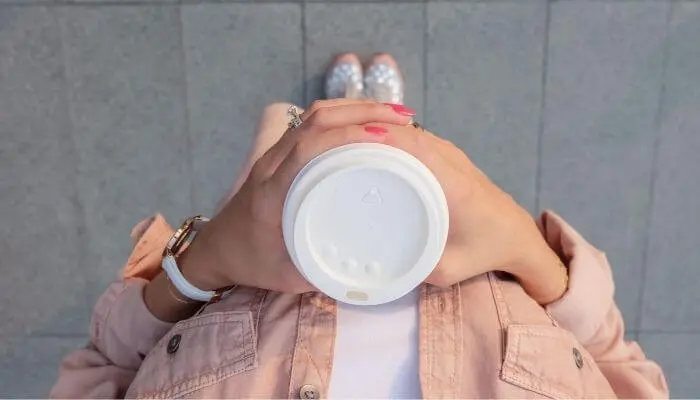 You may want to cut back on your daily Starbucks to save money, but if you're finding it hard to kick the habit, there are ways that you can earn free Starbucks.
How To Get Free Starbucks Gift Cards
These are some of the easiest ways I've found to get free Starbucks gift cards. Some of these take a little bit of work. But hey, if you want to earn free Starbucks gift cards, these are the ways to do it.
All of the apps and websites I mention below are FREE to use! So get ready to grab your free Starbucks coffee!
1. Earn Your Free Starbucks Drink with

Swagbucks
Swagbucks is one of my favorite sites to earn free Starbucks drinks because there are so many different ways that you can do it!
Some of the ways that you can earn free drinks on Swagbucks include:
Answering surveys
Watching videos
Playing games
Shopping online
Searching the web
You earn points, called 'SBs,' which you can later convert into gift cards (or Paypal Cash). This is how to get free Starbucks drinks!
If you plan to sign up, I'd definitely recommend doing the surveys to get your free gift cards! It will let you know beforehand how many SBs you will get for each survey. They tend to pay out the highest.
How to get your free drink with Swagbucks?
Head over to Swagbucks or download the free app
Play free games, watch videos, and take surveys
Earn points
Get your free gift cards
Use your free gift cards to get your free drinks
Tip: A good tip is to "watch videos" in the background on Swagbucks while you do something else! This way, you'll rack up points faster.
Where to sign up: Swagbucks (click here)
Come join me on Swagbucks and grab your $10 sign-up bonus!
Related articles:
2. Grab Your Free Starbucks Coffee with

Ibotta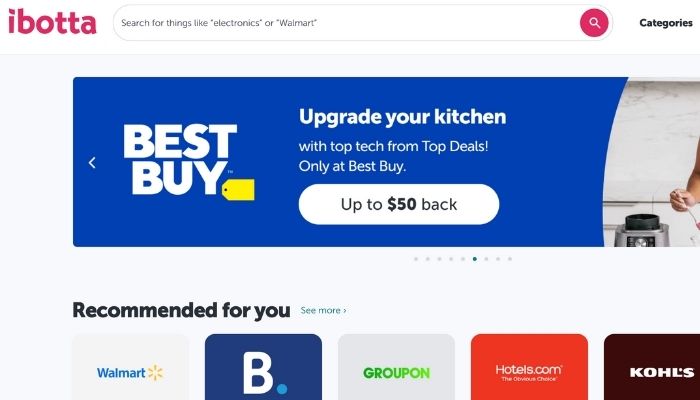 We are huge fans of the Ibotta app – it's so simple to use and easy to earn free gift cards with!
You can get cash back on things that you were already going to buy, which means little effort is needed on your part.
The way that it works is like this:
Select the items that you are going to buy
Go to the store and make your purchases
Upload your receipt
Get your cash back
Buy your brewed coffee with your cash back gift card
You can choose to get your cash back in gift cards – one being a free Starbucks gift card! Or decide to withdraw it in cash and use it towards your next Starbucks coffee.
Where to sign up: Ibotta (click here)
Don't forget to grab your free $10 sign-up bonus when you join!
Related article: Ibotta App Review 2022 (Is Ibotta Legit Or A Scam)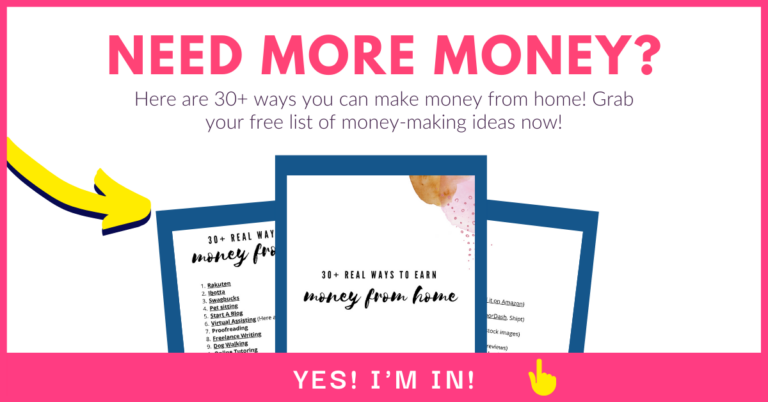 3. Earn Starbucks Gift Cards with

Survey Junkie
This is one of the hottest survey sites, making it easy to score free Starbucks drinks! Survey Junkie has decent payouts and a lot of surveys available.
You can get free Starbucks drinks from answering surveys – you will be giving your opinion on certain topics. This is market research for the companies involved.
To reward you for your answers and time, you earn points that you can convert into cash or gift cards – with free Starbucks gift cards being an option.
Even better yet – you could sit and enjoy your Starbucks while answering some surveys on your phone! It doesn't get easier to get a free iced coffee.
Where to sign up: Survey Junkie (click here)
Other survey sites I recommend trying if you want to make extra cash for your next delicious Starbucks drinks:
Related article: 15 Free Online Jobs That Pay Daily (That You Have To Try)
4. Earn Free Starbucks Drinks with the

Starbucks App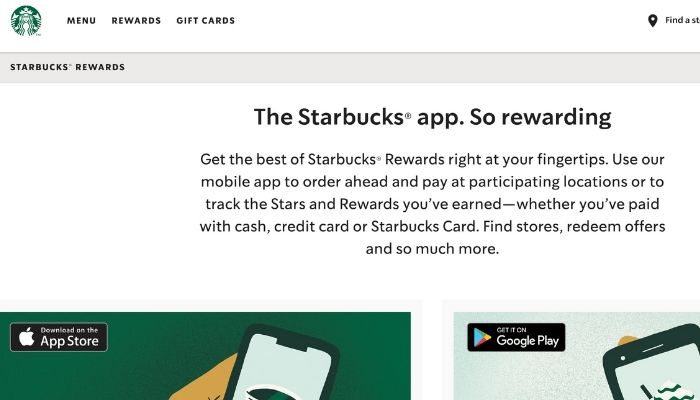 One of the best places to start to get some free Starbucks is Starbucks!
The Starbucks app is their Starbucks rewards program! You can even link your card and use it to pay for your drinks to accumulate points.
Once you have a certain amount of points, you get rewards:
< 25 stars – customize your drink (you could add extra dashes or a dairy substitute for free)
< 50 stars – free brewed hot coffee, tea, or bakery item
< 150 stars – free drink, breakfast sandwich, or parfait
< 200 stars – free lunch sandwich, protein box, or salad
< 400 stars – free bag of coffee, signature cup, or any other select coffee accessories (how cool is that?!)
You collect two stars for every $1 you spend when you pay using a registered gift card or app.
You can get bonus stars with the app and in your email inbox. There are also Double Star Days, which is what it sounds like – you get double the number of stars on select days.
The fact that you can earn points when you pay using a Starbucks gift card is the best! It's a no-brainer that you do this.
Where to sign up: Starbucks App
5. Starbucks Buy One Get One Free

Happy Hour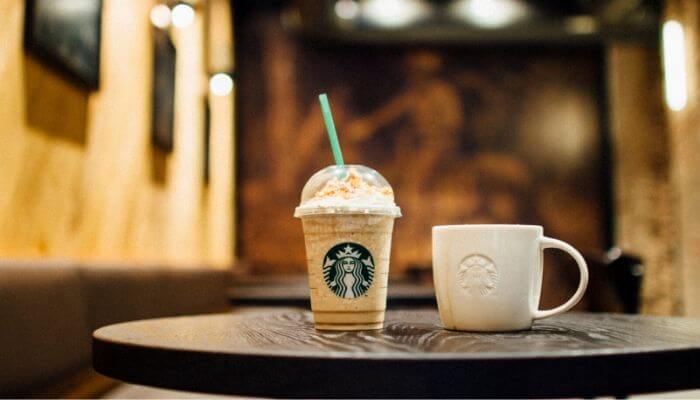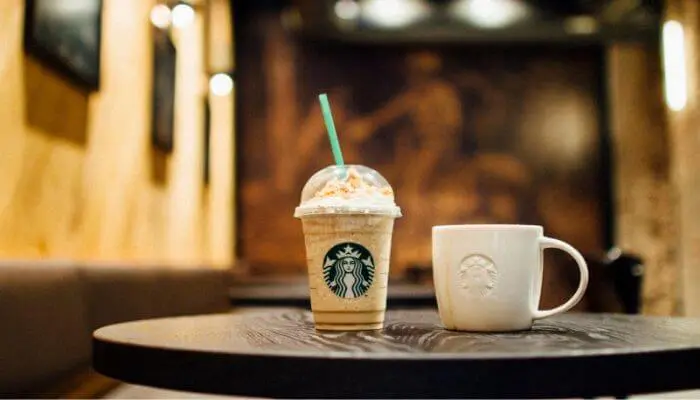 If you have a bit of a Starbucks addiction, you're going to want to try and use as many hacks as you can to get your free Starbucks coffee.
Starbucks – and coffee in general – can cost quite a bit of money (the mark-up on the cost is insane!), and it is often a daily habit.
When you spend a lot of money daily on one tiny thing, the costs can quickly add up and eat into your budget.
We are lucky that there are many ways that you can get free Starbucks drinks, and this is another good one.
Starbucks often runs a promotion that they call Starbucks Happy Hour. They have started to change the days on which they do it, but at the moment, it's for Buy One, Get One Free.
Starbucks buy one get one free is just as it sounds. You buy 1, get 1 free, so make sure to bring a friend.
The offer is valid on a grande or larger handcrafted drink, and you can get the free brewed coffee in an equal or lesser size.
It has been running on Thursdays, but please check your local Starbucks in case it has changed by the time you read this.
6. Get Free Starbucks With Their

Stamp Cards
Have you ever been handed a Starbucks stamp card? It's definitely worth looking out for when Starbucks is handing out its free stamp cards.
They usually do it during the holiday season, so keep a lookout!
Every time you buy something at Starbucks, you can get your card stamped. Once you have a certain amount of stamps, you can redeem them for a free Starbucks drink.
7. Get Free Starbucks with

MobileXpression
This is a market research app, where you will get paid for letting an app see your habits.
You will have to download an app onto your phone, which will look at your internet activity.
They want to see what you are looking for on the internet, what mobile applications you are using etc. They use this for their market research.
They will just be collecting data on your internet usage, not your personal information if that is of concern.
It's a good way to get a passive bit of income coming in, as you won't have to do anything apart from the initial download.
You will be eligible for weekly rewards, which include gift cards. Free Starbucks gift cards, here we come!
Where to sign up: MobileXpression (click here)
8. Earn Free Gift Cards with

MyPoints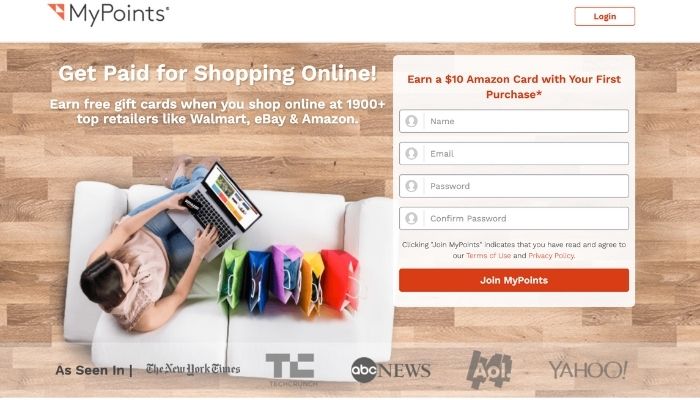 We are big fans of MyPoints over here – it's one of the best survey sites out there.
It's worth noting that it is owned by the same company that owns Swagbucks – so there are a lot of similarities going on.
You can earn points (free iced brewed coffee) from tasks such as:
Answering surveys
Watching videos
Reading emails
Shopping online
Local deals
Playing games
Printing coupons
You can also earn freshly brewed coffee by referring your friends – to get 10% of their points!
Convert your points into gift cards, and you'll need more points for some retailers than others. Starbucks is one of those such retailers. Get your gift card, then get free Starbucks!
Where to sign up: MyPoints (click here)
Grab your free $10 bonus when you sign up with our link!
9. Earn Starbucks Gift Cards with

PrizeRebel
PrizeRebel is a membership rewards site where you can earn points by answering surveys, watching videos, and more.
They also have a generous referral system where you can earn up to 30% of the earnings of the people you refer.
There are daily challenges where you have the chance to earn more points – be sure to keep an eye on the Challenges tab.
You may want to follow their Facebook and Twitter pages, as well as they often give out free codes which give you points once redeemed.
If you want to know how to get a Starbucks gift card for free – you will have to earn 500 points.
How to get free coffee with PrizeRebel?
Head over to PrizeRebel
Create an account
Earn points
Redeem your points for a Starbucks free drink or redeem for PayPal cash
Where to sign up: PrizeRebel (click here)
Related article: Get Free PayPal Money (Legit Ways To Make Money)
10. Get Free Starbucks Drinks with

Drop
This is a free app where you can get cash rewards on your purchases.
One of the rewards that you can get includes free Starbucks gift cards.
Yay!
A great thing about the Drop app is that you can use it in conjunction with other reward apps and programs.
You need to download the Drop app, then select the top 5 places that you shop so that you can earn points for shopping there.
Yes, it's that easy to get started. Head over to Drop using the link below and start earning free Starbucks gift cards.
Where to sign up: Drop App (click here)
Related article: Drop App Review: What Is The Drop App And Is It Legit
11. How To Get Free Starbucks On Your Birthday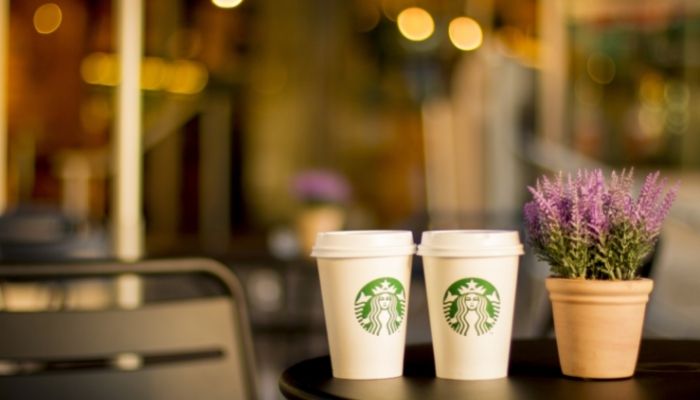 Do you want a free birthday reward?
A bonus to having a Starbucks rewards account is that you get you can get a free birthday drink or free food item on your birthday. If you want a free Starbucks drink, it doesn't get easier than this.
Head over to Starbucks on your next birthday for your free birthday drink because who doesn't like free Starbucks on their birthday?
12. Free Refills At Starbucks
For you, Starbucks addicts, did you know that you can get free refills at Starbucks?
If you have a Starbucks reward card or have the Starbucks app on your phone, you can get free refills of brewed coffee or tea during the same store visit, regardless of the original order.
Always check to make sure your Starbucks is a participating Starbucks member!
Bonus Tips
As an added little bonus, we thought that we'd let you know about another little tip!
If you take in your own travel mug, you can get money off your purchase. It's only a small amount of $0.10, but if you are drinking a lot of coffee, this will soon add up.
Also, have you heard of the Starbucks Secret Menu? This is a secret menu where you can find different drinks that are not on the usual menu.
There's even a smaller size than is typically offered, saving you some cash.
If you have a dog with you, you can order a free Puppicino – cute!
How to Get a Free Starbucks Drink- FAQs
Still, have questions about how you can get a free Starbucks drink? I'll try my best to answer them below!
How many free Starbucks drinks can I get?
This will depend on the method that you are using to get free Starbucks drinks.
Some methods will only give you one free drink, while others (such as Drop) will give you ongoing rewards that you can use to get free Starbucks drinks whenever you want.
Is water free at Starbucks?
Yes, water is free at Starbucks! Just ask for a cup of water, and they will be happy to give you some. So go get a free Starbucks and some water.
Can I get free Starbucks food as opposed to free Starbucks drinks?
Yes, depending on which method you are using to get your free Starbucks gift card. You can sign up for survey sites, take advantage of rewards programs, and more.
Then redeem gift cards and use them for free food or a hot breakfast!
How to Get a Free Starbucks- Final Thoughts
Hopefully, you will use one of the twelve ways above to score yourself a free coffee next time you are at Starbucks!
Do you have any tips for getting free Starbucks? If so, let us know about them in the comments below.
If you enjoyed this article, save it for later and follow us on Pinterest for more money-saving articles.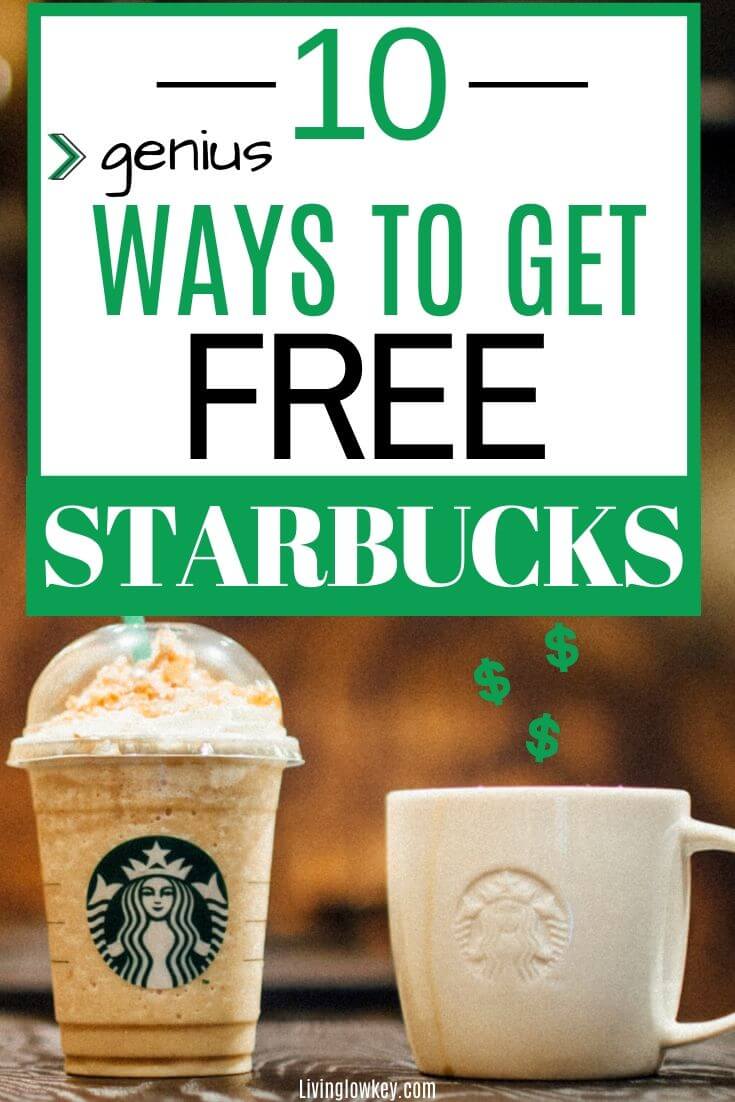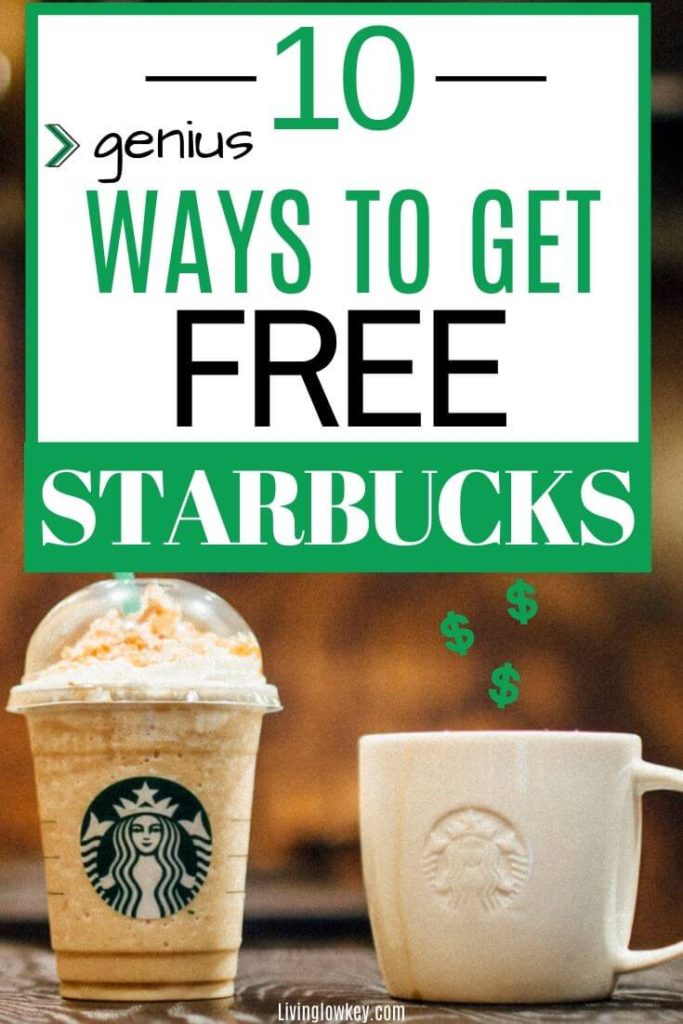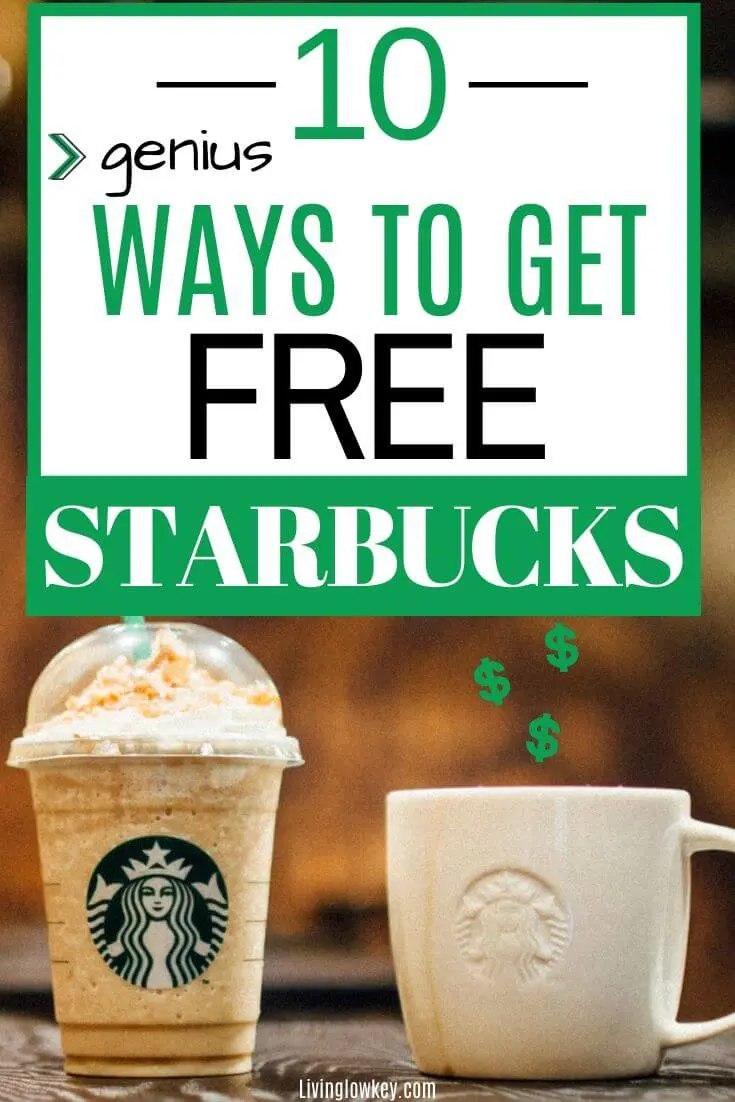 Grab Your FREE Budget Binder Today!
Start saving more money and pay off your debt with this FREE Budget Binder
Related articles: