Did you know that you can get paid to advertise your car?
When it comes to passive income streams, this has got to be one of the best!
You don't need to do anything apart from having an advertisement on your car and drive around as you would usually do.
Sounds good, right?
If you're looking for an easy way to make some extra cash, this could be for you.
Let's take a look at how you can get paid to advertise on your car and the companies that pay you to advertise on your vehicle.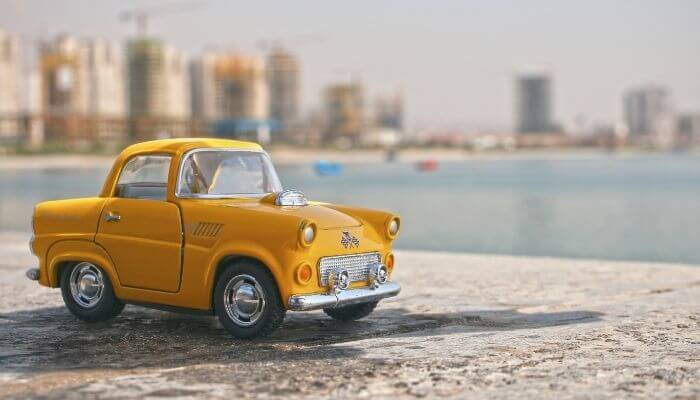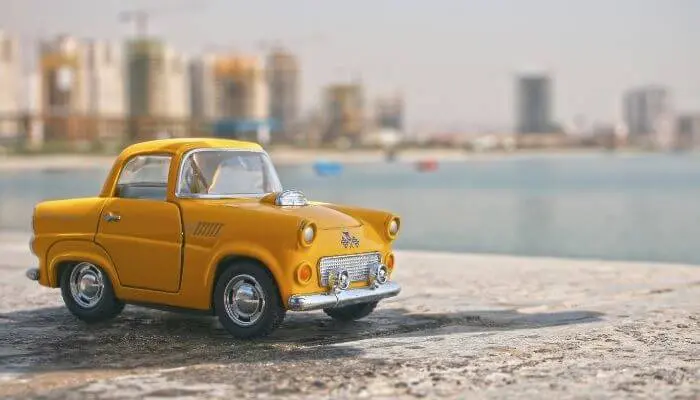 Why Do Companies Pay You To Put Advertising On Your Car?
The whole point of advertising is to promote the company in question.
Companies will have a marketing strategy, and the marketing is to raise awareness of the brand and let more people know about it.
There are lots of different types of advertising that companies do, and one way is to put photos of their brand name out there.
Putting advertising on your car is a way that they can promote their brand.
They can't just go around putting ads on cars, so they will pay you to do this for them.
This can be a great passive way to make money as you don't have to do anything – just drive around as you usually would.
Related articles:
Grab Your FREE Budget Binder Today!
Start saving more money and pay off your debt with this FREE Budget Binder
How Do You Get Paid To Advertise On Your Car?
If you're wondering "how to get paid to advertise on my car?" Let's take a look at the steps!
1. Find Companies
The first step to getting paid to advertise on your car is to find companies that will pay you to wrap your car for money.
Unfortunately, when there are ways to make money, these attract scammers.
It's therefore essential to make sure that you are on the lookout for scams and only sign up with legitimate companies. If it sounds too good to be true – it probably is!
2. See If You Qualify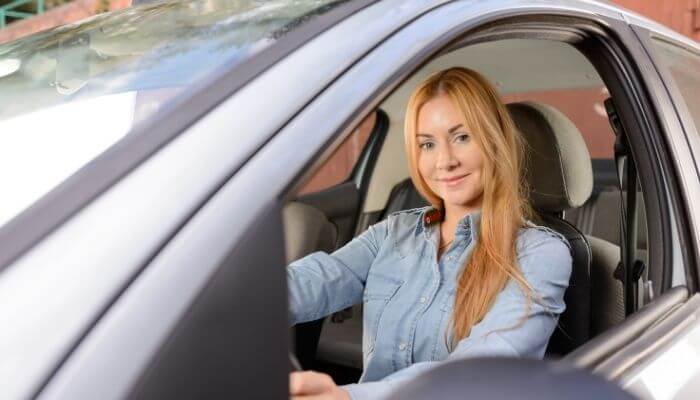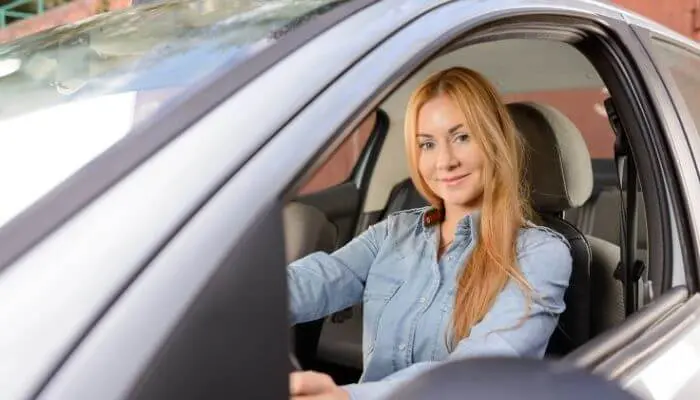 These companies won't let anyone and everyone sign up to their services, because they need to make sure it's working the best for them.
Think of it this way – if you had a company and wanted to get the word out there, but you had to pay, wouldn't you be more selective?
The most important thing for them is for you to drive a lot so that a lot of people see your car.
Bonus points if you live or are driving in a densely populated area!
There are some more general requirements that most companies ask for, such as:
Have a clean driving record
Factory finish paint job
Own a car that's a certain age e.g., 2008 or older
Drive a certain distance per day
Make sure you check with the individual company on what their requirements are. Then you can get started with car advertising for money!
3. Wrap Your Car For Money
Once you have picked a legit company and can meet the requirements, it's time to get started.
Each company will be different, but many of them won't sign you up straight away, so this is important to note.
You will have to fill out an application to see if you and your car fit their requirements.
If you do, you will have to wait until there is a match between your profile and the campaign that a company wants to run.
They tend to notify you via email to let you know if you have been selected and if you are still interested.
If you're wondering if you get to choose which advertisements go on your car, the options seem to be quite limited.
It doesn't appear that every company in the world wants to do this type of marketing, so it is a select group.
With that being said, when you are contacted for a job, then they will let you know which brand it is and if you are happy to proceed.
4. Get Paid To Advertise
The amount that you get paid to have advertisements on your car will vary from company to company and potentially the jobs as well.
You can wrap your car and get paid – not loads, but a decent amount.
Looking at a popular site called Carvertise, they say that their standard rate is $100/month.
They also offer an extra way to make money by parking your car in a specific location, which can typically net you an extra $30/hour.
Is Vehicle Advertising Legit and How to Identify If You Are Being Scammed?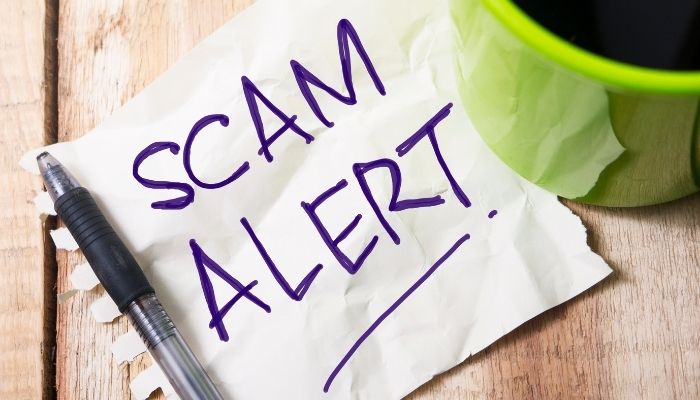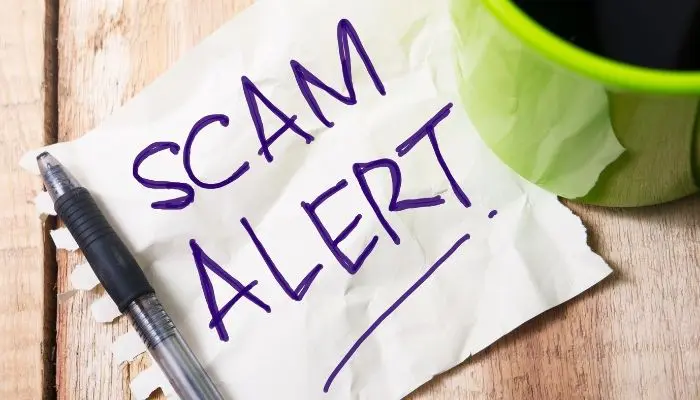 Yes, there is legitimate car wrap advertising. However, that doesn't mean that every single company or advert you see is legit.
Don't let you put this off as this can be a great passive income opportunity for you, and you can avoid the dodgy companies.
The first thing that should throw up some red flags is if you have been asked to send them some money to get started.
If they are a legitimate company, they will not ask you to send them any money – simple as that.
Another thing to look out for is if they are offering a tremendous amount of money for you to do this.
Although it's a good money-making opportunity as you don't have to do anything, they aren't going to pay you huge sums.
We've also heard of another scam where they will send you a fake check and ask you to wire transfer money to an account to pay for your wrap.
Unfortunately, this check will bounce after you have sent over your money, and it will disappear!
It's vital to remember that some scammers use legit company names to trick you.
Just because the company name is good doesn't mean that it's all ok. Make sure that you are going through the correct website or email.
Get Paid To Advertise With These Companies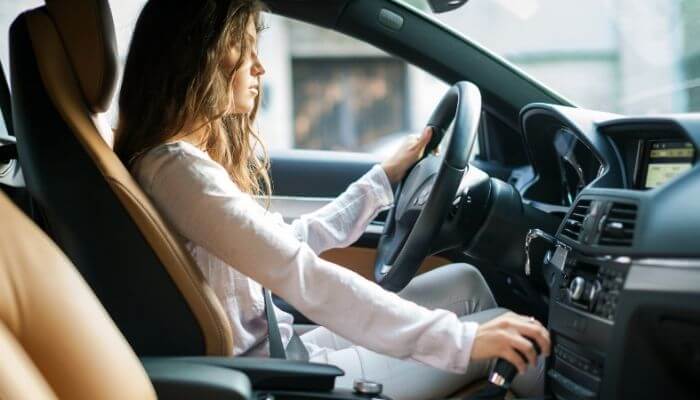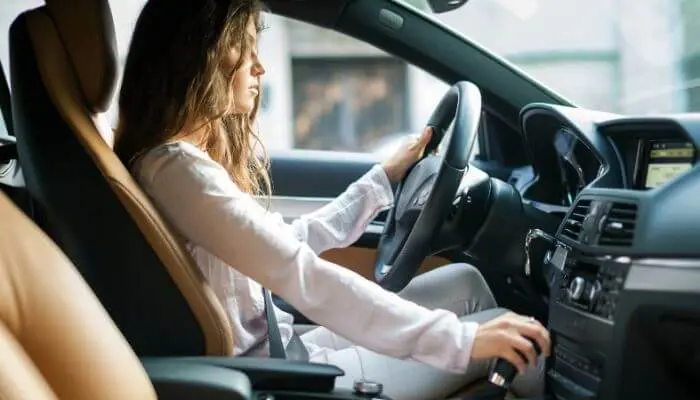 Now that we've established how not to get scammed, it's important to look at the good companies that are out there.
Let's look at the best companies to get paid for advertising on your car:
1. Get Paid To Wrap Your Car With Carvertise
One of the most popular companies out there for this is Carvertise, where you can get paid to put ads on your car.
How Does It Work?
Head on over to the Carvertise site and click on their Sign Up button.
There you will be asked to fill in all of your information about yourself and your car.
Carvertise says that you will be emailed if you are selected for a campaign and can choose whether to accept or not.
Pro's
It's free to join and use
You will get paid for not doing much at all
Con's
You will have to wait for a brand to choose you, which may take a long time
If you are getting a full wrap, then this can take 6 – 10 hours to do
2. Wrapify
Wrapify is another legitimate company where you can get your car wrapped.
How Does It Work?
Wrapify has an app that you need to download to get started on your iOS or Android phone.
The next step is a little bit different – they want you to drive around with the app on so that they can see where you go and how often.
This is how you start to qualify for campaigns and receive offers.
The next step is to sign up for a campaign and make money while you drive. The offers will come into the app, so make sure you check them.
Pro's
There are three types of coverage that you can get – lite, partial, or full. With the lite and partial coverage, you can get on average $196 – $280 per month. With the full coverage, the estimate is $264 – $452 per month
They give five weeks' notice for campaigns
Con's
Only 25 – 35 minutes of your commute is compensated by Wrapify
They won't wrap your car if there is damage e.g., a lot of scratches, dents, and so on
3. Pay Me For Driving
Pay Me For Driving is only available in certain areas, which is great if you live there!
How Does It Work?
You must live and work in St. Louis City, St. Louis County, or St. Charles.
You apply over on their website. When you are approved, they will contact you to approve the advertisement and schedule the installation.
The amount that you are paid will be sent over to you in the specific contract – the amount depends on the company.
Pro's
It's free to sign up
You can get selected quite quickly
Con's
It's only available in certain areas
It doesn't say anywhere on their website how much you will get paid roughly
4. Advertise And Get Paid With StickerRide
StickerRide is a mobile app for drivers that allows you to both get paid for advertisement but also save on your car spending. Nice!
How Does It Work?
Download the app and register your car. You can calculate your approximate earning level before registering by putting in your car details.
Pro's
You can save money on your vehicle expenses such as gas, car washes, and parking
You have the opportunity to increase earnings by taking part in quests and flashmobs. Sounds exciting!
Con's
Can't find any rough pricing for how much you'll get paid on the website
5. ReferralCars
ReferralCars works a bit differently by having commission-based and non-commission-based campaigns.
How Does It Work?
What usually happens is that you are given a set amount each month for driving around with their advertising.
With ReferralCars, they also offer entry-level campaigns where drivers can earn money on a commission basis.
Pro's
They provide small see-through rear window decals which means you don't have to worry about damage to your paint
They offer both national and local campaigns
Commission and non-commission-based campaigns
Con's
Not clear how much you will be paid
6. Get Paid To Wrap Your Car With Free Car Media
How Does It Work?
With Free Car Media, you fill out their online application and tell them about you and your driving habits.
If you are chosen for a campaign, then they will send you an email.
If you are uncomfortable with the brand that will be on your car, then you can choose to decline. However, you cannot be selective with the colors or designs that advertisers want.
Pro's
Seems to be an easy sign-up process with clear instructions
Say that you will be paid around $50 per month
Con's
You have to install the decal yourself (they provide instructions)
7. Pay Me To Drive With Car-Bucks
Car-Bucks is a web service that matches commuters willing to display ads on their rear window with advertisers.
How Does It Work?
They offer 3, 6, and 12-month engagements, with longer terms earning larger payouts.
You can renew this as often as you'd like, but you'll have to keep the ad in place for the full term of your engagement.
They currently pay $1 per commuting hour, per banner. For a half-hour commute with one banner, you could get $20 a month with a three-month contract or $25 a month for a 12-month contract.
Pro's
Very honest about the fees on the website
You can carry up to three ad banners at a time and earn as much as $75 a month
Con's
You must agree to give advertisers access to your commute, geographic coverage, and demographics
What Other Ways Can I Get Paid To Drive?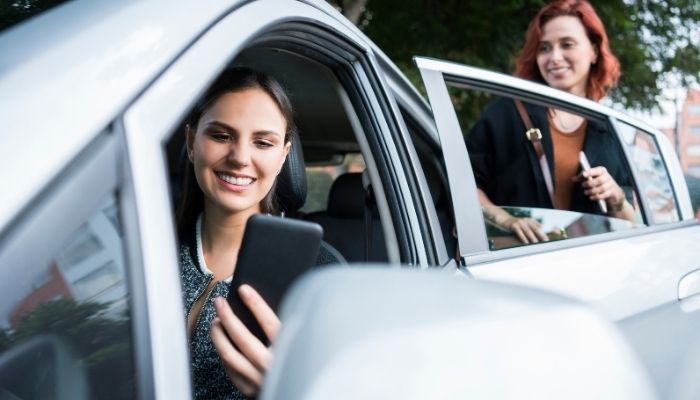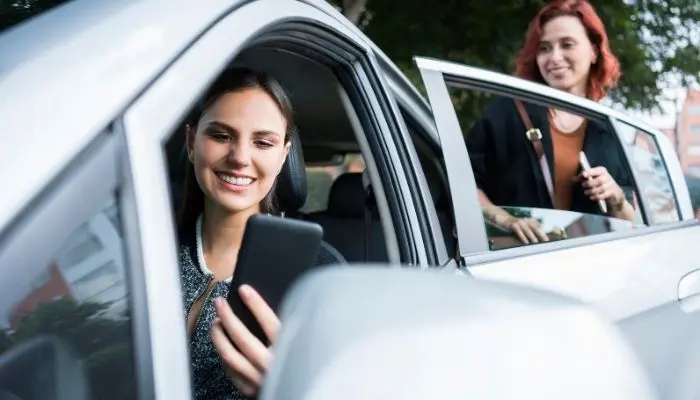 There are lots of other exciting ways that you can get paid to drive, which don't involve vehicle advertising or getting paid to wrap your car.
With Postmates, you can get paid to be a courier and deliver groceries and takeout in your local area.
There's no fee for joining, and you can earn up to $27 an hour, which is pretty good going!
–Uber
We're quite confident that you know who Uber is – the taxi company that took the world by storm.
You can get paid to be an Uber driver and act as their local taxi driver.
There are certain requirements that you'll have to fit, such as your car's age and so on.
DoorDash is another food delivery service that is super flexible around any other commitments you may have.
You can choose your own hours as well. It's not a great earner – you aren't going to get rich doing it – but a fun side earner.
If you are looking to earn some extra money in your free time, give DoorDash a try today!
–Lyft
Lyft works in the same way as Uber in that you can get paid to be a taxi driver in your area.
You will need to meet your region's age requirements, have a smartphone, and pass a background check.
You get paid for the time and distance of a trip and keep all of your tips and bonuses.
Get Paid To Advertise With Your Car – Is It Worth It?
Get paid to advertise with your car – worth it or not?
It depends on how much you are looking to make, but getting paid for adverts on your car is pretty passive as you don't need to do anything.
If you are looking to get a little extra cash each month, this could be a great option for you.
Something to ask yourself is definitely "do I want advertising on my car?".
Many companies don't have a constant flow of jobs anyway, so you could always sign up and give it a go.
You can always turn down any jobs if you don't want to do those particular ones.
As it's so low maintenance, we think it's an awesome way to bring in some extra money.
You can always use this money to put towards your goals, such as paying off debt or saving for a house!
What do you think – would you like to give this a go? Which company appeals to you the most?
Make sure you check them out!!
If you enjoyed this post make sure to save it for later, and join us over on Pinterest for more money-making ideas.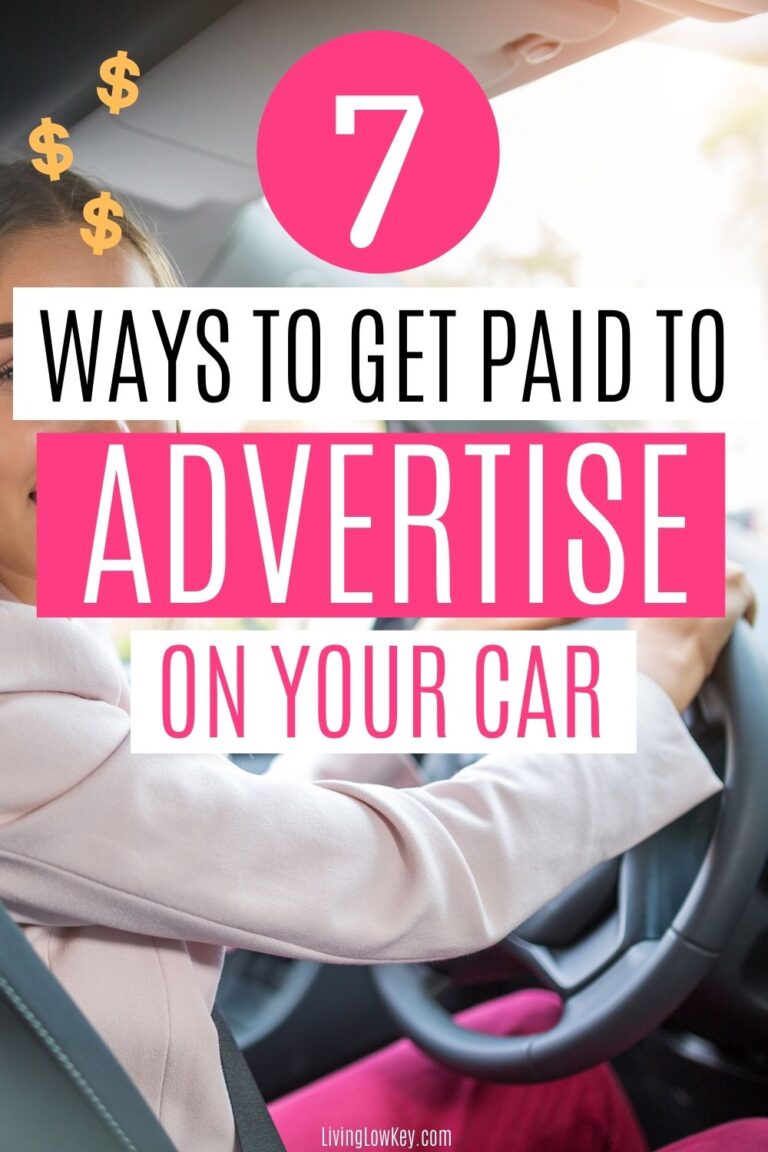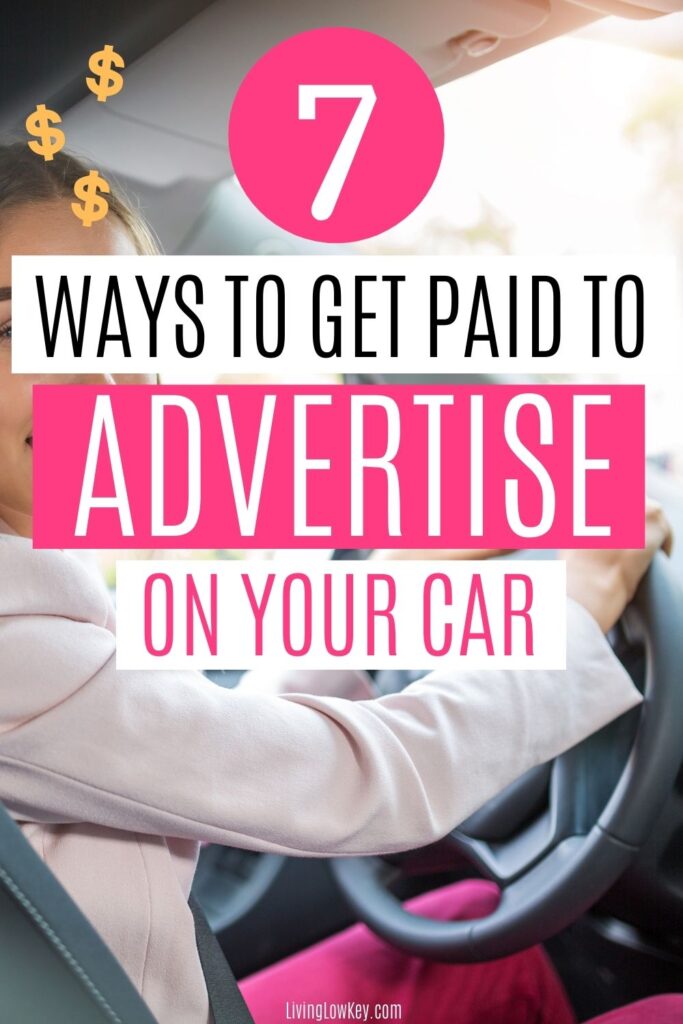 Related articles: