We all have parts of our lives that we want to improve on, but the hardest part can be getting started.
Luckily, there are challenges that you can try out to kickstart your motivation. In this article, we are going to look at some of the best challenges for 30 days.
30 Day Challenge Ideas – Enhance your life in 30 days with these ideas.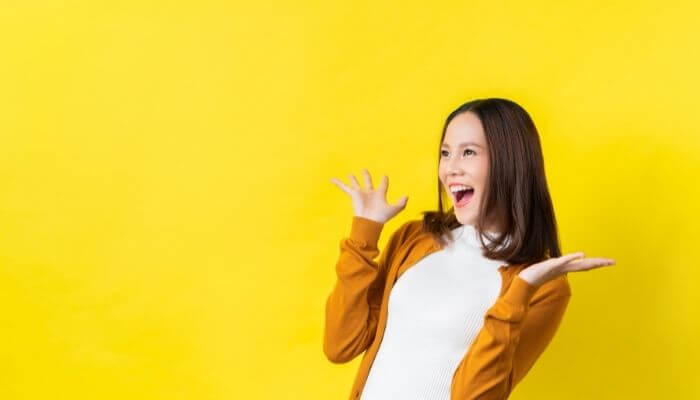 What Is A 30 Day Challenge?
A 30 Day Challenge is when you are trying to complete a certain challenge within a 30 day time period.
There are so many different kinds of challenges that you can do, and the beauty of it is that it's completely up to you what you choose to do!
Most people usually choose challenges for areas in which they want to improve/work on. For example, if you decide that you want to start exercising, you may start a 30-day challenge to go for a walk every day.
Different Types Of 30 Day Challenges
There are so many different types of 30 day challenges, and you may want to think about which areas you want to work on, such as:
Drink more water
Eat healthier
Start to exercise/do more
Quit a bad habit (e.g., smoking)
Work on your finances e.g., no spend challenges
Start something new
Why Do A 30-Day Challenge?
There are many benefits to doing a 30 day challenge, and it's something that we encourage you to try out.
Sometimes we need the extra push to get started, especially when we give ourselves a start and end date.
Once we have started, the momentum that you will have should carry you through to the end of the challenge.
When we are starting something new, the hardest parts are actually getting started and keep on going each day – this is where a challenge can really help you.
Related articles:
How To Do A Monthly Challenge?
When you are thinking about a monthly challenge to try, it's important to pick something that is achievable.
A month challenge doesn't mean completing something in full by the end of it, but just getting started – you can always extend the challenge if you wish.
Choose a specific time to work on your challenge if applicable (e.g., if you are going to be exercising, choose a time that you will do it for the challenge each day)
Focus on starting small (it's the starting that's the most important thing!)
Track your progress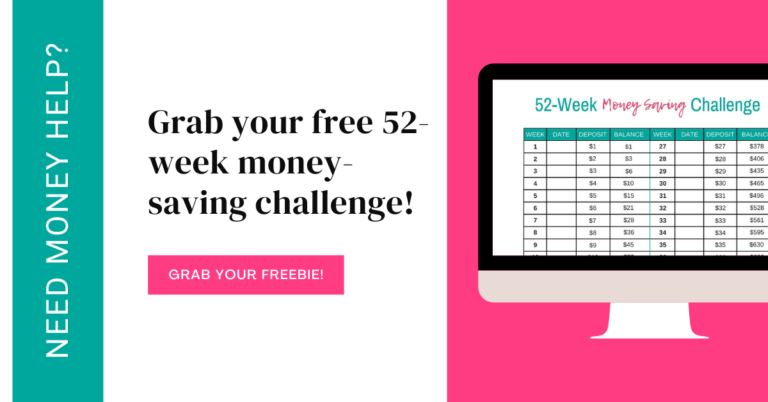 30 Day Challenge Ideas
There are so many different challenges that you could try out to improve your life. We will look at some of the best!
30 Day Health Challenge
It's fair to say that we all want to get a little bit healthier! Let's look at some 30 day health challenges:
1. Drink more water
This is something that pretty much every single person says that they want to improve on!
There are so many benefits to drinking more water, such as better skin, more energy, better digestion, and more. Buy yourself a water bottle and start drinking more water!
2. Get 8 hours of sleep a night
Another thing that we all know we have to do but often struggle with is getting a full night's sleep.
Getting a good amount of sleep – and 8 hours is recommended – is critical for having a happy, healthy life.
3. Cut out alcohol
This is one of the best monthly challenges that you can do because you should be able to see a difference straight away.
Alcohol is something that may be fine in moderation, but it can have very damaging effects if drunk too much. Cutting out the alcohol will help you have a clearer mind, better skin, better mental health, and more energy.
4. Daily meditation
We are all guilty of rushing around and not taking the time to stop and be still. Meditation is helpful in making you feel more centered and calm. If you don't know the beginning steps to meditate grab this beginner's book.
5. Say a positive affirmation every day
If there's anything that you learn in life, it's that our thoughts have the power to change everything.
Thoughts are so important, and if we get stuck in a loop of negative thoughts, we can get on a downward spiral.
Starting to say positive affirmations can change our mindset, which can lead to a happier mind and more positive actions being taken. Here are some great positive affirmation cards to get you started.
6. Write daily in a journal
The great thing about journals is that there are so many different types that you can do/use.
You could write in a journal your daily thoughts or perhaps use it for something specific such as a gratitude journal.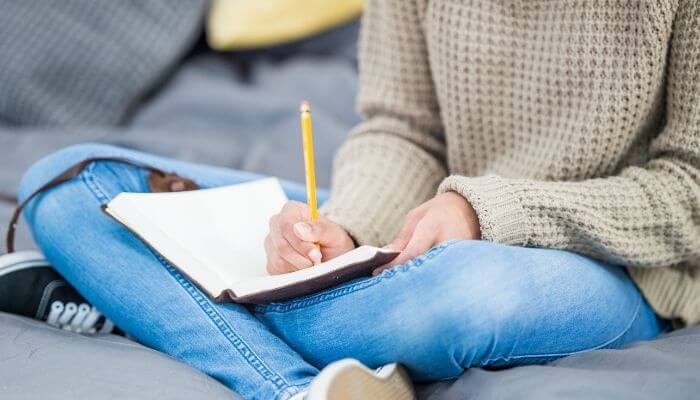 7. 30 day glow up challenge
You could link all of the health challenge ideas together to make one big glow up challenge! After all, who doesn't love the idea of a glow-up?
The key to a glow-up is focusing on your body – getting a good night's sleep, skincare routine, moving your body, eating a bit healthier, and so on.
You could even think about updating your hair color/style if you want to be brave!
8. Eat more veggies
Let's be honest – we probably all should be eating more veggies than what we are currently.
Eating more veggies can help you feel better both physically and mentally, which leads to more energy and productivity!
9. Set a limit for screen time
We all enjoy a bit of TV or going on the internet. But too much can be detrimental to our health.
Set a limit for the amount of screen time you want to do, and try to cut it down before you go to bed as well.
10. No tv for a month
This one might seem a little drastic at first, but think of all of the other things you can do instead of watching TV!
11. No eating out for a month
This is the perfect challenge if you want to save some money, as eating out can make the costs stack up pretty quickly.
12. Go for a daily walk
One of the most important things that you can do for your whole life is to make sure that you are moving your body every day.
It doesn't need to be an intense workout at the gym either – going for a slow, daily walk can make all of the difference. Aim for 10,000 steps a day, which is equivalent to 5 miles. Using a step counter is an inexpensive way to track your steps every day.
13. Read every day
If you are looking to improve your life, one of the best things you can do is start reading.
Reading has so many different benefits – you can, of course, read any kind of book, but for this challenge, it may be good to pick a niche that you also want to improve in.
Related article: 9 Of The Best Financial Books Of All Time
14. Do a daily random act of kindness
We humans feel good when we do something for someone else. These don't have to be grand gestures but could be something as small as smiling at a stranger.
15. No complaining
As much as we all like to think that we are cheerful people, it can be easy to get into a negative spiral of complaining. Not complaining can be a great challenge to try!
16. Create a morning routine
Want to have a good day? It all starts with the morning routine! Get ready to start the day well – you could try exercising, having a nice breakfast, reading or journalling as some ideas.
17. Practice self-care
It's important to have a focus on self-care – focusing on our physical, mental, and emotional health. Write out a list of ideas that you can do to help this.
18. Avoid negative self-talk
Our mind believes whatever we tell it – so why should we continue to tell it negative thoughts?
30 Day Money Challenge
19. Only use the money you already have
Getting into debt is easy when we start to use money we haven't been paid yet. If you have a good budget in place, then you should be able to do this.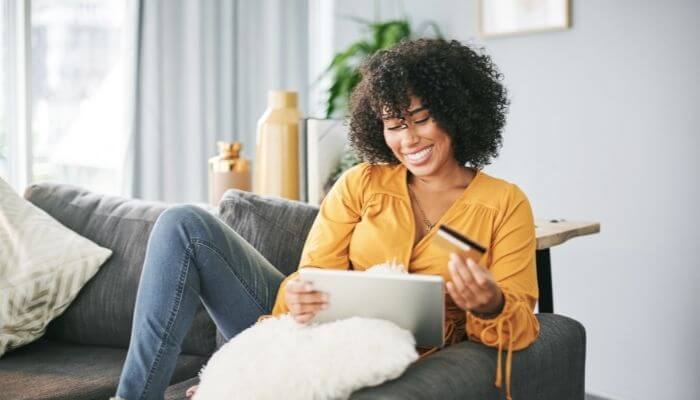 20. 30-day envelope challenge
There are a few different envelope challenge ideas that you can try, such as putting a certain denomination of money inside an envelope each day to save a certain amount.
21. Have a no-spend month
A no-spend month doesn't mean that you decide to default on your rent and other bills – but more to stop spending spontaneously on unplanned purchases that you don't even want.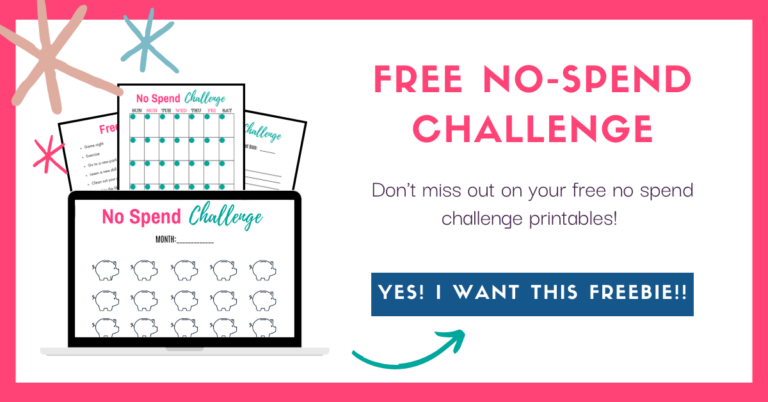 22. Start a side hustle
A side hustle is where you earn some extra money, usually on the side of your main job.
Some of our favorite side hustles to try out include:
Selling items on Craigslist, Facebook Marketplace, etc
Related article: 17 High Paying Side Hustles For Moms That You Can Do From Home
23. Try a money saving challenge
There are so many different money-saving challenges out there.
These are some we recommend:
24. Start a budget
This is one of the challenges that will be hugely beneficial for the rest of your life. A budget doesn't have to be restrictive or boring – it's more of a spending plan, where you look at your income and what you need to use it for.
Related article: 4 Budgeting Methods You Must Try (When You Don't Know Where To Start)
Grab Your FREE Budget Binder Today!
Start saving more money and pay off your debt with this FREE Budget Binder
25. Track your spending
Tracking your spending is a big part of having a successful budget, as you need to make sure that you are using your real numbers.
All you need to do is write down what you have been spending each day – you can do this on paper, apps, or spreadsheets (whichever works best for you!).
26. Use cash only
Using cash instead of cards is a good challenge to try, as it has been proven that we tend to spend more money when we use our cards.
That doesn't mean that you need to pay all of your bills and online payments with cash, but rather your day-to-day spending.
Related article: 7 Of The Best Cash Envelope Wallets For Budgeting Your Money
30 Day Fitness Challenge Ideas
27. Walk 10,000 steps a day
This is a great challenge to try, but you'll probably need a FitBit or something similar to track your progress. It's very motivating to see your step count throughout the day!
28. Cut out sugar from your diet
Sugar is so damaging to our health, and it can make a huge difference when we cut it out.
You will actually probably find that you will experience headaches at first, as your body will have to get used to the lack of sugar! But stick with it, as you will feel much better about it.
29. Workout challenge
What kind of workout challenges do you want to try? How about these:
Burpee challenge
Ab challenge
Plank challenge
Squat challenge
30. No fast food
The great thing about a challenge like this is that you can have an impact on other areas of your life (or other challenges!), such as eating healthier and saving money. Try these 85 frugal meals you can make at home.
30 Day Organize Challenge
31. Declutter your home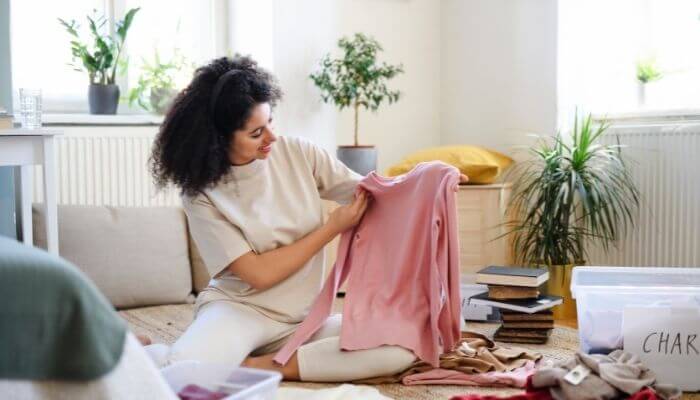 With a 30 day declutter challenge, you can decide on a different task for each day and divide it up into rooms.
Here are some examples of things you can start decluttering:
Old shoeboxes
Dried up pens
Broken or old jewelry
Broken appliances
32. Make your bed every morning
It's said that if you start the day by making your bed, you have already accomplished something – and will go on to have a productive day.
33. Fold your laundry as soon as it's done washing
Sometimes, we can leave our laundry out and let it build up over time – if you have the challenge to put it away straight away, this will keep your home tidier and help you develop good habits.
34. Empty one drawer a day
When we want to declutter, it can often feel really overwhelming when we are faced with the whole house.
Starting with just one drawer a day is something that feels much more manageable and will make you more likely to start.
35. Purge one item a day for 30 days
This is another small challenge idea that can feel easy and help you with the motivation to get started.
It can be any kind of item, and you may find more to declutter as you begin.
30-Day Challenge Ideas – Final Thoughts
There are so many different 30-day challenges that you can try out, depending on which area of your life you want to improve in.
There's something for everyone – which Challenges for 30 days appeal to you?
Grab Your FREE Budget Binder Today!
Start saving more money and pay off your debt with this FREE Budget Binder
If you enjoyed this article, make sure to save it for later and join us over on Pinterest for more money-saving tips and tricks!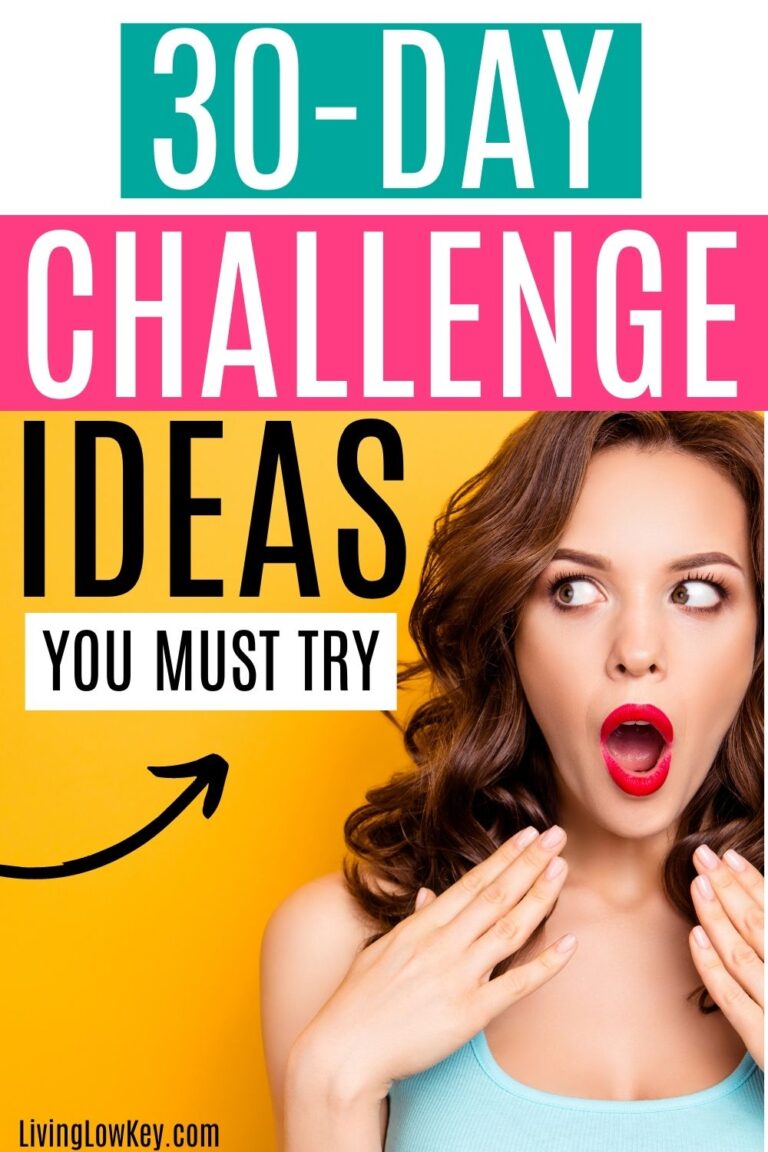 Related articles: