How to thrive as a single income family!
So here's the thing. We never planned on being a single income family… and then we had kids!
Does this sound familiar?
Or maybe it wasn't starting a family that got you into this situation…. Maybe it was the loss of a job. Or maybe a single income household just made sense for you.
Whatever the reason is, I'm here to tell you that you can flourish living on one income.
We know because WE HAVE and we still are! I never dreamed of being a stay at home mom. But it's what works best for our family while the kids are little.
Salary.com did this awesome survey, stating that the average stay-at-home mom is worth a whopping $143,000 a year. So technically I make more than my husband, right! =)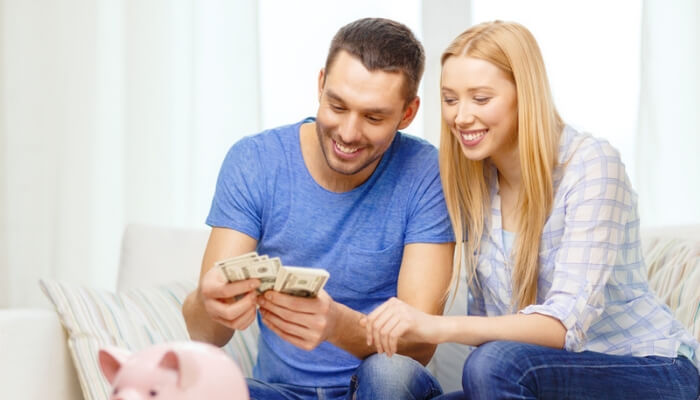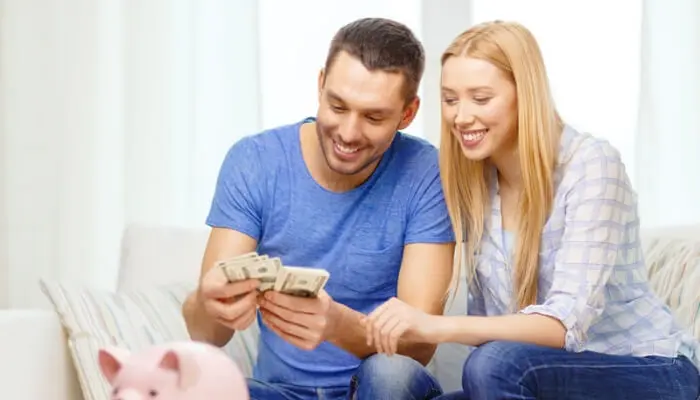 Benefits Of Being A Single Income Household:
More family time! Moving down to a single income family allows one parent to stay home with the kids. You can't beat family time!

You don't have to pay for daycare or after school care. Daycare costs can be intense.

Save money on transportation costs. If you live in a city or close to mass transit you could even become a single-vehicle family.
Here are some ways we have been able to not only live but thrive on a single income.
Grab Your FREE Budget Binder Today!
Start saving more money and pay off your debt with this FREE Budget Binder
Related articles:
Lowering Your Bills As A One Income Family
Did you know that by picking up your phone and calling your service providers you can lower your bills? If you're a smooth talker you can persuade them to drop your bill.. If negotiating doesn't work tell them you would like to have your service turned off. This changes their mind real quick!
I promise this works, I do it all the time.
Here are a few companies I have persuaded to drop my bill over the years:
Verizon

At&t

Direct TV

Cable

Comcast
Depending on your cell phone service providers, some of them give discounts to city workers, military members, and emergency response members as well as others. They don't usually advertise this so you have to ask.
The same goes for cable and internet.
If you qualify as any of the above, make sure to ask about how to get discounts for their products or services!
We were able to save $20 dollars a month on our Verizon phone bill just by walking in and talking to a customer service rep.
Here are a few other things you want to check out if you are trying to lower your bills:
Related article: 5 House Hacks To Reduce Your Energy Bill This Winter
How To Live On One Income- The Budget
We talk a lot about budgeting. Why.. because it works!!
If you are currently living on one income or are going to be in the near future, implementing a budget of some sort is a must!
I wouldn't say we have mastered budgeting, but we've gotten pretty good at it over the years. Yes, we still have months where we to totally mess up our budget.
Life happens! You can't budget for every rainy day, but we try.
Our favorite way to budget is by using the envelope system. If you haven't used the cash envelope system make sure to check it out here!
I love the cash budget system because it doesn't allow me to overspend.
If you only have $50 dollars in your pocket for the week for "fun money" you aren't going to spend $100 because once that $50 is gone you are done spending.
Also, don't forget to check out our Full Budget Binder!
It has everything you need to build a strong budget for your family!
Budget Tips For a One Income Family
Here are a few tips for living on one income, if you are trying to save money:
Cut out cable for good! This is one of the easiest ways to save money each month when you live on one income. There are many great options that still allow you to watch your favorite T.V. shows. Our favorite is Hulu. We pay $8 dollars a month to watch our favorite T.V. shows. Start your 30-day free trial here.

Quit eating out for lunch, bring lunch from home instead. Try to bring a sandwich from home for a month and see how much you save. Or make extra big dinners so you have leftovers for work. Eating out each day really adds up.

Start living below your means. Every financially independent person will tell you this is their key to staying out of debt and saving.
Pay for everything with cash! When you can physically see money leaving your wallet you spend less because it hurts more. Put your card away and start paying for everything with cash!

Put your savings into a high-interest rate bank account where it will accumulate interest. Don't let your money sit in a savings account at your local bank. We have earned 5 figures of interest this year just by letting our money sit!
Tools that will help you live on one income!
Shop Smarter Not Harder
When you go shopping, go with a purpose, a mission, a list!! Have you ever gone grocery shopping without a grocery list?
How did that turn out for you?
My guess is not very well.
You probably spent a lot more than you intended to spend, and you probably didn't come out with very many meals.
Never leave your house without a list and stick to it.
Here are some "shop smarter" strategies you might be interested in:
I'm not a huge couponing guru but I do believe that you should take the extra time to cut coupons when you need household essentials such as toilet paper, paper towels and other necessities. There are always coupons for these items!

Shop at a discount grocery store. We love Aldi and I save a ton of money by shopping there.

If you're tired of making your weekly grocery list try $5 Meal Plan! They send you meal plans right to your email. This takes out the challenge of creating your weekly meal plan and makes life so much easier. Try it free for 14 days, when you sign up through my link.

Don't buy something you don't need just because it's on clearance. This will lead you down the road of overspending.

Always shop with a website like Ebates when you are doing your shopping online. They give you cash back when you shop your favorite stores such as Target, Kohls, Amazon, Walmart, Nike and many more. When you sign up with our link you get a free $10 welcome bonus when you spend $25 or more!
Related Article: The Best Grocery Store Hacks That Will Help You Save Money On Food
Live Within Your Means
This is self-explanatory but yet hard to do for so many. If you live on one income you need to live within your means.
You have to be real with yourself. Living in a single-income household most likely means missing out on things from time to time.
You'll also be staying away from the mall and other consumer-driven stores.
Be The Boss Of Your Bills
Who's ready to be the boss of their own bills? If you want to be a one-income household you need to be the boss of your bills!!
If it wasn't for this amazing strategy we've implemented into our lives we wouldn't be where we are now.
At the beginning of every month, we know exactly where every dollar is going to go, because we tell it where to go.
You might ask how… what's our secret?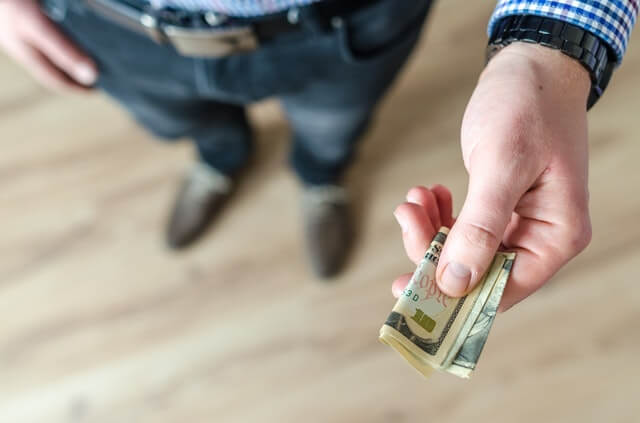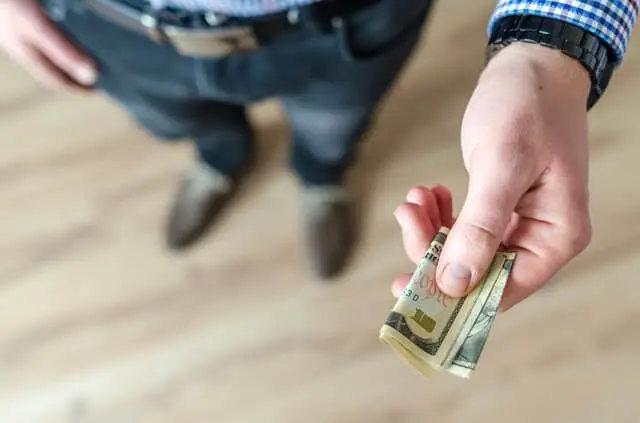 Put All Of Your Bills On Auto Draft
By using auto-draft for all of our bills and savings accounts we are able to tell all of our money where it needs to go!
This is a lifesaver!
We have all of our bills set up to come out via auto-draft the day after my husband gets paid. After, we take out our money (in cash) that is budgeted to pay for our groceries and necessities for the two-week cycle.
We use our cash to pay for "everything" without touching our check card.
The extra money that we have left after budgeting gets transferred to our savings account. This leaves us with paid bills, no unnecessary spending, and we know where every dollar of ours goes.
Best of all, this allows our savings to continue to grow!
Side Hustles – You Must Try
We've all been there, trying any "side hustle" just to get by.
When you can't make ends meet, or you're just looking to make a little side money, these are legit must-try side hustles.
I tried a lot of these methods back in college (some of which I continue to use today) when my side hustle days were at an all-time high.
My favorite side hustles when you are trying to increase your income:
Start answering surveys!  If you haven't tried,

you need to start.  Here are a few of my favorites…  MyPoints, Pinecone Research, Swagbucks, Survey Junkie, Consumer Opinions, and Opinion Outposts!  Those are only a few of the survey sites out there.  It's free to sign up, and the more surveys you take, the more money you make,

so start today!

Check out our post 40 Ways to Make Extra Money.  This includes easy ways for you to start making money this week.
Start a Blog! The possibilities are endless when it comes to blogging and so are the salary ranges. You can start your own blog for $3.95 per month when you sign up here.  Start here to read all about what goes into making your own blog. If you are interested in making money blogging, start here for step by step directions to see what 

it takes to be successful. You can also check out our 3 part series on

How To Start A Blog

.
Try out Uber! I have a few friends who drive for Uber in the evenings and on weekends and make a good amount of money.  So try it out and let us know what you think.
Join Swagbucks!  Swagbucks is awesome and if you haven't tried it out, you have to!  It's free to sign up.  You can take surveys, watch videos and shop online to earn Swagbucks.  You then can cash in your Swagbucks for gift cards.  Who doesn't love gift cards!!  So next time you are watching TV jump on Swagbucks and earn yourself some gift cards.  They even have an app so it makes making money that much easier!
Thriving as a single-income family is reachable. You just have to follow the steps necessary to make it possible.
Are you a single-income family? If so, share with us how you thrive.
Come follow us on Pinterest for more tips for living on one income and pin our post for later!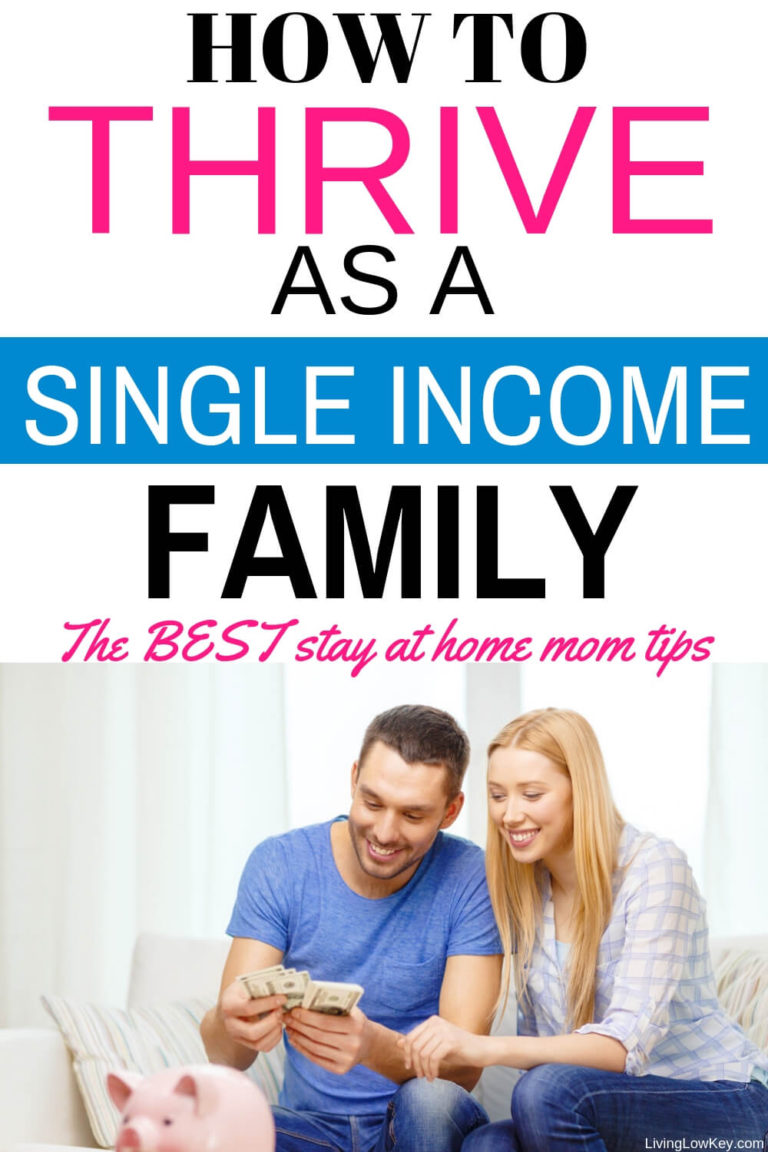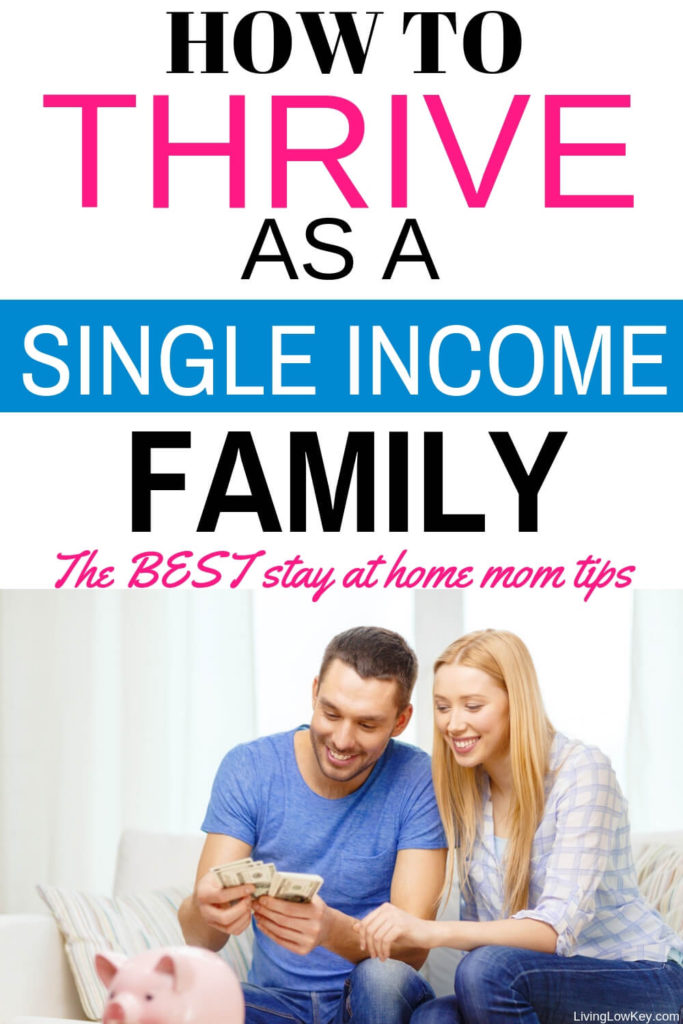 [disclosure]
Grab Your FREE Printable Budget Binder
Related articles: