Are you tired of your debt weighing on you? It's time to learn how to get out of debt fast and live debt free!
With the average household in America carrying around $140,000 in debt, that's a massive financial burden. Whether your debt consists of a mortgage, credit cards, car loans or student loans, it's time to get out of debt fast.
Stop letting your debt control your life. This guide is going to help you live the debt free life you deserve.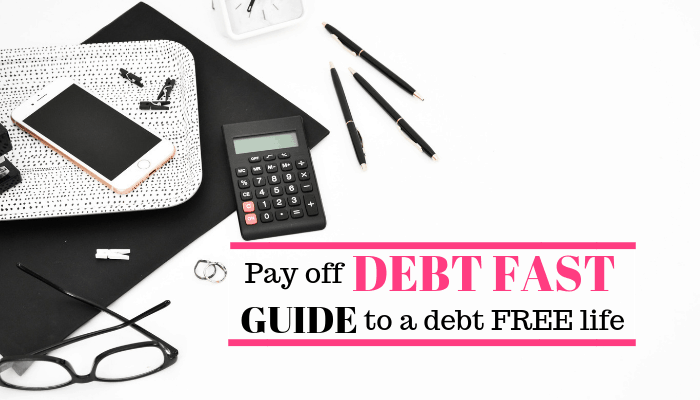 Your Guide To A Debt Free Life, Learn How To Get Out Of Debt Fast
Before we get into how to pay off your debt, there is something I need to let you know. Yes, I'm going to show you how to pay off debt fast, but this isn't going to happen overnight. Depending on the amount of debt you have, it might take a little bit of time.
If you stay focused on your end goal and use the steps below, you'll be able to pay off your debt fast and achieve that debt free life you're dreaming of.
Organize Your Debt
When it comes to getting out of debt, the first place you need to start is by determining how much money you owe and who you owe it to. In order for you to pay off your debt fast, you need to have a clear picture of your financial situation.
I want you to sit down and list out all your debt. As you're completing this step, I want you to think about mortgages, personal loans, car loans, student loans, medical bills, money you owe a cousin. Whatever it is, if you owe money to someone, you need to put it on the list!
This is going to be a critical step to achieving your goal of paying off that debt.
A few years ago we found ourselves in quite a bit of debt. We listed it all out just like I told you to do and it helped us develop a plan to crush the debt. We paid off over $30,000 in debt in just over 2 years so we know this works.
If you'd like a FREE template to help you organize and track your debt, you should grab a FREE copy of our printable Budget Binder. It also comes with a few other awesome financial tools.
CHECK OUT OUR FREE BUDGET BINDER HERE!!
GRAB YOUR FREE PRINTABLE BUDGET BINDER
Create A Plan To Pay Off Debt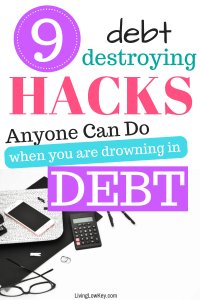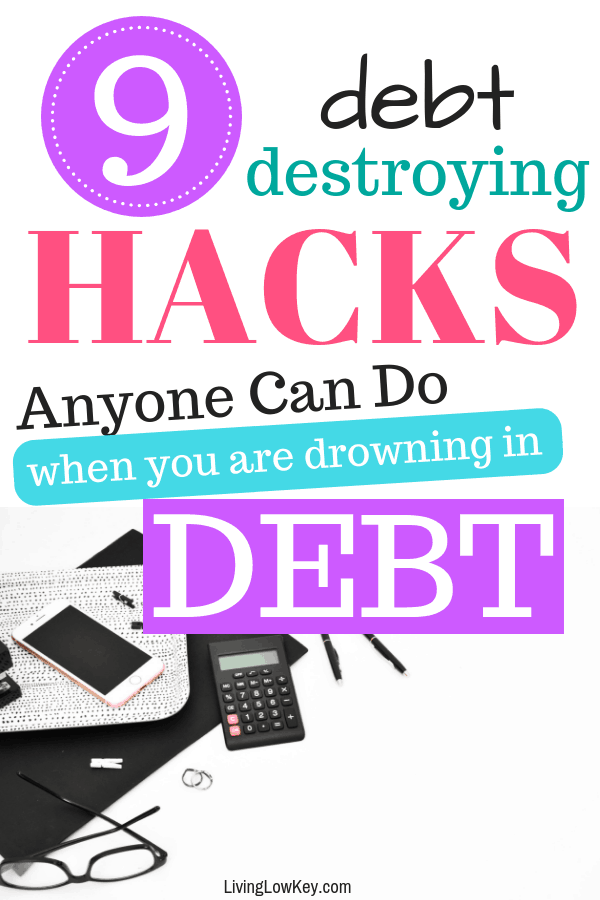 Now that you have your debt listed out, it's time to start forming a plan to attack it. I use the word attack because that's exactly what you're going to do!! We are going to get motivated, create a solid plan and attack your debt until it's gone.
There are many ways to pay off debt. I'm going to share my personal favorite method. It's called The Debt Snowball and it was made famous by Dave Ramsey.
The Debt Snowball is a very simple concept for paying off debt. In the last section, you listed out all of your debt. To get started with The Debt Snowball, reorganize your list of debt from the smallest debt to the largest.
You're going to attack the smallest debt first. Use some of the methods listed a little further down in this post to help you pay off that debt.
Once the smallest debt is paid off, you're going to use the money that would have gone towards the monthly payment to pay off the next smallest debt. Every time you pay off another chunk of your debt, you use the money that would have been the monthly payment to pay off the next debt on your list.
The reason it's called the Debt Snowball is because you compound your payments as you pay off more and more debt. This method works and I highly recommend trying it.
Like I said earlier, this method of paying off debt was made famous by Dave Ramsey. If you want to learn more about this method and read a lot of success stories, check out his book The Total Money Makeover.
Another popular method for tackling your debt is called the Debt Avalanche. In this method, you tackle the debt with the highest interest rate.
High-interest rates can make paying off debt really difficult. If you're racking up tons of interest on a loan, it might be wise to attack that debt first.
Both the debt snowball and debt avalanche are effective ways to pay off your debt. Make sure you evaluate both methods and choose the best one for your situation when you create your plan for paying off debt.
Related articles:
Grab Your FREE Budget Binder Here
Don't Reinvent The Wheel
When it comes to getting out of debt there are many different ways to do it. The one thing that I want to stress is to not try and reinvent the wheel.
There are plenty of successful ways out there to reach your goal, don't go trying to create a new method. Find a method that's proven to work and use that. Maybe you want to use the debt snowball or maybe you want to use the debt avalanche, whatever it is, I'm sure someone has a method for it and you can learn from them.
My personal opinion is that if you want to pay off debt quickly, you need to have a solid budget in place. Creating a budget will help you save more money and allow you to start paying off your debt fast.
I've been using The Cash Envelope Budget System for years and I LOVE IT!! It's a very simple system to use and I can assure you it works. We used the Cash Envelope Budget System to help us save over $20,000 in a single year on a modest income.
Imagine if you could save that much money and put it towards your debt. You could pay it off crazy fast! If you're not living on a budget, start today. What are you waiting for??
If you need help setting up a budget, check out our totally FREE course on budgeting. This course shows you how to set up the same budgeting system that we used to become debt free.
CLICK HERE TO LEARN MORE ABOUT OUR FREE BUDGET COURSE
Frugal Living Will Help You Get Out Of Debt
I'm sure you've heard of people who call themselves frugal or say they're living a frugal life, but what does that mean?? The way I look at frugal living is being smart with your money. You choose to live below your means and be content with what you have.
When you live a frugal life, you'll save more money. The goal of frugal living should be to reduce your expenses to a minimum, that's when you're really going to do some damage on that mountain of debt.
The bottom line is if you really want to pay off your debt fast you have to embrace the frugal life. Here's how you can do that.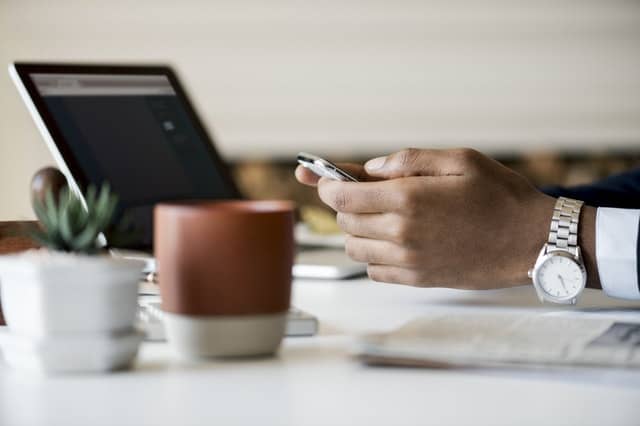 8 Simple Tips To Live A Frugal Life
Live Below Your Means: Let's keep this simple, look at how much money you make each month and make sure your spending less than that. If all your bills add up to more money than you make in a month, you have a problem and it's time to fix that. If you start living below your means, you'll be able to save money and pay off debt.
Shop With Ibotta: If you're not using the Ibotta app when you shop, you're losing out on money. We average about $50 per month in free cash back from Ibotta. Wouldn't an extra $50 in your pocket every month be nice?? What are you waiting for, sign up for Ibotta today!!
Shop At Discount Stores: This is my go-to method for saving money, shopping at discount stores. We do a lot of our grocery shopping at Aldi because it's a cheap store and they have a great selection. What about the Dollar Tree?? At the Dollar Tree, you'll find a bunch of great deals on household items you're already buying. Discount stores are a great way to save money and help you reach your goal.
Grow Your Own Food: Do you love fresh veggies and fruit? Try growing your own food. This is a great way to save money on groceries and have healthier food in the house.
Be Energy Efficient: If you live in a climate like we do here in Minnesota, the temperatures outside can go from 95 degrees in the summer to -40 degrees in the winter. It pays to make sure your home is energy efficient. Electricity is expensive and reducing your energy bill is a great way to have more money left over each month. Make sure your home is insulated and you'll see the energy bills go down.
Find Alternative Ways To Commute: There's no way around it, the commute to work can suck up a lot of your budget every month. It might be time to start looking for new ways to get to work. Try carpooling or, if you're close enough, riding your bike to work.
Buy A Modem: Did you know you're paying a fee every month for that modem you got from your internet company? That's right, it's probably a $5 fee every month for renting their modem. Save yourself some money and buy a modem on Amazon so you can ditch that rental fee.
Make Your Own Laundry Detergent: Everybody has laundry to do and detergent can be expensive. A simple Google search will bring you tons or laundry detergent recipes. Head over to Morning Chores for a list of great recipes.
Credit Card Use Needs To Stop
You're here because you want to get out of debt, so why are you still using your credit cards. Your credit card use has to stop if you want a chance at paying off your debt.
That might be easier said than done. Maybe your someone who is just used to pulling out the plastic to pay for everything and you're content making monthly payments on it. If that's a habit you have formed, this is going to be a little harder for you.
Your goal is to pay off debt, not accumulate more. You need to keep reminding yourself that. To avoid racking up the credit card debt, I recommend leaving your credit card at home.
Do you have multiple credit cards? Cut all of them up but one. The one you save, put it somewhere inconvenient at your house. This can be your rainy day credit card for emergencies until you get a cash emergency fund set up.
If you put the cards in an inconvenient spot and stop carrying them with you, you'll be less likely to use them. Stop using credit cards today and you'll be able to focus on paying down your debt.
Related article: Don't Let These 7 Mistakes Hold You Back From A Good Credit Score
Is Debt Consolidation Right For You
Sometimes you just have too many bills to manage and you don't know where to focus your efforts. If you're reading this thinking that sounds a lot like you, debt consolidation might be a great option for you.
Debt consolidation is where you transfer all your debt to a single loan. The goal would be to transfer the accounts you owe money on to a lower interest loan so you can focus on one payment instead of multiple. If the interest rate is lower, that allows you to pay more down on the actual debt and less towards the interest.
If you're finding the number of bills you have to manage every month overwhelming, I recommend looking into debt consolidation.
Side Hustle Ideas To Make More Money
One great way to pay off your debt fast is to Make More Money! With more money coming in you'll be able to pay down your debt quicker.
Making money at your current job might not be a possibility right now, but that doesn't mean you can't start a SIDE HUSTLE!! With so many side hustle ideas out there, it can be hard to decide where to start. Here's a list of 40 ways to make extra money that should help you get started.
Believe it or not, starting a blog is a great side hustle. Many people have turned their side hustle blog into a fulltime income. If you're passionate about a subject and want to share it with others, check out our guide to starting a money making blog.
Related articles: 9 Unique Phone Apps That Help You Save Money
What To Do With Extra Money
Are you expecting to get a bonus from work at the end of the year? What about a tax return? It shouldn't even be a question of what to do with that extra money. If you find yourself receiving any extra money, you should be using that to pay off your debt.
When we found ourselves $30,000 in student and car loans, we knew that any extra money we got was going towards paying that off. We cut our expenses and used every work bonus or tax return that we got to pay off our loans
Using the extra money to pay down debt has some benefits. The great part about making extra payments on your debt is that it all goes towards the principal instead of paying off interest accrued. Anytime you have extra money, I expect you to be putting that down on debt until it's all paid off.
Don't Make Your Life Miserable
We've covered a lot of ways to help you pay off your debt fast, even if you have a low-income level. The one thing that I want you to keep in mind is to not make your life miserable while trying to pay off your debt.
There is enough stress that comes with owing people a lot of money, don't create more stress by obsessively focusing on paying it off. You have to make sure you still have fun and maintain some normality in your life.
Saving money is very much like trying to pay off debt, it's easy to get obsessed with the end goal and forget to take care of yourself along the way. Yes, there should be some sacrifice to achieve your goal fast, but that doesn't mean you have to make your life miserable.
When you're trying to pay off debt fast, look for free ways to have fun so that you don't lose your mind along the way.
Build A Budget
I know you're energized to crush debt now! You just got a bunch of really great ways to help you pay off your debt fast, what you need is a way to stay debt free after pay it all off.
The single most important tool we have used to maintain a debt free life is a budget. That's right, creating a simple budget has helped us pay off our debt and then stay out of debt after that.
I mentioned the free budget binder earlier. That's a great tool but if you still aren't sure how to set up a budget, I've got you covered.
I put together a 5 lesson course on how to build a budget. It's the same budget that we use and we know it works. The best part about it, IT'S TOTALLY FREE!!
Head over to this link to get more information on what the course entails. What do you have to lose, remember, it's a FREE resource to help you.
Once you have a solid budget set up, you can start saving money and paying cash for things instead of creating more debt.
Recommended resource: 2019 Annual Budget Binder
Make The Life You Live, The Life You Love
There you have it, you just learned many different ways to tackle debt and then continue living debt free afterwards. I hope that this guide helps you pay off your debt fast and teaches you to live debt free. Remember to stay focused on your goals and create a well thought out plan to reach them.
Continue to strive for a debt free life and make the life you live, the life you love!
This blog post may contain affiliate links. Learn more.
Grab Your FREE Budget Binder Here